ESSENTIAL VERMEER TIME is an open door onto the spinning wheels, grinding cogs, ideas, inspirations, doubts and dreams that make the Essential Vermeer website run full steam ahead. You'll find opinions, the latest Vermeer news (practically real time) and information about what's currently under development and way down the pipeline.
latest post: Tim's Vermeer
essential vermeer resources
VERMEER'S PAINTING
VERMEER'S PAINTING TECHNIQUE
VERMEER RESEARCH
BIBLIOGRAPHIES
EXCLUSIVE E.V. INTERVIEWS
ART GLOSSARY
MISC.
NOVELS, POEMS &FILMS
POSTERS, PRINTS & WALLPAPERS
ABOUT THIS SITE
Childerns' Corner
VERMEER'S LIFE & FAMILY
DUTCH & Delft Painting
DUTCH CULTURE
DELFT & VERMEER'S NEIGHBORHOOD
DUTCH MUSIC in Vermeer's time
VERMEER EVENTS & NEWSLETTERS
DUTCH PRONUNCIATION
TIMELINES
MUSEUMS
MAPS
SELECTED ART BOOKSHOPS
EXTERNAL RESOURCES
VERMEER VIDEO REVIEWS
in brief: site additions & vermeer events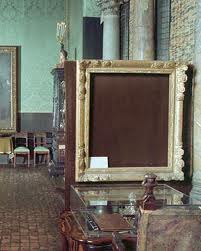 Essential Vermeer website addition
Although art theft has always existed, it has dramatically increased in the twentieth century. It is not known exactly how much art is stolen but estimates now range into of billions of dollars' each year. Interpol maintains that art-related crime is exceeded only by drug trafficking, money laundering and illegal arms dealing.
Five paintings by Vermeer have been stolen in the twentieth century: The Love Letter, The Guitar Player, The Concert and the Lady Wring a Letter with her Maid on two separate occasions. Fortunately, four paintings have been recovered, The Concert, stolen in 1990, is still at large..
Click here to find out about the thefts, the thieves and what chances there are of finding the missing work.
Vermeer's Diana and her Companions travels to Italy
Along with Vermeer's iconic Girl with a Pearl Earring, the artist's early mythological scene, Diana and her Companions, will be exhibited in Bologna, Italy in 2014.
Click here for more information.,
The Myth of the Golden Age. From Vermeer to Rembrandt: Masterpieces from the Mauritshuis
Bologna, Palazzo Fava
8 February – 25 May 2014
Vermeer's Guitar Player returns Home
The Kenwood House, one of Britain's most historic stately homes, has finally been meticulously restored to its former beauty. With the aid of conservation charity, eight rooms have been re-presented and reinterpreted to reference different periods in the building's history. The newly refurbished rooms now feature family trails, an interactive doll house, original letters and architectural designs. Naturally, in situ is the priceless collection of artworks by Vermeer, Rembrandt, Van Dyke and Gainsborough which had been collected by Edward Cecil Guinness, First Earl of Iveagh.
The work, which took 18 months and cost £6m., is drawing to a close with a reopening date programmed for Thursday, November 28. Vermeer's lustrous Guitar Player will be in its original location after its was shown at the London National Gallery during the Kenwood restoration .
Click here for information about the restoration.
Click here for a BBC video about the restoration.

information above drawn from:
Aaron Sharp, "Restored to its former glories: Stately home which houses masterpieces by Rembrandt and Vermeer set to reopen to public", Mail Online.com. <http://www.dailymail.co.uk/news/article-2513611/Kenwood-House-houses-masterpieces-Rembrandt-Vermeer-set-reopen.html>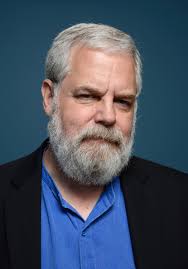 Tim Jenison
Vermeer Documentary
TIM'S VERMEER
Director: Penn Jillette
Producers: Penn Jillette and Farley Ziegler
Principal Cast: Penn Jillette, Tim Jenison, Martin Mull, Philip Steadman, David Hockney, Colin Blakemore
Music: Conrad Pope
Release date; 2013
Duration: 80 minutes
Production website: http://sonyclassics.com/timsvermeer/
In Tim's Vermeer, Tim Jenison, a Texas-based inventor and giant of video and post-production software for home computers, (Video Toaster, LightWave, TriCaster) attempts to solve one of the mysteries in Europeanl art: How did the seventeenth- century Dutch master Johannes Vermeer manage to paint so realistically - 150 years before the invention of photography?
In the search of an answer, Jenison began by working off of the theories set forth in David Hockney's Secret Knowledge: Rediscovering the Lost Techniques of the Old Masters
and Philip Steadman's Vermeer's Camera: Uncovering the Truth behind the Masterpieces
, both of which allege that Vermeer employed an optical device, the camera obscura, as an aid to his painting. Fascinated by the theories of Hockney and Steadman (both outsiders to the art history enclave), Jenison built his own camera obscura but found something was amiss. He immediately came to suspect that not only had Vermeer used some sort of optical device to trace the drawing of his motif onto his canvas (as Steadman had for all practical purposes proved) but must have used it to register the colors and tonal values of his paintings which have been long admired for their uncanny precision, apparently out of reach of his contemporaries.
While viewing in person Vermeer's Music Lesson, perhaps the artist's most "optically based" work, Jenison, a video engineer well versed in analyzing images scientifically, became firmly convinced that the work presents optical information that cannot be gathered by retinal observation. Pondering how Vermeer could have achieved such results, he invented—the idea came to him as he was relaxing in a bath tub—a simple, easy-to-use optical device, whose technology was easily within the reach of the seventeenth-century artist, and painstakingly taught himself to paint with it. The mirror of Jenison's device reflects an object in such a way that a painter can duplicate on his canvas not only an object's contours on canvas but its colors and tonal values as well. Putting his theory to the ultimate test, Jenison built a perfectly scaled "set" of the Music Lesson in a San Antonio studio and "repainted" Vermeer's Music Lesson from it using his device. After various false starts, Jenison learned how to handle the device with greater efficacy, how to hand grind paint and how to domesticate paint and brush, an entirely new experience for the digital engineer. He employed seven months to complete the work, which he claims is easily accurate enough to uphold his hypothesis.
Although Jenison admits that there is no historical evidence that might prove his hypothesis, but he believes that if his method for transferring form, color and tone form with a mechanical device to a canvas were used by Vermeer, a chapter of art history would have to be rewritten.
Jenison's friends, the illusionists and professional debunkers Penn & Teller, united with him to fully document his years-long investigation into the mysterious methods of Dutch Master Johannes Vermeer. The movie includes commentary from Jillett, Hockney and Steadman. Speaking of the film, Hockney said, "It might disturb quite a lot of people," since it forces the spectator to question everything that know about great art and the people responsible for it. But, as Jillette points out, it doesn't argue that they weren't geniuses; it just shows that they were fathomable geniuses, rather than unfathomable ones.
video interviews:
Click here to view a YouTube interview with Jenison and hear his ideas on Vermeer at 34:35 minutes into the video.
Another interview with Jenison: https://www.youtube.com/watch?v=sfsbSK0WPqU
review:
Variety, Telluride Film Review: Tim's Vermeer: "Penn and Teller's uncanny crowdpleaser begs the question, is it still a masterpiece if an amateur could do it?", Peter Debruge
http://variety.com/2013/film/reviews/telluride-film-review-tims-vermeer-1200596123/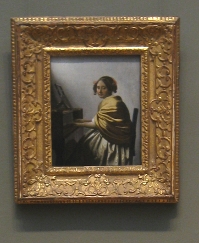 Vermeer Painting Exhibited in Philadelphia

Vermeer's Young Woman Seated at a Virginal
Philadelphia Museum of Art
October 26, 2013 – March 2014
curator:
Christopher Atkins, Associate Curator of European Painting & Sculpture
location:
Gallery 264, second floor
The Philadelphia Museum of Art will exhibit the Young Woman Seated at a Virginal until March on loan from the private Leiden Collection. Since the work, the only private collector other than the Queen to possess a painting by Vermeer, was acquired by it present owner, it has become a veritable globe trotter being shown. The list below traces the painting's traverses from its discover to today. Only during the last decade, since the picture was brought back into contact with the scholarly community, has it been examined seriously. Now, after more than 10 years of extensive research by a team of leading scholars, the painting has now been proposed as a secure addition to Vermeer's limited oeuvre.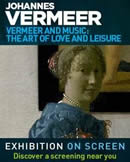 Vermeer Film

Vermeer and Music
In cinemas worldwide on October 10 & varying dates
The National Gallery, London, is offering a fresh look at one of the most startling and fascinating artists of all – Johannes Vermeer, painter of the famous Girl with a Pearl Earring. The National Gallery has chosen to focus on Vermeer's relationship with music. It is one of the most popular themes of Dutch painting and reveals an enormous amount about the sitter and the society they lived in. New research, revealed for the first time at this exhibition, shows how his technique and materials affected his works.
Tim Marlow goes beyond the exhibition to tell the entire story of Vermeer's life – and, in doing so, shows in fabulous HD detail many other of the artist's captivating works.
To book tickets go to the venue page.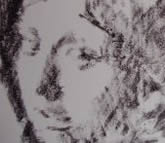 Vermee-related publication
From Perception to Paint: the practical use of the Camera Obscura in the time of Vermeer
Jane Jelley
in Art and Perception
July 2013
There has been much debate as to whether Vermeer himself would have used any kind of optical aid in the execution of his paintings. The paintings themselves appear to show optical effects and distortions, seen only through a lens and not with the naked eye. Was Vermeer just influenced by the view through a camera, or did he transfer the projected images directly to his paintings?
The experiment shows a method that would have made transfers from a projection to a canvas a practical possibility, using readily available materials and contemporary technology. This technique not only solves the problems of the reversals of camera obscura images, but significantly, the resultant transfers from the lens show striking resonances with Vermeer's own underpainting, revealed by scientific analysis.
This research also provides some answers about the use of particular materials in the 17th century studio.
download PDF at:
http://www.printedlight.co.uk/uploads/2/8/3/8/2838494/perception_to_paint.pdf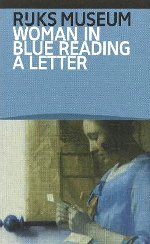 Vermeer publication
Woman in Blue Reading a Letter (Rijksmuseum publication)
by Gregor J.M. Weber
64 pages full-colour, paperback, 18x11 cm
Dutch and English
2013
The hushed mood, the painstaking composition, the modulating blues, the suggestion of light - all these aspects make Vermeer's Woman in Blue (c. 1663) one of the great masterpieces of painting. Discover this Rijksmuseum highlight in a book by Vermeer expert Gregor Weber.
Click here to order.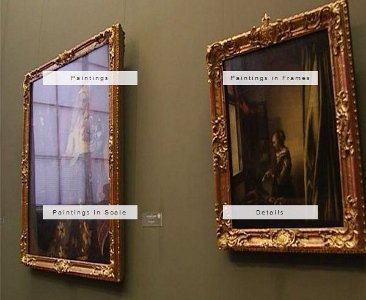 Essential Vermeer Website Additions
The Vermeer Gallery Box
http://www.essentialvermeer.com/slider_multi_jquery/vermeer_multi_slider.html
The Vermeer Gallery Box is an interace that permits the viewer to through all 36 Vermeer paintings in four modes: in chronological order, with their frames, in scale and a detail of each work.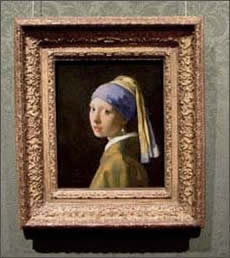 Vermeer's Girl with a Pearl Earring in the United States in 2013 & extended to Italy in 2014
Girl with a Pearl Earring: Dutch Paintings from the Mauritshuis (35 works)
de Young - San Francisco Museum of Fine Arts
San Francisco
Jan 26 - June 2, 2013
Girl with a Pearl Earring: Dutch Paintings from the Mauritshuis (35 works)
High Museum of Art
Atlanta
June 22 - Sept. 29, 2013
Vermeer, Rembrandt, and Hals: Masterpieces of Dutch Painting from the Mauritshuis
(10 works)
Frick Collection
New York
Oct. 22, 2013 - Jan 12, 2014
La ragazza con l'orecchino di perla: Il mito della Golden Age. Da Vermeer a Rembrandt capolavori dal Mauritshuis
8 febbraio - 25 maggio 2014
Bologna, Italy (Palazzo Fava)
press release:
Masterpieces from the Royal Picture Gallery Mauritshuis will be exhibited at three museums in the United States from January 2013 to January 2014. The Mauritshuis has agreed to send more than thirty works to the de Young/Fine Arts Museums of San Francisco and the High Museum of Art in Atlanta; the tour will finish with a smaller selection at The Frick Collection in New York. Among the paintings going on tour are the famous Girl with a Pearl Earring by Johannes Vermeer and The Goldfinch by Carel Fabritius, neither of which will have been seen by American audiences in ten years. Furthermore, this is the first occasion since the mid-1980s that a substantial group of works from the Mauritshuis has come to the United States. The decision to organize a major international traveling exhibition of a select group of paintings from the museum's rich collection was prompted by the large-scale renovations to its premises, which will be finished in 2014.
published: june, 2001
last significant update:november 27, 2013






copyright@ 2001-2013 Jonathan Janson

if you would like to support the growth of this website, make a donation through the link PAYPAL