ESSENTIAL VERMEER TIME is an open door onto the spinning wheels, grinding cogs, ideas, inspirations, doubts and dreams that make the Essential Vermeer website run full steam ahead. You'll find opinions, the latest Vermeer news (practically real time) and information about what's currently under development and way down the pipeline.
latest post: Is Vermeer Overrated? Part 3
essential vermeer resources
VERMEER'S PAINTING
VERMEER'S PAINTING TECHNIQUE
VERMEER RESEARCH
BIBLIOGRAPHIES
EXCLUSIVE E.V. INTERVIEWS
ART GLOSSARY
MISC.
NOVELS, POEMS &FILMS
POSTERS, PRINTS & WALLPAPERS
ABOUT THIS SITE
Childerns' Corner
VERMEER'S LIFE & FAMILY
DUTCH & Delft Painting
DUTCH CULTURE
DELFT & VERMEER'S NEIGHBORHOOD
DUTCH MUSIC in Vermeer's time
VERMEER EVENTS & NEWSLETTERS
DUTCH PRONUNCIATION
TIMELINES
MUSEUMS
MAPS
SELECTED ART BOOKSHOPS
EXTERNAL RESOURCES
VERMEER VIDEO REVIEWS
in brief: site additions & vermeer events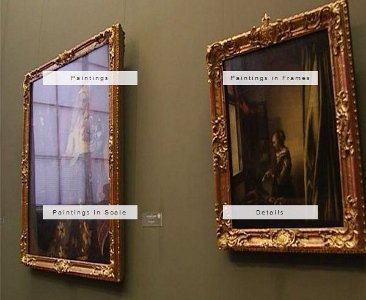 Essential Vermeer Website Additions
The Vermeer Gallery Box
http://www.essentialvermeer.com/slider_multi_jquery/vermeer_multi_slider.html
The Vermeer Gallery Box is an interace that permits the viewer to through all 36 Vermeer paintings in four modes: in chronological order, with their frames, in scale and a detail of each work.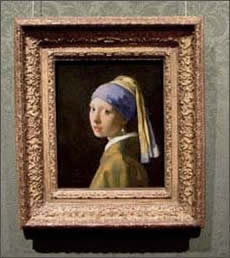 Vermeer's Girl with a Pearl Earring in the United States in 2013 & extended to Italy in 2014
Girl with a Pearl Earring: Dutch Paintings from the Mauritshuis (35 works)
de Young - San Francisco Museum of Fine Arts
San Francisco
Jan 26 - June 2, 2013
Girl with a Pearl Earring: Dutch Paintings from the Mauritshuis (35 works)
High Museum of Art
Atlanta
June 22 - Sept. 29, 2013
Vermeer, Rembrandt, and Hals: Masterpieces of Dutch Painting from the Mauritshuis
(10 works)
Frick Collection
New York
Oct. 22, 2013 - Jan 12, 2014
La ragazza con l'orecchino di perla: Il mito della Golden Age. Da Vermeer a Rembrandt capolavori dal Mauritshuis
8 febbraio - 25 maggio 2014
Bologna, Italy (Palazzo Fava)
press release:
Masterpieces from the Royal Picture Gallery Mauritshuis will be exhibited at three museums in the United States from January 2013 to January 2014. The Mauritshuis has agreed to send more than thirty works to the de Young/Fine Arts Museums of San Francisco and the High Museum of Art in Atlanta; the tour will finish with a smaller selection at The Frick Collection in New York. Among the paintings going on tour are the famous Girl with a Pearl Earring by Johannes Vermeer and The Goldfinch by Carel Fabritius, neither of which will have been seen by American audiences in ten years. Furthermore, this is the first occasion since the mid-1980s that a substantial group of works from the Mauritshuis has come to the United States. The decision to organize a major international traveling exhibition of a select group of paintings from the museum's rich collection was prompted by the large-scale renovations to its premises, which will be finished in 2014.
Vermeer travels to Shanghai, SÃo Paulo and Los Angeles
The Rijksmuseum is starting its global campaign for the Grand Opening on 13 April 2013 with an international tour of one of its masterpieces, Woman in Blue Reading a Letter. It will be first shown in Shanghai at the China Art Museum in the exhibition Congratulations from the World, then at the Museu de Arte in São Paulo, Brazil, and finally at J. Paul Getty Museum in Los Angeles. At Grand Opening on 13 April 2013, the painting will be on show again in the Rijksmuseum.
China Art Palace (Shanghai) - October 1 - October 31, 2012
Museu de Arte in São Paulo (São Paulo) December 12, 2012 - February 10, 2013
http://masp.art.br/masp2010/exposicoes_integra.php?id=127&periodo_menu=cartaz
J. Paul Getty Museum ( Los Angeles) February 16–March 31, 2013
http://www.getty.edu/visit/exhibitions/future.html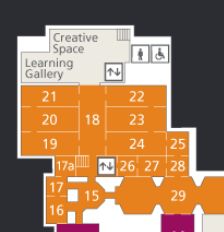 Guitar Player now on display at the National Gallery
The National Gallery of Art in London is now exhibiting Vermeer's late Guitar Player during the renovation of the Kenwood House, where it is normally housed. The work is in the same room as the National Gallery's own Lady Standing at the Virginals, room 25, second level.
http://www.nationalgallery.org.uk/paintings/johannes-vermeer-guitar-player
Vermeer Exhibition at the National Gallery
Vermeer and Music: Love and Leisure in the Dutch Golden Age
26 June – 8 September, 2013
Sainsbury Wing, National Gallery of Art, London
Admission free
This exhibition explores the concept of music as a pastime of the elite in the northern Netherlands during the 17th century. Vermeer and Music: Love and Leisure in the Dutch Golden Age will bring together the National Gallery's two paintings by Vermeer, Young Woman Standing at a Virginal and Young Woman Seated at a Virginal, The Royal Collection's The Music Lesson and the Guitar Player, on exceptional loan from the Iveagh Bequest, Kenwood House.
The exhibition aims to enhance viewers' appreciation of these beautiful and evocative paintings by Vermeer and his contemporaries by juxtaposing them with musical instruments and songbooks of the period. Visitors will be able to compare 17th-century virginals, guitars, lutes and other instruments with their painted representations to judge the accuracy of representation and what liberties the painter might have taken to enhance the visual or symbolic appeal of his work. In 17th-century Dutch paintings, music often figured as a metaphor for harmony, a symbol of transience or, depending on the type of music being performed, an indicator of one's education and position in society. Musical instruments and songbooks were also included as attributes in elegant portraits to suggest that the sitter was accomplished in this area.
Multi-media Vermeer Catalogue
The Interactive Vermeer Catalogue
html-based interactive catalogue for all browsers
Jonathan Janson (author and webmaster of Essential Vermeer)
THE COMPLETE INTERACTIVE VERMEER CATALOGUE offers both enthusiastic new-comers and seasoned art historians the chance to delve into Vermeer's paintings as never before. Through an innovative system of image mapping, theme boxes and the familiar internet browser navigational format, each of the artist's 37 surviving paintings can be effortlessly explored according to the particular interests of the individual navigator.
The CIVC is compiled from a vast array of current and out-of-print scholarly publications. Some information, never before published, is derives from private communications with the world's most authoritative Vermeer experts and museum staff.
The CIVC contains the equivalent of over 300 pages of standard book text covering almost every aspect of the artist's work.
The CIVC contains a brief biography of the artist and all is paintings in scale.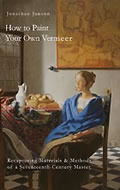 (available at
Lulu.com
)
Vermeer-related publication
How to Paint Your Own Vermeer: Recapturing Materials and Methods of a Seventeenth-Century Master
by Jonathan Janson
2006 (289 page)
Which materials and techniques did Johannes Vermeer use to create his masterpieces? Is it still possible to emulate those methods today? Contemporary American painter Jonathan Janson offers straightforward, practical advice on how to reproduce Vermeer's day-to-day working procedures as closely as possible in your own studio. Detailed explanations document each and every step, from the stretching of the canvas to the three-step method used by Vermeer and his contemporaries including indispensable historical and theoretical background regarding the art and craft of Northern 17th-century painters.
In the first part, Vermeer's palette, drawing, pigments, brushwork, mediums, glazing, grounds are thoroughly analyzed as they are gradually encountered during the painting process The second part contains insights into crucial stylistic components which, together, make a Vermeer a Vermeer, such as color, composition, camera obscura vision and perspective.
published: june, 2001
last significant update: may 5, 2013






copyright@ 2001-2013 Jonathan Janson

if you would like to support the growth of this website, make a donation through the link PAYPAL