Vermeer and The Camera Obscura
(part one)
Discovery
Why have people imagined that Vermeer was a camera obscura user? There is absolutely no documentary evidence to support this idea. The only source of information is the visual information exhibited by the paintings themselves.
Before eyes had been accustomed to the modern photographic camera's way of seeing, in 1891 Joseph Pennell, American lithographer, etcher and friend of painter Whistler, was the first to suppose that Vermeer might have employed an optical device as an aid to his painting. Pennell noted, for example, an evident discrepancy in scale of the two figures in the Officer and Laughing Girl. "Since then a number of art historians have pursued this idea including R. H. Wilenski, A. Hyatt Mayor, Lawrence Gowing, Charles Seymour Jr, Daniel A. Fink and Arthur Wheelock.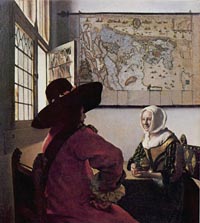 Officer and Laughing Girl
Johannes Vermeer
Even though the officer in Vermeer's painting is very close to the seated girl, he appears disproportionately large. The officer's head is about twice as wide as that of the smiling girl. But the perspective of Vermeer's picture is perfectly correct in a geometrical sense: the discrepancy arises because the viewpoint of the picture is unusually close to the soldier. Today, we are quite familiar today with foreground objects appearing very large in snapshots but in 17th-century painting this is rather unusual, and Vermeer's contemporaries would have made human figures in a composition of this kind much more nearly equal in size.
For centuries painters had both a working and theoretical knowledge of perspective and understood very well that, to create a believable three dimensional space, figures which appeared far from the viewer had to be represented smaller while those which were nearer had to be proportionately larger. However, when the figures were relatively near to one another as in the case of the Officer and Laughing Girl, there was an instinctive tendency to compensate for the difference in size and render what the artist knew rather than what he saw: mainly, that the two figures are almost equal in size. An excellent example of this kind of compensation can be seen in a very similar composition the Dutch contemporary, Gerrit van Honthorst, in his Procuress (above right).Here the figures are placed in an almost identical positions as those of Vermeer's painting but they appear to be the same size.
Charles Seymour ("Dark Chamber in a Light Filled Room," in Art Bulletin 46, 1964) tested the hypothesis that Vermeer might have been guided by the images he saw in a camera obscura. By observing similar objects (he carefully chose the props) in similar lighting conditions to the ones found in Vermeer's painting through a real 19th century camera obscura. Seymour found that the resulting image exhibited qualities much like those seen in Vermeer paintings.
In particular, the characteristic lion head finial of a Spanish chair appeared surprisingly similar to the one seen in the Girl with a Red Hat (right). They both glimmer with the so called disks of confusion or pointillés as they are also called. These pointillés, a conspicuous feature of many of Vermeer's paintings, cannot be perceived with the naked eye and do not seem to be a likely stylistic invention. Rather, they seem characteristic of the image produced by the camera obscura. The fuzzy rendering of the tapestries in Vermeer's Lacemaker and Girl with a Red Hat recalls quite strongly parts of image produced in Seymour's experiment.
Since then, a great number of studies have investigated the subject and, although most scholars now agree that Vermeer did in fact use a camera obscura, there is still great debate to exactly to what extent he did so.
For those who wish to investigate this fascinating topic beyond these three web pages, the resources listed on page four should provide a wide range of facts and interpretations.
recommended reading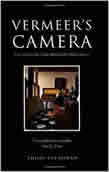 Vermeer's Camera: Uncovering the Truth behind the Masterpieces
by Philip Steadman
2001