Vermeer's Lost Self-Portrait ?
In the Dissius estate auction catalogue of 21 paintings by Vermeer (1696, Amsterdam), item number three was described as a "portrait of Vermeer in a room with various accessories uncommonly beautifully painted by him." Unfortunately, this "uncommonly" beautiful picture has not survived.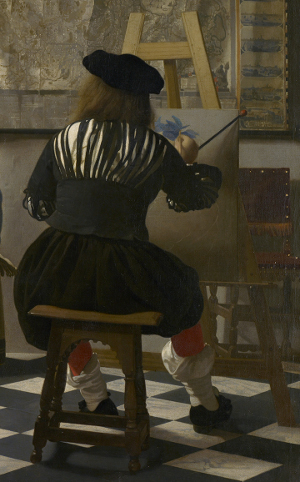 The Art of Painting
(detail)
Johannes Vermeer
c. 1662–1668
Oil on canvas, 120 x 100 cm.
Kunsthistorisches Museum
, Vienna
In the past, however, a few candidates for the lost work have been advanced, including Vermeer's grandiose Art of Painting, now permanently housed in the Kunsthistorisches Museum, Vienna. The seated artist represented in this ambitious composition (see detail image left) may well be Vermeer at work, but since his back is unceremoniously turned to the viewer his identity remains entirely speculative since no documentary evidence has survived that might suggests who he really was. Even though the artist's face is not visible, his fluffy, chestnut-colored hair could be compared to the hair that falls from underneath of the a black beret of the left-hand figure of The Procuress (see detail right) which critics hold to be an authentic effigy of the young Vermeer. The hair also resembles those of the male figures in Vermeer's Geographer and the Astronomer and probably the hair pictured in any number of Dutch paintings of artists in their studios, a very popular motif of the time. In any case, it should be remembered that in the course of legal maneuvering to prevent the Vienna picture from being auctioned off with other works of artist's estate, Catharina Bolnes, Vermeer's widow, referred it specifically as "...een schilderije waerinne wert uitgebeelt de Schilderconst" (a painting in which is represented the Art of Painting,"rather than a self portrait of her late husband.
The Procuress
(detail of a self portrait?)
Johannes Vermeer
1656
Oil on canvas, 143 x 130 cm.
Gemäldegalerie Alte Meister
, Dresden
While nothing in the Dissius catalogue description excludes a priori that The Art of Painting is indeed item number three, today's scholars reject the connection principally because the work was sold for the low price of 45 guilders. In the same auction, the much smaller Milkmaid and Woman Holding a Balance fetched 175 guilders and 155 guilders respectively. Even accounting for cultural and personal tastes, which must have influenced the Amsterdam art collectors present at the auction, it is improbable that a complicated but perfectly orchestrated composition such as The Art of Painting would have lost on whomever attended the auction. The superlative mastery of the picture's three-point perspective alone, rarely approached by interior painters of the time, would have surely encouraged enthusiastic bidding. While Vermeer was active, geometric perspective was intensely studied for practical and artistic applications throughout Europe. In fact, the only qualified assessment of Vermeer's art that was made during the painter's life time, written1 by the up-and-coming aristocrat Pieter Teding van Berckhout, speaks not of aesthetic or philosophical concepts such as "balance,"transience,"suspended time"or "allusiveness"which today are recurrently associated with the artist's production, but of "perspective." In his succinct diary entry, the liefhebber van de schilderkonst (lover of the art of painting) Van Berckhout unequivocally affirms that the "most extraordinary and most curious aspect"of Vermeer's art "consists in the perspective." Only a few years later (1699) Vermeer's Allegory of Faith, comparable in size and perspectival construction to The Art of Painting, fetched 400 guilders, the highest sum paid for a Vermeer painting in the seventeenth century. Reasons for this change in attribution are compelling.
Self-Portraits by Vermeer?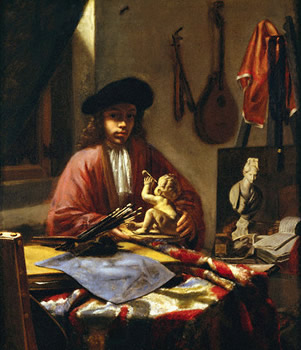 Portrait of an Artist in His Studio
Michiel van Musscher
Bass Museum
Miami Beach, Florida
In early years of Vermeer scholarship, various paintings have been thought to have been self portraits by Vermeer. Thoré Burger assigned an artist's self portrait (see image left), now attributed to Michiel van Musscher (1645–1705), to Vermeer believing it was one and the same with a Vermeer self portrait sold for 480 gilders at a public auction in The Hague in 1780.
In effect, Van Musscher's Portrait of a Young Artist in his Studio is not without Vermeer-like charms.1 The hanging curtain, the chair on the right foreground, and the window are at least vaguely reminiscent of elements found in Vermeer's mature work. But those same elements were common to many genre paintings of the time. According to costume experts at the Victoria and Albert Museum, the peculiar robe worn by the young man suggests it was painted around 1660–1665. Vermeer then would have been around thirty. The face of the young man seems more likely to be someone in his very early 20's (click here to see comparative images). The picture also seems to lack any convincing stylistic evidence that might induce attribution to Vermeer. And because the painting is unfortunately not in excellent condition, the task of judging its artistic merit is made even more difficult.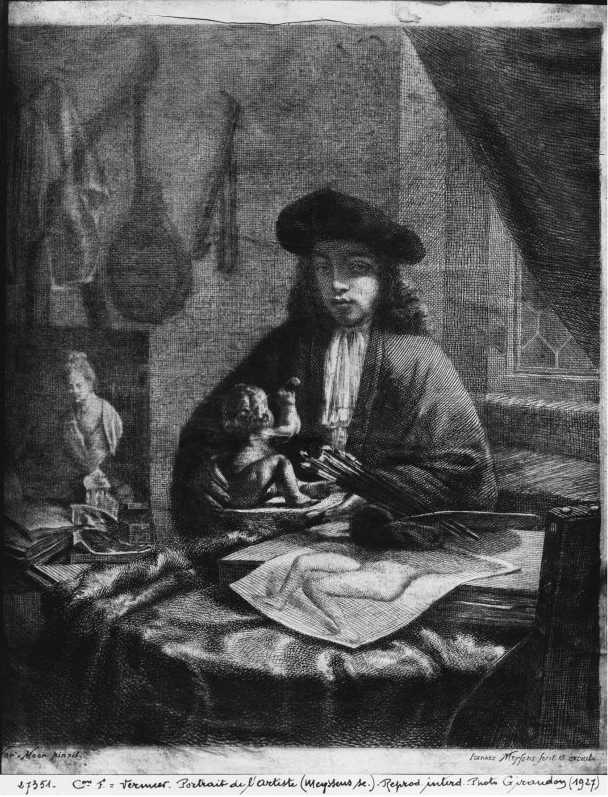 Self Portrait
after Michiel van Musscher
Engraving
Joannes Meyssens
17th century
Dimensions unknown
Whereabouts unknown
One element which has induced some critics to link the Van Musscher's work to Vermeer is the half-shaded face of the young man. The heavy brow and the elongated flat nose are not dissimilar to those of the young man who stares provocatively out at the viewer from Vermeer's authentic Procuress in Dresden. The light in both paintings, blocked by a typical artist's beret worn by both young artists, comes from the same direction subtly caressing the left-hand cheek. Aside from a presumed likeness between the faces of these men, which is substantially subjective, the only other element that might link painting to the lost self-portrait by Vermeer is an engraving by Joannes Meyssens (Flemish, 1612–1670) of the Van Musscher work. Curiously, the engraving bears an inscription on the lower left-hand corner ("Ver. Meer pixet") attributing the image to Vermeer. However, this inscription seems to have been added by a later hand. In addition, the initials "VM," are no longer visible on the canvas if indeed they had ever existed. At one time, the Bass Museum Of Art, where the picture is housed, did attribute the picture to Vermeer but today it is credited to the talented Van Musscher. In any case, various self-portraits and portraits of painters in their studio by Van Musscher have survived. Curiously, one of these works, now lost, is evidently based on the composition of Vermeer's Art of Painting (see black and white image below).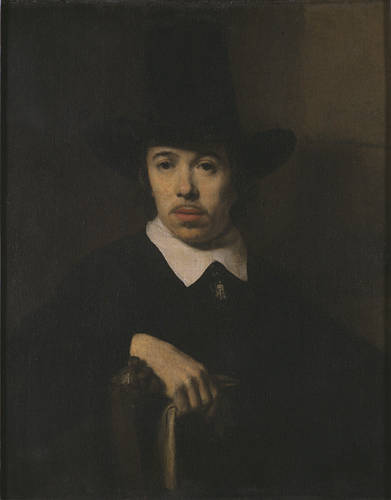 Portrait of an Unknown Man
currently attributed to Nicolaes Maes
Oil on canvas, 73 x 59.5 cm.
Musée Royal de Beaux-Arts, Brussels
One other painting once believed to be the self-portrait by Vermeer from the Dissius auction is the Portrait of an Unknown Man in Brussels; however, this obviously could not be the painting described in the Dissius auction catalogue since it shows none of the "various accessories."
Other than Vermeer's Art of Painting, several minor Dutch works have been proposed as Vermeer self portraits, one of which, the Portrait of an Artist in his Studio (see image below left), was identified as Dissius picture in question.
Another presumed Vermeer self portrait, now titled Portrait of an Unknown Man (see image left), can be immediately disqualified as a serious candidate because it clearly lacks the "accessories"described in the catalogue description.2
Michiel van Musscher
Michiel van Musscher was born in Rotterdam 1645 and died in Amsterdam 1705. According to Arnold Houbraken,4 Van Musscher received his eclectic artistic training in Amsterdam, studying first with the history painter Martinus Zaagmolen (c. 1620–1669) in 1660, then with Abraham van den Tempel in 1661, followed by lessons with Gabriel Metsu in 1665. He completed his studies in 1667 in the studio of Adriaen van Ostade. The following year van Musscher returned briefly to Rotterdam before settling permanently in Amsterdam in 1668. Van Musscher became one of the most successful portrait painters of the final quarter of the seventeenth century. He specialized in portraiture and the painting of genre pieces. His style shows influences of his former master Gabriel Metsu and of Frans van Mieris. A few of his works can be linked to Vermeer. His technique is smooth and refined, but nonetheless freer and more robust than that of the fijnschilders of Leiden. Van Musscher is outstanding in the representation of fabrics.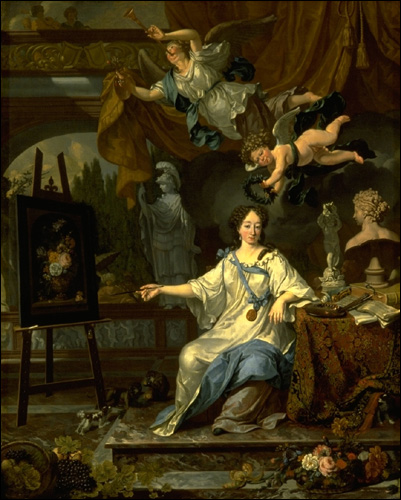 Allegorical Portrait of an Artist
Attributed to Michiel van Musscher
c. 1680–1685
Oil on canvas, 44 15/16 x 35 7/8 in.
North Carolina Museum of Art, Raleigh
Van Musscher painted a number of pictures representing an artist in his studio. One of them (see image right above) has a few rather striking similarities with Vermeer's Art of Painting.
The artist at work in his studio was a popular theme among Dutch painters. It is possible that the younger van Musscher may have been influenced by Vermeer artistically. Although there is no direct evidence that Vermeer actually encountered Van Musscher, an acquaintance was possible (if not probable) because of the fluid nature of Dutch society. People in every walk of life, according to the Metropolitan Museum's Walter Liedtke, traveled with great ease (every day boatloads of people and their produce made the trip back and from Delft to The Hague) and artist's must have known each other more than art historians cautiously suggest.
May 14, 1669.
In the early 20th century, the Portrait of an Unknown Man was attributed to Vermeer largely based on the ideas of Thoré Bürger, the "discoverer" of Vermeer, who held that the Delft artist had been influenced by Rembrandt.
These observations are based on a photographic reproduction of the engraving by Meyssens of poor quality, and on a small color photograph of the van Musscher portrait.
Although a competent artist, Arnold Houbraken is best known as a writer. His three-volume Groote schouburgh ("The Great Theatre of Dutch Painters," 1718–1721), the last volume of which was published posthumously, is generally regarded as one of the most important sources on the lives of seventeenth-century Dutch artists—despite its many omissions and errors. As an artist, he was taught by Jacobus Levecq and Samuel van Hoogstraten in Dordrecht and went on to have a relatively successful studio in Dordrecht and Amsterdam. He specialized in small scale, precise history paintings, portraits and gentile genre scenes.