there are 7 hotspots in the image below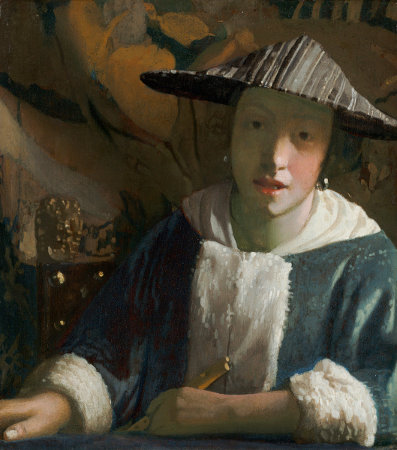 The recorder, or flute as it is usually referred to, makes only a minor appearance in Vermeer's oeuvre. Helen Hollis, formerly of the division of musical instruments at the Smithsonian Institute, believes that although the fipple mouthpiece is correctly indicated by the double highlight, the air hole below the mouthpiece is incorrectly aligned. As seen in the recorder hanging on the wall in a painting by Judith Leyster, it should lie on an axis with the upper lip of the mouthpiece. The finger holes seen below the girl's hand are turned even further off this axis, although such a placement would be allowable if the recorder were composed of two sections.
Scientific examination of the painting reveals that the finger which rests on the recorder was not by Vermeer's hand, suggesting that the flute did not exist in the original composition. Without the added finger, the flute could not be held.
However accurate or inaccurate the representation of the instrument may be, no one has advanced a plausible explanation of the combination of the young girl's Chinese hat and the instrument if, indeed, Vermeer ever intended one.
The identity of the androgynous girl is unknown, but her features are comparable to those of the Girl with a Red Hat, which many experts consider a pendant. In the present work, the rendering of the face appears far less refined than that of her counterpart. This may be due to the fact that some key passages of the painting are unfinished or overpainted by another hand. What we now see may be the so-called "working-up" phase, which was a common procedure that followed an initial monochromatic blocking in. Broad and simplified shifts of light and dark, define both the anatomical features and the fall of the light. Perhaps some of the rougher transitions would have been softened with the so called "badger brush," or "sweetener," a fan-shaped brush used not to apply, but to blend imperceptibly different tones.
But what most deprives the girl of her rightful expression has been overlooked by most experts. Vermeer's masterly highlights, crucial to the mysterious depth of the Girl with a Red Hat, here are totally lacking. This lacuna explains the uncustomary blurry gaze of eyes and dryness of the lips. Highlights are generally the last to be applied and may be vulnerable to overzealous restoration. All considered, it would be ungenerous to judge the painting in its current condition which is among the worst of Vermeer's surviving 35 or 36 paintings.
One writer has perceived the influence of the Far East not only in the girl's peculiar hat but in her physiognomy as well. However, even if Delft was one of the entrance ways for Far East trade, an exotic hat does not necessarily make for an oriental face. In the end, the girl, like many of Vermeer's female protagonists, have plain faces which one would not have noticed had they passed us by on a street. They become beautiful when seen through the painter's exceptional eye.
The juxtaposition of ordinary and extraordinary is one of the characteristics of the tronie genre (see Special Topic box below). In any case, the girl's partially open mouth automatically disqualifies the work as a portrait because the depiction of teeth or the tongue were always avoided in true portraiture, perhaps the most conservative category in 17th-century painting.
Some writers assert that the girl may have been one of Vermeer's daughters, entirely possible, but with no objective foundation whatsoever.
The unusual costume has parallels to contemporary dress of the times and seems to reflect Vermeer's taste for the satin, fur-trimmed garments which populate so many of his genre interiors. Although partially repainted, the jacket looks similar to one worn by the singer in The Concert, which might be the article of clothing annoted in Vermeer's death inventory as "an old green mantle with white fur trimmings."
X-radiography and infrared reflectography reveal that the front panel of fur trim was not a part of the original garment and was added at a later phase in the painting process by Vermeer, perhaps to enliven the work's compositional scheme. The fur trim of the left-hand sleeve has been repainted by a later hand and lacks the freshness of the vertical panel and the right-hand sleeve. Technical examination also proves that the right-hand sleeve once covered more of the figure's forearm.
Such a bizarre hat might appear incomprehensible in Vermeer's imagery unless if we fail to relate it to the painting's probable pendant, Girl with a Red Hat and the Dutch tronie tradition (see Special Topic box below). Among other elements, both of these works are united by improbable head gear sitting on top of an unusual face, a caprice which only a select few painter could transform into great works of art. The hat's broad brim casts a soft shadow over the model's eyes analogous to the one that can be observed in Girl with a Red Hat. Rembrandt had used this device in a series of early self portraits which could have been accessible to Vermeer, if not through the original, through many derivative works by Rembrandt's pupils.
The conical hat has no exact prototype in Dutch paintings of the time even though it reflects the contemporary vogue for oriental costume. One expert believes that the parallel stripes are not painted in conformity with the laws of perspective.
Those who criticize the present work point out the inferior quality of the lion-head finial in respects to the ones in the Girl with a Red Hat (see left), a possible pendant to this work.
Vermeer expert Arthur K. Wheelock Jr. suggests that it may be by the hand of a painter within the "circle of Vermeer" even though there exists no concrete evidence of such a circle or even of an apprentice ever existed. On the other hand, Walter Liedtke believes that all considered the work deserves to be admitted to Vermeer's oeuvre. He points out that it exhibits many formal characteristics of paintings of the same period and that the stylistic anomalies and weak passages are due to the fact that it was left unfinished by the artist.
The background tapestry is yet another element that connects this work to the Girl with a Red Hat. The background tapestry is so approximately painted that it cannot be identified with any degree of certainty even though common sense would lead us to believe that it is of the similar type, if not the same tapestry displayed in The Art of Painting or the Allegory of Faith. One expert has suggested it may be of a Giant Leaf tapestry fabricated in the Spanish Netherlands, which evoked the forests of the New World. Obviously, Vermeer would have had no problems inventing such an elementary design from scratch.
The clumsy appearance of this hand and cuff are due to overpainting by another artist.
EIGHT
NINE
TEN
ELEVEN
TWELVE
THIRTEEN
FOURTEEN
FIFTEEN
SIXTEEN
SEVENTEEN
EIGHTEEN
NINETEEN
TWENTY
The Girl with a Flute is the only painting on panel....other than Girl with a Red Hat. Owing also to similarities in scale and subject matter, scholars frequently cited these works as pendants. Indeed, both girls look expectantly towards the viewer with eyes alert and half-open mouths. Each wears an exotic hat, sits before a tapestry in a chair with lion finials and leans on one arm. Light enters from the left in both compositions, striking the left cheek, nose and chin of both figures. A thin green glaze pulled over the flesh tone, moreover, indicates the shaded positions of the faces. Finally, colored highlights accent the lower lips of the slightly parted mouths, turquoise in the Girl with a Flute and pink in the Girl with a Red Hat.
Arthur K. Wheelock Jr., Johannes Vermeer, 1981
No signature appears on this work.
c. 1665–1670
Arthur K. Wheelock Jr., Vermeer: The Complete Works, New York, 1997
c. 1665–1670
Walter Liedtke, Vermeer: The Complete Paintings, New York, 2008
c. 1665–1668
Wayne Franits, Vermeer, 2015
The vertically grained oak panel support has beveled edges on the back. The panel has a slight convex warp, a small check in the top edge at the right, and small gouges, rubs, and splinters on the back from nails and handling. A very thin, smooth; white chalk ground was applied overall, followed by a course textured gray ground. A reddish-brown dead coloring exists under most areas of the painting and is incorporated in the design of the tapestry.
Paint is applied moderately thinly, forming a rough surface texture in lighter passages. Still wet paint in the proper right cheek and chin was textured with a fingertip, then glazed with a translucent green half-tone. In many areas of the whites, particularly in the proper left collar and cuff, a distinctive wrinkling is present, which disturbs the surface. Small irregularly shaped losses over much of the surface may have resulted from abrasion to similar wrinkles that occurred during old restorations.
* Johannes Vermeer (exh. cat., National Gallery of Art and Royal Cabinet of Paintings Mauritshuis - Washington and The Hague, 1995, edited by Arthur K. Wheelock Jr.)
(?) Pieter Claesz van Ruijven, Delft (d. 1674); (?) his widow, Maria de Knuijt, Delft (d. 1681);
(?) their daughter, Magdalena van Ruijven, Delft (d. 1682); (?) her widower, Jacob Abrahamsz Dissius (d. 1695);
Dissius sale, Amsterdam, 16 May, 1696, no. 38, 39 or 40 [tronies];
(?) Van Son family, 's-Hertogenbosch;
Jan Mahie van Boxtel en Liempde and his wife, Geertruida van Boxtel en Liempde (née Van Son, d. 1876), 's-Hertogenbosch;
purchased by their daughter, Jacqueline Gertrude Marie de Grez-van Boxtel en Liempde, wife of Jonkheer Jan de Grez (d.1910), Brussels (1876–1911);
[Jonas, Paris, 1911];
August Janssen, Amsterdam [by 1919–1921];
[Frederick Muller, Amsterdam, and Knoedler, New York, 1921–1923, sold to Widener];
Joseph E. Widener, Lynnewood Hall, Elkins Park, Philadelphia (1923-d.1942);
National Gallery of Art, Washington, DC, Widener Collection (acc. no. 1942.9.98).
The Hague 1907
Loan to display with permanent collection
Mauritshuis.
The Hague 1919
La Collection Goudstikker d'Amsterdam
Pulchri Studio
no. 131 and ill.
Washington D.C 1995
Dutch Cabinet Galleries
National Gallery of Art
204–208, no. 23 as "Young Girl with a Flute" by Circle of Johannes Vermeer, and ill.
Washington D.C November 12, 1995–February 11, 1996
Johannes Vermeer
National Gallery of Art
no. 23 as "Young Girl with a Flute" by circle of Johannes Vermeer
The Hague March 1–June 2, 1996
Johannes Vermeer
Mauritshuis
204–208, no. 23 as "Young Girl with a Flute" by Circle of Johannes Vermeer and ill.
Washington D.C May 17–August 9, 1998
A Collector's Cabinet
National Gallery of Art
no. 62
Washington D.C November 24, 1999–February 8, 2000
Johannes Vermeer's The Art of Painting
National Gallery of Art
not in brochure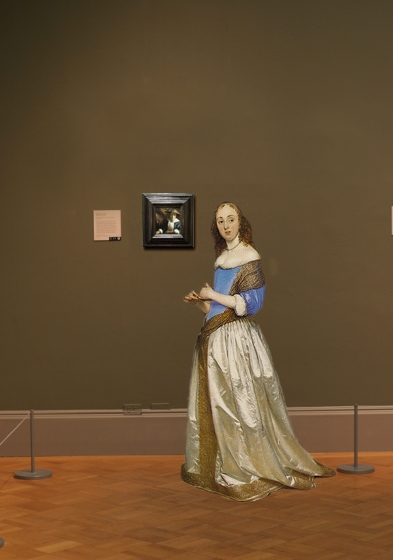 1665
vermeer's life
Pieter van Ruijven and his wife Maria Knuijt leave 500 guilders to Vermeer in their last will and testament. This kind of a bequest is very unusual and testifies a close relationship between Vermeer and Van Ruijven that went beyond the usual patron/painter one. It would seem that in his life-time the rich Delft burger had bought a sizable share of Vermeer's artistic output.
dutch painting

Rembrandt paints The Jewish Bride.

Adriaen van Ostade paints The Physician in His Study.

c. 1665 Gerrit Dou painted Woman at the Clavichord and a Self-Portrait in which he resembled Rembrandt.

european painting & architecture

Bernini finishes high altar, St. Peter's, Rome (begun 1656).

Murillo: Rest on the Flight into Egypt.

Nicolas Poussin, French painter, dies. Known as the founder of French Classicism, he spent most of his career in Rome which he reached at age 30 in 1624. His Greco-Romanism work includes The Death of Chione and The Abduction of the Sabine Women.

Compagnie Saint-Gobain is founded by royal decree to make mirrors for France's Louis XIV. It will become Europe's largest glass-maker.

Francesco Borromini completes Rome's Church of San Andrea delle Fratte.

music

Molière: Don Giovanni.

Sep 22, Moliere's L'amour Medecin, premiered in Paris.

literature

Philosophical Transactions of the Royal Society begins publication.

science & philosophy

Giovanni Cassini determines rotations of Jupiter, Mars, and Venus.

Peter Chamberlen, court physician to Charles 11, invents midwifery forceps

Pierre de Fermat, French mathematician, dies. His equation xn + yn = zn is called Fermat's Last Theorem and remained unproven for many years. The history of its resolution and final proof by Andrew Wiles is told by Amir D. Aczel in his 1996 book Fermat's Last Theorem. Fermat's Enigma: The Epic Quest to Solve the World's Greatest Mathematical Problem by Simon Singh was published in 1997. In 1905 Paul Wolfskehl, a German mathematician, bequeathed a reward of 100,000 marks to whoever could find a proof to Fermat's "last theorem." It stumped mathematicians until 1993, when Andrew John Wiles made a breakthrough.

Francis Grimaldi: Physicomathesis de lumine (posth.) explains diffraction of light.

Isaac Newton experiments on gravitation; invents differential calculus.

Robert Hooke's Micrographia, with illustrations of objects viewed through a microscope, is published. The book greatly influences both scientists and educated laypeople. In it, Hooke describes cells (viewed in sections of cork) for the first time. Fundamentally, it is the first book dealing with observations through a microscope, comparing light to waves in water.

Mathematician Pierre de Fermat dies at Castres January 12 at age 63, having (with the late Blaise Pascal) founded the probability theory. His remains will be reburied in the family vault at Toulouse.

history

English naval forces defeat a Dutch fleet off Lowestoft June 3 as a Second Anglo-Dutch war begins, 11 years after the end of the first such war. General George Monck, 1st duke of Albemarle, commands the English fleet, Charles II bestows a knighthood on Irish-born pirate Robert Holmes, 42, and promotes him to acting rear admiral, giving him command of the new third-rate battleship Defiance, but the Dutch block the entrance to the Thames in October.

Feb 6, Anne Stuart, queen of England (1702–1714), is born.

At least 68,000 Londoners died of the plague in this year.

University of Kiel is founded.

The second war between England and the United Provinces breaks out. It will last until 1667 and devastate the art market.

Mar 11, A new legal code was approved for the Dutch and English towns, guaranteeing religious observances unhindered.

Nov 7, The London Gazette, the oldest surviving journal, is first published.

Ceylon becomes important trade centre for the VOC
1666
vermeer's life

The Concert presents a very similar deep spatial recession similar to the earlier Music Lesson. Vermeer's interest in the accurate portrayal of three dimensional perspective to create such an effect was shared by other interior genre painters of the time, however, only Vermeer seems to have fully and consciously understood the expressive function of perspective. The two paintings' underlying theme of music between male and female company is also analogous although few critics believe they were conceived as a pendant.

In the paintings of the 1660s the painted surfaces are smoother and less tactile, the lighting schemes tend to be less bold. These pictures convey and impalpable air of reticence and introspection, unique among genre painters with the possible exception of Gerrit ter Borch.

dutch painting
Frans Hals, eminent Dutch portrait painter, dies. It was formerly believed that he died in the Oudemannenhuis almshouse in Haarlem which was later became the Frans Halsmuseum.
european painting & architecture

François Mansart, French architect, dies.

Apr 9, 1st public art exhibition (Palais Royale, Paris).

music
Dec 5, Francesco Antonio Nicola Scarlatti, composer, is born.
literature
Le Misanthrope by Molière is palyed at the Palais-Royal, Paris.
science & philosophy

Laws of gravity established by Cambridge University mathematics professor Isaac Newton, 23, state that the attraction exerted by gravity between any two bodies is directly proportional to their masses and inversely proportional to the square of the distance between them. Newton has returned to his native Woolsthorpe because the plague at Cambridge has closed Trinity College, where he is a fellow; he has observed the fall of an apple in an orchard at Woolsthorpe and calculates that at a distance of one foot the attraction between two objects is 100 times stronger than at 10 feet. Although he does not fully comprehend the nature of gravity, he concludes that the force exerted on the apple is the same as that exerted on Earth by the moon.

Calculusis invented by Isaac Newton will prove to be one of the most effective tool for scientific investigation ever produced by mathematics.

Nov 14, Samuel Pepys reported the on first blood transfusion, which was between dogs.

The plague decimates London and Isaac Newton moved to the country. He had already discovered the binomial theorem at Cambridge and was offered the post of professor of mathematics. Newton formulates his law of universal gravitation.

A French Academy of Sciences (Académie Royale des Sciences) founded by Louis XIV at Paris seeks to rival London's 4-year-old Royal Society. Jean Baptiste Colbert has persuaded the king to begin subsidizing scientists. Christiaan Huygens, along with 19 other scientists, is elected as a founding member. After the French Revolution, the Royale is dropped and the character of the academy changes. It later becomes the Institut de France.

history

Sep 2, The Great Fire of London, started at Pudding Lane, began to demolish about four-fifths of London when in the house of King Charles II's baker, Thomas Farrinor, forgets to extinguish his oven. The flames raged uncontrollably for the next few days, helped along by the wind, as well as by warehouses full of oil and other flammable substances. Approximately 13,200 houses, 90 churches and 50 livery company halls burn down or explode. But the fire claimed only 16 lives, and it actually helped impede the spread of the deadly Black Plague, as most of the disease-carrying rats were killed in the fire.

Because almost all European paper is made from recycled cloth rags, which are becoming increasingly scarce as more and more books and other materials are printed, the English Parliament bans burial in cotton or linen cloth so as to preserve the cloth for paper manufacture.
1667
vermeer's life

Vermeer's name is mentioned in a poem by Arnold Bon in Dirck van Bleyswijck's Beschryvinge der Stadt Delft (Description of the City of Delft) published in 1667. It is the most significant and direct reference to Vermeer's art to be found. The poem written by Arnold Bon, Bleyswyck's publisher, was composed in the honor of Carel Fabritius who had died in the famous ammunitions explosion. Vermeer's name is lauded in the poem's last stanza.

Thus did this Phoenix, to our loss, expire,
In the midst and at the height of his powers,
But happily there arose out of the fire
Vermeer, who masterfully trod in his path.

Maria Thins empowers Vermeer to collect various debts owed to her and to reinvest the money according to his will and discretion. Vermeer's mother-on-law evidently maintained her moral and financial support of Vermeer and his family.

Another of Vermeer's children is buried in the Nieuwe Kerk in Delft.

dutch painting
Gabriel Metsu, ecclectic Dutch painter, dies.
european painting & architecture

Francesco Borromini, Italian sculptor and architect, dies. Borromini designed the San Ivo della Sapienza church in Rome.

Alonso Cano, Spanish painter and architect, dies.

music
German composer-organist-harpsichordist Johann Jakob Froberger dies at Héricourt, France. His keyboard suites will be published in 1693, arranged in the order that will become standard: allemande, courante, sarabande, and gigue.
literature

Paradise Lost is written by John Milton, who has been blind since 1652 but has dictated to his daughters the 10-volume work on the fall of man, Better to reign in Hell than serve in Heaven. Milton's Adam questions the angel Raphael about celestial mechanics, Raphael replies with some vague hints and then says that "the rest from Man or Angel the great Architect did wisely conceal and not divulge His secrets to be scann'd by them who ought rather admire." The work enjoys sales of 1,300 copies in 18 months and will be enlarged to 12 volumes in 1684, the year of Milton's death; Annus Mirabilis by John Dryden is about the Dutch War and last year's Great Fire.

Nov 7, Jean Racine's Andromaque, premiered in Paris.

science & philosophy
National Observatory, Paris, founded
history
Pope Alexander VII dies. Giulio Rospigliosi becomes Pope Clement IX.

c. 1667 In France, during the reign of King Louis XIV, the fork begins to achieve popularity as an eating implement. Formerly, only knives and spoons had been used.

Jun 18, The Dutch fleet sailed up the Thames and threatened London. They burned 3 ships and capture the English flagship.

Jun 21, The Peace of Breda endsthe Second Anglo-Dutch War (1664–1667) and sees the Dutch cede New Amsterdam (on Manhattan Island) to the English in exchange for the island of Surinam.

De Verstandige Kok (The Sensible Cook) is published for the first time. Geared towards middle- and upper middle-class families, the book advises a regular and balanced diet, including fresh meat at least once a week, frequent servings of bread and cheese, stew, fresh vegetables and salads. While simple dishes, such as porridge, pancakes and soup with bread are eaten by all classes, studies reveal that only the affluent have regular access to fresh vegetables during the period; the less wealthy depend on dried peas and beans.
1668
vermeer's life
Vermeer signs and dates The Astronomer 1668. Some scholars believe that Delft citizen Antonie van Leeuwenhoek, who was by then internationally recognized for his studies in optics and scientific observations, posed for The Astronomer, although portraits of Leeuwenhoek bears little resemblance to the seated man in Vermeer's picture.
dutch painting

Rembrandt paints Return of the Prodigal Son.

Gabriel van de Velde paints Golfers on the Ice.

Philips Wouwerman, Dutch painter, dies. He was the most celebrated member of a family of Dutch painters from Haarlem, where he worked virtually all his life. He became a member of the painters' guild in 1640 and is said by a contemporary source to have been a pupil of Frans Hals. The only thing he has in common with Hals, however, is his nimble brushwork, for he specialized in landscapes of hilly country with horses—cavalry skirmishes, camps, hunts, travelers halting outside an inn, and so on. In this genre he was immensely prolific and also immensely successful.

european painting & architecture

Johann Lukas von Hildebrandt, Austian architect, is born.

Bernini sculpts a terra cotta study for one of the angels of Rome's Port Santa Angelo.

music

Nov 10, Francois Couperin, composer and organist (Concerts Royaux), is born in Paris, France.

Danish organist-composer Diderik Buxtehude, 31, is named organist at the Marienkirche in Lübeck, succeeding Franz Tunder (whose daughter, Anna, he marries). His sacred Abendmusiken concerts will be presented each year during Advent on the five Sundays before Christmas. Buxtehude's cantatas and instrumental organ work will have a strong influence on other composers.

Mar 5, Francesco Gasparini, composer, is born.

literature

Apr 13, John Dryden (36) became 1st English poet laureate.

science & philosophy

Robert Hooke: Discourse on Earthquakes.

Newton invents the reflecting telescope, building the first telescope based on a mirror (reflector) instead of a lens (refractor).

First accurate description of red corpuscles by Antonie van Leeuwenhoek. Leeuwenhoek was born in the same year as Vermeer and is often associated to the artist for their interest in optics.

Chemist Johann R. Glauber dies at Amsterdam March 10 at age 63.

history

Mar 26, England takes control of Bombay, India.

Mar 27, English king Charles II gives Bombay to the East India Company.

Sep 16, King John Casimer II of Poland abdicates his throne.

Louis XIV of France purchased the 112 carat blue diamond from John Baptiste Tavernier for 220,000 livre. Tavernier is also given a title of nobility.

Feb 7, The Netherlands, England and Sweden conclude an alliance directed against Louis XIV of France.
1669
vermeer's life

Vermeer's mother, Digna Baltens, leases the inn Mechelen to a shoemaker for three years. She and her husband had worked in the place for 28 years. Afterwards she goes to live with her daughter Gertruy on the Vlamingstraat, in Delft.

Vermeer and his wife bury another child in the Oude Kerk.

Pieter Teding van Berckhout, from an important family in The Hague, visits Vermeer twice and enters in his diaries his impressions. In May 14, 1669, Van Berckhout writes: "Having arrived in Delft, I saw an excellent painter named Vermeer," stating also that he had seen several "curiosities" of the artist. He had arrived in Delft accompanied by Constantijn Huygens and his friends—member of parliament Ewout van der Horst and ambassador Willem Nieupoort. Huygens was an artistic authority in his own day, maintaining contacts with the famous Flemish painters Peter Paul Rubens and Anthony van Dyck and recording in his own diary some remarkably insightful comments about the art of, among others, Rembrandt van Rijn.

Van Berckhout must have been deeply impressed by the work he saw in Vermeer 's studio, since he returned for another visit less than a month later. On June 11, Van Berckhout notes: "I went to see a celebrated painter named Vermeer" who "showed me some examples of his art, the most extraordinary and most curious aspect of which consists in the perspective." This time Van Berckhout used the term "celebrated" rather than "excellent" in describing Vermeer. This testifies Vermeer had achieved a rather considerable reputation. What is most interesting about this visit is that Vermeer's studio (like Dou and van Mieris) had evidently evidentbecome a major cultural destination.

dutch painting
Oct. 4, Rembrandt dies, eleven months later after his son, Titus, in 1668—only 27 years of age. His beloved Hendrickje had died in 1663.
european painting & architecture

Le Vau begins remodeling Versailles.

The semicircular Sheldonian Theater at Oxford, England, designed by Christopher Wren, is completed.

music

Royal patent for founding Academie Royale des Operas granted to Pierre Perrin.

Marc' Antonio Cesti, Italian composer, dies.

The first Stradivarius violin is created by Italian violinmaker Antonio Stradivari, 25, who has served an apprenticeship in his home town of Cremona in Lombardy to Nicola Amati, now 73, whose grandfather Andrea Amati designed the modern violin. The younger Amati has improved on his grandfather's design and taught not only Stradivari but also Andrea Guarnieri, 43, who also makes violins at Cremona.

literature
science & philosophy

Arnold Geulincx (b. 1624), Dutch philosopher, dies.

Nicolaus Steno (1638–1687) begins the modern study of geology.

Nils Steensen's Prodromus is first published in Italy and translated to English two years later. It explains the author's determination of the successive order of the earth strata.

Emperor Leopold I sanctions the foundation of a higher school in Innsbruck, Austria. This is considered to mark the founding of the University of Innsbruck.

A General History of the Insects by Jan Swammerdam presents a preexistence theory of genetics that the seed of every living creature was formed at the creation of the world and that each generation is contained in the generation that preceded it.

history

Pope Clement IX dies at Rome December 9 at age 69 after a 2½-year reign in which he has encouraged missionary work, reduced taxes, and extended hospitality to Sweden's former queen Kristina. He will not be replaced until next year.

Feb 1, French King Louis XIV limits the freedom of religion.

Mar 11, Mount Etna in Sicily erupts killing 15,000.

Sep 27, The island of Crete in the Mediterranean Sea falls to the Ottoman Turks after a 21-year siege.
1670
vermeer's life

Vermeer's mother is buried in the Nieuwe Kerk in Delft, February 13.

Geertruijt Reynier Vermeer, Vermeer's sister, is buried at the beginning of May in the Nieuwe Kerk in Delft.

Vermeer inherits Mechelen from his mother, July 13. He rents it to a shoemaker caller Van Ackerdyck.

Vermeer is appointed for a second time headmen of the Guild of Saint Luke. He continues to paint in an "abstract" mode paying greater attention to pattern and the compositional structure of his works. Scholars have asserted that Vermeer may have been following the popular French mode of painting.

Delft pop. 15,000
The Hague pop. 6,000
Amsterdam pop. 219,000

dutch painting
european painting & architecture

Louis Le Vau, Fr. architect, d. (b. 1612)

Landscape architect André Lenôtre lays out the Champs-Elysées at Paris.

music
Molière's Le Bourgeois Gentilhomme includes a ballet with music by court composer Jean Baptiste Lully, 38, who has come to France from his native Florence and changed his name from Giovanni Battista Lulli. The ballet is so popular that four performances are requested in the space of 8 days.
literature

Feb 10, William Congreve, English writer (Old Bachelor, Way of the World), is born.

John Ray prints a book of aphorisms such as: "Blood is thicker than water..." and "Haste makes waste."

science & philosophy

Italian scientist Giovanni Borelli attempts to use artificial wings to flying.

London clockmaker William Clement improves the accuracy of clocks by inventing anchor-shaped gadgets (escapements) that control the escape of a clock's driving force.

Parts of Baruch de Spinoza's Tractatus Theologico-Politicus are published anonymously. Spinoza shows that the Bible, if properly understood, gives no support to the intolerance of religious authorities and their interference in civil and political affairs. The book creates a furor. It will provoke widespread denunciations as it goes through five editions in the next 5 years, and Spinoza moves to The Hague to gain the protection of influential friends. Now 37, he suffers from tuberculosis after years of inhaling glass dust produced by his lens-making.

history

Cardinal Emilio Altieri becomes Pope Clement X.

May 2, The Hudson Bay Co. is chartered by England's King Charles II to exploit the resources of the Hudson Bay area.

Oct 13, Virginia passes a law that blacks arriving in the colonies as Christians cannot be used as slaves.

The Dutch merchant marine has become larger than that of England, France, Spain and Portugal combined.

Minute hands first appear on watches.

Cafe Procope, the first cafe in Paris, begins serving ice cream.

France's Louis XIV founds Les Invalides at Paris to house up to 7,000 disabled soldiers.
In classical times, stringed instruments were held in highest regards. The cithara, for example, was noble enough to be dedicated to Apollo, while the flute was dedicated to Dionysius because of his associations with drunkenness and orgies. Therefore, it was considered the most primitive of musical instruments and to a good extent, this view prevailed until the 17th century.
From its appearance in shepherd portraits and Dutch genre works, the flute may seem to have been little more than a decorative attribute, easily depicted. It plays well in both the tranquil domestic scene and the shabby open-air tavern. However, in the 17th century, the recorder had become more than a plaything: it was but one musical instrument amongst others, sometimes improved by the work of professional instrument-makers, heard by a varied audience, and played by both dedicated amateurs and professional musicians such as Jacob van Eyck.
The Girl with a Flute is a perfect example of the popular category of Dutch painting called tronie, an obsolete term that refers to a type of picture made familiar by Rembrandt and his followers. Tronies were based upon living models, including the artists themselves, relatives or colleagues. However, they were not intended as formal portraits—portraits were always commissioned—but were kept on spec in the artist's studio ready to stimulate the potential buyer's appetite. An old man, a comely young woman, a "Turk," or a dashing soldier were all standard tronies subjects. Artists favored garments that looked particularly exotic offering the opportunity to experiment and show off painterly technique, one of the strongest calling cards of the professional artist. Tronies, usually reduced in scale, dimension and price, were avidly collected.
The self portrait by Frans van Mieris (see left), one of the most successful artists in the Netherlands, evidences the typical showiness of the Dutch tronie.
Vermeer is known to have painted three tronies in all, one of which, the famous Girl with a Pearl Earring.
Jacob Van Eyck was one of the most remarkable figures in Dutch musical life during the Golden Age. He was a nobleman, blind from birth, widely known as a carillonneur, leading expert in the field of bell casting and tuning, and admired as a brilliant recorder virtuoso. His demanding solo variations, preludes and fantasias from Der Fluyten Lust-hof (The Flute's Garden of Delight) are both loved and feared by recorder players today, all over the world.
It is said that Van Eyck used to improvise in the garden adjacent to the Sint Janskerk in Utrecht, entertaining by-passers and romancing young couples. Someone then must have listened his way through and transcribed what corresponds to almost ten hours of music, very much the way many a jazz musician still work today. The apparent popularity of van Eyck's music caused his publisher Paul Matthysz to edit several collections in van Eyck's lifetime. One can only imagine the troublesome procedures foregoing a publication of this kind, as the author couldn't write himself. Der Fluyten Lust-hof is an outstanding proof of a craft which is today a sadly neglected art form. To improvise was the true core of all music long before the invention of musical notation.
With about 150 pieces Der Fluyten Lust-hof is the largest solo collection for one single instrument ever printed. Van Eyck's output consists mainly of sets of variations on tunes that were popular during the Dutch Golden Age. Its themes are as diverse as Calvinist psalms, dances, the hits of the day and lewd songs.
For centuries, this kind of music belonged to the repertoire of an instrument of ancient origin which was played at the courts, in the streets, churches, brothels and pubs: the recorder. The work gives us a rare insight into the musical world of the late Renaissance and the early Baroque with its intricate and abundant use of variation techniques.
Even though Vermeer often retraced his steps and produced couples of work that are closely related in style or subject, there is no objective proof that any of these works were meant as true pendants intended to be hung side by side. Plausible candidates for a pendant, however, must be the present work and the Girl with a Red Hat (see images left). They are both executed on panel and are of similar dimension. Moreover, they both portray a similar young, opened-mouth girl wearing an outlandish hat—no comparable similar hats appear in Dutch painting of the Golden Age—which projects upon each face a soft shadow over the eyes. Both figures, with large pair-shaped pearl earrings, peer out directly at the spectator from an evocative penumbra and are seated on a Spanish chair while an anonymous tapestry hovers behind them. Furthermore, the best passages of each work are comparable in style and delicacy.
The most obvious argument against the case of the pendant is that the Girl with a Flute does not stand up to the overall technical quality as its counterpart. However, scientific examination reveals that the inconsistencies can be safely attributed to the poor state of conservation of the Girl with a Flute while the possibility that the work was left unfinished is also open.

"Engels Lied"("English Song") [1.82 MB]
from Jacob van Eyck, Der Fluyten Lust-Hof
performed by Marion Verbruggen
http://www.bach-cantatas.com/Bio/Verbruggen-Marion.htm
The prehistoric ancestors of the recorder (whistles for distance communication and ritual dances and the spirit calling) were of made of bone, ivory or wood and can be traced back to thousands of years. Probably the earliest specimen of a recorder- flute-like instrument dates back about 39,000 years and was recently been discovered in a cavern in southwest Germany making it the oldest musical instrument known. Portrayals of wind instruments ("pipes") which may be recorders, appear in medieval sculptures, carvings and paintings from the 11th century to the 14th century.
During the 15th and 16th centuries the recorder developed into the "renaissance" form and was produced in many sizes for consorts, blending easily with each other in "whole" consorts (consorts of recorders) or contrasting with other period instruments or voices. The first professional use of recorders is documented towards 1500 as one of the regular instruments of professional wind players, along with shawm, cornett, sackbut and trumpet. In 16th-century Venice the "pifferi" (pipers) of the Doge played recorders as well as other instruments for the large processions of the Scuola di San Marco.
Due to its relative ease of playing (practiced by children in numerous Dutch 17th-century paintings) the recorder became very popular with amateur musicians of all classes, including royal and noble households as is evident from inventories listing vast quantities of wind instruments. King Henry VIII of England owned no less than 76 recorders.
The most famous recorder player of the 17th century was no doubt the blind Jacob van Eyck, composer of Der fluyten lust-hof (Amsterdam 1646–1649), the largest collection of music ever published for a solo wind instrument by a single composer.
With the change of the musical taste in the late 16th and 17th centuries the recorder was redesigned for use as a solo instrument. It was now made in three pieces allowing a more accurate boring and had a fully chromatic range of two octaves. This new "baroque recorder" produced an reedy, penetrating sound of great carrying power, therefore, best suited for chamber music and even solo concerti. It remained a highly esteemed and popular instrument until the late 18th and early 19th century.
The essential feature of the recorder is the head with the internal plug ("block," hence the German name "Blockflöte"), leaving the windway (duct) to lead the player's breath to a rigid sharp edge or "lip" (voicing edge) at the base of the mouth ("labium").
The recorder has holes for seven fingers (the lower one or two often doubled to facilitate the production of semitones) and a single hole for the thumb on the back side which also serves as an octaving vent. A recorder consort usually consists of the "descant" or "soprano," the "treble" or "alto," the tenor and the bass instrument. Sopranino and great bass instruments are also fairly common.
In contemporary French and Dutch language the word "hat" could be used as a metaphor for a man while "coif" denoted a woman.
Women were largely discouraged from wearing the broad felt hats that men wore in public until the mid 1600s, when it had become more acceptable. Fashionable young women in Holland occasionally wore feathered hats during promenades to the country or seaside as a special protection against exposure to the sun.
On the other hand, wide-brimmed straw hats were worn by women everywhere in Europe of all classes. They had the same protective function as more expensive hats and must have had a charming effect on men. In painting they were often associated with country life.
The kind of hat worn by the woman in this painting by Vermeer is something out of the ordinary and was painted just for that reason.
The prominent role that music played in Dutch society was supported by the Dutch educational system which was probably the best in Europe at the time. Primary schools were available to all social classes and could be found in almost every village. Although the major focus was on reading, writing, arithmetic and Scriptures, music was sometimes offered as a supplemental instruction. At the secondary level, musical instruction was given to boys aged nine to seventeen. At Latin School, present in every major town, music instruction was continued and musical theory was introduced at the gymnasium (grammar school). However, serious study required a professional instructor. Lower-class children could earn their keep by assisting the master.
Other than giving musical lessons, various opportunities were available to aspiring musicians. Larger Dutch towns employed stadspeellieden (municipal musicians) who primarily played string or wind instruments. Their duties varied but the inevitably received little pay.
What was Vermeer's musical education like? As the only son of an innkeeper Vermeer grew up in taverns where drinking, smoking, business, cavorting and music-making all meshed together amid pictures from his father's art trade. Furthermore, music seems to have had some place in his family.
The stepfather of Vermeer's father Reynier, Nicolaes ("Claes") Corstiaensz. van der Minne, was a professional musician, a so-called speelman, aside from being a tailor. We know that Nicolaes had played on the occasions of public festivities or whenever he was called on. He possessed various instruments, and it is probable that Nicolaes had instructed his son to play some kind of musical instrument, perhaps a flute. Thus, Reynier grew up in a musical family. It would be only logical to suppose that he imparted to his own two children, Gertruy and Johannes, a hearty sense of enjoyment. Although there is no proof, the artist's family musical connections have something to do with the elevated number of musical themes he painted.