Citations: Essential Vermeer Website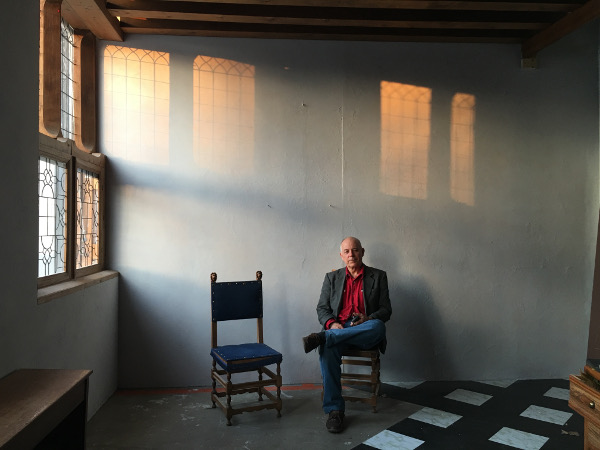 Jonathan Janson (photo courtesy Tim Jenison)
2018
12 things you didn't know about Vermeer


— Essential Vermeer website author Jonathan Janson writes head essay for Google's collaborative project with 18 art institution, Meet Vermeer, explaining "12 of things you might not have known about Vermeer."
2018
Want to See All the Vermeers in the World? Now's Your Chance (Nina Siegal)


New York Times, December 3, 2018
—Essential Vermeer website is linked three times from an online review of Google Art Project's, Meet Vermeer
2018
Google's Virtual Vermeer Museum Is a Legitimately Cool Use of AR (Victoria Song)


GIZMODO, December 3, 2018
— Essential Vermeer website is linked from an online review of Google Art Project's, Meet Vermeer.
2018
The Mystery of Lost Paintings: The Concert
produced by Sky Arts Production Hub
45 min.
— author and webmaster of Essential Vermeer Jonathan Janson is interviewed in the documentary about Vermeer's lost The Concert.
March, 2018
Girl with a Blog (Abbie Vandervere)
— The Essential Vermeer article "Dead Coloring or Underpainting" is listed as a reference by the Mauritshuis conservator Abbie Vandervere on the webpage "Dressed to Impress" of a Mauritshuis blog which accompanied the technical examination of Vermeer's Girl with a Pearl Earring (Girl with a Blog).
September, 2017
Vermeer in Detail (Gary Schwartz)
— In the Introduction, Schwartz writes: "The single most important source at my disposal was the remarkable website Essential Vermeer, the work of the artist/art historian Jonathan janson. His beautifully organized and bounteously stocked treasure of information and images is a model of its kind. Would that every import nat artist were blessed with such a resource." Other citations are included.
2017
Traces of Vermeer (Jane Jelley)
—Essential Vermeer is listed in the bibliography.
2017
Vermeer: The Complete Works (Karl Schütz)
—Essential Vermeer is listed in the bibliography.
March, 2015
Vermeer (Wayne Franits)
—Essential Vermeer cited as website resource
2015
Travels in Vermeer: A Memoir ( Michael White)
—White writes: "Jonathan Janson, a central figure in contemporary Vermeer studies, has helped me immeasurably. As a working painter, Janson writes with intimacy and authority about Vermeer and about the art of painting in general. His website, The Essential Vermeer, is one of the great art troves of the internet, visited daily not only by experts of the field, but also by countless students, travelers and amateur Vermeer lovers like myself."
5 March, 2014
Vermeer, La Fabrique de la Gloire, (Jan Blanc)
— Essential Vermeer is cited in the "sites internet" section.
30 June, 2014, edited on 11 July, 2014
The Schwartzlists (Gary Schwartz)
"Vermeer's blood-sopping saint"
http://www.garyschwartzarthistorian.nl/schwartzlist/?id=192
— In an article regarding the authenticity of the Saint Praxedis, the author cites an Essential Vermeer article as an "excellent entry on Vermeer's signatures on the invaluable Essential Vermeer 2.0."
5 June, 2014
HNA/AANS International Interdisciplinary Conference, Boston
—Essential Vermeer author Jonathan Jansonis invited to co-chair the workshop, Artists in the Age of the Internet: janbrueghel.net, essentialvermeer.com, and the Artist Website.
27 December, 2013
The Guardian (Simon Jenkins)
"What Vermeer's Guitar Player taught me about the joy of art. With Kenwood House restored, The Guitar Player is back where she should be and my obsession is renewed"
http://www.theguardian.com/co, mmentisfree/2013/dec/27/vermeer-guitar-player-art-kenwood-house
—Essential Vermeer website is cited and linked.
November 27, 2013
The New York Times (Randy Kennedy)
"For Fervent Fans of the Dutch Masters, 'It's a Dream Come True'"
http://www.nytimes.com/2013/11/28/arts/design/for-fervent-fans-of-the-dutch-masters-its-a-dream-come-true.html?_r=1&
—Essential Vermeer author Jonathan Janson is discussed and website is linked.
June, 2013
Vermeer and Music: The Art of Love and Leisure (exhibition catalogue by Marjorie E. Wieseman)
http://www.nationalgallery.co.uk/products/ng_exhibitions/vermeer_and_music_the_art_of_love_and_
leisure/p_1034693
— Listed among "Further Reading" the article "Music in the Time of Vermeer" (by Adelheid Rech, 2005) published on the Essential Vermeer.
August 19, 2013
Johannes Vermeer: The 36th Painting (Erica Trapasso)
https://news.artnet.com/market/johannes-vermeer-the-36th-painting-30525
—Essential Vermeer footnoted in article about A Young Woman Seated at the Virginal, attributed to Vermeer.
September, 2012
exhibition catalogue: Vermeer: Il secolo d'oro dell'arte olandese (curated by Sandrina Bandera, Walter Liedtke e Arthur K. Wheelock, Jr.)
https://www.scuderiequirinale.it/categorie/catalogo-002
—The author of Essential Vermeer, Jonathan Janson, is cited among "Si ringraziano."
2012
The Rijksmuseum Bulletin, vol 1.
"A Question of Framing on Vermeer's 'Woman in Blue Reading a Letter'" (Gregor Weber)
—Essential Vermeer section "Vermeer Paintings in their Frames"is cited on page 27, footnote no. 7.
December, 2008
Vermeer's Hat: The Seventeenth Century and the Dawn of the Global World (Timothy Brook)
http://www.amazon.com/Vermeers-Hat-Seventeenth-Century-Global/dp/1596915994
—Essential Vermeer cited in "Recommended Reading and Sources," p.236
November, 2008
Vermeer: The Complete Paintings (Walter A. Liedtke)
http://www.amazon.com/Vermeer-The-Complete-Paintings-Classical/dp/0810983362
Cited in catalogue entry of The Lacemaker, "Making Lace with Vermeer" (by Adelheid Rech, published in Essential Vermeer), 153.
July 18, 2006
Vermeer in Mauritshuis (Epco Runia)
http://www.amazon.com/Vermeer-Mauritshuis-Epco-Runia/dp/9040090734
—Essential Vermeer is cited in the "Acknowledgments" in the "websites" section.
August 1, 2005
Kathryn Shattuck, New York Times
"John Montias, 76, Scholar Of Economics and of Art"
http://query.nytimes.com/gst/fullpage.html?res=9E04E2DE1E3FF932A3575BC0A9639C8B63
— Exclusive Essential Vermeer website interview with Montias is cited and linked.
2002
—Jonathan Janson, the author and webmaster of Essential Vermeer and professional painter, paints the imaginiary Vermeer painting for the Hallmark Hall of Fame's film, Brush with Fate, based of the best-selling novel: Girl in Hyacinth Blue by Susan Vreeland.
The film can be viewed integrally at: https://www.youtube.com/watch?v=gxaPBYap_Y0
Brush with Fate
produced by Hallmark Hall of Fame
Production: Gillham Road Productions for
Hallmark Hall of Fame
filmed in June/July 2002 in The Netherlands
director:
Brent Shields
cast:
Glenn Close
Ellen Burstyn
Kelly Macdonald
Phyllida Law
Jan Decleir
Thomas Gibson,
Lisa Kreuzer,
Thekla Reuten
Kieran Bew
Laurien van den Broeck (Vermeer's daughter)