The so-called Dissius Auction (1696 sale of 124 paintings by the art merchant Gerard Hoet II)
Advertisement for the Dissius sale of twenty-one Vermeer paintings.
In Amsterdam, on May 16, 1696, the art merchant Gerard Hoet II1 held a sale of 124 paintings, of which 21 were by Johannes Vermeer.
Some weeks before the sale, on April 1696, an advertisement appeared for the auction in which were mentioned "excellent artful Paintings, among them 21 pieces extraordinarily vigorously and delightfully painted by the late J. van der Meer, representing several compositions, being the best he ever made, besides some others of these eminent Masters..."
To art historians, the Amsterdam auction's chief importance lies in the catalogue descriptions of the 21 paintings which comprises one of the few solid historical foundations scholars have for determining which are genuine Vermeer paintings and which are not. Some of the auction descriptions are too vague to be of much use. But about 15 or 16 of those 21 listed have been identified today with reasonable certainty.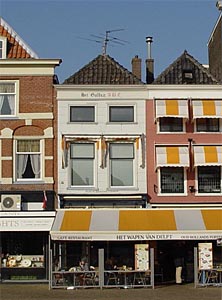 In 1680, Jacobus Dissius married Pieter van Ruijven's daughter, Magdalena. Dissius was registered in the
Guild of Saint Luke
as a bookbinder. hE ran a bookshop on 32 Markt Square in Delft called
Het Gulden ABC
(The Golden ABC). The shop (above middle), which still stands today, was given to him by his father. (Image courtesy of
Pieter Haringsma
)
The whereabouts of the remaining works, which have survived to this day but were not listed in the auction catalogue, are lost in time. Some turned up well into the 19th century. Three works listed in the catalogue have vanished since completely (see below no. 3 and 32 or 33). After the sale, most of the paintings, like Vermeer's name, were lost until the mid 1800s. In those times a few paintings were given different signatures to increase their commercial value.
"Thoré, who reprinted this list in his catalogue raisonné, assumed that it represented works left on Vermeer's hands at the then unknown time of his death. Following the research of Abraham Bredius,2 it has long been assumed that this collection is identical with that outlined far more summarily in the inventory drawn up early in 1683 of the estate and property of the Delft printer, Jacobus Abrahamsz. Dissius. This inventory listed,3 in the front room, 8 paintings by Vermeer and 3 ditto in boxes, in the back room 4 paintings by Vermeer, another painting by Vermeer in the kitchen, 2 paintings by Vermeer in the basement room and, beside the above items, 2 paintings by Vermeer, making a total of 20 works, only one fewer than the number auctioned in the 1696 sale.
But it was John Michael Montias, an American economist turned art history expert, who, a century after Bredius, went back to the Delft archive and discovered not only that Bredius had overlooked one Vermeer listed in that 1683 inventory (he had noted only 19 works) but that the collection had not been formed by Dissius at all. The inventory was of the estate and property due to Jacobus Abrahamsz. Dissius on his own account inherited as the result of the death of Juffr. Magdalena van Ruijven, Dissius's wife, who had died on 16 June, 1682. Magdalena van Ruijven was not yet twenty-seven when she died and had married Dissius only two years earlier. There can be little doubt that the twenty paintings by Vermeer bequeathed to Dissius were part of Magdalena's own inheritance from her father, Pieter Claesz. van Ruijven."4
At the Dissius auction, the 21 Vermeers brought a total of 1,503 guilders and 10 stuivers, then a substantial sum although the painters Frans van Mieris and Gerrit Dou had been paid a greater sum for a single work in their own life time. Only two decades later, in 1716, a single painting by Dou was sold in the Netherlands for 6,000 guilders (today, the relative monetary value of the two artists' work might be the opposite).
It is not known how the number of Vermeers increased from twenty to twenty-one between 1683 and 1695. It is possible that the clerk who drew up the earlier inventory accidentally ascribed one of the paintings to a different artist, or that Dissius added another Vermeer to the collection that he had inherited from his wife.5
WHO WAS JACOB DISSIUS ?
Jacob Dissius was a printer and bookseller, member of the St Luke Guild of Delft. He was baptized on 23 November, 1653 as the son of the printer Abraham Dissius. He married Magdalena Pieters van Ruijven, daughter of Pieter van Ruijven, born in 1655.
Dissius' father-in-law was one of the wealthier citizens of Delft. Most likely, Van Ruijven, who had collected a considerable part, perhaps, the majority of Vermeer's production, styled himself along the lines of the great Mecenas of the past whose names would be perpetuated along with the great artist they patronized. Magdalena inherited her parent's money and art collection after the death of her mother in 1681 (Pieter died on August 7, 1674, one year before the death of Vermeer). When Magdalena died childless in 1682, Dissius inherited her collection of Vermeer paintings and other works of art. Dissius was also the owner of the "Golden ABC" ("Het Gulden ABC"), his print shop on the Market Square of Delft. He died in October 1695 (he was buried on 14 October), and his art collection was sold on 16 May, 1696 by art dealer Gerard Hoet II in Amsterdam.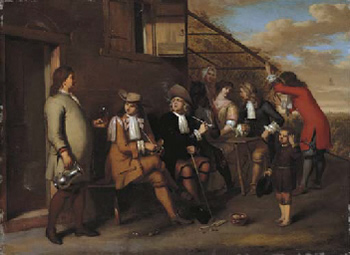 Elegant Company Smoking and Drinking Outside an Inn
Gerard Hoet II
Oil on panel
25.1 x 33.7 cm.
Private collection (?)
WHO WAS GERARD HOET II ?
Gerard Hoet II (Utrecht 1698-The Hague 1760) was the first son of a successful painter, Gerard Hoet. In art historical publication Hoet II is usually referred to simply as "Gerard Hoet,"
Hoet II painted in his father's manner, before becoming an art dealer. He is chiefly remembered for the controversies in which he engaged concerning the art trade.
In 1752, Hoet II published Catalogus of Naamlyst van Schilderyen, met derselver Pryzen (Catalogue or List of Paintings and their Prices), a huge list on paintings and their prices that were auctioned in the Netherlands between 1684 to 1752. "Later Pieter Terwesten produced a sequel. This third volume covers the years 1752 to 1768 and ironically includes the sale of the paintings owned by the famous art fancier himself, Gerard Hoet II, who had died in 1760. These three massive tomes contain no less than 328 catalogues."6
Hoet II stated in his introduction that he wished to enable art lovers see the fluctuations regarding the rise and fall of prices of Dutch paintings. Even after a glance, one can immediately see that there is an enormous difference in prices, which range from a few guilders, to thousands for the works of the most esteemed painters of the time. A portrait might go for two guilders while the Young Lady in a Room, with a Baby on her Lap and a Barber Shop by Gerrit Dou was sold for 6,000 guilders at an auction in 1719.
Click on the auction catalogue number or the Dutch title to view information about an eventual comparison with one or more of Vermeer's surviving work (paintings not by Vermeer's hand are not linked).

Click here to download PDF file of the complete list of the Gerard Hoet sale.
16 May, 1696. Catalogue of paintings sold on this date in Amsterdam.
(from Gerard Hoet II., Catalogus of Naamlyst van Schilderyen, met derzelver pryzen, I, The Hague, 1752 pp. 34–36)
Elisabeth Neurdenburg showed that these paintings in the Hoet II sale most probably originated from the art collection of Jacob Abramz. Dissius. (Neurdenburg 1942, pp. 72–73;7 Neurdenburg 1951, p. 38.). 8 Dissius had died seven months before the auction took place.
'Op 14 October, 1695 Jacob Abrahamz Dissius wedumnaar op 't Marctvelt int Vergulde A. B. B. vervoert met een koets naar 't Wout (met 18 dragers).'

[ 'On 14 October, 1695 Jacob Abrahamz Dissius widower on the Marctvelt in the Golden A.B.C., transported in a carriage to 't Wout (with 18 bearers).] Burial Register 45, New Church, Delft; Neurdenburg 1942, p. 73)
CATALOGUE NUMBER
TITLE
PRICE (guilders-stuivers)
1.
Een Juffrouw di goud weegt, in een kasje J. vander Meer van Delft, extraordinaer Konstig en kratig geschildert.
(A young lady weighing gold, in a box, by J. van der Meer of Delft, extraordinarily artful and vigorously painted.)
155-0
2.
Een Meyd di Melk uytgiet, uytnemende goet van dito.
(A maid pouring out milk, extremely well done, by ditto.)
175-0
3.
Portrait van Vermeer in een kamer met verscheyde bywerk ongemeen fraai van hem geschildert.
(The portrait of Vermeer in a room with various accessories, uncommonly beautiful painted by him.)
45-0
4.
Een speelende Juffrow op een Guiteer, heel goet van den zelve.
(A young lady playing a guitar, very good by the same.)
70-0
5.
Daer een Seigneur zyn handen wast, in een doorsiende Kamer, met beelden, konstig en raer van dito.
(In which a gentleman is washing his hands in a perspectival room with figures, artful and rare, by ditto.)
95-0
6.
Een speelende Juffrouw of the Clevicimbael in een Kamer, met een toeluisterend Monsieur door den zelven. (A young lady playing the clavicen in a room, with a listening gentleman, by the same.)
80-0
7.
Een Juffrouw die door een Meyd een brief gebragt word, van dito.
(A young lady who is being brought a letter by a maid, by ditto.)
70-0
8.
Een dronke slapende Meyd aen een Tafel, van den zelven.
(A drunken sleeping maid at a table, by the same.)
62-0
9.
Een vrolyk geselschap in een Kamer, kragtig en goet van dito.
(A gay company in a room, vigorous and good, by ditto.)
73-0
10.
Een Musiceerende Monsr. en Juffr. in een Kamer, van den zlven. (A gentleman and a young lady making music in a room, by the same.)
81-0
11.
Een Soldaet met een laggent Meysje, zeer fraie van dito.
(A soldier with a laughing girl, very beautiful, by ditto.)
44-10
12.
Een juffertje dat speldewerkt, van dem zelven.
(A young lady doing needlework, by the same.)
28-0
13.
(The Old Church in Amsterdam, artful, by Emanuel de Wit
74-0
14.
The Grave of the Old Prince, by the same
51-0
15.
Another church
34-0
31.
De Stad. Delft in perspectief, te sien van Zuyd-zy, door J. vander Meer van Delft.
(The Town of Delft in perspective, to be seen from the south, by J. van der Meer of Delft.)
200-0
32.
Een Geschit van een Huys staende in Delft, door denzelven.
(A view of a house standing in Delft, by the same.)
72-10
33.
Een Geschit van eenige Huysen van dito.
(A view of some house, by ditto.)
48-0
number 34. was skipped in the Hoet catalogue
35.
Een Schyuvende Juffrouw heel goet van denzelven.
(A writing young lady, very good, by the same.)
63-0
36.
Een Paleerende dito, seer fraye van dito.
(A lady adorning herself, very beautiful, by ditto.)
30-0
37.
Een Speelende Juffrouw op de Clavecimbaerl van dito.
(A lady playing the clavicen, by ditto.)
42-10
38.
Een Tronie in Antique Kelderen, ongemeen konstig.
(A tronie in antique dress, uncommonly artful, by the same.)
36-0
39.
Nog een dito van Vermeer.
(Another ditto by Vermeer.)
17-0
40.
Een weerge van denzelven.
(A pendant by the same.)
17-0
41
A large landscape by Simon de Vlieger, his very best
26-0
42.
A smaller on by the same
32-10
43.
Another one by ditto
30-0
44.
Another larger one by ditto
37-0
45.
A tronie by Rembrandt
7-5
from: "The Rise and Fall of Prices," Hoogstader & Hoogstader, http://www.hoogsteder.com/publications/journals/journal-4/hoet. In 1752 art dealer Gerard Hoet gathered an enormous collection of auction catalogues with prices into two substantial volumes. The many auction catalogues that Gerard Hoet incorporated in his Catalogus of Naamlyst van Schilderyen, met derselver Pryzen (Catalogue or List of Paintings and their Prices), all date from the years 1684 to 1752. Later Pieter Terwesten produced a sequel. This third volume covers the years 1752 to 1768 and ironically includes the sale of the paintings owned by the famous art fancier himself, Gerard Hoet, who had died in 1760. These three massive tomes contain no less than 328 catalogues.
from: "Abraham Bredius," Dictionary of Art Historians, http://www.dictionaryofarthistorians.org/brediusa.htm.
Bredius created a name for himself as a Vermeer scholar in 1883 by attacking an attribution of the late Théophile Thoré, the art historian who had re-discovered the artist, in an article "Ein pseudo-Vermeer."

In 1937 Bredius led the authentication of one of the most celebrated forgeries in art history, the painting, Christ at Emmaus as a Vermeer, actually painted by forger Han van Meegeren (1889–1947). Although other eminent art historians, including J. G. van Gelder, also validated the work, Bredius published an enthusiastic appraisal in the Burlington Magazine ("every inch [is] a Vermeer"). Bredius' opinion was still so valued that other leading art-historians including Abraham M. Hammacher, Thomas H. Luns, Johan Q. van Regteren Altena, Frithjof W. van Thienen, and Ary Bob de Vries accepted his judgment.
The subjects of the paintings in the Dissius home are not specified in the 1683 inventory.
John Nash, Vermeer, New York and London: Scala Books, 2002, 22.
Esmée Quodbach, "Frick's Vermeers Reunited," The Frick Collection website. http://beta.frick.org/sites/default/files/archived site/exhibitions/vermeer/provenance.htm
"The Rise and Fall of Prices," Hoogstader & Hoogstader, http://www.hoogsteder.com/publications/journals/journal-4/hoet
Elizebeth Neurdenburg, "Johannes Vermeer. Eenige opmerkingen naar aanleiding van de nieuwste studies over den Delftschen Vermeer,"Oud-Holland 59, 1942, 65 ff.
Elizebeth Neurdenburg, "Nog enige opmerkingen over Johannes Vermeer van Delft," Oud-Holland 66, 1951, 33–44.