Complete Vermeer Catalogue
Appendix
ABOUT THE
ESSENTIAL VERMEER CATALOGUE
INTERACTIVE CATALOGUE:
To access the interactive studies click on the title or thumbnail of the work of interest.
AUTHENTICITY: There are thirty-four paintings which modern scholars overwhelmingly agree should be attributed to Johannes Vermeer of Delft.
Three works are included in this catalogue which have not received unanimous acceptance: Saint Praxedis, Girl with a Flute and A Young Lady Seated at the Virginals (not to be confused with the London National Gallery picture of similar name and motif (EV cat no. 35)
1. Since only Arthur K. Wheelock Jr. currently defends the Saint Praxedis as an authentic work by Vermeer, it has been listed in an appendix as work "a."
2. The Girl with a Flute is currently rejected by Albert Blankert and Arthur K. Wheelock Jr. who ascribes it as "attributed to Johannes Vermeer." Most all other scholars accept is as authentic.
3. A Young Lady Seated at the Virginals (again, not to be confused with the London National Gallery picture of similar name and motif) has been recently accepted by the leading Vermeer expert Walter Liedtke and included it in his Vermeer: The Complete Catalogue of 2008 (no. 36).
Although some authoritative experts have accepted this work as authentic, the lack of scholarly discussion which currently surrounds this work has encouraged the author of this site to add a question mark alongside its catalogue number.
TITLES: Over the years, scholars and museums have given a number of titles to each of Vermeer's paintings. For the sake of uniformity, the titles used in this catalogue are those found in Arthur K. Wheelock's catalogue in Vermeer and the Art of Painting (pp. 169 -186).

DATING: Since very few of Vermeer's paintings were dated by his own hand, the dates proposed in this catalogue are a distillation of those estimated by two contemporary Vermeer scholars: Walter Liedtke and Arthur Wheelock. To resolve discrepancies among them, a range of their dates for each painting has been indicated.
For a complete table of estimated dates, click here.
VERMEER TRAVELING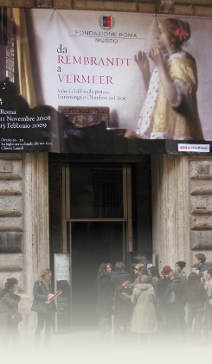 YOU TRAVEL...BUT SO DOES VERMEER !
If you are planning a trip specifically to view one or more works by Vermeer, remember that the paintings are sometimes not displayed in their permanent collections owing to temporary exhibitions or lengthy restorations .
Before planning your trip please consult the catalogue indext (left) to see if the paintings of interest are currently on display where you expect them to be.
1. Carefully consult the EV Complete Vermeer Catalogue on this page to see if the paintings are on temporary loan.
2. Vermeer travelers will find it particularly frustrating that art collections will often not reveal any information until days before or even after the movement has taken place although the movement of paintings will be planned many months in advance. Therefore, it is highly recommended to contact the museum beforehand to be sure the painting(s) you wish to see will be on display on the specific days when you plan to view the paintings!
3. Remember, special exhibitions with one or more works by Vermeer may be major cultural events especially if the take place in large cities. In this case, crowds may be expected to make viewing and ticketing particularly problematic. Details of upcoming special events and exhibitions related to Vermeer's art can be consulted by clicking here.
4. If you need help planning the details of your travels, please consult the Vermeer Travel Guide to get all the information you will need about each city that you will be visiting.
Vermeer
Prints & Posters
internet's most reputable art website with more than 400,000 images