Family Tree of Johannes Vermeer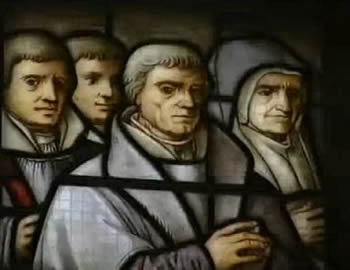 The only surviving image of a member of Vermeer's extended family is the above project for a stained glass window in Saint-Janskerk, Gouda which represents the grand parents of Vermeer's wife, Catharina Bolnes.
Although only a scant few archival records have survived that regard Vermeer's life and art, in recent years historians have nonetheless deduced a relatively clear picture of both his life and artistic stature.This picture has been painted blending those precious few archival documents with our extensive 00knowledge of seventeenth-century Dutch social and artistic history.
However, great part of the progress made in recent years is owed to John Michael Montias, who has patiently pieced together into a coherent whole all existing legal depositions, wills, deeds, warrants, inventories, promissory notes, and other official documents. Montias himself uncovered some extremely important documents. Their paper trail extends back two generations to Vermeer's maternal grandfather and continues in the seventeenth century beyond Vermeer's death. Montias' Vermeer and His Milieu: A Web of Social History
now forms basis on which further study must be elaborated. It makes excellent reading and is highly recommended for those who wish to deepen their knowledge of Vermeer or of Dutch seventeenth-century painting.
The family tree illustrated below and all the information provided about each family member was drawn from Montias' volume mentioned above.
The first notice we have of Vermeer's family is in 1598 when Vermeer's grandfather, the tailor Jan Reyersz., cashed a debt obligation and the last is when his daughter Aleydis Vermeer died in The Hague in 1749
Roll your cursor over the name of those persons who are of interest and a popup window will provide further information.