Vermeer's Children
You young daughters and boys
Simple and innocent lambkins
Who set your feet on the world's racetrack
May you keep your simplicity
Free from the bad ways of your elders.

Jan Luiken
1712*
One of the most touching details in Vermeer's oeuvre is of two children absorbed in their play in The Little Street. Although they occupy a miniscule portion of the painting, the magical atmosphere that pervades the work would be deprived of much of its warmth without their presence. As is befitting of Vermeer's enigmatic nature, neither the children's faces nor the nature of their play are revealed.
We can only surmise that the darkly-dressed child wearing a broad brimmed hat is likely be a boy while the typically feminine attire worn by the other indicates the other was a girl. By turning their backs to us and hiding whatever they are doing, the artist prompts the viewer to explore his own childhood memories. Thus, we become an active participant in the picture's silent narrative and help complete it as a work of art.
The poignancy of this painting becomes even more evident if we remember that Vermeer had eleven children: Maria, Elisabeth, Cornelia, Aleydis, Beatrix, Johannes, Gertruyd, Franciscus, Catharina, Ignatius and one child whose name is unknown (see Vermeer's family tree for biographical notes). Four had died in infancy or early childhood. One was buried on 27 December, 1660 and three others also buried inn the Oude Kerk in a grave bought by their grandmother Maria Thins in December 1661, on 10 July, 1667 and on 27 June, 1673. Although a certain measure of fatalism must have accompanied the death of each in a time when perhaps half of all children did not make it to adulthood, their loss must have been great just the same. The Dutch are believed to have been singularly attached to their children with respect to the parents of the rest of Europe (see box below left), a fact testified by an almost infinite amount of paintings which show children in all attitudes and activities.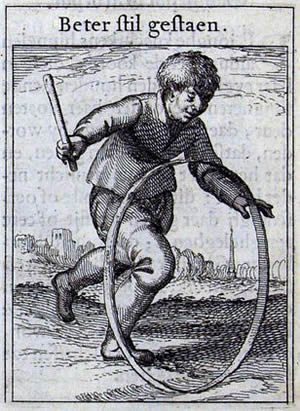 Emblem from Roemer Visscher
Sinnepoppen
Houghton Library
Harvard University
"At the rate of almost one birth a year, the Vermeers had five or six children by 1661, three of four whom survived. The first children who apparently lived into adulthood were all girls—Maria, Elisabeth, Cornelia, Aleydis and Beatrix. With an eventual eleven living children, Vermeer may well have pondered how to divide his energies; his slow production of paintings meant he completed only some three pictures for every child. The poet Yeats later put the dilemma as which to choose, perfection of the life or of the work? A ruthless genius may opt for the latter. A more difficult task faces the home-loving artist who tries for both.
We haven't much to go on for daily details. We assume the children were got safely to and from school, taken to Mass on Sundays and holy days, made to say their prayers at night, and taken to city events such as fairs. They will have played the childhood games shown on Delft tiles of the time. In the winter of 1660 Vermeer apparently bought an ice-boat for the large sum of eighty guilders. Michael Montias has found a record of a debt for that amount owed by 'Johan van der Meer' for such a craft in the estate accounts of a sailmaker, Daniel Gilliszoon de Bergh; that it was owed by our Vermeer seems probable given that those who witnessed the accounts were both painters, De Bergh's sons, Gillis and Mattheus." 1
"From what we know of their later lives, none of them seem to have inherited Vermeer's artistic skills or pursued distinguished careers. Vermeer's wife, Catharina Bolnes, who must have been pregnant for much of the time, also had the burden of looking after her mother. Although Maria (Catharina's mother) lived to be 87, surviving Vermeer, she was already nearly 70 when the family moved in and was presumably getting frail. Caring for 11 children, an ageing mother, and an artist must have taken most of Catharina's time, even with the help of a maid. After Vermeer's death, she claimed to have known little about his business affairs since she had never concerned herself further or otherwise than with her housekeeping and her children." 2
click to hear mp3
Maria
Elisabeth
Cornelia
Aleydis
Beatrix
click to hear mp3
Johannes
Gertruyd
Franciscus
Catharina
Ignatius
a child
mp3 courtesy marco schuffelen
"The Vermeers' sixth surviving child and first son, also called Johannes, was having his education paid for out of income from farmland in Schoonhoven that had been Willem Bolnes's. The boy may have been sent to a Catholic college in Mechelen in the southern Netherlands; in which case, it may have been Johannes who was the child of Vermeer's who in 1678 was mentioned as being 'piteously wounded' in an explosion on a vessel carrying gunpowder from Mechelen. But young Johannes, if he was the wounded person, survived that minor ontploffing. He seems to have become a lawyer in Bruges, preserving his links with the Catholic south, and had a son, another Johannes, who preserved the artist's name but was brought up in Delft by his aunt Maria and her husband Johannes Cramer—despite which the boy doesn't appear to have learned to write (he put a cross rather than a signature on a power of attorney in 1713). He married a Delft girl but moved to Leiden where their five children—Vermeer's great-grandchildren—were baptized as Catholics. Another son of Vermeer, Franciscus, became a master surgeon in Charlois, a village near Rotterdam, and later moved to The Hague. Apart from Maria, Beatrix was the only one of Vermeer's daughters to marry. Aleydis, the fourth girl, lived until 1749, when she died in The Hague. Continuing remittances from their grandmother Thins's estates and from the Gouda Orphan Chamber apparently helped the unmarried daughters (including Aleydis, Gertruyd and Catharina, named after her mother) to subsist. Of the girls, Maria seems to have been the most fortunate through her marriage to Cramer; the couple had a number of children who were well provided for, and one of whom became a Catholic priest." 3
In June 1674, one year before her father's death, Maria, about 20 years old, married the son of a prosperous Delft silk merchant named Gilliszoon Cramer. The wedding ceremony has held in Schipluy, where Maria's parents had been married, most likely with Catholic sacraments.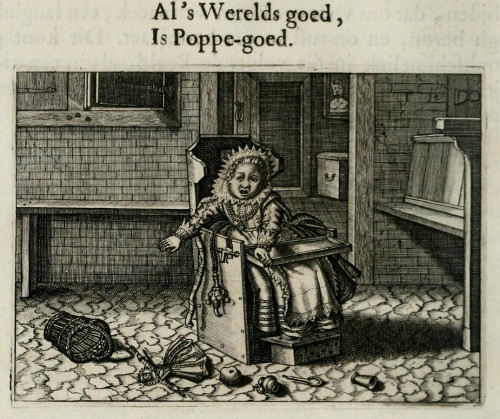 Emblem from Johan Brune,
Emblemata
, Houghton Library, Harvard University
Vermeer's family was unusually large. "In the Dutch Republic of the seventeenth-century, the family was the keystone of society and had many unique and advanced characteristics. The family unit was small and insular in orientation: the average of three or four children, and close relatives, such as grandparents, rarely shared the home. Children were treated by their parents with a respect and understanding unusual for the times, and received their moral instruction in the home, where they generally lived until their mid to late twenties." 4 John Michael Montias, who has written the most exhaustive study of Vermeer's family, has noted the "chance factors affecting child-bearing activities, or the lack of it, of different members of the family played a major role in determining...." the same family's fortunes. The fact that Reynier Jansz. Vos alias Vermeer (Vermeer's father) had only two children helped the family's ascent, just as the numerous progeny of the artist contributed to the family's downfall. The financial collapse would have been even more precipitous were it not for the penchant of Maria Thin's (Vermeer's mother-in-law) family for celibacy: her aunt Diewertje died a spinster, not one of Maria's four brothers and sisters ever married; her son Willem was briefly betrothed but remained a bachelor. On Vermeer's side, even his sister Gertruy had only one child, who apparently died in infancy. Johannes and Catharina and their numerous children profited from the failure of all these related to leave viable heirs. Unfortunately, these multiple windfalls could only palliate the disastrous effect of Catharina's unbridled fertility."5

A row of common Delft tiles which illustrate children at play
Where were Vermeer's Children?
It is difficult to imagine that the father of 11 children was not in some way or another influenced by their presence. Many critics have noticed the apparent discrepancy between Vermeer's perfectly-ordered interiors and what may have been the artist's daily life with a brood of children. Where are the cradles, beds and chairs, according to the inventory of movable goods taken after his death, strewn out over the house? Contrary to many Dutch genre painters such as Jan Steen, Nicolaes Maes and Gabriel Metsu in which children are frequently represented, Vermeer gave them only two small parts to play.
The problem is not so difficult as it may seem. Simply put, Vermeer's paintings were not intended biographical statements. Even though they do represent contemporary settings and modes, they were not meant to reflect the conditions of his personal life. Vermeer worked within a well defined genre where the painter created a subtle mix of convention and invention.
Montias maintains that even though the lack of turmoil represented by such a large family may seem conspicuous, the artist's "subjects and the way he handled them are rooted in much earlier experience and were invariant to the things that happened to him in his adult years."
Curiously enough, Vermeer directly portrayed children only two times in 35 paintings, once in The Little Street and a second time in The View of Delft where a young girl can be seen with an infant in her arms to the extreme left of the foreground. There are however, more than a few indirect representations of children in other paintings. A painting-within-a-painting of Cupid (below) appears either partially or entirely in three other works and at close inspection we can see that children are represented on the tile baseboards (below) in The Milkmaid, A Lady Standing at a Virginal and A Lady Seated at a Virginal .
These hand-painted tiles, fabricated in Delft, were commonly found in Dutch houses and were widely exported. They protected the lower part of the white-washed walls from wet mops. However, even if Vermeer's miniscule renditions of the children that populate them do express something of the children's naive simplicity, they were most likely included as a comment on the principal theme of the picture. In the case of A Lady Standing at a Virginal, the little Cupid on the tile directly to the left of the lower portion of the woman's silk gown, subtly reinforces the representation of the large-scale painting of a Cupid which hangs on the back wall in an ebony frame.
The figure just to the left of the woman's gown is similar to the fishing Cupid in a print from Hoooft's Emblemata amatoria. "Hooft's emblem plays on the conventional comparison of courtship to fishing. In Vermeer's Cupid tile, the fishing rod is visible, the proportions of the figure are consistent with Cupid, and the dark shape on his back can only be his stubby wings. (The same figure may be repeated on a tile to the right, partially obscured by the virginal's leg.) Prints like that from Hooft's book often served as patterns for tiles. Contemporary viewers who were familiar with these recurring designs on their own walls would readily have identified the Cupid in Vermeer's tile." 6
Anthony Bailey, Vermeer: A View of Delft, New York: Holt Paperbacks, 2001, 103–104.
Martin Bailey, Vermeer, London: Phaidon Press, 1995, 207–208.
Martin Bailey, Vermeer, London: Phaidon Press, 1995, 9.
John M. Montias and John Laughman, Private and Public Spaces, Works of Art in Seventeenth-Century Dutch Houses, Zwolle: Waanders Books, 2000, 13.
John M. Montias, Vermeer and His Milieu: A Web of Social History, Princeton NJ: Princeton University Press, 1989, 245.
H. Rodney Nevitt Jr., "Vermeer on the Question of Love," in The Cambridge Companion to Vermeer (Cambridge Companions to the History of Art), ed. Wayne Franits, Cambridge: Cambridge University Press, 2001, 98.

*Jan Luiken, in the foreword of 's Menschen Begin, Midden en de Einde vertoonde het Kinderlyk Bedryf ed Aawas (Amsterdam, 1712)