A Timeline of Vermeer's Life 1632–1640
Childhood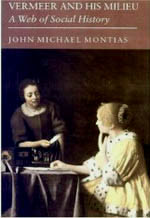 Vermeer and His Milieu: A Web of Social History
John Michael Montias
1989
Modern art enthusiasts should always keep in mind the twentieth-century art world has little in common with that of Johannes Vermeer. There existed no private art galleries, no queuing up to major international exhibits, no critical reviews in newspapers and painfully little art writing at all. Dutch painters wrote next to nothing about themselves or their work since most considered themselves little more than skilled artisans. The Dutch population at large was hardly aware of the "Golden Age of Dutch Painting" in the way we are today and art lovers spoke in different terms about the paintings we so treasure today.
The material evidence for seventeenth-century Dutch artists, including Johannes Vermeer, consists chiefly of depositions, business transactional and other documents drawn up by notaries and municipal clerks that force us to consider a person's life from a particular angle closer to his adversarial than to his amicable relations with his fellow men. Notorial depositions such as these give us a partial view of individual personalities not only because they emphasize the controversial side of their activities but because they are by and large woefully one-sided and incomplete. Only major events of Vermeer's life, baptism, marriage and burial-were recorded in the vellum-bound registers of the Old or the New Church which are preserved now in the Delft archives.
After Vermeer's baptism in 1632, little or nothing is known of the artist himself until he marries Catharina Bolnes in 1653. However, surviving archival from the following years documents provide an interesting picture and while little can be deduced about the artist's personality, his family background and immediate social milieu is fairly well defined.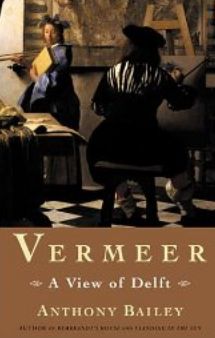 Vermeer: A View of Delft
Anthony Bailey
2001
John Michael Montias' invaluable Vermeer and His Milieu: A Web of Social History
was used for the great part of the information contained in this timeline which concerns the artist Vermeer. Montias' book currently constitutes the basis on which all other research regarding Vermeer's life and immediate social milieu is founded and should be read by anyone interested in Vermeer of the artistic milieu of that period. During the course of his research, Montias was surprised to learn that the scholarship on one of his favorite artists, Vermeer, was far from exhausted. He began a quest to uncover the life of the artist, considered one of the most enigmatic and mysterious. In this book, Montias traced the artist's life through notary records, discovering that Vermeer's grandfather was a convicted counterfeiter; that his grandmother ran illegal lotteries; and that the artist himself fathered 13 children and died at the age of 43, completely destitute.
Another colorful book which fleshes out in a highly readable fashion is Vermeer: A View of Delft
by Anthony Bailey. Bailey effectively retells much that is known about many of Vermeer's contemporaries, such as the scientist Anton Van Leeuwenhoek, and speculates on his apparent Catholic faith in the Protestant Netherlands. Organized around individual paintings, Bailey's essay begins with the great gunpowder explosion of 1654 and ends with the reverberations of Vermeer's art in the writings of Marcel Proust and the forgeries of Han van Meegeren. Highly recommended for general collections and also for art history collections for its broad view and effective style.
In order to insure reasonable loading time, this timeline has been divided into five sections.
1632: Vermeer's Age, 0
VERMEER'S LIFE & ART

Joannis, son of Reynier Jansz. (c. 1591–1652) and of Dignum Balthasars (c. 1595–1670), is baptized in the Nieuwe Kerk in Delft. They had been married for seventeen years. Among the witnesses is a certain "Pt. Bramer," almost surely Leonaert Bramer the accomplished painter of Delft who 21 years later would witness Vermeer's marriage. The future artist is named for his paternal grandfather, the tailor, Jan Reyersz. His Christian name is favored over the prosaic "Jan" by Catholics and upper-class Protestants. Vermeer's family background would be described today as lower middle-class. Vermeer's mother is illiterate and his father a hard working man. Vermeer himself never uses the name Jan. Nonetheless, many Dutch scholars of the early 29th century, dubbed him Jan, perhaps unconsciously to bring him closer to the mainstream of Calvinist culture.

Vermeer's father joins the Delft artists' guild on October 13, 1631 as an art dealer. Between 1629 and 1631 Reynier Janz. is described as an innkeeper. Art-dealing and innkeeping often go hand in hand.

Vermeer's father is mentioned in a notary document as a "caffawerker," a silk worker.

The population of Delft is 21,000. In 1600 it was 17,5000.

DUTCH PAINTING

Still Life


Pieter Claesz

c. 1633


Landscape with
Dunes

Jan van Goyen

1630–1635

Jan van Goyen, whose tonal landscapes were immensely successful, moves from Leiden to The Hague, where he remains for the rest of his life.

c. 1632, Rembrandt van Rijn establishes a successful career as fashionable portraitist.

Rembrandt paints The Anatomy Lesson of Dr. Nicolaas Tulp.

Jan Wijnants, Dutch painter is born.

EUROPEAN PAINTING &
ARCHITECTURE

Self-portrait with
a Sunflower

Anthony van Dyck

c. 1632

Oct. 20, Sir Christopher Wren (d.1723), astronomer and architect, is born

Anthony Van Dyck becomes the court painter to Charles I and favorite portrait painter of an international aristocracy.

Taj Mahal, probably designed by Ustad Ahmad Lahauri, construction begins. It will continue until 1653.

Diego Velázquez paints Christ Crucified.

MUSIC

Feb. 18, Giovanni Battista Vitali, composer, is born.

Nov. 28, Jean-Baptiste Lully, composer, is born in Florence, Italy. At his death Lully is widely regarded as the most representative of French composers. Practically all his music is created to satisfy the taste and musical interests of Louis XIV. The ballets de cour (1653–1663) and the comédies-ballets (1663–1672) are performed as royal entertainments, the king himself often taking part in the dancing.

Monteverdi takes holy orders.

LITERATURE

Aug. 9, Isaak Walton, author of the classic The Complete Angler, is born.

Second Folio of Shakespeare published.

SCIENCE & PHILOSOPHY

Spinoza

Baruch Spinoza, Dutch philosopher, (d. 1677) is born. Spinoza is one of the great philosophers of the age of Rationalism and a major influence thereafter, as on, paradoxically, both of the bitter enemies Arthur Schopenhauer and G.W.F. Hegel. Spinoza's God is not the God of Abraham and Isaac, not a personal God at all, and his system provides no reason for the revelatory status of the Bible or the practice of Judaism, or of any religion, for that matter. Galileo's book Dialogue Concerning the Two Chief World Systems is published with the full backing of the church censors. It is soon recognized to support Copernican theory and Galileo is put under house arrest for life.

Oct. 24, Antonie van Leeuwenhoek, Dutch naturalist, is born. Van Leeuwenhoek is internationally recognized for his studies in optics and scientific observations.

Antonie van Leeuwenhoek

Christiaan Huygens (d. 1695) is born in 1629 in The Hague. He is the son of Constantijn Huygens, one of the most influential statesmen in the history of the Republic and a grand supporter of the arts and science. Christiaan becomes the most renowned mathematician and astronomer of his age (he is even more famous than Van Leeuwenhoek), while also grinds hundreds of optical lenses.

Isaac Beeckman makes a sketch of a Drebbel microscope.

René Descartes pioneers use of exponents in mathematics by introducing the symbol a3.

Galileo's Dialogue Concerning the Two Chief World Systems is published.

HISTORY

1632 Cardinal Richelieu orders the construction of the Palais Royale in Paris, France

Aug. 29, English philosopher John Locke is born in Somerset, England. The philosopher of liberalism influences the American founding fathers and is famous for his treatise "An Essay Concerning Human Understanding."

Galileo is tried for heresy.

November 16, Battle of Lützen. This battle is one of the most decisive battles of the Thirty Years' War. It is a Protestant victory, but costs the life of one of the most important leaders of the Protestant alliance, Gustavus Adolphus of Sweden, which causes the Protestant campaign to lose direction.

Christina becomes queen of Sweden.

Yakutsk, Russia is founded.

King Władysław IV Vasa of Poland forbids antisemitic books and printings.

Rotterdam's population reaches 20,000. The city will become the world's largest seaport.
1633: Vermeer's Age, 1
VERMEER'S LIFE & ART

Vermeer's father, Reynier, is called to a hearing concerning a brawl in which he and some fellow caffa (silk) workers are involved while playing kolf (golf) on the ice. Knives had been pulled out following sharp insults among the two parties, but the brawl is momentarily subdued (A Dutch saying at the time was "A hundred Hollanders, a hundred knives"). When it recommences a certain Cornelis Theunisz is beaten on the head several times. From the legal account it would seem that Reynier and his companions try to keep a lid on the violence. Vermeer's father is most likely an industrious man who is strongly attached to his kin and through great sacrifice, is willing to provide a costly education as a painter for his son, Johannes, the future master painter.

DUTCH PAINTING

Dec. 18, Willem van de Velde the Young (d. 1707), Dutch seascape painter, is baptized. He is the son of the marine artist Willem van de Velde the elder. Willem van de Velde the Younger and his father, Willem van de Velde the Elder, are reputed to have been at the Battle of Solebay, in their capacity as official naval artists. In the confusion of the battle neither would have been able to study the ship closely but nonetheless the battle is accurately portrayed. In 1673/4 the Van de Veldes move from Amsterdam to work in London, especially as "painters of sea fights" to Charles II. Their presence, and the flourishing studio established at the Queen's House in Greenwich, lays the foundations for the practice of marine painting in England in the eighteenth and nineteenth centuries.

Pieter Lastman, Rembrandt van Rijn's master, dies. The son of a goldsmith, Pieter Lastman becomes known as one of the most important artists of his day for his ability to paint small cabinet pictures. At the age of nineteen, Lastman travels to Italy, where he spends five years. After he returns to his native Amsterdam, his painting style exhibits striking changes. He begins to use strong contrasts of light and shade that intensify the drama of the scene. He also begins to specialize in narrative subjects from the Bible, mythology and Roman history.

Rembrandt paints The Storm on the Sea of Galile.

Willem Drost, Dutch painter and printmaker is born.

EUROPEAN PAINTING &
ARCHITECTURE

Adoration of the Magi

Nicolas Poussin

1633

Port Scene with the Villa Medici

Claude Lorrain

1637

Nicolas Poussin develops antiquarian interests in Rome.

c. 1633, Claude Lorrain discovers in Rome his distinctive landscape style.

Davis Teniers the Younger joins the painters' guild in Antwerp.

MUSIC

Apr. 10, Werner Fabricius, composer, is born.

Operatic composer Jacopo Peri dies at Florence August 12 at age 71, having pioneered the art form that will become the most popular theatrical entertainment in most of Europe.

LITERATURE

Rene Descartes wrote Le Monde which embodies an attempt to give a physical theory of the universe. But finding that its publication is likely to bring on him the hostility of the church, and having no desire to pose as a martyr, he abandons it: the incomplete manuscript is later published in 1664. He then devotes himself to composing a treatise on universal science which is published at Leiden in 1637 under the title Discours de la méthode pour bien conduire sa raison et chercher la vérité dans les sciences. Descartes may be considered the first of the modern school of mathematics.

SCIENCE & PHILOSOPHY

Galileo Galilei goes on trial at Rome April 12 although he is suffering from arthritis, hernias, kidney stones, and gout. The Inquisition threatens the astronomer and mathematician with torture on the rack if he does not retract his "heretical" defense of the Copernican idea that the sun is the center of the universe and the Earth a movable planet. Torn between wanting to fight for the truth and not wanting to offend the Church, Galileo equivocates, saying that the heliocentric design "may very easily turn out to be a most foolish hallucination and a majestic paradox," but he does what is necessary to save himself, saying, "I, Galileo, son of the late Vincenzo Galilei, Florentine, aged 70 years, abjure, curse and detest the aforesaid errors and heresies, and I swear that I will never again say or assert that the sun is the center of the universe and immovable and that the Earth is not the center and moves." He is sent to his villa outside Florence, where he will be confined for the remaining 9 years of his life.

René Descartes takes warning from the trial of Galileo Galilei. Now living in Holland, Descartes stops publishing in France.

English astronomer and mathematician Henry Gellibrand (b. London, November 17, 1597, d. London, February 16, 1636) discovers that magnetic north (the direction to which a compass points) changes slowly.

HISTORY

Feb. 23, Samuel Pepys (d.1703), English diarist, is born. Pepys is an informal and spontaneous English diarist who left many interesting accounts of contemporary Netherlands.

Oct. 14, James II Stuart, king of England and Scotland (James VII) (1685–1688), is born.

Dutch colonists from Nieuw Amsterdam establish a trading post on the Connecticut River at what later will be called Hartford.

Dijon, France, imposes regulations on mustard makers, requiring, among other things, that mustard be made only by workers wearing "clean and modest clothes." Later rules will require that mustard be made only from brown or black mustard seeds and seasoned with wine or vinegar plus spices and herbs.
1634: Vermeer's Age, 2
VERMEER'S LIFE & ART

Vermeer's father is mentioned as Jansz Vos, tapster and caffaworker (silkworker) and living in "The Flying Fox," an inn in Delft that he had leased. The name of the inn is presumably taken from the name "Vos" which means fox.

DUTCH PAINTING

Saskia as Flora

Rembrandt

1634




Nicholas Maes (d. 1693) is born in Dordrecht. Maes is an excellent genre painter who had studied with Rembrandt and is know to have briefly lived and worked in Delft in the years Vermeer was active.

Rembrandt van Rijn marries the art dealer Hendrick's van Uylenburg wealthy niece Saskia van Uylenburg. A daughter of a patrician, she introduces Rembrandt in higher social circles, which makes his fame rise further. However, he never distances himself of common people. Saskia posed for many times for Rembrandt.

Hendrick Avercamp, known particularly for his winter scenes, dies. He is deaf and dumb and known as "de Stomme van Kampen" (the mute of Kampen). His paintings are colorful and lively, with carefully observed skaters, tobogganers, golfers and pedestrians. Avercamp's work enjoys great popularity. He sells his drawings, many of which are tinted with watercolor, as finished pictures to be pasted into the collector's albums (an outstanding is in the collection of Windsor Castle).

Cornelis Bisschop (d. 1674) is born. He attains some fame as a painter of trompe-l'œil pieces.

Hendrick van der Neer (d. 1703) is born. He is best known for his elegant genre interiors.

Jacob Ochtervelt (d. 1682) is born. He is a co-pupil of Pieter de Hooch under Nicolaas Bercham in Haarlem. He works in his native Rotterdam from about 1655 to 1674, and then moves to Amsterdam. He is influenced by Pieter de Hooch. Apart from a few portraits and some early hunting party and "merry company" scenes, his paintings are almost all elegant upper-class interiors, in which he showed off a skill in painting silks and satins to rival that of Gerrit ter Borch.

EUROPEAN PAINTING &
ARCHITECTURE

Helene Fourment

("Het Pelsken")

Rubens

1630s

The Triumph of Divine Providence

Pietro da Cortona

Fresco

1633–1639

Luca Giordano (d.1705), Neapolitan baroque painter, is born. He is nicknamed `Luca Fa Presto' (Luke work quickly) because of his prodigious speed of execution and huge output.

French Baroque painter Nicolas Poussin begins work on his series of Seven Sacraments, completed in 1642. Poussin's rational classicism influenced pictorial classicism.

Pietro da Cortona' works on the ceiling fresco in the Barberini Palace, Rome, a sculptural canopy with multitudes of foreshortened heavenly figures coursing through it. This enormous work establishes in a definitive manner the Baroque values.

MUSIC

LITERATURE

SCIENCE & PHILOSOPHY

Mar. 13, Academie Francaise is established. Its task is to preserve the purity of the French language, which includes maintaining a dictionary. Members come to be known as the "immortals" and by 1998 they are struggling to with masculine nouns of positions held by women who desired feminine endings.

Founding of University of Utrecht.

HISTORY

Mar. 25, Maryland is founded by English colonists sent by the second Lord Baltimore.

Ligdan Khan (reigned 1604–1634), the last great Mongol leader, dies. After his death, the Mongols are subdued by the Manchu and become part of the Ch'ing (Manchu) dynasty of China.

The United Provinces and France allies against Spain.

Speculation in tulip bulbs reaches new heights in the Netherlands as steadily rising prices attract middle-class and even relatively poor families. One collector pays 1,000 pounds of cheese, four oxen, eight pigs, 12 sheep, a bed, and a suit of clothes for a single bulb of the rare Viceroy tulip. Most sought after are so-called "broken" bulbs whose blossom displays beautiful designs as the result of a virus. The tulip's attribute of variation has been discovered only recently by a professor of botany at the 59-year-old University of Leiden, whose botanical garden is the first in the north.
1635: Vermeer's Age, 3
VERMEER'S LIFE & ART

1635–1636 The pestilence claims the lives of nearly 2,000 Delft inhabitants.

DUTCH PAINTING

Apr. 16, Frans van Mieris (d. 1681), the Elder, Dutch painter, is born. Van Mieris paints finely detailed genre interiors and is believed to have influenced Vermeer's work in theme and technique.

Caspar Netscher, (d. 1684) is born. He paints a number of genre subjects in his earlier years spent in The Hague as well as some history subjects and pastorals, but from c.1670 he concentrates on portraiture, a practice which earns him a considerable fortune. He is said to decline an invitation from Charles II to come to England. He dies at The Hague on 15 January, 1684.

Rembrandt van Rijn paints Self-Portrait with Saskia.

Gerrit ter Borch, who would become one of the most refined interior genre painters of the time and whose painting technique and themes would also influence the young Vermeer, is admitted to the painter's guild in Haarlem.

C. 1635 there is a great demand for Rembrandt's religious and historical paintings.

EUROPEAN PAINTING &
ARCHITECTURE

Bust of Costanza Bonarelli

Gian Lorenzo Bernini

1630s

Charles I: King
of England

Sir Anthony Van Dyck

c. 1635

Anthony Van Dyck, outstanding student of Rubens working for the English court, paints his outdoor, leisurely Portrait of Charles I Hunting. The work greatly influences aristocratic portraiture.

Nicolas Poussin paints Kingdom of Flora.

Diego Velázquez paints Surrender of Breda.

Pieter Paul Rubens buys a large country house, Het Steen

Jacques Callot dies of a painful stomach ailment at Nancy on March 24 at age 42.

MUSIC

Sept. 7, Pal Esterhazy, composer, is born.

Frescobaldi composes Fiori musicali di toccate, which influences J.S. Bach.

LITERATURE

The Académie Française is founded in Paris to establish rules of grammar and correct usage and to cleanse the French language of "impurities."

SCIENCE & PHILOSOPHY

HISTORY

The world's first free medical clinic for the poor opens at Paris under the direction of physician-journalist Théophraste Rénaudot,
1636: Vermeer's Age, 4
VERMEER'S LIFE & ART

Nothing is known of Vermeer's life in this year.

DUTCH PAINTING

Salome Presented with the
Head of St John the Baptist

Leonaert Bramer

late 1630s

Leonaert Bramer, active in Delft, is believed to be Vermeer's master. He is an acquaintance of Vermeer's family and was present at Vermeer's marriage in 1653. Bramer had been to Italy.

Dutch still life painter Jan Davidsz de Heem, 30, moves to Antwerp because "there one could have rare fruits of all kinds, large plums, peaches, cherries, oranges, lemons, grapes and others, in finer condition and state of ripeness to draw from life."

EUROPEAN PAINTING &
ARCHITECTURE

Prince Baltasar Carlos on Horseback

Diego Velázquez

1635–1636

Nicolas Poussin paints the Rape of the Sabines.

MUSIC

French theorist Marin Mersenne publishes his most important work, Harmonie Universille, with full descriptions of all contemporary musical instruments.

LITERATURE

Pierre Corneille writes Le Cid. Educated by the Jesuits, he studies law and then enters the Rouen parliament in 1629. He would serve as the king's counselor in the local office of the department of waterways and forests for 21 years, and remarkably, he still finds the time to write 20 plays during this period. After his retirement from the legal profession, he writes 12 more. Although Corneille is considered by most critics to be the father of French tragedy, six of his first eight plays are comedies.

The Comic Illusion (L'illusion comique) by Pierre Corneille is given in January at the Théâtre du Marais, Paris.

SCIENCE & PHILOSOPHY

In the Dioptrique, Descartes describes the construction of single microscopes.

HISTORY

Mar. 26, University of Utrecht holds its opening ceremony

Welsh Puritan Roger Williams (1603–1683) is banished from Massachusetts. He establishes Providence, R.I. and proclaims complete religious freedom.

Harvard College (so called from 1639 in tribute to John Harvard, who endowed it by a legacy) is founded at Newe Towne, Cambridge, Mass.with Nathaniel Eaton as its first president.

Dutch West India Company forces arrive in the Caribbean occupy the island of Aruba.

The town of Haarlem is founded by Dutch colonists on Manhattan Island.

The University of Utrecht has its beginnings in a school opened in the Dutch city. It will become a great center of European learning.

A Dutch planter introduces sugar cane from Brazil into the West Indian island of Barbados, whose English settlers have been cultivating cotton, ginger, indigo and tobacco for export while growing beans, plantains and other food for their own consumption. Sugar will become the chief crop of Barbados and of all the Caribbean islands.

Dutch merchant serves a sailor a small breakfast of herring; while his back is turned, the sailor by some accounts spies what he thinks is an onion, he eats it in a few quick gulps, and the merchant finds that he has lost a tulip bulb so valuable that its sale would have yielded enough money to outfit and man a substantial ship.
1637: Vermeer's Age, 5
VERMEER'S LIFE & ART

Nothing is known of Vermeer's life in this year.

DUTCH PAINTING

Still Life

Willem Claesz. Heda

Willem Claesz. Heda, Dutch still life painter, is active in Haarlem. He and Pieter Claez are the most important representatives of "ontbijt" (breakfast piece) painting in the Netherlands. His overall gray-green or brownish tonalities are very similar to those of Claesz., but Heda's work is usually more highly finished and his taste more aristocratic.

Jan van der Heyden (d. 1712) is born. After 1668 he is increasingly concerned with improvements to street lighting and fire-fighting equipment; in 1672 he constructs the first fire-engine (publishing a book on the subject in 1690) and he seems to paint only infrequently after c. 1680. He dies in Amsterdam on 28 March, 1712. Known chiefly for his accomplished townscapes, he also painted landscapes and, in later life, some still lifes.

EUROPEAN PAINTING &
ARCHITECTURE

MUSIC

Dietrich Buxtehude (d.1701), Danish composer, is born. Buxtehude belongs to the generation of organists before Johann Sebastian Bach, who, like Handel, once traveled to Lübeck to hear the master perform at the Marienkirche, where he serves as organist for forty years, from 1667 until his death in 1707. He writes a considerable quantity of music, choral and instrumental, for church use, as well as chamber music and keyboard music of a more secular kind.

LITERATURE

SCIENCE & PHILOSOPHY

Daniel Sennert, German scientist who formulated the conception "Atom," dies.

The States Bible is first published. A Dutch-language translation of the original Greek and Hebrew texts, this edition of the Bible is intended to allow ordinary citizens to study religion without reliance on clerics. The creation of the States Bible reflects the importance of Calvinism in the Netherlands.

HISTORY
1638: Vermeer's Age, 6
VERMEER'S LIFE & ART

Nothing is known of Vermeer's life in this year.

DUTCH PAINTING

Claes Duyst van Voorhout

Frans Hals

c. 1638

Meindert Hobbema, Dutch painter. is born. He paints landscapes, one of the most famous being The Avenue. It is common for seventeenth-century Dutch painters to hold down held moneymaking jobs apart from their true profession. After his new wife's influence wins Hobbema a job as a wine guager, painting seems to become a part-time occupation. He checks the weights and measures of imported wines for more than forty years and has little success as a painter. The couple is buried as paupers.

Adriaen Brouwer dies. Brouwer specializes in tavern and low-life scenes, works in Haarlem and Amsterdam and spends the last seven or eight years of his brief life in Antwerp. Rubens has 17 of his paintings in his private collection. Brouwer, somewhat a so-called "painters' painter," is also collected by Rembrandt van Rijn.

Hercules Segers, dies. Segers's etchings are remarkable for their experimental use of color and innovative combinations of techniques.

EUROPEAN PAINTING &
ARCHITECTURE

Nicolas Poussin paints Et in Arcadia ego.

Pieter Paul Rubens paints The Three Graces.

Borromini: works on San Carlo alle Quattro Fontane

MUSIC

Monteverdi composes the madrigal Il Combattimento de Tanncredi e Corinda.

Monteverdi composes Eight Book of Madrigals.

Venice's Teatro di San Cassiano opens early in the year to give the city its first opera house with seats for the general public. The Tron family finances the house will lead to other such venues making opera available to virtually everyone where rather than only for royalty and the nobility.

LITERATURE

SCIENCE & PHILOSOPHY

Galileo smuggles his book Two New Sciences to a publisher in Holland.

Joost van den Vondel writes Gijsbrecht van Amstel, historical drama.

Discours de la Mèthode by René Descartes lays the foundation for mathematical geometry, reducing everything to numbers and establishing the "Cartesian" principle of basing metaphysical demonstrations on mathematical certitude rather than on scholastic subtleties. The proper guide to reason, says Descartes, is to doubt everything systematically until one arrives at clear, simple ideas that are beyond doubt. He rejects any doubt of his own existence by saying, "Cogito, ergo sum" ("I think, therefore I am").

A permanent astronomical observatory is established at Copenhagen by King Christian IV of Denmark.

Pierre de Fermat is thought to have written in the margin of a copy of the Arithmetica of Diophantus that an equation of the form a + b = c can have no integral solutions for a, b and c if n is greater than 2. His note continues, "I have found a truly marvelous demonstration which this margin is too narrow to contain." The statement has since come to be called Fermat's last theorem.

HISTORY

Sept. 5, Louis XIV, "The Sun King" (1643–1715) of France, is born. He will build the palace at Versailles and rule France from 1643 to 1715.

The Dutch West India Company dismisses its New Netherland director general Wouter van Twiller and replaces him with Willem Kieft. Van Twiller has the public prosecutor Lubertus van Dincklagen fired and sent him back to Amsterdam without giving him the 3 years' pay that was owed to him. Van Dincklagen complains to the Company about the director general's corruption, the Company sends him back to New Netherland as assistant director, and it will take back much of the land that van Twiller has acquired. Van Twiller remains in New Netherland, where he enjoys his status as the richest citizen.

Dutch tulip prices multiply 20-fold in January, with transactions taking place not on any organized exchange but through tavern betting pools as well. Government authorities float a proposal that would allow a buyer to avoid early execution of certain contracts by paying 10 percent of the sales price to the seller. New supplies of bulbs flood the market, doubts arise that prices will continue to rise, and prices collapse on the first Tuesday of February after years of speculation. Hundreds who have been caught up in the "tulipmania" (tulpenwoede) are ruined as the bottom falls out of the market, and prices fall to a few cents per bulb, their intrinsic value, down from the equivalent of thousands and even tens of thousands of dollars. Courts do not consider the bets to be legal contracts and refuse to enforce them. But the end of the tulip "bubble" does not produce any economic downturn or slowdown: money that should have been spent on more productive purposes has gone into speculation on tulip bulbs, so the end of tulipmania ultimately has a salutary effect on the Dutch economy.
1639: Vermeer's Age, 7
VERMEER'S LIFE & ART

Nothing is known of Vermeer's life in this year.

DUTCH PAINTING

In 1639 Rembrandt van Rijn and Saskia van Uylenburg move to a prominent house in the Jodenbreestraat, in the Jewish quarter (which later is turned into the Rembrandt House Museum). Three of their children die shortly after birth. In 1641 they again have a child, a son, whom they call Titus (1641–1668). Saskia dies soon after.

EUROPEAN PAINTING &
ARCHITECTURE

The Dwarf Don
Juan Calabazas

Diego Velázquez

c. 1639

Salome with the Head of Saint John the Baptist
Guido Reni

1639–1640

Italian painter Orazio Gentileschi dies.

MUSIC

Marco Marazzoli and Vergilio Mazzochi write Chi soffre, speri, first comic opera.

Monteverdi's opera, Adone given at Teatro San Cassiano, Venice.

LITERATURE

Racine, French dramatist, is born. By 1677, Racine achieves a remarkable success for a playwright. In fact he is the first French playwright to live almost entirely off the earnings from his work..

SCIENCE & PHILOSOPHY

Jeremiah Horrocks observes the transit of Venus, which he had predicted

Descartes publishes his Discourse on Method. It is here that his famous statement "I think; therefore I am," is expounded. He then proceeds to discover a method of achieving similar certainty in other realms, based on the reduction of all problems to a mathematical form and solution. He invents analytic geometry in order to reduce the description of phenomena to a set of numbers. His Discourse is placed on the Index of forbidden books by Catholic theologians.

HISTORY

Maarten Harpertszoon Tromp

after an engraving by Jan Lievensz.

1598–1653

Feb. 7, Academie Francaise begins the Dictionary of French Language.

Dutch Admiral Tromp obtains a glorious victory and defeats the Spanish with a Dutch fleet much inferior in strength at the Battle of the Downs in 1639. He is buried in Delft.