Constantijn Huygens: Lord of Zuilichem (1596–1687)
(part one)
"Constantijn Huygens is almost unknown to English readers and students—if he is known at all, it is in that peculiarly frustrating and gratifying fashion, as the father of a famous son, Christiaan Huygens, the physicist.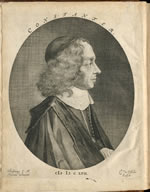 Constantijn Huygens
by Christiaan Huygens, Jr.
1657
Engraving
C. de Visscher
Hollanders were better known outside their country than Constantijn Huygens. He has been a victim of his country's decline in international importance, and it is our loss not to know Huygens, for he was one of those many-faceted personalities who flash back to us the brilliance of their age […] and epitomize the great period of Holland in which he lived." – so Rosalie L. Colie in her profound study 'Some Thankfulnesse to Constantine.'1
The present study hopes to remedy a small part of this lacuna and bring one of the most outstanding personalities of the Dutch seventeenth century closer to today's readers although it is naturally impossible to do justice to every facet of Huygens' life and work. "'Indeed, whoever wishes to understand our seventeenth century must … keep his Huygens always by his hand'. This true virtuoso, 'secretary to two princes of Orange, diplomat, a polyglot man of the world, a highly sensitive connoisseur of both the ancients and moderns, a fine musician, a deeply religious man … and much more besides'"2 reflects in his life an entire century—Netherlands' true "Golden Age."
Birth and Childhood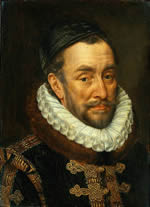 William of Orange
Adriaen Thomas Key
c. 1570–1584
Oil on panel, 56 x 47 cm.
Rijksmuseum, Amsterdam
Huygens was born on 4th September 1596 in The Hague, Nobelstraat (near the Grote or Saint Jakobs Kerk), as the second son of Christiaan Huygens sen. who was a personal secretary to William of Orange (1533–1584, also called "William the Silent"). William of Orange was hailed as the pater patriae and first stadtholder of the young "Republic of the Seven Northern Provinces' (the northern part of the former Spanish Netherlands). After William's assassination in Delft, Christiaan had become one of the five secretaries to the "Raad van State" (the Council of State) demonstrating his unconditional loyalty to the House of Orange through a careful choice of his sons' names. The first-born son Maurits (b. 1695) was named after his godfather Maurits, the son and successor of William of Orange as the stadtholder. Constantijn got his own name from the "constancy" of Breda (city in Brabant and Christiaan's hometown) for having supported the House of Orange in its struggle against the Spaniards. Christiaan declared in a letter to the Burgomasters and Councillors of Breda, that "in view of their worshipful Constancy" he wished his son "to bear the memory thereof in his name."3 Clearly, the Huygenses did not come from a low social standings. As Huygens' father jokingly phrased it: "we are born from respectable folk, are not washed to shore on a straw, or pissed down at the horse-fair." Theirs was a world of culture and civility.
Constantijn's mother was Susanna Hoefnagel (see portrait right) who came from a family of wealthy merchants in Antwerp, and was niece of the painter Joris Hoefnagel. His father Christiaan came from Brabant, and although the Huygenses were not of noble birth Christiaan's position and close relationship to the House of Orange assured his sons a successful career. Constantijn's father took extraordinary care in his sons' education in all fields laying the ground for true and faithful servants of the House of Orange and the young Republic. The Huygens family was completed by the four daughters Elizabeth (b. 1598), Geertruyd (b. 1599), Catharina (b. 1601), and Constantia (b. 1602), of whose Elizabeth and Catharina died young, at fourteen resp. seventeen.
Constantijn's father devoted considerable time to his two little boys. For instance, he made a Latin grammar for them and chose the authors that should be read. For those subjects he himself was unable to teach, tutors were employed, usually promising young men of wealthy families still in their studies. The boys received lessons in logic and rhetoric, in mathematics and even law, as well as riding, fencing, dancing and, like all Dutch children, ice skating. To guarantee them a prestigious diplomatic career Christiaan arranged studies in modern languages, beginning with French, the language of the court and diplomacy. In sum, Constantijn had been essentially trained from birth to be a perfect courtier.
Six years after Constantijn's first Latin lessons, at the age of 11, he began to study Greek which he never abandoned during his life. In the same year he wrote his first verse in Latin, but his parents were mindful that he did not become a bookworm. His first latin verse dates from 1607, when he was just twelve years of age. He received his first lessons in Italian in 1614 from an Italian protegé of Henry Wotton, English Ambassador to The Hague, during their visit in Holland where they were neighbors of the Huygens family. Later, in his autobiography, Huygens wrote affectionately about his childhood education:
In 1599 and 1600 I started to learn reading and writing. I easily took in the material because we were always invited playfully and my father never called us with a serious expression on his face. This was the method my good father employed because he wanted to prevent in every possible way that our tender childish souls would come to hate learning.
Education and First travels
When Constantijn was just two years old, his mother realized that her son was able to sing back to the tunes she sang so she taught him to sing a rhymed version of the Ten Commandments, which was in use for the congregational singing in the Calvinistic churches—the only form of music the Calvinists allowed for religious services. When he was five, his father took over the musical lessons for the boys, using the modern musical system with seven notes rather than the traditional hexachord system. Music was to play a most significant role throughout Constantijn's life. In the years to follow Huygens became bound to England not only through his personal acquaintances. Both countries excelled in a visually and technologically oriented culture, although the English contributed to it through their texts and the Dutch through their images.
In May 1616, Maurits and Constantijn were sent to the University of Leiden to study the law. Here Constantijn began his first studies in English, which would be of great benefit to him in the near future. In those times it was far from unusual that young men remained at the university for many years. Maurits left in 1617, returning to The Hague to begin his service to the State. Only one year later Constantijn finished his studies in Leiden with a Latin dissertation in law. He was sent to Zieriksee to deepen his studies in law with a prominent attorney, but with scarce enthusiasm. Fortunately, more compatible arrangements were made for him.
Father Christiaan followed the urgent suggestion of Noël de Caron, Dutch Ambassador in London, and sent Constantijn 1618 with the company of Dudley Carleton, English Ambassador to the Netherlands and a good friend, to England where he should gain knowledge of diplomatic policy and technique. Young Huygens must have been well prepared for England, especially by Carleton, since he was aware what to expect. The enthusiastic Huygens arrived with the highest expectations. As a visitor he had spare time to improve his English but at the same time to learn all he could get about the country: its literature (at first poems by Philip Sidney, a model of a "verray parfit gentil knight" who had fallen at Zutphen in the Netherlands, later the metaphysical poet John Donne – to Huygens' translations of Donne see right: excursus R. Colie); its sciences (here above all the famous philosopher Francis Bacon who Huygens met on a later journey to England) and last but not least its music and arts. Huygens, a gifted viola da gamba-player from childhood, learned to play the English viola da gamba during his visits at Henry Wotton in the Dutch Embassy, a more complicated instrument producing more varied sounds but "as sweet as an ordinary viola."4 Thanks to Noël de Caron Huygens had the opportunity to meet King James VI, and although the King was not fond of music, Huygens delighted him so much with his most excellent viol playing that the King commanded to play again for him on subsequent evenings. Five years later (1621), on Huygens' next trip to England, James VI knighted him, as an expression of this musical enjoyment. So Huygens was thereafter entitled as "Sir Constantine," a title in which he regarded with a certain pleasure, as he put eques ("knight") on the title-pages of his later publications.
The painter Jacob de Gheyn (II, c. 1585–1629) introduced Huygens to the English arts. Together they visited the picture gallery of Prince Henry (who unfortunately died young) and traveled to Cambridge and Oxford, where Huygens had the chance to meet Sir Thomas Bodley, an old friend of his father and owner of the later world-famous Bodleian Library. In his autobiography, he complained that the artist of his choice, Jacques de Gheyn II, an old family friend and neighbor, was unwilling to serve as his teacher and consequentially he was not given the opportunity to learn the art of rapidly rendering the forms and other aspects of trees, rivers, hills and the like, which northerners (as Huygens justly claims) do even better than the ancients. Huygens instead studied with Hondius, a print-maker whose hard and rigid lines were better suited to representing columns, marble and immobile structures than moving things like grass and foliage, or the charm of ruins.
The English journeys were of considerable importance for Huygens: at first for his diplomatic career, but as well as for his intellectual and poetic apprenticeships. "England was the first foreign country he visited, and experience in one's 'first' country always has a peculiar value. He observed English language and customs with an eye especially acute. More important even than this was the effect upon him of both English literature and English science. Their influence on his ideas and his work was greatest in the early part of his life."5
But not everything went well for the young Constantijn. During his stay in England his younger sister Catharina, who had already been ill when he left, died at the age of seventeen. This was a hard blow for him, and he felt earnestly sick, but recovered gradually thanks to the care of Mr. Caron for his young guest. On the 2nd November 1618 he came home to The Hague, full of experience and new impressions, and ready to begin his service for the House of Orange.