The greatest show on earth: Vermeer retrospective at the Rijksmuseum
VERMEER
Rijksmuseum, Amsterdam | February 10–June 4, 2023
https://www.rijksmuseum.nl/en/whats-on/exhibitions/vermeer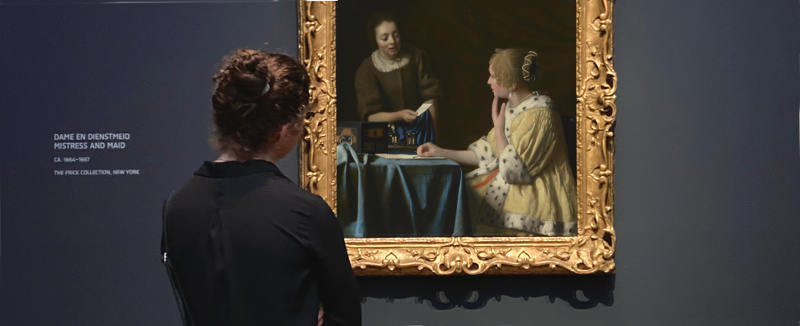 The Rijksmuseum is staging the world's largest Vermeer exhibition.
The exhibition features 28 paintings by Vermeer, include masterpieces such as The Girl with a Pearl Earring (Mauritshuis, The Hague), The Geographer (Städel Museum, Frankfurt am Main), Lady Writing a Letter with her Maid (The National Gallery of Ireland, Dublin) and Woman Holding a Balance (The National Gallery of Art, Washington DC). Works never before shown to the public in the Netherlands will include the newly restored Girl Reading a Letter at the Open Window from the Gemäldegalerie Alte Meister in Dresden.
The research for this exhibition focuses on Vermeer's artistry, his artistic choices and motivations for his compositions, as well as into the creative process of his paintings. Researchers work closely with the Mauritshuis in The Hague. A team of curators, restorers and natural scientists to examine in depth the seven paintings by Vermeer in Dutch possession, including The Milkmaid, The Little Street, The Love Letter and Woman in Blue Reading a Letter. Works by Vermeer from other collections are also involved in this project.
According to Taco Dibbits, due to the fragility of Vermeer's canvases coupled with the growing competition among museums for loans a show on this scale, which is likely not to happen again, will provide a new generation of researchers and public a unique chance to study many of Vermeer's major works side by side. The Rijksmuseum is working closely with the Mauritshuis with a team of curators, restorers and natural scientists to examine in depth the seven paintings by Vermeer in Dutch possession. Works by Vermeer from other collections are also involved in this project.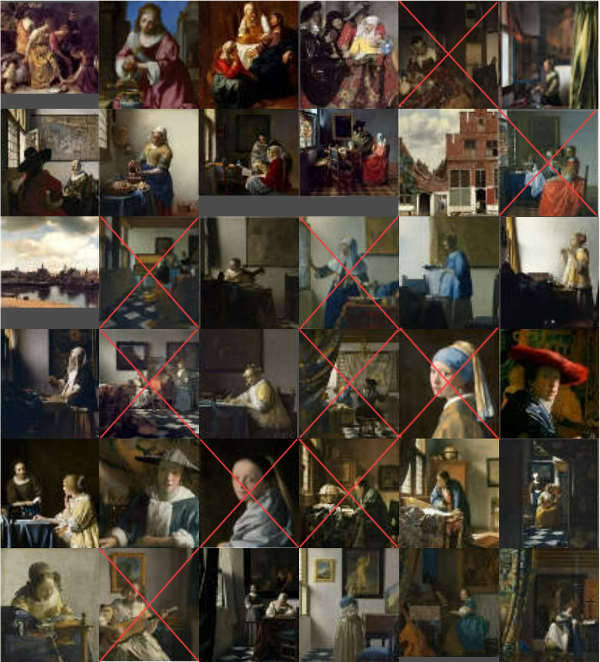 ---
UPCOMING EVENTS & EXHIBITION-RELATED NEWS
Tickets for the Vermeer exhibition have been definitively sold out again. The Rijksmuseum has extended its March opening hours to until 23.00 on Thursdays, Fridays, Saturdays. Opening hours in April and the following months will be extended to 23:00 on Sundays Mondays, Tuesdays and Wednesdays. For a full list of evening openings, click here.
Vermeer's Girl with a Pearl Earring will be be removed from the Rijksmuseum Vermeer exhibiton on March 30. It is slated to return to the Mauritshuis, on April 1.
Public airing of Dutch TV documentary Dicht bij Vermeer (Close to Vermeer)
<https://www.docmakers.nl/films/dicht-bij-vermeer>
In the run-up to the largest Vermeer exhibition ever, a number of Vermeer curators and experts set out in search of what makes a Vermeer truly Vermeer. In doing so, they get inside the head of the painter to analyze the decisions he made.

trailer:
<https://www.youtube.com/watch?v=mNzKFUGeTqg>

tickets and viewing schedule in Dutch cinemas (March 9 to March 23):
<https://cinedeli.nl/film/dicht-bij-vermeer/>
---
EXHIBITION CATALOG
VERMEER
Gregor J M Weber (Editor),  Pieter Roelofs (Editor)
2023
200 color illustrations
Published to accompany the once-in-a-lifetime exhibition at the Rijksmuseum, Amsterdam, this is the first major study of Vermeer's life and work in many years.
Johannes Vermeer's intensely quiet and enigmatic paintings invite the viewer into a private world, often prompting more questions than answers. Who is being portrayed? Are his subjects real or imagined? What is shown on the map on the wall? What news does a letter bring?
Seemingly unaware of the viewer, each subject―the milkmaid,the guitar player, the girl with a pearl earring―occupies an intimate and private space. Vermeer's paintings, with their enigmatic interiors and masterful handling of natural light, bring us into a closed, internal world, but with many tantalizing points of contact with the outside world. What details do we know of Vermeer's personal life? How did it affect his painting style?
This is the first major study of Vermeer's life and work for many years, bringing together diverse strands of his professional and private life in Delft in the seventeenth century and examining important research that has revealed new ways of looking at his paintings.
Accompanying a major exhibition at the Rijksmuseum, Amsterdam, this volume sheds light on every one of Vermeer's known paintings, thirty-five in all, with a wide selection of contextual illustrations, commentaries, and up-to-date research by the most distinguished international Vermeer scholars. Vermeer will be required reading for lovers of the most admired of all Dutch seventeenth-century painters and one of the world'greatest artists.
---
JESUIT TIES, DELFT AND THE CAMERA OBSCURA: A NEW WINDOW ON VERMEER'S LIFE AND ART
Johannes Vermeer: Faith, Light and Reflection
Gregor J.M. Weber
2023
<https://www.rijksmuseumshop.nl/nl/johannes-vermeer.-faith-light-and-reflection>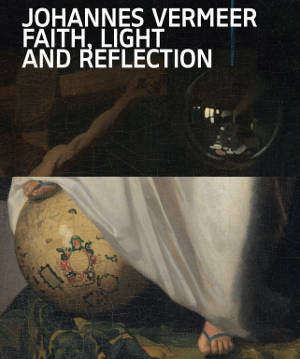 Little is known about the personality of Johannes Vermeer, one of the most famous Dutch painters of the 17th century. We do know that he married the Catholic Catharina Bolnes, whose family was closely associated with the Jesuit community in Delft. In this book, Gregor J.M. Weber, head of visual arts at the Rijksmuseum, shows that Vermeer himself actually pursued a Catholic lifestyle. The relationship between the artistic ambitions of the young Vermeer and his Catholic surroundings is also discussed. Vermeer's unique treatment of light, perception and perspective is examined and linked to the Jesuits' special interest in the camera obscura, the instrument of light and vision par excellence. With his research, Weber places Vermeer's person and art in a new context, which until now has only been touched upon in passing.
---
PRESS REVIEW
---
SELECTED CITATIONS
Boston Globe - "Thirty-three years after the Gardner heist, where are the paintings?"- Shelley Murphy - Mar. 17, 2023
Maybe the most conspicuous absence is a Vermeer from Boston. Missing not because it's in bad shape, but because it was stolen more than three decades ago, without a trace of it since.
"The Concert" is a 1664 painting that depicts a man and two women playing music, and was one of 13 artworks stolen from the Isabella Stewart Gardner Museum on March 18, 1990, in what remains the world's largest art heist.
On the 33rd anniversary of the theft, empty frames remain on the walls of the Gardner. None of the works have been recovered, despite a $10 million reward, nor has anyone been charged.
"Sooner or later, anybody who saw the real picture is going to be dead," said Jonathan Janson, an American artist living in Rome and author of EssentialVermeer.com, a scholarly website devoted to the beloved painter. Janson was one of the estimated 450,000 people who scored a ticket to the Vermeer exhibition, and he also saw "The Concert" when it was still hanging at the Gardner.
Anthony Amore, the Gardner museum security director, who has worked with the FBI on the investigation for the past 17 years, said the search continues.
US Attorney Rachael Rollins expects to soon announce new efforts to increase awareness and generate tips that could lead to the their recovery.
"One of my first steps as US Attorney was to make sure the Gardner Museum heist was treated as an active federal investigation rather than a documentary film series or classroom discussion," Rollins said in a statement
Kristen Setera, a spokeswoman for the FBI's Boston office, said the agency continues to pursue leads and urged anyone with information to come forward.
Over the years, the theft investigation has featured countless theories, a string of discredited conmen, and a dizzying array of suspects, including local petty criminals with Mafia ties, Irish gangsters, and a Hollywood screenwriter.
Amore, the Gardner security chief, believes the artwork is most likely hidden locally and has a message for the person who has them: "We are the only buyers for the paintings. If you have information that you believe will lead us to the paintings, not theories, but information, please be in touch. We can bring this to a happy resolution."
---
LiFO - Επίσκεψη στη μεγαλύτερη έκθεση του Βερμέερ που έγινε ποτέ (Visit the largest Vermeer exhibition ever) - Αργυρώ Μποζώνη - Feb, 2023
I arrived at the museum on the first day of the exhibition, Friday February 10. The banner and all promotional material is a detail of the painting "Lady and Maid" owned by Frick. Showing a bit of her youthful neck, a patch of fur on her yellow coat, her pearl necklace and a large pearl drop earring, she seems to be asking the visitor to pay attention to the crucial details that recur almost throughout the work. of Vermeer of this period, when he painted many of his greatest paintings.
The details are also highlighted in works such as "Girl in the Red Hat" – cover of the English catalog – with her half-open mouth looking as if it had just been smeared with lip gloss – it was with these glossy lips that Vermeer painted the women inside of the houses, giving their expression a hint of anticipation. There is also a slightly more trivial, technical reason why the details are displayed. The reproduction rights of the works belong to the museums that own them, so you will only find items related to the four Vermeer works owned by the Rijks in the museum shop.
With the system of reservations every 15 minutes, the queues are never too long and no one waits in the cold for two or three hours.
We are directed to follow a triple line on the floor, an homage to Vermeer's ultramarine, to arrive through a serpentine path into the exhibition halls – always wearing our blue paper wristbands.
Next to me there are people of all kinds who have come from everywhere, not very young, although there are also mothers with prams and bottles and unsuspecting babies making their maiden entry into the "sufferings of art " . No schools are allowed in the exhibition yet, to ensure a relative calm, and of course photography, videography is allowed, there is no hand without a mobile phone or a camera, everyone except zero is taking pictures incessantly, they are allowed to approach the works at a very short distance – but she does not is it also the value of Vermeer, to get as close as possible, to see the touch on the pearl, the running milk and the lace fingers?
He painted pearl earrings and necklaces in eighteen of his thirty-seven works. They are not only decorative elements, they symbolized purity, beauty and love and were synonymous with wealth.
The color that dominates and impresses with its vibrancy even if it has faded in some paintings is the ultramarine which, while other painters used sparingly, Vermeer loved it. He lavishly used the most beautiful of all blue pigments, which cost more than gold. Ultramarine, meaning "beyond the sea," was so named because most lapis lazuli came from Afghanistan, and its production required a complex process. You will see ultramarine in almost all of his paintings, on clothes but also on tablecloths, cushions and curtains – it draws the eye like a magnet, it always impresses.
That same evening I received an email, like every visitor, with a long questionnaire: how I see the museum, if it bothered me that it was crowded, if I was unhappy that there was no audio tour, if I find the ticket expensive. I was asked to describe the experience almost in detail, identify shortcomings, rate various fields and comments made in order to improve the experience of the next visitors. I was also asked if I had come to Amsterdam to see this exhibition, if I was staying in a hotel, how many other museums I would see and how much I would spend in the city during my stay.
---
The New York Times - "The Absolute Vermeer, in a Show More Precious Than Pearls" - Jason Farago - Feb. 2023
On the highways and in the lowlands of European painting, there may be no more perplexing case of reputational caprice than Johannes Vermeer (1632–75). He was well established in Delft during his life; his art sold; and yet for two centuries after his death, his small and silent pictures of women reading letters or pouring milk elicited no attention at all. When Girl With a Pearl Earring came up at auction in 1881, it hammered at just two guilders. Now Vermeer stops traffic; he diverts planes. And you wonder: that luminousness, that inner calm, how could this not stop everyone's heart like it stops mine?
It is just called "Vermeer," and from the title on, this exhibition is dazzlingly confident and impetuously spare.
Really, the show is just about perfect: perfectly argued, perfectly paced, as clear and uncontaminated as the light streaming through those Delft windows. And in its proudly spare galleries I felt a little closer to understanding the intense grip of these diamond depictions on contemporary audiences, stronger still in the time of gigapixel reproduction. Why him, out of all the quiet masters of the eruptive 17th-century Dutch art market? Or better: why us? What happened to us, after Vermeer's long oblivion, to leave us so susceptible to his hushed views of writers and maids?
One factor is scarcity. Vermeer produced little and died young.
Here at the Rijks those 28 small-to-smallish paintings luxuriate across 10 galleries. Each picture is ringed by a simple semicircular balustrade, which permits close inspection and also distributes the crowds. (The show's designer is the French architect Jean-Michel Wilmotte, who's also hung heavy velvet curtains to muffle the sound; the curators are the Rijks' Pieter Roelofs and Gregor J.M. Weber.) Beyond that, and a few minimal texts, nothing. No comparative works, no distracting videos.
The Frick Collection, currently subletting while its Fifth Avenue mansion is under renovation, has allowed all three of its Vermeers to leave New York for the first time in a century. In the Frick's Mistress and Maid, an uncommonly grand Vermeer, the lady of the house edits a love letter while wearing a yellow morning jacket trimmed with white fur. At last it can be seen with the Met's Young Woman With a Lute, Washington's Lady Writing, Berlin's Woman With a Pearl Necklace, and the Rijksmuseum's own Love Letter, whose female models all wear that same yellow-and-white coat.
That false innocence bewitched more and more in the alienated 20th century, which turned to Vermeer for transparency, order, harmony. (The paintings' secular subjects made this easier, whatever his Catholic stimuli.) But beauty and calm just aren't enough to explain the intensity of Vermeeromania today, and I think his appeal now lies somewhere else. It lies, much more, in the paintings' capacity for deceleration, and how the difference between their tactile reality and obvious construction can only be seen with time.
Vermeer has become one of our last defibrillators of absorption and awareness. He matters now precisely for his vindication that we have not wholly decayed into data receptors; that we are still human, and if only we find the right master we can slow down time. What is a masterpiece, in 2023? A thing that returns to you—vitally, commandingly, after this clamorous world of news and notifications seemed to have wiped them out—your powers of concentration.
---
la Repubblica - "Vermeer, il mondo in fila davanti al mistero" (Vermeer, the world lined up in front of the mystery) - Dario Pappalardo - Feb. 2023
In recent weeks, anonymous trucks have delivered without attracting too much attention—bypassing the channels and prying eyes—some of the best kept mysteries in the history of art. The items arrived by air from Washington, New York and Tokyo or by land from Paris, The Hague, Dresden, Berlin, from seven countries and fourteen different locations. All or almost all the Vermeers in the world have landed here, in one place, for the first time: it is an event that has no precedents and is unlikely to repeat itself. Seeing them together finally means trying in vain to reveal the secrets of the rarest painter ever.
Understanding the hidden meanings behind those women who sew, taste wine, play lutes, simply stand at the window, intent on looking outside or reading letters that have come from who knows where
Johannes of Delft (1632-1675) lived 43 years, leaving us on Earth only 37 paintings: one, The Concert, the most wanted by the FBI, is part of the group of masterpieces that disappeared from the Isabella Stewart Gardner Museum in Boston in the sensational theft of March 18, 1990, which also inspired a Netflix documentary. If it is too early to know how many visitors there will be at closing, the insurance value sets a first record: three billion Euros for less than thirty paintings.
"Vermeer was influenced by the Jesuits—explains Gregor J.M. Weber, curator of the exhibition and author of the essay Johannes Vermeer. Faith, Light and Reflection. It is an element so far underestimated but increasingly evident. In Delft the Jesuits were practically his neighbors.
He certainly owned a book by Peter Canisius and two of his children had been baptized in the Catholic faith with the names of the founders: Francesco (Saverio) and Ignazio. But, above all, for the Society of Jesus, studies on optics were an integral part of religious education: God is light and the mirror reflects the universe. The Jesuits used the camera obscura as well as the painter had to, in order to study the objects to be reproduced on canvas.
This is proved by the fact that, in his works, some details are out of focus compared to others."
In view of the record exhibition, Vermeer's painting was literally x-rayed...Vermeer still remains the Sphinx of Delft, as the French journalist Théophile Thoré defined it in 1866 in the Gazette des Beaux-Arts.
The more we question him, the more he escapes us. Girl with a Pearl Earring keeps challenging us. Vermeer, you won again this time.
---
The Guardian - "Much of a Dutchness: the world's biggest ever Vermeer show is an unmissable feast" - Adrian Searle - Feb. 2023
Opening the magnificent Johannes Vermeer exhibition at Amsterdam's Rijksmuseum, two paintings of these morning scenes plunge us right in, taking us on a journey through Vermeer's art, spread across 10 rooms. We shuttle from city views to private interiors, between the sacred and the profane; from domestic life, with quiet music and private moments, to religious devotion and bawdy scenes. All this in an exhibition of only 28 paintings.
All the details in his art may be acutely observed—from the clouds passing over Delft to the finial on a Spanish chair, the burr on an Anatolian carpet and the glint on an earring—but they are more than inventories of the visible. Although a devout observer of the surface of things, which he became within a few short years, Vermeer was not a realist. His paintings are careful, complex constructions.
And Vermeer certainly never sat in a camera obscura, copying the inverted image projected on the darkened wall. He was no copyist, although, influenced by the Jesuit scientific and quasi-religious interest in optics, he understood and was interested in the way light illuminated objects in a camera obscura—and used its effects, just as he used single-point perspective to measure and construct the architecture of his painted spaces. Artists are always interested in whatever technology they have to hand. Vermeer wanted to see more, by whatever means.
Mystery and enigma are attractive. Who is that woman in the red hat, or the one with the pearl earring? What's in that letter? What is that girl looking at through the window? What is she thinking? Who is approaching? This exhibition, at last, gives us not just Vermeer's painted spaces, but space to be with them and to occupy their unfolding strangeness. Unmissable.
---
THE ART NEWSPAPER - "Revealed: Vermeer's patron was, in fact, a woman—and she bought half the artist's entire oeuvre" - Martin Bailey - Feb. 2023
Vermeer's main patron was probably a woman, according to curators of the retrospective which is opening at the Rijksmuseum in Amsterdam this week. She was Maria de Knuijt, the wife of Pieter van Ruijven. For decades it has been assumed that Van Ruijven, a wealthy Delft citizen, was the patron. New research reveals that De Knuijt had much closer and longer links to Vermeer than her husband.
The identity of Vermeer's patron is of vital importance, since they purchased half of the artist's entire oeuvre, at least 20 paintings.
The Rijksmuseum exhibition Vermeer ... includes no fewer than 14 paintings once owned by De Knuijt.
The exhibition co-curator Pieter Roelof... points out in the exhibition catalogue that in 17th-century Dutch society "as lady of the house she [De Knuijt] will have taken the lead in furnishing their home and purchasing paintings".
Pictures were then considered "household goods and thus part of domestic consumption". He concludes that "everything points to De Knuijt being the collector of the [Vermeer] paintings".
---
THE WALL STREET JOURNAL - "'Vermeer' Review: Small Focus, Wide Reach" - Mary Tompkins Lewis - Feb. 2023
Organized by the museum's curators Gregor J.M. Weber and Pieter Roelofs and designed by the architect Jean-Michel Wilmotte, it is a staggeringly beautiful, brilliantly realized show unlikely to be repeated.
A room of large, ambitious figure paintings from the mid-1650s indicates the artist's early plans to become a history painter, a path he soon abandoned. Like his father, Vermeer was also an art dealer, and he must have recognized the demand in Delft—where most of his paintings remained—for smaller genre scenes that would appeal to private collectors and fit in their homes. As the show underscores at every turn, such works would play to his unique strengths.
Vermeer's evocative depictions of women reading or writing letters allowed the artist to conjure up his subjects' innermost thoughts in their genteel, private domains, and such paintings punctuate the show.
Vermeer's interest in science, an inescapable thread through his art, is newly considered in the show's later galleries. "The Geographer" (1669), for example, offers (as does the Louvre's "The Astronomer," on loan elsewhere) a rare male protagonist who may personify Delft's vibrant scientific milieu. The pensive, blue-robed scholar, surrounded by maps, a globe and scientific instruments, is a striking image of active, intellectual engagement. The curators propose that his ruminative gaze and the familiar light-flooded windows may be signs of both cerebral and spiritual enlightenment.
..this historic exhibition an absolute must-see.
---
AD - "Hoe Vermeers in Rijksmuseum kwamen: 'We dachten: zo'n Vermeer-tentoonstelling lukt nóóit'" (How Vermeers came to the Rijksmuseum: "We thought: such a Vermeer exhibition will never succeed") - Eefje Oomen - Feb. 2023
How does it feel to temporarily have such an entire collection of those unique, very expensive, spectacular paintings by that one world-famous Dutch master under your care?
That, says Pieter Roelofs (Head of Painting and Sculpture at the Rijksmuseum), is somewhat like a school trip to Efteling. "And that as an accompanying parent you not only take care of your own child, but also of the other children. May they return home safe and sound. Well, that's kind of the case with all those loans for this exhibition.''
How does such a loan work?
It is not the case that museums pay each other or have to 'rent' pieces. It is about working together, exchanging works with each other and - above all - giving things to each other and the public. For example, in 2012 we had The Woman Reading a Letter, one of 'our' four Vermeers, travel to China, Japan and Brazil, among others. And for this exhibition we have offered to conduct extensive research into two works from the Frick Collection: we have the expertise and equipment in-house."
What makes the organization of such an exhibition especially expensive: the insurance premium.
"We can only organize such exhibitions with the support of many institutions, funds and individuals. The government also helps us. It guarantees part of the insurance premium.''
And how much is that premium? And what is the total value of the entire Vermeer collection? Roelofs will never say anything about that. "We prefer to talk about the cultural-historical value. Any estimate is just an estimate, because Vermeer has a very small oeuvre and, moreover, a Vermeer never comes on the market.
Another mysterious thing: the transport. "You should compare it to the journey of a world-famous pop star. The pop star suddenly turns up and so it is with a Vermeer." What he does want to say: that the Rijksmuseum is doing everything possible for a safe trip. "These paintings were transported, for example, in the 'Turtle', a box developed in the Netherlands with built-in technology that ensures that vibrations are minimal."
---
THE ART NEWSPAPER - The Big Review: Vermeer at the Rijksmuseum ★★★★★" - Tracy Chevalier - Feb. 2023
Less is more. While the phrase was coined in the 20th century by the Modernist architect Mies van der Rohe, it could easily have been pronounced by Johannes Vermeer back in the 17th century. Not only did the Dutch artist focus primarily on one simple corner of a room, he also probably painted only 45 to 50 works over his lifetime.
Luckily for us, the curators Gregor J.M. Weber and Pieter Roelofs have kept their nerve and trusted in 'less is more'. Instead of cutting back the number of galleries or cluttering the available space with other contemporaries' works or information about the world beyond Vermeer's studio, they have hung each painting with a generous amount of room around it, making a virtue out of what could have been a problem. Several paintings have their own walls; some even have their own galleries. The effect of so much space is to slow visitors down so that we give each painting more time. With less to look at, we contemplate what is there with more attention, and start to see more.
The curators have trusted the Vermeers to speak for themselves, and us to formulate our own opinions.
Marrying what you say with how you say it results in an experience richer than the sum of its parts; this is what every creator—be it painter, writer or curator—is aiming for, and few achieve. I have never seen a show that has managed this so successfully. The exhibition itself has become a work of art. Exhibition organisers will be learning from this show for years to come.
---
de Volkskrant -  "Geen werk zo aantrekkelijk om van dichtbij te bekijken als het kleinschalige oeuvre van Vermeer ★★★★☆"  (No work is as attractive to view up close as Vermeer's small-scale oeuvre ★★★★☆) Rutger Pontzen - Feb. 2023
Johannes Vermeer... Small canvases, big impact. There is more monumentality on the square centimeter than many other painters can achieve on meters long pieces of linen. The dull glint in a pearl, the swirling pouring of milk, the moist lips of the girl with the pearl, the golden roof in the View of Delft that kept Marcel Proust awake for nights—no work is so attractive to look at closely as the small-scale oeuvre of the Delft master.
The only question is: how do you present that?
Solution in the Rijks: show the works at an appropriate distance from each other, each painting separately behind a Mona Lisa balustrade, hung against separate panels, interspersed with meter-high velvet curtains in the colors that resonate with Vermeer's work: dark blue, deep green and aubergine red. A design that seems to be largely inspired by crowd control.
The disadvantage of such a spacious arrangement is a large degree of uniformity.
In addition to the thick, informative catalogue, the Rijksmuseum has launched an 'online journey of discovery' through the life and work of Johannes Vermeer on its website. The thirteen-part video production, narrated in Dutch and English by Joy Delima and Stephen Fry respectively, highlights Vermeer's paintings according to their themes. About the importance of harmony, heaven and earth, stillness, letters and the charming visit of various men in his work. All in all, the forty-minute narrative is full of broader insights and tasty details.
It remains a mystery how Vermeer, this monomaniac interior painter who has never left his hometown of Delft for more a short period of time and who preferred to lock his protagonists in dim rooms behind thick curtains, has acquired such an international reputation.
---
New Yorker -"The Ultimate Vermeer Collection" - Rebecca Meda - Feb. 2023
In the spring of 1914, James Simon, an art collector in Berlin, was approached by a London-based dealer with a proposition: Would he accept two hundred and fifty thousand dollars for a work in his collection, Johannes Vermeer's Mistress and Maid? The would-be buyer was Henry Clay Frick, the American industrialist, who in the late nineteenth century had embarked on an acquisition binge of Old Masters, and who already owned two works by the seventeenth-century painter from Delft. Simon's answer was definitive: although he had received equally lavish offers from other buyers—Frick was far from alone in his desire to gild his Gilded Age fortune with Golden Age masterpieces—he would not part with the painting. Five years and a crippling Great War later, however, Simon found himself in a weaker bargaining position, and for nearly three hundred thousand dollars—the equivalent of roughly five million dollars today—"Mistress and Maid" was shipped across the Atlantic to Frick's mansion, on Fifth Avenue, where its new owner enjoyed only a short while in its company before his death, in late 1919. The painting—which depicts a lady seated at a table with a writing set, interrupted by a maid holding a letter—has remained at the mansion more or less undisturbed ever since. Frick turned his home into a museum bearing his name, and it has long been its policy not to lend his acquisitions to other institutions.
In 2021, when the Frick started renovations at the mansion and moved its collection off-site, a chink of light in the institution's tightly shuttered terms was spotted: during this interregnum, the works could finally travel. Mistress and Maid—along with the Frick's two other Vermeers, Officer and Laughing Girl and Girl Interrupted at Her Music—has now recrossed the Atlantic, returning to the Netherlands for a landmark show at the Rijksmuseum, in Amsterdam.
There are no drawings by him, or any definitive likenesses of him, though the three-quarter profile of a figure in an early work, The Procuress, suggests that it may be a self-portrait. It's not the kind of sublimely refined figure one might imagine Vermeer to have been, however; this man is a sly, grinning onlooker to a lewd brothel scene...
---
EL PAÍS - "La luz de Vermeer inunda Ámsterdam en la exposición de la temporada en Europa" (Vermeer's light floods Amsterdam in the exhibition of the season in Europe) - Isabel Ferrer - Feb. 2023
The paintings View of Delft and The Little Street, the only two exterior oil paintings by the Dutch painter Johannes Vermeer (1632-1675), welcome visitors to the largest retrospective organized to date by the Rijksmuseum in Amsterdam, the national museum of art and Netherlands history. The canvases are the gateway to the private universe full of symbols of an artist recognized in his time, almost forgotten afterwards, and rescued for glory in the 19th century by the French art critic Théophile Thoré-Bürger.
Entitled simply Vermeer, the exhibition is the first dedicated exclusively to the painter since the one organized —between 1995 and 1996— by the National Gallery of Art, in Washington, and the Dutch gallery Mauritshuis, in The Hague. It is also a true balancing act between the blockbuster... and the artistic experience.
..."even though he left no self-portraits behind," says Pieter Roelofs, "but in a way, Vermeer's face is in every one of his paintings. In the use of color and light. In the perspective and his knowledge of optics. In the spaces that open and close, because he plays with the limits of what is ours and what is his"...
With a production of less than fifty, an average of about two pieces a year, the aura of mystery that surrounds Vermeer derives in part from the lack of personal documents. There are no handwritten letters, as in the case of Van Gogh, who was a prolific writer. Rembrandt, for his part, was very famous and has a catalog of 340 works considered his. It is known that Johannes Vermeer was in contact with art as a child, because his father ran an inn in Delft and was a picture dealer. That he learned his trade from a master, otherwise he could not have been a member of the Guild of Saint Luke in Delft. From a Protestant family, he married a young Catholic, Catalina Bolnes, and they had 15 children. His mother-in-law, Maria Thins, was wealthy and initially opposed the couple. As Gregor Weber, chief curator of Fine Arts at the Rijksmuseum, has discovered, the Jesuits showed the artist the use of the camera obscura, an optical instrument forerunner of photography. He believes that it inspired him, but he did not use it in his works, the outline of the clothing shines and the bronze illuminates.
Supported by a Delft collector who bought him some twenty paintings, the artist's life came to a halt in 1672 because of the Franco-Dutch war. He couldn't sell paintings or support his family, and he fell ill and passed away within a couple of days.
---
la Repubblica - "La ragazza" di Vermeer lascerà la mostra di Amsterdam" (Vermeer's "The Girl" will leave the Amsterdam exhibition) - Dario Pappalardo - Feb. 2023
The exhibition of the year, if not of the century, will soon have to do without its star. At the end of March, Vermeer's Girl with a Pearl Earring will leave the Rijksmuseum in Amsterdam to return home, about sixty kilometers south: to the Mauritshuis in The Hague. From April 1st - and it's no joke - it will be exhibited in its usual location. Paradoxically, Holland, which managed to gather 28 Vermeers from all over the world for the biggest event ever dedicated to the seventeenth-century master, lost an internal battle. Friendly fire and economic reason prevailed.
...after just 8 weeks ... the Mona Lisa of Flanders... will be repacked and replaced by a blue tent.
In The Hague, more than theft, they fear the drop in tourists from the Easter period onwards and the collapse of takings. The Girl is the main attraction of the Dutch city.
---
THE ART NEWSPAPER -The hunt for as many as nine elusive Vermeer paintings continues - Martin Bailey - Mar. 2023
With only 37 authenticated Johannes Vermeer paintings ... could there be more out there, not yet recognised as from his hand? Vermeer's production was certainly larger, so the hunt continues for the missing masterpieces. Experts believe that a number are still unaccounted for.
Around nine Vermeers that have disappeared are listed in old records, including a self-portrait—which would represent the greatest discovery.
The key question is whether the 37 surviving works and the nine or so in early records represent all (or nearly all) of Vermeer's oeuvre—or if they are just the tip of the iceberg.
---
El Confidencial - "Nunca has visto (ni volverás a ver) tantos cuadros de Vermeer juntos" (You have never seen [nor will you ever see] so many Vermeer paintings together) - Irene Hdez. Velasco - Feb. 2023
It is a fantastic, fascinating, absorbing, overwhelming exhibition...
Vermeer, today an undisputed superstar of art, was completely forgotten for almost 200 years. Only from the end of the 19th century did he begin to emerge from obscurity, when the French critic Théophile Thoré-Bürger discovered him, fell in love with his works and in 1866 published a catalog on Vermeer.
A good part of his works are scenes of domestic life starring women: women who read, who play an instrument, who make lace, who look through a window, who write…. Women focused on their own thoughts, introspective and contemplative women, women who are self-sufficient, women who enjoy the pleasure of solitude and their inner world. They are the first modern women of art, a kind of secularized madonna.
Vermeer continued in his father's footsteps as an art dealer, in addition to painting his own paintings, for which it is believed that he used his older daughters as models. his wife and his maid.
---
de Volkskrant -  Geen werk zo aantrekkelijk om van dichtbij te bekijken als het kleinschalige oeuvre van Vermeer ★★★★☆ Rutger Pontzen - Feb. 2023
Johannes Vermeer... Small canvases, big impact. There is more monumentality on a square centimeter than many other painters can achieve on a meters' long pieces of linen. The dull glint in a pearl, the swirling pouring of milk, the moist lips of the girl with the pearl, the golden roof in the View of Delft that kept Marcel Proust awake for nights - no work is so attractive to look at closely as the small-scale oeuvre of the Delft master.
The only question is: how do you present that?
Solution in the Rijks: show the work at an appropriate distance from ea ch other, each painting separately behind a Mona Lisa balustrade, hung against separate panels, interspersed with meters-high velvet curtains in colors that resonate with Vermeer's work: dark blue, deep green and aubergine red. A design that seems to be largely inspired by crowd control.
The disadvantage of such a spacious arrangement: a large degree of uniformity occurs.
In addition to the thick, informative and catalogue, the Rijksmuseum is launching an 'online journey of discovery' through the life and work of Johannes Vermeer on its website. It is a thirteen-part video production, narrated in
Dutch and English by Joy Delima and Stephen Fry, that highlights the themes of Vermeer's paintings. About the importance of harmony, heaven and earth, stillness, letters and the charming visit of various men in his work. All in all,about forty minutes of explanation - can also be used as a menu - full of tasty details and broader insights.
Because it remains a mystery how Vermeer, this monomaniac interior painter who has never left his hometown of Delft in a short period of time and who preferred to lock his protagonists in dim rooms behind thick curtains, has acquired such an international reputation.
---
DAGENS NYHETER - "Vermeers underbara måleri och okända liv synas på djupet" (Vermeer's wonderful painting and unknown life are seen in depth) - Birgitta Rubin - Feb. 2023
For the Rijksmuseum, it has been a challenge to present such a limited number of paintings, most of them surprisingly small, in its spacious halls. The exhibition architect has solved it elegantly with velvet drapes and a color scheme congenial with Vermeer's art, in shades such as plum purple, burgundy, deep green and sky blue. The museum has really succeeded in creating concentration, calm and air around each painting.
The only downside is that guards and railings prevent the audience from going near the canvases. This is of course for safety reasons, but it makes it frustratingly difficult to closely study all the delicate, finely-brushed details.
The exhibition is divided into eleven thematic sections, which demonstrate the phases of Vermeer's development broadly chronologically. It is fascinating to follow how he tries different genres and motifs, and learns to create spatial illusion. He works with distance and perspective, experiments with colors, light changes, views and visibility in rooms, as well as people's gaze directions.
Extensive research has preceded the exhibition, of which in-depth analyzes using new scanning techniques are the most interesting. Vermeer's choice of pigments, brushwork and invisible layers have been examined in eleven paintings and scores of corrections discovered. He has diligently both painted over and moved things, figures and even buildings (in the View of Delft), in the search for aesthetic perfection.
---
THE SUNDAY TIMES - "Inside the Vermeer exhibition — and the town where he grew up" - Sean Newsom - Feb. 2023
Nothing quite prepares you for how diminutive Johannes Vermeer's home turf was. The plaintive cries of the seagulls won't do it, as you leave Delft's railway station and wonder where all the cars have gone. Nor will the languid canals, lapping the town's historic core. Even the villagey tinkle of its church bells won't shrink your expectations sufficiently.
Why? Because by any measure the world inhabited by this leviathan of 17th-century painting was minute... here, in this prosperous little backwater, seven miles from the coast, you can stroll across the span of his entire domestic life in less than two minutes.
It's thought that Vermeer may have left town as a teenager to serve an apprenticeship. He was back by the age of 21, and this is where he stayed, creating what has turned out to be the most timeless sequence of masterpieces from the Dutch Golden Age. The Milkmaid, Woman in Blue Reading a Letter, Girl with a Pearl Earring — they were all painted here.
Delft was, after all, the home of Antonie van Leeuwenhoek, a contemporary of Vermeer's, and "the father of microbiology". He made at least 500 of his own optical lenses, and examined absolutely everything under his microscopes, from rainwater to bodily fluids.
Meanwhile, recent research has shown how the Jesuits in the mission next door to Johannes and Catharina's house had enthusiastically embraced the power of the camera obscura.
---
The Telegraph -  "Vermeer: a painter of exquisite artificiality and creepy men 5/5" - Alastair Sooke - Feb. 2023
Settle down. We are in the presence of Great Art. That is the message conveyed by the stately décor inside the new.
And the pictures? Like preachers in the pulpit, they appear behind semi-circular balustrades, each accompanied only by a title and date. Vermeer converted to Catholicism, but, here, there's a Protestant directness to the relationship between viewer and art. A milkmaid preparing bread pudding; well-to-do women reading and writing letters, fiddling with jewellery, flirting, making music: the subjects of these paintings, from the third quarter of the 17th century, are so well known, it seems, they require no explanation.
Foolishly, I thought I knew Vermeer backwards, but seeing his paintings together confounds expectations. His reputation as a realist is a misconception: many passages in his pictures are almost abstract. And, although we still think of him as a painter of "everyday" scenes, his compositions aren't 17th-century snapshots. Rather, they're suffused with artificiality and a sense of playacting.
---
Evening Standard - "Vermeer at the Rijksmuseum, Amsterdam - a once in a generation show, don't miss it" - Nancy Durrant - Feb. 2023
Vermeer has a reputation as a mystery; this turns out to be nonsense. We know when and where he was born and died; we know that he probably converted to Catholicism in order to marry his wife Catharina in 1653, and that, like his father, he worked as an art dealer.
We know he was elected twice as headman of the Guild of St Luke; that during the Dutch Republic's 'Disaster Year' of 1672 he sold barely anything, driving him towards penury; and that in 1674 he served as a pikeman in the civic guard. We know that he died aged 43 in 1675, penniless, in huge debt and that 14 pall bearers carried his coffin while bells rang out. In the catalogue there's even an entire chapter, deadly boring or utterly fascinating depending on your prediliction, detailing the goods that were in every room of his house after his death, when Catharina, left with 11 children to support, decided to file for bankruptcy.
What we don't have is anyone gushing about what he was like – as Giorgio Vasari did with the Renaissance artists – so we have no real picture of him as a man, but who cares, because we do have most of his pictures. I admit to caring little for the larger-scale works here, painted soon after his marriage, when he was trying a bit hard to be a grand painter of grand subjects.
---
Artmajeur - "Rijksmuseum otwiera dziś największą kolekcję obrazów Vermeera, jaką kiedykolwiek wystawiono" (The Rijksmuseum opens today the largest collection of Vermeer paintings ever exhibited) - Selena Mattei - Feb. 2023
Girl with a Flute, a controversial panel painting, is part of the show. Last year, the National Gallery of Art in Washington, D.C., said the painting did not meet "Vermeer standards" and moved it to "Vermeer's studio." But the Rijksmuseum maintains its opinion that it is the work of a Dutch master, saying that it is "attributed to Johannes Vermeer" in the museum's catalogue. The head of the painting and sculpture department, Pieter Roelofs, said the two galleries had agreed to disagree for now, but further research during the exhibition could change everyone's mind. He said: "We weren't there when it was painted, and our Washington colleagues have done an amazing job researching and collaborating as conservators, curators and scientists." "We're looking at the same picture, but each of us sees something different." They point out things they think are unusual, and we think we've seen some or most of the same things in other images. It's a great game.
---
FRIEZE - "How Did Johannes Vermeer Construct His Famous Interiors?" - Lua Vollaard - Feb. 2023
Weber... argues that light and optics are important themes in Jesuit devotional literature, pointing to a sermon that explores the camera obscura's artistic and moral significance, and identifying a drawing of Saint Apollonia dated c.1650 by a local Jesuit Priest Isaac van der Mye, produced using the camera obscura...
Weber goes as far as to speculate that Vermeer could have obtained a camera obscura in 1656, after van der Mye's death. Its use is perhaps most perceptible in
The Lacemaker
, on loan from the Louvre. The camera obscura casts an image onto a glass plane, allowing the scene to be traced. The technique enables a focal point in the composition to be meticulously detailed, while the foreground and background are blurred, as in human vision. The lace worker's eyes are trained on the threads, luminously detailed around the middle plane of the image, while a ball of vermillion red and pearly white threads cascade out of focus towards the front.
---
Deutschlandfunk Kultur - "Wer Vermeer sehen will, muss nach Amsterdam" (If you want to see Vermeer, you have to go to Amsterdam) - Feb. 2023
Most art critics are enthusiastic about the exhibition in the Rijksmuseum. The reason for this is certainly the comparative completeness of Vermeer's work. Never before have so many pictures by the Dutch baroque artist been shown in one show.
But there is also criticism: Vermeer is not embedded in his time. The 17th century was the heyday of the Dutch colonial empire. People who could afford works of art, such as those by Jan Vermeer, had become rich through the slave trade. Nothing can be learned about this in Amsterdam.
---
Artlyst  -  Vermeer: Stillness and Light Rijksmuseum Amsterdam - Sue Hubbard - Feb. 14, 2023
Unlike his contemporaries, Vermeer was not interested in movement but in stillness. Intense moments of revelation and quiet.
Vermeer was the master of light. Yet however close you get to a painting, it's hard to see the brush marks to discern how he did it. Lawrence Gowing described him as "all eye and nothing else….a walking retina drilled like a machine."
---
ARTnews - "Curator Behind 1995 Vermeer Retrospective Talks About What Goes Into Mounting a Blockbuster Exhibition" - Karen K. Ho - Mar. 16, 2023
Co-organized with the Mauritshuis in The Hague, Wheelock's "Johannes Vermeer" brought together 21 Vermeers, a record gathering only surpassed by the current Rijksmuseum exhibition. Several paintings, like the NGA's Girl with a Flute (1664–67), had recently been cleaned ahead of the 1995 exhibition.
Wheelock retired from the NGA in 2018 after more than 40 years.
ARTnews spoke to Wheelock by phone ...about his memories of the NGA exhibition.
Wheelock began working on his Vermeer exhibition about nine years before it opened. In addition to the scholarly research and painting conservation that went into mounting a show of this scale, securing loans was one of his biggest concerns in the run-up to the exhibition. Recalling the stress of how many Vermeers would actually be assembled when the show opened, Wheelock said, "When you contact somebody, and they don't answer how long do you wait before you inquire again? How do you find the route in to make an opportunity to borrow a painting?"
Taking place before online ticket sales or social media, the NGA's Vermeer exhibition exceeded expectations, proving that art lovers would line up—even in the winter months—to get a chance to see high-caliber shows by one of art history's most important figures. According to the museum, more than 300,000 people saw the paintings.
"We knew it was going to be popular but we had no clue," Wheelock said, noting that the museum had done some modest publicity to advertise the show. In addition to advance tickets, the NGA made 2,500 tickets available each day on a first-come, first-serve basis. Lines stretched for hours on some days, and a handful of people even camped overnight.
Even though the National Gallery of Art is one of the largest museums by square footage in North America, capacity proved to be a major issue for the 1995 exhibition due to room occupancy limits. "The problem was back then is that people stayed much, much longer than normal in an exhibition," Wheelock said. "They just didn't want to leave. It was that special to be among these Vermeers."
A key difference between the 1995 show and the current one is that after its debut at the NGA, it traveled to the Mauritshuis, meaning that Europeans didn't have to travel across the Atlantic to see it.
Plus, the Rijksmuseum launched an extensive international publicity campaign to promote the new exhibition, "creating a demand beyond anything you can probably handle," Wheelock said...
The Rijksmuseum is now tasked with managing an extremely popular, sold-out show thousands of people are still desperate to get tickets for, with unverified listings on eBay selling tickets for several hundred euros.
"There's already sense of anger that they can't get tickets," Wheelock said. "That's not something you want to see happen at all..."
The Rijksmuseum has made it very clear they're not giving special access to anyone, including journalists and critics because, according to the museum, "due to the great interest, the maximum number of press accreditations has now been reached."
---
ONLINE VERMEER EXHIBIT
The Rijksmuseum has launched an excellent entry-level online tour of the Vermeer retrospective by Stephen Fry called CLOSER TO JOHANNES VERMEER which allows you to explore online the artist's life and all his paintings.
<https://www.rijksmuseum.nl/en/stories/themes/vermeer/story/closer-to-johannes-vermeer>
---
PARALLEL EXHIBITION

Parallel to the Vermeer exhibition in the Rijksmuseum, Museum Prinsenhof Delft will organize the exhibition Vermeer's Delft (10 February–4 June, 2023). This will be the first ever exhibition to explore in depth the cultural-historical context in which Vermeer's practice flourished. Works by Delft contemporaries are displayed alongside Delft pottery, Delft carpets, archival materials and letters.
Vermeer's Delft
Museum Prinsenhof of Delft
February 10–June 4, 2023
The exhibition will be open throughout the Rijksmuseum Vermeer retrospective, from Monday-Sunday from 11:00-17:00.
<https://prinsenhof-delft.nl/ontdek-het-museum/nieuws/hoofdrol-voor-delft-in-ambitieuze-tentoonstelling-over-vermeer-in-museum-prinsenhof-delft>
---
FREQUENTLY ASKED QUESTIONS
What does a ticket cost?
There are no longe any tickets avaible.
The Rijksmuseum has currently reached the maximum amount of Friendships. Therefore, it is temporarily not possible to purchase Friendship Membership, which allows free entrance to the museum and all the special exhibitions for one year without booking a timeslot.
How many works from his oeuvre (that we know) will there be?
Never before have so many works been collected. At the moment there re 28 paintings. The Girl with the Pearl Earring is on display in the exhibition until 30 March.
What are the opening hours?
The exhibition is open every day from 9 am to 6 pm. Thursday, Friday and Saturday: 9–22h
How long can you stay?
As long as you want, the exhibition closes at 6 pm.
Does a ticket for the exhibition include a visit to the Rijksmuseum itself?
Yes. The entire museum is open until 5 pm, the exhibition until 6 pm.
Is photography allowed?
In the Rijksmuseum it is allowed to take pictures without a flash.
Can tours be booked?
No guided tours are offered.
Is there an audio tour?
No, no audio tour is provided.
Extras
There is free WiFi, a free cloakroom and a snack bar inside very near the entrance to the Vermeer exhibition.
---
GETTING TO THE RIJKSMUSEUM
The Amsterdam Airport Express Bus (Connexxion line 397) offers a convenient and direct transfer from Schiphol Airport to the city center of Amsterdam and the Rijksmuseum.
During the day (5 a.m. – midnight) the bus runs every 7-10 minutes. At the Amsterdam Airport Express it departs from bus stop B17, which you will find on the right of the exit Schiphol Plaza. You can see the route from Schiphol to the bus stop on the map. At night you can take Niteliner N97 once per hour.
Currently, (2023) a ticket for a one-way ticket costs €6.50. Order an e-ticket online or pay for it with a debit or credit card on board. Cash payment is not possible.
or:
1. Catch the train at Schiphol to travel directly to the Amsterdam Centraal Station, and many other destinations in The Netherlands. The NS train station is located directly below the terminal building. Take the escalator or lift downstairs and board the train. The train gets you to Amsterdam Central Station in 14-17 minutes. This option will cost about €5.50 per person with a €1 surcharge for disposable tickets.
2. Take tram 12 or 2 to Rijksmuseum.
---
GETTING AROUND AMSTERDAM
Amsterdam Travel Ticket
<https://www.holland.com/global/tourism/information/public-transport/amsterdam-region-travel-ticket.htm>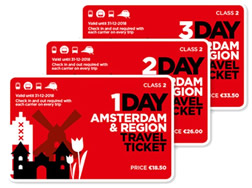 The Amsterdam & Region Travel Ticket gives you full access to buses, trams, trains and metro anywhere in the Amsterdam region for the duration of your ticket: options are available for one, two or three consecutive days. When you purchase the ticket online, you'll receive a voucher by email which you can present at one of the AKO bookshops at Schiphol Airport Plaza in exchange for your ticket. The card is activated from the first time you use it when entering a bus, tram, train or metro. All you need to do is check in and out when entering and exiting each vehicle or means of transportation. Along with your ticket, you'll receive a map which highlights some suggested routes and sightseeing adventures.
The Amsterdam & Region Travel Ticket can also be purchased at Amsterdam Visitor Centers and the ticket counters of the participating public transport operators.
1 day - €19.50 2 days - €28.00 3 days - €36.50
How to use the Amsterdam & Region Travel Ticket
Tickets are valid for 1, 2 or 3 calendar days. A day in this context begins at 00:00 and ends the next day at 04:00. You must check in and out with your card every time you enter and exit a bus, tram, train or metro. Your ticket is activated from the first check in. Tickets are valid on all metro, tram and bus lines operated by GVB, Connexxion, AllGo and EBS, including night buses. While the flowers are in bloom between March and May, you can use the ticket to travel from Amsterdam Airport Schiphol to Keukenhof Gardens (Arriva bus 858). Tickets are also valid on NS trains in the Amsterdam Area.
---
LEAVE YOUR IMPRESSIONS & PHOTOS OR ASK QUESTIONS ON EV FACEBOOK!