Vermeer retrospective at the Rijksmuseum
VERMEER
Rijksmuseum, Amsterdam | February 10–June 4, 2023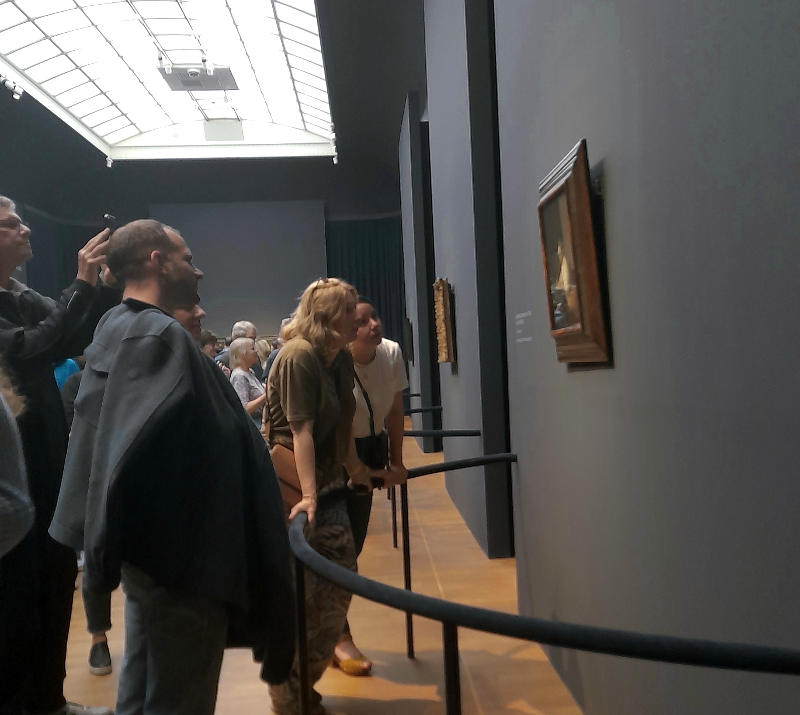 ---
EXHIBITION CATALOG
VERMEER
Gregor J M Weber and Pieter Roelofs
200 color illustrations
2023
Amazon.com (English, paperback) - <https://amzn.to/3O6FJs5>
review:
<https://hnanews.org/hnar/reviews/johannes-vermeer-faith-light-and-reflection/ >
---
JESUIT TIES, DELFT AND THE CAMERA OBSCURA: A NEW WINDOW ON VERMEER'S LIFE AND ART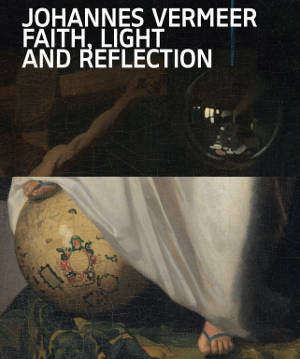 Johannes Vermeer: Faith, Light and Reflection
Gregor J.M. Weber
2023
Amazon.com (English, paperback) - <https://amzn.to/46zALLE>
---
EXHIBITION FACTS
On December 2, 2022, the Rijksmuseum announces a retrospective exhibition Johannes Vermeer for the first time in its history, including 28 paintings by Vermeer (see list below), of whose authorship two are still-debated (Saint Praxedis and Young Woman Seated at a Virginal).
Seven paintings had never before been on public display in the Netherlands, including the three paintings from The Frick Collection in New York, which had not left the collection premise since their inception (Girl Interrupted in her Music, Officer and Laughing Girl and Mistress and Maid), and the recently restored Girl Reading a Letter at an Open Window of the Gemäldegalerie Alte Meister in Dresden.
The exhibition extends into nine rooms, each one with a particular themes. Gallery 1: Closer to Vermeer, Gallery 2: Venturing into Town; Gallery 3: Early Ambitions; Gallery 4: First Interiors; Gallery 5: First Interiors; Gallery 6: Gazing Out; Gallery 7: Up Close; Gallery 8: Musical Appeal; Gallery 9: View of the World.
The exhibition opens to the public at 9:00 AM, on February 10, 2023.
Before the exhibition's official opening, 200,000 tickets are ordered.
All tickets are sold on the second day of the exhibition, causing the Rijksmuseum to shut down general sales on its website. Hyperallergic reports that a pair of e-tickets for the exhibition sold on eBay for $2,724 after 44 bids.
In mid-February, the Rijksmuseum Friends Membership, which allows free untimed entrance to the Rijksmuseum for a full year as well as the Vermeer exhibition, exhausts its yearly quota.
In March, extra tickets are made available, crashing the Rijksmuseum dedicated webpage, but are sold out in record time.
Opening hours are extended from 9:00 to 23.00 on Thursday, Friday and Saturday of March and April.
On April 2, the Girl with a Pearl Earring is removed from the exhibition in accordance with a agreement reached previously with the Mauritshuis.
2,600 tickets with an automated selection process are offered on June 2 and 3 until 2:00 a.m.in the morning.
The exhibition closes on June 4, 2023. The exhibition closes at 6 p.m. on June 4, 2023. The last visitors out of the exhibition was an American couple from North Carolina.
In all, approximately 650,000 tickets are sold.
---
The exhibition was designed by architect and designer Jean-Michel Wilmotte.
Irma Boom designed the sumptuous exhibition catalog and was responsible for all the graphic design.
A total of 650,000 people from 113 countries visited the exhibition, 60,000 more than the previous record held by a Rembrandt exhibition in 1969. More than half (55%) of visitors for the Vermeer show came from the Netherlands. Other visitors were from France (17%), Germany (16%), United Kingdom (16%), the United States (14%), Belgium 14%), Poland (4%;), Italy (3%); Spain (3%); Switzerland (1.6%); Canada (1.3%); Ireland (1.1%); Austria (0.8%); Japan (0.8%); Sweden (0.7%) and Finland (0.6%).
The standard admission fee for the show, which ran for 16 weeks, was €30.
The visitors rated the exhibition with an appreciation score of 8.7.
The Rijksmuseum also contributed to the TV program De Nieuwe Vermeer (NPO1/Omroep Max).
Two documentaries have been made about the exhibition. Director Suzanne Raes followed the preparations for the exhibition for her film Close to Vermeer. The Vermeer:The Greatest Exhibition appears in the Exhibition on Screen series (trailer) .
Two podcast episodes were published, Life and Work of Vermeer and Camera Obscura and the Faith; The episode about the life and work of Vermeer is the Rijksmuseum's most-listened-to podcast episode ever (more than 27,000 downloads).
The Rijksmuseum published the online course Vermeer, in which presenter Özcan Akyol shows the most beautiful details with Gregor J. M. Weber and Pieter Roelofs.
Nearly 800,000 people visited the online interactive feature showcasing all of the paintings that was narrated by actor Stephen Fry.
According to the museum's press office, more than 100,000 copies of the Vermeer catalog were sold in June 5, 2023, "more than any other exhibition catalog in the history of the museum."
---
---
PRESS REVIEW
---
SELECTED CITATIONS
The Guardian - "Much of a Dutchness: the world's biggest ever Vermeer show is an unmissable feast" - Adrian Searle - Feb. 7, 2023
Opening the magnificent Johannes Vermeer exhibition at Amsterdam's Rijksmuseum, two paintings of these morning scenes plunge us right in, taking us on a journey through Vermeer's art, spread across 10 rooms. We shuttle from city views to private interiors, between the sacred and the profane; from domestic life, with quiet music and private moments, to religious devotion and bawdy scenes. All this in an exhibition of only 28 paintings.
All the details in his art may be acutely observed—from the clouds passing over Delft to the finial on a Spanish chair, the burr on an Anatolian carpet and the glint on an earring—but they are more than inventories of the visible. Although a devout observer of the surface of things, which he became within a few short years, Vermeer was not a realist. His paintings are careful, complex constructions.
And Vermeer certainly never sat in a camera obscura, copying the inverted image projected on the darkened wall. He was no copyist, although, influenced by the Jesuit scientific and quasi-religious interest in optics, he understood and was interested in the way light illuminated objects in a camera obscura—and used its effects, just as he used single-point perspective to measure and construct the architecture of his painted spaces. Artists are always interested in whatever technology they have to hand. Vermeer wanted to see more, by whatever means.
Mystery and enigma are attractive. Who is that woman in the red hat, or the one with the pearl earring? What's in that letter? What is that girl looking at through the window? What is she thinking? Who is approaching? This exhibition, at last, gives us not just Vermeer's painted spaces, but space to be with them and to occupy their unfolding strangeness. Unmissable.
---
The Telegraph - "Vermeer: a painter of exquisite artificiality and creepy men 5/5" - Alastair Sooke - Feb. 7, 2023
Settle down. We are in the presence of Great Art. That is the message conveyed by the stately décor inside the new.
And the pictures? Like preachers in the pulpit, they appear behind semi-circular balustrades, each accompanied only by a title and date. Vermeer converted to Catholicism, but, here, there's a Protestant directness to the relationship between viewer and art. A milkmaid preparing bread pudding; well-to-do women reading and writing letters, fiddling with jewellery, flirting, making music: the subjects of these paintings, from the third quarter of the 17th century, are so well known, it seems, they require no explanation.
Foolishly, I thought I knew Vermeer backwards, but seeing his paintings together confounds expectations. His reputation as a realist is a misconception: many passages in his pictures are almost abstract. And, although we still think of him as a painter of "everyday" scenes, his compositions aren't 17th-century snapshots. Rather, they're suffused with artificiality and a sense of playacting.
---
Evening Standard - "Vermeer at the Rijksmuseum, Amsterdam - a once in a generation show, don't miss it" - Nancy Durrant - Feb. 7, 2023
Vermeer has a reputation as a mystery; this turns out to be nonsense. We know when and where he was born and died; we know that he probably converted to Catholicism in order to marry his wife Catharina in 1653, and that, like his father, he worked as an art dealer.
We know he was elected twice as headman of the Guild of St Luke; that during the Dutch Republic's 'Disaster Year' of 1672 he sold barely anything, driving him towards penury; and that in 1674 he served as a pikeman in the civic guard. We know that he died aged 43 in 1675, penniless, in huge debt and that 14 pall bearers carried his coffin while bells rang out. In the catalogue there's even an entire chapter, deadly boring or utterly fascinating depending on your prediliction, detailing the goods that were in every room of his house after his death, when Catharina, left with 11 children to support, decided to file for bankruptcy.
What we don't have is anyone gushing about what he was like – as Giorgio Vasari did with the Renaissance artists – so we have no real picture of him as a man, but who cares, because we do have most of his pictures. I admit to caring little for the larger-scale works here, painted soon after his marriage, when he was trying a bit hard to be a grand painter of grand subjects.
---
de Volkskrant -  "Geen werk zo aantrekkelijk om van dichtbij te bekijken als het kleinschalige oeuvre van Vermeer ★★★★☆"  (No work is as attractive to view up close as Vermeer's small-scale oeuvre ★★★★☆) Rutger Pontzen - Feb. 7, 2023
Johannes Vermeer... Small canvases, big impact. There is more monumentality on the square centimeter than many other painters can achieve on meters long pieces of linen. The dull glint in a pearl, the swirling pouring of milk, the moist lips of the girl with the pearl, the golden roof in the View of Delft that kept Marcel Proust awake for nights—no work is so attractive to look at closely as the small-scale oeuvre of the Delft master.
The only question is: how do you present that?
Solution in the Rijks: show the works at an appropriate distance from each other, each painting separately behind a Mona Lisa balustrade, hung against separate panels, interspersed with meter-high velvet curtains in the colors that resonate with Vermeer's work: dark blue, deep green and aubergine red. A design that seems to be largely inspired by crowd control.
The disadvantage of such a spacious arrangement is a large degree of uniformity.
In addition to the thick, informative catalogue, the Rijksmuseum has launched an 'online journey of discovery' through the life and work of Johannes Vermeer on its website. The thirteen-part video production, narrated in Dutch and English by Joy Delima and Stephen Fry respectively, highlights Vermeer's paintings according to their themes. About the importance of harmony, heaven and earth, stillness, letters and the charming visit of various men in his work. All in all, the forty-minute narrative is full of broader insights and tasty details.
It remains a mystery how Vermeer, this monomaniac interior painter who has never left his hometown of Delft for more a short period of time and who preferred to lock his protagonists in dim rooms behind thick curtains, has acquired such an international reputation.
---
THE ART NEWSPAPER - "Revealed: Vermeer's patron was, in fact, a woman—and she bought half the artist's entire oeuvre" - Martin Bailey - Feb. 7, 2023
Vermeer's main patron was probably a woman, according to curators of the retrospective which is opening at the Rijksmuseum in Amsterdam this week. She was Maria de Knuijt, the wife of Pieter van Ruijven. For decades it has been assumed that Van Ruijven, a wealthy Delft citizen, was the patron. New research reveals that De Knuijt had much closer and longer links to Vermeer than her husband.
The identity of Vermeer's patron is of vital importance, since they purchased half of the artist's entire oeuvre, at least 20 paintings.
The Rijksmuseum exhibition Vermeer ... includes no fewer than 14 paintings once owned by De Knuijt.
The exhibition co-curator Pieter Roelof... points out in the exhibition catalogue that in 17th-century Dutch society "as lady of the house she [De Knuijt] will have taken the lead in furnishing their home and purchasing paintings".
Pictures were then considered "household goods and thus part of domestic consumption". He concludes that "everything points to De Knuijt being the collector of the [Vermeer] paintings".
---
AD - "Hoe Vermeers in Rijksmuseum kwamen: 'We dachten: zo'n Vermeer-tentoonstelling lukt nóóit'" (How Vermeers came to the Rijksmuseum: "We thought: such a Vermeer exhibition will never succeed") - Eefje Oomen - Feb. 8, 2023
How does it feel to temporarily have such an entire collection of those unique, very expensive, spectacular paintings by that one world-famous Dutch master under your care?
That, says Pieter Roelofs (Head of Painting and Sculpture at the Rijksmuseum), is somewhat like a school trip to Efteling. "And that as an accompanying parent you not only take care of your own child, but also of the other children. May they return home safe and sound. Well, that's kind of the case with all those loans for this exhibition.''
How does such a loan work?
It is not the case that museums pay each other or have to 'rent' pieces. It is about working together, exchanging works with each other and - above all - giving things to each other and the public. For example, in 2012 we had The Woman Reading a Letter, one of 'our' four Vermeers, travel to China, Japan and Brazil, among others. And for this exhibition we have offered to conduct extensive research into two works from the Frick Collection: we have the expertise and equipment in-house."
What makes the organization of such an exhibition especially expensive: the insurance premium.
"We can only organize such exhibitions with the support of many institutions, funds and individuals. The government also helps us. It guarantees part of the insurance premium.''
And how much is that premium? And what is the total value of the entire Vermeer collection? Roelofs will never say anything about that. "We prefer to talk about the cultural-historical value. Any estimate is just an estimate, because Vermeer has a very small oeuvre and, moreover, a Vermeer never comes on the market.
Another mysterious thing: the transport. "You should compare it to the journey of a world-famous pop star. The pop star suddenly turns up and so it is with a Vermeer." What he does want to say: that the Rijksmuseum is doing everything possible for a safe trip. "These paintings were transported, for example, in the 'Turtle', a box developed in the Netherlands with built-in technology that ensures that vibrations are minimal."
---
The New York Times - "The Absolute Vermeer, in a Show More Precious Than Pearls" - Jason Farago - Feb. 9, 2023
On the highways and in the lowlands of European painting, there may be no more perplexing case of reputational caprice than Johannes Vermeer (1632–75). He was well established in Delft during his life; his art sold; and yet for two centuries after his death, his small and silent pictures of women reading letters or pouring milk elicited no attention at all. When Girl With a Pearl Earring came up at auction in 1881, it hammered at just two guilders. Now Vermeer stops traffic; he diverts planes. And you wonder: that luminousness, that inner calm, how could this not stop everyone's heart like it stops mine?
It is just called "Vermeer," and from the title on, this exhibition is dazzlingly confident and impetuously spare.
Really, the show is just about perfect: perfectly argued, perfectly paced, as clear and uncontaminated as the light streaming through those Delft windows. And in its proudly spare galleries I felt a little closer to understanding the intense grip of these diamond depictions on contemporary audiences, stronger still in the time of gigapixel reproduction. Why him, out of all the quiet masters of the eruptive 17th-century Dutch art market? Or better: why us? What happened to us, after Vermeer's long oblivion, to leave us so susceptible to his hushed views of writers and maids?
One factor is scarcity. Vermeer produced little and died young.
Here at the Rijks those 28 small-to-smallish paintings luxuriate across 10 galleries. Each picture is ringed by a simple semicircular balustrade, which permits close inspection and also distributes the crowds. (The show's designer is the French architect Jean-Michel Wilmotte, who's also hung heavy velvet curtains to muffle the sound; the curators are the Rijks' Pieter Roelofs and Gregor J.M. Weber.) Beyond that, and a few minimal texts, nothing. No comparative works, no distracting videos.
The Frick Collection, currently subletting while its Fifth Avenue mansion is under renovation, has allowed all three of its Vermeers to leave New York for the first time in a century. In the Frick's Mistress and Maid, an uncommonly grand Vermeer, the lady of the house edits a love letter while wearing a yellow morning jacket trimmed with white fur. At last it can be seen with the Met's Young Woman With a Lute, Washington's Lady Writing, Berlin's Woman With a Pearl Necklace, and the Rijksmuseum's own Love Letter, whose female models all wear that same yellow-and-white coat.
That false innocence bewitched more and more in the alienated 20th century, which turned to Vermeer for transparency, order, harmony. (The paintings' secular subjects made this easier, whatever his Catholic stimuli.) But beauty and calm just aren't enough to explain the intensity of Vermeeromania today, and I think his appeal now lies somewhere else. It lies, much more, in the paintings' capacity for deceleration, and how the difference between their tactile reality and obvious construction can only be seen with time.
Vermeer has become one of our last defibrillators of absorption and awareness. He matters now precisely for his vindication that we have not wholly decayed into data receptors; that we are still human, and if only we find the right master we can slow down time. What is a masterpiece, in 2023? A thing that returns to you—vitally, commandingly, after this clamorous world of news and notifications seemed to have wiped them out—your powers of concentration.
---
THE SUNDAY TIMES - "Inside the Vermeer exhibition — and the town where he grew up" - Sean Newsom - Feb. 9, 2023
Nothing quite prepares you for how diminutive Johannes Vermeer's home turf was. The plaintive cries of the seagulls won't do it, as you leave Delft's railway station and wonder where all the cars have gone. Nor will the languid canals, lapping the town's historic core. Even the villagey tinkle of its church bells won't shrink your expectations sufficiently.
Why? Because by any measure the world inhabited by this leviathan of 17th-century painting was minute... here, in this prosperous little backwater, seven miles from the coast, you can stroll across the span of his entire domestic life in less than two minutes.
It's thought that Vermeer may have left town as a teenager to serve an apprenticeship. He was back by the age of 21, and this is where he stayed, creating what has turned out to be the most timeless sequence of masterpieces from the Dutch Golden Age. The Milkmaid, Woman in Blue Reading a Letter, Girl with a Pearl Earring — they were all painted here.
Delft was, after all, the home of Antonie van Leeuwenhoek, a contemporary of Vermeer's, and "the father of microbiology". He made at least 500 of his own optical lenses, and examined absolutely everything under his microscopes, from rainwater to bodily fluids.
Meanwhile, recent research has shown how the Jesuits in the mission next door to Johannes and Catharina's house had enthusiastically embraced the power of the camera obscura.
---
FRIEZE - "How Did Johannes Vermeer Construct His Famous Interiors?" - Lua Vollaard - Feb. 9, 2023
Weber... argues that light and optics are important themes in Jesuit devotional literature, pointing to a sermon that explores the camera obscura's artistic and moral significance, and identifying a drawing of Saint Apollonia dated c.1650 by a local Jesuit Priest Isaac van der Mye, produced using the camera obscura...
Weber goes as far as to speculate that Vermeer could have obtained a camera obscura in 1656, after van der Mye's death. Its use is perhaps most perceptible in
The Lacemaker
, on loan from the Louvre. The camera obscura casts an image onto a glass plane, allowing the scene to be traced. The technique enables a focal point in the composition to be meticulously detailed, while the foreground and background are blurred, as in human vision. The lace worker's eyes are trained on the threads, luminously detailed around the middle plane of the image, while a ball of vermillion red and pearly white threads cascade out of focus towards the front.
---
Deutschlandfunk Kultur - "Wer Vermeer sehen will, muss nach Amsterdam" (If you want to see Vermeer, you have to go to Amsterdam) - Feb. 9, 2023
Most art critics are enthusiastic about the exhibition in the Rijksmuseum. The reason for this is certainly the comparative completeness of Vermeer's work. Never before have so many pictures by the Dutch baroque artist been shown in one show.
But there is also criticism: Vermeer is not embedded in his time. The 17th century was the heyday of the Dutch colonial empire. People who could afford works of art, such as those by Jan Vermeer, had become rich through the slave trade. Nothing can be learned about this in Amsterdam.
---
Artmajeur - "Rijksmuseum otwiera dziś największą kolekcję obrazów Vermeera, jaką kiedykolwiek wystawiono" (The Rijksmuseum opens today the largest collection of Vermeer paintings ever exhibited) - Selena Mattei - Feb. 10, 2023
Girl with a Flute, a controversial panel painting, is part of the show. Last year, the National Gallery of Art in Washington, D.C., said the painting did not meet "Vermeer standards" and moved it to "Vermeer's studio." But the Rijksmuseum maintains its opinion that it is the work of a Dutch master, saying that it is "attributed to Johannes Vermeer" in the museum's catalogue. The head of the painting and sculpture department, Pieter Roelofs, said the two galleries had agreed to disagree for now, but further research during the exhibition could change everyone's mind. He said: "We weren't there when it was painted, and our Washington colleagues have done an amazing job researching and collaborating as conservators, curators and scientists." "We're looking at the same picture, but each of us sees something different." They point out things they think are unusual, and we think we've seen some or most of the same things in other images. It's a great game.
---
la Repubblica - "Vermeer, il mondo in fila davanti al mistero" (Vermeer, the world lined up in front of the mystery) - Dario Pappalardo - Feb. 12, 2023
In recent weeks, anonymous trucks have delivered without attracting too much attention—bypassing the channels and prying eyes—some of the best kept mysteries in the history of art. The items arrived by air from Washington, New York and Tokyo or by land from Paris, The Hague, Dresden, Berlin, from seven countries and fourteen different locations. All or almost all the Vermeers in the world have landed here, in one place, for the first time: it is an event that has no precedents and is unlikely to repeat itself. Seeing them together finally means trying in vain to reveal the secrets of the rarest painter ever.
Understanding the hidden meanings behind those women who sew, taste wine, play lutes, simply stand at the window, intent on looking outside or reading letters that have come from who knows where
Johannes of Delft (1632-1675) lived 43 years, leaving us on Earth only 37 paintings: one, The Concert, the most wanted by the FBI, is part of the group of masterpieces that disappeared from the Isabella Stewart Gardner Museum in Boston in the sensational theft of March 18, 1990, which also inspired a Netflix documentary. If it is too early to know how many visitors there will be at closing, the insurance value sets a first record: three billion Euros for less than thirty paintings.
"Vermeer was influenced by the Jesuits—explains Gregor J.M. Weber, curator of the exhibition and author of the essay Johannes Vermeer. Faith, Light and Reflection. It is an element so far underestimated but increasingly evident. In Delft the Jesuits were practically his neighbors.
He certainly owned a book by Peter Canisius and two of his children had been baptized in the Catholic faith with the names of the founders: Francesco (Saverio) and Ignazio. But, above all, for the Society of Jesus, studies on optics were an integral part of religious education: God is light and the mirror reflects the universe. The Jesuits used the camera obscura as well as the painter had to, in order to study the objects to be reproduced on canvas.
This is proved by the fact that, in his works, some details are out of focus compared to others."
In view of the record exhibition, Vermeer's painting was literally x-rayed...Vermeer still remains the Sphinx of Delft, as the French journalist Théophile Thoré defined it in 1866 in the Gazette des Beaux-Arts.
The more we question him, the more he escapes us. Girl with a Pearl Earring keeps challenging us. Vermeer, you won again this time.
---
El Confidencial - "Nunca has visto (ni volverás a ver) tantos cuadros de Vermeer juntos" (You have never seen [nor will you ever see] so many Vermeer paintings together) - Irene Hdez. Velasco - Feb. 13, 2023
It is a fantastic, fascinating, absorbing, overwhelming exhibition...
Vermeer, today an undisputed superstar of art, was completely forgotten for almost 200 years. Only from the end of the 19th century did he begin to emerge from obscurity, when the French critic Théophile Thoré-Bürger discovered him, fell in love with his works and in 1866 published a catalog on Vermeer.
A good part of his works are scenes of domestic life starring women: women who read, who play an instrument, who make lace, who look through a window, who write…. Women focused on their own thoughts, introspective and contemplative women, women who are self-sufficient, women who enjoy the pleasure of solitude and their inner world. They are the first modern women of art, a kind of secularized madonna.
Vermeer continued in his father's footsteps as an art dealer, in addition to painting his own paintings, for which it is believed that he used his older daughters as models. his wife and his maid.
---
Artlyst  -  Vermeer: Stillness and Light Rijksmuseum Amsterdam - Sue Hubbard - Feb. 14, 2023
Unlike his contemporaries, Vermeer was not interested in movement but in stillness. Intense moments of revelation and quiet.
Vermeer was the master of light. Yet however close you get to a painting, it's hard to see the brush marks to discern how he did it. Lawrence Gowing described him as "all eye and nothing else….a walking retina drilled like a machine."
---
THE ART NEWSPAPER - The Big Review: Vermeer at the Rijksmuseum ★★★★★" - Tracy Chevalier - Feb. 17, 2023
Less is more. While the phrase was coined in the 20th century by the Modernist architect Mies van der Rohe, it could easily have been pronounced by Johannes Vermeer back in the 17th century. Not only did the Dutch artist focus primarily on one simple corner of a room, he also probably painted only 45 to 50 works over his lifetime.
Luckily for us, the curators Gregor J.M. Weber and Pieter Roelofs have kept their nerve and trusted in 'less is more'. Instead of cutting back the number of galleries or cluttering the available space with other contemporaries' works or information about the world beyond Vermeer's studio, they have hung each painting with a generous amount of room around it, making a virtue out of what could have been a problem. Several paintings have their own walls; some even have their own galleries. The effect of so much space is to slow visitors down so that we give each painting more time. With less to look at, we contemplate what is there with more attention, and start to see more.
The curators have trusted the Vermeers to speak for themselves, and us to formulate our own opinions.
Marrying what you say with how you say it results in an experience richer than the sum of its parts; this is what every creator—be it painter, writer or curator—is aiming for, and few achieve. I have never seen a show that has managed this so successfully. The exhibition itself has become a work of art. Exhibition organisers will be learning from this show for years to come.
---
DAGENS NYHETER - "Vermeers underbara måleri och okända liv synas på djupet" (Vermeer's wonderful painting and unknown life are seen in depth) - Birgitta Rubin - Feb. 18, 2023
For the Rijksmuseum, it has been a challenge to present such a limited number of paintings, most of them surprisingly small, in its spacious halls. The exhibition architect has solved it elegantly with velvet drapes and a color scheme congenial with Vermeer's art, in shades such as plum purple, burgundy, deep green and sky blue. The museum has really succeeded in creating concentration, calm and air around each painting.
The only downside is that guards and railings prevent the audience from going near the canvases. This is of course for safety reasons, but it makes it frustratingly difficult to closely study all the delicate, finely-brushed details.
The exhibition is divided into eleven thematic sections, which demonstrate the phases of Vermeer's development broadly chronologically. It is fascinating to follow how he tries different genres and motifs, and learns to create spatial illusion. He works with distance and perspective, experiments with colors, light changes, views and visibility in rooms, as well as people's gaze directions.
Extensive research has preceded the exhibition, of which in-depth analyzes using new scanning techniques are the most interesting. Vermeer's choice of pigments, brushwork and invisible layers have been examined in eleven paintings and scores of corrections discovered. He has diligently both painted over and moved things, figures and even buildings (in the View of Delft), in the search for aesthetic perfection.
---
LiFO - Επίσκεψη στη μεγαλύτερη έκθεση του Βερμέερ που έγινε ποτέ (Visit the largest Vermeer exhibition ever) - Αργυρώ Μποζώνη - Feb. 20, 2023
I arrived at the museum on the first day of the exhibition, Friday February 10. The banner and all promotional material is a detail of the painting "Lady and Maid" owned by Frick. Showing a bit of her youthful neck, a patch of fur on her yellow coat, her pearl necklace and a large pearl drop earring, she seems to be asking the visitor to pay attention to the crucial details that recur almost throughout the work. of Vermeer of this period, when he painted many of his greatest paintings.
The details are also highlighted in works such as Girl in the Red Hat – cover of the English catalog – with her half-open mouth looking as if it had just been smeared with lip gloss – it was with these glossy lips that Vermeer painted the women inside of the houses, giving their expression a hint of anticipation. There is also a slightly more trivial, technical reason why the details are displayed. The reproduction rights of the works belong to the museums that own them, so you will only find items related to the four Vermeer works owned by the Rijks in the museum shop.
With the system of reservations every 15 minutes, the queues are never too long and no one waits in the cold for two or three hours.
We are directed to follow a triple line on the floor, an homage to Vermeer's ultramarine, to arrive through a serpentine path into the exhibition halls – always wearing our blue paper wristbands.
Next to me there are people of all kinds who have come from everywhere, not very young, although there are also mothers with prams and bottles and unsuspecting babies making their maiden entry into the "sufferings of art " . No schools are allowed in the exhibition yet, to ensure a relative calm, and of course photography, videography is allowed, there is no hand without a mobile phone or a camera, everyone except zero is taking pictures incessantly, they are allowed to approach the works at a very short distance – but she does not is it also the value of Vermeer, to get as close as possible, to see the touch on the pearl, the running milk and the lace fingers?
He painted pearl earrings and necklaces in eighteen of his thirty-seven works. They are not only decorative elements, they symbolized purity, beauty and love and were synonymous with wealth.
The color that dominates and impresses with its vibrancy even if it has faded in some paintings is the ultramarine which, while other painters used sparingly, Vermeer loved it. He lavishly used the most beautiful of all blue pigments, which cost more than gold. Ultramarine, meaning "beyond the sea," was so named because most lapis lazuli came from Afghanistan, and its production required a complex process. You will see ultramarine in almost all of his paintings, on clothes but also on tablecloths, cushions and curtains – it draws the eye like a magnet, it always impresses.
That same evening I received an email, like every visitor, with a long questionnaire: how I see the museum, if it bothered me that it was crowded, if I was unhappy that there was no audio tour, if I find the ticket expensive. I was asked to describe the experience almost in detail, identify shortcomings, rate various fields and comments made in order to improve the experience of the next visitors. I was also asked if I had come to Amsterdam to see this exhibition, if I was staying in a hotel, how many other museums I would see and how much I would spend in the city during my stay.
---
New Yorker -"The Ultimate Vermeer Collection" - Rebecca Meda - Feb. 20, 2023
In the spring of 1914, James Simon, an art collector in Berlin, was approached by a London-based dealer with a proposition: Would he accept two hundred and fifty thousand dollars for a work in his collection, Johannes Vermeer's Mistress and Maid? The would-be buyer was Henry Clay Frick, the American industrialist, who in the late nineteenth century had embarked on an acquisition binge of Old Masters, and who already owned two works by the seventeenth-century painter from Delft. Simon's answer was definitive: although he had received equally lavish offers from other buyers—Frick was far from alone in his desire to gild his Gilded Age fortune with Golden Age masterpieces—he would not part with the painting. Five years and a crippling Great War later, however, Simon found himself in a weaker bargaining position, and for nearly three hundred thousand dollars—the equivalent of roughly five million dollars today—Mistress and Maid was shipped across the Atlantic to Frick's mansion, on Fifth Avenue, where its new owner enjoyed only a short while in its company before his death, in late 1919. The painting—which depicts a lady seated at a table with a writing set, interrupted by a maid holding a letter—has remained at the mansion more or less undisturbed ever since. Frick turned his home into a museum bearing his name, and it has long been its policy not to lend his acquisitions to other institutions.
In 2021, when the Frick started renovations at the mansion and moved its collection off-site, a chink of light in the institution's tightly shuttered terms was spotted: during this interregnum, the works could finally travel. Mistress and Maid—along with the Frick's two other Vermeers, Officer and Laughing Girl and Girl Interrupted at Her Music—has now recrossed the Atlantic, returning to the Netherlands for a landmark show at the Rijksmuseum, in Amsterdam.
There are no drawings by him, or any definitive likenesses of him, though the three-quarter profile of a figure in an early work, The Procuress, suggests that it may be a self-portrait. It's not the kind of sublimely refined figure one might imagine Vermeer to have been, however; this man is a sly, grinning onlooker to a lewd brothel scene...
---
EL PAÍS - "La luz de Vermeer inunda Ámsterdam en la exposición de la temporada en Europa" (Vermeer's light floods Amsterdam in the exhibition of the season in Europe) - Isabel Ferrer - Feb. 20, 2023
The paintings View of Delft and The Little Street, the only two exterior oil paintings by the Dutch painter Johannes Vermeer (1632-1675), welcome visitors to the largest retrospective organized to date by the Rijksmuseum in Amsterdam, the national museum of art and Netherlands history. The canvases are the gateway to the private universe full of symbols of an artist recognized in his time, almost forgotten afterwards, and rescued for glory in the 19th century by the French art critic Théophile Thoré-Bürger.
Entitled simply Vermeer, the exhibition is the first dedicated exclusively to the painter since the one organized —between 1995 and 1996— by the National Gallery of Art, in Washington, and the Dutch gallery Mauritshuis, in The Hague. It is also a true balancing act between the blockbuster... and the artistic experience.
..."even though he left no self-portraits behind," says Pieter Roelofs, "but in a way, Vermeer's face is in every one of his paintings. In the use of color and light. In the perspective and his knowledge of optics. In the spaces that open and close, because he plays with the limits of what is ours and what is his"...
With a production of less than fifty, an average of about two pieces a year, the aura of mystery that surrounds Vermeer derives in part from the lack of personal documents. There are no handwritten letters, as in the case of Van Gogh, who was a prolific writer. Rembrandt, for his part, was very famous and has a catalog of 340 works considered his. It is known that Johannes Vermeer was in contact with art as a child, because his father ran an inn in Delft and was a picture dealer. That he learned his trade from a master, otherwise he could not have been a member of the Guild of Saint Luke in Delft. From a Protestant family, he married a young Catholic, Catalina Bolnes, and they had 15 children. His mother-in-law, Maria Thins, was wealthy and initially opposed the couple. As Gregor Weber, chief curator of Fine Arts at the Rijksmuseum, has discovered, the Jesuits showed the artist the use of the camera obscura, an optical instrument forerunner of photography. He believes that it inspired him, but he did not use it in his works, the outline of the clothing shines and the bronze illuminates.
Supported by a Delft collector who bought him some twenty paintings, the artist's life came to a halt in 1672 because of the Franco-Dutch war. He couldn't sell paintings or support his family, and he fell ill and passed away within a couple of days.
---
la Repubblica - "La ragazza" di Vermeer lascerà la mostra di Amsterdam" (Vermeer's "The Girl" will leave the Amsterdam exhibition) - Dario Pappalardo - Feb. 21, 2023
The exhibition of the year, if not of the century, will soon have to do without its star. At the end of March, Vermeer's Girl with a Pearl Earring will leave the Rijksmuseum in Amsterdam to return home, about sixty kilometers south: to the Mauritshuis in The Hague. From April 1st - and it's no joke - it will be exhibited in its usual location. Paradoxically, Holland, which managed to gather 28 Vermeers from all over the world for the biggest event ever dedicated to the seventeenth-century master, lost an internal battle. Friendly fire and economic reason prevailed.
...after just 8 weeks ... the Mona Lisa of Flanders... will be repacked and replaced by a blue tent.
In The Hague, more than theft, they fear the drop in tourists from the Easter period onwards and the collapse of takings. The Girl is the main attraction of the Dutch city.
---
INDIPENDENT - Bringing a Dutch master home – what makes Vermeer so remarkable? - William Cook - Feb. 21, 2023
In the Rijksmuseum in Amsterdam, one of the world's great art galleries, art lovers from all around the world are flocking to the biggest exhibition of the year. The Rijksmuseum's new Vermeer show has received a slew of five-star reviews, laden with superlatives. Does it deserve such lavish praise?
Wandering around this exhibition, wide-eyed, my own review is just three words long: believe the hype. Vermeer really was that special, and this show really is that good. But what makes him so remarkable? What sets him apart from other artists? And why is he so revered?
Never mind the Netherlands – never mind the 17th century. I can't think of any artist of any era, anywhere in the world, with such acute powers of observation. Vermeer didn't just record the details of the world around him: he explored the psychology of his subjects. He expressed how it feels to be alive.
"The way he paints, it's so intimate," concurs Ige Verslype, a conservator at the Rijksmuseum. "That's what makes it so moving."
No other great artist left behind such a small body of work. Yet within that compact corpus lies incredible variety. "He keeps experimenting, he keeps trying to do new things," explains Verslype. "You have such a small oeuvre, and you have so many different styles."
Yet these clear and lucid images are full of psychological insight, what the art historian Maurizia Tazartes calls "the poetry of silence".
An even greater asset is Vermeer's extraordinary naturalism. David Hockney, among others, has suggested he may have used a camera obscura – an early type of camera that projected a photographic image onto a wall. This would account for his mastery of perspective, and his photographic sense of focus and composition – pixellating foregrounds, blurring backgrounds, cropping out the edges of every frame. His brushstrokes are almost invisible. His pictures are candid snapshots, more like Polaroids than paintings.
Yet these clear and lucid images are full of psychological insight, what the art historian Maurizia Tazartes calls "the poetry of silence".
An even greater asset is Vermeer's extraordinary naturalism. David Hockney, among others, has suggested he may have used a camera obscura – an early type of camera that projected a photographic image onto a wall. This would account for his mastery of perspective, and his photographic sense of focus and composition – pixellating foregrounds, blurring backgrounds, cropping out the edges of every frame. His brushstrokes are almost invisible. His pictures are candid snapshots, more like Polaroids than paintings.
However, Vermeer's greatest talent was his unique mastery of light. He was the first artist to understand that warm light casts a cold shadow, and vice versa – that yellow light sheds a blue shadow, and the other way round. This depiction of light through colour really puts you in the room, making you an active participant in his paintings rather than a passive spectator. Each painting is a hidden window on another world. Paintings of similar scenes by other artists seem staged and theatrical – Vermeer is more like a cinematographer. Is that why his art still speaks to us, in our cinematic, televisual age?
A family business and a wealthy wife enabled Vermeer to paint to please himself rather than pandering to the art market. He didn't have to paint sycophantic portraits to pay the bills. He could spend longer on his paintings, rather than rushing to meet deadlines. His genre paintings are sincere and heartfelt, mercifully free of the clumsy humour so common in similar pictures by his peers.
He didn't move up or down the property ladder; his house was respectable but unspectacular. Some collectors praised his work; others complained that it was too expensive.
If the Netherlands had remained at peace, Vermeer might have lived to a ripe old age and painted many more paintings – Rembrandt, his only equal, outlived him by 20 years – but in 1672 the French invaded and the local economy collapsed. This calamity spelt disaster for Vermeer. From then on, he produced hardly any paintings, and it seems he sold none at all. In 1675, he died suddenly – probably of a heart attack, possibly of a broken heart.
During the 18th century, Vermeer virtually vanished from art history. When his paintings cropped up on the open market, they were often misattributed to other artists – perhaps accidentally, or perhaps deliberately in order to attract higher prices. The revival only began in 1866, nearly 200 years after his death, when a French art critic called Theophile Thoré wrote a series of effusive articles praising this unknown artist, dubbing him "the Sphinx of Delft".
Thoré set the ball rolling, and during the late 19th century the Vermeer renaissance gathered pace. Van Gogh loved his use of colour. Monet and Renoir were both fans. After centuries of obscurity, popular taste had finally caught up with him. Today, he's more popular than ever – the inspiration for novels and movies; an artist for the Instagram and TikTok generation.
---
THE WALL STREET JOURNAL - "'Vermeer' Review: Small Focus, Wide Reach" - Mary Tompkins Lewis - Feb. 25, 2023
Organized by the museum's curators Gregor J.M. Weber and Pieter Roelofs and designed by the architect Jean-Michel Wilmotte, it is a staggeringly beautiful, brilliantly realized show unlikely to be repeated.
A room of large, ambitious figure paintings from the mid-1650s indicates the artist's early plans to become a history painter, a path he soon abandoned. Like his father, Vermeer was also an art dealer, and he must have recognized the demand in Delft—where most of his paintings remained—for smaller genre scenes that would appeal to private collectors and fit in their homes. As the show underscores at every turn, such works would play to his unique strengths.
Vermeer's evocative depictions of women reading or writing letters allowed the artist to conjure up his subjects' innermost thoughts in their genteel, private domains, and such paintings punctuate the show.
Vermeer's interest in science, an inescapable thread through his art, is newly considered in the show's later galleries. "The Geographer" (1669), for example, offers (as does the Louvre's "The Astronomer," on loan elsewhere) a rare male protagonist who may personify Delft's vibrant scientific milieu. The pensive, blue-robed scholar, surrounded by maps, a globe and scientific instruments, is a striking image of active, intellectual engagement. The curators propose that his ruminative gaze and the familiar light-flooded windows may be signs of both cerebral and spiritual enlightenment.
..this historic exhibition an absolute must-see.
---
THE ART NEWSPAPER - "The hunt for as many as nine elusive Vermeer paintings continues" - Martin Bailey - Mar. 2, 2023
With only 37 authenticated Johannes Vermeer paintings ... could there be more out there, not yet recognised as from his hand? Vermeer's production was certainly larger, so the hunt continues for the missing masterpieces. Experts believe that a number are still unaccounted for.
Around nine Vermeers that have disappeared are listed in old records, including a self-portrait—which would represent the greatest discovery.
The key question is whether the 37 surviving works and the nine or so in early records represent all (or nearly all) of Vermeer's oeuvre—or if they are just the tip of the iceberg.
---
VIAJES NATIONAL GEOGRAPHIC - "El Rijksmuseum hace historia con Vermeer" (The Rijksmuseum makes history with Vermeer) - Rafa Pérez - Mar. 10, 2023
Vermeer created all of his work in the historical context of the Dutch Golden Age. The country was at that time an island of abundance in an ocean of need. The VOC (Dutch East India Company), the first large joint-stock company, established in 1602, was its major supplier of merchandise. In addition, the change in the temperature of the waters further north had displaced the herring schools into the nets of the Dutch fishermen.
This climate of wealth favored the development of science, technology and art. In the 17th century, it is estimated that between five and ten million paintings were created, of price and quality as variable as debatable, but whose high number is significant of the value they gave to artistic development. Already then travelers were surprised to find a tolerant society, little given to censorship, and in which the number of bookstores was greater than anywhere else. It is not surprising that, after centuries of cultivating them, those values remain today.
But the fact that the money flowed in from the sea does not mean that it did so at the painter's house. The arrival of a patron, Pieter van Ruijven, who paid advances for the paintings or for the right of first option, was providential but not enough. Vermeer used the best and most expensive pigments, brought from all over thanks to the commercial efforts of the VOC. Among them cochineal red made from insects that live on Mexican cacti, a pigment frequently cited in the Amsterdam stock market; or the very expensive ultramarine blue, made with a rare stone from mines in what is now northeastern Afghanistan. Ultramarine cost more than seventy guilders per quarter pound, making an estimated conversion to current value we speak of more than seven hundred euros.
This gambler of light showed us the world as the eye perceives it and not as the brain translates it for us... Vermeer knew very well what he was doing by making us part of those everyday scenes and turning us into voyeurists, he was feeding one of the impulses most powerful human: curiosity.
---
ARTnews - "Curator Behind 1995 Vermeer Retrospective Talks About What Goes Into Mounting a Blockbuster Exhibition" - Karen K. Ho - Mar. 16, 2023
Co-organized with the Mauritshuis in The Hague, Wheelock's "Johannes Vermeer" brought together 21 Vermeers, a record gathering only surpassed by the current Rijksmuseum exhibition. Several paintings, like the NGA's Girl with a Flute (1664–67), had recently been cleaned ahead of the 1995 exhibition.
Wheelock retired from the NGA in 2018 after more than 40 years.
ARTnews spoke to Wheelock by phone ...about his memories of the NGA exhibition.
Wheelock began working on his Vermeer exhibition about nine years before it opened. In addition to the scholarly research and painting conservation that went into mounting a show of this scale, securing loans was one of his biggest concerns in the run-up to the exhibition. Recalling the stress of how many Vermeers would actually be assembled when the show opened, Wheelock said, "When you contact somebody, and they don't answer how long do you wait before you inquire again? How do you find the route in to make an opportunity to borrow a painting?"
Taking place before online ticket sales or social media, the NGA's Vermeer exhibition exceeded expectations, proving that art lovers would line up—even in the winter months—to get a chance to see high-caliber shows by one of art history's most important figures. According to the museum, more than 300,000 people saw the paintings.
"We knew it was going to be popular but we had no clue," Wheelock said, noting that the museum had done some modest publicity to advertise the show. In addition to advance tickets, the NGA made 2,500 tickets available each day on a first-come, first-serve basis. Lines stretched for hours on some days, and a handful of people even camped overnight.
Even though the National Gallery of Art is one of the largest museums by square footage in North America, capacity proved to be a major issue for the 1995 exhibition due to room occupancy limits. "The problem was back then is that people stayed much, much longer than normal in an exhibition," Wheelock said. "They just didn't want to leave. It was that special to be among these Vermeers."
A key difference between the 1995 show and the current one is that after its debut at the NGA, it traveled to the Mauritshuis, meaning that Europeans didn't have to travel across the Atlantic to see it.
Plus, the Rijksmuseum launched an extensive international publicity campaign to promote the new exhibition, "creating a demand beyond anything you can probably handle," Wheelock said...
The Rijksmuseum is now tasked with managing an extremely popular, sold-out show thousands of people are still desperate to get tickets for, with unverified listings on eBay selling tickets for several hundred euros.
"There's already sense of anger that they can't get tickets," Wheelock said. "That's not something you want to see happen at all..."
The Rijksmuseum has made it very clear they're not giving special access to anyone, including journalists and critics because, according to the museum, "due to the great interest, the maximum number of press accreditations has now been reached."
---
Boston Globe - "Thirty-three years after the Gardner heist, where are the paintings?"- Shelley Murphy - Mar. 17, 2023
Maybe the most conspicuous absence is a Vermeer from Boston. Missing not because it's in bad shape, but because it was stolen more than three decades ago, without a trace of it since.
The Concert is a 1664 painting that depicts a man and two women playing music, and was one of 13 artworks stolen from the Isabella Stewart Gardner Museum on March 18, 1990, in what remains the world's largest art heist.
On the 33rd anniversary of the theft, empty frames remain on the walls of the Gardner. None of the works have been recovered, despite a $10 million reward, nor has anyone been charged.
"Sooner or later, anybody who saw the real picture is going to be dead," said Jonathan Janson, an American artist living in Rome and author of EssentialVermeer.com, a scholarly website devoted to the beloved painter. Janson was one of the estimated 450,000 people who scored a ticket to the Vermeer exhibition, and he also saw The Concert when it was still hanging at the Gardner.
Anthony Amore, the Gardner museum security director, who has worked with the FBI on the investigation for the past 17 years, said the search continues.
US Attorney Rachael Rollins expects to soon announce new efforts to increase awareness and generate tips that could lead to the their recovery.
"One of my first steps as US Attorney was to make sure the Gardner Museum heist was treated as an active federal investigation rather than a documentary film series or classroom discussion," Rollins said in a statement
Kristen Setera, a spokeswoman for the FBI's Boston office, said the agency continues to pursue leads and urged anyone with information to come forward.
Over the years, the theft investigation has featured countless theories, a string of discredited conmen, and a dizzying array of suspects, including local petty criminals with Mafia ties, Irish gangsters, and a Hollywood screenwriter.
Amore, the Gardner security chief, believes the artwork is most likely hidden locally and has a message for the person who has them: "We are the only buyers for the paintings. If you have information that you believe will lead us to the paintings, not theories, but information, please be in touch. We can bring this to a happy resolution."
---
The Atlantic - "Vermeer's Daughter" - Lawrence Weschler - Mar. 20, 2023
Fifteen years ago, a distinguished academic publisher brought out a densely argued, lavishly illustrated, wildly erudite monograph that seemed to completely reconceive the study of Johannes Vermeer. The author, an art historian named Benjamin Binstock, said that he had discerned the existence of an entirely new artist—Vermeer's daughter Maria, the young woman Binstock had also identified as the likely model for Girl With a Pearl Earring—to whom he attributed seven of the 35 or so paintings then conventionally ascribed to Vermeer. To hear Binstock tell it, Maria's paintings include one of the most popular: Girl With a Red Hat, at the National Gallery of Art, in Washington, D.C. He believes that painting and another at the National Gallery are self-portraits by Maria, and that she is also the artist behind two out of the three Vermeers at the Frick, in New York; two out of the five at the Metropolitan Museum of Art, also in New York; and one in the private Leiden Collection.
I found the author's argument by turns absorbing, perplexing, and confounding, but also curiously plausible and certainly worth entertaining...So I was eager to see how the wider community of scholars and curators was going to respond.
The establishment did not respond at all.
...but last year, when the National Gallery of Art decided to reclassify Girl With a Flute as not from Vermeer's hand, it pointed to an apprentice or student as having been the painter. I saw the gallery's exhibition and afterward spoke with Betsy Wieseman, the head of the museum's department of Northern European painting. She said, "For the first time, we have concrete evidence, against all previous thinking, that suggests to us that Vermeer had an apprentice, that he had a workshop with at least one such student; and that, in turn, opens all sorts of avenues for further study." Of course, the museum's finding did not go against all previous thinking—Binstock had made the case years earlier. He had also advanced an explanation for why no documentation from the painters' guild, which required members to register apprentices and students, had ever turned up: There was an exception to this rule. As he wrote in his book, "A painter's own children were never registered."
...10 years ago when we'd tarried before the Young Woman with the disappearing hand at the Met, Walter Liedtke, in response to prodding on my part about Binstock, had given way to exasperation. A person can build up the most magnificent edifice and just be wrong, he explained. "You can come up with scenarios that are internally consistent, even cogent, but that doesn't make them historically accurate. When you're looking for something, as in a Rorschach, you will find it." Just as if you aren't, I suggested, you won't—that kind of thinking cuts both ways. "No," Leidtke countered. "Two things are required: documentation and consensus, and Binstock has neither."
Binstock may of course be completely wrong in his ideas. But if he is right, then two of the three paintings on the museum's exterior banners are by Maria Vermeer.
---
Artsy - "The Rijksmuseum's Vermeer Blockbuster Portrays the Dutch Master in Today's Light" - Osman Can Yerebakan - Mar. 21, 2023
There is a reason why we also call art exhibitions "shows": Beyond canvases adorning walls and sculptures erected over pedestals, we strive for a spectacle that wraps our bodies in multisensory stimulation. Few exhibitions, however, promise such a grandiose artistic extravaganza, or a feast of art historical discoveries, as the current Johannes Vermeer exhibition at Amsterdam's Rijksmuseum.
The show's unprecedented nature has inspired widespread enthusiasm for Vermeer: At Rijksmuseum's restaurant Rijks, the young chef Joris Bijdenijk has started serving artist-inspired dishes, including an amuse-bouche that includes a "pearl" of cucumber soup that pops in mouth. Meanwhile, a reality show titled The New Vermeer on Dutch TV has contestants compete to recreate the artist's six known but missing paintings.
Recalling both film stills and secretly snapped pictures, his compositions tap into our curious compulsion to look—and be looked at. Constant staring at endless streams of Instagram feeds and iPhone photos may have numbed our attention to images, but these paintings hail from a time of scarcity, when each replica of a moment had the power to shock and amaze.
Between raised cellphones and craning necks, iconic works, like Girl With a Pearl Earring (1664–67) and The Milkmaid (1658–59), appear suddenly. And the familiarity of these masterpieces does not overshadow the thrill of seeing them in person, particularly the fine details, like the young girl's soft visage in the former or the milk's gentle light-washed pour in the latter
---
DutchNews.nl - "Blockbuster: Vermeer exhibition helps more than the Rijksmuseum" - Lauren Comiteau - Mar. 26, 2023
...are blockbuster exhibitions the way to get people back to museums after a couple of Covid years that saw museum closures and limited attendance? 'It is one of the ways, but it's not the only one,' said Vera Carasso, Director of the Dutch Museums Association (Museumvereniging). 'Although it does have a trickle-down effect.'
The Museum Prinsenhof Delft doesn't have one Vermeer painting. But as the city where the artist was born and painted, the museum, in collaboration with the Rijksmuseum, is staging an exhibition focusing on the artist's life and times, which spokesperson Danielle de Jongh said is drawing in the crowds. 'It's not sold out, but it's very popular,' said De Jongh. In a museum that usually has 80,000 visitors annually, the fact that its Vermeer exhibition drew in 10,000 people in a little over two weeks is crucial. 'That's a lot for us. We're very glad the Rijksmuseum asked us to be a partner. Vermeer was born, lived and died in Delft, so it's the right direction to go in.'
It's not just museums benefiting from the Vermeer knock-on effect. There are television shows about the artist, a special Royal Delft Vermeer collectable edition, Vermeer walking tours and even a Vermeer sandwich at a Delft café.
Cooperation between museums, both on the international and national level, is also proving crucial for creating compelling exhibitions. After Amsterdam's Tropenmuseum merged with Leiden's Museum Volkenkunde and two other museums of world culture, their collective collections increased dramatically and more people had access to them. 'Sharing is the new owning,' touted the Tropenmuseum at the time.
'It's smart from both an art and a business perspective,' said Martine Gosselin, director of the Mauritshuis museum in The Hague, which temporarily loaned it's Vermeer gem 'Girl with a Pearl Earring' to the Rijksmuseum. 'I think we should work together more consciously than before, and we're doing that right now. We exchange knowledge and works of art, and that really helps to come up with these blockbuster exhibitions.'
---
VOGUE - "In Amsterdam, a 'Once-in-a-Lifetime' Vermeer Exhibition Celebrates the Artist's Enduring Mystery" - Liam Hess - Apr. 3, 2023
By the exhibition's second day in February, all 450,000 entry slots had sold out, meaning tickets are now about as precious a commodity as a flower bulb at the height of tulip mania. Visitors have flown in from all four corners of the globe to witness it, seeking what is arguably spring 2023's most coveted accessory: a yellow entry wristband. The frenzied clamor for tickets has probably only been matched recently by the announcement of Beyoncé's Renaissance tour—except, in this case, the gilded megastar in question is an unassuming 17th-century genre painter and not-very-successful art dealer from the sleepy Dutch city of Delft.
...modestly sized scenes of mysterious, sphinx-like women at work and leisure in the privacy of their homes; the murky glow of northern light falling through a window, always from the left... Are these women receiving the light of God? Are they miniature annunciations, Vermeer's very own Madonnas at the pivotal moment when the archangel Gabriel arrives at her doorstep to share the news of her immaculate conception?
Maybe they are, maybe they aren't: That openness to interpretation may be yet another clue to Vermeer's allure. The pictures are so transporting that in their presence, all these loftier explanations seem to become irrelevant.
For me, anyway, some of the exhibition's most moving moments occurred not within the Rijksmuseum's four walls, but once I returned to the streets surrounding it and began ambling back to my hotel.
Having visited in a late afternoon slot, I had some time before dinner to wander through the canals. I stopped in a small cafe with whitewashed walls behind a plywood coffee bar, and a menu with sliding retro letters. It might sound too good to be true, but after the barista had finished making my coffee, and I sat scrolling through my phone, I looked up and noticed that the same milky, diffuse Low Country light from centuries past was cascading in (from the left!) through the large pane of glass overlooking the street. She paused to look out the window at the rickety bicycles stacked against the glass for a few seconds, before returning to clean the pipes of the coffee machine. Vermeer is a once-in-a-lifetime exhibition, sure, but its most arresting moments are those same ones that happen every day, in every lifetime: reading a letter in a bedroom, taking a moment to strum out a few notes on a musical instrument, cautiously flirting with an unexpected guest, pausing for thought in a café, with the light always—always—falling from the left.
https://www.vogue.com/article/vermeer-exhibition-rijksmuseum-amsterdam
---
THE ART NEWSPAPER - "Does the Philadelphia Museum of Art hold an unknown Vermeer?" - Martin Bailey - Apr. 4, 2023
...curators of the current Rijksmuseum retrospective Vermeer (until 4 June) state that there are only 37 surviving works.
Arie Wallert, a former Rijksmuseum scientific specialist, told a symposium in Amsterdam that he believes there is one more. He is convinced that there are two versions of the young woman playing a guitar: the long-accepted painting at Kenwood House, in north London, and a very similar composition that has been in the Philadelphia museum's stores for nearly a century.
Wallert, who examined Philadelphia's Lady with a Guitar and analysed paint samples, believes it is not only a 17th-century work, but is actually "a painting by Vermeer".
He identified traces of ultramarine, an expensive pigment used by the master, as well as lead-tin yellow, which went out of use in around 1700. He describes the pigments he found as "combinations that nobody else used at the time".
The compositions are virtually the same, except for one key difference: the girl's hairstyle.
The status of Philadelphia's Lady with a Guitar will now need further reassessing, following recent investigations at Washington, DC's National Gallery of Art. The Washington specialists have controversially argued that their own Girl with a Flute was made in the "studio of Vermeer" (dating it to 1669-75), a surprise since until now it has been assumed that Vermeer worked by himself, without assistants.
The Washington specialists have controversially argued that their own Girl with a Flute was made in the "studio of Vermeer" (dating it to 1669-75), a surprise since until now it has been assumed that Vermeer worked by himself, without assistants.
...if the existence of a studio is accepted, then it could open the door to considering Philadelphia's Lady with a Guitar as a work by someone close to Vermeer, rather than as Wallert argues, by the master.
---
THE ART NEWSPAPER - "Van Gogh was an early admirer of Vermeer: 'celestial blues and yellows.. I can't paint as beautifully as that'" - Martin Bailey -Apr. 14, 2023
Johannes Vermeer had only been rediscovered a few years earlier in Van Gogh's time—but Vincent and his brother Theo were early enthusiasts. Théophile Thoré-Bürger, the French critic who made the Delft master famous, published his catalogue in 1866, when the two Van Gogh brothers were boys.
Vincent's favourite Vermeer was View of Delft (1660-61), which he saw in the Mauritshuis when he was living in The Hague. In hospital in June 1882, while being treated for gonorrhoea, he wrote to Theo: "The view from the window of the ward is splendid to me..."
He went on to compare the light effects he saw from the window of the crowded ward with those in Vermeer's atmospheric painting. While suffering a painful treatment, dreaming of View of Delft comforted him.
In July 1888, while living in Arles, Vincent wrote to his artist friend Emile Bernard about Woman in Blue Reading a Letter (1662-64) at Amsterdam's Rijksmuseum: "Do you know a painter called Vermeer, who, for example, painted a very beautiful Dutch lady, pregnant? This strange painter's palette is blue, lemon yellow, pearl grey, black, white. Of course, in his few paintings there are, if it comes to it, all the riches of a complete palette."
Well over a century after Van Gogh's time, there is still a debate over whether the woman was pregnant or not. The catalogue for the current Rijksmuseum exhibition comments: "Much thought has been given to whether the amply cut piece of clothing is a clear sign of the woman being pregnant. As the garment itself does not provide a clear answer, the speculation will continue—which is perhaps just what Vermeer intended."
What has not been appreciated is that the Paris gallery where Theo worked, Boussod & Valadon, may well have helped sell two Vermeers: Mistress and Maid (1664–67) and Woman Writing a Letter with her Maid (1670–72).
In July 1889 Boussod & Valadon was one of the two firms involved in the auction of the famed collection of Etienne Secrétan, the wealthy owner of a copper foundry. The sale was held at the Charles Sedelmeyer gallery, but with assistance from Boussod & Valadon, as it recorded on the cover of the catalogue.
Theo was heavily involved in the sale. His wife Jo wrote to her family about the scene outside the auctioneers: "The whole street full of vehicles – unbearably hot inside and naturally a sea of people ... I shall be glad for Theo when it's all over, for he is extremely busy."
Theo, the manager of the Boussod & Valadon branch in Boulevard Montmartre, dealt largely with 19th-century art, so it is unclear whether he was directly involved with the two Vermeers. But he would certainly have seen the paintings at close hand.
---
The Guardian - "How Vermeer made me a social success for the first time ever" - Emma Beddington - Apr. 16, 2023
...superlatives: "One of the most thrilling exhibitions ever conceived" and "A once-in-a-lifetime experience."
"Once in a lifetime" is a compelling—or terrifying—concept when you reach the middle of your own, and "never" becomes a realistic alternative.
Vermeer got under my skin—it felt urgent, something I'd bitterly regret missing. I booked a ferry and planned a mad one-day dash, making my husband come even though he had no idea what we were visiting...
We disembarked to relentless rain and limped along a clogged motorway to Amsterdam at a snail's pace. When we finally arrived, we got lost in a maze of cycle paths and one-way systems, our happy anticipation fraying, Rijksmuseum time slot approaching. The car park was so startlingly expensive that every 10 minutes, my husband would say things like "That trip to the loo cost us €2.50." The rain only got heavier. I wanted to look like a cosmopolitan sophisticate who goes to Amsterdam for exhibitions regularly, so I wore my good coat that doesn't fasten (stupid) and new white trainers (stupider) and was sodden within minutes. When we took refuge in a shop, I trapped my finger in the door so badly I spent 10 minutes dance-crying in the street like a tantrumming toddler.
And the Vermeer? We filed through the museum entrance in a crush of wet wool and cagoule, then entered a packed first room, visitors 10-deep in front of The Little Street. It's an exquisitely quiet painting – ancient brick, delicate leaded windows, women and children absorbed in play and chores. I had been looking forward to it especially, but saw more of it on raised smartphone screens than in the flesh. The luminous View of Delft was reduced to a few clouds and rooftops over a sea of heads. Every room was chock-a-block, and half the crush were taking pictures of pictures, far worse quality than the free ultra-high-resolution images online.
I even saw one man carefully photographing a postcard of the Girl with a Pearl Earring in the gift shop.
Vermeer's gift lies partly in capturing the sublime in the quotidian, the way a shaft of light or a patch of colour transfigures ordinary intimacy. He doesn't paint once-in-a-lifetime stuff, but chores—sewing, cleaning or music practice. He paints his family, mainly: wife or daughter shrugging on the yellow jacket and sitting by the window to pose, again. It feels a bit ironic to have gone on a frenetic, slightly disappointing chase after a once-in-a-lifetime experience to be reminded that so much of life's beauty resides in the everyday and the repetitive; the slow, steady heartbeat of domesticity. But I'm glad I did.
---
The Atlantic - "Vermeer's Revelations" - Susan Tallman - Apr. 17, 2023
Yet these clear and lucid images are full of psychological insight, what the art historian Maurizia Tazartes calls "the poetry of silence."
Each painting is a hidden window on another world. Paintings of similar scenes by other artists seem staged and theatrical—Vermeer is more like a cinematographer. Is that why his art still speaks to us, in our cinematic, televisual age?
A family business and a wealthy wife enabled Vermeer to paint to please himself rather than pandering to the art market. He didn't have to paint sycophantic portraits to pay the bills. He could spend longer on his paintings, rather than rushing to meet deadlines. His genre paintings are sincere and heartfelt, mercifully free of the clumsy humour so common in similar pictures by his peers.
He didn't move up or down the property ladder; his house was respectable but unspectacular. Some collectors praised his work; others complained that it was too expensive.
If the Netherlands had remained at peace, Vermeer might have lived to a ripe old age and painted many more paintings—Rembrandt, his only equal, outlived him by 20 years—but in 1672 the French invaded and the local economy collapsed. This calamity spelt disaster for Vermeer. From then on, he produced hardly any paintings, and it seems he sold none at all. In 1675, he died suddenly—probably of a heart attack, possibly of a broken heart.
During the 18th century, Vermeer virtually vanished from art history. When his paintings cropped up on the open market, they were often misattributed to other artists—perhaps accidentally, or perhaps deliberately in order to attract higher prices. The revival only began in 1866, nearly 200 years after his death, when a French art critic called Théophile Thoré wrote a series of effusive articles praising this unknown artist, dubbing him "the Sphinx of Delft."
Thoré set the ball rolling, and during the late 19th century the Vermeer Renaissance gathered pace. Van Gogh loved his use of colour. Monet and Renoir were both fans. After centuries of obscurity, popular taste had finally caught up with him. Today, he's more popular than ever—the inspiration for novels and movies; an artist for the Instagram and TikTok generation.
---
Apr. 23, 2023 - Gary Schwartz Art Historian - "The Vermeer exhibitions of 1935" - Gary Schwartz
The current Vermeer exhibition in the Rijksmuseum is the second one ever to be held there. The first took place in 1935. For the 114 days that the present exhibition is running, the Rijksmuseum is admitting 450,000 visitors, about 4,000 a day. Some people, like me, find it too crowded. The 1935 exhibition was on view for only 13 days, and drew 123,000 visitors, about nine and a half thousand a day. Another reason to be glad that I hadn't been born yet.
In the early days of October 1935, the director of the Rijksmuseum, Fritz Schmidt-Degener, was seized with a fit of ambition. He had a Rembrandt exhibition going, which in honor of the museum had opened on 13 July, exactly fifty years after the inaugural ceremonies for the building itself...Before coming to the Rijksmuseum in 1921, Schmidt-Degener had been director of the Boymans Museum in Rotterdam. Now his successor there, Dirk Hannema, was holding a museum-glorifying exhibition of his own, in honor not of an anniversary but of the inauguration itself of a new building. This was the first exhibition ever held with the name Vermeer in the title: Vermeer, oorsprong en invloed: Fabritius, de Hooch, de Witte. Vermeer, his predecessors and followers, especially Carel Fabritius , Pieter de Hooch and Emanuel de Witte. The timing had a four-day drop on the Rembrandt exhibition in the Rijksmuseum,
Vermeer had been a hot-ticket item for years, and Hannema was making a big splash internationally with his show. Schmidt-Degener decided to harness some of that glory for his own museum... He agreed with Hannema that thirty-five of the 140 paintings in the Boymans exhibition would come to Amsterdam for an impromptu Vermeer exhibition to accompany the one on Rembrandt, which was about to close. The Rembrandt exhibition was extended to 3 November, and that in Boymans, which was going to be extended to 30 October, was now curtailed to 20 October. Between closing time in Rotterdam on the 20th and the Rijksmuseum opening the next day thirty-five paintings had to be crated, transported to Amsterdam, unpacked and hung.
In two weeks at most, the Rijksmuseum produced a Vermeer catalogue twinned to the one for the Rembrandt show.
The show of forty-one paintings to which the Rijksmuseum gave the title "Vermeer exhibition," including several from the Rijksmuseum that had not been in Rotterdam, had only six Vermeers, two of them from the Rijksmuseum. Yet, the success was mind-bogglingly phenomenal. Schmidt-Degener wrote: "The exhibition has been admired by 123,000 visitors, including the Royal Family." In two weeks, then, the Rijksmuseum had twice as many visitors to its Vermeer show as the 61,749 Boymans drew to its own in three months. Of course it helped that the show ran concurrently with the last weeks of the Rembrandt exhibition...
By the standard established by Cornelis Hofstede de Groot in 1915..., the Boymans exhibition included eight paintings by Vermeer. This was the same number that had been shown in a monster exhibition at the Royal Academy in London in 1929, Dutch art, 1450-1900.
Of the 920 displays in that exhibition, the largest ever held on Dutch art, it was Vermeer's Girl with the pearl earring that was chosen as the cover image. The world really did not have to wait for Scarlett Johansson before she became a public darling.
The urge to claim to be able to show more Vermeers than anyone else surfaced again in 1995, with an exhibition of Vermeers not in context but in glorious isolation, in the National Gallery of Art in Washington and the Mauritshuis in The Hague. Introducing the show to a huge crowd of international journalists in the Mauritshuis on 7 November 1995, the museum director Frits Duparc said,This is the first time that so many works by Vermeer could be brought together. And it will be at least another three centuries before so many can be assembled again.
Three decades was more like it. The Rijksmuseum has been able, in the show now running, to show five more Vermeers than the twenty-three from 1995, enabling the overhyped claim of Big, Bigger, Biggest. What made the difference is mainly that the Gemäldegalerie in Dresden agreed to lend its two, and the Frick Collection its three Vermeers.
Is there a moral to this story? I'm afraid there is. It was put into words by my two best, departed friends in Dutch art history. In 1977 Horst Gerson wrote a review in the Burlington Magazine of Albert Blankert's pioneering book on Vermeer (1975). I quote, and second, the commendation: He performs the valuable service of […] warning us against the excessive prestige that old art in general and Vermeer in particular has enjoyed in the modern world.
I felt this strongly at the illuminating exhibition of 2017, Vermeer and the masters of genre painting: inspiration and rivalry, held in the National Museum of Ireland, the Louvre and the National Gallery of Art. There, paintings by Vermeer were hung in the company of similar motifs by Pieter de Hooch, Gabriel Metsu, Frans van Mieris and others. Making the comparisons (the Vermeers did not always outshine the others) and seeing the differences (what was Vermeer leaving out?) was a delightful exercise. The Vermeer-on-a-pedestal exhibitions of 1995 and 2023 are not about exploration but adulation. They feed a cult of artistic personality that gets in the way even of sheer delectation. There are better ways to harness Vermeer's undeniable hold on the public. Like Dublin-Paris-Washington and, for all its exaggerations, Hannema's show on Vermeer and his Delft coevals.
---
May 4, 2023 - THE ART NEWSPAPER - "The Met's Vermeer may contain a hidden self-portrait of the artist at work" - Martin Bailey
A Vermeer painting at New York's Metropolitan Museum of Art has long been known to hide an image of a man, which was painted over by the artist. Now, new investigations have revealed that the hidden figure appears to be an artist, wielding a paintbrush in front of an easel. The man probably represents a self-portrait of Vermeer.
The discovery was made when A Maid Asleep was recently subjected to detailed non-invasive research by the conservator Dorothy Mahon and her Met colleagues.
These fascinating findings were reported to a Vermeer symposium at Amsterdam's Rijksmuseum and they may have wider ramifications.
The Art Newspaper can now take the story further. We have identified a painting by Nicolaes Maes, a contemporary of Vermeer, which includes the small figure of an artist at his easel, reflected in a mirror hanging on the wall at the back of an interior scene. The Maes painting, The Naughty Drummer, which is in the Thyssen Collection, Madrid, shows the mirror just above the figure of the mother. The Naughty Drummer dates from around 1655 and A Maid Asleep from 1656-57, which would make the Vermeer a very slightly later painting.
Mahon is continuing the research into the Vermeer with her collaborators, Silvia Centeno and Federico Carò.
---
ONLINE VERMEER EXHIBIT
The Rijksmuseum has launched an excellent entry-level online tour of the Vermeer retrospective by Stephen Fry called CLOSER TO JOHANNES VERMEER which allows you to explore online the artist's life and all his paintings.
<https://www.rijksmuseum.nl/en/stories/themes/vermeer/story/closer-to-johannes-vermeer>
---
PARALLEL EXHIBITION

Parallel to the Vermeer exhibition in the Rijksmuseum, Museum Prinsenhof Delft will organize the exhibition Vermeer's Delft (10 February–4 June, 2023). This will be the first ever exhibition to explore in depth the cultural-historical context in which Vermeer's practice flourished. Works by Delft contemporaries are displayed alongside Delft pottery, Delft carpets, archival materials and letters.
Vermeer's Delft
Museum Prinsenhof of Delft
February 10–June 4, 2023
The exhibition will be open throughout the Rijksmuseum Vermeer retrospective, from Monday-Sunday from 11:00-17:00.
<https://prinsenhof-delft.nl/ontdek-het-museum/nieuws/hoofdrol-voor-delft-in-ambitieuze-tentoonstelling-over-vermeer-in-museum-prinsenhof-delft>