Christ in the House of Martha and Mary
(Christus in het huis van Martha en Maria)
c. 1654 - 1655
Oil on canvas
160 x 142 cm. (63 x 55 7/8 in.)
National Gallery of Scotland, Edinburgh

there are 9 hotspots in the image below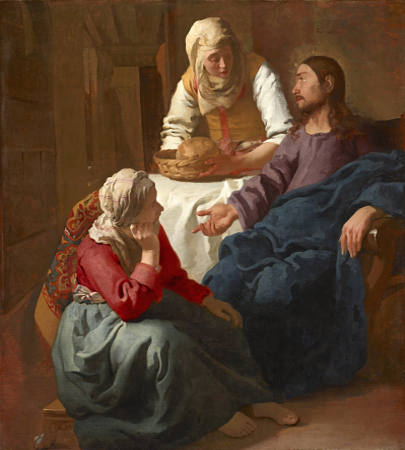 Christ, because of his gesture and the soft glow that radiates from his head, is the dominant figure. His pose belongs to the fairly standard repertory of Italian painting of the 16th and 17th century. The most relevant are the Christ in the picture by Andrea Vaccaro (Naples, Pinacoteca Reggia di Capodimonte), the Christ in a painting by Alessandro Allori (Vienna, Kunsthistorisches Museum), or the gesture of the Christ's right arm in a work by Bernardo Cavallino (National Museum, Naples). However, the majority of art historians indicate the Christ painted by Dutchman Erasmus Quellinus as the most probable model for Vermeer's figure.
Where did Vermeer see Quellinus' painting? While no documentation has survived, the young artist could have seen it in Antwerp on a study trip although he could have drawn inspiration from numerous other sources. Vermeer's father, Reynier Jansz., who was an art dealer and had close contacts with many painters, could have provided his son ample opportunities to familiarize with paintings and prints of many masters. Another Delft art dealer, Abraham de Coge, had extensive contacts with Reynier during these years.
No doubt, the most exquisite passage in this painting is the figure of Mary who gazes upwards at the seated Christ, awaiting his words of wisdom and comfort. Vermeer's sympathetic rendering of Mary, who in this context represents the contemplative life focused on the deeper meanings of life, may have struck a chord with the artist's own introspective nature.
Aside from the religious subject and the highly suggestive lighting, the proficient use of foreshortening of Mary's head suggests that Vermeer had likely trained with a classically oriented painter.
From a technical point of view, foreshortening is the process of applying linear perspective to a single object making it appear more or less compressed. It was one of the traditional skills required by any history painter. Foreshortening is a particularly effective for enhancing the impression of three-dimensional volume and creating drama in a picture. The effect of foreshortening can be very difficult to obtain, especially when drawing a complex object such as the head of Mary in Vermeer's work.
Perhaps, one of the most noted examples of foreshortening can be found in Mantegna's The Lamentation over the Dead Christ. At first glance, the painting seems to be a strikingly realistic study in foreshortening. However, careful scrutiny reveals that Mantegna reduced the size of the figure's feet, would cover much of the body if properly represented. Vermeer's use of foreshortening is far less dramatic than Mantegna's but all equally suggestive because it does not preclude the naturalistic reading of painting and subtly enhances the inquisitive glance of Mary.
Although somewhat lacking in psychological depth, the rendering of the three Biblical figures demonstrates a firm grasp of anatomy and painting technique, which may have been, after all, the young Vermeer's primary goal in such an impressive, large-scale work. Rather than sincere observation and nuance, the artist seems to have availed himself of established pictorial devices to convey Martha's attitude such as the rhetorically raised eyebrows and pouting mouth. Her disappointed, downcast gaze contrasts with the hopeful gaze of Mary. The free-flowing brushwork of the headgear and the drastic simplification of the anatomical features betray an almost mannerist approach.
Some critics have noted a certain resemblance in between the bust of the Milkmaid and this figure which may or may not have been intentional.
This work shares little in common with the prime concerns of Vermeer's mature style one of which was the rendering of the specific textures of objects. The breadbasket in the Milkmaid (bottom), painted only a few years later, for example, is rendered with obsessive attention to the visual authenticity of the material and the construction of the basket. In comparison, the basket held by Martha (top) is only conventionally indicated with a complacent, elegant touch. The same shallow treatment is also seen in the clothes of the figures. The folds are indicated with free-flowing brushstrokes, but ones which fail to convincingly suggest the volume or specific material presence.
The Oriental rug that appears in the Christ in the House of Martha and Mary seems to be almost identical with the one represented in the Maid Asleep painted a few years later. Although they have in common a broad, light orange border ending in a fringe, the medallion in the former is colored yellow, in the latter green. It is most likely that Vermeer used one rug as a model and painted imaginary variations on it.
If one examines with objectivity the conventional, uninspired facture of this passage, the vitality and texture of the carpets that appear in his later interiors are unimaginable.
The foreshortened rectangle on the wall has never been definitively identified. It could be taken as a window or an abbreviated print. The open hallway was a common feature of Dutch and Flemish kitchen scenes from which the present composition is derived. In any case, it enhances the three-dimensional recession of the otherwise summarily-defined space.
The summary, monochromatic rendering of the rustic interior is typical of Italian religious painting which focused exclusively on the deeds and expressions of the figures rather than on the environment. However, with hindsight, it may reveal Vermeer's the initial spark of his life-long fascination with perspective and correct integration of the figure into environment in the present picture.
The facility and self-consciousness with which Christ's robe is painted strikes a sour note in the artist's oeuvre especially when compared to the drapery of the preceding Diana and her Companions where structure and texture are rendered with sincerity. Here, the showy yet uninspired brushwork seem oddly uncharacteristic of his early work and was never again repeated. Moreover, the artist employed two common and inexpensive pigments, smalt and indigo, to render the blue color of the robe instead of his trademark ultramarine blue for which his palette is so famous.
The dark recess to the left, behind the standing Martha, hides a corridor and half-opened door, all painted in a limited range of shades of brown paint. The recess helps alleviate the presence of the three figures which fill up the composition's foreground leaving a visual "escape" for the viewer. The open-door convention was prominently used in Netherlandish kitchen scenes and was later exploited more subtly in the modern settings of Vermeer's close colleague, Pieter de Hooch.
TEN
ELEVEN
TWELVE
THIRTEEN
FOURTEEN
FIFTEEN
SIXTEEN
SEVENTEEN
EIGHTEEN
NINETEEN
TWENTY
special topics
fact sheet
Christ in the House of Mary and Martha is thought to be the earliest known painting by Vermeer. The strongest argument for its early date is the difference in painting techniques between this work and his later ones. In no other painting does he focus so exclusively of the figures in the central core of the composition. Vermeer in his mature works was very conscious of the relationship of his figures to the environment, a concern not evident in this work.
Arthur K. Wheelock, Jr., Jan Vermeer, 1981
inscribed lower left, on bench: IVMeer (IVM in ligature)
c. 1655
Arthur K. Wheelock Jr. Vermeer: The Complete Works, New York, 1997)
c. 1654 - 1655
Walter Liedtke Vermeer: The Complete Paintings, New York, 2008)
The support is a fine, plain-weave linen with a thread count of 12 x 17 per cm ². A vertical seam is in line with Christ's elbow. The canvas has been paste-lined and the original tacking edges have been removed. The double ground consists of a layer of white chalk bound with a protein medium followed by a red earth layer. In the background and in the shadowed flesh tones of Christ and Martha the red ground is only partially covered by very thin brown glazes. What appears to have been a glaze on Christ's violet tunic is preserved only in the texture of the brushwork. The highlights on all the drapery are painted with impasto: on Christ's blue robe, which was painted with indigo, smalt, and lead-white, the brushstrokes are about 1 cm. wide and indicate a square-tipped brush.
Numerous wet-in-wet touches include the details of Martha's waistband, the modeling of the headclothes; and the decoration on the carpet. The speed of execution and the fluidity of the paint is also signified by the splashy, broken edges of many of the forms; such as the upper edges of the table and Mary's profile.
There are several alterations: Christ's profile and ear; the fingers of His left hand; and the edge of Martha's right sleeve. The edge of some of the forms encroach significantly on adjacent areas such as the upper edge of Christ's robe overlapping His tunic. Mary's left hand appears to have been painted over Christ's blue robe.
*Johannes Vermeer(exh. cat., National Gallery of Art and Royal Cabinet of Paintings Mauritshuis - Washington and The Hague, 1995, edited by Arthur Wheelock)
collection Abbot Family, Bristol, c. 1880; furniture and antiques dealer, Bristol, 1884, sold to a private party and bought back;
Arthur Leslie Collie, London;
[Forbes and Paterson, london, 1901, sold to Coats];
William Allan Coats, Skelmorlie Castle, Dalskairth, Dumfries and Galloway, Scotland (1901-26);
his sons Thomas H. and J. A. Coats (1926-27);
1927 donation by the Coats heirs to the National Gallery of Scotland, Edinburgh (inv. 1670).
London 1929
Exhibition of Dutch Art, 1450-1900. Royal Academy of Arts.
147, no. 310.
Amsterdam, 1935
Vermeer tentoonstelling ter herdenking van de plechtige opening van het Rijksmuseum op 13 juli 1885. Rijksmuseum.
26-27, no. 162 and ill. 162.
Rotterdam 1935
Vermeer, oorsprong en invloed. Fabritius, de Hooch, de Witte. Museum Boijmans Van Beuningen.
34, no. 79 and ill. 59.
Utrecht, 1952
Caravaggio en de Nederlanden. Centraal Museum.
57-58, no. 92 and ill. 71
Edinburgh 1992
Williams, J.L. Dutch Art and Scotland. A Reflection of Taste. National Gallery of Scotland.
150-151, no. 71 and ill.
Washington, The Hague 1995-1996
Johannes Vermeer
no.2.
Tokyo 2 August – 14 December, 2008.
Vermeer and the Delft Style. Metropolitan Art Museum.
The Hague 12 May – 22 August, 2010
The Young Vermeer. Mauritshuis.
26-29, no. 1 and ill.
Dresden 3 September– 28 December, 2010
The Young Vermeer. Old Masters Picture Gallery.
Edinburgh end of 2010 – Feb. 2011
The Young Vermeer. National Gallery of Scotland.
26-29, no. 1 and ill.
Rimini 21 January - 3 June, 2012
Da Vermeer a Kandinsky. Castel Sismondo.
76 and ill.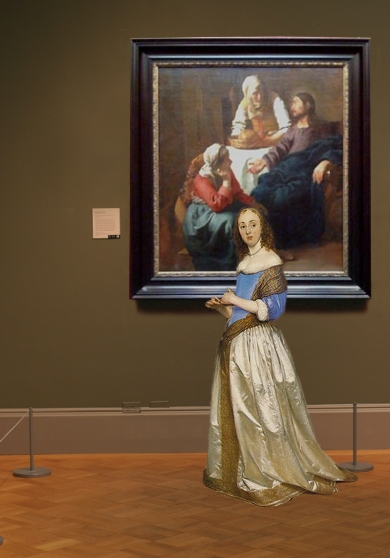 1654
vermeer's life

Jan. 10, witnessed an act in which he sigsd as "Johannis Vermeer master painter" together with a certain captain named Lambertus Morleth. Two years earlier Vermeer's name had appeared with two captains as well as with his own uncle, Lieutenant Balthens. It is presumed that Vermeer had military acquaintances.

At the end of April Vermeer again signs as a witness for a debt acknowledgement by a carpenter to a food merchant.

Vermeer does not witness the baptism of Gertruy's (his sister) child in May. This was most likely due to the artist'sconversion to Catholicism upon his marriage. Even though he was condemned to a second-class citizenship in the Protestant-dominated Delft, there are signs of public esteem and was almost certainly not actively persecuted for his religious beliefs.

Delft, with a population of 25,000 to 30,000 had attained the peak of its artistic vitality.

A lost work (cited in a distinguished art collection) entitled Jupiter, Venus and Mercury was ascribed to Vermeer. The young and ambitious artist may have painted this mythological scene and his first extant work, Diana and her Companions, in order to appeal to the classical tastes in vogue at the rich aristocratic court in nearby The Hague.

By 1654-1655 Delft had attaines the peak of it artistic vitality. It was soon to disintegrate as many painters of the town left in search of more attractive prospects in larger, richer cities, such as Amsterdam. By the mid 1670s Vermeer was one of the few artists who had remained. Had it not been for strong personal reasons, Vermeer too may have moved to Amsterdam as Potter, De Witte, Van Aelst, and De Hooch had done

dutch painting

Jacob Vrel is born. Vrel's seemingly naïve style and his pictures' rarity even have prompted speculation that he was an amateur. Scholars most often link Vrel's manner to Delft artists such as Johannes Vermeer and Pieter de Hooch, but elements in his street scenes may indicate connections to Haarlem, Friesland, Flanders, or the lower Rhineland.

Oct 12, Rembrandt's most talented pupil Carel Fabritius, dies in October from wounds suffered in the explosion of the municipal powder magazine, which laid waste the northeastern side of Delft. Fabritius was at his easel painting. The gunpowder magazine which contained about 80,000 pounds of powder blew up "with such a horrible rush and force that the arches of heaven seemed to crack and burst."

Rembrandt painted a portrait of poet-businessman Jan Six and A Woman Bathing in a Stream.

After studying with Rembrandt, Nicholaes Maes returns to Dortrecht and specializes in intimate household scenes.

Jacob van Loo paints An Allegory of Venus and Cupid as Lady World and Homo Bulla.

October 12, The Delft Explosion destroys the city of Delft, killing painter Carel Fabritius.His home, studio, and most of his paintings were destroyed. In the same year he paints The Goldfinch which may have been a source of inspiration for Vermeer.

european painting & architecture
Johann Amos Comenius publishes in Nuremberg first picture book for children, Orbis sensualium pictus.
music
literature

Lady Dorothy Osborne plays the lead role in a country-house staging of Sir William Berkeley's tragicomedy The Lost Lady. While the London theatres remain closed, amateur theatricals continue at private houses in England. Like performances of courtly masques before 1642, many of these performances feature women, foreshadowing the acceptance of professional women performers in the early Restoration era.

Roger Boyle, 1st Earl of Orrery writes Parlhenissa, a novel.

John Milton: Defensio Secunda.

science & philosophy

Nov 23, Blaise Pascal, scientist and philosopher, underwent a mystical experience. He abandoned his scientific work and devoted himself to philosophy and theology. His two most famous works date from this period: the Lettres provinciales and the Pensées. He entered a hermitage at Port-Royal des Champs and never again published in his own name. He came up with the idea that believing in God is safer than not believing because it might gain one eternal life. He was a Jansenist, and rejected free will in favor of predestination.

De Circuli Magnitudine Inventa by Dutch mathematician-astronomer-physicist Christiaan Huygens, 25, attracts widespread attention.

history
Jan 10, Russia's Czar Alexander announced a war against Lithuania and Poland. which lasts until 1667.

Apr 12, England, Ireland and Scotland united.

Jun 7, Louis XIV is crowned King of France in Rheims.

Shah Jahan completes the Taj Mahal. Master builders, masons, calligraphers, etc. along with more than 20,000 laborers, worked for 22 years under orders of Mughal Emperor Shah Jahan to complete the great mausoleum for the shah's beloved wife.
1655
vermeer's life

Dec. 14, "Sr. Johannes Reijnijersz. Vermeer master painter," and his wife "Juffr. Catharina Bolnes" appear before the notary Rota to guarantee a debt of 250 guilders that the artist's father had contracted. Both Vermeer and his wife sign the document. The appearance of the stylish "Sr." on the document is a secure sign of the artist's rise in social status.

dutch painting

c. 1656 Jacob van Ruisdael moves to Amsterdam.

Rembrandt paints Woman Bathing in a Stream and the Polish Rider.

Pieter de Hooch, who directly influences Vermeer, joins the guild of Saint Luke in Delft, two years after he had arrived from Haarlem. He will remain in Delft and produce his finest works until 1660.

c. 1658 Miendert Hobbema becomes an apprentice in Jacob van Ruisdael's Amsterdam studio. In the exercise of his craft Hobbema was patient beyond all conception. It is doubtful whether any one ever so completely mastered as he did the still life of woods and hedges, or mills and pools. Nor can we believe that he obtained this mastery otherwise than by constantly dwelling in the same neighbourhood, say in Guelders or on the Dutch Westphalian border, where day after day he might study the branching and foliage of trees and underwood embowering cottages and mills, under every variety of light, in every shade of transparency, in all changes produced by the seasons.

european painting & architecture

Luca Giordano develops a rich baroque vein deriving in particular from Rubens. He was nicknamed "Luca Fa Presto" (Luke work quickly) because of his prodigious speed of execution and huge output. He began in the circle of Ribera, but his style became much more colorful under the influence of such great decorative painters as Veronese, whose works he saw on his extensive travels. Indeed, he absorbed a host of influences and was said to be able to imitate other artists' styles with ease. His work was varied also in subject-matter, although he was primarily a religious and mythological painter. Soon after the death of Charles in 1700, Giordano, now wealthy, returned to Naples. He spent large sums in acts of munificence, and was particularly liberal to his poorer brother artists. One of his maxims was that the good painter is the one whom the public like, and that the public are attracted more by colour than by design. Giordano has been criticized as being a prolific trader of all styles, and master of none. He has been viewed as a proto-Tiepolo, reanimating that grand manner of Cortona in a style that would brighten with Tiepolo.

c. 1655 Murillo paints genre scenes in Seville, where, from 1658 to 1660, he was involved in the founding of the Academy of Art, sharing its direction, in 1660, with the architect, Francisco Herrera el Mozo. This was his period of greatest activity, and he received numerous important commissions, among them the altar piece for the Augustinian monastery, the paintings for Santa María la Blanca (completed in 1665), and others.

music

Aug 13, Johann Christoph Denner, inventor of the clarinet, was born.

Giuseppe Alfiero: La fedeltà trionfante.

May 4, Bartolomeo Cristofori, inventor of the piano is born.

literature
science & philosophy

Blaise Pascal: Lettres provinciales, against Jesuits

Mar 25, Christiaan Huygens discovered Titan, Saturn's largest satellite. Huygens was a great figure in the fields of research into mathematical physics, astronomy and optics, and among the founders of mechanics and optical physics. He made astronomical observations about the planets, of the nebula of Orion and of the Moon, all reported in Systema Saturnium.

Hooke publishes the Micrographia.

history

Pope Innocent X dies; Fabio Chigi becomes Pope Alexander VII.

Spinoza excommunicated

Apr 26, Dutch West Indies Co. denied Peter Stuyvesant's desire to exclude Jews from New Amsterdam.

Sep 26, Peter Stuyvesant recaptured Dutch Ft. Casimir from Swedish in Delaware.

The first slave auction was held in New Amsterdam (later NYC).

French society uses a clean plate for each new dish but Englishmen continue to dine off trenchers - wooden platters that give hearty eaters the name "trenchermen."

Rum from Jamaica is introduced into the Royal Navy to supplement beer, which goes sour after a few weeks at sea.
Mary and Martha are the most familiar set of sisters in the Bible. Both Luke and John describe them as friends of Jesus. Luke's story, though only four verses long, has been a cause of interpretation and debate for centuries.
Preaching to the people, Jesus Christ arrived in Bethany. This town is situated not far from Jerusalem beyond the Mount of Olives where a woman named Martha welcomed him into her home. She had a sister named Mary, who sat at the Lord's feet and listened to what he was saying. But Martha was distracted by her many tasks; so she came to him and asked, "Lord, do you not care that my sister has left me to do all the work by myself? Tell her then to help me." But the Lord answered her, "Martha, Martha, you are worried and distracted by many things; there is need of only one thing. Mary has chosen the better part, which will not be taken away from her" (Luke 10:38-42).
This subject was more popular among Flemish artists than Dutch, possibly owing to the religious connotations. In the religious context of the time, the scene illustrated one of the fundamental differences between Catholics and Protestants: the latter sought salvation in action while the former placed greater value on the contemplative life.
Whereas harsh environmental conditions made travel in many European countries problematic, the level planes of the Netherlands were crossed by an extensive and well-cared-for network of canals that had been dug to regulate the flow of water. They also furnished an extraordinarily practical means of heavy transportation, faster than any way on land. Dutch trade, which had been originally based on spices, textiles, and tulip bulbs, gradually extended to paintings. The fact that their paintings were characteristically small and easy to handle made it easier to place them on the market.
These conditions, coupled with a widespread economic prosperity, favored the explosion of the Dutch art market. Over a breathtakingly short period, the Netherlands produced artists of the stature of Rembrandt, Vermeer, Frans Hals, Jan Steen, Jacob van Ruisdael, and Pieter de Hooch. These artists belonged to the same guilds; they worked in the same commercial marketplace. They knew one another's work, if only from prints. They competed, taught each other, collected each other's work, and on occasion collaborated.
Vermeer's art draws much from this liquid scene. He borrowed from every source available: from the great masters of the legendary Italian Renaissance to his fellow painters who lived a few steps away from his door.
In fact, critics believe that a considerable part of Vermeer's oeuvre is based on themes and compositions of preceding works of his colleagues. He is one of those rare artists who is capable of seeing great possibilities in the works of less talented artists and was uniquely capable of infusing new life and moral depth into well-trodden artistic motifs.
Vermeer's precise motivation for painting this work is difficult to determine. Although rejected by modern scholars, it was once believed that he was apprenticed with Leonaert Bramer, a Catholic and close friend to the Vermeer family in Delft. Bramer was the most prestigious figure in Delft painting at the time and was known to have traveled to Italy. Particularly revealing is the elder artist's intercession on behalf of the young painter in his betrothal to Catharina Bolnes, the daughter of the well-to-do Delft patrician, Maria Thins. Bramer may have sealed the bargain by guaranteeing the young painter's future and a quick conversion to Catholicism, a rare event in 17th-century Netherlands. Just the same, no records have survived in merit of Vermeer's apprenticeship and his first works have almost nothing in common with Bramer's.
In any case, it has been hypothesized that Vermeer's Christ in the House of Martha and Mary is a sign of his classical training combined with a newfound Catholic sentiments although the picture may have been commissioned by someone particularly interested in the motif.
Martha and Mary represented two opposing personalities: the active and the contemplative. Christ's defense of the contemplative life suited Jesuit ideals and was contained within the Spiritual Exercises of Ignatius of Loyola. Vermeer's treatment of this subject, which focuses on the message that Christ is transmitting, may reflect his sympathetic response to the Catholic Church in the mid-1650s. Vermeer's mother-in-law, Maria Thins, maintained close contacts to the Jesuits in Delft.
In no other painting did Vermeer focus so exclusively on the figures as the central core of the composition. Within a few years, he became absorbed in a more complex pictorial problem, the relationship of the figure to the environment, a concern ignored in this work where the dark background serves essentially to emphasize the figural relationships rather than reveal something about their story or lives.
There existed numerous visual sources available to the young Vermeer for this composition. The most likely model was a work by the Fleming Erasmus Quellinus (Musée des Beaux Arts, Valenciennes).
Some Vermeer writers place the Diana and her Companions immediately before his Christ in the House of Martha and Mary while other after. Unless the state of conservation of the Diana has suffered more than we can determine, its technical level is far inferior to the Christ making the Diana Vermeer's first work.
In northern Europe, but not only, the motif of Christ's visit to Marthan and Mary has inspired many paintings which were in essence only barely veiled still-lives. The most illustrious southern European example is the version by Diego Velásquez (see left). Here, the Spanish master lavished great attention of the two bodegones figures in the foreground and on the extremely realistic depictions of kitchen utensils and food probably painted from the artist's own living conditions. The religious scene is relegated to a secondary role taking place in what appears to be a see-through window of a rustic kitchen which curiously can almost be mistaken for a framed picture.
Closer to home, Pieter De Bloot's version (see Related Images no. 4 below) shows a sprawling kitchen scene which undoubtedly reflected the Dutch preoccupation with household chores and domestic virtue rather than an explicit commitment to spiritual matters.
One of the most extraordinary renditions of the Christ in the house of Martha and Mary theme is Joachim Beuckelaer's Fire, one work of a set of four pictures which take as their theme the four elements of "Earth," "Water," "Air" and "Fire." In each, seductive representations of market produce for sale or for cooking are combined with Biblical episodes. In Fire, modern viewers are puzzled by the importance given to the worldly kitchen scene in respects to the tiny Biblical scene relegated to the furthest point of the painting's complex spatial construction (see detail left) so much that it may even be overlooked by the inattentive viewer.
However it should be remembered that in the religious context of the time, this scene illustrated one of the fundamental differences opposing Catholics and Protestants. The latter sought salvation in action whilst the former placed greater value on the contemplative life. Here Beuckelaer consigns the teaching of the divine word to the back of the painting, devoting the entire foreground to active life.
Although the Bible had been one of the most important sources of inspirations for European painters, by the mid-17th century, still life, portraiture, landscape and interiors had largely replaced traditional religious and historical subjects in the Netherlands. Just the same, contemporary art theorists still defended the intellectual and moral superiority of istoria, or history painting (see example left) and many of the most ambitious painters, like Vermeer, devoted their energies to its mastery.
History painting offered uplifting or cautionary narratives that were intended to encourage contemplation of the meaning of life. It also satisfied a desire for religious imagery that remained strong, even after most traditional religious pictures had been removed from Calvinist churches in the wave of iconoclasts destroying great part of the early Dutch pictorial heritage.
For unknown reasons Vermeer soon abandoned history painting and unconditionally embraced the "modern" mode of painting practiced by celebrated artists like Gerard ter Borch, Gerrit Dou and Frans van Mieris. Vermeer would only again take up the religious motif in his late Allegory of Faith, a full-fledged religious work set in a Dutch 17th-century interior, a somewhat awkward combination of the two modes of painting, at least for modern sensbilities.
From the onset of his career Vermeer was keenly aware of the expressive role of composition in his art. In order to understand how effectively he employed composition in the present work, it is necessary to be familiar with the religious implications of the Christ in the house of Martha and Mary theme in 17th-century Netherlands.
Commentators of this famous Biblical story had long recognized the contrast between the active life of Martha (who complains to Christ about her sister's lack of help in domestic chores) and Mary's contemplative nature (who attends passively the words of Christ neglecting Martha's call for help). The sisters had been traditionally identified as symbols of opposing paths of salvation. Martha represented the necessities of performing good works while Mary shuns earthly concerns and puts all her faith in the message of eternal life promised by Christ. This story illustrates one of the central debates between the Protestant and Catholic religious cults.
For Protestant reformers the story supported the fact that salvation can be obtained by the belief in forgiveness of sin by a merciful God earned by Christ's Crucifixion. Roman Catholics, on the other hand, emphasize not only salvation by faith in God but by proper action. For the latter, salvation can be earned through acts of humility and good works. Although Christ did define Mary's contemplative role as the "better half," Catholics point out that Mary's faith would be incomplete without an active life.
By stressing given elements of the composition or playing down others and organizing the positions of each, an artist is able to manipulate the meaning of the parable in favor of one or the other point of view. It has been frequently remarked how Vermeer balances the two figures of Martha and Mary in the composition giving equal compositional weight to each. Both touch Christ on the picture plane and all the figures are invisibly bound in an imaginary circle further enhancing their unity. It would appear that Vermeer was aware of the conflict between the Protestant and Catholic positions and attempted a synthesis in his painting through a reconciliatory balance.
Even in his first explorative works, Vermeer clearly demonstrated his ability to gather visual, technical and intellectual inspiration from a variety of sources and weave them together with unique creative originality. This work draws upon sources diverse as Italian and Netherlandish painting.
Although hidden to the untrained eye, the three figures in Vermeer's painting are bound in a so-called circular composition (see Special Topic above) unifying theme and composition. Circular compositions were frequently employed to unite complex figure groupings and impede the viewer's eye from straying aimlessly around the picture. Curiously, Tintoretto's own Christ in the House of Martha and Mary, made about 70 years earlier than Vermeer's version, presents one of the most noticeable circular compositions in European art.
Although the circular composition may be an effective way of controlling the viewer's attention, if it is too influential, the observer feels subliminally entrapped. As a remedy artists often included a sort of escape route such as the background scenes in Tintoretto's painting. Vermeer provided a similar visual relief in the half-opened doorway to the dark recess of the upper left-hand corner of the composition. Some of the most powerful works of Western art have circular compositions.
In his formative years, Vermeer surveyed a wider range of artistic possibilities and combined them together with his innate sense of measure and moral seriousness.
Among the paintings related to the composition of the Martha and Mary is the Saint Sebastian Tended by Irene and her Maid by Hendrick Terbrugghen with its tight figural relationship. While this comparison may certainly be made, Vermeer may have been drawn to other aspects of Terbrugghen's art as well, his control of light and masterful painting technique. Although the brushwork of the legendary Frans Hals and Rembrandt more readily engage the eye, Terbrugghen's manipulation of paint with brush is among the most powerful in European easel painting and was well appreciated in his time. When visiting Amsterdam, the great Peter Paul Rubens, Europe's foremost painter, visited Terbrugghen's studio while overlooking even that of the young Rembrandt.
In Terbrugghen's Saint Sebastian, form is masterfully conjured up by broad, sweeping yet sober application of juicy paint. Only this level of technical mastery can make painting seem a natural activity. When painting the head and headgear of the kneeling Mary, the receptive young Vermeer may have been impressed by the compactness of the illuminated head of the central figure in Terbrugghen's work. He may have understood that only broad, robust brushwork could hold together such a large-scale composition while conferring the gravity and stillness he strove for.
Dress has always played an important part in history painting and portraiture. One of the cardinal principles of traditional history painting, an example being the present work by Vermeer, is that contemporary dress must be avoided at all costs. In part because it was through dress that most historical figures could be recognized and in part because contemporary fashion was held to be too frivolous. Since fashions were subject to change they were unsuitable for expressing the universal principles worthy of what art theorists considered the uppermost goal of painting.
However, there was no precise agreement as to what dress constituted the most appropriate for history painting. As Dutch consume expert Marieke van Winkel observes, art theorists provided general prescriptions for the proper clothes (and even colors) for the most important protagonists. Kings for example, of any time or age, should wear a medieval crown and ermine cloak and youth should wear bright colored clothing. However, as much as art theorists attempted to guide the artist's hand and urged them to consult texts of the classics, each painter solved the problem of visualizing an unknown past in a different way. In reality, ancient texts provided scant details that would be of practical help and the Bible, one of the principal sources of history painting motifs, is completely silent in regards.
But in general, simple, loose costumes with billowing drapery not pin-pointable to a particular time or place were favored because they offer latitude for painterly interpretation and per se evoked a sense of timelessness. Although a painter might add one or more accessories from his own collection, most worked from their imagination or old master prints. In any case, a certain flowing naturalness was one of the requisite qualities of any depiction of drapery.
Vermeer followed classical dress traditions in the Christ in the House of Martha and Mary. Certainly, the Bible offered him no indication of the dress of the three protagonists. The costume of the standing Martha seems to hint at contemporary dress while the other two figures are clothed in the most conventional manner of history painting. Mary's clothes have a wonderful sober substance created by amazingly deft brushwork which recalls the great technique of Henrick Terbrugghen. The clothes of Christ appear somewhat less substantial with less attention to the logical tuck and fold of the fabrics.

Johann Sebastian Bach
Recitativo, Siehe, ich stehe vor der Tür (Behold, I stand at the door) (1.48 MB)
from cantata BWV 61 Nun komm, der Heiden Heiland
http://www.amazon.de/Kantaten-BWV-140-61-36/dp/B0000035PF/ref=sr_1_22?ie=UTF8&s=music&qid=1258281314&sr=1-22
Siehe, ich stehe vor der Tür und klopfe an.
So jemand meine Stimme hören wird und
die Tür auftun, zu dem werde ich eingehen
und das Abendmahl mit ihm halten
und er mit mir.
Behold, I stand at the door and knock.
If anyone hears My voice and
opens the door, I will come in to him
and will dine with him,
and he with Me.
(Revelation 3,20; version American Standard Bible 1993)