there are 7 hotspots in the image below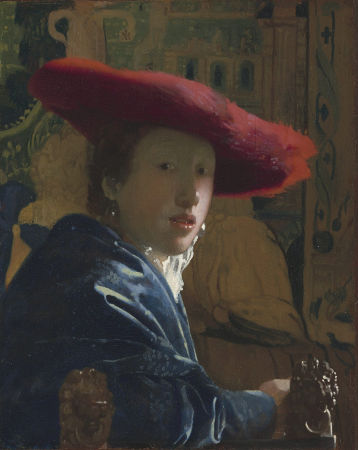 This eccentric red hat has no exact prototype in either Dutch fashion or Dutch painting, and one wonders how Vermeer may have come upon it. Perhaps only Rembrandt (see detail left) or Michael Sweerts, two Dutch painters who delighted in rendering exotic headgear, could have been able to pull off a picture with such an unusual combination of such an outlandish garment and mundane face and produce a work of great human significance.
In lack of convincing evidence, Vermeer expert Walter Liedtke considers that Vermeer may have based the hat's shape on some lost source in art and perhaps invented its material "for the occasion, for instance by pinning fur pelt or feathers onto a hat like the one in the Girl with a Flute." Although modern authors have described the hat's material as cloth, leather or velvet, its blurry, fractured outline hints at feathers. In any case, the illusionistic depiction of rare fabrics or furs was one of the tell-tale signs of the so-called tronie, small-scale studio pieces meant to entice the purchasing appetite potential clients.
The hat was painted with the glazing technique. This two-stage method achieves a brilliance and depth impossible with straightforward opaque paint. In this case, the basic form's lighting and coloring were first defined with tones of a vermilion red and black, producing a somewhat drab monochrome base. When thoroughly dry, the preparatory underlayer was "glazed" with a thick, highly transparent ruby red pitment called red madder creating a special shine-through effect. The glaze also helped to protect the vermilion, which tends to turn black when exposed to the atmosphere.
It is difficult to make out the design of the wall tapestry which hangs behind the girl's head. Its border may be seen running downwards along the right-hand side of the work. Textile experts see the design as late 17th century from the south of Holland, similar to other tapestries which populate Vermeer's canvases.
It is difficult to make out the design of the wall tapestry which hangs behind the girl's head. Its border may be seen running downwards along the right-hand side of the work. Textile experts see the design as late 17th century from the south of Holland, similar to other tapestries which populate Vermeer's canvases.
Even though some writers have hypothesized that one of Vermeer's daughters modelled for the Girl with a Pearl Earring, it was not conceived as a portrait even though the care with which Vermeer portrayed her androgynous features suggests it was executed from life. Rather, the work is a perfect exemplar of the tronie.
Tronies were, in effect, paintings conceived independently by the artist and sold for the open market. The painter was entirely free to choose the sitter, dress and technique. On the other hand, the genesis and execution of a true portrait is quite different matter. As the art historian R. H. Fuchs has pointed out, "no category in pictorial art is so conservative as portraiture. A portrait is not just a likeness of an individual to be preserved for posterity; it was also an image of pride, a projection of social position. A man who wants his portrait painted cannot but attach a certain importance to himself, in whatever sense, and he is not likely to take chances; he is concerned about his appearance. Normally, and the history of portraiture testifies to this fact, he opts for the classic formula—the formula which has proved its efficiency."
Thus, the informal red hat, the lack of definition of the facial characteristics, the ambiguous lighting scheme and the display of the humid, open mouth disqualify any notion that this work was a commissioned portrait.
The twin lion-head finials in the lower foreground of the painting have attracted considerable scholarly attention. Their idiosyncratic rendering recalls, at least to the majority of Vermeer scholars, certain characteristics of the image produced by the camera obscura with its broken tones, soft sheen and globular pointillés highlights.
One of the few scholars who contests the authorship of this work, Albert Blankert, maintains the portrayal of the chair with respect to the position of the girl is highly uncharacteristic the artist's careful adhesion towards the reality. If, in fact, the finials belonged to the girl's chair they would not have faced the viewer as they do in Vermeer's rendition. Thus, either Vermeer has taken some artistic liberty revolving the finials around towards the viewer or else the chair with the finials is in front of the chair upon which the girl is actually seated.
Furthermore, the finials themselves are not correctly aligned. The left-hand finial is much larger than the right-hand one and is angled slightly to the right. Most contemporary historians retain that these anomalies do not disqualify the work from Vermeer's oeuvre pointing to the work's exceptionally expressive quality and extemporary handling of paint and brush.
Much scholarly attention has been bestowed on the twin lion-head finials in the lower foreground of the painting. Their unique rendering strongly recalls, at least to the majority of Vermeer scholars, certain characteristics of the image produced by the camera obscura with its broken tones, soft sheen and pointillés highlights.
One of the few scholars who contests the authorship of this work, Albert Blankert, maintains the faulty portrayal of the chair in respects to the position of the girl is not in line with the artist's careful adhesion towards the reality he depicts. If, in fact, the finials belonged to the girl's chair they would not have faced the viewer. Thus, either Vermeer has taken some artistic liberty revolving the finials around towards the viewer or else the chair with the finials is in front of the one upon which the girl is seated.
Furthermore, the finials themselves are not correctly in line. The left finial is much larger than the right one and is angled to the right. Most contemporary historians retain that these anomalies do not disqualify the work from Vermeer's oeuvre pointing to the exceptional technical and expressive quality of the painting.
The candid white cravat worn by the figure demonstrates Vermeer's penchant to experiment with pictorial techniques. If examined closely, it can be seen that various shadows of the cravat were produced not darkening the white paint with gray, but by digging in to the white paint with the wooden handle of the brush exposing the darker layer of paint beneath.
The young girl flaunts a red feather hat and a bolt of bluish satin-like clothe casually draped over her shoulders and arm. The informal pose and bizarre dress indicate that the painting was not made as a formal portrait but as an impromptu study.
In any case, the girl's garment should not be taken literally as a real article of dress but as a spirited prop improvised for the occasion such as the one worn in the self-portrait by Frans van Mieris (see image left). Viewers would have required no explanation to understand that Van Mieris did not go about painting day-to-day with a brocade-trimmed felt hat and a shiny satin robe.
A curious detail of Vermeer's rendering are the yellowish highlights which in reality would have been cooler in hue. Vermeer used the same technique in the Woman Holding a Balance. Perhaps the color has intensified in time but it seems more probable that the anomaly is an act of artistic license. Vermeer writers have linked the garments peculiar "optical" sheen to the image produced by the camera obscura of analogous textures.
NINE
TEN
ELEVEN
TWELVE
THIRTEEN
FOURTEEN
FIFTEEN
SIXTEEN
SEVENTEEN
EIGHTEEN
NINETEEN
TWENTY
For a painter who excelled in the observation of light, nothing was a more suitable vehicle than the present picture: a bust length figure of a woman in wrap of luxurious material, an outrageous hat, moist lips set between glistening pearls, and daylight streaming in from a nearby window on the right. That the model has a distinctive, somewhat androgynous features and conveys a certain attitude (which would have been needed to carry-off such a costume) adds considerably to the work's "curiosity," a term routinely employed by connoisseurs of the period to express admiration.
Walter Liedtke, Vermeer and the Delft School, 2001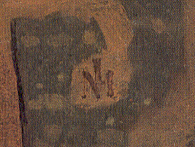 inscribed upper-left center; (IVM in Ligature)
c. 1665–1666
Arthur K. Wheelock Jr., Vermeer: The Complete Works, New York, 1997
c. 1665–1667
Walter Liedtke, Vermeer: The Complete Paintings, New York, 2008
c. 1666–1667
Wayne Franits, Vermeer, 2015
The support is probably oak, with a vertical grain. A slightly larger cradle 24.3 x 19.2 cm. (9 9/16 x7 9/16 in.) and wooden collar protect the edges of the panel. X-radiography shows, over the white chalk ground, a portrait of a man with a large hat. The Girl with a Red Hat was painted directly over this earlier image. The painting is in remarkably good condition, with only slight abrasion to the thin glazes of the face and a few scattered minor losses.
* Johannes Vermeer (exh. cat., National Gallery of Art and Royal Cabinet of Paintings Mauritshuis - Washington and The Hague, 1995, edited by Arthur K. Wheelock Jr.
(?) Pieter Claesz. van Ruijven, Delft (d. 1674); (?) his widow, Maria de Knuijt, Delft (d. 1681);
(?) their daughter, Magdalena van Ruijven, Delft (d. 1682);
(?) her widower, Jacob Abrahamsz Dissius (d. 1695);
Dissius sale, Amsterdam, 16 May, 1696, no. 38, 39 or 40 [tronies];
La Fontaine sale, Paris, 10 December, 1822, no. 28;
Louis Marie, Baron Atthalin, Colmar (1823–1856);
Gaston, Baron Laurent-Atthalin, Limay, Seine-et-Oise (1856–1911);
his widow, Baroness Laurent-Atthalin, Pairs (1911–1925);
[Knoedler Galleries, London and New York, 1925];
Andrew W. Mellon, Pittsburgh and Washington, D.C. (1925–1932);
The A. W. Mellon Educational and Charitable Trust, Pittsburgh (1932–1937);
National Gallery of Art, Washington, DC, Andrew W. Mellon Collection (acc. no. 1937.1.53).
New York 1925
Loan Exhibition of Dutch Masters of the Seventeenth Century
M. Knoedler & Co
no. 1.
Cambridge 1927
Loan exhibition for the opening of the new building
Fogg Art Museum
no catalogue
New York 1928
A Loan Exhibition of Twelve Masterpieces of Painting
M. Knoedler & Co
no. 12
Washington D.C 1995–1996
Dutch Cabinet Galleries
National Gallery of Art
brochure, fig. 11
Washington D.C November 12, 1995–February 11, 1996
Johannes Vermeer
National Gallery of Art
160–165, no. 14 and ill.
The Hague, March 1–June 2, 1996
Johannes Vermeer
Mauritshuis
160–165, no. 14 and ill.
Washington D.C May 17–August 9, 1998
A Collector's Cabinet
National Gallery of Art
no. 60
Washington D.C 1999
Johannes Vermeer, The Art of Painting
National Gallery of Art
brochure, fig. 11
New York March 8–May 27, 2001
Vermeer and the Delft School
The Metropolitan Museum of Art
no. 74 and ill.
London June 20–September 16, 2001
Vermeer and the Delft School
The National Gallery
no. 74 and ill.
Madrid February 19–May 18, 2003
Vermeer y el interior holandés
Museo Nacional del Prado
176–177, no. 37 and ill.
Rome 27 September, 2012–20 January, 2013
Vermeer: Il secolo d'oro dell'arte olandese
Scuderie del Quirinale
216, no. 49 and ill.
Raleigh (NC) October 12, 2014–January 4, 2015
Small Treasures: Rembrandt, Vermeer, Hals and their Contemporaries
231, no. 43 and ill.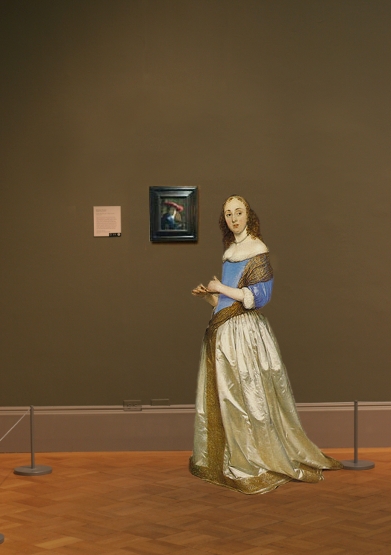 1665
vermeer's life
Pieter van Ruijven and his wife Maria Knuijt leave 500 guilders to Vermeer in their last will and testament. This kind of a bequest is very unusual and testifies a close relationship between Vermeer and Van Ruijven that went beyond the usual patron/painter one. It would seem that in his life-time the rich Delft burger had bought a sizable share of Vermeer's artistic output.
dutch painting

Rembrandt paints The Jewish Bride.

Adriaen van Ostade paints The Physician in His Study.

c. 1665 Gerrit Dou painted Woman at the Clavichord and a Self-Portrait in which he resembled Rembrandt.

european painting & architecture

Bernini finishes high altar, St. Peter's, Rome (begun 1656).

Murillo: Rest on the Flight into Egypt.

Nicolas Poussin, French painter, dies. Known as the founder of French Classicism, he spent most of his career in Rome which he reached at age 30 in 1624. His Greco-Romanism work includes The Death of Chione and The Abduction of the Sabine Women.

Compagnie Saint-Gobain is founded by royal decree to make mirrors for France's Louis XIV. It will become Europe's largest glass-maker.

Francesco Borromini completes Rome's Church of San Andrea delle Fratte.

music

Molière: Don Giovanni.

Sep 22, Moliere's L'amour Medecin, premiered in Paris.

literature

Philosophical Transactions of the Royal Society begins publication.

science & philosophy

Giovanni Cassini determines rotations of Jupiter, Mars, and Venus.

Peter Chamberlen, court physician to Charles 11, invents midwifery forceps

Pierre de Fermat, French mathematician, dies. His equation xn + yn = zn is called Fermat's Last Theorem and remained unproven for many years. The history of its resolution and final proof by Andrew Wiles is told by Amir D. Aczel in his 1996 book Fermat's Last Theorem. Fermat's Enigma: The Epic Quest to Solve the World's Greatest Mathematical Problem by Simon Singh was published in 1997. In 1905 Paul Wolfskehl, a German mathematician, bequeathed a reward of 100,000 marks to whoever could find a proof to Fermat's "last theorem." It stumped mathematicians until 1993, when Andrew John Wiles made a breakthrough.

Francis Grimaldi: Physicomathesis de lumine (posth.) explains diffraction of light.

Isaac Newton experiments on gravitation; invents differential calculus.

Robert Hooke's Micrographia, with illustrations of objects viewed through a microscope, is published. The book greatly influences both scientists and educated laypeople. In it, Hooke describes cells (viewed in sections of cork) for the first time. Fundamentally, it is the first book dealing with observations through a microscope, comparing light to waves in water.

Mathematician Pierre de Fermat dies at Castres January 12 at age 63, having (with the late Blaise Pascal) founded the probability theory. His remains will be reburied in the family vault at Toulouse.

history

English naval forces defeat a Dutch fleet off Lowestoft June 3 as a Second Anglo-Dutch war begins, 11 years after the end of the first such war. General George Monck, 1st duke of Albemarle, commands the English fleet, Charles II bestows a knighthood on Irish-born pirate Robert Holmes, 42, and promotes him to acting rear admiral, giving him command of the new third-rate battleship Defiance, but the Dutch block the entrance to the Thames in October.

Feb 6, Anne Stuart, queen of England (1702–1714), is born.

At least 68,000 Londoners died of the plague in this year.

University of Kiel is founded.

The second war between England and the United Provinces breaks out. It will last until 1667 and devastate the art market.

Mar 11, A new legal code was approved for the Dutch and English towns, guaranteeing religious observances unhindered.

Nov 7, The London Gazette, the oldest surviving journal, is first published.

Ceylon becomes important trade centre for the VOC
1666
vermeer's life

The Concert presents a very similar deep spatial recession similar to the earlier Music Lesson. Vermeer's interest in the accurate portrayal of three dimensional perspective to create such an effect was shared by other interior genre painters of the time, however, only Vermeer seems to have fully and consciously understood the expressive function of perspective. The two paintings' underlying theme of music between male and female company is also analogous although few critics believe they were conceived as a pendant.

In the paintings of the 1660s the painted surfaces are smoother and less tactile, the lighting schemes tend to be less bold. These pictures convey and impalpable air of reticence and introspection, unique among genre painters with the possible exception of Gerrit ter Borch.

dutch painting
Frans Hals, eminent Dutch portrait painter, dies. It was formerly believed that he died in the Oudemannenhuis almshouse in Haarlem which was later became the Frans Halsmuseum.
european painting & architecture

François Mansart, French architect, dies.

Apr 9, 1st public art exhibition (Palais Royale, Paris).

music
Dec 5, Francesco Antonio Nicola Scarlatti, composer, is born.
literature
Le Misanthrope by Molière is palyed at the Palais-Royal, Paris.
science & philosophy

Laws of gravity established by Cambridge University mathematics professor Isaac Newton, 23, state that the attraction exerted by gravity between any two bodies is directly proportional to their masses and inversely proportional to the square of the distance between them. Newton has returned to his native Woolsthorpe because the plague at Cambridge has closed Trinity College, where he is a fellow; he has observed the fall of an apple in an orchard at Woolsthorpe and calculates that at a distance of one foot the attraction between two objects is 100 times stronger than at 10 feet. Although he does not fully comprehend the nature of gravity, he concludes that the force exerted on the apple is the same as that exerted on Earth by the moon.

Calculusis invented by Isaac Newton will prove to be one of the most effective tool for scientific investigation ever produced by mathematics.

Nov 14, Samuel Pepys reported the on first blood transfusion, which was between dogs.

The plague decimates London and Isaac Newton moved to the country. He had already discovered the binomial theorem at Cambridge and was offered the post of professor of mathematics. Newton formulates his law of universal gravitation.

A French Academy of Sciences (Académie Royale des Sciences) founded by Louis XIV at Paris seeks to rival London's 4-year-old Royal Society. Jean Baptiste Colbert has persuaded the king to begin subsidizing scientists. Christiaan Huygens, along with 19 other scientists, is elected as a founding member. After the French Revolution, the Royale is dropped and the character of the academy changes. It later becomes the Institut de France.

history

Sep 2, The Great Fire of London, started at Pudding Lane, began to demolish about four-fifths of London when in the house of King Charles II's baker, Thomas Farrinor, forgets to extinguish his oven. The flames raged uncontrollably for the next few days, helped along by the wind, as well as by warehouses full of oil and other flammable substances. Approximately 13,200 houses, 90 churches and 50 livery company halls burn down or explode. But the fire claimed only 16 lives, and it actually helped impede the spread of the deadly Black Plague, as most of the disease-carrying rats were killed in the fire.

Because almost all European paper is made from recycled cloth rags, which are becoming increasingly scarce as more and more books and other materials are printed, the English Parliament bans burial in cotton or linen cloth so as to preserve the cloth for paper manufacture.
1667
vermeer's life

Vermeer's name is mentioned in a poem by Arnold Bon in Dirck van Bleyswijck's Beschryvinge der Stadt Delft (Description of the City of Delft) published in 1667. It is the most significant and direct reference to Vermeer's art to be found. The poem written by Arnold Bon, Bleyswyck's publisher, was composed in the honor of Carel Fabritius who had died in the famous ammunitions explosion. Vermeer's name is lauded in the poem's last stanza.

Thus did this Phoenix, to our loss, expire,
In the midst and at the height of his powers,
But happily there arose out of the fire
Vermeer, who masterfully trod in his path.

Maria Thins empowers Vermeer to collect various debts owed to her and to reinvest the money according to his will and discretion. Vermeer's mother-on-law evidently maintained her moral and financial support of Vermeer and his family.

Another of Vermeer's children is buried in the Nieuwe Kerk in Delft.

dutch painting
Gabriel Metsu, ecclectic Dutch painter, dies.
european painting & architecture

Francesco Borromini, Italian sculptor and architect, dies. Borromini designed the San Ivo della Sapienza church in Rome.

Alonso Cano, Spanish painter and architect, dies.

music
German composer-organist-harpsichordist Johann Jakob Froberger dies at Héricourt, France. His keyboard suites will be published in 1693, arranged in the order that will become standard: allemande, courante, sarabande, and gigue.
literature

Paradise Lost is written by John Milton, who has been blind since 1652 but has dictated to his daughters the 10-volume work on the fall of man, Better to reign in Hell than serve in Heaven. Milton's Adam questions the angel Raphael about celestial mechanics, Raphael replies with some vague hints and then says that "the rest from Man or Angel the great Architect did wisely conceal and not divulge His secrets to be scann'd by them who ought rather admire." The work enjoys sales of 1,300 copies in 18 months and will be enlarged to 12 volumes in 1684, the year of Milton's death; Annus Mirabilis by John Dryden is about the Dutch War and last year's Great Fire.

Nov 7, Jean Racine's Andromaque, premiered in Paris.

science & philosophy
National Observatory, Paris, founded
history
Pope Alexander VII dies. Giulio Rospigliosi becomes Pope Clement IX.

c. 1667 In France, during the reign of King Louis XIV, the fork begins to achieve popularity as an eating implement. Formerly, only knives and spoons had been used.

Jun 18, The Dutch fleet sailed up the Thames and threatened London. They burned 3 ships and capture the English flagship.

Jun 21, The Peace of Breda endsthe Second Anglo-Dutch War (1664–1667) and sees the Dutch cede New Amsterdam (on Manhattan Island) to the English in exchange for the island of Surinam.

De Verstandige Kok (The Sensible Cook) is published for the first time. Geared towards middle- and upper middle-class families, the book advises a regular and balanced diet, including fresh meat at least once a week, frequent servings of bread and cheese, stew, fresh vegetables and salads. While simple dishes, such as porridge, pancakes and soup with bread are eaten by all classes, studies reveal that only the affluent have regular access to fresh vegetables during the period; the less wealthy depend on dried peas and beans.
Surprisingly, x-ray images and neutron reflectograms have revealed that underneath Vermeer's image lies a bust length portrait of a man of with a wide brimmed hat executed in thick, broad brushstrokes. Before painting over the old portrait, Vermeer turned it upside down, evidently, to avoid being disturbed by the image. The male portrait brought Arthur K. Wheelock Jr. to consider Carel Fabritius as male portrait's author even though there is no evidence that rules out that Vermeer himself painted the portrait. Wheelock cites the fact that, at his death, Vermeer detained two small tronies by Fabritius which must have been part of his stock in Vermeer's collateral painting trade. Walter Liedtke, however, observes out that it would be illogical for Vermeer to have destroyed a work whose author he had so admired.
The Girl with a Red Hat is considered as a tronie, an obsolete term that refers to a type of picture made familiar by Rembrandt and his followers. Most Dutch tronies were based upon living models, including the artists themselves, relatives or colleagues. However, they were not intended as formal portraits but were kept on spec in the artist's studio ready to stimulate the potential buyer's appetite. An old man, a comely young woman, a "Turk," or a dashing soldier were all standard tronies subjects. Artists favored garments that looked particularly exotic which would offer an opportunity to show off painterly technique, one of the strongest calling cards of the professional artist. In the 17th century there was an avid market for tronies, which were considered a separate genre. They also served as a storehouse of facial types and expressions for figures in history paintings.
Vermeer is known to have painted three tronies in all. John Larson was a Hague/London sculptor who in an inventory drawn up in August 1664 had a painting described as "a tronie by Vermeer" valued at 10 guilders. In the Dissius auction of 1696 in which 21 works by Vermeer were sold, two of the paintings were described as tronies.
The word pendant comes from the Latin pendere, meaning "to hang." In painting a pendant is a pair of paintings intended to hang together. Pendants are generally the same format and with identical frames. In Dutch homes pendants were frequently were hung on the two sides of a door or fireplace.
Some Vermeer specialists have proposed that the Girl with a Red Hat and the with a Girl with a Flute (see above) were intended as a pendant. Both pictures show a young girl wearing an exotic hat, under a similar lighting, with a tapestry hung loosely in the background. Both pictures executed on panel and roughly the same size.
Of all 35–36 surviving Vermeer's, only two works, the Girl with a Flute and Girl with a Red Hat were not painted on canvas. The latter was done on thin oak (?) panel with a vertical grain. However, in Vermeer's death inventory of 1676, there were listed 10 unpainted canvases and 6 unpainted panels in his studio. This fact may indicate that the artist's preference for canvas was not so accentuated as the proportions of his surviving paintings would lead us to believe.
Vermeer specialists have proposed various explanations, principally aesthetic, for the artist's choice support for Girl with a Flute. Paint tends to flow easier on the smooth, hard panel favoring a calligraphic touch which is evident in the present work. Arthur K. Wheelock Jr. supposed that the artist employed a panel because he wished to emulate the dreamlike sheen of the images produced by the camera obscura. However, the perfectly smooth surface of the panel also permits the highest degree on detail possible with the oil paint technique. We should also consider that panel may have been chosen for a somewhat banal motive. Since Vermeer's painting lies over another work, he may have simply found it a convenient format for a quickly executed, salable work in the hopes of attracting a buyer with an enticing image. In the final years of Vermeer's career, the war with France had caused a virtual collapse of the art market and with it, Vermeer's fortunes.
The distinctive lighting scheme of this work has often be traced to early self portraits by Rembrandt van Rijn (see left). The late Vermeer notable Walter Liedtke pointed out, that while Vermeer may not have had access to Rembrandt's early works, his talented pupils Flinck and Bol had made such poetic expressions a familiar pictorial convention by the 1650s and 1660s.
Curiously, the deep shadows of the young girl's face are painted with a dull green tone (green earth) readily visible when observing the original. Vermeer employed the same unusual tone in other late paintings in analogous passages of flesh. By the 17th century, painters invariably used warm brown for darker flesh shadows although this technique had been adopted by a few Utrecht Caravaggists. Vermeer biographer John Michael Montias hypothesized that the young Vermeer had likely studied in Utrecht but still, such a specific technical/stylistic tie is tenuous at best.
Among all of Vermeer's paintings, this one comes closest to the type of image produced by an instrument known as the camera obscura, an optical device which is a precursor of the modern photographic camera.
While experts are not in agreement as to what extent Vermeer and other Dutch 17th-century artists used the camera obscura to compose their paintings, it is certain that the images which it produced present many of the characteristics seen in Vermeer's painting.
Charles Seymour ("Dark Chamber in a Light Filled Room," in Art Bulletin 46, 1964) tested the hypothesis that Vermeer might have been guided by the images he saw in a camera obscura. By observing similar objects (he carefully chose the props) in similar lighting conditions to the ones found in Vermeer's painting through a real 19th-century camera obscura, Seymour found that the resulting image exhibited qualities much like those seen in Vermeer paintings (see above).
One of the most curious techniques of Vermeer's late works is the use of the dull green natural earth pigment as a component of the shadows of the flesh. In both the Girl with a Red Hat and its pendant, The Girl with a Flute, green earth can be clearly detected with the naked eye although it is not always apparent from reproductions. Art historians have not been able to offer a plausible motive why Vermeer would have opted for such a technique.
Green earth had been widely employed by medieval and early Renaissance painters as a base tone for flesh in order to mitigate the effect of the stark white gesso preparation of panels. When the pinks and red tones necessary for painting flesh are laid over the white gesso preparation they produce a fastidious "sunburn" effect. In short, the flesh was modeled over the dry unmodulated layer of flat green earth with lighter mixtures of white, red lakes and yellow ochre. This layering created a natural pearlessence close to natural skin tones. However, owing to the fading of the red pigments, many examples of this technique today appear much greener than they were in origin.
An unfinished painting by Michelangelo reveals that artists of the time constructed their compositions in a piecemeal fashion, (a procedure today's' painters universally abhor) and also reveals how a flat layer of green earth was laid in under those areas to be occupied with flesh tones.
It is likely that Vermeer did not lay in an unmodulated layer of green earth as in Michelangelo's work. Perhaps he applied green earth only in the shadowed areas (over a brownish ground) feathering it wet-in-wet with the pink flesh tones as patches of light and dark came into contact.
It has been noted that some Mannerist painters from Utrecht had unearthed green earth as a component for painting flesh but their artistic and aesthetic goals were so extremely divergent from those of Vermeer that the connection seems less than plausible.

Jan Dismas Zelenka
Trio sonata ZWV 181, no. 1, Adagio ma non troppo [972 KB]
http://www.amazon.com/Jan-Dismas-Zelenka-Knut-Sonstevold/dp/B0008FMHQW/ref=sr_1_9?ie=UTF8&s=music&qid=1258287965&sr=1-9
SPECIAL TOPICS NINE
SPECIAL TOPICS TEN