Thoré-Bürger and the Rediscovery of Johannes Vermeer: Resources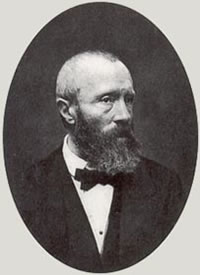 Photograph of Thoré-Bürger from
the sales catalogue of the
Thoré-Bürger collection, 1892
Thoré, [Etienne-Joseph-] Théophile, sometimes, Thoré-Bürger; Willem Bürger, pseudonym
born: 1807, La Flèche, France
died: 1869, Paris, France
The "rediscovery" of Vermeer is predominantly attributed to scholar, collector, French Salon critic and co-founder of L'Alliance des arts, Etienne Joseph Théophile Thoré (1807-1869), alias Thoré-Bürger.
Thoré wrote criticism beginning in the 1830s, during the regime of the July Monarchy (1830–48). By the 1840s his art criticism was wide ranging encompassing aesthetic and political views. He extolled the work of Eugène Delacroix, Théodore Rousseau and other Barbizon school painters, chiding the conservative painters such as Jean-Auguste-Dominique Ingres as well as the more popular artists such as Paul Delaroche and Horace Vernet. In 1842 he and Paul Lacroix (1806-1884) founded a private agency to sell and promote art, the Alliance des Arts. They also published a Bulletin. Between 1844–8 Thoré was the art critic for Le Constitutionnel. Because of his support of some of the radicals in the 1848 revolution, (he was an Saint-Simonist and exponent of Pierre Leroux, 1797-1871) was forced into exile in 1849. He returned in 1859, continuing to write under the government of Second Empire (1851–70). In 1855, Thoré began using the Dutch-sounding pseudonym "Willem Bürger," focusing his writing on northern European art. An active archival researcher and connoisseur, he is credited with the rediscovery of Johannes Vermeer and significant re-evaluations of of other 17th-century Dutch artists, including Frans Hals.
His criticism derided French baroque painting as too heavily influenced by Italy, terming it as inauthentic of a national identity. He lauded Dutch 17th-century naturalism and what has subsequently come to be seen as the acme of Netherlandish painting, the art of the Dutch Republic. It's direct appeal to simple human virtues, he declared made it an art for the people ("l'art pour l'homme"). He continued to deplore the dark history painting of the Academie and the Second Empire, particularly that of Jean-Léon Gérôme and Alexandre Cabanel, in favor of Realism painter such as Gustave Courbet (his favorite), Jean-François Millet, and the Impressionists Edouard Manet, Claude Monet, and Auguste Renoir. As early as 1860, Thoré began purchasing Vermeer paintings. A Lady Standing at the Virginal (1672-73, National Gallery, London) was acquired sometime before 1876, Woman with a Pearl Necklace (1664, Berlin, Gemäldegalerie) was bought from Henry Grevedon in June 1866. A Lady Seated at the Virginal (1675, National Gallery, London) was purchased for a mere 2,000 francs in 1867. The sale of his collection by in 1892 brought the Vermeer's and other works into more public collections.
from:
Dictionary of Art Historians
http://www.dictionaryofarthistorians.org/thoret.htm

John Nash
"
Rediscovery
," in
Vermeer
2002, 1995, pp. 102-104
The View of Delft must be the painting listed in the inventory of a sale held in Amsterdam on 16 May 1696 as item 31: "The Town of Delft in perspective, to be seen from the South by J. van der Meer of Delft." The painting sold for the good sum of 200 guilders. It then disappeared from the records for one hundred and twenty-six years and six days, when it appeared far the second time at an auction in Amsterdam. It was offered for sale on 22 May 1822 as item 112: "This most capital and most famous Painting of this master, whose works seldom occur, shows the town of Delft, on the river Schie; one sees the whole town with its gates, towers, bridges etc.; in the foreground there are two women talking together, while on the left some people appear to be preparing to step on board a canal-barge; furthermore in front of and against the town lie diverse ships and vessels. The way of painting is one of the most audacious, powerful and masterly that one can imagine; everything is illuminated agreeably by the sun; the tone of light and water, the nature of the brickwork and the people make an excellent ensemble, and this painting is absolutely unique of its kind. Height 99 dm, 8 cm; width 1 m, 1 dm, 6 cm. Canvas". It was purchased for 2900 guilders by the State of the Netherlands and presented to the Mauritshuis Royal Cabinet of Paintings that same year, coinciding with the inauguration of the palace as a public museum.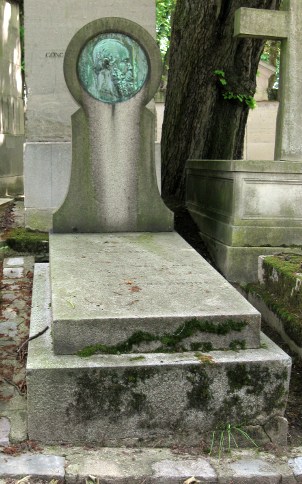 Photograph of Thoré-Bürger's tomb in the Cimetière du Père-Lachaise, Paris ( Thoré-'s tomb is located in the 85 Division).
The inscription on the tomb reads:
T. THORE
(W. BURGER)
1807-1869
HE WAS A MAN
SHAKSPEARE
IL FU UN HOMME
Until that time, Vermeer was almost unknown outside the Netherlands. Many connoisseurs and scholars knew of his work only by reputation. As late as 1834, the Englishman John Smith in his remarkable series of Catalogues Raisonné of the works of the most eminent painters, could do no more than make two mentions of Vermeer, first among "pupils and imitators of Gabriel Metsu", where he wrote: "Writers appear to have been entirely ignorant of the works of this excellent artist, [whose] pictures are treated with much of the elegance of Metsu mingled with a little of the manner of De Hooge." Writing of the "Pupils and Imitators of Peter de Hooge", Smith again mentions Vermeer: "This master is so little known, by reason of the scarcity of his works, that it is quite inexplicable how he attained the excellence many of them exhibit."
In a volume of prints published in 1792, the French art dealer, Jean Baptiste Lebrun, who had connections with Holland, wrote of an engraving after Vermeer's Astronomer: "This van der Meer, of whom historians say nothing, merits special attention. He is a great painter in the manner of Metsu. His works are rare, and they are better known and appreciated in Holland than elsewhere. One pays almost as much for them as for those of Gabriel Metsu." It was the public display in the Mauritshuis of the prodigious View of Delft that led to Vermeer's discovery and eventual elevation to become one of the most famous (even, in the light of the Van Meegeren forgeries, most notorious) artists in the world.
In 1857, in the Revue de Paris, Maxime Ducamp, returning from visiting the museums of Holland, praised the painting in the Hague museum: "It is painted with a vigour, a solidity, a firmness of impasto very rare among the Dutch landscapists. This Jan van der Meer, of whom I know nothing but the name, is a rugged painter, who proceeds with flat colors liberally applied, built up thickly.. .."
In 1858, Théophile Gautier, amazed by the same picture, wrote in the Moniteur: "Van Meer paints spontaneously with a force, a precision and closeness of one that are unbelievable ...The magic of the diorama is achieved without contrivance."
All this was noted by Théophile Thoré, the French critic and politician, in the first major study of Vermeer, published in the Gazette des Beaux-Arts in 1866 under the pseudonym of W. Bürger. "A dozen years ago, Jan van der Meer of Delft was almost unknown in France", wrote Thoré. "His Name was missing from the biographies and histories of painting; his works were missing from the museums and private collections."
Thoré devoted twenty years of travel and research, in part as a political exile (hence the pseudonym), on this study of Vermeer, and in it he established not only the foundation but much of the edifice of our modern understanding of Vermeer. He begins his study with an account of his own first encounter with the View of Delft. "In the museum at the Hague, a superb and most unusual landscape captures the attention of every visitor and powerfully impresses artists and connoisseurs. It is the view of a town, with a quay, old gatehouse, buildings in a great variety of styles of architecture, garden walls, trees and, in the foreground, a canal and a strip of land with several figures. The silver-grey sky and the tone of the water somewhat recalls Philip Koninck. The brilliance of the light, the intensity of the colour, the solidity of the paint in certain parts, the effect that is both very real and nevertheless original, also have something of Rembrandt.
"When I visited the Dutch museums for the first time, around 1842, this strange painting surprised me as much as The anatomy lesson and the other remarkable Rembrandts in the Hague museum. Not knowing to whom to attribute it, I consulted the catalogue: View of the Town of Delft, beside a canal, by Jan van der Meer of Delft'. Amazing! Here is someone of whom we know nothing in France, and who deserves to be known!
"Even after seeing the Night Watch, the Syndics [by Rembrandt] and the other marvels of the Amsterdam museum, I retained an indelible memory of its masterpiece--by van der Meer of Delft! Well! In those days, we all thought of painting as something to please the eye and to write elegant descriptions for, without worrying too much about the history of art and artists.
"Later, even before 1848, having returned to Holland several times, I also had the opportunity of visiting the principal private galleries, and in that of M. Six van Hillegom -the happy owner of the celebrated portrait of his ancestor, Burgomaster Jan Six, by Rembrandt - there I found two more extraordinary paintings: a Servant pouring milk and the Façade of a Dutch house, - by Jan van der Meer of Delft! The astounding painter! But, after Rembrandt and Frans Hals, is this van der Meer, then, one of the foremost masters of the entire Dutch School? How was it that one knew nothing of an artist who equals, if he does not surpass, Pieter de Hooch and Metsu?
"Later after 1848 having become, of necessity, an exile, and, by instinct, a cosmopolitan, living in turn in England, Germany, Belgium and Holland, I was able to explore the museums of Europe, collect traditions, read, in all languages, books on art, and attempt to untangle somewhat the still confused history of the Northern schools, especially the Dutch school, of Rembrandt and his circle -and my 'sphinx' van der Meer.
"In the first volume of The Museums of Holland, in 1858, drew attention to the landscape in the Hague museum and the two pictures in the Six van Hillegom collection In 1860, in the second volume of The Museums of Holland, I authenticated more than a dozen van der Meers, and brought together a quantity of information that enabled me later to recover almost the entire oeuvre of the painter of the View of Delft. "This obsession has caused me considerable expense. To see one picture by van der Meer, I traveled hundreds of miles: to obtain a photograph of another van der Meer, I was madly extravagant. I even retraced my steps all round Germany in order to verify with conviction works dispersed between Cologne, Brunswick, Berlin, Dresden, Pommersfelden, and Vienna. But I was amply recompensed, more especially as I had the pleasure, not only of admiring the works in museums and galleries, but in acquiring more than a dozen, some that I bought for my friends MM. Pereire, Double, Cremer, and others; others that I bought for myself.
"At the same time as I was researching van der Meer's pictures, I was gathering together all the written documents and traditions concerning the man: I leafed through old books, old catalogues, the Dutch archives. "On the biography, it is true that I have still only some chronological landmarks and a few certain facts "
Thoré knew little of Vermeer's life. He knew nothing of his marriage or even the date of his death. When he found the catalogue of the sale in Amsterdam of 16 May 1696, at which, in addition to the View of Delft, twenty other Vermeers were listed, he surmised that the sale may have followed the recent death of the artist, or had been of the effects of another Van der Meer, of Haarlem, who had also been a picture dealer and had died, so he had learned, in 1691.
read Thoré-Bürger online

GAZZETTE DES BEAUX ARTS
Oct. 1, Nov. 1, Dec. 1 1866
http://gallica.bnf.fr/ark:/12148/cb343
486585/date.langEN
3 articles of Nan der Meer de Delft
Oct. 1, 1866 - pp. 297-330
Nov. 1, 1886 - pp. 458-470
Dec. 1, 1886 - pp. 542-575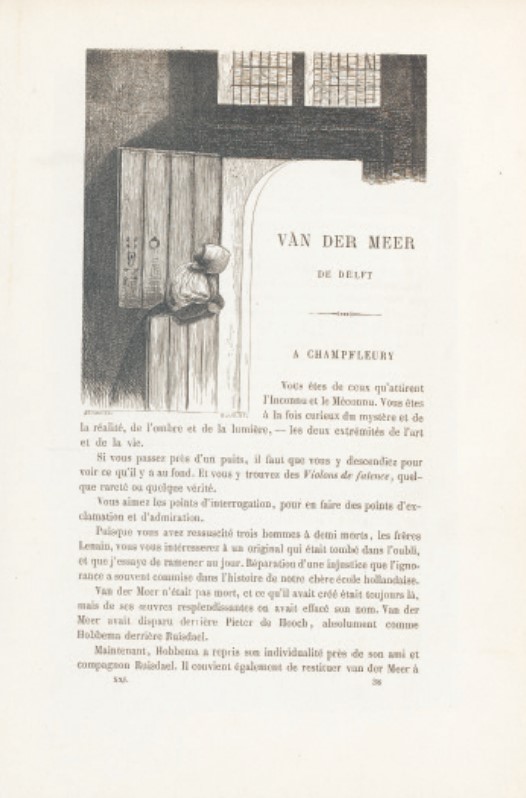 "a rather unusual gallery of bric-à-brac."
by Frances Suzman Jowell
"My picture mania relates above all to works which can help with my historical researches. I have already collected some paintings that are interesting from this point of view, and I will end up by having a rather unusual gallery of bric-à-brac." 'So wrote the republican critic Théophile Thoré (1807-69), a year after returning from his ten-year exile from France. He was also known then by his pseudonym, W. Bürger, the author of several scholarly and critical publications on collections of European art, and special champion of the Dutch seventeenth-century school.
Back in Paris, Bürger soon resumed his former role as art critic with a series of controversial Salon reviews, while continuing with his historical researches and publications, and his energetic collecting of paintings until his death in 1869.
During this decade he also played an important role in the art market, and made himself indispensable to several collectors as adviser and negotiator, art historian and critic. Consulted by museum directors, collectors, dealers, critics, art historians and artists, he had a significant and lasting influence on the ways in which the art of the past (and contemporary art) was viewed, valued and interpreted.
Bürger did not himself have the financial means to acquire paintings on anything like the scale of the major European collectors with whom he was associated. Nevertheless, his collection, informed by his avid researches and his energetic search for related works, soon developed well beyond a "somewhat unusual gallery of bric- à-brac."
By 1867, when he wrote his well-informed and lively chapter on private collections in Paris for the Paris guide, published to coincide with the Universal Exhibition (Exposition Universelle), Bürger included his own collection, albeit grouped with the more modest ones of other authors who contributed to the Guide: "W. Bürger himself has several pictures, mostly by Dutch artists, and naturally he finds them the most beautiful in the world; let us say that he has some rarities interesting for the history of the northern schools, amongst others, his van der Meer of Delft, his Fabritius, Metsu, Pieter de Hooch, Jan Steen, Hals, de Keyser, Rubens and Jordaens; and some modern artists: Eugène Delacroix, Théodore Rousseau, Jules Dupré, Diaz, Courbet etc." He added that these "simple collections of artists and writers" were only temporary locations for paintings destined for more important galleries.
Many of the paintings once owned by Thoré-Bürger would, as he hoped, eventually find themselves placed in "important galleries"- a few with pride of place in major public and private collections; some less celebrated but nevertheless respectably housed. The current whereabouts of most of them, however, are unknown.
from:
Frances Suzman Jowell, "Thoré-Bürger's art collection: "a rather unusual gallery of bric-à-brac", in Simiolus: Netherlands quarterly for the history of art, vol.30, 2003 no. 1/2, pp.54-55
Thoré Resources
Frances Suzman Jowell, "Vermeer and Thoré- Bürger: Recoveries of Reputation," in Vermeer Studies, edited by Ivan Gaskell and Michael Jonkers, London and New Haven, 1998, pp.35-57
Frances Suzman Jowell, Thoré-Bürger and the art of the past, New York, 1977
Frances Suzman Jowell, "Thoré-Bürger's ar collection: "a rather unusual gallery of bric-à-brac", in Simiolus: Netherlands quarterly for the history of art, vol.30,2003 no. 1/2, pp.54-55 Frances Suzman Jowell, "Thoré-Bürger- A Critical Role in the Art Market," Burlington Magazine, 138 (1996), pp. 155-116
Frances Suzman Jowell, "Thoré-Bürger- A Critical Role in the Art Market," Burlington Magazine, 138 (1996), pp. 155-116

Frances Suzman Jowell, "Thoré-Bürger and Vermeer: Critical and Commercial Fortunes," in Shop Talk: Studies in Horour of Seymour
Ben Broos, "Vermeer: Malice and Misconception," in Vermeer Studies, edited by Ivan Gaskell and Michael Jonkers, London and New Haven, 1998, pp. 18- 31
Ben Broos, " 'A celebre Peijntre nommé Vermer[e]r, ' "in Johannes Vermeer (exh.cat., National Gallery of Art and Royal Cabinet of paintings Mauritshuis) (Washington and the Hague, 1995) pp.47-65, esp. 59-60.
Albert Blankert, "Théophile Thoré and appreciation in the nineteenth century," in Vermeer of Delft: Complete edition of the paintings, with contributions by Rob Rurrs adn Willem L. van de Watering, Oxford, 1975, pp 67-69
John Nash, "Ridscovery," in Vermeer, Amsterdam, 199, pp. 11-14
Peter Hecht,, "Rembrandt and Raphael Back to Back: the Contribution of Thoré", Simiolus 26 no. 3, 1998, pp. 162-178
André. Blum, Vermeer et Thoré-Bürger. Genève: Les Éditions du Mont-Blanc s. a., 1945.