A self-portrait is a representation of an artist, drawn, painted, photographed, or sculpted by the artist. Although self portraits have been made by artists since the earliest times, it is not until the Early Renaissance in the mid-fifteenth century that artists can be frequently identified depicting themselves as either the main subject, or as important characters in their work. With better and cheaper mirrors, and the advent of the panel portrait, many painters, sculptors and printmakers tried some form of self-portraiture.
"Jean Fouquet's self portrait (c. 1450), a small picture created in gold on black enamel, is seen as the earliest clearly identified self portrait that is a separate painting, not an incidental part of a larger work. However, self-portraits are known to go back as far as the Amarna Period (c. 1365 B.C.) of Ancient Egypt. Pharaoh Akhenaten's chief sculptor Bak carved a portrait of himself and his wife Taheri out of stone. This is significant because Bak and Taheri were not like the rich and powerful who could afford the privilege of a portrait therefore the artist must have had another reason for creating this work of art. Sean Kelly points out in his book The Self-Portrait, A Modern View, while we know a number of self-portraits from the ancient world, we also know very little about the psychological motivations which inspired them.
"Though Albrecht Dürer (1471–1528) is credited for being the first artist to consistently create self-portraits, Rembrandt (1606–1669) is given credit for being the first artist to intensely study of the self through art."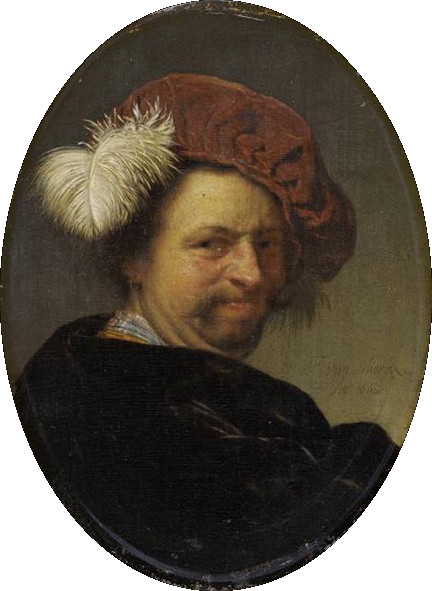 Self Portrait
Frans van Mieris the Elder
1662
Oil on panel; 11,3 x 8,4 cm. (oval)
Collection Alte Pinakothek, Munich
The following timeline presents self portraits done by major painters working in Europe from c. 1200 to c. 1850. By scrolling your mouse over the name of each artist, a tooltip pop-up will provide the artist's full name, the date and place of birth as well as a thumbnail example of his work. Click here to access brief summaries of various art movements during the same arc of time.
---
d'Arezzo, Margaritone
da Brescia, Moretto
Piero di Cosimo
di Dalmasio, Lippo
Dossi, Dosso
Master of Delft
Menabuoi, Giusto de'
Monaco, Lorenzo
Moroni, Giovan Battista
di Nerio, Ugolino
Rosa, Salvator
Savoldo, Girolomo