Ongoing and Upcoming Vermeer-Related Events
last update: December 8, 2018
On this page are listed exhibitions, conferences, multimedia events and publications of the recent past which are related to the life and/or work of Johannes Vermeer.
Click here to see Vermeer-related events of the past.
Click here to view a sortable table of all past, ongoing and future Vermeer exhibitions.
Be there when it happens, keep track of all Vermeer things with these online resources.

Receive news about Vermeer-related events such as exhibitions, publications or multi-media events as well as significant Essential Vermeer site updates. Click here to subscribe free of charge.
http://www.essentialvermeer.com/b_form.html

Stop in, find the latest news, see the latest pictures and leave a comment of the Essential Vermeer Facebook page. https://www.facebook.com/pages/Essential-Vermeer/133691276693957
CODART provides a list of current, upcoming and past Flemish and Dutch related exhibitions, a newsletter and much more. https://www.codart.nl/guide/exhibitions/

EUROMUSE.NET is a public access portal giving accurate information on major exhibitions in European museums. Each museum's information is available in the native language and in English.
http://www.euromuse.net/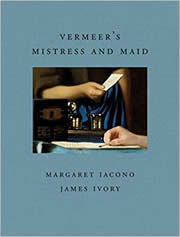 A new publication on Vermeer's Mistress and Maid
Vermeer's Mistress and Maid (Frick Diptych)
by James Ivory and Margaret Iacono
2018
The subject of writing and receiving letters, which recurs frequently in the work of Vermeer, is given dramatic tension in this masterful painting of two women in a mysterious moment of crisis. The artist seldom, if ever, surpassed the subtly varied effects of light seen here as it gleams from the pearl jewellery, sparkles from the glass and silver objects on the table, and falls softly over the figures in their shadowy setting.
Margaret Iacono is associate research curator at The Frick Collection. Her areas of interest include northern European painting of the fifteenth to seventeenth centuries and the history of collecting. Most recently she organized Vermeer, Rembrandt and Hals: Masterpieces of Dutch Painting from the Mauritshuis (2014), and also served as the Frick coordinator for The Frick Collection: Art Treasures in New York, held at the Mauritshuis, The Hague (2015).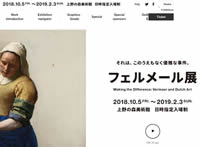 Nine Vermeer paintings in a major Dutch art exhibition in Japan
Making the Difference: Vermeer and The Dutch Art
October 5, 2018–February 3, 2019
The Hata Stitching Foundation has organized a major Vermeer exhibition to be held at the Ueno Royal Museum, Tokyo called Making the Difference: Vermeer and The Dutch Art. The exhibition will be the largest Vermeer exhibition that has ever been held in Asia. Nine of the finest paintings by Vermeer will be featured: Christ in the House of Martha and Maria, The Procuress, The Glass of Wine, The Milkmaid, Woman with a Lute, Girl with a Red Hat, Woman with a Pearl Necklace and Woman Writing a Letter with her Maid
dedicated web page and ticketing:
https://www.vermeer.jp/
special exhibition features:
https://www.vermeer.jp/special/
The second venue will be held at Museum of Fine Arts (Osaka), February 16, 2019–May 12, 2019. The exhibit will differ from the Tokyo venue and will feature six paintings by Vermeer: Christ in the House of Martha and Mary, The Procuress, A Lady Writing a Letter, Woman with a Lute, The Love Letter and A Lady Writing a Letter with her Maid.
second venue:
https://vermeer.osaka.jp/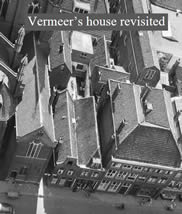 New location proposed for Vermeer's house
Vermeer's House Revisited
click here
In his article Johannes Vermeer and his Neighbors (2017), Hans Slager tentatively supposed that what has been traditionally believed to be the location of Vermeer's house in Delft—Oude Langendijk/corner Molenpoort alley—may not be correct. Following additional investigation, Slager strengthened his case and has come to the conclusion that Vermeer's house was more likely located at the opposite (western) corner of the Molenpoort alley. In the past, this location had been dismissed for reasons that Slager now shows to be unfounded. In his new article, Vermeer's House Revisited, Slager details all of his arguments, which are supported by primary archival sources.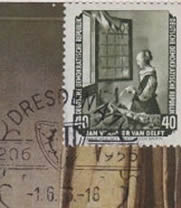 Essential Vermeer website addition
Vermeer on Stamps: the collection of Vitaliy Demin
http://www.essentialvermeer.com/misc/stamps/stamps-01.html
More than a thousand stamps currently in circulation are dedicated to the works of famous artists, such as Leonardo, Raphael, Michelangelo, Rubens, Rembrandt and Vermeer. It is almost impossible to collect all of them; one must pick and choose in order to assemble a thematically coherent collection. Vermeer, one of the most intriguing artists in history, is an ideal candidate for a small collection.
Vitaliy Demin has compiled a complete list of all the stamps with Vermeer's works that are currently circulation all over the world, which counts fewer than 200 items. On display in this EV web article are all the available items from Mr. Demin's collection except a few non-perforated varieties, which, however, will be added later.
Girl with a Pearl Earring undergoes a technical examination, on public view at the Mauritshuis
The Girl in the Spotlight
Monday 26 February to Sunday 11 March, 2018
Mauritshuis, The Hague
https://www.mauritshuis.nl/en/discover/news-archive/2018/new-research-girl-with-a-pearl-earring/
Beginning Monday, February 26, Vermeer's iconic Girl with a Pearl Earring will undergo a two-week technical examination dubbed "The Girl in the Spotlight," at the Mauritshuis.
Although further restoration is not required at the moment, major advances in non-invasive technical analysis made over the last 25 years will allow the painting to be examined deeper than before. Using the latest technologies, such as fluorescent X-rays, optical coherence tomography and digital microscopy, experts hope to answer a number of unanswered questions about the materials and methods Vermeer used to paint Girl with a Pearl Earring. The project will take place 24 hours a day.
Visitors will be able to observe the progress of the examination through an especially built transparent enclosure in the museum's the Golden Room. The collection's two other Vermeer paintings, View of Delft and Diana and her Companions remain on view in room 15.
The project involves a team of internationally recognized specialists associated with the Netherlands Institute for Conservation, Art and Science (NICAS). The NICAS partners are Rijksmuseum Amsterdam, TU Delft, and Cultural Heritage Agency of the Netherlands (RCE)..
Girl with a Blog
As part of a multimedia presentation, Mauritshuis paintings conservator and head researcher Abbie Vandivere will be blogging and posting photos daily updates during the project.
click here to view the project program and here follow daily updates.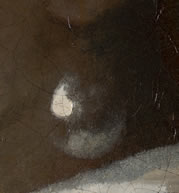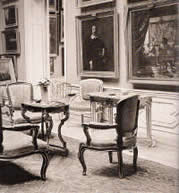 New study of the provenance of Vermeer's The Art of Painting
The Puzzle Solved? Notes on the Early Provenance of Vermeer's The Art of Painting
by Erik de Visser
http://www.essentialvermeer.com/history/provenance-art-of-painting.html
The Puzzle Solved? Notes on the Early Provenance of Vermeer's The Art of Painting sets out in well-considered detail the high probability that Vermeer's masterpiece did indeed, as suspected by some scholars, come to Vienna in 1745 at the time that Gerard van Swieten (1700–1772) took up his position as Empress Maria Theresa's personal physician. In addition, the paper shows that the Dutch doctor could not have come into possession of this painting if, in the immediate years following Vermeer's death (1675), the artist's wife, Catharina Bolnes, and his mother-in-law, Maria Thins, had failed to keep Vermeer's masterpiece safe in Delft. As will be shown, a chain of events set in motion by Maria Thins resulted in the painting leaving the Vermeer family to eventually come into the ownership of two Van Swieten generations.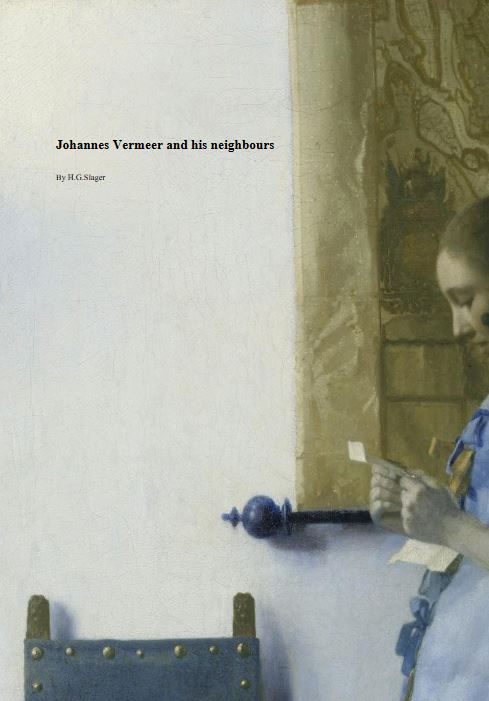 Detailed study of Vermeer's neighborhood with house-by-house database
Johannes Vermeer and his Neighbours (PDF)
by Hans G. Slager, independent researcher
Click here for the PDF.
It has been universally accepted that the mature Johannes Vermeer lived on Oude Langendijk in Delft, situated amidst the Catholic living quarter known as the Papist Corner. Following John Michael Montias 'Vermeer and His Milieu: A Web of Social History, published in 1989, however, no further research was conducted in regards to either the location of the artist's living quarters or the neighborhood in which he lived. Persuaded that a more accurate reconstruction of the Papist corner was possible, and that neighbors may influence the lives of its individual members, the independent researcher Hans Slager has examined afresh the circumstances of those who lived in the vicinity of Vermeer in the hopes of uncovering not only undiscovered information but clues for further research.
This new study of the Papist Corner investigates a wealth of housing and genealogical data in the light of house sales, taxation records, legal issues and other events, at times mundane, but nevertheless vital to the success of the reconstruction. Slager's analysis suggests that Vermeer's traditionally-held residence on the Oude Langendijk may, in fact, be erroneous, and that his real residence may still physically exist.
Aside from the Papist neighborhood, other issues are addressed, such as the fate of the Mechelen inn, Van Ruijven's patronage and Van Leeuwenhoek's presumed friendship with Vermeer. Lastly, an analysis of the name linked to the two prominently-pictured heraldic stems that appear on the two stained-glass windows in Vermeer's The Glass of Wine and The Girl with a Wine Glass reveals possible links to various Leiden fijnschilder painters. Ties between some of Vermeer's principal clients are also described in detail.
Necessarily, a study containing such a significant amount of data demands a selective rather than a story-telling approach so that all data is organized within a house-by-house scheme. Moreover, data is published in full in order to serve as a springboard for future investigation—there may still be more information on Vermeer, hopefully complimenting Montias' seminal study on Vermeer and his extended family.
Johannes Vermeer and his Neighbours may be read by art historians, Delft historians and Vermeer lay enthusiasts alike.