Ongoing and Upcoming Vermeer-Related Events
last update: Feb. 8, 2017
On this page are listed exhibitions, conferences, multimedia events and publications of the recent past which are closely related to the life and/or work of Johannes Vermeer.
Click here to see Vermeer-related events of the past.
Click here to view a sortable table of all past, ongoing and future Vermeer exhibitions.
Be there when it happens, keep track of all Vermeer things with these online resources.

Read daily updates about everything Vermeer.
http://flyingfox.jonathanjanson.com/

Receive news about Vermeer-related events such as exhibitions, publications or multi-media events as well as significant Essential Vermeer site updates. Click here to subscribe free of charge.
http://www.essentialvermeer.com/b_form.html

Stop in, find the latest news, see the latest pictures and leave a comment of the Essential Vermeer Facebook page. https://www.facebook.com/pages/Essential-Vermeer/133691276693957

EUROMUSE.NET is a public access portal giving accurate information on major exhibitions in European museums. Each museum's information is available in the native language and in English.
http://www.euromuse.net/
CODART provides a list of current, upcoming and past Flemish and Dutch related exhibitions, a newsletter and much more. http://www.codart.nl/exhibitions/
Essential Vermeer website addition
Vermeer-related Artworks
November 29, 2016
click here to access
Click on the thumbnails or the titles of the paintings to access the relative works page for that work.
Click on the thumbnail images to access a higher resolution image.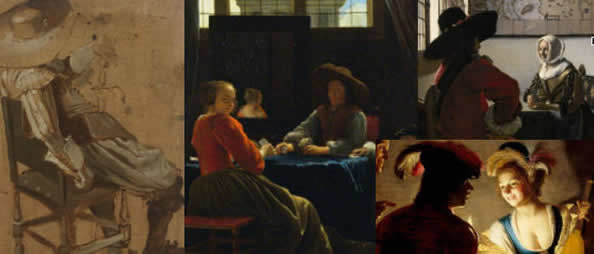 Rather than attempting to establish direct links between Vermeer and specific artworks of his time, the goal of this web article is to trace the evolution of both the themes and compositions which can be associated with each painting by Vermeer, before and after it was presumably executed. Therefore not only works traditionally linked to Vermeer's paintings are listed but a broad range of artworks which a range from Classical times to the 20th century.
Hopefully, this approach will provide useful information not only for the seasoned art historian but for a wider readership. Some of the pictures, like Vermeer's Woman with a Lute, unravel like a film, exhibiting relatively few compositional inventions but many symbolic variations.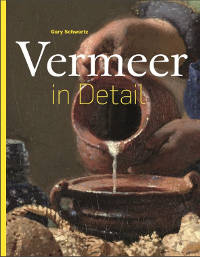 New in-detail Vermeer monograph by Gary Schwartz
Vermeer in Detail
by Gary Schwartz
March 2017
288 pp., clothbound
32 x 25 cm.
A low-threshold, high-level introduction to Vermeer based on 140 large and lavish details from his work. Each is provided with commentary, covering subject matter, technique and modes of picture-making, the origins of the objects he paints, comparisons of motifs, scholarly discussion concerning his work and more.
Concise entries and illustrations of the 37 paintings currently given to Vermeer, including the disputed attributions. Preceded by a capsule biography.
Purchase of the volume provides the buyer with exclusive access to a website with high-resolution images of the complete paintings.
price:
€39.90
languages:
Dutch (Ludion, Antwerp), French (Hazan, Paris) and English (UK: Thames & Hudson, London - US: Abrams, New York)


Major Vermeer exhibition planned for Dublin, Paris and Washington
Vermeer and the Masters of Genre Painting: Inspiration and Rivalry
22 February - 22 May, 2017
Musée du Louvre, Paris
The Musée du Louvre, Paris, the National Gallery of Ireland, Dublin, and the National Gallery of Art, Washington, are staging a landmark exhibition that explores the network of relationships among Dutch genre painters of the period 1650–1670..
Vermeer and the Masters of Genre Painting: Inspiration and Rivalry will afford visitors and scholars insights into how Vermeer and contemporary painters of scenes of everyday life admired, inspired and rivaled each other.
Affluent Dutch citizens, who styled themselves as liefhebbers (lovers of art), were expected to be able to compare paintings, recognize artists' hands and point out stylistic and thematic borrowings from other artists. This exhibition invites visitors to take on the role of seventeenth-century art lovers and compare small groups of paintings that reflect the cross-currents of inspiration. Exhibition visitors will also be able to observe how each artist had a particular ways of inserting and disguising his borrowings, trying to surpass the others in verisimilitude, technical prowess and aesthetic appeal. This vibrant artistic rivalry contributed to the exceptionally high quality of their combined oeuvre.
The exhibition and accompanying catalogue benefits from an extensive research program, which will include a website that is currently being developed in collaboration with the Netherlands Institute for Art History (RKD), The Hague.
Twelve Vermeer paintings will be exhibited.
curators:
The exhibition's curatorial team is comprised of Adriaan E. Waiboer, Curator of Northern European Art, National Gallery of Ireland, Dublin; Arthur K. Wheelock Jr., Curator of Northern Baroque Painting, National Gallery of Art, Washington; and Blaise Ducos, Curator of 17th-and 18th-century Dutch and Flemish paintings, Musée du Louvre, Paris.
catalogue:
The exhibition and accompanying catalogue
benefits from an extensive research program, which will include a website currently under development in collaboration with the RKD. This website will chart and illustrate painters' responses to each other's stylistic and thematic innovations. Currently, already over 1250 paintings are represented in the database RKDImages, which will be linked to each other on the basis of artistic relations, visualizing the exchange of artistic motives between the several artists. A technical research project, led by Melanie Gifford, Conservation Scientist at the National Gallery of Art, presently examines the exchanges of painting techniques and materials among Dutch genre painters of the period 1650–1675.
website:
The Connect Vermeer research project website for the National Gallery of Ireland
The exhibition partners, in collaboration with the Netherlands Institute for Art History (RKD) have undertaken a research project addressing the interconnectivity between the seventeen principal genre painters and their works of art. Lead by the National Gallery of Ireland, the aim of the project is to share the research results with the public on a website, which will be launched to coincide with the opening of the exhibition in the Musée du Louvre in February 2017.
This website will chart and illustrate painters' responses to each other's stylistic and thematic innovations. A technical research project, led by Dr Melanie Gifford, Conservation Scientist at the National Gallery of Art presently examines the exchanges of painting techniques and materials among Dutch genre painters of the period 1650–1675.
film:
A documentary film, entitled, Vermeer - The Man His Time His World, is currently in production, to be released in 2017 as one of the events associated with the National Gallery of Ireland's exhibition Vermeer and the Masters of Genre Painting: Inspiration and Rivalry. The film is directed by Jean-Pierre Cottet and produced by James Mitchell, as a co-production between iO Production (Paris) and Soho Moon Pictures (Dublin), with the support of Arté in France, PBS in USA, and RTÉ, Ireland's public service broadcaster. It will be broadcast on RTÉ One Television next summer to coincide with the exhibition during its run here.
AT THE LOUVRE
exhibition album:
Co-published by Musée du Louvre Éditions and Somogy Éditions d'Art. 48 pages, 50 illustrations, €8
documentary:
Vermeer's Revenge
Directed by: Jean-Pierre Cottet and Guillaume Cottet
Jointly produced by: ARTE France, Martange Production, Soho Moon Pictures, Musée du Louvre
lectures:
February 23, 2017 at 12:30 p.m. and 6:30 p.m.
Presentation of the exhibition (in French)
Blaise Ducos, Musée du Louvre
March 2, 9, 16, and 30, 2017 at 6:30 p.m.
"Understanding Vermeer—"The Sphinx of Delft""
"From "Drolleries" to Interior Scenes: the Birth and Beginnings of Dutch Genre Painting"
Sabine van Sprang, Royal Museums of Fine Arts of Belgium, Brussels (March 2)
"The Fabric of Society: Fashion in the Republic (1650–1680)"
Bianca du Mortier, Rijksmuseum, Amsterdam (March 9)
"Johannes Vermeer's Milkmaid"
Blaise Ducos, Musée du Louvre (March 16)
"Vermeer Forgeries"
Jonathan Lopez, art historian and writer, New York (March 30)
PRATICAL INFORMATION / AUDITORIUM
Information: +33 (0)1 40 20 55 55, Monday to Friday, 9 a.m. to 7 p.m., or online : www.louvre.fr
Tickets: In person: Auditorium ticket windows; Telephone: +33 (0)1 40 20 55 00;
Online: www.fnac.com
other venues:
National Gallery of Ireland, Dublin
17 June - 17 September 2017
http://www.nationalgallery.ie/en/Exhibitions/Upcoming/Vermeer.aspx
National Gallery of Art, Washington DC
22 October 2017 - 21 January 2018


Mauritshuis app for Vermeer's Girl with a Pearl Earring
New App Reveals Secrets of Girl with the Pearl Earring
from Mauritshuis press release:
The Mauritshuis and Madpixel show Seventeenth Century Masterpieces as Never Before
THE HAGUE, 10 November 2016
As of today a brand new app, Second Canvas Mauritshuis, renders Vermeers Girl with the Pearl Earring and The Garden of Eden by Brueghel and Bosch to zoom in on the brushstrokes of the paintings in Gigapixel. This is the first app in the world to offer Gigapixel integrated infrared images, which take users below the surface a painting revealing to layers and millimeter-sized details that are not normally visible to the naked eye. The Mauritshuis has joined forces with an innovative digitisation company, Madpixel, to bring part of the collection to a broader audience in an entirely new way.
Second Canvas Mauritshuis takes users on a voyage of digital discovery through a selection of the museum's masterpieces and introduces the artworks in an interactive way. It harnesses high resolution technology to zoom in on the brushstrokes, thereby revealing a level of detail in famous paintings that are otherwise invisible. It features an audio tour, which directs the eye to important aspects of the work, and can also be used to share the details directly via social media. Next to the Girl with the Pearl Earring by Vermeer and The Garden of Eden by Brueghel and Bosch, the app presents eight other works of the Mauritshuis collection by Rembrandt, Rubens, Brueghel, Avercamp, Steen and others in high-resolution.

Practical Information The Second Canvas Mauritshuis app is downloadable from the App store and Google Play at a cost of €1.99. It is available in English and Dutch, for iPad, iPhone, Android and AppleTV.
Download the app in AppStore
Download the app in GooglePlay


Madpixel The Mad Pixel Factory is a Spanish company specialized in digital solutions for museums and institutions managing artistic and cultural heritage. Founded in 1999 and headquartered in Madrid, it has taken part in scores of innovative projects with other leading national and international companies providing creativity, design and technology as part of its work. More information: www.madpixel.es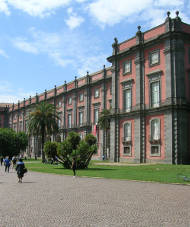 Vermeer's Woman Playing a Lute travels to Naples
Naples, Pinacoteca di Capodimonte
21 November - 9 February, 2016
Vermeer's Woman with a Lute will be on exhibition at the Pinacoteca di Capodimonte in Naples.To highlight the artistic relationships between the Netherlands and Italy in the seventeenth century. various works from the museum's collection of analogous subject matter will be shown. These include three representations of Santa Cecilia, the patron of musicians, by the Italian painters Bernardo Cavallino, Carlo Sellitto and Francesco Guarino.


Vermeer's Woman in Blue Reading a Letter travels down under to Sydney
Rembrandt and the Dutch Golden Age: Masterpieces from the Rijksmuseum
Art Gallery of New South Wales, Sydney
Nov. 11, 2017 – Feb. 18, 2018
https://www.artgallery.nsw.gov.au/exhibitions/rembrandt/
from the gallery website:
The Rembrandt and the Dutch Golden Age exhibition at the Gallery is devoted to the greatest Dutch painters of the 17th century and the flourishing artistic culture of the time.
This is a rare opportunity for Sydney audiences to experience 77 outstanding works of art by Rembrandt, Vermeer, Ruisdael, Hals, Steen, Dou, Lievens and Leyster— each masters of their respective genres—drawn from the Rijksmuseum, Amsterdam, the great national collection of the Netherlands.
Rembrandt and the Dutch golden age presents a richly unfolding panorama of Dutch society in an era of unparalleled wealth, maritime power and cultural confidence. Vivid and compelling, the paintings encompass the tranquil Dutch landscape, the colorful life of the cities, Dutch society and morality, ships on the high seas and the characterful people who made the Dutch Republic such a success.
Vermeer's Girl with a Wineglass returns to Herzog-Anton Ulrich Museum in Braunschweig
Johannes Vermeer's Girl with the Wine Glass at the Herzog-Anton Ulrich Museum in Braunschweig will back to its place in the museum, which will reopen on 23 October 2016, after seven years renovation.
Due to renovation was the Herzo- Anton Ulrich Museum closed for years in Braunschweig, Lower Saxony. Some of the masterpieces from the collection, including Vermeer's Girl withg a WIneglass were housed in a gallery of the Danwarderode castle in the same city.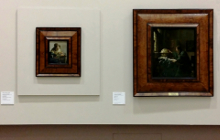 Two Louvre Vermeers again on display
Due to restoration of the Louvre, the museums's two Vermeers (The Astronomer and The Lacemker) are currently on display in a new gallery (Flanders and Holland 17th C.) - Room 20, Sully Wing (second floor), closest lift/elevator is G.
(Information and image kindly provided by Brian.S.)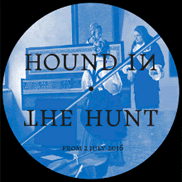 Vermeer-related installation at the MONA, Hobart, Australia
HOUND IN THE HUNT
Museum of Old and New Art
Hobart, Australia
beginning July 2, 2016
Did Vermeer use the comparator mirror to paint?
The Museum of Old and New Art in Hobart, Australia is currently staging an installation which explores the presumed use of optical devices by various seventeenth-century painters in order to reach the astonishing illusionist qualities their works
The exhibition centers around a simple optical device invented by the American businessman Tim Jension, called the comparator mirror, which Jenison claims may have allowed these painters to copy the forms, colors and tones of nature directly to their canvases, bypassing traditional methods (see Tim's Vermeer, 2013).
In a series of innovative experiments 10 contemporary painters will test various applications of the Jenison's comparator mirror to recreate such works as Vermeer's Girl with Red Hat, Caravaggio's Supper at Emmaus and a still-life by Willem Claesz. Heda's from reconstructed settings and live models, all of which on public view.
Jonathan Janson, painter and author of the Essential Vermeer website, will paint two versions of Vermeer's A Lady Standing at a Virginal from a full scale mock-up of the picture's scene. The first will be executed using traditional painting procedures and with the aid of a booth- type camera obscura (as proposed by Philip Steadman), and the second using Jension's comparator mirror. It is hoped that by comparing the finished works executed within a controlled experimental conditions light may be shed light on to what extent Vermeer might have employed optical devices in his work.
The exhibition is accompanied by a richly illustrated catalogue that presents two contrasting essays. In the first, Jension explains his innovative hypothesis via a lively, first-person discovery trip while in the second Janson attempts to illustrate how Vermeer worked with a camera obscura while remaining largely within the bounds of traditional studio procedures. Janson also makes some considerations on Vermeer's peculiar brand of realism with a few comments on Jenison's device.
catalogue:
http://shop.mona.net.au/auxiliary/Reserve.aspx?p=16123
museum address and opening hours:
Museum of Old and New Art
655 Main Road Berriedale
Hobart Tasmania 7011, Australia
opening hours:
Wed-Mon
10 am-5 pm
Open every day in January
contact:
+61 (3) 6277 9900
info@mona.net.au
collateral event:
In conjunction with our Hound in the Hunt gallery experiments, Cinemona presents Tim's Vermeer, the feature documentary that introduced most of us to Tim Jenison. Once described as the "'ultimate geek documentary,"' the film pays patient, passionate attention to Jenison's investigative processes, their technical details and the delights of discovery. You may or may not be convinced by Tim's premise—that Vermeer was aided by novel optical instruments—but you will want him to succeed in his ultimate goal of painting a Vermeer himself.
FREE WITH MUSEUM ENTRY (NO BOOKING REQUIRED)
2 pm every Sat, Mon, Thur until 21 July, then 24, 25, 27 July
11.30 am every Sun, Wed, Fri, until 22 July, then 28 July – 1 August
Cinemona will also screen The Hound Pack, a selection of short films detailing Jenison's investigations, from 10.30am Wednesday – Monday. Details at the venue, or on the O.
USA | 2013 | 80 mins
A Penn and Teller Film
Produced by Penn Jillette
Directed by Teller
Consumer advice: infrequent coarse language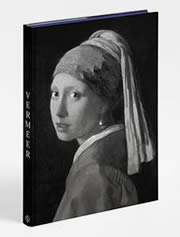 Classic Vermeer monograph reissued by Phaidon
Vermeer
by Ludwig Goldscheider
11 April, 2016
http://it.phaidon.com/store/art/vermeer-9780714869681/
Phaidon Press celebrates one of the greatest painters of the Dutch Golden Age with a luxurious, large-format image book originally published in 1958. This sumptuously produced volume features full-colour reproductions of all 36 surviving works by the artist, along with numerous details that reveal the exquisite complexity of his paintings.
An updated essay for the 1958 edition by Ludwig Goldscheider, co-founder of Phaidon Press, is accompanied by a new preface from Dutch painting specialist Wayne Franits, putting Vermeer into a contemporary context. Elegant design, fine papers and tipped-on image plates make this a true collector's edition.
120 color illustrations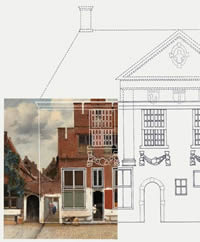 Frans Grijzenhout proposes new location of Vermeer's Little Street.
Philip Steadman argues there is a better fit.
Frans Grijzenhout has recently proposed that Vermeer's The Little Street shows houses at 40 and 42 Vlamingstraat in Delft. His theory is the subject of a current exhibition at the Rijksmuseum in Amsterdam. Philip Steadman, author of Vermeer's Camera, argues the case for an alternative location on the Voldersgracht. Steadman's case is supported with contemporary maps, drawings and a 19th century photograph.
Click here to read Steadman's illustrated article.

New Vermeer monograph
Vermeer: The Complete Works

Karl Schütz
December 5, 2015
from the Taschen website:
The Dutch Republic in the 17th century was home to one of the greatest flowerings of painting in the history of Western art. Freed from the constraints of royal and church patronage, artists created a rich outpouring of works that circulated through an open market to patrons and customers at every level of Dutch society. The closely observed details of daily life captured in portraits, genre scenes and landscapes offer a wealth of information about the possessions, activities and circumstances that distinguished members of the social classes, from the nobility to the urban poor. The dazzling array of paintings gathered here—by artists such as Frans Hals, Jan Steen, Pieter de Hooch and Gerrit ter Borch, as well as Rembrandt and Vermeer—illuminated by essays from leading scholars, invites us to explore a vibrant early modern society and its reflection in a golden age of brilliant painting.
This XL edition brings together the complete catalog of Vermeer's work, presenting the calm yet compelling scenes so treasured in galleries across Europe and the United States into one monograph of utmost reproduction quality. With brand new photography of many works, Vermeer's restrained but richly evocative repertoire of domestic actions – ranging from letter writing to music making to preparations in the kitchen – unfolds in a generous format, including three fold-out spreads. Numerous details emphasize the artist's remarkable ability not only to bear witness to the trends and trimmings of the Dutch Golden Age but also to encapsulate an entire story in just one transient gesture, expression, or look.
also available at: amazon.com