Ongoing and Upcoming Vermeer-Related Events
last update: July 5, 2017
On this page are listed exhibitions, conferences, multimedia events and publications of the recent past which are closely related to the life and/or work of Johannes Vermeer.
Click here to see Vermeer-related events of the past.
Click here to view a sortable table of all past, ongoing and future Vermeer exhibitions.
Be there when it happens, keep track of all Vermeer things with these online resources.

Receive news about Vermeer-related events such as exhibitions, publications or multi-media events as well as significant Essential Vermeer site updates. Click here to subscribe free of charge.
http://www.essentialvermeer.com/b_form.html

Stop in, find the latest news, see the latest pictures and leave a comment of the Essential Vermeer Facebook page. https://www.facebook.com/pages/Essential-Vermeer/133691276693957
CODART provides a list of current, upcoming and past Flemish and Dutch related exhibitions, a newsletter and much more. https://www.codart.nl/guide/exhibitions/

EUROMUSE.NET is a public access portal giving accurate information on major exhibitions in European museums. Each museum's information is available in the native language and in English.
http://www.euromuse.net/
Major Vermeer exhibition in Washington D.C.
Vermeer and the Masters of Genre Painting: Inspiration and Rivalry
National Gallery of Art, Washington D. C.
October 22, 2017 – January 21, 2018
https://www.nga.gov/content/ngaweb/exhibitions/2017/vermeer-and-the-masters-of-genre-painting.html
The National Gallery of Ireland, Dublin is staging a landmark exhibition that explores the network of relationships among Dutch genre painters of the period 1650–1670.
Vermeer and the Masters of Genre Painting: Inspiration and Rivalry will afford visitors and scholars insights into how Vermeer and contemporary painters of scenes of everyday life admired, inspired and rivaled each other.
Affluent Dutch citizens, who styled themselves as liefhebbers (lovers of art), were expected to be able to compare paintings, recognize artists' hands and point out stylistic and thematic borrowings from other artists. This exhibition invites visitors to take on the role of seventeenth-century art lovers and compare small groups of paintings that reflect the cross-currents of inspiration. Exhibition visitors will also be able to observe how each artist had a particular ways of inserting and disguising his borrowings, trying to surpass the others in verisimilitude, technical prowess and aesthetic appeal. This vibrant artistic rivalry contributed to the exceptionally high quality of their combined oeuvre.
The exhibition and accompanying catalogue benefits from an extensive research program, which will include a website that is currently being developed in collaboration with the Netherlands Institute for Art History (RKD), The Hague.
Admission is always free and passes are not required.
Ten Vermeer paintings will be exhibited:
exhibition checklist:
https://www.nga.gov/content/dam/ngaweb/press/exh/3799/3799-list.pdf
curators:
This exhibition is curated by Arthur K. Wheelock Jr., curator of northern baroque paintings, National Gallery of Art, Washington; Adriaan E. Waiboerr, head of collections and research, National Gallery of Ireland, Dublin; and Blaise Ducos, curator of Dutch and Flemish paintings, Musée du Louvre, Paris.
catalogue:
The exhibition and accompanying catalogue benefits from an extensive research program, which will include a website currently under development in collaboration with the RKD. This website will chart and illustrate painters' responses to each other's stylistic and thematic innovations. Currently, already over 1250 paintings are represented in the database RKDImages, which will be linked to each other on the basis of artistic relations, visualizing the exchange of artistic motives between the several artists. A technical research project, led by Melanie Gifford, Conservation Scientist at the National Gallery of Art, presently examines the exchanges of painting techniques and materials among Dutch genre painters of the period 1650–1675.
purchase catalogue at:
https://shop.nga.gov/item/729106p/vermeer-and-the-masters-of-genre-painting-exhibition-catalog/1.html
lecture:
Vermeer and the Masters of Genre Painting: Inspiration and Rivalry
October 22 at 2:00
East Building Auditorium
lecture
Innovation, Competition, and Fine Painting Technique: Marketing High-Life Style in the Dutch 17th Century
October 30 at 12:10 and 1:10
East Building Auditorium
teacher workshop:
Vermeer and the Masters of Genre Painting: Inspiration and Rivalry
November 8 at 4:30 to 7:30 pm
Advance registration is required
lecture:
More than Mimicry: The Parrot in Dutch Genre Painting
November 20 at 12:10 and 1:10
East Building Auditorium:
lecture:
Time and Temporality in Seventeenth-Century Dutch Genre Painting
December 18 at 12:10 and 1:10
West Building Lecture Hall
lecture:
Johannes Vermeer: An Artist of His Time Yet Timeless
January 7 at 2:00
East Building Auditorium
concert:
Piffaro, The Renaissance Band
January 21 at 3:30
West Building, West Garden Court
film:
A documentary film, entitled, Vermeer - The Man His Time His World, is currently in production, to be released in 2017 as one of the events associated with the National Gallery of Ireland's exhibition Vermeer and the Masters of Genre Painting: Inspiration and Rivalry. The film is directed by Jean-Pierre Cottet and produced by James Mitchell, as a co-production between iO Production (Paris) and Soho Moon Pictures (Dublin), with the support of Arté in France, PBS in USA, and RTÉ, Ireland's public service broadcaster. It will be broadcast on RTÉ One Television next summer to coincide with the exhibition during its run here.
other venue:
National Gallery of Art, Washington D.C.
22 October 2017–21 January 2018
In the News
February 21, 2017 - The Guardian (Jonathan Jones)
Vermeer and the Masters of Genre Painting review – the birth of the cool
March 8, 2017 - Hyperallergic
Louvre Security Staff Threaten To Strike as Blockbuster Vermeer Show Causes Disarray
March 9, 2017- New York Times
Louvre Attendants Strike After Vermeer Bottleneck
March 4, 2017 - Essential Vermeer
Vermeer and the Masters of Genre Painting review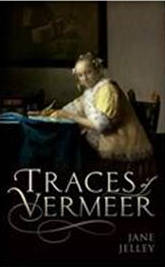 New study of Vermeer's painting technique
Traces of Vermeer
by Jane Jelley
27 July, 2017
https://global.oup.com/academic/product/traces-of-vermeer-9780198789727?cc=it&lang=en&
from Oxford University press release:
Jane Jelley has taken a new path in this detective story. A painter herself, she has worked with the materials of his time: the cochineal insect and lapis lazuli; the sheep bones, soot, earth and rust. She shows us how painters made their pictures layer by layer; she investigates old secrets; and hears travelers' tales. She explores how Vermeer could have used a lens in the creation of his masterpieces, and made some experiments in her own studio to transfer images from projections directly to a canvas. She has found a reliable solution that corresponds to the scientific examination of Vermeer's work, which provides answers to some of the puzzles he left behind.
The clues were there all along. After all this time, now we can unlock the studio door, and catch a glimpse of Vermeer inside, painting light.
Jane Jelley is a painter of still life and landscape who became interested in the unusual technical qualities of Vermeer's painting, and in the arguments about whether or not he might have used a camera obscura in his work. Jane lives and works in Oxford. More information about Jane and her work can be found on tracesofvermeer.com.
Vermeer's Girl Reading a Letter at an Open Window begins resoration
In March, 2017, the Gemäldegalerie Alte Meiste of Dresden removed Vermeer's Girl Reading a Letter at an Open Window from the permanent exhibition in order to begin the restoration of the picture. The procedure will accompanied by an expert commission of five restorers and scientists from Dresden, Amsterdam, Copenhagen and Vienna. It is assumed that the restoration will last approximately one year.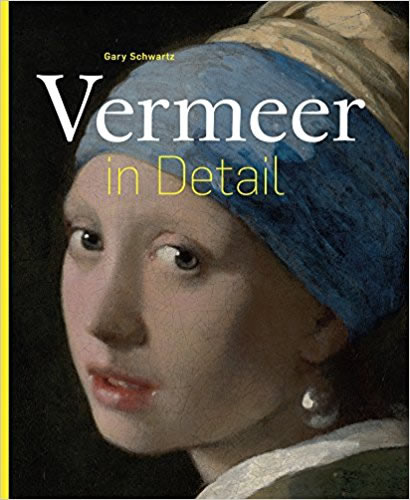 New in-detail Vermeer monograph by Gary Schwartz
Vermeer in Detail
by Gary Schwartz
March, 2017
An excellent introduction to the art of Johannes Vermeer based on 120 large and lavish details from his work. Each is provided withrefreshing commentary, covering subject matter, technique and modes of picture-making, the origins of the objects he paints, comparisons of motifs, scholarly discussion concerning his work and more.
Concise entries and illustrations of the 37 paintings currently given to Vermeer, including the disputed attributions. Preceded by a capsule biography.
Purchase of the volume provides the buyer with exclusive access to a website with high-resolution images of the complete paintings.
price:
€39.90
languages:
Dutch (Ludion, Antwerp), French (Hazan, Paris) and English (UK: Thames & Hudson, London - US: Abrams, New York)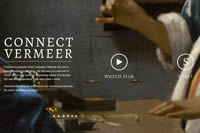 Vermeer-related website
Connect Vermeer
http://www.connectvermeer.org/
from the website:
In conjunction with the Vermeer and the Masters of Genre Painting: Inspiration and Rivalry exhibitive, the Connect Vermeer website grew out of a research project conducted by the National Gallery of Ireland in collaboration with the Netherlands Institute for Art History (RKD).Through a series of interactive visualisations, Connect Vermeer allows users to discover the network of connections between Vermeer and his sixteen contemporaries. Users can discover the strength and likelihood of relationships between the seventeen artists, the impact of an individual artist's paintings on the work of his contemporaries, as well as how artists adopted, adapted and disguised elements, from their peers' work, in their own paintings.
Vermeer-related documentary
Vermeer-Beyond Time
directors: Jean-Pierre Cottet & Guillaume Cottet
opening in Dublin on June 17, 2017 and runs through to September 17.
A new feature documentary, VERMEER, BEYOND TIME will be released in cinemas this month ahead of the major Vermeer exhibition at the National Gallery of Ireland entitled Vermeer and the Masters of Genre Painting: Inspiration and Rivalry which opens on June 17.
French filmmaker Jean-Pierre Cottet adopts an imaginative and sensitive approach to his subject focusing on the work itself but also choosing to explore Vermeer's family life including his conversion to Catholicism, his artistic contemporaries and the wider world of the short-lived Dutch Golden Age of the 17th Century.
RTÉ will screen the documentary in early June. After this, the DVD will be available for purchase. More details about the screenings and sales points for the DVD to follow.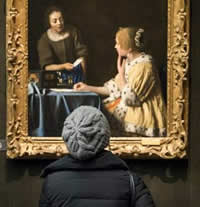 Video Stream of Vermeer-related lecture at the Frick Collection in New York
Using Computed Weave Maps to Gain Art-Historical Insight from Vermeer's Canvases
by Dr. C. Richard Johnson, Jr. (Cornell University)
https://livestream.com/frickcollection/events/7346479/videos/155453918
from the Frick Collection website:
The Thread Count Automation Project (TCAP) (link is external) launched by Professor Johnson in 2007 discovered striped patterns in color-coded images of local thread densities obtained from digital image processing of x-radiographs of Old Master paintings on canvas. These striped patterns provide a "fingerprint" for pieces of canvas cut from the same roll. This spurred a four-year effort assisted bythe late Walter Liedtke, one of the world's leading scholars of Dutch and Flemish paintings, to gather x-radiographs of all thirty-four paintings on canvas by Vermeer. Six matching pairs of roll-mates have been identified thus far that provide evidence regarding authentication, dating, and—potentially—artistic intent. In addition to weave density maps, images were created of thread angle from their nominal horizontal and vertical directions. These angle maps provide forensic information regarding warp/weft thread designation and cusping, which offers insight into Vermeer's studio practice and the possible re-sizing of his paintings since their creation. The insights generated by computed weave maps arising from the application of digital image processing are pioneering contributions from engineering to the emerging field of computational art history.
Essential Vermeer website addition
Vermeer-related Artworks
November 29, 2016
click here to access
Click on the thumbnails or the titles of the paintings to access the relative works page for that work.
Click on the thumbnail images to access a higher resolution image.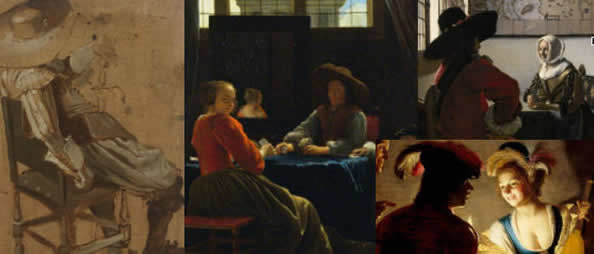 Rather than attempting to establish direct links between Vermeer and specific artworks of his time, the goal of this web article is to trace the evolution of both the themes and compositions which can be associated with each painting by Vermeer, before and after it was presumably executed. Therefore not only works traditionally linked to Vermeer's paintings are listed but a broad range of artworks which a range from Classical times to the 20th century.
Hopefully, this approach will provide useful information not only for the seasoned art historian but for a wider readership. Some of the pictures, like Vermeer's Woman with a Lute, unravel like a film, exhibiting relatively few compositional inventions but many symbolic variations.
Vermeer's Woman in Blue Reading a Letter travels down under to Sydney
Rembrandt and the Dutch Golden Age: Masterpieces from the Rijksmuseum
Art Gallery of New South Wales, Sydney
Nov. 11, 2017 Feb. 18, 2018
https://www.artgallery.nsw.gov.au/exhibitions/rembrandt/
from the gallery website:
The Rembrandt and the Dutch Golden Age exhibition at the Gallery is devoted to the greatest Dutch painters of the seventeenth century and the flourishing artistic culture of the time.
This is a rare opportunity for Sydney audiences to experience 77 outstanding works of art by Rembrandt, Vermeer, Ruisdael, Hals, Steen, Dou, Lievens and Leyster— each masters of their respective genres—drawn from the Rijksmuseum, Amsterdam, the great national collection of the Netherlands.
Rembrandt and the Dutch golden age presents a richly unfolding panorama of Dutch society in an era of unparalleled wealth, maritime power and cultural confidence. Vivid and compelling, the paintings encompass the tranquil Dutch landscape, the colorful life of the cities, Dutch society and morality, ships on the high seas and the characterful people who made the Dutch Republic such a success.