Diana and her Companions
(Diana en haar Nimfen)
c. 1653–1656
Oil on canvas
98.5 x 105 cm. (38 3/4 x 41 3/8 in.)
Mauritshuis, The Hague
inv. 406

there are 9 hotspots in the image below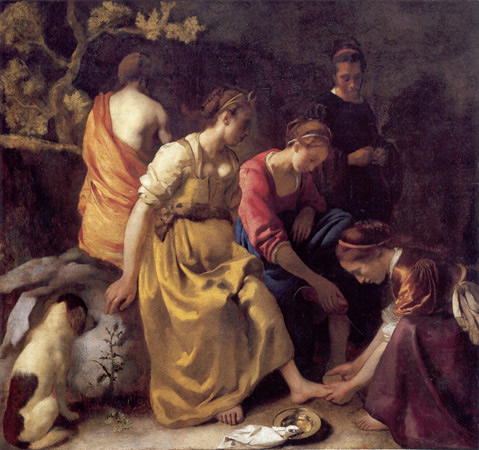 With the exception of a discreet crescent moon on her forehead and a hunting dog, Vermeer ignored most of the objects which were conventionally associated with the goddess Diana. Vermeer's dog, however, is scarcely comparable to the dashing hounds portrayed in Diana paintings of the time, and so it was probably intended to convey the more mundane connotation of faithfulness. This connotation would relate it to the right-hand background figure identified as Callisto who, instead, in Ovid's recount of the story had betrayed the Diana's trust and attempted to hide her pregnancy in order to avoid being cast out of the goddess' company. Vermeer included, but later painted out, a dog in the later A Maid Asleep, perhaps, originally intended as a symbol of fidelity.
A simple detail such as the lone thistle illustrates how tricky it has been for scholars to interpret the symbolic content of a 17th-century painting.
Walter Liedtke suggested that the thistle symbolizes self-denial and the hard but noble path of life citing a detail of Frans Hals' famous Married Couple in the Garden, in which an exceptionally large thistle occupies the lower right-hand corner of the composition. Supporting evidence is provided by the title print of Jacob Cats' Houwelyck (Marriage) of 1652 which reads, "The couple in the engraving accompanied by faithful hounds, have taken the narrow and prickly path once chosen by Hercules at the Crossroads of Virtue and Vice." On the other hand, for John Michael Montias, the thistle plant indicates the male element alluding in Vermeer's work to the impending presence of Actaeon, the protagonist of the story. "The idea of hinting at the nearby presence of a protagonist will often recur in Vermeer's mature art. In this particular case, the formal absence of Actaeon from the scene contributes to the mysterious aura of the painting, in contrast to the earlier tradition of representing Actaeon spying on the goddess and her nymphs or happening upon them." Differently, Arthur K. Wheelock Jr. points out that the thistle is a traditional symbol of earthly sorrow and tribulation which is of Christian, rather than mythological origins. God condemned Adam for his disobedience: "Cursed is the ground for thy sake; in sorrow thou shall eat it for all the days of thy life; thorns and thistles shall bring it forth to thee." (Genesis 3:17-18). Consequentially, "Vermeer may have included this plant as a symbolic element precisely because he wanted to fuse mythological and Christian traditions."
The thistle also symbolized labor, which, in Calvinist ethics, had already gained considerable currency in the Netherlands. It was also an ancient Celtic symbol of nobility of character as well as of birth.
The brass water basin contains water and a cloth with which one of the nymphs washes Diana's feet after the day's hunt. The basin had Christian overtones of the cleansing of the soul although it was also associated with death. It is, perhaps, the only detail in the painting which shows an interest in rendering texture, which at the time was a virtual obsession among Dutch painters.
The 1999–2000 restoration of the present work revealed important alterations which have occurred over time and have modified Vermeer's original pictorial concept. It was discovered that the conventional blue sky, well known through reproductions, is not original, but 19th-century (see left). Experts had no difficulty in determining that the passage was not by Vermeer's hand because it contained two pigments that were unavailable when Vermeer was active; Prussian blue, invented in 1704, and chrome green, invented about 1840. However, the task of restoring the false sky presented an extra challenge because the blue paint could not be removed without damaging the underlying paint layer. The restoration team decided that the best approach was to overpaint the whole sky with a dark neutral tone which would match the color and type of paint found in the modeling of the trees, which they considered integral.
It was also discovered that canvas has been also been trimmed along the left-hand side after it left the artist's studio. The kneeling figure to the right once fit almost entirely within the composition.
Based on Ovid's description in the Metamorphoses (Book II, 401–503), this figure, with downcast eyes, has been identified as Callisto, who feared that her pregnancy would be discovered by the virgin goddess Diana. After she was discovered, Callisto was banished and transformed into a bear. The great shaggy creature wandered through the forest confused and frightened. One day she came across her son, Arcas. Overjoyed, Callisto sprang forward to embrace him. The boy did not know she was his mother and raised his hunting spear to strike. Zeus, looking down from the heavens, was moved by pity and before the youth could do any harm snatched them both up and transformed them into stars. Callisto became known as the Great Bear, or Ursa Major, and her son as Little Bear, or Ursa Minor. Callisto's buttoned-up 16th-century dress distinguishes her from the other nymphs who are clad in with the looser attire, more in keeping with the history painting mode.
Vermeer's portrayal of Diana is highly unusual for the time. The figure of Diana, the virgin goddess of hunting who personifies chastity, can only be identified by a small crescent moon on her forehead. She sports neither bow and arrow nor dead game to signal her formidable ability as a huntress. Vermeer has presented both Diana and her entourage clothed rather than nude, as they conventionally appeared in paintings of this theme. Diana stands absorbed in meditative calm without a trace of her feared temper.
According to the art historian Celeste Brusati, the young Vermeer may have intended to put himself and his viewers into Actaeon's place as illicit beholders. Lest we fail to note that substitution, Vermeer has included subtle reminders of Actaeon's tragic fate in the form of the dog gazing at a thistle, a traditional symbol of transience.
Like that of the great Amsterdam master Rembrandt, Vermeer's treatment of the female figure is full of tenderness and sympathy, traits that would become a hallmark of Vermeer's art. The cut of the satin garment seems to suggest contemporary fashion and its color may even anticipate Vermeer's life-long fascination with the yellow, which he later repeated when painting the voguish, fur-trimmed morning jackets typical of his interior scenes. Art critics hold that the sweeping brushwork of the gown of Diana is reminiscent of Venetian Renaissance painting, although its clumsy handling clearly suggests the young painter's less than expert command of the brush. Nonetheless, a certain broadness of modeling and brushwork would always distinguish Vermeer from the fijnschilder (fine painters), whose themes, compositions and techniques would later influence the painter. Even though Vermeer's mature paintings are far more descriptive and detailed than the present Diana, he never attempted to compete with the truly microscopic attention to detail that characterized that school.
Vermeer chose to cast his only surviving mythological painting in a pseudo-antique atmosphere by elongating Diana's dress and wrapping the back of the turned figure with a piece of anonymous orange drapery. It was a common practice for history painters to draw on costumes painted in the past. The painter and art writer Karel van Mander recommended the prints of Lucas van Leyden as an excellent resource for historic costumes. Dutch costume expert Marieke van Winkel observes that, "In these, as with all his other prints, one sees pleasant variations of faces and costumes after the old styles: hats, caps and headdresses which for the most part, differ one from another, so that in Italy the great masters of our own time have been able to profit greatly from his works in that they have borrowed from them and applied things in their own works, with occasional small variations."
In 1670, Willem Goeree advised artists to make themselves familiar with old costumes and to acquire knowledge of "antique" clothes and ornaments such as turbans, caps, bonnets and arms. The great Rembrandt was known to have kept a sizable collection of exotic clothes and accessories for his history paintings.
Of the four Nymphs, only Callisto in the upper right can be identified by name. It is curious that Vermeer chose to portray three of them fully clad since painters had enthusiastically exploited the theme to explore for its potentially erotic content.
It is hard to dismiss the feeling that the young Vermeer was not entirely comfortable with nudity and had we not known that the upper left-hand figure with the back to the viewer was a nymph, it would have been difficult to determine her sex.
Vermeer chose to cast his only mythological painting in a pseudo-antique light by elongating Diana's dress and by wrapping the back of the turned figure with a piece of anonymous orange drapery.
Titian's Diana and Callisto, probably the most noted interpretation of the theme, could not have been directly seen by the young artist but prints of it circulated throughout Europe.
It was not uncommon to drawn on costumes painted in the past. Painter and art writer Karel van Mander recommended the prints of Lucas van Leyden as an excellent resource for historic costumes. Dutch costume expert Marieke van Winkel observes that, "In these, as with all his other prints, one sees pleasant variations of faces and costumes after the old styles: hats, caps and headdresses which for the most part, differ one from another, so that in Italy the great masters of our own time have been able to profit greatly from his works in that they have borrowed from them and applied things in their own works, with occasional small variations."
In 1670, Willem Goeree advised artists to make themselves familiar with old costumes and habits and to acquire knowledge of "antique" clothes and ornaments such as turbans, caps, bonnets and arms. In particular, the great Rembrandt went to great lengths to attain authenticity of historical detail and is known to have kept an extraordinary collection of exotic clothes and accessories.
The pose of the kneeling nymph strongly recalls a figure in the composition of the same theme by Jacob van Loo (see left). By the middle of the 17th century, Van Loo had made a name for himself in Amsterdam and elsewhere. In 1649, Constantijn Huygens, the legendary art connoisseur and secretary to the stadtholder Frederick Hendrik, added Van Loo's name to a list of artists under consideration to decorate the prestigious newly constructed Huis ten Bosch palace near The Hague. Van Loo's artistic standing is further demonstrated by his mention alongside Rembrandt and Govert Flinck in a poem written by Jan Vos in 1654.
Vermeer lived a forty-minute walk from The Hague, and was no doubt familiar with the classical style painting in vogue with the noble court which resided there.
TEN
ELEVEN
TWELVE
THIRTEEN
FOURTEEN
FIFTEEN
SIXTEEN
SEVENTEEN
EIGHTEEN
NINETEEN
TWENTY
The Italianate subject and style of "Diana," with its size and comparatively conventional facture, have inspired general agreement that this is a very early picture, perhaps the first by the painter that we have. In the case of Vermeer such indications are not always reliable.
Lawrence Gowing, Vermeer, 1952
this signature is no longer visible after overzealous restorations, but was still reproduced in the 1859 catalogue of the Mauritshuis
1654–1656
Albert Blankert, Vermeer: 1632–1675, 1975
c. 1655–1656
Arthur K. Wheelock Jr., Vermeer: The Complete Works, New York, 1997
c. 1653–1654
Walter Liedtke, Vermeer: The Complete Paintings, New York, 2008
c. 1653–1654
Wayne Franits, Vermeer, 2015
The support is a plain-weave linen with a thread count of 14.3 x 10 per cm². The tacking edges have been largely removed. Cusping is present on three sides, but not on the edge, which has been cut down. The support has a glue/ paste lining. An off-white ground, which includes chalk, lead white, umber, and a little charcoal black, extends from the edges of the original canvas on all sides. Over the whole painting, except possibly in the sky, extends a thin, transparent reddish brown layer, which is employed in most half-tones and shadows.
The composition was first outlined with dark brown brushwork, some of which is visible as pentimenti in the skirt and foot of the woman washing Diana's foot. All the shadows were first blocked in with a dark paint that is especially evident in the flesh tones of Diana and her seated companions. Smalt is present in all the pale flesh tones, mixtures containing white, and the foliage. Vermeer used the handle of the brush to scratch hairs on the dog's ear.
The paint surface is abraded. Vertical lines of paint loss are evident to the left of center. Weave emphasis and squashed cupping has resulted from the lining process.
* Johannes Vermeer (exh. cat., National Gallery of Art and Royal Cabinet of Paintings Mauritshuis - Washington and The Hague, 1995, edited by Arthur K. Wheelock Jr.)
[Dirksen, The Hague, before 1866; sold to Goldsmid];
Neville Davison Goldsmid, The Hague (1866–1875);
his widow, Eliza Garey, The Hague and Paris (1875–76;
Goldsmid-sale, Paris, 4 May, 1876, no. 68 (purchased by Victor de Stuers on behalf of The Netherlands, for fl. 10,000 as by Nicolaes Maes);
1876 to Koninklijk Kabinet van Schilderijen Mauritshuis, The Hague (inv. 406).
London 1929
Exhibition of Dutch Art, 1450–1900
Royal Academy of Arts
148, no. 313, as "Diana at her Toilet"
Amsterdam 1945
Weerzien der meesters
Rijksmuseum
22, no. 133
Delft November–April, 1950
Het koninklijke kabinet 'Het Mauritshuis' in het museum 'Het Prinsenhof' te Delft
Stedelijk Museum 'Het Prinsenhof'
11, no. 26
Milan April–June, 1951
Mostra del Caravaggio e dei Caravaggeschi
Palazzo Reale
99, no. 187 and ill. 130
Zurich 1953
Hollander des 17. Fahrhunderts
Kunsthaus
72, no. 170 and ill. 27
Milan February 25–April 25, 1954
Mostra di pittura olandese del seicento
Palazzo Reale
no. 175 and ill. no. 30, as "La toletta di Diana"
Rome January 4–February 14, 1954
Mostra di pittura olandese del seicento
Palazzo delle Esposizioni
no. 175 and ill. no. 30, as "La toletta di Diana"
New York January 4–February 14, 1954
Dutch Painting: The Golden Age. An Exhibition of Dutch Pictures of Seventeenth Century
The Metropolitan Museum of Art
no. 6 and ill.
Toronto 1954–1955
Dutch Painting: The Golden Age. An Exhibition of Dutch Pictures of Seventeenth Century
Art Gallery of Toronto
plate #VI, between pages xx and xxi
Toledo (OH) January 2–February 13, 1955
Dutch Painting: The Golden Age. An Exhibition of Dutch Pictures of Seventeenth Century
Toledo Museum of Art
plate #VI, between pages xx and xxi
Oslo October 9–December 6, 1959
Fra Rembrandt til Vermeer
Nasjonalgallieret
no. 83
The Hague June 25–September 5, 1966
In het licht van Vermeer
Mauritshuis
no. 1 and ill.
Paris September 24–November 28, 1966
Dans la lumière de Vermeer
Musée de l'Orangerie
no. 1 and ill.
Tokyo October 19–December 22, 1968
The Age of Rembrandt, Dutch Paintings and Drawings of the 17th Century
National Museum of Western Art
no. 69 and ill.
Kyoto January 12–March 2, 1968
The Age of Rembrandt, Dutch Paintings and Drawings of the 17th Century
National Museum of Western Art
no. 69 and ill.
Washington D.C. 1980
Gods, Saints and Heroes: Dutch Paintings in the Age of Rembrandt
National Gallery of Art
41, 210–211, no. 54 and ill.
Detroit February 16–April 19, 1980
Gods, Saints and Heroes: Dutch Paintings in the Age of Rembrandt
National Gallery of Art
210–211 no. 54, and ill.
Amsterdam May 18–July 19, 1981
Gods, Saints and Heroes: Dutch Paintings in the Age of Rembrandt
National Gallery of Art
210–211, no. 54 and ill.
Tokyo 1984
Dutch Painting of the Golden Age of Rembrandt
National Gallery of Art
108–109, no.39 and ill.
Washington D.C. November 12, 1995–February 11, 1996
Johannes Vermeer
National Galley of Art
96–101, no. 3 and ill.
The Hague 1996
Johannes Vermeer
Royal Cabinet of Paintings Mauritshuis
96–101, no. 3 and ill.
Frankfurt February 9–April 30, 2000
Dutch Classicism in Seventeenth-Century Painting
Städelsches Kunstinstitut in Frankfurt
Rotterdam September 15, 1999–January 19, 2000
Dutch Classicism in Seventeenth-Cetnury Painting
Museum Boijmans Van Beuningen
New York March 8–May 27, 2001
Vermeer and the Delft School
Metropolitan Museum of Art
359–362, no. 64 and ill.
London June 20–September, 2001
Vermeer and the Delft School
National Gallery
359–362, no. 64 and ill.
Tokyo August 2–December 14, 2008
Vermeer and the Delft Style
Metropolitan Art Museum
168–170, no. 26 and ill.
The Hague May 12–August 22, 2010
The Young Vermeer
Mauritshuis
26–29, no. 1 and ill.
Dresden September 3–December 28, 2010
The Young Vermeer
Old Masters Picture Gallery
26–29, no. 1 and ill.
Edinburgh December 8, 2010–February, 2011
The Young Vermeer
National Gallery of Scotland
26–29, no. 1 and ill.
Tokyo June 30–September 17, 2012
Masterpieces from the Royal Picture Gallery
Tokyo Art Museum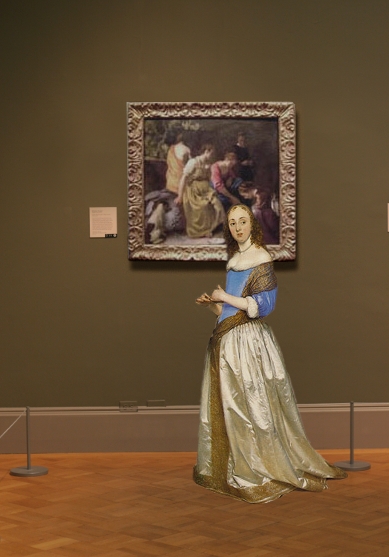 1653
vermeer's life

April 5, Johannes Vermeer registers his intentions to marry Catharina Bolnes, the youngest daughter of Maria Thins and Reynier Bolnes. The night before, the well known Delft painter Leonaert Bramer, friend of Vermeer's family, and Captain Melling state that Maria Thins had refused to give her consent in writing but states that "she would suffer the (marriage) banns be published and would tolerate it." Catharina is one year younger than Johannes. The young couple most likely went to live with Vermeer's family in the large inn bought by Vermeer's father called "Mechelen." Since Maria Thin's own marriage to Reynier Bones (when he was a prosperous brick maker) had been very troubled, she may have considered very closely the marriage of her daughter.

April 20, Johannes Vermeer and Catharina Bolnes get married in Schipluiden, a small village south of Delft about an hours walk away. The village was something of a Catholic enclave and the Jesuits were closely connected.

Maria Thins' house on the Oude Langendijk was a couple of doors away from a Jesuit "hidden church" and she had already been involved with the order in her native Gouda. She had been divorced from Reynier Bolnes and possessed a considerable wealth.

April 22, Vermeer and the elder painter Gerrit ter Borch sign a document in Delft. This document, uncovered by John Michael Montias, is the only known document that links Vermeer with any other painter.

December 29, Vermeer is registered as a member of the Guild of Saint Luke. He had been required like all other artist's to undergo a six year apprenticeship. He is unable to pay in full the entrance fee of six guilders.

dutch painting

Pieter de Hooch, the master of intimate interiors and courtyards scenes whose work is frequently associated with Vermeer's, arrives in Delft from Haarlem.

Gaspar van Wittel (d. 1736) is born in Amersfoort. In the late 1670s he moves to Italy where he becomes famous for his finely detailed views of Rome.

Willem Kalf produces sumptuously rich still lifes. He was one of the most celebrated of all sill-life painters. In 1642–1646 he worked in Paris. On his return to the Netherlands he lived in Hoorn and then in 1653 settled in Amsterdam. His early works were modest kitchen and courtyard scenes, but he soon became the outstanding exponent of a type of still life in which fruit and precious objects—porcelain, oriental rugs, Venetian glass—are arranged in grand Baroque displays. His pictures have often been compared with those of Vermeer because of his masterly handling of texture and his ability to manipulate warm and cool colors (he frequently contrasts the reddish browns in a carpet with the yellow of a peeled lemon and the blue and white of porcelain).

Jacob van Ruisdael paints Schloss Bentheim.

Gerrit ter Borch paints The Dispatch.

Jan van Goyen paints View of the Rhine.

Simon de Vlieger dies. Vlieger mainly a painter of marine subjects was active in his native Rotterdam, Delft, and Amsterdam. One of the outstanding marine painters of his period, he moved from stormy subjects in the manner of Porcellis to serene and majestic images that influenced van de Capelle and Willem van de Velde the Younger. De Vlieger also painted a few landscapes and genre pictures.

european painting & architecture

Francesco Borromini: S. Agnese in Agone, Rome. Initially Borromini worked as a stone mason under Carlo Maderno, the official architect to Saint Peter's. By 1620 he was drafting and designing. When Maderno died in 1629, Borromini joined the workshop of Bernini. Under Bernini he gained more experience as a draftsman and designer. In 1634 he began work as an independent architect with his reconstruction of the monastery and church of Saint Carlo Borromeo. Borromini's architecture "springs from the contrast between convention and freedom."

music

Sept 1, Johann Pachelbel, German organist and composer, was born. Pachelbel wrote both free works (toccatas, fantasies, fugues, etc.) and chorale settings. His development of the "cantus firmus" chorale is perhaps his greatest contribution. It consists of the chorale melody in long notes, one phrase at a time, each phrase preceded by fore-imitation in the accompanying voices. This compositional pattern influenced many other composers and eventually became a standard form.

Nov 26, Andreas Anton Schmelzer, composer, is born.

Arcangelo Corelli, Italian composer and violinist, is born. Corelli exercised a wide influence on his contemporaries and on the succeeding generation of composers. It was his skill on the new instrument known as the violin and his extensive and very popular concert tours throughout Europe which did the most to give that instrument its prominent place in music. It is probably correct to say that Corelli's popularity as a violinist was as great in his time as was Paganini's during the 19th century.

literature

Pierre Corneille retires from the theatre for six years.

John Evelyn buys Sayes Court, Deptford.

Izaak Walton, The Compleat Angler.

Arthur Wilson: The History of Great Britain, being the Life and Reign of King James I.

science & philosophy

Apr 20, Cromwell routed the English parliament.

May 18, Carel Reyniersz, Governor-General of Netherlands and East Indies, dies.

Peter Stuyvesant, governor of New Netherlands, ordered a wall built to protect the Dutch settlers from the Indians. The wall gave New York's Wall Street its name.

Admiral Tromp, Dutch hero, dies in a naval battle.

history

February 2, New Amsterdam (later renamed New York)

March 14, Battle of Leghorn: A Dutch fleet defeats the English; the Dutch commander, Johan van Galen, later dies of his wounds.

April 20, Oliver Cromwell expels the Rump Parliament.

May 24, Ferdinand IV is elected King of the Romans.

June 12–June 13, First Anglo-Dutch War - Battle of the Gabbard: The English navy defeats the Dutch fleet, which loses 17 ships.

The Taj Mahal mausoleum is completed.
1654
vermeer's life

January 10, witnessed an act in which he sigsd as "Johannis Vermeer master painter" together with a certain captain named Lambertus Morleth. Two years earlier Vermeer's name had appeared with two captains as well as with his own uncle, Lieutenant Balthens. It is presumed that Vermeer had military acquaintances.

At the end of April Vermeer again signs as a witness for a debt acknowledgement by a carpenter to a food merchant.

Vermeer does not witness the baptism of Gertruy's (his sister) child in May. This was most likely due to the artist'sconversion to Catholicism upon his marriage. Even though he was condemned to a second-class citizenship in the Protestant-dominated Delft, there are signs of public esteem and was almost certainly not actively persecuted for his religious beliefs.

Delft, with a population of 25,000 to 30,000 had attained the peak of its artistic vitality.

A lost work (cited in a distinguished art collection) entitled Jupiter, Venus and Mercury was ascribed to Vermeer. The young and ambitious artist may have painted this mythological scene and his first extant work, Diana and her Companions, in order to appeal to the classical tastes in vogue at the rich aristocratic court in nearby The Hague.

By 1654–1655 Delft had attaines the peak of it artistic vitality. It was soon to disintegrate as many painters of the town left in search of more attractive prospects in larger, richer cities, such as Amsterdam. By the mid 1670s Vermeer was one of the few artists who had remained. Had it not been for strong personal reasons, Vermeer too may have moved to Amsterdam as Potter, De Witte, Van Aelst, and De Hooch had done.

dutch painting

Jacob Vrel is born. Vrel's seemingly naïve style and his pictures' rarity even have prompted speculation that he was an amateur. Scholars most often link Vrel's manner to Delft artists such as Johannes Vermeer and Pieter de Hooch, but elements in his street scenes may indicate connections to Haarlem, Friesland, Flanders, or the lower Rhineland.

Oct 12, Rembrandt's most talented pupil Carel Fabritius, dies in October from wounds suffered in the explosion of the municipal powder magazine, which laid waste the northeastern side of Delft. Fabritius was at his easel painting. The gunpowder magazine which contained about 80,000 pounds of powder blew up "with such a horrible rush and force that the arches of heaven seemed to crack and burst."

Rembrandt painted a portrait of poet-businessman Jan Six and A Woman Bathing in a Stream.

After studying with Rembrandt, Nicholaes Maes returns to Dortrecht and specializes in intimate household scenes.

Jacob van Loo paints An Allegory of Venus and Cupid as Lady World and Homo Bulla.

October 12, The Delft Explosion destroys the city of Delft, killing painter Carel Fabritius. His home, studio, and most of his paintings were destroyed. In the same year he paints The Goldfinch which may have been a source of inspiration for Vermeer.

european painting & architecture
Johann Amos Comenius publishes in Nuremberg first picture book for children, Orbis sensualium pictus.
music
literature

Lady Dorothy Osborne plays the lead role in a country-house staging of Sir William Berkeley's tragicomedy The Lost Lady. While the London theatres remain closed, amateur theatricals continue at private houses in England. Like performances of courtly masques before 1642, many of these performances feature women, foreshadowing the acceptance of professional women performers in the early Restoration era.

Roger Boyle, 1st Earl of Orrery writes Parlhenissa, a novel.

John Milton: Defensio Secunda.

science & philosophy

Nov 23, Blaise Pascal, scientist and philosopher, underwent a mystical experience. He abandoned his scientific work and devoted himself to philosophy and theology. His two most famous works date from this period: the Lettres provinciales and the Pensées. He entered a hermitage at Port-Royal des Champs and never again published in his own name. He came up with the idea that believing in God is safer than not believing because it might gain one eternal life. He was a Jansenist, and rejected free will in favor of predestination.

De Circuli Magnitudine Inventa by Dutch mathematician-astronomer-physicist Christiaan Huygens, 25, attracts widespread attention.

history
Jan 10, Russia's Czar Alexander announced a war against Lithuania and Poland. which lasts until 1667.

Apr 12, England, Ireland and Scotland united.

Jun 7, Louis XIV is crowned King of France in Rheims.

Shah Jahan completes the Taj Mahal. Master builders, masons, calligraphers, etc. along with more than 20,000 laborers, worked for 22 years under orders of Mughal Emperor Shah Jahan to complete the great mausoleum for the shah's beloved wife.
1655
vermeer's life

Dec. 14, "Sr. Johannes Reijnijersz. Vermeer master painter," and his wife "Juffr. Catharina Bolnes" appear before the notary Rota to guarantee a debt of 250 guilders that the artist's father had contracted. Both Vermeer and his wife sign the document. The appearance of the stylish "Sr." on the document is a secure sign of the artist's rise in social status.

dutch painting

c. 1656 Jacob van Ruisdael moves to Amsterdam.

Rembrandt paints Woman Bathing in a Stream and the Polish Rider.

Pieter de Hooch, who directly influences Vermeer, joins the guild of Saint Luke in Delft, two years after he had arrived from Haarlem. He will remain in Delft and produce his finest works until 1660.

c. 1658 Miendert Hobbema becomes an apprentice in Jacob van Ruisdael's Amsterdam studio. In the exercise of his craft Hobbema was patient beyond all conception. It is doubtful whether any one ever so completely mastered as he did the still life of woods and hedges, or mills and pools. Nor can we believe that he obtained this mastery otherwise than by constantly dwelling in the same neighbourhood, say in Guelders or on the Dutch Westphalian border, where day after day he might study the branching and foliage of trees and underwood embowering cottages and mills, under every variety of light, in every shade of transparency, in all changes produced by the seasons.

european painting & architecture

Luca Giordano develops a rich baroque vein deriving in particular from Rubens. He was nicknamed "Luca Fa Presto" (Luke work quickly) because of his prodigious speed of execution and huge output. He began in the circle of Ribera, but his style became much more colorful under the influence of such great decorative painters as Veronese, whose works he saw on his extensive travels. Indeed, he absorbed a host of influences and was said to be able to imitate other artists' styles with ease. His work was varied also in subject-matter, although he was primarily a religious and mythological painter. Soon after the death of Charles in 1700, Giordano, now wealthy, returned to Naples. He spent large sums in acts of munificence, and was particularly liberal to his poorer brother artists. One of his maxims was that the good painter is the one whom the public like, and that the public are attracted more by colour than by design. Giordano has been criticized as being a prolific trader of all styles, and master of none. He has been viewed as a proto-Tiepolo, reanimating that grand manner of Cortona in a style that would brighten with Tiepolo.

c. 1655 Murillo paints genre scenes in Seville, where, from 1658 to 1660, he was involved in the founding of the Academy of Art, sharing its direction, in 1660, with the architect, Francisco Herrera el Mozo. This was his period of greatest activity, and he received numerous important commissions, among them the altar piece for the Augustinian monastery, the paintings for Santa María la Blanca (completed in 1665), and others.

music
Aug 13, Johann Christoph Denner, inventor of the clarinet, was born.
literature
science & philosophy

Blaise Pascal: Lettres provinciales, against Jesuits

Mar 25, Christiaan Huygens discovered Titan, Saturn's largest satellite. Huygens was a great figure in the fields of research into mathematical physics, astronomy and optics, and among the founders of mechanics and optical physics. He made astronomical observations about the planets, of the nebula of Orion and of the Moon, all reported in Systema Saturnium.

Hooke publishes the Micrographia.

history

Pope Innocent X dies; Fabio Chigi becomes Pope Alexander VII.

Spinoza excommunicated

Apr 26, Dutch West Indies Co. denied Peter Stuyvesant's desire to exclude Jews from New Amsterdam.

Sep 26, Peter Stuyvesant recaptured Dutch Ft. Casimir from Swedish in Delaware.

The first slave auction was held in New Amsterdam (later NYC).

French society uses a clean plate for each new dish but Englishmen continue to dine off trenchers, wooden platters that give hearty eaters the name "trenchermen."

Rum from Jamaica is introduced into the Royal Navy to supplement beer, which goes sour after a few weeks at sea.
1656
vermeer's life

In Dec. Vermeer pays the remaining sum (1.5 guilders) of the master's fee in the Guild of Saint Luke that he was unable to pay in 1653.

Vermeer signs one of his first known paintings, The Procuress. The young artist seems to still be dependent on well established pictorial models and has not yet adverted the influence of the newer interior genre scenes of his contemporaries. This type of Caravaggesque scene was to be found in the collections of local connoisseurs.

By 1656 Maria Thin, Vermeer's mother-in-law had already advanced 300 guilders, a considerable sum, the Catharina and Johannes.

dutch painting

Rembrandt declared bankrupt; his possessions are put up for sale.

The immensely popular landscape painter Jan van Goyen (b. 1596), dies.

Gerrit van Honthorst (b. in Utrecht 1590) dies.

european painting & architecture

Academy of Painting in Rome founded.

Bernini: Piazza of Saint Peter's, Rome

Diego Velázquez paints Las Meninas, family of Philip IV

music
Opening of first London opera house.
literature
science & philosophy

Oct 29, Edmund Halley, astronomer (Halley's Comet), was born. [see Nov 8]

Dec 14, Artificial pearls are first manufactured by M. Jacquin in Paris. They were made of gypsum pellets covered with fish scales.

Dutch mathematician Johan van Waveren Hudde, 28, anticipates the power-series for ln (1 + x) and the following year will do pioneering work on the use of space coordinates. Hudde promotes Cartesian geometry and philosophy in Holland; his discoveries (they will be called Hudde's rules) will presage the use of algorithms to solve problems of calculus.

history

Jan 8, Oldest surviving commercial newspaper began in Haarlem, Netherlands.

Dutch forces take the Sinhalese port of Colombo from the Portuguese.

Dutch East India Company shares plummet on the Amsterdam Exchange and many investors are ruined. Among them is painter Rembrandt van Rijn, now 50, who is declared bankrupt and whose possessions are put up for sale.

The Dutch in Ceylon make cinnamon a state monopoly but will not have complete control of the island's cinnamon until 1658. When prices fall too low, the Dutch will burn great quantities of the bark, and they will destroy groves of clove and nutmeg trees in the Moluccas, creating artificial scarcities that will force prices up, enriching the Dutch East India Company.
Vermeer began his career as a history painter, and not as a painter of the genre interiors for which he is renowned today. His first known works were the Christ in the House of Martha and Mary, taken from a biblical narrative, and Diana and her Companions, drawn from Greek mythology. Two other history paintings by his hand have not survived: Jupiter, Venus and Mercury and A Visit to the Tomb.
Although it is not known where or with whom Vermeer studied, it is probable that he received his training from a master well-versed in history painting. There is no evidence that he completed his apprenticeship in his native Delft. John Michael Montias believes he may have studied in Amsterdam or nearby Utrecht. The accomplished, but elderly Abraham Bloemaert (1566–1651), who lived and worked in Utrecht, was sometimes cited as a possible candidate.
Vermeer may have painted this work in the hopes of gaining access to the princely court of The Hague, which was a magnet for all ambitious Dutch history and portrait painters and a little more than a forty-minute walk from Delft. A few of painters in The Hague, such as Michiel Jansz. van Mierevelt, had attained enormous financial success with works tailored to suit the conservative, aristocratic vision of the court. Joachim von Sandrart wrote that Van Mierevelt painted over 10,000 portraits, although many of them were collaborative works.
A few years after he had terminated his apprenticeship, Vermeer unexpectedly changed artistic direction and began to paint in the stylish "modern" mode of contemporary life, which was depricated by prevailing classical art theory.
Although scholars have pondered the choice of such an apparently unusual subject, the twenty-one-year-old Vermeer may have wished to cater to the classical tastes of the nearby Hague court where the figure of Diana was much in vogue. There, large-scale paintings of Diana had been commissioned by such successful Dutch artists as Gerrit van Honthorst, Jacob van Campen and the Delft artist Christiaen Van Couwenbergh. However, the compositonal solutions they devised were drastically different from those elaborated during the same period in Italy and France, or even in neighboring Flanders. The historical verisimilitude of settings, costumes and facial expressions, all rigidly codified in the Italian and French academies, were approached much less dogmatically in the Netherlands.
Why Vermeer abandoned the path of history painting soon after the first works is unknown. Perhaps, as Arthur K. Wheelock Jr. pointed out, he came to realize that although he was a talented painter of biblical and mythological scenes, his true genius lay in his ability to convey a comparable sense of dignity and purpose in images drawn from daily life. More banally, it cannot be ruled out that the support he expected as a history painter did not materialize or that his patron-to-be Pieter van Ruijven had guided the budding artist towards a more "modern" approach.
The young Vermeer must have been keenly aware of the debate about the hierarchical position of painting amongst the arts (il paragone), which had become a distinctive feature of aesthetic theory in the Italian Renaissance. In classical times, painting did not enjoy the same status of the sister art poetry, although Horace famously wrote, ut pictura poesis "as is painting, so is poetry" (Ars Poetica, 18 B.C.).
The foremost champion of the art of painting was Leonardo da Vinci, who regarded it as a more intellectual art than sculpture. He wrote that "the sculptor's work entails greater physical effort and the painter's greater mental effort," and he contrasted the way a painter could work in fine clothes while listening to music to with the sweaty, noisy labor involved in sculpture. On the other hand, partisans of sculpture praised its grandeur, its permanence, and the fact that it could show a figure in three dimensions, whereas a painting offered only two.
In his influential Het Schilder-Boeck (1604), Karel van Mander, known as then "Dutch Vasari" for his writings and accomplishments as a painter, urged artists to maintain an exemplary behavior in order to elevate the social status of their profession. He believed that since painting required training and imagination it should be considered on par with literature or philosophy which by many was considered the highest expressions of the human spirit. He encouraged painters not to waste time, get drunk or fight or draw attention by living an immoral life, but to frequent princes and learned people whenever possible. However, Van Mander never believed that artists should blindly follow nature: he thought they should perfect it, and not merely represent what they saw, no matter how accurately and skillfully done.
Although the young Vermeer must have sided with Leonardo's position regarding the superiority of painting over sculpture, when he painted his Diana he may have had in mind Van Mander'#39;s advice to show Italians how wrong they were wrong in their belief that Northern painters could not paint human figures. In any case, the Diana reveals that Vermeer was an ambitious painter who would not be content to humbly exercise his craft as the great part of Dutch painters did.
The subject of Vermeer's only surviving mythological scene is drawn from Ovid's Metamorphoses (Book III, 138–252), in which Diana, the Greek goddess of the hunt and an emblem of chastity, reposes at the end of the day with her nymphs. Vermeer chose to portray an unusual moment before, and not during, the climax of the story when Actaeon, a young prince out hunting, inadvertently discovered the nude Diana and her companions. Diana attempted to avoid his stares by shielding her nakedness with the bodies of her attendant nymphs. She then splashed water at the head of Actaeon and hurled an imprecation at him. Incensed at Actaeon's lustful glances the goddess transformed the unfortunate hunter into a stag. The helpless Actaeon was not recognized by his own hounds and was torn to pieces.
Ovid's Metamorphoses was a source of motifs for painters who delighted in portraying the exotic and violent stories from the Renaissance period onward. However, by the mid-17th century Diana was represented only occasionally by Dutch artists.
Today, art historians generally place Vermeer's Diana among the very first efforts of the young artist. However, due to its mythological subject matter, Italianate style and rather conventional facture, it had been previously attributed to Jan Vermeer van Utrecht (1630-c. 1696). At one time, the work's signature had been altered to that of Nicholaes Maes. Although the canvas is not well preserved and cannot be objectively judged, the rendering of anatomy and drapery disclose clear signs of technical uncertainty, as might be expected from a young painter at grips with such a complicated and ambitious composition.
Most modern Vermeer experts have followed the German art historian Wilhelm von Bode (1845–1929), who recognized a very similar arrangement of the figures in a work of the same theme by Jacob van Loo, a classical painter from Amsterdam who had made inroads into the lucrative Hague court. In fact, it would seem that the young Vermeer was aware of more than one of Van Loo's various versions of the subject. In particular, the poses of background figures of Van Loo's 1648 Diana are strongly reminiscent of those of the figures, as well as the somber lighting and the prevailing solemnity of Vermeer's composition. Vermeer may have drawn from other sources as well, in particular from Rembrandt's Bathsheba, for the pose of the seated Diana and her attendant (inverted by Vermeer), as well as the somber mood and moral weight of the picture. Since both Van Loo and Rembrandt were working in Amsterdam, it has been advanced that Vermeer spent some time there to accrue his knowledge of painting from two of the most reputable artists of the time.
Some Vermeer writers place the Diana immediately before his Christ in the House of Martha and Mary while others, some time after. Perhaps the more sophisticated technique of the Christ is enough to prove that the Diana is the first of surviving works by Vermeer.
Vermeer's Diana is a characteristic example of istoria, or history painting. History painting, which represents biblical, mythological or historical subjects, usually on grand scale, originated in Italy and became the dominant form of painting throughout Europe.
The goal of history painting was to instruct the mind and elevate the human spirit. History painters believed they were not merely artisans, but participants of the Liberal, rather than Mechanical, Arts. Above all history painter emphasized harmony, proportion and balance in their compositions. They employed dense but smooth brushwork and positive color to idealize and perfect form rather than to reveal its temporary state. Most history paintings were commissioned by the church or well-to-do patrons who furnished the artist with a subject derived from textual material such as the Bible or classical mythology, although great historical events were also appropriate. Thus, the task of the history painter was essentially to represent to the best of his ability the cultural aspirations of the patron, rather than his own.
Dutch history painting drew inspiration from many of the same writings and sources used by the masters of the Italian Renaissance.
Notwithstanding its theoretical superiority, history painting did not constitute the highest percentage of artistic output in the Netherlands. It was, in fact, easily outstripped in number by those genres that contemporary art theoreticians classified as inferior: portrait painting, genre scenes, landscape and, lowest of all, still life. The proliferation of the "lower" categories of painting was undoubtedly a consequence of the transformation of painting into a commodity.
A number of Dutch history painters prospered in Vermeer's time, including the great Rembrandt van Rijn. However, although many of the most successful Dutch classicists of the period, such as Gerrit van Honthorst, Jan de Bray and Cesar van Everdingen, had been forgotten in favor of the genere painters, they began to receive the attention they deserved in the second half of the 20th century by savvy art professionals, although the public still reamins barely aware of their work.
Since the origin of modern Vermeer studies, a few of the artist's early works have been linked to Rembrandt although there is no direct evidence in regards. In his celebrated essays of 1886, Thoré-Bûrger, who is credited for having rediscovered Vermeer, wrote that Vermeer's Procuress is "absolutament rembrandtesque." Many modern Vermeer authorities have concurred. Arthur K. Wheelock Jr. wrote "Diana's somber mood and her pose, as well as that of her kneeling attendant, are so similar in content and feeling to Rembrandt's Bathsheba of 1634 that it seems highly probably that Vermeer knew this work firsthand."
Vermeer may have knew Rembrandt's art via Carel Fabritius, the Amsterda's master's most talented apprentice who had briefly stayed in Delft when Vermeer was beginning to paint.
The present work probably displays Vermeer's familiarity with one of the most successful pictorial tools for organizing complex images: the circular composition. A true circular composition does not make use of circular objects but those which, combined by the artist, create a circular structure.
Circular compositions were employed not only to manipulate the viewer's optical experience but to convey the idea of unity, balance, repose and wholeness, considered cardinal values of true painting. Like any device, the circular composition must not be overdone. It should be subliminally intuited by the observer but not consciously noticed lest it dominate the illusionist reading of the motif. In Vermeer's Diana, the bodies and limbs of the figures form a graceful, gentle circle.
In classical painting, much of a painter's attention was given to keeping edges of the composition well "guarded" and impeding the wayward eye from escaping out of the picture's perimeters. Vermeer may have applied the circular composition to another early work, the Christ in the House of Martha and Mary.
In 1885, Victor de Stuers examined the present painting's signature, which then read "NMaes." De Stuers realized that the letters "NM" were created from the remains of an underlying signature that included the letters "IVM." He concluded that the painting was by Johannes Vermeer of Delft. Evidently, the original signature had been altered by someone who thought that the painting would sell better if it bore the name of the illustrious Nicolaes Maes.
De Stuers' supposition was confirmed by restorer Z. L.van den Berg a few years later. Ironically, in the 1895 catalogue raisonné of the Mauritshuis, the painting was attributed to Jan Vermeer of Utrecht, a nondescript contemporary of Vermeer (see left).
The real Vermeer signature is now only dimly visible.
Early art historians believed that Vermeer, like other Dutch artists of the time, had spent some years training in Italy. However, it was later discovered that it was the obscure landscapist Johannes Vermeer of Utrecht whose presence in Rome was documented in the mid-1650s, and not his famous counterpart. Nonetheless, the knowledge of composition, broad execution and moral seriousness of his first compositions show that the young Vermeer was keenly aware of the strengths of Italian painting. In fact, some historians believe his art is indebted, albeit indirectly, to the most debated Italian artist of the time, Caravaggio, for the strong chiaroscural lighting of his early pictures.
After the publication of Karel van Mander's Het Schilder-Boeck in 1604, a trip to Italy had become a rite of passage for aspiring Dutch and Flemish painters. Often entailing a difficult and dangerous journey, young artists could spend years getting to Italy, often using their artistic talents to pay their way. Many never made it all the way to Italy, and some of those who arrived never attempted the trip back. The attraction of the Antique and the High Renaissance was irresistible.
In the early 17th century, a group of Utrecht painters who had traveled to Rome fell under the spell of the work of Caravaggio and his followers. Once returned to Utrecht, they introduced a dramatically new style of painting stressing the contrasts between light and dark, a quality for which Rembrandt was later to become so celebrated.
Italian painting was also important to Utrecht painters who never crossed the Alps. One such painter was Abraham Bloemaert, the father of the so-called Utrecht School, in whose huge workshop many painters were trained. But because some of these artists traveled to Italy, returning to pass on their learning to their master, Bloemaert's variegated oeuvre bears visible testimony of a succession of Italian influences. His fame extended so far that even the great Flemish master Peter Paul Rubens visited him in Utrecht.
Another painter with strong connections to Italy was the principal artist of Delft, Leonaert Bramer, a Catholic and close friend of the Vermeer family. Bramer is documented in Italy from 1614 to before 1628. Although Bramer is principally credited for a series of bizarre Biblical nocturnal scenes executed in a distinctly Italianate style, his range of pictorial styles may have been wider than recognized. He worked for tapestry firms, designing and painting murals and ceilings, some of which are strongly illusionistic in style. He is said to have produced true fresco paintings, a rare feat north of the Alps. A tapestry with a design after Bramer shows a "merry company" scene complete with repoussoir tapestry which cannot but recall Vermeer's Officer and Laughing Girl.

Henry Purcell
Rondeau from the Incidental Music for The Fairy Queen [512 KB]
Orchestra of the Accademia Monteverdiana. Denis Stevens. http://www.baroquecds.com/10Web.html