The Glass of Wine
(Het glas wijn)
c. 1658-1660
Oil on canvas
65 x 77 cm. (25 5/8 x 30 1/4 in.)
Staatliche Museen Preußischer Kulturbesitz,
Gemäldegalerie, Berlin

there are 9 hotspots in the image below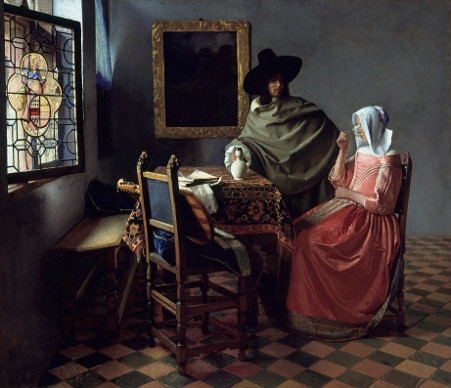 One of the most remarkable features of the painting is this colored stained-glass window which appears in another painting by Vermeer, Young Woman with a Wine Glass, in Berlin, in Berlin. The coat of arms has been identified with Janetge Jacobsdr. Vogel, first wife of Moses van Nederveen but it is not known how Vermeer came by it. Although Janet Vogel and her husband had lived in Delft not too distant from Vermeer, Janet had died in 1624, eight years before the artist was born.
The symbolic meaning of the coat of arms is now clear and certainly required no coaxing to understand it in the time of Vermeer. The female figure who holds a level and bridle personifies Temperantia, or Temperance, which is very similar to an image from Gabriel Rollenhagen's Selectorum Emblematum of 1613. Rollenhagen's illustration is accompanied with the text "The heart knows not how to observe moderation and applies reins to feelings when struck by desire" The level symbolizes good deeds and the bridle symbolizes emotional control. Thus, it is very probable that, together with the staid portrait on the rear wall, it provided an incentive towards moderation an admonitory comment to the protagonists' lack of self restraint.
The wooded landscape, painted with great delicacy, is done in the style of Allart van Everdingen. Van Everdingen was the younger brother of the painter Caesar van Everdingen whose Cupid appear three times in Vermeer's oeuvre and a fourth before the artist Vermeer eventually painted it out.
Although Dutch art scholars have demonstrated that figural paintings, maps and drawings were sometimes used to convey hidden meaning to the depicted scenes, landscapes were generally considered decorative fillers. Elise Goodman has shown, instead, that they are "iconographically charged emblems that contribute to and expand on the meaning of the pictures." Thus, the landscape in the present work emphasizes the amorous intention of the elegant cavalier who makes his love known through refined music making and wine drinking according to accepted norms of ritualized courtship. The use of the landscape as a metaphor of love was frequent in literature and popular love lyrics set to musical accompaniment.
The sumptuous gilt frame adds greatly to the aesthetically rich yet measured pleasure of the picture.
One hand on a wine jug and the other on his hip, the cavalier patiently waits on the spectacularly dressed young woman ready to pour more wine as soon as it has been drunk.
Although rivers of ink have flowed to describe the beauty and decipher the thoughts and emotions of Vermeer's female sitters, the men who court them have received far less attention. Although they ought to be in control, in Vermeer's paintings it is always the female who, all said and done, commands the scene relegating the man to an oddly passive role.
This gentleman would not have been considered discourteous having kept his hat on. As Timothy Brooks observed, in the time this picture was painted "A courting man did not go hatless. The custom of removing one's hat while entering a building or greeting a woman was not yet observed. European only bared their heads before a monarch, and since the Dutch had no monarchs, their hats stayed on."
Marieke de Winkel, who has written extensively about Dutch costume in relation to painting noted that in the 17th-century Netherlands," the hat was perceived as a sign of authority and male supremacy. In contemporary French and Dutch language the word "hat" could be used as a metaphor for a man, as opposed to "coif" denoting a woman.
"German and English travelers in the Netherlands were frequently surprised that Dutch men kept their hats on indoors, during meals, in company and even in church. Members of the lower classes were required to remove their hats in the presence of superiors. Foreigners generally explained the Dutch disregard for 'hat honor' as their longing for egalitarianism, personal independence and freedom."
Before Vermeer settled on the elegant fur-trimmed yellow morning jacket for his female sitters, he seems to have been initially attracted to a more formal full-length dress. Dutch costume expert Marieke de Winkel identifies this dress as a tabbaard, a combination of a stiffened bodice and a matching skirt. The tabbaard was always closed at the back and heavily boned to keep it as rigid as possible making it adapted for formal occasions only. The choice of this striking red satin dress with its scintillating gold brocade suggests that the girl entertained high expectations from the encounter with the debonair gentleman and has dressed herself to make her best impression.
To depict the extraordinary red which ignites the cool blues and grays of the composition, the shape and lighting of the dress was first worked up with vermillion, the only bright opaque red available to painters of the 17th century. According to a fixed recipe, once thoroughly dry, the passage was subsequently glazed with a thin, transparent layer of red madder diluted with natural dying oil to give the vermilion a fiery depth that cannot be approximated with a direct mixture of the two paints.
The finely dressed young lady sips the last drops of her wine, holding the glass correctly by the stem as indicated in courtesy books of the time. Her face remains hidden and her left arm folded square against her body as to fortify herself from the discreet advances of her suitor.
A similar white cap worn by the young woman appears in various paintings by Vermeer and in a many genre paintings of the time both tied and open. Marieke de Winkel, Dutch costume expert, explains that it was partly ornamental and served to protect the hairdo before and after dressing. In the inventory of Vermeer's wife, Catharina Bolnes, three such caps were listed "drye witte kappen" although it was also called a hooftdoek in Delft. It was worn in informal situations and typically made of white linen, sometimes of nettlecloth or cotton.
Vermeer was hardly the first painter to include tiled marble floors in his interiors. They can be found in numerous renditions of the so-called "merry companies" made popular by artists such as Anthonie Palamedesz more than two decades before. However, Pieter de Hooch, who worked in Delft and must have been on close terms with Vermeer, was the first artist to systematically employ them within a coherent system of linear perspective in order to depict middle class interiors flooded by light. His suggestive box-like spaces may have been the starting point for four of Vermeer's early interiors.
This kind of accelerated yet calculated perspective creates a breath-taking sense of space and permits the figures and furniture in the painting to appear securely and correctly anchored. Tiled floors became a standard component of Dutch genre painting even though the vast majority of Dutch floors were made of large wooden planks as we see in the works of Gerard ter Borch which were more suited for the gelid Dutch winters.
In this work Vermeer portrayed relatively low-cost ceramic tiles which were smaller and far more common than the large, black and white marble floors which would appear many times in his interiors. On careful inspection, one can observe subtle irregularities and chips, anecdotal details which would be purged in Vermeer's later works.
Vermeer was hardly the first painter to include tiled marble floors in his interiors. They can be found in numerous renditions of the so-called "merry companies" made popular by artists such as Anthonie Palamedesz more than two decades before. However, Pieter de Hooch, who worked in Delft and must have been on close terms with Vermeer, was the first artist to systematically employ them within a coherent system of linear perspective in order to depict middle class interiors flooded by light. His suggestive box-like spaces may have been the starting point for four of Vermeer's early interiors.
This kind of accelerated yet calculated perspective creates a breath-taking sense of space and permits the figures and furniture in the painting to appear securely and correctly anchored. Tiled floors became a standard component of Dutch genre painting even though the vast majority of Dutch floors were made of large wooden planks as we see in the works of Gerard ter Borch which were more suited for the gelid Dutch winters.
In this work Vermeer portrayed relatively low-cost ceramic tiles which were smaller and far more common than the large, black and white marble floors which would appear many times in his interiors. On careful inspection, one can observe subtle irregularities and chips, anecdotal details which would be purged in Vermeer's later works.
These all-white tin-glazed containers were originally produced in Faenza, Italy. In the 1550s they were exported to all over Europe and by the late 16th and early 17th century had become very fashionable. Vermeer must have been very fond of this type of wine jug since it appears in strategically important areas in three other compositions (see detail of the Music Lesson left).
In Holland, such containers were imitated by local potters and became a favorite subject of a great many genre interior painters between 1650 and 1670. Although it is very difficult to distinguish between Italian and Dutch versions, historian of the Dutch decorative arts Alexandra Gaba-van Dongen believes that the ones in Vermeer's paintings are original Italian.
Art scholars have come to believe that Vermeer's paintings often allude to music, a common 17th-century metaphor for love and harmony between family members, lovers, or friends. Many 17th-century songbooks were entirely devoted to love songs because musical gatherings offered one of the few opportunities for flirtatious social encounters between men and women of the elevated social classes.
The couple which appears in this paintings are members of the haute bourgeoisie who we would expect to have read, wrote, and often spoke several languages and who collected European poetry in which the latest love conventions appeared. They would have been familiar not only with Dutch music, but French and even English song-books and part music as well. The young suitor may have intoned a love song, perhaps one of poets' Pieter Hooft, whose lyrics in the tradition of Petrarch and De Ronsard were frequently set to musical accompaniment. Some of these lyrics appeared in Hooft's noted Emblemata Amatoria (Emblems of Love),
Although the Dutch did print their own songbooks (see image above), foreign publications were generally preferred. Contrary to other forms of culture, many people were familiar with the melodies and texts of songs whose texts reflect the problems of ordinary people. They give an excellent picture of the way in which the jeunesse doree of the time lived. Since they were made to be carried along to festive gatherings very few specimens can be found.
From a technical point of view, the suitor's drab olive green cloak was meant to subtly contrast with the brilliant red satin dress of the seated girl. Had it been brighter in color, the two figures would have been visually divided. Its sweeping folds, almost monumental, enhance the gentleman's stature and, perhaps in a discreetly manner, his masculinity.
One of the finest passages of the composition is the gentleman's semi-exposed ruffled cuff which gently encloses the perfectly white wine jug. He stands at a respectful distance ready to pour another glass of wine to the young lady who seems to have almost finished the first.
Critics have given interpretations to momentary tête-à-tête speculating largely on the body language of the two figures. Walter Liedtke supposes that the girl's closed arms bent squarely to her body imply discomfort "as if the courtship were a troublesome necessity." It may also be noted that neither of his hands has been depicted, which along the same line, might suggest his unwillingness to expose his seductive intentions. However, it is doubtful she would have entrusted the suitor to enter her private chamber and accepted a glass of wine had she not felt confident of his decent intentions or at least her ability to maintain control over the situation.
In this work, the theme of gallant courtship and music making overlap. On the Spanish chair, lay a cittern and underneath it a pillow, on the table, a few opened songbooks. Presumably, moments before, the gentleman had been serenading the young lady with some sprightly cittern music before shifting tactics. He may stand a better chance at softening her heart with a few glasses of wine.
The play of light across the mute substances of the elaborately carved head of the cittern and the back of the chair comprise one of the most evocative passages in the artist's oeuvre.
No other painter except for Pieter de Hooch ever lavished on the simple, whitewashed Dutch walls such attention. Some of Vermeer's walls appear to be fruit of intense observation where every nuance light's activity and surface texture are noted while other appear generalized solutions contrived chiefly to display the foreground elements to their best advantage. The walls of the Milkmaid, the Music Lesson and the Art of Painting are so convincing that observers rarely register them as paint. Even a skilled realist painter has difficulty discerning paint from illusion of the background wall of the Woman with a Pearl Necklace.
In this work, however, it must be said that the fine nuances of color and the carefully registering of the unevenness, cracks and stains of the wall's surface are absent.
Since the local color of a wall is homogenously white, how might a painter use to give substance, texture and light to it? Which and what proportion of pigments must be used to render the gradual dimming of the wall as it distances itself from the light source and how does one capture the transparencies of the cast shadows?
It is rarely the case that in Dutch interior painting that, except for those most illuminated, white walls would be painted with pure white. Since the light strikes the wall at a rather oblique angle it does reflect nearly as much as the light rays that strike surfaces which are strike more directly such as the figure. In the present work the main components of the wall paint are raw umber, a rather dull be extremely useful brown, natural ultramarine and naturally, white lead, the poisonous, workhorse white which was replaced only in the 20th century by titanium white. This same mixure, in different proportions was also used in the Girl with a Glass of Wine presumably painted shortly after the presnt work.
THIRTEEN
FOURTEEN
FIFTEEN
SIXTEEN
SEVENTEEN
EIGHTEEN
NINETEEN
' TWENTY
The Berlin picture lacks the sociable fluency, the ingratiating inventiveness of the Metsu (The Duet). Vermeer's understanding, although of a finer kind, is also narrower.
Lawrence Gowing, Vermeer, 1952
signed left on window
c. 1658-1660
Arthur K. Wheelock Jr. Vermeer: The Complete Works, New York, 1997)
c. 1658-1659
Walter Liedtke Vermeer: The Complete Paintings, New York, 2008)
Jan van Loon sale, Delft, 18 July 1736, no. 16;
John Hope, Amsterdam (1774-d. 1784); Hope heirs (until 1794);
Henry Thomas Hope, Deepdene, Surrey (d. 1862);
his daughter, Henrietta Adela (d. 1884);
her son, Henry Francis Pelham-Clinton-Hope, London (until 1898);
[Colnaghi and Asher Wertheimer, London];
purchased in 1901 by the Gemäldegalerie, Staatliche Museen zu Berlin, Berlin (inv. 912c).
Amsterdam 1872
Katalogus der tentoonstelling van schilderijen van oude meesters. Arti et amicitiae.
21, no. 142.
Amsterdam 1900
Catalogus der verzameling schilderijen en familieportretten van de heeren jhr. P. H. Six van Vromade, Jhr. J. Six en jhr. W. Six. Stedelijk Museum.
17, no. 70.
Paris 1921
Exposition hollandaise. Tableaux, aquarelles et dessins anciens et modernes. Jeu de Paume.
10, no. 105.
London 1929
Exhibition of Dutch Art, 1450-1900. Royal Academy of Arts.
144, no. 302, and pl. 77.
Amsterdam 1935
Vermeer tentoonstelling ter herdenking van de plechtige opening van het Rijksmuseum op 13 july 1885. Rijksmuseum.
27, no. 163,and ill.
Rotterdam 1935
Vermeer, oorsprong en invloed. Fabritius, de Hooch, de Witte. Museum Boijmans Van Beuningen.
35, no. 81, and ill. 62.
New York 1939
Masterpieces of Art. New York World's Fair.
194-195, no. 398 and pl. 71.
Detroit 1939
Masterpieces of Art from Foreign Collections. European Paintings from the New York and San Francisco World's Fairs. The Detroit Institute of Arts.
19, and ill. 52.
Detroit 1941
Masterpieces of Art from European and American Collections. Twenty-Second Loan Exhibition oh Old Masters.The Detroit Institute of Arts.
19, and ill. 62.
Zurich 1953
Hollander des 17. Jahrhunderts. Kunsthaus.
72, no. 171 and ill. 28.
Rome 4 January - 14 February, 1954
Mostra di pittura olandese del seicento. Palazzo delle Esposizioni.
90, no.176 and ill. 31, shown as "La cuciniera"
The Hague 1966
In het licht van Vermeer. Mauritshuis.
no. 2 and ill.
Paris September 24 – November 28 1966
Dans la lumière de Vermeer. Musée de l'Orangerie.
no. II, and ill.
The Hague March 1 – June 2, 1996
Johannes Vermeer. Royal Cabinet of Paintings Mauritshuis.
108-113, no. 5, repro. (not shown in Washington D.C.)
New York 8 March – 27 May, 2001
Vermeer and the Delft School. The Metropolitan Museum of Art.
no. 69.
London 20 June – 16 September, 2001
Vermeer and the Delft School. National Gallery.
no. 69.
Tokyo 26 June, 2007 – 26 September, 2007
Milkmaid by Vermeer and Dutch Genre Painting. The National Art Center.
New York 9 September – 29 November, 2009.
Vermeer's Masterpiece 'The Milkmaid'. The Metropolitan Museum of Art.
1658
vermeer's life

In this period, the Guild of Saint Luke was probably the center of Vermeer's public life.

Vermeer may have began distancing himself from his family or origin. This fact is seen in his failure to name any of his children after his mother or father as was common practice of the time. His first two daughters, born before 1658, Were named Maria and Elizabeth after his mother-in-law and her sister.

In Vermeer's Procuress a Chinese bowl appears in the still life. Between 1602 and 1657 the Dutch had imported millions of pieces of porcelain. Native Delft artisans began feverishly producing everything from elaborate imitations of Chinese porcelain to the humble floor tiles seen in some of Vermeer's interiors.

dutch painting

Pieter de Hooch: paints Courtyard of a House in Delft, one of finest works. De Hoogh's courtyards may have influenced Vermeer's The Little Street.

Frans van Mieris paints The Duet.

Adriaen van de Velde paints Farm with a Dead Tree.

european painting & architecture
Bernini: church at Castel Gandolfo (-1661). Bernini did not build many churches from scratch, preferring instead to concentrate on the embellishment of pre-existing structures. He fulfilled three commissions in the field; his stature allowed him the freedom to design the structure and decorate the interiors in coherent designs.
music
Apr 22, Giuseppe Torelli, composer (Concert Grossi op 8), is born in Italy.
literature
Moliere was anointed with the patronage of King Louis XIV. Molière left behind a body of work which not only changed the face of French classical comedy, but has gone on to influence the work of other dramatists the world over. The greatest of his plays include The School for Husbands (1661), The School for Wives (1662), The Misanthrope (1666), The Doctor in Spite of Himself (1666), Tartuffe (1664,1667,1669), The Miser (1668), and The Imaginary Invalid (1673).
science & philosophy
Amsterdam naturalist Jan Swammerdam, 21, gives the first description of red blood cells. He will complete his medical studies in 1667 but devote himself to studying insects, tadpoles, frogs, and mammals rather than practicing medicine.
history
Sep 3, Oliver Cromwell, Lord Protector of the New Commonwealth, i.e. ruler over England's Puritan parliament, dies at age 59. Richard Cromwell succeeded his father as English Lord Protector.
1659
vermeer's life

Around 1659 or 1660, Vermeer's brother-in-law Willem Bolnes left his irascible father's house in Gouda to live on one of the family's properties in Schoonhoven. Willem incurrs in debts and borrowing money from his mother, Maria Thins, since his father had become too impoverished to help. Willem apparently had no kind of work. He was later to become a serious problem for Vermeer and his wife.

In the late 1650s Vermeer, paints two exceptionally luminous interiors, inspired by genre models of the time. In both Officer and Laughing Girl and The Milkmaid he uses his famous "pointillist" technique (thick points of light colored paint in the most intensely light areas of the composition called pointillés. This technical artifice conveys a sense of brilliancy rarely seen in any other of his works. Vermeer never again painted a humble sitter, such as the common milkmaid.

dutch painting

Jan van der Weff is born. Johan Willem, Elector Palatine, whom he had met in 1696, appointed him Court Painter in 1697 at a salary of 4,000 guilders on condition he work for him six months of the year. In 1703 this was increased to nine months, and he was made a knight. He remained in Rotterdam, making trips to Düsseldorf to deliver pictures and paint portraits.

Jan Janz de Heem ( d. 1695) is born. Son of the celebrated still life painter Jan Davidsz de Heem he was baptized on 2 July I650 in Antwerp. From 1667 to 1672 he worked in Utrecht with his father who sometimes retouched the son's work. There has undoubtedly been much confusion between the work of father and son. Jan Jansz is last recorded in a document of 1695.

european painting & architecture
1659-1661 Michael Sweerts, Flemish painter, created his rosy Portrait of a Youth.
music
Mar 7, Henry Purcell, English organist, composer (Dido & Aeneas), was born. Purcell was one of the greatest composers of the Baroque period and one of the greatest of all English composers. He wrote fantasias for viols, masterpieces of contrapuntal writing in the old style, and some at least of the more modern sonatas for violins, which reveal some acquaintance with Italian models. In time Purcell became increasingly in demand as a composer, and his theatre music in particular made his name familiar to many who knew nothing of his church music or the odes and welcome songs he wrote for the court.
literature
Oedipus (Oedipe) by Pierre Corneille 1/24 at the Hôtel de Bourgogne, Paris
science & philosophy

Christiaan Huygens of Holland used a 2-inch telescope lens and discovered that the Martian day is nearly the same as an Earth day. He also discovers the rings of Saturn. He also constructs a chronometer for use at sea; however, it is influenced by the motion of the ship and does not keep correct time.

English physician Thomas Willis, 38, gives the first description of typhoid fever.

Elementa curvarum by Jan De Witt gives an algebraic treatment of conic sections using the newly developed analytic geometry. It appears as part of an edition of Schooten's Geometria a Renato Des Cartes.

history
The Spanish infanta Marie Therese introduces the French court to cocoa, which will be endorsed by the Paris faculty of medicine and received with enthusiasm until it becomes surrounded with suspicion as an aphrodisiac in some circles and as a mysterious potion in others.
1660
vermeer's life

Vermeer is appointed one of the headman of the Guild of Saint Luke to a term of two years. This fact has been interpreted as a testimony of the high esteem in which the artist was at the time held. However, by the time Vermeer was elected headmaster, many of the painters resident in Delft had left for the more prosperous Amsterdam and so his election may have had less significance than usually thought.

Vermeer and his wife bury a child in the Old Church in Delft. The same document states, Vermeer and his wife were then living in the house of Maria Thins on the Oude Langendijk in Delft. At the time, the household included Vermeer, his wife, his mother-in-law, and three children, not counting an infant who had died and at least one female servant. The house had a basement, a lower hall with a vestibule, a great hall, a small room adjoining the hall, an interior kitchen, a little back kitchen, a cooking kitchen, a washing kitchen, a corridor, and an upper floor with two rooms, one of which was taken up by Vermeer's studio.

Vermeer's family situation was unusual. Very few married men in the Netherlands lived with a parent or parent-in-law for an extended period of time. Vermeer's marriage too, must be considered exceptional in as much as he married outside his own family's religion and social class. He moved from the lower, artisinal class of his Reformed parents who lived on the Delft Square to the higher social stratum of the Catholic in-laws who instead lived in the somewhat segregated "Papist Corner," the Catholic quarter of the city.

The burial of his child is the earliest known record of the artist's residence in Maria Thin's house.

dutch painting

Jan van Mieris is born. Son of the famous Frans van Mieris, Jan painted principally history subjects, but his earliest works were apparently genre scenes in his father's manner.

Jacob van Ruisdael paints Jewish Cemetery. The painting's ruinous, glowering scene exemplifies the trend toward turbulence in Dutch landscape at mid-century.

Adriean Coorte is born. Coorte devoted himself to the precise rendering of simple objects in small paintings. His paintings often have strong illumination that gives the composition an enchanting stil

european painting & architecture
Diego Velázquez, Spanish painter, dies.
music
Alessandro Scarlatti, Italian musician and composer, father of Domenico is born.
literature
science & philosophy

Marcello Malpighi discovers that the lungs consist of many small air pockets and a complex system of blood vessels. By observing capillaries through a microscope he completes the work of Harvey in describing the circulation of the blood.

Robert Boyle announces in New Experiments Physico-Mechanical Touching the Spring of Air that removing the air in a vacuum chamber extinguishes a flame and kills small animals, indicating that combustion and respiration are similar processes.

history
May 28, George I, king of England), is born.

May 29, Charles II, who had fled to France, is restored to the English throne after the Puritan Commonwealth. Charles made a deal with George Monck, a general of the New Model Army, and with the old parliamentary foes of his father. The British experiment with republicanism came to an end with the restoration of Charles II.

Dec 24, Mary I Henriette Stuart (29), queen of England, dies.

The Dutch crafted an early version of a boat they called a "yacht."

1660s The British began to dominate the trade in port wine from Portugal after a political spat with the French denied them the French Bordeaux wines. Brandy was added to the Portuguese wines to fortify them for the Atlantic voyage.
Vermeer's compositions are full of paintings and in a sense, art becomes its own subject. However, the abundance of paintings in Vermeer's works is not only a personal choice, it reflects a real-life situation: paintings were more abundant in the Netherlands than in any other place in the world.
Foreigners who visited the Netherlands in the 17th century were amazed by how many pictures they found. In an oft-quoted diary, British traveler Peter Mundy wrote in 1640: "As for the art of Painting and the affection of the people to Pictures, I think none other go beyond them." In fact, paintings were everywhere except in the Reformed churches. In addition to well-off merchants, Mundy reported that bakers, cobblers, butchers and even blacksmiths all possessed at least one painting.
Since painting was no longer primarily the preserve of church or aristocracy or even the very wealthy, the types of pictures produced and sold as well as their appearance were drastically altered. The newly empowered urban upper class had discovered that paintings, as well as luxury items, could become an effective symbol of power, objects to be avidly collected and proudly exhibited. Consequently, paintings could also become another form of easily transportable merchandise in Holland which had become the Mecca of world trade. The fact that they were easy to handle and were less bulky made it easier to place them on the market.
This work by Vermeer is a perfect example of a new type of Dutch painting which explored the changing social mores of the second half of the 17th century pioneered by Gerard ter Borch (see detail left) and Frans van Mieris.
Just a few decades before, a gentleman would not have been seen in the company of this young woman in a domestic setting. Custom did not allow private meetings between the wooer and wooed. During Vermeer's lifetime, when peace had been assured and the Netherlands had become the most prosperous nation in Europe, the rules of courtship began to relax. Romance became a factor to be reckoned with and the private home became an accepted venue for negotiating marriage. However, amorous interactions between the sexes of the well-to-do became restrained and ritualized. Artists, who had formally specialized in mercenary love of the brothels, discovered a brand-new market for scenes of barely-veiled flirtations amidst the finely appointed bourgeois home.
Even if Vermeer's iconographical intentions remain uncertain, it is clear he had demanding intellectual program for his more complicated works. The theme of this picture, courtship and love, had already been pioneered by Dutch artists decades before. Vermeer's foray into the new field were probably inspired by Pieter de Hooch.
Although De Hooch may likely be the direct source of inspiration for this particular composition, Vermeer's art distinguishes itself from De Hooch's because it addresses more complex compositional and thematic issues. Whereas Vermeer's figures are brought prominently into the foreground and appear naturalistic, often with considerable sensitivity to their psychological states, De Hooch's figures are stiffer, even doll-like and do not appear firmly anchored within the painting's three-dimensional space. Their postures are less natural and the complexity of their emotional lives is seldom as nuanced as those by Vermeer. Also, while Vermeer dealt with moral questions introducing allegorical allusions to the Last Judgment, Vanitas and religious faith, De Hooch favored less grave subjects, focusing on home and hearth. The historian Simon Schama has noted that De Hooch's interiors portray tender child-rearing which constitute "the first sustained image of parental love that European art has shown us."
Art historian Peter Sutton adds the interesting proposition that the woman and child who appear in so many of De Hooch's works are likely the artist's own wife and son, and the familiar rooms probably those of his own house. None of Vermeer's sitters have been identified.
Although this kind of wide-brimmed hat could be made of wool or other materials, felt made from beaver hair produced a hat which held its form and was more weather resistant. A hat like the one in the present painting was not owned by all.
During the 17th century, beaver pelts imported from the New World were at the center of a lucrative web of trade since the beaver population of Europe had been largely depleted. The beaver-rich New World territory - eventually named New Netherlands - came under the jurisdiction of the Dutch West India Company in 1621, as part of the conditions of the Company's charter.
The pelts were first sent to Russia, where they were valued for their shiny outside fur. Russian customers would eventually sell the furs back into the trade. When worn, dirty and sufficiently greasy to be properly felted they were converted into felt hats, and resold. Hatters used mercury to mat beaver fur's dense, warm undercoat. Exposure to the toxic chemical, however, caused severe mental disorders and is the source of the otherwise strange expression, "mad as a hatter."
Although grapes had been grown in the Netherlands since the Roman times, the lack of sunlight meant that they produced poor wines. However, fine quality wines could be easily imported from France, Germany, Spain and Portugal. This trade made the fortunes of many. Although it was initially affordable for only the upper classes, by the 1650s wine consumption had outstripped beer. Young white wines from France and Germany mixed with honey and spices to counteract their natural tartness made a fine end to a large meal.
Recommended for children and adults alike, beer was still most popular beverage among the lower classes. Since it was boiled during preparation, it was safer to drink than plain water. In the countryside, buttermilk and whey were acceptable alternatives to beer, especially at breakfast, but whole milk was largely distrusted.
Another alcoholic drink, Jenever, was also widely available in the Netherlands. Due to the lack of refined distilling techniques herbs were added to mask the flavor. The result was a juniper-flavored and strongly alcoholic liquor which was initially sold as medicine. By the late 1680s, the Dutch were exporting over 10 million gallons a year. Traditional jenever is still very popular in the Netherlands and Belgium.
Music played a significant role in the daily life of the Netherlands in spite of the restrictions from the Calvinist church. Wealthy burghers loved to flaunt their newly gained life-style in elegant musical gatehrings (see left) where the display expensive musical instruments played an important part.
A key vehicle for the diffusion of music in the Netherlands were the so-called Collegia musica, which flourished in many important cities. Surviving documents provide insights into both social and musical attitudes and reveal that their importance extends far beyond the dilettantism usually associated with such groups. Town councils sometimes support a collegia by making a room available for the musicians. As early as the 17th century and increasingly in the 18th, collegia musica, supported by a wealthy bourgeoisie, gave traveling foreign musicians the opportunity to make public appearances, thus anticipating organized public concerts, which later developed in the 18th and early 19th centuries. Since there was no strong interest in music emanating from the austere Dutch courts, the work of the collegia musica was of great significance. In the 17th century, their repertory consisted largely of polyphonic songs and madrigals and simple instrumental music, some of which was of local origin. Authentic information about historical collegia musica is often fragmentary, and has been preserved only by chance.
Before settling on the upright format, Vermeer executed two interiors which are wider than they are higher. The horizontal format had been favored by the pioneers in the Dutch genre interior such as Willem Buyteweck and Dirk Hals but was later abandoned by Gerrit ter Borch.
Vermeer must have recognized that in the horizontal composition, the painter naturally disposes both objects and figures in sequential positions from left to right and that the observer tends to view them separately one after another as they read words in a book. This kind of reading did not worry the early painters since personal dialogue or figural unity was hardly their main concern.
Vermeer, instead, was more attuned to the private dialogue between the figures and was constrained to find a way to bond the figures visually and emotionally. He did not have to look far for the appropriate compositional solution since it was one that he had already successfully employed in two earlier pictures, the Diana and her Companions and the Christ in the House of Martha and Mary. In all three paintings, the principal motif is unified with a circular composition, a common compositional device in vogue since the Italian Renaissance.
In the present work the circular composition effectively balances the perspectival pull towards the background wall and the dazzling pattern of the opened stained-glass window.

The Lady Nevils Delight (cittern) [688 KB]
from: Ancient Instruments - by Various Artists -Tuxedo (no. 33)
http://www.emusic.com/album/10589/10589854.html
Do Vermeer's paintings really signify something other than the scenes they represent?
After many years of research, iconographical scholars have come to the conclusion that there exists no single interpretative key to unlock the presumed hidden meaning of Vermeer's painting. Moreover, there is a growing sensation that the iconographical method may have reached its limits. Some historians have gone full circle and return to what Thoré-Bürger expounded 150 years ago: Dutch paintings might be taken literally for what they appear to be at first glance, remarkable descriptions of a particular situation and time.
The principal advocate of the iconographic method as applied to Dutch genre paintings is Eddy de Jongh. Rather than assuming naturalism as the default mode of representation, in De Jongh's system, everyday objects are interpreted as having symbolic meaning that, taken together, contribute to the meaning of the painting as a whole. While in the Vanitas imagery of Dutch still lifes symbolic meaning of certain objects and events was intentionally blunt - hourglasses, time pieces or spent candles signaled the ephemerally and futility of the material world - genre scenes of the kind painted by Vermeer demanded an all-encompassing approach. Their symbolic messages are embedded deeper within the apparently quotidian. Unlike Panofsky, the originator of iconographical studies of Renaissance painting, De Jongh spoke of "apparent realism," rather than "disguised symbolism" since the illusionist appearance in Dutch paintings is nonetheless its most remarkable trait. To support his readings, De Jongh marshaled an array of texts and prints which in turn help to produce a picture of the broader cultural context for viewing these works.
Many believe that beneath the extraordinary realism of Dutch art refelcts an allegorical view of nature that provided a means for conveying various messages to contemporary viewers. The Dutch, so it goes, with their ingrained Calvinist beliefs, were a moralizing people. While they thoroughly enjoyed the sensual pleasures of life, they were keenly aware of the consequences of wrong behavior. Paintings, even those representing everyday objects and events, helped provide reminders about the brevity of life and the need for moderation and temperance in one's conduct.
The iconographical approach to Dutch paintings has found detractors. Many believe that the average Dutchman had no need to be told what was morally right or wrong. In her groundbreaking study, The Art of Describing, Svetlana Alpers forcefully advanced a diametrically opposed notion of Dutch painting, unlike Itaian painting, as essentially descriptive and nonnarrative, supported by a fascinating array of ideas and data culled from different fields, including optics, perspective theory, and cartography. In her view, Dutch painters participated in a distinctive visual culture that led them to value detailed realistic paintings of everyday life as a way of exploring and knowing the world, not as a way of presenting disguised moralistic meanings.
The latest development in the iconographical vein is that paintings were deliberately meant to have open-ended meaning, a sort of interpretative ambiguity where the final significance of the painting depends upon the emotions and cultural experiences of the viewer. Indeed, ambiguity is already latent in many important symbols. Mirrors, for example, were associated with both vanity and self-introspection.
Some scholars believe, in essence, that both are right. Dutch painters deliberately created open-ended works which viewers could interpret symbolically or delight in the astounding visual qualities represented therein.
Along with Gerrit Dou, Gerard ter Borch and Frans van Mieris, Vermeer practiced what the Dutch called "fijnschilderei" or "fine painting." This new, ambitious form of painting catered to the quasi-aristocratic burgher tastes which had developed after the 1650s when religious inhibitions in regards to the accumulation and display of materials riches began to loosen. In this period, Dutch burghers, many who had retired from work and were able live on their investments and land holdings, desired to distance themselves off from the rest of society. The construction of grand villas, luxurious city dwellings and formal gardens were among their favorite pastimes and art collecting became a means to not only boast their princely life style but to define their social aspirations as well.
In order to gratify the burghers whose life-style had not yet been pictured, the fijnschilders focused on precious, expensive, cultivated things, above all clothes and interior furnishings. Favored motifs were conversation, gallant courtship, music making, poetry, letter reading and letter writing. The direct, emphatic display of emotion was banished in favor of self containment and barely perceptible gesture. To convey the new social mentality a consonant painting style and a technique was required. They favored polished, almost invisible brushwork and a detailed description of form necessary to capture the textures and colors of luxurious furnishings and costume. The earlier drab earth colors, jumbled compositions and indistinct lighting practiced by painters of low-life tavern scenes and bare home settings gave way to clear, bright lighting, geometrically ordered compositions and rich colors. The surface of fijnschilder paintings remains virtually undisturbed by paint relief.
Since this new type of painting required enormous skill and expenditure of time, prices rivaled those paid for the finest works of the venerated Italian masters. A good Gerrit Dou could fetch over 1,000 guilders, the equivalent of the price of an average Dutch home. Dou, Van Mieris and Ter Borch all had international reputations while the great part of Vermeer's oeuvre was acquired by the patrician Pieter van Ruijven of Delft who, in order to bolster his social standing, paid sixteen thousand guilders, an astronomical sum, to acquire land near Schiedam that brought with it the title of Lord of Spalant in 1669.