The Lacemaker
(De kantwerkster
c.1669-1671
oil on canvas
9 5/8 x 8 1/4 in. (24.5 x 21 cm.)
Musée du Louvre, Paris
there are 9 hotspots in the image below
left-click once to fix the slide-in information box - left-click again to retire it
The blue cushion with decorative tassels in the foreground is a naaikussen (sewing cushion), a familiar object anywhere in 17th-century Netherlands. The naaikussen was made of a rigid material covered with velvet or cloth. Inside were a series of compartments which held the various accessories necessary for sewing. In Vermeer's version, we can see a mass of red and white threads that spill out suggestively from the cushion's opening. Such cushions were frequently held on the young lady's lap as a base for her handiwork. The same sewing cushion appears in the Love Letter and in countless works of the time such as Gabriel Metsu's The Hubter's Gift (see image left).
The small parchment-covered book lying on the table is held by most critics to be a prayer book or small Bible. Accordingly, the feather-like forms which are in front of it are most probably book ties although they are rendered with such artistic license that some writers saw them as feathers. In this context, the Holy Bible certainly symbolizes domestic virtue which was a fundamental concept in Dutch civil life.
The lacemaker sits at a rather complicated piece of furniture, a triangular table, for lace making. The table's uppermost surface could be raised and lowered by inserting a peg into one of the holes in the leg with the knob top. The holes can be seen in the shadowed portion of the visible leg.
This tapestry seems to have something in common one which appears in Vermeer's Love Letter and Astronomer. The floral pattern suggests that it was not a carpet imported from the Far East, as can be seen in many interiors of the time, but rather a tapestry produced locally in Belgium or the Netherlands. It is not out of the question that it was made in Vermeer's hometown Delft, which is known to have had prospering tapestry industry.
Delft boasted famous tapestry workshops; the most famous were those owned by Maximiliaan van der Gucht and François Spiering.
In order to exalt the expressive qualities of the young lacemaker absorbed in her work, Vermeer drew up close to the subject eliminating all but a patch of white-washed wall behind her. However, even the unobtrusive presence of the anonymous wall may have had its own story to tell.
In a passage of a pastoral romance by Johan van Heemskerck, Batavische Arcadia (Batavian Arcadia), a traveling young Dutchman tells of his travels in the Pyrenees where he stumbled upon an inn run by an expatriate Dutchman: "I was amazed to find there a neatness (in white-washed walls and other examples of Dutch cleanliness) to which my eyes had almost grown unaccustomed, for I had been a long time abroad." The Dutch were known, and often ridiculed, throughout 17th-century Europe for their obsessive cleanliness and it is believed the lime used in the paint of the walls was helpful to insure the highest standards of hygiene in environments where beer and cheese were produced.
Vermeer's young lacemaker presumably wears a satin yellow garment with a lace collar. The collar is executed with such pictorial freedom that its decorative motif cannot be distinguished in any way although the artist was able to capture the material's transparency with amazing economy.
Although not a single sitter in Vermeer's paintings has been objectively identified, critics have often asserted that at least some of them were members of his immediate family circle. Judging by the supposed date of this painting and the corresponding ages of the artist's eldest daughters Maria and Elizabeth, it is not out of the question that the lacemaker is one of them. In any case, she compares favorably to the young lady bent over a letter in a work of the same period, A Lady Writing a Letter with her Maid (see detail left).
The lacemaker's hairdo and falling locks, which costume experts tell us were in vogue for a limited number of years, confirms the date generally ascribed to the painting for stylistic motives. The dangling locks s quite like those of the Young Woman Seated at the Virginal painted in the same years.
Many critics have pointed out the absolute economy of drawing and tone of Vermeer's late work, where form is brought to the limits of abstraction.
Perhaps one of the most commented details in Vermeer's oeuvre is the red and white threads that issue from the opening of the sewing cushion (on close inspection one fine blue thread can be observed as well). The threads have been rendered so freely that if one had not seen them within the context of the painting, they might not be recognizable and must have appeared even more so to Vermeer's contemporaries.
Such a dramatic distortion of reality finds few parallels in Dutch fine painting of the time. The threads appear wildly out of focus in respects to the two tight threads of the girl's work. This fact has been explained by the presumed use of the camera obscura by the artist as an aid to his painting. The camera obscura fitted with a single lens has a very narrow field of depth which would correspond accurately to Vermeer's unusual rendering. To further support this hypothesis, the presence of curious round highlights called halations or disks of confusion are clearly visible in various passages of this work.
Although we cannot see the kind of lace the girl is making we can draw some conclusions from her tools which Vermeer has rendered with sufficient precision. The girl rests her hands on a rather flat, light-blue lacemaking pillow, nowadays called a "cookie"-pillow owing to its round form. This kind of pillow served to make shorter pieces or stripes of lace. Another long, thick, tube-like "bolster"-pillow was frequently employed to produce yardage (long strips of lace) but does not seem to be the case in Vermeer's work.
The light brownish pricking card (patroon or kantbrief) is partly visible, fixed on the blue pillow. In former times it was made of parchment. Although they are obviously not visible, little holes were pricked onto this card to establish the desired pattern. Pins were inserted carefully into every hole around which the threads were adroitly entwined. The preparatory phase was, and still is, very time consuming work requiring complete concentration in order to avoid any mistake that would afterwards compromise the whole work.
The little silvery pins with their globular reflections (they closely recall an optical phenomenon produced by the camera obscura called halations or disks of confusion) are visible quite well in Vermeer's painting even though they have been somewhat abstracted. Around these pins the threads, furnished by the bobbins, are interwoven and crossed according to the pattern. The principal movements are the ""twist" and the "cross", but there are numerous other techniques.
TEN
ELEVEN
TWELVE
THIRTEEN
FOURTEEN
FIFTEEN
SIXTEEN
SEVENTEEN
EIGHTEEN
NINETEEN
TWENTY
The achievement of Vermeer's maturity is complete. It is not open to extension: no universal style is discovered. We have never the sense of abundance that the characteristic jewels of his century gives us, the sense that the precious vein lies open, ready to be worked. There is only one Lacemaker: we cannot imagine another. It is a complete and single definition.
Lawrence Gowing, Vermeer, 1952
inscribed upper-left on the gray wall: IVMeer (IVM in ligature)
c. 1669-1670
Arthur K. Wheelock Jr. Vermeer: The Complete Works, New York, 1997)
c. 1669-1670
Walter Liedtke Vermeer: The Complete Paintings, New York, 2008)
The support is a slightly open, plain-weave canvas with a thread count of 12 x 12 per cm: The canvas has been glued onto an oak panel measuring 23.9 x 20.5 cm. X-radiography shows line of tack holes and cracks from former fold lines at the left and right edges. Strainer bar marks are evident also at the sides 2 cm from the fold lines. Along the top edge the line of cracking is 1.4 cm. from the edge of the canvas and along the bottom edge 2 cm. Assuming that the strainer bars were of equal width, this would suggest that only the tacking edge has been removed from the bottom edge and the tacking edge plus 6 mm. from the top edge. This would give original measurements of 24.5 x 19.3 cm. making the painting slightly narrower and taller than at present.
The thin, gray-brown ground contains chalk, lead-white, and umber. The red; pink and light blue areas were painted wet-in-wet. Brushmarks impart texture to the background paint, and impasto touches are found on the highlights. X-radiograph shows a pentimento: the knee was lower so that a triangle of wall was visible under the tabletop. The blue in the tablecloth is discolored. The flattened tacking edges along the left and right sides have been retouched.
* Johannes Vermeer (exh. cat., National Gallery of Art and Royal Cabinet of Paintings Mauritshuis - Washington and The Hague, 1995, edited by Arthur Wheelock)
(?) Pieter Claesz van Ruijven, Delft (d. 1674); (?) his widow, Maria de Knuijt, Delft (d. 1681);
(?) their daughter, Magdalena van Ruijven, Delft (d. 1682);
(?) her widower, Jacob Abrahamsz Dissius (d. 1695);
Dissius sale, Amsterdam, 16 May 1696, no. 12;
Jacob Crammer Simonsz, Amsterdam (before d.1778);
Crammer Simonsz sale, Amsterdam, 25 November 1778, no. 17 (to Nijman);
Jan Danser Nijman, Amsterdam (1778-before 1792);
Jan Wubbels sale, Amsterdam, 16 July 1792, no. 213 (to J. Spaan);
Hendrik Muilman sale, Amsterdam, 12 April 1813, no. 97 (to Coclers);
A. L[apeyrière] sale, Paris, 14 April 1817, no. 50 (to Coclers);
Anne Willem Carel, Baron van Nagell van Ampsen sale, The Hague, 5 September 1851, no. 40 (to Lamme);
Dirk Vis Blokhuyzen, Rotterdam (?1851-d.1869);
Vis Blokhuyzen sale, Paris, 1 April 1870, no. 40 (to Gauchez);
[Léon Gauchez, Paris, in 1870];
[Féral, Paris, sold in 1870 to the Louvre];
Musée du Louvre, Paris (inv. M.I. 1448).
Rotterdam July 9–October 9, 1935
Vermeer, oorsprong en invloed. Fabritius, de Hooch, de Witte. Museum Boymans-van Beuningen.
36-37 and ill. 65.
The Hague June 25–September 5, 1966
In het licht van Vermeer. Mauritshuis.
no. 7 and ill.
Paris 1966 September 24–November 28, 1966
Dans la lumière de Vermeer. Musée de l'Orangerie.
no. 8 and ill.
Paris 17 November 1970-15 Febraury 1971
Le siécle de Rembrandt. Tableaux hollandais des collections publiques françaises. Musée du Petit Palais.
228-229, no. 222 and ill.
Frankfurt Feb. 10-May 1, 2005
Senses and Sins: Dutch Painters of Daily Life in the Seventeenth Century. Städelsches Kunstinstitut und Städtische Galerie.
Cambridge, England October 5, 2011 – January 15, 2012
Vermeer's Women: Secrets and Silence. The Fitzwilliam Museum.
210, no. 29 and ill.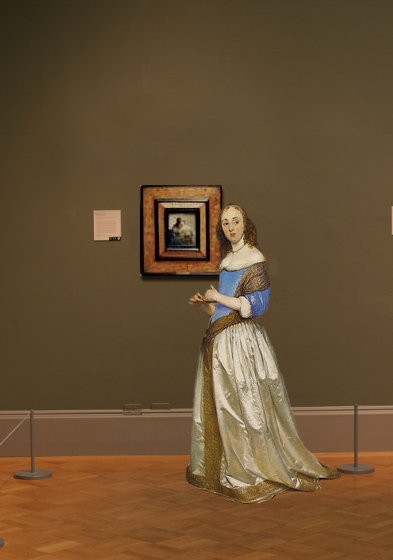 1669
vermeer's life

Vermeer's mother, Digna Baltens, leases the inn Mechelen to a shoemaker for three years. She and her husband had worked in the place for 28 years. Afterwards she goes to live with her daughter Gertruy on the Vlamingstraat, in Delft.

Vermeer and his wife bury another child in the Oude Kerk.

Pieter Teding van Berckhout, from an important family in The Hague, visits Vermeer twice and enters in his diaries his impressions. In May 14,1669, Van Berckhout writes: "Having arrived in Delft, I saw an excellent painter named Vermeer," stating also that he had seen several "curiosities" of the artist. He had arrived in Delft accompanied by Constantijn Huygens and his friends - member of parliament Ewout van der Horst and ambassador Willem Nieupoort. Huygens was an artistic authority in his own day, maintaining contacts with the famous Flemish painters Peter Paul Rubens and Anthony van Dyck and recording in his own diary some remarkably insightful comments about the art of, among others, Rembrandt van Rijn.

Van Berckhout must have been deeply impressed by the work he saw in Vermeer 's studio, since he returned for another visit less than a month later. On June 11, Van Berckhout notes: "I went to see a celebrated painter named Vermeer" who "showed me some examples of his art, the most extraordinary and most curious aspect of which consists in the perspective." This time Van Berckhout used the term "celebrated" rather than "excellent" in describing Vermeer. This testifies Vermeer had achieved a rather considerable reputation. What is most interesting about this visit is that Vermeer's studio (like Dou and van Mieris) had evidently evidentbecome a major cultural destination.

dutch painting
Oct. 4, Rembrandt dies, eleven months later after his son, Titus, in 1668 - only 27 years of age. His beloved Hendrickje had died in 1663.
european painting & architecture

Le Vau begins remodeling Versailles.

The semicircular Sheldonian Theater at Oxford, England, designed by Christopher Wren, is completed.

music

Royal patent for founding Academie Royale des Operas granted to Pierre Perrin.

Marc' Antonio Cesti, Italian composer, dies.

The first Stradivarius violin is created by Italian violinmaker Antonio Stradivari, 25, who has served an apprenticeship in his home town of Cremona in Lombardy to Nicola Amati, now 73, whose grandfather Andrea Amati designed the modern violin. The younger Amati has improved on his grandfather's design and taught not only Stradivari but also Andrea Guarnieri, 43, who also makes violins at Cremona.

literature
science & philosophy

Arnold Geulincx (b. 1624), Dutch philosopher, dies.

Nicolaus Steno (1638- 1687) begins the modern study of geology.

Nils Steensen's Prodromus is first published in Italy and translated to English two years later. It explains the author's determination of the successive order of the earth strata.

Emperor Leopold I sanctions the foundation of a higher school in Innsbruck, Austria. This is considered to mark the founding of the University of Innsbruck.

A General History of the Insects by Jan Swammerdam presents a preexistence theory of genetics that the seed of every living creature was formed at the creation of the world and that each generation is contained in the generation that preceded it

history

Pope Clement IX dies at Rome December 9 at age 69 after a 2½-year reign in which he has encouraged missionary work, reduced taxes, and extended hospitality to Sweden's former queen Kristina. He will not be replaced until next year.

Feb 1, French King Louis XIV limits the freedom of religion.

Mar 11, Mount Etna in Sicily erupts killing 15,000.

Sep 27, The island of Crete in the Mediterranean Sea falls to the Ottoman Turks after a 21-year siege.
1670
vermeer's life

Vermeer's mother is buried in the Nieuwe Kerk in Delft, February 13.

Geertruijt Reynier Vermeer, Vermeer's sister, is buried at the beginning of May in the Nieuwe Kerk in Delft.

Vermeer inherits Mechelen from his mother, July 13. He rents it to a shoemaker caller Van Ackerdyck.

Vermeer is appointed for a second time headmen of the Saint Luke's Guild. He continues to paint in an "abstract" mode paying greater attention to pattern and the compositional structure of his works. Scholars have asserted that Vermeer may have been following the popular French mode of painting.

Delft pop. 15,000
The Hague pop. 6,000
Amsterdam pop. 219,000

dutch painting
european painting & architecture

Louis Le Vau, Fr. architect, d. (b. 1612)

Landscape architect André Lenôtre lays out the Champs-Elysées at Paris.

music
Molière's Le Bourgeois Gentilhomme includes a ballet with music by court composer Jean Baptiste Lully, 38, who has come to France from his native Florence and changed his name from Giovanni Battista Lulli. The ballet is so popular that four performances are requested in the space of 8 days.
literature

Feb 10, William Congreve, English writer (Old Bachelor, Way of the World), is born.

John Ray prints a book of aphorisms such as: "Blood is thicker than water..." and "Haste makes waste."

science & philosophy

Italian scientist Giovanni Borelli attempts to use artificial wings to flying.

London clockmaker William Clement improves the accuracy of clocks by inventing anchor-shaped gadgets (escapements) that control the escape of a clock's driving force.

Parts of Baruch de Spinoza's Tractatus Theologico-Politicus are published anonymously. Spinoza shows that the Bible, if properly understood, gives no support to the intolerance of religious authorities and their interference in civil and political affairs. The book creates a furor. It will provoke widespread denunciations as it goes through five editions in the next 5 years, and Spinoza moves to The Hague to gain the protection of influential friends. Now 37, he suffers from tuberculosis after years of inhaling glass dust produced by his lens-making.

history

Cardinal Emilio Altieri becomes Pope Clement X.

May 2, The Hudson Bay Co. is chartered by England's King Charles II to exploit the resources of the Hudson Bay area.

Oct 13, Virginia passes a law that blacks arriving in the colonies as Christians cannot be used as slaves.

The Dutch merchant marine has become larger than that of England, France, Spain and Portugal combined.

Minute hands first appear on watches.

Cafe Procope, the first cafe in Paris, begins serving ice cream.

France's Louis XIV founds Les Invalides at Paris to house up to 7,000 disabled soldiers.
1671
vermeer's life
In July Vermeer appears before the notary Nicolaes van Assendelft to acknowledge that he had received an inheritance of 148 guilders from his sister's estate.
dutch painting
Adriaen van Ostade paints Travelers Resting.
european painting & architecture

Lionel Bruant: Hôtel des Invalides, Paris.

Christopher Wren: The Monument to commemorate the Great Fire of London in 1666

music

Feb 19, Charles-Hubert Gervais, composer, is born.

Dec 1, Francesco Stradivari, Italian violin maker and son of Antonius, is born.

Paris Opera opens with Robert Cambert's opera Pomone.

The French Académie de Royale Musique opens March 3 in the Salle du Jeu de Paume de la Bouteille. Jean Baptiste Lully will take over the Paris Opéra beginning next year and run it until 1687, rebuilding the house after fires that will destroy it in 1678 and 1681

literature

Apr 6, Jean-Baptiste Rousseau, French playwright, poet (Sacred Odes & Songs), is born.

Molière writes his farce Les Fourberies de Scapin (The Wiles of Scapin or Scapin the Cheat).

science & philosophy

In Germany Gottfried Wilhelm Leibnitz devised a mechanical calculator to add, subtract, multiply and divide.

Astronomer Jean Picard visits the observatory of the late Tycho Brache on Hven Island, Sweden, to determine its exact location in order that observations there can be compared with precision to those made elsewhere. He returns to Paris with copies of Brahe's work and will use them to help him obtain an accurate measurement of the length of a degree of a meridian (longitude line) for use in computing the size of the Earth.

history
c. 1671 first printed reference to an alphabet rhyme, a rhyme composed to help children learn their letters.

Apr 22, King Charles II sits in on English parliament.

Colonel Thomas Blood, Irish adventurer, steals the Crown Jewels from the Tower of London.
Domestic imagery began to be produced with great frequency only after the Treaty of Münster in 1648, a period of tremendous affluence and, related to this, increased awareness of civility that self-conscious cultivation of grace and status. In painting, people were no longer represented as mere stand-ins for gods, mythological and historical figures, but as real people in real settings engaged in real activities.
According to author Simon Schama, the Dutch culture of the 17th century was a conflict between home and world. In response to their own commercial successes, they invented the "cult of housework," an ideological elevation of domestic work to an almost sacral status. Numerous prints, manuals, and sermons contributed to the process of sanctifying the home as a refuge against the incursions of market values. No aspect of daily life was considered too insignificant to be portrayed, whether strumming a lute in solitude, reading a letter or quietly making lace. However, the Dutch often attached moral values (frequently contradictory) to each of these activities so that the painting could not only delight the eye, but nourish the soul as well.
Embroidery, like lacemaking, was traditionally shown in representations of the Education of the Virgin. In Dutch literary and pictorial traditions sewing and lacemaking were associated with fundamental values of Dutch culture, industriousness and domestic virtue. Women belonged in the home, doing needlework, taking care of the household, and looking after the children.
The Lacemaker, therefore, pictures an ideal: an industrious woman in a tidy house. While engaged in work rather than leisure, her elaborate hiardo and elegant satin dress seem to be more in keeping with middle or upper class. However, there can be little doubt that her diligence will preserve her virtue: within easy reach is a small book on the foreground table, most likely a prayer book or small Bible.
One of the greatest extravagances in the history of clothing was lace. True lace was not made until the late 15th and early 16th century. Until the time of Queen Elizabeth of England lace was not common. True lace is created when a thread is looped, twisted or braided to other threads independently from a backing fabric. All lace was handmade and very expensive. It was made from many fibers such as cotton, silk, and flax as well as metallic threads like gold, silver, copper, and even hair. In Vermeer's painting, we can clearly see that the girl is making bobbin lace. As needle lace is to embroidery, bobbin lace is to weaving. In bobbin lace the threads are plaited, twisted and interwoven. The solid parts resemble woven cloth.
Bobbin lace became more popular than needle lace because it was lighter in texture and it worked well in Elizabethan costume. It also lent itself to the manufacturing system of the day. Businessmen would purchase the raw materials and pass them out to home workers. They would get paid for each piece they completed. The businessman would sell the product and keep the profit. Bobbin lace, unlike needle lace, was made by men as well as women. Even fishermen in the "off season" would make bobbin lace. The advent of machine lace at first pushed lace-makers into more complicated designs (ones that the machines couldn't handle) and then eventually pushed them out of business almost entirely. Bobbin lace is also known as bone-lace. The name bone-lace comes from the fact that some bobbins were formerly made of bone. The collar worn by Vermeer's lacemaker is presumably made of lace although it has been painted with such economy that only its transparency transpires.
So what kind of lace may the girl in Vermeer's painting actually making? Of course, we must take to account that Vermeer most likely did not paint exactly what he saw with photographic precision. However, an educated guess would be that she is working on a rather short piece of lace, perhaps a geometric motif for non-continuous lace or a short stripe later to be attached to a piece of linen, for instance for a small tablecloth or runner or for a cushion. She is certainly not making a very complicate pattern or non-continuous lace, for which she would have far more bobbins at hand and would probably use a "Bolster" pillow.
From both an anthropological and architectural viewpoint, the home had acquired enormous importance in the second half of the 17th century in the Netherlands. Scenes of Dutch domesticity flourished and women were among the most frequently depicted subjects. They reflect concepts that were important to the Dutch culture such as family, privacy, intimacy, comfort and luxury. The new Dutch household had begun to be perceived as the realm and responsibility of woman while the public world, divided for the first time cleanly from it, belonged to the male.
Vermeer principally painted women engaged in cultivated leisure (playing musical instruments or letter writing or reading) in order to emphasize their literacy (pictorial tradition suggests the letters his women read are about love but they also speak to a burgeoning ideal of the educated domestic woman). Only two times did he portray them working, in the early Milkmaid and the late Lacemaker.
According to a study made by Gary Schwartz and Trudy van den Oosten, working from a database of 3,340 Dutch, Flemish, Italian and Spanish paintings, males comprise about 74% of the figures, women 19% and children 7%. Vermeer painted proportionately more women than his colleagues. However, unlike his colleagues, Vermeer represented no families, no children or no elderly people in his interiors.
Some authors have creatively asserted that "women dominated the life of Vermeer" citing along with the choice of the motifs of women in his painting, a domineering mother-in-law, a household of daughters and at least one strong-willed maid. On the basis of the treatment of his subjects others have psychoanalyzed him as a "person who is afraid of women" or as a "distant father." However, it is far more likely that the unusual proportion of women and their manner of depiction reflect consciously elaborated artistic goals rather than psychological or personal motives. In more than one case, the known lives of some Dutch painters contrasts directly with their preferred subject matter.
The art of Vermeer had a negligible influence on painters of his time and his name and work were almost entirely forgotten until the mid 19th century. Although widely considered a "painter's painter" in art circles of the early 20th century, his work continued to inspire few artists. Curiously, his apparently uncomplicated painting was praised more than any other modern artist by the most extravagant artists of all times, Salvador Dalí.
Dalí wrote: " the first time I saw a photograph of [Vermeer's] Lacemaker and a live rhinoceros together, I realized that if there should be a battle, the Lacemaker would win, because the Lacemaker is morphologically a rhinoceros horn."
One of Dalí goals was to "rescue" modern painting. His figurative mode and obsessive extolling of the Old Masters not only incited fellow Surrealists against him in the 1930s, but also later situated him in a diametric opposition to the avant-garde's penchant towards abstraction.
Throughout art history, artists had incessantly attempted to grasp form and to reduce it to elementary geometrical volumes. Leonardo always tended to produce eggs Ingres preferred spheres, and Cézanne cubes and cylinders. According to Dalí, all curved surfaces of the human body have the same geometric spot in common, the one found in this cone with the rounded tip curved toward heaven or toward the earth the rhinoceros horn!
After this initial discovery, Dalí surveyed his own images and realized that all of them could be deconstructed to rhinoceros horns.
Dalí also discovered what he termed "latent rhinocerisation" in the works of the Great Masters. According to the Spanish Surrealist, "The Lacemaker is a rhinoceros horn (or an assemblage of horns), and the rhinoceros' actual horn is, in fact, a Lacemaker. The painting triumphs over the living rhinoceros because it is entirely comprised of these animated, spiritualized horns, whereas the rhinoceros wields only the single diminutive horn/Lacemaker on its nose."
A copy of the Lacemaker had hung on the wall of his father's study and had obsessed Dalí for a number of years. In 1955, he asked permission to enter the Louvre with his paints and canvas to execute a copy of The Lacemaker.
Dalí explained, "Up till now, The Lacemaker has always been considered a very peaceful, very calm painting, but for me, it is possessed by the most violent aesthetic power, to which only the recently discovered antiproton can be compared."
Although the faces in Vermeer's paintings are adequately painted, they differ, and in a few cases suffer, if closely compared to those of his close colleague Gerard ter Borch, one of the Netherlands's most accomplished and financially rewarded painters. While Ter Borch's formal portraits strike us as refined but muted by the necessities of convention, the men and women who populate his genre interiors breathe true life. They evoke emotions that range from painful uncertainty, to quite desperation, unguarded expectation and solitude. His depictions of both working class and haute bourgeois rival, albeit in an understated manner, the portraits of Rembrandt van Rijn.
If we match up Vermeer's Lacemaker and Ter Borch's Spinner, both picturing women immersed in domestic chore, the difference in their treatment jumps immediately to the forefront. In Ter Borch's work, the activity of the spinner absorbs her intellect but she remains an individual. Her facial characteristics are treated with respect, warmth and dignity. For Ter Borch, the sentiments of his tangible sitter and the art of painting are equally precious.
On the other hand, in Vermeer's Lacemaker, the viewer's eye tends to scan the whole painting exploring bit by bit the curiosities of the composition of which the girl's face is but a part. We are artfully guided by the calligraphic yet supremely confident brushwork and the rhythm of the composition. The few facial characteristics the artist permits us to view are reduced to a subtle yet lively pattern of dark and light. The direction of the girl's gaze, the alignment of her fingers with the taught threads all converge on a single point where, knot after knot, her lace is being miraculously produced. We experience the wholeness of lacemaking, something beyond the individuality of the lacemaker herself. She remains visible yet ultimately intangible.
During the 17th century, the best opportunities for female painters were in the Netherlands. The majority of female painters were daughters of painters. Those who weren't were daughters of intellectuals or minor nobleman with ties to artistic circles. Many were eldest daughters or came from families where there were no sons so their father took unusual interest in their careers. Most women painters either produced far fewer works or stopped altogether painting once they were married although this is also frequently the case when male painters married rich women.
Since women were not allowed to study the male nude, which was considered essential for painting large scale history paintings with figures partially or completely undressed, women opted for "lesser" categories of painting like still life, genre or portraiture.
The Netherlands boasts two excellent female painters who were in high demand in their own times, Judith Leyster, who painted figures and genre interiors and Rachel Ruysch who produced works for an international clientele. Although in the work of both painters one may note a feminine touch (which we may or may not have noticed had we not been aware they were women) both seemed content to work and prosper within traditional genre framework of symbolism or moralizing allegory, as employed by their male contemporaries. Therefore, we are hardly informed about the real lives of women through pictures painted by women.
Geertruydt Roghman, from an Amsterdam family of artists, is one of the few female painters who depicted domestic tasks from a woman's perspective. She is principally known for her original suite of five engravings, "Household Tasks": sewing, spinning, reading (?), cooking, and cleaning cookware. The two subjects set in kitchens are unusual in that the solitary maids are seen from behind.
Roghman's prints present a sober, altogether unflattering view of domestic life. And her kitchen scenes are remarkable for the figures' complete lack of individuality and appeal. Did Roghman wish to underline the hardships of domestic activities? According to one writer, Roghman depicted women "as self-possessed subjects rather than patriarchally-controlled objects. Hence, women do not perform their chores for the approval of male viewers." Objectively, it is hard to compare Roghman's themes with those of her male counterparts Vermeer and Gerrit Dou. Whatever the interpretation, we must bear in mind that prints were generally intended for a broad audience while Vermeer's work were made exclusively with an individual collector in mind.
In any case, in regards to Dutch art and literature, the home, the family, and the domestic role of the housewife was held sacred and lauded as the foundation of Dutch society in the period after 1650. Domestic labor, as such, was not disparaged. It is hard to imagine a more edifying treatment of female labor that Vermeer's Milkmaid or Lacemaker.

Unico Wilhelm van Wassenaer (1692-1766)
Concerto Armonico no. 5 [900 KB], A tempo comodo (con sordino)
http://www.amazon.com/Wassenaer-Concerti-Unico-Wilhelm-van/dp/B00006RHPO/ref=sr_1_2?ie=UTF8&s=music&qid=1255264489&sr=1-2
SPECIAL TOPICS NINE
SPECIAL TOPICS TEN