there are 10 hotspots in the image below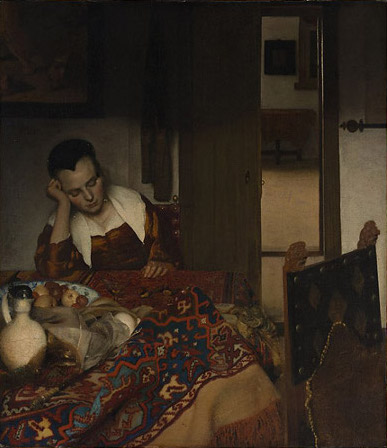 The girl's face seems to resemble that of a young woman repeated in later paintings which some art experts believe to have been Catharina Bolnes, Vermeer's wife. According to Dutch costume expert Marieke de Winkel, who has examined the costumes of Vermeer's works, the maid wears a silk jacket and a pointed black cap called a til and a pair of pearl earrings, all refined accoutrements of the elevated social class.
"Most remarkable is a black patch on the girl's left temple called mouches, considered to be the height of fashion." Mouches were worn to prevent toothaches and headaches but they had become stylish for their optical effect, to make the skin appear whiter. Even though there is much written evidence of these patches, they appear only rarely in paintings of the time. It is said that a sort of "secret language" even developed through their use: A patch near the mouth meant you were flirtatious; one next to the right cheek signaled you were married; one on the left cheek announced you were engaged; one at the corner of the eye meant you were somebody's mistress.
Woman Asleep is Vermeer's first attempt at the popular domestic interior idiom pioneered by Gabriel Metsu, Pieter de Hooch and Nicolas Maes. The composition contained a number of props and pictorial devices which would be repeated time and time again during his brief 20-year career. Although we cannot make it out any detail, it may be safe to assume that this area represents a corner of a wall map, a popular and relatively cheap decorative solution for bare walls. More clearly depicted is the map's hanging rod (called rollen) that appears countless in Dutch genre interior paintings. Maps were usually glued on cloth to give them more consistency and allow them to be rolled up for storage. The weight of the lower hanging rod maintained the map flat while the curious balls distance it from the wall so it could not rub against the ever-humid Dutch walls. In simpler homes, thje maps were simply attached with tacks.
Although modern scholars have speculated extensively on the presumed iconographic significance the objects of Vermeer's composition, no convincing iconographic interpretation has been given to the map.
Due to the fact that so few 17th-century carpets have survived, European paintings are a primary source for scholarship on early carpets, and many groups of Islamic carpets from the Middle East are today called by the names of European painters who depicted them. The great European painters Giotto, Ghirlandaio, Holbein, Van Eyck, Lotto and Vermeer all depicted carpets from Turkey or Iran. Their works are testimony to the exceptional value that the Oriental carpet had gained as a symbol of international taste. As with all costly imports, attempts were made to imitate or adapt them to preexisting European models.
With the rapid expansion of the foreign trade of the Netherlands, oriental carpets became very popular in the 16th and particular in the 17th century as decorative objects, usually laid over tables or chests with the knotted surface up. The Dutch normally placed them on tables to avoid wearing them down. The tradition of showing carpets on tables in upper-class interiors continued until the end of the century when Oriental carpets lost their previous status.
The carpet of A Maid Asleep has been identified by Onno Ydema as a 17th-century Anatolian carpet from Turkey. In nine of Vermeer's paintings we find carpets, most with different patterns but always, presumably, painted from an existing model. Amazingly, in the Northern Netherlands only three carpets known to have been in Dutch possession in the 17th century have survived. The carpet in the present painting is most likely a Lotto with a Kilim style. By the 18th century, the fascination for oriental carpets had begun to wane due, perhaps, at least in part, to the inferior quality and quantity brought on by the decline of ruling dynasties of the East.
In the time of Vermeer, this kind of free-standing chair was know as a Spanish chair. Spanish chairs with two hand-carved in-head finials makes frequent appearances in Dutch interior paintings and in Vermeer's oeuvre as well.
This chair was not a part of the original composition. It covers a standing dog near the doorway who looked towards the far end of the see-through room where a hatted cavalier once stood. Although it is very hard to make out, the thinly painted object propped up against the back of the chair is a cushion with a decorative gold brade. No explanation has been given to either object but it is possible that their function was to close the composition.
The social history of the chair is as interesting as its art and craft. The chair is not merely a physical support and an aesthetic object; it is also an indicator of social rank. In this painting, Vermeer employed two different types of chairs in the painting which he never did again. The foreground chair was a later addition to the original concept of the composition. Its decorative lion-head finials became a standard feature of his interiors.
The chair on which the young woman is seated appears again in the late Love Letter, this time, the seat's decorative fringe can be clearly observed. One detail of Vermeer's rendering demonstrates that he was willing to truly employ extraordinary means to recreate the textural effect of the objects within his compositions. Laboratory analysis reveals the he applied actual gold leaf, accented with a dab of lead-tin yellow to capture the brilliance of the knob of the chair.
The lower part of a black-framed picture on the background wall allows us to see part of the left leg of a standing child and a mask. The obscured figure has been associated with two contemporary images: an emblem in Otto van Veen's popular Amorum Emblemata (Antwerp, 1608) and a standing Cupid holding up a card, in the style of Cesar van Everdingen. The background painting in A Maid Asleep probably corresponds to a Cupid described in an inventory list of household goods of the Thins-Vermeer residence taken after the artist's death.
Vermeer must have been attached to the Cupid painting since he pictured it again in the Girl Interrupted at her Music and the later Lady Standing at a Virginals, in both cases without a trace of a mask. Furthermore, it once assumed a dominant compositional role in the early Girl Reading a Letter at an Open Window, but was painted out by the artist himself for an unknown reason.
Although Vermeer's contemporary cabinet-sized interiors appear worlds apart from Van Everdingen's large-scale history paintings, the young Vermeer could have been easily impressed by Van Everdingen's technical skill, which earned him the status of one of the most important painters of the Netherlands. Van Everdingen's religious subjects in the middle years of the century are painted in a crisp, elegant style. His subtle brushwork and ability to brush aside picayune detail and condense complex forms to their essential elements recalls various passages of Vermeer's polished works of the 1670s.
The ceramic bowl which holds various pieces of fruit was commonly called a klapmut, a large soup bowl made in Jingdezhen, China.
As the historian Timothy Brook pointed out, as the market for imported Chinese porcelain grew exponentially, oriental dealers began to shape their products according to European tastes and needs. One of the striking hybrids was the klapmut, which drew its name from the shape of a cheap, wool hat worn by the lower classes. The low, flattened shape of the klapmut allowed the European to dip his spoon in the bowl with ease and then rest it on the bowl's wide-brimmed border. The Chinese drank their broth soups directly from a bowl with steep vertical sides and had no use for the European version.
As valuable and highly prized possessions, pieces of Chinese export porcelain appeared in many 17th-century Dutch paintings. The illustration (right) shows a painting by Jan Jansz. Treck that includes two Kraak-style bowls, probably late Ming, the one in the foreground a klapmut.
Throughout his career Vermeer devised various means to enhance atmosphere of the private spaces. The vista opening into another room, called doorkijkje, appears in a great number of Dutch interiors including the Idle Servant by Nicholaes Maes, which no doubt served as Vermeer's compositional model.
Vermeer probably borrowed another version of the doorkijkje from De Hooch's Couple and Parrot for his own Love Letter painted some years later. He painted at least one other doorkijkje, which was described in an auction catalogue of 21 Vermeer paintings (Amsterdam, 1696) as "a gentleman is washing his hands in a perspectival room with figures, artful and rare..." This mysterious painting, of which nothing else in known, must have been impressive seeing that it fetched the relatively substantial sum of 95 guilders, fifteen guilders more than the elaborate Music Lesson, now the pride of the Royal collection.
Placed on the table is a wide-brimmed glass partially filled with white wine. The first mentioning of viniculture in the Netherlands dates back to 968. Because of the unfavourable Dutch climate, wine had to be imported. Sulphur was added to stabilize the wine and prevent it from finishing fermentation. The easy access along the Rhine river helped develop a taste for sweet, white wines. The VOC, who eventually dominated the world's wine trade, shipped Bordeaux, Burgundy, Rhine wine, Greek wine, Malaga from Spain, and Marsala from Italy all over the world. They traded with Germany, Sweden, England, and the Baltic areas. Rotterdam was the chief port for wine as it lies at the mouth of the Rhine.
Since this rather complicated still life is in a ruinous state, neither its eventual iconographic meaning nor the objects themselves are entirely comprehensible.
The upper ceramic dish, a Wan-li bowl imported from China, contains various fruits, most likely apples and plums. To the lower left is a white porcelain wine jug with a silver cap which appears in other paintings by Vermeer in a conspicuous manner. The artist must have been very fond of its simple yet suggestive surface quality and shape. It probably came from Italy, although there were many Dutch imitations. To the right of the bowel seems to be a short white jug resting on its side, partially obscured by a piece of gauzy material. Beneath the wine jug can be observed the vestiges of a Roemer glass which has suffered greatly from time or restorations, and can be made out with difficulty. Slightly to the right of the Roemer is a silver knife set curiously end-to-end to what appears to be a spoon. Above, these are a few nuts shells and a barely visible glass filled half way with white wine.
To make matters worse for those historians who have attempted to divine the symbolic meaning of this ensemble, was an empty plate near the girl's fingertips and some sprigs of grape vines both painted out by the artist himself. Other pentimenti, a dog and a standing cavalier, cast doubts as to the young artist's original intentions and show that he struggled with the ins and outs of the new interior genre mode which would very soon become his dominant mode of painting.
ELEVEN
TWELVE
THIRTEEN
FOURTEEN
FIFTEEN
SIXTEEN
SEVENTEEN
EIGHTEEN
NINETEEN
TWENTY
In A Girl Asleep, the Soldier and Laughing Girl and the Dresden Letter Reader Vermeer's matter is stated in a vocabulary not essentially different from that current among his contemporaries. In The Letter Reader the hands are modeled with almost painful attention to the known anatomical form; the same uneasy linear definition of these details appears in the Frick picture. Both reveal the painter with a manner which is the antithesis of that which he later developed.
Lawrence Gowing, Vermeer, 1952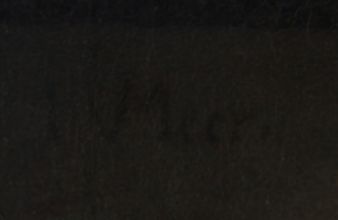 singed at left, above the figure's head: I.VMeer: (VM in monogram)
c. 1657
Albert Blankert, Vermeer: 1632–1675, 1975
c. 1657
Arthur K. Wheelock Jr., Vermeer: The Complete Works, New York, 1997
c. 1656–1657
Walter Liedtke, New York, 2008
c. 1657
Wayne Franits, Vermeer, 2015
(?) Pieter Claesz. van Ruijven, Delft (d. 1674);
(?) his widow, Maria de Knuijt, Delft (d. 1681);
(?) their daughter, Magdalena van Ruijven, Delft (d. 1682);
(?) her widower, Jacob Abrahamsz Dissius (d. 1695);
Dissius sale, Amsterdam, 16 May, 1696, no. 8;
probably sale, Amsterdam (V. Posthumus), 19 December, 1737, no. 47, sold to Carpi;
[probably J.B.P. Lebrun, Paris, in 1811];
Smeth van Alphen et al. sale, Paris (Lebrun), April 1811, no. 150, sold to Alexandre-Joseph Paillet, in 1811;
John Waterloo Wilson, Paris (after 1873–1881;
his sale, Paris, 13–16 March, 1881, no. 116, to Sedelmeyer, Paris, 1881, sold 1881 to Rodolphe Kann, Paris (d. 1905); his estate, 1905–1907;
sold to Duveen, London, 1907–1908; sold 1908 to Benjamin Altman, New York (d. 1913);
since 1913 The Metropolitan Museum of Art, New York, Bequest of Benjamin Altman (acc. no. 14.40.611).
London 1898
Illustrated catalogue of 300 Paintings by Old Masters of Dutch, Flemish, French, and English School Being Some of the Principal Pictures Which Have at Various Times Formed Part of Sedelmeyer Gallery
Sedelmeyer Gallery
104, no. 88 and ill., as "The Sleeping Servant"
London April 28–July 25, 1903
Works by Early and Modern Painters of the Dutch School
Art Gallery of the Corporation of London
no. 188, as "The Cook Asleep," lent by Monsieur X of Paris
New York September 25–October 9, 1909
The Hudson-Fulton Celebration
Metropolitan Museum of Art
no. 137, as "A Girl Sleeping"
New York November 7, 1952–September 7, 1953
Art Treasures of the Metropolitan
The Metropolitan Museum of Art
no. 117
New York March 8–May 27, 2001
Vermeer and the Delft School
The Metropolitan Museum of Art
no. 67
New York September 18, 2007–January 6, 2008
The Age of Rembrandt: Dutch Paintings in The Metropolitan Museum of Art
Metropolitan Museum of Art
no catalogue
New York September 9–November 29, 2009
Vermeer's Masterpiece "The Milkmaid"
The Metropolitan Museum of Art
no. 6 and ill.
1657
vermeer's life

Maria Thins, in the first draft of her testament, leaves to Vermeer's daughters jewels (wrings bracelets and gilded chains) and the sum of three hundred guilders to Vermeer and Catharina.

In the same testament Maria Thins wills to Vermeer's first child, Maria, 200 guilders. The child's name is an almost certain sign of good will that existed between Vermeer and his mother-in-law.

In Nov. 30 Vermeer and his wife were lent the sum of 200 guilders from Pieter Claesz. van Ruijven, a wealthy Delft citizen and art collector who may have purchased in the following years more than twenty of Vermeer's works. This money may have been a kind of advance payment on the purchase of future works. Van Ruijven is now rightly considered Vermeer's patron. He was almost seven years older than Vermeer and seems to have had a personal relation with Vermeer that went outside the usual client/artist relationship.

Feb. the framemaker Anthony van der Wiel, who had married Vermeer's sister Gertruy, registered at the guild as an art dealer.

dutch painting

Frans Snyders, Flemish painter, dies.

Both Pieter de Hooch and Vermeer began to paint the genre interiors refining a regional type, lending it a more realistic qualities of space, light and atmosphere.

The Dortrecht landscape artist Aelbert Cuyp borrows warm light and hilly scenery from Italian examples.

european painting & architecture

Diego Velázquez paints Las Hilanderas (The Spinners)

The Corsini payed Guercino 300 ducats for the Flagellation of Christ painted in 1657. Guercino was remarkable for the extreme rapidity of his execution—he completed no fewer than 106 large altar-pieces for churches, and his other paintings amount to about 144. In 1626 he began his frescoes in the Duomo of Piacenza. Guercino continued to paint and teach up to the time of his death in 1666, amassing a notable fortune.

music
Le Sieur Saunier: Vencyclopdie des beaux esprits, believed to be first reference book with "encyclopédie" in its title.
literature
science & philosophy

A pendulum clock was designed by Christiaan Huygens and built by Solomon Coster.

Universal Mathematics (Mathesis Universalis) by John Wallis amplifies the English mathematician's system of notation, applying it to algebra, arithmetic, and geometry. Wallis will be credited with inventing and introducing the symbol for infinity; he has demonstrated the utility of exponents, notably negative and fractional exponents.

history

Mar 23, France and England formed an alliance against Spain.

Jun 1, 1st Quakers arrived in New Amsterdam (NY).

A 4-year Dutch-Portuguese war begins over conflicting interests in Brazil, but Johan de Witt will end the hostilities with a peace advantageous to the Dutch.

Coffee advertisements at London claim that the beverage is a panacea for scurvy, gout, and other ills.

Public sale of tea begins at London as the East India Company undercuts Dutch prices.

The Flushing Remonstrance written to Nieuw Amsterdam's governor Peter Stuyvesant December 27 is probably the first declaration of religious tolerance by any group of ordinary citizens in America.

The first London chocolate shop opens to sell a drink known until now only to the nobility.
Before Vermeer settled on painting principally his now-famous interiors, he experimented with a number of motifs and styles. He painted two Biblical themes (one lost), two motifs drawn from classical mythology (another lost work) and one bordello scene which belonged to popular genre in the 1620s and 1630s. After these forays, he approached the so-called "modern" mode which consisted in painting with the utmost fidelity a few, discreet figures set in well-to-do contemporary interiors, the first of which is the Maid Asleep.
Due to the variety of themes and techniques in these early works, Vermeer specialist Walter Liedtke posited that there exists no unequivocal sign of a single master's influence. "Indeed, if a newly discovered document revealed that in his mid- or late-teens Vermeer studied with any particular painter, it would not clarify much. A stronger bond between master and pupil might have diminished the artist's ability to absorb ideas from diverse sources and to make intuitive connections between them. Perhaps these talents were nurtured by beginning as an apprentice but as an art dealer's son."
This painting is considered Vermeer's first surviving genre interior. Genre paintings depict scenes or events from everyday life. The term genre is French word meaning a "type" or "sort," and did not acquire its current art historical usage until the late 19th century. During the 17th century, genre paintings were occasionally referred to by the general term beeldeken—meaning "painting with little figures"—but were more commonly categorized according to their specific subject matter. Coortegardjes, for example, portray soldiers at rest or play, while conversaties feature fashionable young men and women eating, drinking and playing musical instruments together. In addition to these popular subjects, genre paintings also frequently depict taverns, kitchens, open-air markets, and festive occasions such as weddings, births or holidays.
Many genre paintings drew on familiar sayings or illustrated books, such as Jacob Cats' immensely popular Houwelijk (On Marriage), which was first published in 1625 and sold, according to contemporary estimates, some 50,000 copies. It gave advice on the proper comportment of women from girlhood to widowhood and death.
Emblem books were another popular form of "wisdom literature" that advised on the proper conduct of all aspects of life, from love and childbearing to economic, social, and religious responsibility. These books encapsulated a concept with an illustration and pithy slogan, amplified by an accompanying poem.
In the mid-1650s, Vermeer joined contemporary genre painters like Gerrit ter Borch, Nicolaes Maes and Gabriel Metsu in depicting domestic interiors. He shared with these artists an interest in edifying or didactic themes supported by emblematic elements. To what extent Vermeer endowed A Maid Asleep with iconographic meaning remains a subject of conjecture.
Seymour Slive sought to explain the picture as a kind of warning against the excesses of drink pointing out the over-turned römer, or Roemer glass, and the half-full wineglass perched on the table. Slive downplayed the importance of the Cupid which hangs above the girl's head. Madlyn Millner Kahr, on the other hand, saw the painting to symbolize disillusioned and disappointed love, hence the maid's dejected posture.
Peter L. Donhauser, instead, saw the key to the work in a small detail. At the center of the painting, the near edge of the open door, is what appears to be the ring of a key. Visual and literary sources of the period link keys with the concepts of domestic responsibility, duty, and fidelity, implying the privilege of access and closely associated with housewives and housemaids. Keys also had a sexual connotation, alluding either to lustful behavior or to female virginity. The key was additionally used by Nicolaes Maes, Samuel von Hoogstraten, and Jan Steen as a metaphor for significance, a literal clavis interpretandi, intended to draw attention to a particular detail crucial to the understanding of a picture; and Vermeer could well have employed the motif in a similar manner.
However, few keys are featured so prominently in a domestic interior as Samuel van Hoogstraten's The Slippers. (see left).
In the early part of the 17th century, genre paintings tended to have clear allegorical content. They warned of the vanity of worldly pleasure, the dangers of vice, the perils of drink and smoke, the laxness of an old woman or a sloth of a maid. Genre painting served both to reflect upon and define ideals about the family, love, courtship, duty, and other aspects of life. By mid-century, most genre pictures had become less obviously didactic.
A key to understanding the girl's attitude was once founded on the catalogue description of the 1696 sale of the painting as "a drunken, sleeping maid at a table." In fact, on the table before her lies not one but two glasses and a wine jug. Originally, there were also some grape leaves to the left-hand side of the still life later eliminated by the artist. A small wine-glass stands almost empty within the girl's reach while an overturned glass at the near side of the table beside the white wine jug is a römer glass of the kind used by men. Today, neither glass is immediately apparent. Perhaps the woman's glass was deliberately concealed but the overturned römer has been obfuscated by time or incautious cleaning.
However, this traditional interpretation of A Maid Asleep has been challenged by Arthur K. Wheelock Jr. who concludes that the young girl's pose "does not indicate that she is asleep, nor does it appear to represent sloth in Maes' painting (The Idle Servant, the unmistakable model for Vermeer's composition). In this context, the girl's pose seems to refer to another iconographic tradition in which the figure rests its head on its hand: melancholia. Melancholia was an affliction widely associated in the 17th century with depression, self-absorbed reflection, artistic creativity and unhappy love affairs." For Wheelock, the motive of the young girl's distress is disclosed within the picture itself. The visible portion of the painting behind her, although small, is enough to identify it with a contemporary emblem which speaks of the serenity of love and the overcoming of deceit.
During the course of the painting process, Vermeer revised his initial concept which, as Arthur K. Wheelock Jr. put it, consisted in relating two isolated "vignettes."
X-radiographs demonstrate that the artist initially had more of a story to tell and had included a dog in the doorway that stared at a standing gentleman sporting a broad-rimmed hat in farthest reaches the back room. Furthermore, grape leaves lay over the fruit of the present-day still life, and the chair in the foreground was eventually added to diminish visual access to the far room.
Vermeer also cut down the picture on all four sides thereby increasing the importance of the figure with respect to the environment. The numerous alterations reveals that the artist was willing to sacrifice narrative clarity in favor of a more poetic image allowing the viewer greater latitude in interpreting the scene. Moreover, by simplifying the composition, he enhanced the visual impact of the work by eliminating unessential, distracting elements.
Such compositional and iconographic revisions are an important characteristic of Vermeer's slow, meditative manner of working.
For even the savviest art historians ascribing a precise iconographic meaning to a painting by Vermeer has often proved vexing, the Girl Asleep being a perfect example. In some cases even the social identity of the sitters themselves has been questioned. Although many critics have described the figure as a drunken maid, Arthur K. Wheelock Jr. believes that rather than a lowly maid she may have been a mistress, due to her refined dress. Consequentially, she does not represent a slothful maid but a young upper-class woman distraught by questions of love.
However, such an elegant dress does not necessarily rule out her being a maid. Overdressed maids had become a predicament in the Netherlands. An Amsterdam regulation of 1681 forbade household servants from wearing silk garments and jewelry like those donned by Vermeer's young woman. In popular literature, maids were often cast as a threat to the security of the home, the center of Dutch life. Maids were frequently the subject of contemporary plays and popular writing. As Simon Schama wrote, in the 17th-century maids were "indisputably regarded as the most dangerous women of all..."
The present picture has been the focus of numerous attempts at interpretation, but none of the proposed explanations have takes into account all of its feature.
Although the study of iconography (hidden symbolic meaning) as applied to 17th-century Dutch genre painting has been a subject which has engaged art scholars for a good part of the 20th century, there remain numerous unresolved questions. While it has become clear that many Dutch genre painters did indeed purposely imbue their works with symbolic meaning not immediately apparent to the modern viewer, it is not known to what extent they did so. Another open question regards the sources which painters used to devise their symbols. Unfortunately, there exists no comparative text for genre painters to Cesare Ripa's Iconologia which constituted a virtual cook book of symbols and allowed history painters to convey abstract meanings such as faith, glory or virtue in visual language Although it is clear that history painters used Ripa's interpretations liberally and sometimes not at all, many artistic compositions can be traced directly to him. Instead, in the case of genre painting it most likely that each painter invested his work with symbolic meaning according to this own liking or the agenda of his prospective clients picking and choosing from a common stock of popular literature, emblem books and folk saying. For some clients, symbolic meanings may have been of secondary importance. For others, the right subject was an additional incentive, perhaps even a justification. Perhaps the simplest explanation for the lack of written material regarding the use of symbols in genre painting is that everyone, including the lower class, already knew their meaning quite well. Thus, what was common knowledge in those times and had no reason to be written has become in our time a suggestive, but largely uncertain, science.
Vermeer's paintings have attracted a considerable share of interpretation but have resisted any definitive or consistent solution. It would appear that some paintings are laden with conventional symbolism (Allegory of Faith, Woman Holding a Balance and The Art of Painting) while other paintings seem devoid of anything but purely pictorial meaning. Some scholars have hypothesized that the artist took advantage of the contradictory nature of contemporary symbols to imbue his works with poetic depth, leaving the meaning open to the spiritual necessities of different viewers.
Within the history of western art, the door stands for an image of both physical or metaphysical transformation. In Dutch genre painting of the mid-17th century, this visual fascination in the door appears to have reached its peak. Indeed, the interest of Dutch genre paintings appears almost obsessive.
As art historian Georgina Cole pointed out, "By the 1650s and 60s, doors—doorways, open doors, half-open doors, even closed doors—can be found in the paintings of each province and in the work of almost every known genre painter. They feature heavily in the interior paintings of artists such as Pieter Saenredam, Emmanuel de Witte, Nicolaes Maes, Jacob Ochtervelt, Pieter de Hooch and Samuel Van Hoogstraten, opening out onto streets, courtyards, and other rooms." Vermeer is known to have painted at least three interiors with doorways.
Critics generally agree that so-called pictures-within-pictures found in many Dutch genre paintings of the time were meant to convey comment on the scene which takes place below. The interpretation of the present picture has been particularly problematic. The painter and art historian Lawrence Gowing supposed that the inclusion of the mask in the Cupid painting (the Cupid's left-hand foot can barely be made out) illuminates the theme with a typical reference; sleep admits a fantasy of love.
If the fallen mask were to signify deceit, rather than being drunk the young girl may be feigning sleep to her lover who is about to appear. In fact Vermeer had once painted a standing cavalier in the back room, seen through the door, but at one point or another during the painting process painted it out.
The Cupid was apparently inserted as a picture-within-a-picture three other times: in the
Girl
Reading
a
Letter
at
an
Open
Window
, where it was painted out by Vermeer, the
Girl
Interrupted
in
her
Music
and in the late
Lady
Standing
at
a
, where it can be seen in all its unabashed boldness. Most art historians believe that the now-lost painting is a work by the classicist Cesar van Everdingen, whose putti are similar to that of Vermeer's Cupid. To be noted is the fact that in all three other paintings the mask of the Cupid is absent.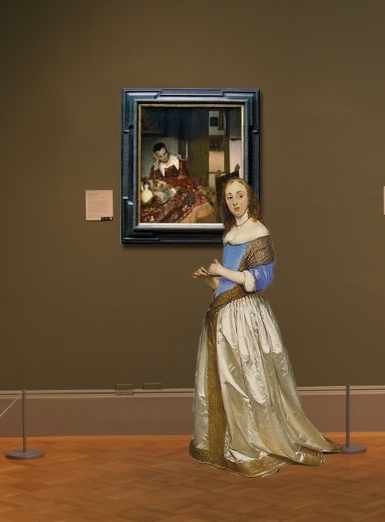 Nicolas Vallet (c. 1583-c.1642)
Slaep, soete slaep (Sleep, sweet sleep) [2MB]
Konrad Ragossnig, lute
http://www.konradragossnig.com/
Although it may not be apparent to modern museum-goers, most of Vermeer's interiors transport the viewer into situations that do not reflect the culture and social standings of the artist but more likely those of his rich Delft patron, Pieter van Ruijven. A Maid Asleep is considered the first painting to have been acquired by Van Ruijven.
Van Ruijven entertained great ambitions along with his wife, Maria de Knuijt, who was independently rich. In 1669, he paid an exorbitant sum, 16,000 guilders, to acquire land near Schiedam that brought with it the title of Lord of Spalant. He built himself a respectable art collection and through the years acquired at least 20 works by Vermeer (at least one third of the artist's estimated output) and stipulated a conspicuous sum of 500 guilders to the artist in his will, an exceptional bequeath for the time. Since the works he collected evenly span the arc of Vermeer's activity, it seems that he acquired about one important work each year perhaps though a first-option agreement. Historians believe that Van Ruijven may have taken the lead from his cousin Pieter Spiering Silvercroon who was a patron of Gerrit Dou, one of the best remunerated painters of the century.
Thus, in their symbiotic relationship Vermeer's art might have been considered a means by which Van Ruijven could not only cultivate his love of art but, like the great mecenas of the Italian Renaissance, raise his social rank and carve himself a place in history by associating his name with that of a great artist. Likewise, Vermeer's elaborate Art of Painting, whose central theme is the glory and fame brought by art, demonstrates that his artistic ambitions paralleled his patron's desires for fame and social elevation.
Vermeer's relationship with Van Ruijven could have brought him other advantages. For example, in the Netherlands, where painters sold their works through myriad channels, from auctions and dealers' shops to fairs and lotteries, the most innovative and expensive art that Vermeer would have wanted to study was accessible through private channels, channels which Van Ruijven could have opened.
To what degree Vermeer tailored his works to Van Ruijven's expectations is unknown but a collaborative relationship would be neither surprising nor anomalous. What did Vermeer and Van Ruijven discuss? Most likely they conversed on art theory and the artistic developments in the Netherlands, which had one of the most florid and innovative art markets of Europe. Obviously, Van Ruijven desired beautiful paintings but paintings that were important as well. The fact that Vermeer was able to concentrate his efforts on a few near-perfect paintings may be consequence of Van Ruijven's financial support and their shared vision of art.
While Vermeer must have been fully in charge of the aesthetic part of his art, Van Ruijven would not have refrained from suggesting some moral concept that would have had a personal significance, or else a successful motif of another artist that appealed to his tastes. However, since Vermeer did not depict his own world it could be that it was Van Ruijven who offered guidance to the painter.
Lest our modernist sensibilities be offended by the notion of close collaboration between artist and client, we should remember that the overwhelming number of great European paintings were the direct fruit of commissions. The client furnished the work's subject (often indicating a specific textual source), dimensions, materials and even certain aspects of its composition. Essentially, it was the artist's task to bring to life the motif which reflected the cultural aspirations of the commissioner.