Interview with John Michael Montias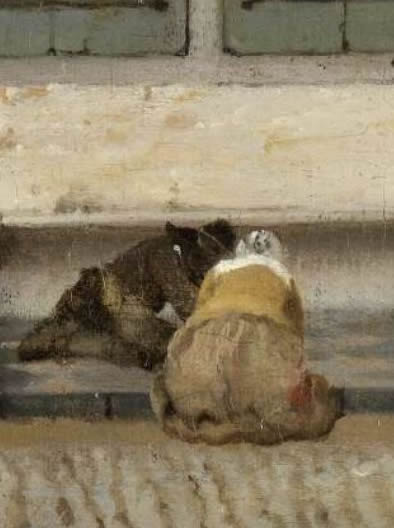 The Little Street
(detail)
Johannes Vermeer
c. 1657–1661
Oil on canvas, 54.3 x 44 cm.
Rijksmuseum
, Amsterdam
Since Vermeer and His Milieu: A Web of Social History
by John Michael Montias was published in 1989, it has had a profound impact on almost every facet of Vermeer-related studies which followed. Through patient research and scrupulous reasoning, Prof. Montias produced the most finely detailed and penetrating view to date of Vermeer's place within his society, while also greatly contributing to a deeper understanding of the man and his art.
Prof. Montias has recently published a new book, Art at Auction in seventeenth-Century Amsterdam, in which he analyzed records of Amsterdam art auctions in the first half of the seventeenth century. A wealth of fascinating information on some 2000 art buyers is revealed. Three chapters focus on art dealers who bought at auction; another four chapters discuss buyers who had special connections with individual artists, including Rembrandt.
A list of Mr. Montias' publications in art history can be viewed below the interview.
January 29, 2003
The Essential Vermeer: What brought you to study Vermeer's life, work and social milieu?
Prof. Montias: I came to Vermeer "sideways." In 1975, when I began my work in the Delft archives, I intended to write a comparative study of Dutch art guilds. Delft was to be my first working station. But I rapidly found out that a comparative study required a preliminary study in depth of at least one guild. So I settled on the Guild of Saint Luke in Delft and produced a book on it (Artists and Artisans in Delft, a Study of the Seventeenth Century, Princeton University Press, 1982). In the course of this research, I realized that, contrary to my expectations, previous scholarship on Vermeer's life had not exhausted the subject. In the late1970s and the early 1980s, I combined research on Vermeer with research on other members of the guild, including both artists and artisans (glassmakers, embroiderers, faience, etc..)
Which were the major difficulties you encountered during your research?
The greatest difficulty was to find the time, while I was still working on the economics of Eastern Europe and comparative economic systems, to devote to the subject. A year spent at the Netherlands Institute for Advanced Social Studies (NIAS) in 1978 helped a good deal. Learning how to read seventeenth century manuscript sources (in old Gothic script) was of course a daunting task, but in the course of many years' practice I got pretty good at it.
What margin do you feel may exists for further discovery of archival evidence directly or indirectly related to Vermeer?
I am afraid that the pickings for future researchers will be slim. Perhaps the best chance of finding anything new on the life of Vermeer (or on his family) will be to look beyond Delft. One of the most significant findings after my book on Vermeer was published in 1982, were two entries relating to visits to Vermeer's studio in the diary of Pieter Teding van Berckhout, which was found—by one of his descendants!—in the Royal Library in The Hague.
During the course of your studies, have you matured any impressions or convictions about Vermeer's life, social milieu or art which existing documentation cannot substantiate?
Your question on "any impressions of convictions matured regarding Vermeer's life, social milieu, or art" is too broad to enable me to answer it completely. For a short answer: In comparison with Rembrandt who had a strong, assertive personality and who frequently appeared as the subject or the object of depositions, lawsuits, etc., Vermeer seems to have lived a fairly retired life, with his wife, his dominant mother-in-law and his numerous children (mainly girls). Thus only a shadowy image of his character emerges from archival documents. One can only guess at connections with other artists of the period, who either influenced him or were influenced by him (Pieter de Hooch, Frans van Mieris, Gerrit ter Borch, Nicolaes Maes). It is still possible that archival research in Amsterdam, Leyden, Deventer, or Dordrecht will yield some clues on these relations.
Do you have any plans for further research regarding Vermeer?
I do not have plans for future research on Vermeer. In the last decade or so, I have concentrated exclusively on research on the art market, particularly on auctions, in Amsterdam. I have built up a data base, mainly from unpublished manuscript sources, of about 1,200 auction sales and inventories and have collected information on about 2,000 buyers at auction. Whenever I find a connection with Vermeer, though, I of course follow it up (there are four footnotes on Vermeer in my recent book on Amsterdam auctions).
What do you feel is your most significant contribution towards the understanding of Vermeer?
My most cited contribution was the discovery that Vermeer had a patron, Pieter Claesz. van Ruijven, who bought paintings from him year after year and to whom his wife (who had the money) left a conditional bequest in her testament. But the contribution that I most enjoyed making was to reconstruct the hitherto obscure lives of various members of his family, including his mother's father who participated in a counterfeiting scheme in which his partners were beheaded.
John Michael Montias (1928) was trained as an economist (Ph.D. Columbia University, 1958) and is a Yale University Professor Emeritus. In the first part of his career, he specialized in the comparison of economic systems. Since 1975, he has devoted most of his research to the Dutch master Johannes Vermeer and the art market in the seventeenth-century Netherlands.
2003 - Art at Auction in 17th Century Amsterdam, Amsterdam.
1999 - Public and Private Spaces: Works of Art in the Seventeenth-Century Dutch House, Zwolle, (with John Loughman),

1998 - "Recent Archival Research on Vermeer," in Vermeer Studies, eds. Ivan Gaskell and Michiel Jonker, National Gallery of Art Washington D.C., New Haven and London: Yale University Press, 1998, 93–109.
1989–Vermeer and His Milieu: A Web of Social History, Princeton, NJ: Princeton. 1989..
1977 - "The Guild of St. Luke in Seventeenth Century Delft and the Economic Status of Artists and Artisans," Simiolus 9, pp. 93–105.

2001 - Documents on Dutch 16th- and 17th-Century Art Collecting
A database of more than 40,000 primary documents from the Gemeente Archief Amsterdam, compiled by Prof. Montias, has been installed at the Frick Art Reference Library. The Frick is the only North-American site to offer access to this wealth of information pertaining to patterns of buying, selling, inventorying and collecting art in Holland during the sixteenth and seventeenth centuries.

For information: reference@frick.org