Officer and Laughing Girl
(De Soldaat en het Lachende Meisje)
c. 1655–1660
Oil on canvas
50.5 x 46 cm. (19 7/8 x 18 1/8 in.)
Frick Collection, New York
acc. no. 11.1.127
there are 10 hotspots in the image below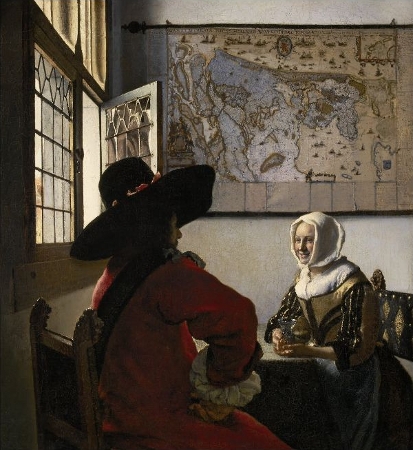 This map of Holland and West Friesland was designed by Balthasar Florisz. van Berckenrode in 1620. Twelve copies to the States General for 144 pounds. Victim of financial difficulties, Van Berckenrode was later forced to sell the rights and the copperplates to Willem Jansz. Blaeu who headed a florid publishing house in Amsterdam specialized in maps. The map contains no date, but it must have been printed between 1621, when Blaeu received plates and privilege to publish the map, and 1629, when the privilege expired. Only one example exists (West Fries Museum in Hoorn) and confirms the precision of Vermeer's rendering. Not a single copy from the first state has survived.
Critics have frequently pointed out that while the present map has been colored, the other two other versions in Vermeer's oeuvre, The Love Letter and Woman in Blue Reading a Letter, are executed in monochrome brown and the latter presents the same folds as those of the present picture. Since mapmakers advertised that their maps could be custom printed and hand colored, we have no way of knowing which one of the two versions was real. Oddly, the land masses, instead of the sea, have been painted in light blue a fact which disorients the viewer even more than the unconventional orientation. However, one might speculate that the blue areas were once glazed with a transparent yellow giving then a "correct" green tone of the land masses. This yellow-over-blue glaze was a standard practice among Dutch painters and was especially utilized by still life painters for the depiction of leaves. Vermeer used this technique to color the leafy foliage of the Little Street. It now appears blue because the yellow glaze, which was prone to degrade, has faded over time now revealing the blue underpainting beneath.
Vermeer seems to have represented four distinct types of windows in his 26 known interiors. The window in the Officer and Laughing Girl appears to be the same as the one in Girl Reading a Letter at an Open Window and The Milkmaid, even though in the later the top row of characteristic lozenge shaped panes cannot be observed. In both The Milkmaid and the Officer and Laughing Girl the variations of color and unevenness of the glass panes are registered with the singular attention. In his later interiors Vermeer treated the windows more as abstract patterns, accentuating their geometric properties.
It is possible that the young girl who smiles at the officer was Vermeer's wife, Catharina Bolnes, although there is no proof in regards. Many critics believe that she had posed for other of her husband's compositions. Her luminous face, her unabashed smile and glittering yellow satin bodice neutralize the austere presence of the cavalier. As can be seen from an x-ray photograph, Vermeer had originally painted a large white collar over her shoulders obscuring part of the yellow bodice. The large cap which once covered only her hair, was extended forward to frame her face and focus the viewer's attention on her expression.
Although in an unobtrusive manner, Vermeer employed gesture with great finesse to reveal the physiological state of his sitters. The relaxed openness of young girl's sun-bathed hand contrasts markedly with that of the officer which instead, curls back in deep shadow.
In her other hand the young girl holds a drinking glass used for wine, usually white. Wine, which was more costly than beer, was a sign of social refinement. Gérard de Lairesse's manual for painters illustrates how the artist might suggest the social position of his sitter by the way in which they hold their glasses. Position No. 5 (see detail left), which is comparable to the gesture seen in Vermeer's Girl with a Wine Glass, is the most refined or as de Lairesse wrote, "A prince holds it handily and cautiously below on the foot." It is more difficult to understand how the young girl holds her glass in present picture since the passage is painted with more attention to the dazzling effects of sunlight rather than anatomical accuracy.
The young girl holds what appears to be a Berkemeyer, a type of drinking glass which consists of a wide, cylindrical stem and a funnel-shaped bowl. The shape is said to be derived from a wooden cup, the prunts on the stem from gnarled branches or rough bark, which reminded drinkers of wooden beakers. The prunts were a means to reinforce the grip on the glass, which was important because at that time forks were not yet commonplace, and the hands of the eater were thus often fat and slippery. In a text titled "Sermon on Glassmaking," a contemporary Lutheran priest wrote: "Nowadays one applies buttons, prunts and rings to glasses to make them sturdier. Thus they can be held more easily in the hands of drunken and clumsy people." The Roemer, which became popular at the end of the 16th century, is distinguishable from the Berkemeyer for the convex shape of its cup. Berkemeyer glasses were originally manufactured in Germany, where they continue to be manufactured today. They were made of the so-called "forest glass" because the glass were produced in wooded areas where plentiful supplies of wood fuel was available for the furnaces. This glass was greenish in color due to contamination with iron compounds.
The laughing young girl wears a smart satin jacket that is pictured in four other works by Vermeer as well.Only a few examples of these bodices have survived. The bodice fits tightly around the bust, drawing in the waist and pushing up the bosom to create an hourglass figure. It was probably internally boned or worn over a stay. That the painter was smitten by this garment is evident by the number of times he portrayed it and the loving treatment reserved to it. It is rendered somewhat differently from painting to painting.
In the Netherlands it was sometimes called a schort or a wacht although it has been erroneously referred to in Vermeer literature as a caraco or a pet en l'air (both terms refer to a later and somewhat different type of garment). The Hessisches Landesmuseum Darmstadt possesses a rare collection of well-preserved doublets and bodices (see image below) from Cologne. While men wore international styles, Cologne women followed closely Netherlandish fashions which were much in vogue until they gradually began to succumbed to French style during the second half of the 17th century. The upper part of the jacket in Vermeer's rendition was initially covered by a large white collar.
Although it cannot be seen in most reproductions, the girl wears a blue apron which drapes over a deep olive colored gown hidden in the deep shadow cast by the table. Aprons of this color were common in Dutch painting. Blue was favored because it hid stains better than lighter colors. A plausible interpretation for the working apron might be that the officer had arrived impromptu while the girl was going about her morning chores. Her body language and expression reveals that the cavalier's arrival, if not anticipated, is nonetheless more than welcomed.
Perhaps more than any other European artist Vermeer was aware of the expressive potential of the so-called negative space: the empty space around or between the solid objects. In the present composition a large wedge-shaped area of white-washed wall divides the officer and laughing girl even though one senses that the descending diagonal contours of the figures' arms appear that they will eventually touch. This kind of pictorial device, which nuances the psychological relationship between the two figures, was not casual seeing that it was again repeated in a later painting, Lady Writing a Letter with her Maid.
Vermeer frequently juxtaposes contrasting forms, colors and textures of the motifs to invigorate the picture's narrative. In this work, we can almost feel a spark of uncertainty which crackles between the soldier and the seated young girl.
Even though the observer has the impression that the officer is seated at an arm's length away, it is difficult to gauge his thoughts because he turns his back towards us. His whole figure is immersed in deep shadow and we are permitted to view only a sliver of his face that reveals nothing of his character. One of his hands his hidden while the other curls back on itself conveying, perhaps, a certain emotional withdrawal. The otherwise bright red military jacket is silenced by the deep shadow in which it is enveloped while the silhouette of his pitch-black felt hat hovers menacingly over the scene.
Quite oppositely, it is impossible to ignore the young girl's radiant optimism. Her full, smiling face is bathed in glittering morning sunlight. Her expression is so positively charged that even the officer's reticence is effectively dissimulated. The gesture of her palm-up open hand extends her openness and desire for communication. The brilliance of the white linen head gear and the shining yellow material of her smart morning jacket contrast markedly with the soldiers muted attire.
The red color of the military uniforms, such as the one worn by Vermeer's soldier, had a practical function. In times of war the colors and signs were essential to survival. Soldiers could be more easily identified and avoid an attack by his own troops in the tangle of a battle. This was especially true in the Netherlands since there was no single centralized army but a series of local militias banded together in times of necessity. As Vermeer expert Arthur K. Wheelock Jr. observed, the bold red color of the officer's jacket may have been chosen for this color's association with passion and power. Had it been green or beige, the mood on the painting would have been entirely different. The soldier in Vermeer's Procuress also wears a red uniform.
The fact that militia members appear in so may Dutch paintings which picture glutton, gaming, drunken carousing and overall poor behavior (in later pictures amorous situations such as in the present work) rather than in the heat of battle, may be explained by the fact that both abroad and at home the Dutch were not always considered well suited for military life. Even militia officers regularly complained lack of discipline, the insufficient armaments, disorderly weapons exercises and the ease with which one could buy exemption from duty.
The black sash which hangs around the visitor's shoulder tells us that he is probably an officer. But more than his social identity, the viewer's imagination is captured by his psychological presence. Vermeer, as many Dutch painters of the time, employed his officer as a device called repoussoir: the placement of a large figure—curtains were also commonly used—in the immediate foreground in order to amplify the illusion of depth. Caravaggio became famous for his paintings of ordinary people or even religious subjects in repoussoir compositions. Gerrit Van Honthorst, an immensely popular painter from Utrecht who had traveled to Italy to study Caravaggio's revolutionary works, applied repoussoir assiduously in his own compositions. One such work is The Procuress, which must have been known to Vermeer.
This so-called Spanish chair presents two finials with lion heads with rings through the muzzles. The laughing girl is also seated on such a chair. Vermeer took great care in their rendering, particularly the heads of the hand-carved lions. Various writers have attributed the lions psychological connotations. The writer Lawrence Welscher opined that the "roaring lions heads carved into the chair posts signal potential violence." In the same interpretive vein the wall maps signify the incessant shifting of national boundaries achieved at the cost of many lives. A few examples of Spanish chairs can be found in the Rijksmuseum in Amsterdam and the Prinsenhof Museum in Delft, Vermeer's birthplace. The same chair is represented other times in Vermeer's scenes. In the Woman with a Lute, it appears with a large piece of drapery heaped up in front of it. The different lighting scheme in The Glass of Wine (detail left) lets us observe the finely carved finials.
Vermeer's cavalier sports a fine, felt hat made of beaver pelt. This kind of wide-brimmed hat could be made of wool or other materials. Felt made from beaver hair produced a superior hat which held its form and was more weather resistant. Such a hat could not be afforded by all. Vermeer undoubtedly owned one or more hats but in the 1676 inventory of the movable goods of his house they have been left out.
Hats played a role in the social ceremonies—both indoors and outdoors. Although a gentleman's hat was normally kept on his head, a few ceremonies required him to take it off such as during prayer, the first time when offering food or when an esteemed person toasted to somebody's health. Thus, Vermeer's dashing soldier who keeps his hat on during his visit is not disrespectful.
As the historian Timothy Brook noted, during the 17th century, beaver pelts imported from the New World were at the center of a lucrative web of trade since the beaver population of Europe had been largely depleted. The beaver-rich New World territory, eventually named New Netherlands, came under the jurisdiction of the Dutch West India Company in 1621, as part of the conditions of the Company's charter.
Beaver pelts were first sent to Russia, where they were valued for their shiny outside fur. Russian customers would eventually sell the furs back into the trade. Once they were worn, dirty and sufficiently greasy, they could be properly felted and converted into felt hats, and resold. Hatters used mercury to mat beaver fur's dense, warm undercoat. Exposure to the toxic chemical, however, caused severe mental disorders and is the source of the otherwise strange expression, "mad as a hatter." By 1660 the brim had become so wide that the corners were turned up forming the tricorner.
most of the information above was drawn from: Timothy Brook,
Vermeer's Hat
:
The
Seventeenth
Century
and
the
Dawn
of
the
Global
World
, 2009
ELEVEN
TWELVE
THIRTEEN
FOURTEEN
FIFTEEN
SIXTEEN
SEVENTEEN
EIGHTEEN
NINETEEN
TWENTY
No signature appears on this work.
c. 1658
Albert Blankert, Vermeer: 1632–1675, 1975
c. 1658–1660
Arthur K. Wheelock Jr., Vermeer: The Complete Works, New York, 1997
c. 1657
Walter Liedtke, Vermeer: The Complete Paintings, New York, 2008
c. 1657
Wayne Franits, Vermeer, 2015
(?) Pieter Claesz. van Ruijven, Delft (d. 1674); (?) his widow, Maria de Knuijt, Delft (d. 1681);
(?) their daughter, Magdalena van Ruijven, Delft (d. 1682);
(?) her widower, Jacob Abrahamsz Dissius (d. 1695);
Dissius sale, Amsterdam, 16 May, 1696, no. 11;
Charles Scarisbrick sale, London (Christie's), 10 May, 1861, no. 89, as by De Hooch, to Lee Mainwaring, said to have been purchased in an unidentified London sale by Double;
Léopold Double, Paris (Double sale, Paris [Pillet], 30 May, 1881, no. 16 to Gauchey for Demidoff);
Prince Demidoff di San Donato, Villa di Pratolino, near Florence;
Samuel S. Joseph, London (1891); Mrs Samuel S. Joseph (1900);
[Knoedler, New York, 1911]; Henry Clay Frick, New York (d. 1911);
The Frick Collection, New York (acc. no. 11.1.127).
Paris 1886
Exposition rétrospective tableaux anciens empruntés aux galeries particulières
Palais des Champs-Elysées
36, no. 107
London 1891
Winter Exhibitition
Royal Academy of Arts
15, no. 52, as "Interior," lent by Samuel S. Joseph, Esq.
London 1900
Exhibition of Pictures by Dutch Masters of Seventeenth Century
Burlington Fine Arts Club
25, no. 18 as "Le Soldat et la Fillette Qui Rit," lent by Mrs. Joseph
New York January 11–27, 1912
Exhibition of Old Masters for the Benefit of The Artists' Funds and Artists' Aid Societies
M. Knoedler & Co.
54 and ill.
New York June 3–November 2, 2008
Frick's Vermeers Reunited
Frick Collection
no catalogue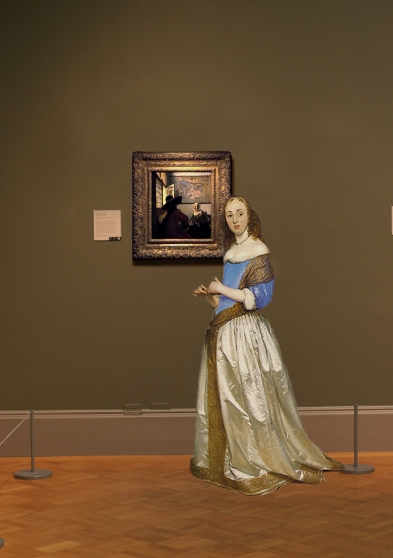 1655
vermeer's life

Dec. 14, "Sr. Johannes Reijnijersz. Vermeer master painter," and his wife "Juffr. Catharina Bolnes" appear before the notary Rota to guarantee a debt of 250 guilders that the artist's father had contracted. Both Vermeer and his wife sign the document. The appearance of the stylish "Sr." on the document is a secure sign of the artist's rise in social status.

dutch painting

c. 1656 Jacob van Ruisdael moves to Amsterdam.

Rembrandt paints Woman Bathing in a Stream and the Polish Rider.

Pieter de Hooch, who directly influences Vermeer, joins the guild of Saint Luke in Delft, two years after he had arrived from Haarlem. He will remain in Delft and produce his finest works until 1660.

c. 1658 Miendert Hobbema becomes an apprentice in Jacob van Ruisdael's Amsterdam studio. In the exercise of his craft Hobbema was patient beyond all conception. It is doubtful whether any one ever so completely mastered as he did the still life of woods and hedges, or mills and pools. Nor can we believe that he obtained this mastery otherwise than by constantly dwelling in the same neighbourhood, say in Guelders or on the Dutch Westphalian border, where day after day he might study the branching and foliage of trees and underwood embowering cottages and mills, under every variety of light, in every shade of transparency, in all changes produced by the seasons.

european painting & architecture

Luca Giordano develops a rich baroque vein deriving in particular from Rubens. He was nicknamed "Luca Fa Presto" (Luke work quickly) because of his prodigious speed of execution and huge output. He began in the circle of Ribera, but his style became much more colorful under the influence of such great decorative painters as Veronese, whose works he saw on his extensive travels. Indeed, he absorbed a host of influences and was said to be able to imitate other artists' styles with ease. His work was varied also in subject-matter, although he was primarily a religious and mythological painter. Soon after the death of Charles in 1700, Giordano, now wealthy, returned to Naples. He spent large sums in acts of munificence, and was particularly liberal to his poorer brother artists. One of his maxims was that the good painter is the one whom the public like, and that the public are attracted more by colour than by design. Giordano has been criticized as being a prolific trader of all styles, and master of none. He has been viewed as a proto-Tiepolo, reanimating that grand manner of Cortona in a style that would brighten with Tiepolo.

c. 1655 Murillo paints genre scenes in Seville, where, from 1658 to 1660, he was involved in the founding of the Academy of Art, sharing its direction, in 1660, with the architect, Francisco Herrera el Mozo. This was his period of greatest activity, and he received numerous important commissions, among them the altar piece for the Augustinian monastery, the paintings for Santa María la Blanca (completed in 1665), and others.

music
Aug 13, Johann Christoph Denner, inventor of the clarinet, was born.
literature
science & philosophy

Blaise Pascal: Lettres provinciales, against Jesuits

Mar 25, Christiaan Huygens discovered Titan, Saturn's largest satellite. Huygens was a great figure in the fields of research into mathematical physics, astronomy and optics, and among the founders of mechanics and optical physics. He made astronomical observations about the planets, of the nebula of Orion and of the Moon, all reported in Systema Saturnium.

Hooke publishes the Micrographia.

history

Pope Innocent X dies; Fabio Chigi becomes Pope Alexander VII.

Spinoza excommunicated

Apr 26, Dutch West Indies Co. denied Peter Stuyvesant's desire to exclude Jews from New Amsterdam.

Sep 26, Peter Stuyvesant recaptured Dutch Ft. Casimir from Swedish in Delaware.

The first slave auction was held in New Amsterdam (later NYC).

French society uses a clean plate for each new dish but Englishmen continue to dine off trenchers—wooden platters that give hearty eaters the name "trenchermen."

Rum from Jamaica is introduced into the Royal Navy to supplement beer, which goes sour after a few weeks at sea.
1656
vermeer's life

In Dec. Vermeer pays the remaining sum (1.5 guilders) of the master's fee in the Guild of Saint Luke that he was unable to pay in 1653.

Vermeer signs one of his first known paintings, The Procuress. The young artist seems to still be dependent on well established pictorial models and has not yet adverted the influence of the newer interior genre scenes of his contemporaries. This type of Caravaggesque scene was to be found in the collections of local connoisseurs.

By 1656 Maria Thin, Vermeer's mother-in-law had already advanced 300 guilders, a considerable sum, the Catharina and Johannes.

dutch painting

Rembrandt declared bankrupt; his possessions are put up for sale.

The immensely popular landscape painter Jan van Goyen (b. 1596), dies.

Gerrit van Honthorst (b. in Utrecht 1590) dies.

european painting & architecture

Academy of Painting in Rome founded.

Bernini: Piazza of Saint Peter's, Rome

Diego Velázquez paints Las Meninas, family of Philip IV

music
Opening of first London opera house.
literature
science & philosophy

Oct 29, Edmund Halley, astronomer (Halley's Comet), was born. [see Nov 8]

Dec 14, Artificial pearls are first manufactured by M. Jacquin in Paris. They were made of gypsum pellets covered with fish scales.

Dutch mathematician Johan van Waveren Hudde, 28, anticipates the power-series for ln (1 + x) and the following year will do pioneering work on the use of space coordinates. Hudde promotes Cartesian geometry and philosophy in Holland; his discoveries (they will be called Hudde's rules) will presage the use of algorithms to solve problems of calculus.

history

Jan 8, Oldest surviving commercial newspaper began in Haarlem, Netherlands.

Dutch forces take the Sinhalese port of Colombo from the Portuguese.

Dutch East India Company shares plummet on the Amsterdam Exchange and many investors are ruined. Among them is painter Rembrandt van Rijn, now 50, who is declared bankrupt and whose possessions are put up for sale.

The Dutch in Ceylon make cinnamon a state monopoly but will not have complete control of the island's cinnamon until 1658. When prices fall too low, the Dutch will burn great quantities of the bark, and they will destroy groves of clove and nutmeg trees in the Moluccas, creating artificial scarcities that will force prices up, enriching the Dutch East India Company.
1657
vermeer's life

Maria Thins, in the first draft of her testament, leaves to Vermeer's daughters jewels (wrings bracelets and gilded chains) and the sum of three hundred guilders to Vermeer and Catharina.

In the same testament Maria Thins wills to Vermeer's first child, Maria, 200 guilders. The child's name is an almost certain sign of good will that existed between Vermeer and his mother-in-law.

In Nov. 30 Vermeer and his wife were lent the sum of 200 guilders from Pieter Claesz. van Ruijven, a wealthy Delft citizen and art collector who may have purchased in the following years more than twenty of Vermeer's works. This money may have been a kind of advance payment on the purchase of future works. Van Ruijven is now rightly considered Vermeer's patron. He was almost seven years older than Vermeer and seems to have had a personal relation with Vermeer that went outside the usual client/artist relationship.

Feb. the framemaker Anthony van der Wiel, who had married Vermeer's sister Gertruy, registered at the guild as an art dealer.

dutch painting

Frans Snyders, Flemish painter, dies.

Both Pieter de Hooch and Vermeer began to paint the genre interiors refining a regional type, lending it a more realistic qualities of space, light and atmosphere.

The Dortrecht landscape artist Aelbert Cuyp borrows warm light and hilly scenery from Italian examples.

european painting & architecture

Diego Velázquez paints Las Hilanderas (The Spinners)

The Corsini payed Guercino 300 ducats for the Flagellation of Christ painted in 1657. Guercino was remarkable for the extreme rapidity of his execution—he completed no fewer than 106 large altar-pieces for churches, and his other paintings amount to about 144. In 1626 he began his frescoes in the Duomo of Piacenza. Guercino continued to paint and teach up to the time of his death in 1666, amassing a notable fortune.

music
Le Sieur Saunier: Vencyclopdie des beaux esprits, believed to be first reference book with "encyclopédie" in its title.
literature
science & philosophy

A pendulum clock was designed by Christiaan Huygens and built by Solomon Coster.

Universal Mathematics (Mathesis Universalis) by John Wallis amplifies the English mathematician's system of notation, applying it to algebra, arithmetic, and geometry. Wallis will be credited with inventing and introducing the symbol for infinity; he has demonstrated the utility of exponents, notably negative and fractional exponents.

history

Mar 23, France and England formed an alliance against Spain.

Jun 1, first Quakers arrived in New Amsterdam (NY).

A 4-year Dutch-Portuguese war begins over conflicting interests in Brazil, but Johan de Witt will end the hostilities with a peace advantageous to the Dutch.

Coffee advertisements at London claim that the beverage is a panacea for scurvy, gout, and other ills.

Public sale of tea begins at London as the East India Company undercuts Dutch prices.

The Flushing Remonstrance written to Nieuw Amsterdam's governor Peter Stuyvesant December 27 is probably the first declaration of religious tolerance by any group of ordinary citizens in America.

The first London chocolate shop opens to sell a drink known until now only to the nobility.
1658
vermeer's life

In this period, the Guild of Saint Luke was probably the center of Vermeer's public life.

Vermeer may have began distancing himself from his family or origin. This fact is seen in his failure to name any of his children after his mother or father as was common practice of the time. His first two daughters, born before 1658, Were named Maria and Elizabeth after his mother-in-law and her sister.

In Vermeer's Procuress a Chinese bowl appears in the still life. Between 1602 and 1657 the Dutch had imported millions of pieces of porcelain. Native Delft artisans began feverishly producing everything from elaborate imitations of Chinese porcelain to the humble floor tiles seen in some of Vermeer's interiors.

dutch painting

Pieter de Hooch: paints Courtyard of a House in Delft, one of finest works. De Hooch's courtyards may have influenced Vermeer's The Little Street.

Frans van Mieris paints The Duet.

Adriaen van de Velde: Farm with a Dead Tree

european painting & architecture
Bernini: church at Castel Gandolfo (-1661). Bernini did not build many churches from scratch, preferring instead to concentrate on the embellishment of pre-existing structures. He fulfilled three commissions in the field; his stature allowed him the freedom to design the structure and decorate the interiors in coherent designs.
music
Apr 22, Giuseppe Torelli, composer (Concert Grossi op 8), is born in Italy.
literature
Moliere was anointed with the patronage of King Louis XIV. Molière left behind a body of work which not only changed the face of French classical comedy, but has gone on to influence the work of other dramatists the world over. The greatest of his plays include The School for Husbands (1661), The School for Wives (1662), The Misanthrope (1666), The Doctor in Spite of Himself (1666), Tartuffe (1664 1667, 1669), The Miser (1668), and The Imaginary Invalid (1673).
science & philosophy
Amsterdam naturalist Jan Swammerdam, 21, gives the first description of red blood cells. He will complete his medical studies in 1667 but devote himself to studying insects, tadpoles, frogs, and mammals rather than practicing medicine.
history
Sep 3, Oliver Cromwell, Lord Protector of the New Commonwealth, i.e. ruler over England's Puritan parliament, dies at age 59. Richard Cromwell succeeded his father as English Lord Protector.
1659
vermeer's life

Around 1659 or 1660, Vermeer's brother-in-law Willem Bolnes left his irascible father's house in Gouda to live on one of the family's properties in Schoonhoven. Willem incurrs in debts and borrowing money from his mother, Maria Thins, since his father had become too impoverished to help. Willem apparently had no kind of work. He was later to become a serious problem for Vermeer and his wife.

In the late 1650s Vermeer, paints two exceptionally luminous interiors, inspired by genre models of the time. In both Officer and Laughing Girl and The Milkmaid he uses his famous "pointillist" technique (thick points of light colored paint in the most intensely light areas of the composition called pointillés. This technical artifice conveys a sense of brilliancy rarely seen in any other of his works. Vermeer never again painted a humble sitter, such as the common milkmaid.

dutch painting

Jan van der Weff is born. Johan Willem, Elector Palatine, whom he had met in 1696, appointed him Court Painter in 1697 at a salary of 4,000 guilders on condition he work for him six months of the year. In 1703 this was increased to nine months, and he was made a knight. He remained in Rotterdam, making trips to Düsseldorf to deliver pictures and paint portraits.

Jan Janz de Heem (d. 1695) is born. Son of the celebrated still life painter Jan Davidsz de Heem he was baptized on 2 July, 1650 in Antwerp. From 1667 to 1672 he worked in Utrecht with his father who sometimes retouched the son's work. There has undoubtedly been much confusion between the work of father and son. Jan Jansz is last recorded in a document of 1695.

european painting & architecture
1659–1661 Michael Sweerts, Flemish painter, created his rosy Portrait of a Youth.
music
Mar 7, Henry Purcell, English organist, composer (Dido & Aeneas), was born. Purcell was one of the greatest composers of the Baroque period and one of the greatest of all English composers. He wrote fantasias for viols, masterpieces of contrapuntal writing in the old style, and some at least of the more modern sonatas for violins, which reveal some acquaintance with Italian models. In time Purcell became increasingly in demand as a composer, and his theatre music in particular made his name familiar to many who knew nothing of his church music or the odes and welcome songs he wrote for the court.
literature
Oedipus (Oedipe) by Pierre Corneille 1/24 at the Hôtel de Bourgogne, Paris
science & philosophy

Christiaan Huygens of Holland used a 2-inch telescope lens and discovered that the Martian day is nearly the same as an Earth day. He also discovers the rings of Saturn. He also constructs a chronometer for use at sea; however, it is influenced by the motion of the ship and does not keep correct time.

English physician Thomas Willis, 38, gives the first description of typhoid fever.

Elementa curvarum by Jan De Witt gives an algebraic treatment of conic sections using the newly developed analytic geometry. It appears as part of an edition of Schooten's Geometria a Renato Des Cartes.

history
The Spanish infanta Marie Therese introduces the French court to cocoa, which will be endorsed by the Paris faculty of medicine and received with enthusiasm until it becomes surrounded with suspicion as an aphrodisiac in some circles and as a mysterious potion in others.
1660
vermeer's life

Vermeer is appointed one of the headman of the Guild of Saint Luke to a term of two years. This fact has been interpreted as a testimony of the high esteem in which the artist was at the time held. However, by the time Vermeer was elected headmaster, many of the painters resident in Delft had left for the more prosperous Amsterdam and so his election may have had less significance than usually thought.

Vermeer and his wife bury a child in the Old Church in Delft. The same document states, Vermeer and his wife were then living in the house of Maria Thins on the Oude Langendijk in Delft. At the time, the household included Vermeer, his wife, his mother-in-law, and three children, not counting an infant who had died and at least one female servant. The house had a basement, a lower hall with a vestibule, a great hall, a small room adjoining the hall, an interior kitchen, a little back kitchen, a cooking kitchen, a washing kitchen, a corridor, and an upper floor with two rooms, one of which was taken up by Vermeer's studio.

Vermeer's family situation was unusual. Very few married men in the Netherlands lived with a parent or parent-in-law for an extended period of time. Vermeer's marriage too, must be considered exceptional in as much as he married outside his own family's religion and social class. He moved from the lower, artisinal class of his Reformed parents who lived on the Delft Square to the higher social stratum of the Catholic in-laws who instead lived in the somewhat segregated "Papist Corner," the Catholic quarter of the city.

The burial of his child is the earliest known record of the artist's residence in Maria Thin's house.

dutch painting

Jan van Mieris is born. Son of the famous Frans van Mieris, Jan painted principally history subjects, but his earliest works were apparently genre scenes in his father's manner.

Jacob van Ruisdael paints Jewish Cemetery. The painting's ruinous, glowering scene exemplifies the trend toward turbulence in Dutch landscape at mid-century.

Adriean Coorte is born. Coorte devoted himself to the precise rendering of simple objects in small paintings. His paintings often have strong illumination that gives the composition an enchanting stillness.

european painting & architecture
Diego Velázquez, Spanish painter, dies.
music
Alessandro Scarlatti, Italian musician and composer, father of Domenico is born.
literature
science & philosophy

Marcello Malpighi discovers that the lungs consist of many small air pockets and a complex system of blood vessels. By observing capillaries through a microscope he completes the work of Harvey in describing the circulation of the blood.

Robert Boyle announces in New Experiments Physico-Mechanical Touching the Spring of Air that removing the air in a vacuum chamber extinguishes a flame and kills small animals, indicating that combustion and respiration are similar processes.

history
May 28, George I, king of England), is born.

May 29, Charles II, who had fled to France, is restored to the English throne after the Puritan Commonwealth. Charles made a deal with George Monck, a general of the New Model Army, and with the old parliamentary foes of his father. The British experiment with republicanism came to an end with the restoration of Charles II.

Dec 24, Mary I Henriette Stuart (29), queen of England, dies.

The Dutch crafted an early version of a boat they called a "yacht."

1660s The British began to dominate the trade in port wine from Portugal after a political spat with the French denied them the French Bordeaux wines. Brandy was added to the Portuguese wines to fortify them for the Atlantic voyage.
The links between cartography to art are as old as the field itself. The art of painting has always been present within maps, which, in turn have always been regarded as a combination of scientific and artistic skills. One of the most prominent examples of the marriage of maps as scientific tools and objects of culture is witnessed in the Netherlands during the 17th century, when the Dutch were world leaders in the field of cartographic production.
Dutch mapmakers of the time were usually combining more skills: they were surveyors, cartographers, painters of landscapes and engravers. On the other hand, many 17th-century Dutch painters such as Frans Hals, Vermeer, Gerriter Borch, Pieter de Hooch, Jan Steen, Jacob Ochtervelt, Nicholaes Maes and others, introduced depictions of real maps into their works and decorated their interiors with maps for symbolic or allegorical reasons.
There is a strong Dutch and European custom of using maps as wall hangings even in simple homes. In addition, globes and cartographic artifacts have often been displayed simply because of their own intrinsic beauty. Many maps represent a visual summa of contemporary knowledge, power, and prestige, some of it religious but most of it secular.
Although Netherlandish painting is universally admired today, in the past, it had detractors. Michelangelo once disparaged Northern painters because although they painted with great ability "trees and grass," they were unable to create great compositions. For example, he found Durer's work uninteresting. Flemish painting was equally distasteful, since their work was made "expressly to deceive the outer vision ... and all this, although it may appear good to some eyes, is done truly without reason or art, without symmetry or proportion, and without attention to selection or rejection."
Leonardo da Vinci, when speaking about mechanical means of imitating natural effects method (which Dutch painters excelled in), exhorted the artist not to rely on such shortcuts lest he "always remain poor in inventing and composing narratives which is the aim of that art." Later Sir Joshua Reynolds in his Discourses acknowledged the "mechanical excellencies" of the Dutch school but regretted the "vulgar" use frequently made of such skills.
This attitude reflects the theoretical underpinnings of the great art of Europe which originated in Italy. Even though mimesis, or the most faithful imitation of nature, was a cardinal point in Renaissance painting theory, it was not considered an end in itself. Vasari, whose Vite (Lives) of the Italian painters exerted a lasting influence on the theory of European art, saw the representational skills as a means which always served a main social function—the evocation of a sacred or edifying story, in other words: dramatic narrative. A painting could only be as good as the idea it represented.
In her groundbreaking book The Art of Describing Svetlana Alpers argues that we are still the heirs of this tradition, which did indeed dominate the teaching of art in the academies of Europe. She criticizes in particular the tendency to apply methods originally developed by Erwin Panofsky (and later elaborated on by Eddy de Jongh specifically in regards to Dutch art) for the interpretation of images conceived in the classical tradition searching for hidden meanings with reference to emblem books. According to Alpers, this bias has obscured the principal trait of Dutch 17th-century art, the capacity to explore and understand the world through the eye which was a central means of self-representation and visual experience, a central mode of self-consciousness in which meaning is not "read"' but "seen."
Comparisons between the work of Pieter de Hooch and Vermeer are inevitable. In the years when De Hooch was active in Delft, there is little doubt that in such a small city they would not have known each other. Both were members of the Guild of St Luke, the trade association which protected the rights of artists and artisans of Delft. Clearly they knew each other's work, but the precise nature of their relationship remains conjectural. It was originally assumed that De Hooch, who was three years Vermeer's senior, was indebted to his more renowned colleague. But it was more likely that De Hooch was the true innovator among the two, creating a new type of genre painting with unprecedented spatial order and naturalism. De Hooch's illusionistic integration of figures within a fully rationalized space flooded with natural light was a lesson Vermeer would seize upon and improve after a brief period of "incubation."
As Peter Sutton pointed out, virtually none of the luminous small-scale works of Vermeer can be shown to predate the 1650s, the years in which De Hooch reached his artistic maturity. Moreover, Vermeer's only dated painting of the 1650s was The Procuress of 1656, a large, animated bordello scene in the tradition of the Utrecht Caravaggisti. The work's dark and shallow space has nothing in common with later works and is stylistically incompatible with De Hooch's interiors of the same years.
De Hooch may have very well provided specific models for some of the best works by Vermeer such as the Woman Holding a Balance and The Love Letter.
Despite the fact that the composition if the Officer and Laughing Girl is engineered with remarkable precision, just what is being represented is not certain. Most Vermeer writers read into the scene no more than an honorable woman being courted by a gallant figure, which the extraordinarily brilliant light and intense coloringof the scene seems to confirm. But in Dutch paintings judgments of identity based solely on appearance can be deceptive. Some historians note that the girl's opened hand and smile could be interpreted as a request for remuneration for anticipated illicit activities. Such an interpretive conflict is even apparent in the few mid-17th-century images that do depict a blatant offer of coin.
As art historian Roberta J. Pokphanh observes, the "conflation of possible prostitutes with female figures who might also be construed as honorable single young women reflects, in some measure, the social reality of the time. Where in previous times, towns in Europe had set regulations on the dress of prostitutes and the location of brothels, which rendered them easier to identify, in the seventeenth-century Netherlands, the profession came to be dominated by poor single women. These women worked out of a variety of locations, including many small-scale brothels, which made it more difficult to readily distinguish prostitutes."
What significance does the map of the Netherlands have? Does it betray the soldier's desire for territorial "conquest" as various writers have suggested or is it merely a symbol of the goodness associated with the Dutch homeland? The cultural distance which separates us from the 17th century prevents us from understanding these few clues, despite Vermeer's picture remains one of his most uncomplicated compositions. It has been recently argued that the ambiguity of mid-17th-century Dutch genre interiors was intentionally calculated so that the eventual purchaser could read the painting according to his own tastes or interests.
As long ago as 1891, when eyes had not grown accustomed to the camera's way of seeing, photographer J. Pennell was struck by the disproportionate dimesnions of the officer and the girl. As a photographer, Pennell knew this kind of distortion was imposed by a camera on objects closest to its lens. Pennell suggested that Vermeer had used some sort of optical device as an aid to his painting. This aid, called the camera obscura, was widely known in Vermeer's time. The "objective" picture that it creates may have appealed to artists of the age of observation. Other than offering a unique way to study the behavior of light, its image could, at least in theory, be traced thereby offering a shortcut to perspective construction.
Since the camera obscura leaves no physical trace, it has been a matter of speculation whether it was indeed employed by Vermeer. That fact that no camera obscura was listed in the inventory of movable goods made after the artist's death cannot prove he did not have one. Once the camera was taken apart, the only component which would have been recognized was its lens, so small that it could be easily overlooked by the inventory clerk.
However, even the most staunch detractors admit that in Vermeer's paintings we do find clear traces of phenomena that are typical of the camera's image.
The fact that no historical evidence has ever surfaced regarding Vermeer's use of the camera obscura should not be considered an anomaly. The 17th century has handed down numerous mentions of the camera's marvelous workings but none that unequivocally testifies that any Dutch painter actually employed it for painting. And it is not out of the question that linking one's art to the camera was looked down upon. In fact, the only tie between a know individual painter and camera obscura seems to suggest just that. While Constantijn Huygens had enthusiastically recommended the camera to Dutch painters, he raccounts that Johannes Torretius, a rare, enigmatic Dutch painter, had feigned ignorance on the camera obscura which Huygnes had suspected was the source of the "convincing quality" of his art.
If Vermeer did use the camera it cannot be ruled out that he preferred not to be associated with it.
One of the two Dutch paintings most often associated with Vermeer's Officer with a Laughing Girl is Gerrit van Honthorst's Procuress. Van Honthorst was a successful artist from Utrecht and in his own time his reputation rivaled and perhaps surpassed both those of Rembrandt and Frans Hals. The figural arrangement of the composition, which represents a bordello scene, is very similar to Vermeer's. A young soldier dressed in red with his back to the viewer, sits on the left-hand side of the picture emerged in shadow. A young woman looks at him directly with an unguarded smile across a table covered with a green clothe.
It is hard to believe that Vermeer was not inspired by Van Honthorst's canvas. However, while Van Honthorst explores the sensual potentials of artificial candlelight, Vermeer registers with almost scientific objectivity the cool morning light as it plays gaily upon the scene. Gone is the lute, which in the context of Van Honthorst's scene would have certainly had an erotic undertone. And gone is the elderly procuress who calls attention to the purse gripped in soldier's hand. Vermeer's ability to invest new and more universal meaning in commonly exploited themes was one of the characteristics of his genius.
Perhaps the single most overlooked feature of Vermeer's compositions is the superb rendering of the stark, white-washed walls, which are always set parallel to the picture plane. It is impossible for the non-painter to grasp the skill necessary to evoke both their flatness and subdued luminosity with nothing more than shades of drab gray paint. The painter must not only describe the slight irregularities which give each wall its own character and naturalness, he must also be able to account for the gradual weakening of light's intensity as it flows from left to right. Moreover, he must give the proper color to shadows projected by the larger props and architectural features.
Even the walls of the best Dutch interior painters seem drab and lifeless compared to the nuanced liveliness of Vermeer's walls. Many experts have been quick to connect Carl Fabrius' Goldfinch (see right) as a possible starting point for the walls of Vermeer's interiors, but only Pieter de Hooch and the obscure Jacobus Vrel seemed so enthralled by the optical presence of a mundane white wall.
In the present painting, the observer can almost feel the sting of the chilly morning air as it enters through the wide-open window. Many who for the first time see Vermeer's paintings from life are surprised that they are much cooler in tone that those of his colleagues, a fact which is rarely apparent in reproductions.
Painters, including Vermeer, used Dutch lead white as the principal component of the gray mixtures for the walls. Various combinations of black and dull brown earth colors, principally raw umber, were used to tone down the white and create shadows of varying depth and hue. The introduction of ultramarine blue pigment into the wall's deep shadows in the Officer and Laughing Girl produces a sense of sparkling morning light that has no precedent in European painting.
Whatever the true narrative of the presnt work may be, there can be no doubt that the looming male figure with his sash and swagger represents a military officer, perhaps of the Delft Civic Guard.
Like almost every one of his compositions, in the Officer and Laughing Girl Vermeer relied heavily on pictorial precedents. However, he always filtered his borrowings through his own personality and artistic vision, producing works of surprising uniqueness. The present picture draws from one of the most popular and commercialized genres in Dutch painting, the kortegaard, or guardroom scene, pioneered by Willem Duyster and Pieter Codde in the 1620s, some fifty years before Vermeer addressed the motif.
Military life was a topical theme in the Dutch Republic in the first half of the 17th century, especially after 1621 when the Twelve-Year Truce with Spain expired and hostilities were renewed. Although much of the actual fighting in these years was confined to the southern border and the eastern provinces, all of Holland's major cities housed garrisons of troops. Dutch soldiers were associated with an assortment of unwholesome activities. Prostitutes were among the most frequent habitués of painted guardroom scenes just as they had been in real life when they trailed behind traveling armies in times of war.
Even though the Dutch faced the specter of warfare for much of its existence, surprisingly scarce attention was paid to armed conflict in painting. Violence, bloodshed or pictorial remembrances of victory or military defeat were exceptionally rare. Curiously, in Dutch 17th-century painting we find thousands upon thousands of paintings of soldiers' non-military activities. They depict soldiers in taverns, stables or tents, often attended by tavern hostesses, prostitutes or camp followers. Some show figures fighting over plunder, perusing their booty or taking hostages, while others portray the quieter side of military life, with men merely smoking, drinking or playing a game of cards or tric-trac, a popular is a board game that was very in France and Holland .
Initially, these less than heroic military men were portrayed in realistic settings such as barns or environments which recall the spaces in which soldiers were garrisoned. Decades later their bad manners were spruced up and were pictured in well appointed interiors, engaged in polite activities shuch as letter reading, letter writing or delicate encounters with attractive, well-to-do, women. Willem Duyster and Pieter Codde censored common foot soldiers and concentrated on fashionably dressed gentlemen who most likely were meant to represent officers (true military uniforms did not exist yet).
Initially, these less than heroic military men were portrayed in realistic settings such as barns or environments which recall the spaces in which soldiers were garrisoned. Decades later their bad manners were spruced up and they found their way into well appointed interiors politely engaged in letter reading, letter writing or delicate social interaction with attractive, well-to-do women. The particularity of the initial low-life scenes is that both Duyster and Codde censored common foot soldiers and concentrated on fashionably dressed gentlemen who most likely were meant to represent officers (true military uniforms did not exist yet). No doubt, other than the theme, one of the major calling cards of the guardroom scene was the amazing display of painterly technique applied to the soldiers' colorful garments and their armature and the wide variety of expressions and gestures that these pioneering artists had mastered.
In any case, Dutch soldiers were associated with an assortment of unwholesome activities. Prostitutes were among the most frequent habitués of painted guardroom scenes just as they had been in real life when they trailed behind traveling armies in times of war.
When Vermeer took on the theme, the guardroom genre had been largely domesticated, with Gerrit ter Borch raising it to hitherto unachievable heights of poetry and realism. Setting aside the typical foibles of the military men, he represented them as human beings, sounding the psychological realms of displacement and loneliness. No doubt, other than being fascinating subject matter, the guardroom scene offered painters amply opportunities to the display their skills in painting the colorful garments. Metal armatures, as well, allowed them to demonstrate their prowess in the depiction of shiny metals, which was one of the points of attraction of the still life.
The analysis of Vermeer's scenes should be approached with caution since we cannot be certain to what extent he intended to incorporate in them hidden symbolic or moralizing content.
Faced with a lack of hard evidence, art historians have attempted to explain the relationship between the map of Holland and the quite drama which unfolds before it. Speculating that the young woman is a tidied-up courtesan, Leonard Slatkes proposed that the map refers to her "worldly" nature. Arthur K. Wheelock Jr. advanced another hypothesis, more or less opposite. "The carefully integrated relationship between the figures and the map in this sunlit interior expresses not only an unmistakable pride in the land but also the communion between the people who live there and enjoy the fruits of peace. Indeed, the girl, so visually bound to the map of Holland, guarded, as it were, by a lion peering over her back and protected by a strong military presence, might be seen as a distant reflection of the Dutch Maiden, the allegorical symbol of the Netherlands. "
Nor is it out of the question that the scene represents a low-key, ritualized courtship. Consequentially, the connection between the map and the intimate tête-à-tête would be that the progress of love requires no less a strategic battle planning than did wars waged between armies. This interpretation would also account for the looming presence of the officer and somewhat aggressive air he projects.
In fact, even if the elaborately illustrated map in this picture was made for interior decoration, one of the original functions of cartography maps was to plan battles more effectively . As with their dominance in the field of map making, the Dutch were justly proud of their military prowess having been able to wage the successful war of independence with Spain, one of the most powerful nations in Europe.
In any case, any Dutchman of the time would have associated the map of Holland map with the vast commercial reach of its growing maritime empire. According to historian Timothy Brook, the officer's felt hat (commonly made of beaver hair) is indirectly connected to Samuel Champlain and his efforts by alliance and conquest to control the beaver pelt trade in the New World. Since Delft was one of the Dutch East India Company headquarters, Vermeer must have been aware of the global expanse of his country through the constant influx of exotic products from all over the globe.

John Dowland
My Lord Chamberlain his Gaillard [836 KB]
from: Greensleeves. Tänze, Lieder und Fantasien der Renaissance
http://www.amazon.de/Greensleeves-T%C3%A4nze-Lieder-Fantasien-Renaissance/dp/B0000249OA
Even though great part of the surface of the Officer and Laughing Girl is painted with dark tones, in no other interior has Vermeer captured the character of the mythical Dutch light.
What is Dutch light? Is it different from light anywhere else in the world? Has it really had a significant impact on art and science? Many often argue that the actual quality of the light in the Netherlands differs enormously from that found in other parts of the world. They claim it increases the luminescence of the landscapes and that 17th-century Dutch landscape painters responded to it more than the topographical features of countryside itself. The notion ultimately became so prevalent and so widespread that it served as the foundation for an entire Dutch aesthetic movement, dubbed The Culture of Observation.
The myth itself began circulating in the 19th century. In the 1850s, the Netherlands became popular with painters and writers. Monet, Manet, Liebermann, Whistler, Boudin, Fromentin, Mirbeau and the Goncourt brothers all came to see Holland's famous 17th-century paintings and the typical Dutch countryside for themselves. From the diaries and journals of American, German, French and British writers, painters and photographers it seems almost as if the Dutch countryside was discovered through 17th-century paintings, as if the landscapes and the light were the inventions of artists.
The German painter Max Liebermann wrote that "the mists that rise from the water and shroud the world in a translucent veil give that country its extraordinarily picturesque quality ... everything is bathed in light and air." The Goncourt brothers described Holland in their famous journal as "a country lying at anchor," where light shimmers as if it were filtered through "a carafe of salt water." and in the sky, the constant presence of "Ruisdael's swollen, leaden clouds." The contemporary German artist Joseph Beuys suggested that the Dutch light lost its extraordinary radiance after the reclamation of large parts of the Zyder Zee in the mid 1950s, bringing to an end a unique visual culture.