Traditional Music and Dances in the Time of Vermeer
"O tyt zeer lustich vul melodyen"
(O time so heartily full of melodies)

(title of a composition by Tielman Susato, c. 1510/15-c.1570)
The Egg Dance
Jan Steen
c. 1674
Oil on canvas, 110 x 135 cm.
London, Wellington Museum,
Apsley House
To the hypnotic music of the fiddle and a bagpipe peasants dance wildly around an egg lying in chalk circle drawn on the floor of sordid inn. In front of rustic tavern villagers and their children listen with rapt attention to a beggar playing a hurdy-gurdy while the reek of cheap drink and tobacco hang over the scene. Even the innkeeper has been lured to the doorway to listen to a few notes of music.
Neither of the immensely popular scenes, painted and sold thousands of times, ever disturb the perfect calm of Vermeer's oeuvre. With the exception of a single working-class milkmaid, Vermeer represented the exceptional lifestyle of the young Dutch cultural elite engaged in sophisticated pastimes. Some of the musical instruments in his paintings were luxury items destined for the few. Certainly, they would have never appeared in the hands of a beggar. The refined music which we would have heard in Vermeer's compositions was of French or Italian origin.
The reason why Vermeer chose to travel the "high road," taken by a limited number of fijnschilders (fine painters) rather than the "low," taken by an army of Dutch artisan/painters, is lost in history. He left no writings, his name and art were barely mentioned in the chronicles of his time.
However, Vermeer's choice of motif hardly means he was unfamiliar with the everyday low-life scenes. Quite the contrary: as the only son of an innkeeper he grew up in taverns where drinking, smoking, business, cavorting and music-making all meshed together amid pictures from his father's art trade.
Moreover, the stepfather of Vermeer's father Reynier, Nicolaes ("Claes") Corstiaensz. van der Minne, was, a professional musician, a so-called speelman,1 aside from being a taylor. We know that Nicolaes had played on the occasions of public festivities or whenever he was called on.2 He possessed various instruments, and it is probable that Nicolaes had instructed his son to play some kind of musical instrument, perhaps a flute. Thus, Reynier grew up in a musical family. It would be only logical to suppose that he imparted to his own two children Gertruy and Johannes a hearty sense of enjoyment for music common to the Dutch people at large. Although there is no proof, it is enticing to believe that his family musical connections have something to do with the elevated number of musical themes he painted.
Very likely, Johannes was born in the house which doubled as an inn (combined living and working quarters were the most common arrangement in seventeenth-century urban Netherlands) called "De Vliegende Vos" ("The Flying Fox") at Voldersgracht, northern from the Grote Markt (see image right). However, in 1641, when he was nine years old, his family of four moved up in the world a to a larger tavern called "Mechelen," on the corner of Grote Markt and Oudemanhuissteeg even if it was only a few paces away (left). This new location (father Reynier must have been prospering well since he could afford to buy the expensive piece of real-estate) had a far better commercial exposition with the added advantage of having far more space for promoting his picture trade. Both "De Fliegende Vos" and "Mechelen" were frequented by a host of both established and lesser-known artists and artisans, for eating, drinking and naturally, shop talk with Reynier.3
It was not unusual for art dealers or even artists to run an inn or brewery like the great genre painter Jan Steen. In 1654, Steen's father signed a contract to rent the brewery "De Roscam" at the Oude Delft for his son, which he had run until 1657, unfortunately with scarce success. In those times, many painters who were unable to support their families exclusively by their art resorted to a second business to hopefully provide more stable income. Beer consumption was enormous in that times. It was already drunk at breakfast time (even though the alcoholic content was inferior to today's beer), normally in an inn, the central meeting point in the social life of the middle and lower classes. But fierce local competition and the arise of qualified breweries in surrounding cities made brewing do-or-die business in Delft.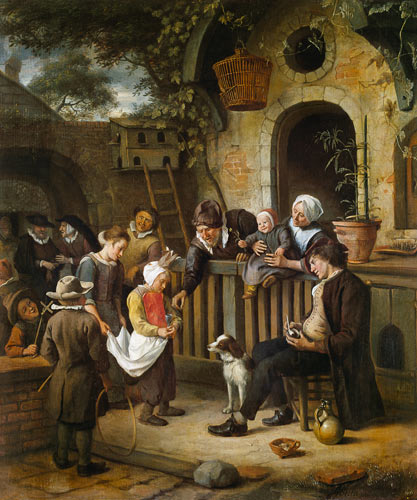 De kleine collectant
Jan Steen
1664
Musée du Petit Palais, Paris
Inns and taverns were attractive for a less obvious reason: they offered more space and light than the dark and narrow rooms in the cramped houses of the common people. Being one of the prime gathering points, people found them comfortable for conducting business. Weddings, funerals and most of the secular and religious festivities were celebrated in the inns and taverns, documented by an endless number of painted rustic scenes. Perhaps the best in this line of painting were the Fleming Pieter Brueghel the Elder and Steen himself.
However, all was not fun and laughter as the painted images would lead us to believe. Heavy drinking, a little raillery gone too far, a wrong word at the wrong time were more than enough to excite temperaments and light a fire that was impossible to snuff out. The results could be lethal. A typical example of this kind of early Dutch realism is Adriaen Brouwer's Peasants Fighting, a subject which he repeated several times. The Dutch saying "100 Dutchmen, 100 knives" reminds us that Brouwer's scenes, which were avidly collected and imitated, were evidently not too far removed from real life. Vermeer's own father testified as a witness in legal proceedings regarding a knife fight which broke out during an iceskating outing with his friends.
Returning to Vermeer's childhood, to live in a tavern on the Grote Markt meant to live in the very heart of Delft. The future painter and his family were instantaneously in touch with most any official event, whether religious or secular. As a boy he witnessed and took part in the local customs which unfolded in relentless succession during the course of the year.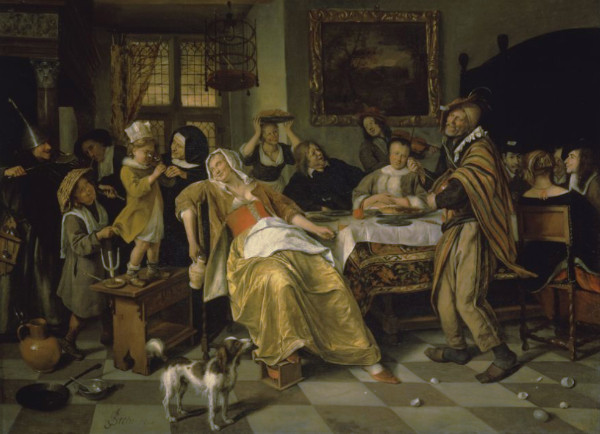 The Beanfeast
Jan Steen
1668
Oil on canvas, 80 x 105 cm.
Museumslandschaft Hessen Kassel, Gemäldegalerie Alte Meister
At Driekoningen (Epiphany, 6th January) children went through the street in groups of three. Boys dressed as the Holy Three Kings waved stars made of gilded paper. They played their rommelpots and sung one of the popular sterrenliedjes, asking for some sweets or a few pennies. On Palm Sunday, Delft children paraded through the streets and alleys during palmpaaslopen waving wooden crosses, decorated with colored stripes of paper, colored eggs, cookies in the shape of hens, swans or ducks while singing a palmpaas-song.
Another popular procession was the Pinksterblom at Pentecost when children were baptized to commemorate the descent of the Holy Spirit upon the followers of Jesus Christ. The year before, one girl had been chosen to take part in the following year's procession. She decorated her hair with white ribbons and a special white flower and went about from house to house, singing one of the popular Pinksterblomliedjes. Passerbyes and people who came to their doors and tossed a few pieces of fruit, sweets, or coins in a cup held by the Pinksterblom-girl. Later, the girls met again and chose the Pinksterblom for the following year and shared what they had collected. In Amsterdam and Haarlem, the municipal officials attempted to prohibit Pinksterblom, calling it "lichtvaerdig en onnut" ("frivolous and useless"), but without measurable success. Thanks to Jan Steen, we have a loving depiction of the procession, De kleine collectant (c. 1664).4
We must not forget that people's lives in former times were intimately bonded to the sequence of the seasons. Common folk had deeper ties with ancient customs and religious and secular festivities. These festivities furnished a welcomed break from the hardships of daily life and a chance to work off a bit of steam in a more or less accepted manner. Sinteklaas (Saint Nicolaus), Kerstmis (Christmas) and Driekoningen helped to bring relief to the long gelid Dutch winters, especially for children. With the closing of winter there was nothing more delightful than to sing and dance around the meiboom at the first of May, as can be seen in an illustration to Jacob Cats' Spiegel Van den Ouden ende Nieuwen Tijdt (right).
In addition, large-scale fairs and a variety of markets dotted the calendar some of whose locations still bear their original names like Paardenmarkt, Koornmarkt, Beestenmarkt (where Vermeer's father Reynier had grown up). Of course, jugglers, clowns and musicians good and bad were inseperable animators of every popular event. Singing and dancing provided a valuable social rolebeing one of the few chances for young men and women to openly meet and find a suitable partner for marriage. One such merry gathering of a family and friends can be seen in Jan Steen's famous Driekoningen ("Twelfth Night") or Merry Family (see The Bagpipe),
Thus, all told, the great Vermeer had witnessed far more traditional song and dance of the common people than the "classical" music of the wealthy upper class.
Many paintings show a fiddler with someone playing the bagpipe, the most common musical instruments for rustic dance music in that times. The hurdy-gurdy was the preferred instrument of the itinerant beggars, appearing here and there in seventeenth-century paintings. But there were still other instruments, like the shawm or the dulcian, employed especially by the stadsmuzikanten for the outdoor playing at official events, like proclamations or processions. Some special instruments, rarely or not to be found in paintings, but adding some additional 'color' to the music with their distinctive sound, are the rommelpot, the crumhorn, the 'hommel' (a fretted zither) or the mystical Midwinterhorn, which are hardly known today, but were in common use in Vermeer's time.
This study attempts to shed some light to traditional music and dance and acquaint us with some of these unfamiliar instruments. A few were hardly "simple" ones, as Edwin Buijsen has called them.5 On the other hand, the hurdy-gurdy, an instrument of ancient origin, is amazingly complex in its structure, comparable to that of the violin or fiddle.
John Michael Montias: Traces of Music in Vermeer's Kinship
"Neeltge [i.e. Vermeer's grandmother], who was thirty years old when her husband [i.e. Jan Reyersz., Vermeer's grandfather] died, did not wait long to remarry. On October 19 of the year 1597 she was joined in holy matrimony with the same Claes Corstiaensz. who had witnessed the debt transfer nine months earlier. Both the bride and groom were said to be living in the Broerhyssteegh. Neeltge's second husband owned a house on this street. A board representing three hammers hung from the side of the house facing the market [i.e. Beestenmarkt]. The house called 'The Three Hammers' still exists.
Neeltge's new husband was the grandson of Aert van der Minne, who was born around 1480. His father, Corstiaen Aertszoon, born about 1515, had migrated to Delft, probably from Flanders, sometime before 1553, when he is referred to as "Master Corstiaen, cantor" ("zanger") in one of the city's official books. By then there were five children living in The Three Hammers, three from Neeltge's first marriage with Jan Reyersz. (Reynier [i.e. Vermeer's father], Anthony, and Maertge), one from Claes Corstiaensz.'s previous marriage (Dirck), and one from the newly married couple (Adriaentge).
In the next few years, the Vermeer family began to rise in the world, just as Delft itself swelled and prospered. The first step was symbolic: from about 1611 on, Neeltge's new husband Claes Corstiaensz. is referred to in numerous documents as a musician, an occupation that recalls his own father's vocation (or avocation) of "cantor." Hereafter he was called Master Claes Corstiaensz., musician (in Dutch, "speelman"). We might never have known what sort of musician or player Master Claes was if his son Dirck Claesz. had not left a small collection of musical instruments at his death in 1657. Since Dirck himself was a master felt worker and hat merchant with no known professional connection with music making, it is very likely that the instruments had been left to him by his father. There were six instruments in all: a lute, a trombone, a shawm (a wooden pipe shaped like an oboe), two viols, and a cornet. Two of the five paintings in Dirck Claesz'. estate represented musicians. When a notarial inventory was taken of Reynier Jansz.'s possessions in 1623, the first item listed was a painting of an "Italian piper." The wooden flute in the family collection was perhaps the instrument Vermeer's father played on. Master Claes probably played one of the viols (the word "speelman" also means "fiddler"). Five years after the death of his stepfather, Reynier Jansz. witnessed a notarial deposition for another musician with whom he was almost certainly acquainted. This man related how he had gone to play for a wedding in a village near Delft and how over a hundred people danced far into the night. Master Claes and his little family orchestra in all likelihood played in inns and brothels (which were often one and the same), and at the more elegant weddings in town as well as at simple country dances.
Music making was another worldly activity that the Reformed clergy deplored but could not stop. Their representatives in the early church synods had succeeded in banning organ music from services but had failed in their attempts to have the organs (built in pre-Reformation times) removed from the churches. The preachers did not have sufficient power in the community to prohibit the secular music that Master Claes played, but they did their best to deter the faithful from such vanities."
From: John Michael Montias. Vermeer and His Milieu. A Web of Social History. Princeton, New Jersey. 1989. 10–12.