Raw Umber
(terra d'ombra)
Origin, History and Characteristics
An ochre containing manganese oxide and iron hydroxide. Colored earth is mined, ground and washed, leaving a mixture of minerals - essentially rust-stained clay. Burnt umber is produced by heating umber.
Because of the manganese content it is an excellent dryer. It can be used in all techniques. The best variety is sold under the name of Cyprus umber, which comes chiefly from the Harz mountains. Painter have used umber to paint the shadows of flesh tones replacing green earth widely used in the medieval times. Umbers with greenish tinge are highly valued by artists. Rembrandt and Rubens used umber extensively in their underpaintings.
The artist has long appreciated the variety of cool and warm hues, which serve as a valuable shading tool in any sort of painting technique. When umber is used transparently or semi-transparently on a light or medium toned ground it produces a warm brown but not "hot" ground. However, when it is mixed with white in varying quantities, a range of very greenish and silvery grays are produced.
Raw Umber in Vermeer's Painting
Vermeer used umber, at times mixed with black, in the underpainting stage. Umber was also found in a number of Vermeer's grounds mixed with white to create a warm light gray.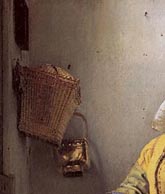 a detail of Vermeer's Milkmaid
Vermeer used umber mixed with black and a small quantity of lead white in the deeper shadows of the white-washed walls which appear in may of his interiors. This mixture was widely used among genre painters of the time. The presence of umber prevents the black from producing a sullen effect and lends an air of naturalness and transparency to those areas. The Milkmaid, which contains one of Vermeer's most convincingly natural renditions of the white-washed walls, this kind of mixture was employed.
How to Paint Your Own Vermeer: Materials & Methods of a Seventeenth-Century Master
by Jonathan Janson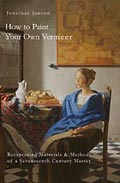 about the book
How to Paint Your Own Vermeer is a straightforward, practical guide on how to reproduce Vermeer's day-to-day painting procedures for today's discerning artist.