Raw Umber
(Brauner Ocker, terre d'ombre naturelle, terre d'ombre)
Origin, History and Characteristics
An ochre containing manganese oxide and iron hydroxide. Colored earth is mined, ground and washed, leaving a mixture of minerals - essentially rust-stained clay. Burnt umber is produced by heating umber. The name comes from terra di ombra, or earth of Umbria, the Italian name of the pigment. Umbria is a mountainous region in central Italy where the pigment was originally extracted. The word also may be related to the Latin word Umbra and the old French word ombre, meaning shade or shadow.
Because of the manganese content it is an excellent dryer. It can be used in all techniques. The best variety is sold under the name of Cyprus umber, which comes chiefly from the Harz mountains. Painter have used umber to paint the shadows of flesh tones replacing green earth widely used in the medieval times. Umbers with greenish tinge are highly valued by artists. Rembrandt and Rubens used umber extensively in their underpaintings. The umbers were not widely used in Europe before the end of the fifteenth century; The Renaissance painter and writer Giorgio Vasari (1511–1574) described them as being rather new in his time.1
The artist has long appreciated the variety of cool and warm hues, which serve as a valuable shading tool in any sort of painting technique. When umber is used transparently or semi-transparently on a light or medium toned ground it produces a warm brown but not "hot" ground. However, when it is mixed with white in varying quantities, a range of very greenish and silvery grays are produced.
Raw Umber in Vermeer's Painting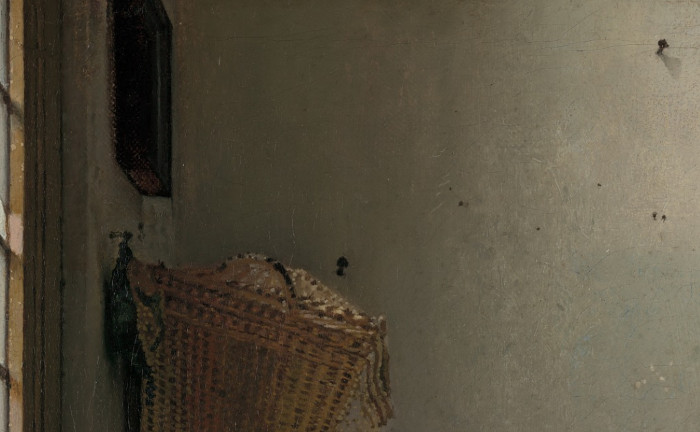 The Milkmaid

(detail showing the presence of raw umber pigment in the shadowed wall behind the maid's hand)
Johannes Vermeer
c. 1658–1661
Oil on canvas, 45.5 x 41 cm.
Rijksmuseum
, Amsterdam
Vermeer used umber, at times mixed with black, in the underpainting stage. Umber was also found in a number of Vermeer's grounds mixed with white to create a warm light gray.
Vermeer used umber mixed with black and a small quantity of lead white in the deeper shadows of the white-washed walls which appear in may of his interiors. This mixture was widely used among genre painters of the time. The presence of umber prevents the black from producing a sullen effect and lends an air of naturalness and transparency to those areas. The Milkmaid, which contains one of Vermeer's most convincingly natural renditions of the white-washed walls, this kind of mixture was employed.
Daniel V. Thompson, The Materials and Techniques of Medieval Painting, Mineola, NY Dover Publications, 1956, 88–89.