Red Ochre
(red ochre; red earth; iron oxide red; red iron oxide; Indian red; brun rouge; Roter Ocker (Ger.); reddle; Spanish brown)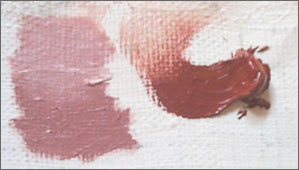 Origin, History and Characteristics
Red ochers are among the most widely used pigments. They can be traced back to the earliest cave paintings. Red ocher can be found in natural form in volcanic regions or can be produced by heating yellow ocher. There are many variations or red ocher: a light, warn tone is Venetian Red, darker, more cool-toned purple versions is called Indian Red, or Caput Mortuum. The choicest source for red ochre in classical antiquity was known as Pontus Euxinus, from the Pontine city of Sinope, according to Pliny. The coloring agent of al these pigments is iron oxide. Although there are many shades of red ocher they all appear subdued when compared to vermilion. Red ocher is very opaque and absorbs much oil.
Medieval and Renaissance painters used red ocher for fresco, tempera and oil painting. It was also used for drawing. It mixes well with other colors and produces a great variety of natural shades.
The red iron oxides, which replace natural red ochers are artificial pigments made from iron ore or the waste material of chemical industries, though they are closely related to the red earths and have very similar properties. However, with these colors, if ground too finely in oil, they have a tendency to bleed.
Red Ocher in Vermeer's Painting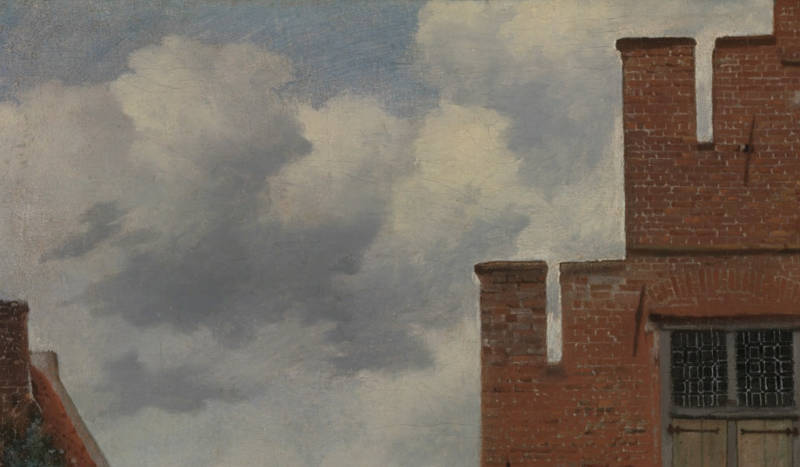 The Little Street
(detail)
Johannes Vermeer
c. 1657–1661
Oil on canvas, 54.3 x 44 cm.
Rijksmuseum
, Amsterdam
Vermeer occasionally used red ocher to tone the grounds of his canvases. Red ocher was used extensively in The Little Street as the principal pigment for the red brickwork of the buildings' facades. A small amount of madder lake was added here and there to deepen and intensify the red ocher.
The particular painting technique Vermeer used to render the complex patterns of brick and mortar is as simple as it is effective. First, a layer of reddish paint, composed of red ocher was applied of the whole area where the bricks would appear. Admixtures of madder lake or umber in various parts to break the uniformity of color. Once this layer was dry, a very fine brush was employed to paint the strips of mortar in various shades of gray. Here and there a few individual bricks were accented with a brighter tone of red. An occasional brick painted with umber can also be noted.
Vermeer used a similar wet over dry paint technique to render the horizontal and vertical strips of gray leading of the open windows. First an even layer of dark transparent paint was applied to approximate the tone of the darkened interior. Once dry, with a fine brush, Vermeer carefully traced each row of leading with a muted gray.
Red ocher can also be found in the subtle gray toned clouds. Minimum quantities of smalt and red ocher in roughly equal portions were mixed with white-lead white to produce a light gray in which neither the bluish tone of smalt nor the pinkish tone of red ocher dominate. The resulting neutral tone, however, is more lively than the more conventional mixture of white and charcoal black and vibrates against the soft blue sky.
Vermeer also used red ocher in a more complicated technique to render the reddish floor tiles in The Glass of Wine. First, each tile was modeled with a mixture of red ocher and lead white. Once dry, a thin reddish-brown glaze (perhaps umber and/or red ocher) was applied to darken the tone and to convey the transparency of the ceramic tiles.
A mixture of red ocher, charcoal black and white lead was used to paint the rustic floor of The Milkmaid.