Lead-Tin Yellow
(massicott, gialllolino)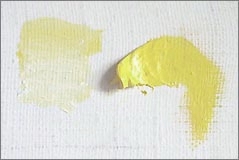 Origin, History and Characteristics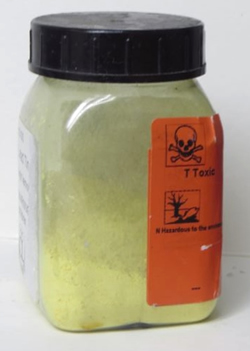 A plastic jar containing powdered lead-tin yellow pigment
If natural ultramarine blue could be considered the king of Vermeer's palette, lead-tin yellow would justly be called its queen. What is now commonly called lead-tin yellow has had several different names in the past. Italian manuscripts have described a color, "gialllolino," which is identical to lead-tin yellow. In northern parts of England the term "massicott" was used to describe the same pigment.
The current name lead-tin yellow is self explanatory. It is a result of the components of the pigment lead and tin which combine to form a yellow hue. Due to its high lead content, it is very poisonous and has been replaced by safer products. Used between thirteenth and eighteenth centuries, but most common from fifteenth to seventeenth centuries.
Lead-tin yellow has a distinct lemon hue and is very light in tone, much nearer white than another common yellow pigment, ochre. Lead-tin yellow has good hiding power. It was commonly used in drapery, light parts of the sky, foliage with green and earth pigments.
Lead-Tin Yellow in Vermeer's Painting
"Lead-tin yellow is the principal pigment used by Vermeer for his characteristic yellow draperies, including the fur trimmed jackets. Two different preparations of lead-tin yellow were used in the yellow jacket of A Lady Writing. Vermeer seems to have first modeled the strong lights with a coarser variety of lead-tin yellow and the refined the modeling and chiaroscuro with a finer one. He textured the underpaint by using granular pigments and strongly marked brush handling. These textured passages of underpaint were used in the final image, where they draw the viewer's attention. The lightest passages are literally the most eye-catching parts of the painting."1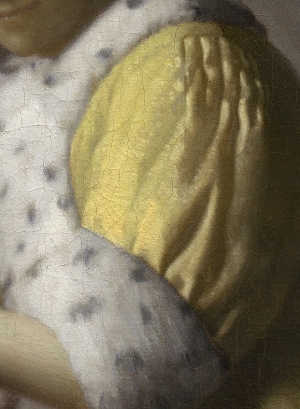 A Lady Writing
(detail)
Johannes Vermeer
c. 1662–1667
Oil on canvas, 45 x 39.9 cm.
National Gallery of Art
, Washington D.C.
Vermeer's mixed lead-tin yellow with various shades of blue to obtain subtle greens. The green trompe-l'œil curtain in the Girl Reading a Letter at an Open Window was made with lead-tin yellow and azurite. The same combination occurs in the green shutter in the Little Street.
Vermeer's mastery of color can be seen in his use of lead-tin yellow, which is very difficult to harmonize with flesh tones.
One of the most curious uses of lead-tin yellow occurs in the greenish highlights, which contained lead-tin yellow, of the far sleeve of the Woman Holding a Balance. There seems to be no logical explanation for this in the lighting condition represented in the painting, but it must have had some significance for the artist since he repeated precisely this technique in the later Girl with a Red Hat. Arthur K. Wheelock Jr., who has extensively analyzed Vermeer's painting technique, gives the following explanation: "By accenting the highlight with bright yellow strokes rather than with white or light blue ones, he imbued the cool blue robe with a certain warmth without reducing its level of color saturation."2
E. Melanie Gifford, "Painting Light: Recent Observations on Vermeer's Technique," in Vermeer Studies, eds. Ivan Gaskell and Michiel Jonker, National Gallery of Art Washington D.C., New Haven and London: Yale University Press, 1998, 1998.
Arthur K. Wheelock Jr., Vermeer and the Art of Painting, New York and New Haven: Yale University Press. 1995, 122.