Hendrick Cornelisz van Vliet
Portrait of Michiel van der Dussen, his Wife, Wilhelemina van Setten and their Children
1640
Oil on canvas, 159 x 210 cm.
Gemeente Musea Delft; Collection Stedelijk Museum Het Prinsenhof, Delft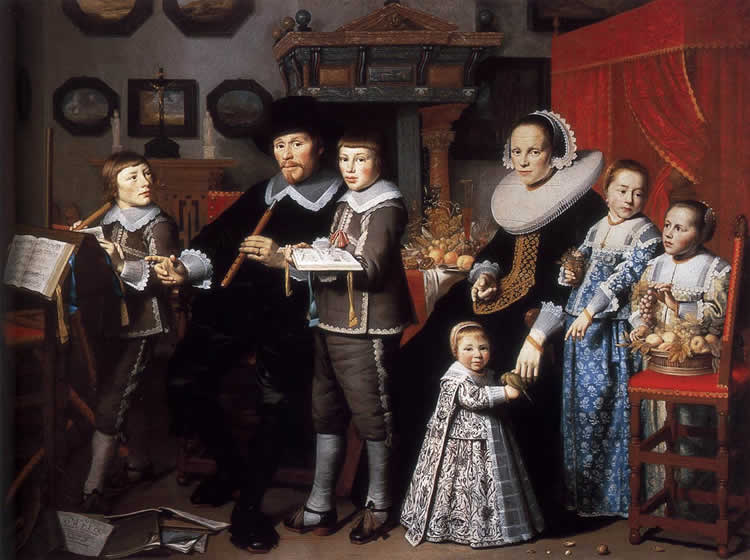 Hendrick van VLIET
Born c. 1611, Delft–Died 1675, Delft
Dutch painter. He is the only living artist discussed in Dirck van Bleyswijck's contemporary description of Delft, where he is said to have studied with his uncle, the portrait painter Willem van Vliet (?1583/4–1642), and then with Michiel van Miereveld.
Hendrick entered the Guild in 1632, later specializing in painting portraits, history and perspective views, notably of church interiors. He lived in an alley on Kromstraat in 1633; opposite the Bagijnhof on Oude Delft (probably at) number 202, in 1639 and 1645. In 1653 and 1675 he lived on the east side of Oude Delft.
From 1632 to c. 1650 van Vliet practiced portraiture in a conservative South Holland style (e.g. Portrait of a Woman, 1650; Amsterdam, Rijksmuseum). Around 1651 he turned to painting interior views of actual churches, mostly the Oude Kerk or the Nieuwe Kerk in Delft. His earliest known dated architectural picture, the Pieterskerk in Leiden (1652; Brunswick, Herzog Anton Ulrich-Museum), is one of about 20 paintings representing churches in Leiden, Haarlem and Dutch towns other than Delft. In 1658 he painted a view of the new Admiral Tromp funerary monument in the Oude Kerk (Old Church), commissioned by Tromps's widow.
Van Vliet died in poverty; his widow was still living on Oude Delft opposite the Bagijnhof in 1689