Maerten van Heemskerck
Portrait of Ann Codde
1520
Rijksmuseum, Amsterdam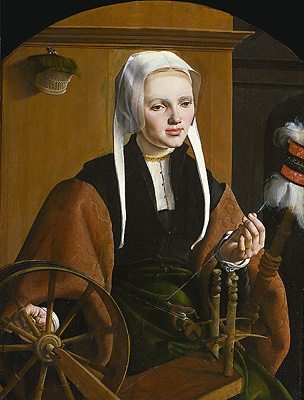 Maerten van HEEMSKERCK
Heemskerk 1498–Haarlem 1574
Netherlandish painter, worked with Scorel in Haarlem 1527–1529 and learned most of the Italianate manner from him before going to Italy in 1532 himself. Before he left he gave his St Luke Painting the Virgin to the Haarlem Guild (now in Haarlem, Hals Museum); this is almost a parody of the Italian manner, as conceived by a Northerner at second hand.
In Rome he made a large number of drawings (1532–1535) of the antiquities and works of art, and two of his sketchbooks (Berlin) are invaluable evidence for the monuments of antiquity as they existed in the sixteenth century, as well as for such things as the building of New Saint Peter's.
He settled in Haarlem in 1537 and worked there for the rest of his life except for a flight to Amsterdam (1572–1573) while the Spaniards were besieging Haarlem. He painted a number of fine portraits, as well as Italianate religious pictures.