Rachel Ruysch
Summer Flowers in a Vase
56.5 x 48.6 cm.
Kunsthandel Hoogsteder & Hoogsteder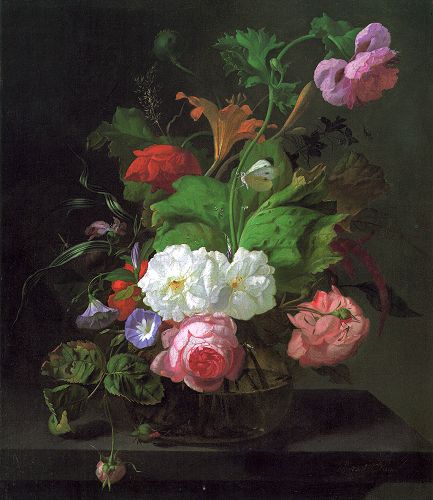 Rachel RUYSCH
The Hague 1664–Amsterdam August 12, 1750
She was born in The Hague, but moved to Amsterdam when she was three. Her father Frederik Ruysch, a famous anatomist, and botanist, was appointed there as a professor. He gathered a huge collection of rarities in his house. She assisted her father decorating the prepared specimen in a liquor balsamicum with flowers and lace. At fifteen Ruysch was apprenticed to Willem van Aelst, a prominent Delft painter, known for his flower paintings.
In 1701 Ruysch was inducted to the painters' guild in The Hague. Several years later Ruysch was invited to Düsseldorf to serve as court painter to Johann Wilhelm, the Elector Palatine of Bavaria. She remained there from 1708 until the prince's death in 1716. Also Jan Weenix and Adriaen van der Werff were invited. After she returned to Holland, Ruysch kept painting for her prominent clients until she was into her eighties.
She was married to a portrait painter, Juriaen Pool (1666–1745), with whom she had ten children.