Nicolaes Maes
Mother with Her Child in a Cot
c. 1660
Oil on canvas, 32.5 x 38 cm.
Rijksmuseum, Amsterdam

click here for more Nicolaes Maes images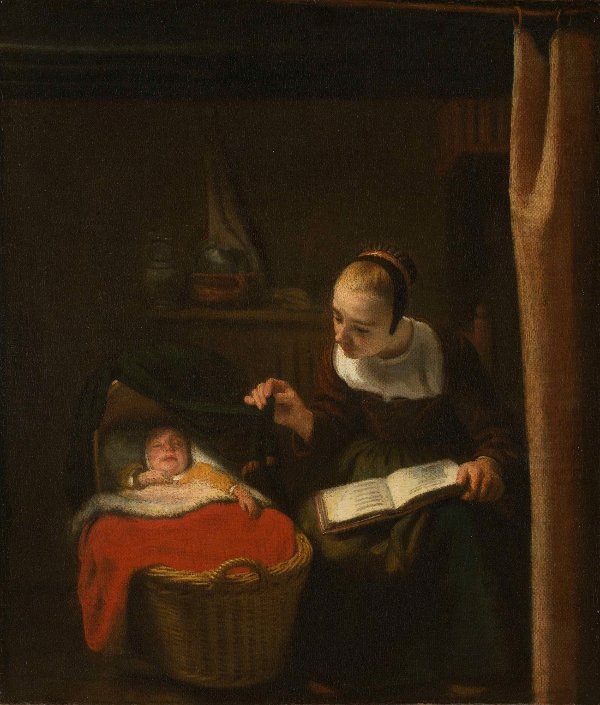 Nicolaes MAES
Dordrecht 1634–Amsterdam 1693
In about 1648 he became a pupil of Rembrandt in Amsterdam, staying there until 1654 when he returned to his native town Dordrecht. Before studying painting with Rembrandt van Rijn in Amsterdam, probably between about 1648 and 1653, Nicolaes Maes learned to draw from a local Dordrecht master. Subsequently, he returned home to embark on an independent career. By the 1650s he had developed a reputation for painting the intimate life of women and children; his finest pictures capture aspects of Rembrandt's tenderness and intimacy. Maes's scenes often include vignettes such as a cat stealing the dinner of an old woman as she prays. By representing an interior as a suite of rooms rather than a three-wall, one-room enclosure, Maes had great impact on the Delft painters Johannes Vermeer and Pieter de Hooch. In his early years he concentrated on genre pictures, rather sentimental in approach, but distinguished by deep glowing colours he had learnt from his master. Old women sleeping, praying, or reading the Bible were subjects he particularly favored.
In the 1660s, however, Maes began to turn more to portraiture, and after a visit to Antwerp around the middle of the decade his style changed dramatically. He abandoned the reddish tone of his earlier manner for a wider, lighter and cooler range (greys and blacks in the shadows instead of brownish tones), and the fashionable portraits he now specialized in were closer to van Dyck than to Rembrandt. In 1673 he moved permanently to Amsterdam and had great success with this kind of picture.

About 1660 Maes began specializing in portraits, becoming wildly successful by abandoning his Rembrandtesque style for the bright colors and studied elegance of Flemish artists such as Anthony van Dyck. Arnold Houbraken's 1721 biography described the transformation: "Maes learned the art of painting from Rembrandt but lost that way of painting early, particularly when he took up portraiture and discovered that young ladies preferred white to brown."