Simon de Vlieger
A Dutch Yacht from Zeeland
c. 1627–1629
Oil on panel, 52.2 x 61.7 cm.
National Maritime Museum, Greenwich, London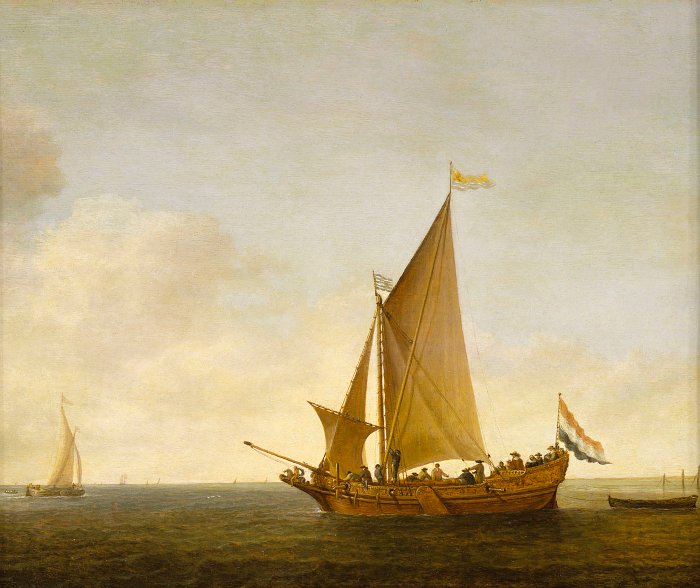 VLIEGER, de Vlieger
(c. 1601, Rotterdam–buried 13 March, 1653, Weesp)
Born in Rotterdam, de Vlieger moved in 1634 to Delft, where he joined the Guild of Saint Luke, and then to Amsterdam in 1638, though he maintained a house in Rotterdam until 1650 when he moved to Weesp, a small town on the outskirts of Amsterdam. In the 1630s and 1640s he was one of the best-known Dutch maritime painters. He moved away from the monochrome style of Jan Porcellis and Willem van de Velde, the elder towards a more realistic use of colour, with highly detailed and accurate representations of rigging and ship construction. He painted ships in harbour and at sea as well as storms and shipwrecks.
In addition to painting, he designed tapestries, etchings, stained glass windows for the Nieuwe Kerk in Amsterdam, and the organ screen for the Saint Laurenskerk in Rotterdam.
His pupils included Willem van de Velde, the younger, Adriaen van de Velde, and Jan van de Cappelle. Jan van der Cappelle in fact owned 9 original de Vlieger paintings, and more than 1300 prints. His work was highly influential on the younger generation of maritime painters.