Frans van Mieris
A Man and a Woman with Two Dogs known as "Teasing the Pet"
1660
Oil on panel, 25.5 x 20 cm.
The Hague, Mauritshuis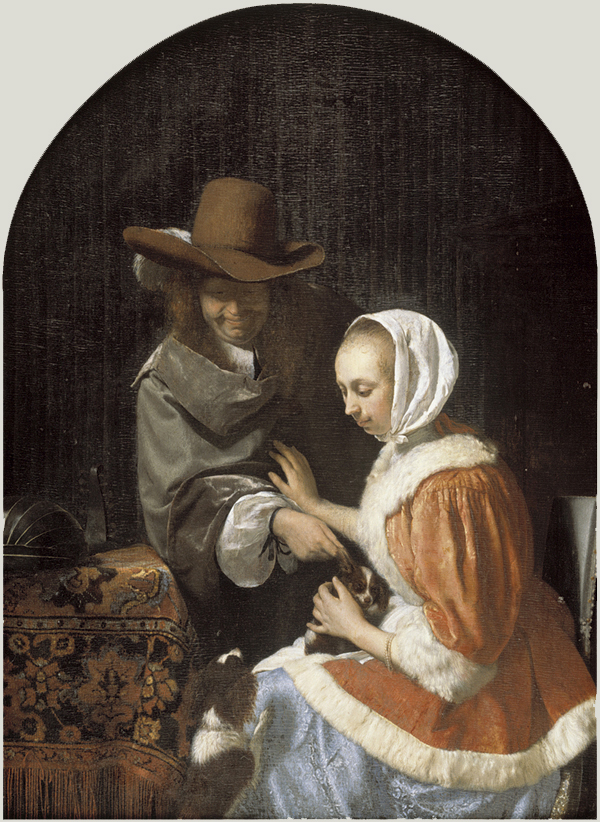 Frans VAN MIERIS THE ELDER
Leiden 1635–Leiden 1681
Frans van Mieris was born on April 16, 1635, the san of Jansz. Batiaensz., a goldsmith, and Christine Willemsdr. van Garbartijn. He initially followed in his father's profession and was apprenticed in 1647 to his cousin, the goldsmith Willem Fransz. But by 1650 he was a pupil of the glass painter and drawing master Abraham van Toorenvliet. Soon after he began an apprenticeship with Gerard Dou, who later referred to him as the "prince of my pupils." Van Mieris also trained for a period with the Leiden history painter and portraitist Abraham van den Tempel, before returning to Dou's studio. In 1657 he married Cunera van der Cock, with whom he had five children. On May 14, 1658, he entered the Leiden Saint Luke's Guild and served as its hoofdman (headman in 1663 and 1664 and its deken in 1665. Van Mieris seems to have lived his entire life in Leiden, moving frequently within the city's limits. An extremely successful and popular artist, he was patronized by a number of Leiden's wealthiest and most prominent citizens. He also enjoyed the patronage of foreign nobility, working for Grand Duke Cosimo III de' Medici, who visited him personally in Leiden in 1669, and Archduke Leopold Wilhelm, who unsuccessfully offered him a post as court painter in Vienna. Despite his sizable income, notarial and court documents from the 1660s and 1670s indicate that van Mieris was constantly in debt. The records of unpaid bills at taverns and letters complaining of late delivery of paintings also lend some credence to Arnold Houbraken's claim that the artist was a habitual drunkard. However, van Mieris appears to have been well respected; after his death on March 12, 1681, he was buried alongside prominent Leiden citizens in the Saint Pieterskerk.
A leading figure in the Leiden School of finschilders, van Mieris painted small interior genre scenes, portraits and historical subjects in an extremely detailed and highly refined manner. His style and themes were closely related to those of his teacher Gerard Dou. His meticulous manner was perpetuated by his sons Willem (1662–1747) and Jan (1660–1690), and his grandson Frans van Mieris the Younger (1689–1763). Carel de Moor (1656–1738) was also his pupil and follower.
from:
Love Letters: Dutch Genre Painting in the Age of Vermeer, Peter Sutton