A Timeline of Vermeer's Life - 1661–1667
Maturity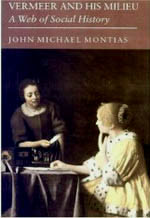 Vermeer and His Milieu: A Web of Social History
John Michael Montias
1989
Modern art enthusiasts should always keep in mind the twentieth-century art world has little in common with that of Johannes Vermeer. There existed no private art galleries, no queuing up to major international exhibits, no critical reviews in newspapers and painfully little art writing at all. Dutch painters wrote next to nothing about themselves or their work since most considered themselves little more than skilled artisans. The Dutch population at large was hardly aware of the "Golden Age of Dutch Painting" in the way we are today and art lovers spoke in different terms about the paintings we so treasure today.
The material evidence for seventeenth-century Dutch artists, including Johannes Vermeer, consists chiefly of depositions, business transactional and other documents drawn up by notaries and municipal clerks that force us to consider a person's life from a particular angle closer to his adversarial than to his amicable relations with his fellow men. Notorial depositions such as these give us a partial view of individual personalities not only because they emphasize the controversial side of their activities but because they are by and large woefully one-sided and incomplete. Only major events of Vermeer's life, baptism, marriage, and burial-were recorded in the vellum-bound registers of the Old or the New Church which are preserved now in the Delft archives.
After Vermeer's baptism in 1632, little or nothing is known of the artist himself until he marries Catharina Bolnes in 1653. However, surviving archival from the following years documents provide an interesting picture and while little can be deduced about the artist's personality, his family background and immediate social milieu is fairly well defined.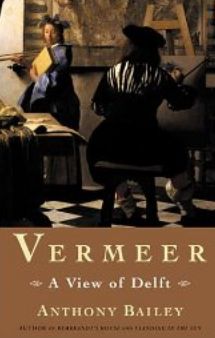 Vermeer: A
View of Delft
Anthony Bailey
2001
John Michael Montias' invaluable Vermeer and His Milieu: A Web of Social History
was used for the great part of the information contained in this timeline which concerns the artist Vermeer. Montias' book currently constitutes the basis on which all other research regarding Vermeer's life and immediate social milieu is founded and should be read by anyone interested in Vermeer of the artistic milieu of that period. During the course of his research, Montias was surprised to learn that the scholarship on one of his favorite artists, Vermeer, was far from exhausted. He began a quest to uncover the life of the artist, considered one of the most enigmatic and mysterious. In this book, Montias traced the artist's life through notary records, discovering that Vermeer's grandfather was a convicted counterfeiter; that his grandmother ran illegal lotteries; and that the artist himself fathered 13 children and died at the age of 43, completely destitute.
Another colorful book which fleshes out in a highly readable fashion is Vermeer: A View of Delft
by Anthony Bailey. Bailey effectively retells much that is known about many of Vermeer's contemporaries, such as the scientist Anton Van Leeuwenhoek, and speculates on his apparent Catholic faith in the Protestant Netherlands. Organized around individual paintings, Bailey's essay begins with the great gunpowder explosion of 1654 and ends with the reverberations of Vermeer's art in the writings of Marcel Proust and the forgeries of Han van Meegeren. Highly recommended for general collections and also for art history collections for its broad view and effective style.
In order to insure reasonable loading time, this timeline has been divided into five sections.
1661: Vermeer's Age, 29
VERMEER'S LIFE & ART

View of Delft

Johannes Vermeer

c. 1660–1663

In the View of Delft, Vermeer's largest canvas, the artist continues to explore visual effects produced the camera obscura, a precursor of modern camera. These effects can be first noted in the Girl Reading a Letter at an Open Window and became obvious in Officer and Laughing Girl and The Milkmaid. The View of Delft is sometimes considered to be the first true urban landscape in western art history.

Other than the extant View of Delft and The Little Street archival records raccount that Vermeer paints another cityscape demonstrating the artist's more-tha-sporadic interest in the field.

In Dec. Maria Thins, Vermeer's mother-in-law, purchases a grave in the Nieuwe Kerk in Delft. Originally from Gouda, at this time she probably had come to understand that her son-in-law had become an inseparable part of the family she headed.

Willem Bolnes, brother of Vermeer's wife Catharina, showed up on several occasions at Vermeer's house and made trouble. Several witnesses, including Tanneke Everpoel, Vermeer's servant which some scholars believe to have posed for The Milkmaid, claimed that Willem created violent commotion, causing people outside to come to the front door and listen. He swore at his mother Maria Thins, with whom Vermeer and his family resided, and called her an "old popish swine," a "she-devil," and other words "that could not be decently mentioned." He pulled a knife on his mother and tried to stab her. He also once threatened Catharina with a stick although she was pregnant "to the last degree." The stick, added a neighbor Willem de Coorde, had an iron spike on one end. Tannake prevented Willem from hitting her with it. None of this violence seems to have worked its way into the world of Vermeer's art.

Willem Bolnes, like his father, seemed to be prone to moments of uncontrollable violence. He soon after had another serious incident which left Maria Thins with a 74-guilder fee to pay two surgeons and wine necessary to help him recover.

In the estate inventory of an innkeeper named Cornelis de Helt, who died in 1661, the first item listed is as "a painting with a black frame by Jan van der Meer."

DUTCH PAINTING

Self-Portrait

Rembrandt

c. 1665–1669

Rembrandt depicts himself in a painting as the Apostle Paul.

Apr. 20, Gerrit ter Borch, the elder, painter, dies.

Rembrandt paints The Syndics of the Cloth Hall.

Jacob van Ruisdael paints Landscape with Watermill.

Jan Steen paints Easy Come, Easy Go.

EUROPEAN PAINTING &
ARCHITECTURE

The Tent of Darius by Charles Le Brun, now 42, is commissioned by Louis XIV to create a series of subjects from the life of Alexander the Great. Le roi de soleil fancies himself a latter-day Alexander and makes Le Brun first painter to the king, giving him a huge salary.

The Château Vaux-le-Vicomte is completed for France's minister of finance Nicolas Fouquet with a two-story salon. Architect Louis Le Vau has designed the structure (his Collège des Quatre-Nations is also completed this year), and landscape architect André Le Nôtre, now 48, has created its gardens. Le Nôtre will begin work next year on the gardens of Versailles.

MUSIC

The Paris Opéra Ballet has its beginnings in the Royal Academy of Dance (Académie Royale de Danse) founded by Louis XIV.

LITERATURE

SCIENCE & PHILOSOPHY

The Sceptical Chymist by Robert Boyle discards the Aristotelian theory that there are only four basic elements (earth, air, fire and water) and proposes an experimental theory of the elements (see 1660). Boyle will be called the "father of chemistry" but he holds views that will encounter skepticism from later chemists, e.g., that plant life grows by transmutation of water, as do worms and insects since they are produced from the decay of plants.

Christiaan Huygens invents a manometer for measuring the elasticity of gases.

HISTORY

Mar. 9, Cardinal Jules Mazarin, the chief minister of France, dies, leaving King Louis the 14th in full control.

Apr. 23, English king Charles II is crowned in London.

Henry Slingsby, master of the London Mint, proposes the "standard solution," a mix of fiat rules and free markets, to resolve the ongoing problem of money supply and coin value. Britain adopted the idea in 1816 and the US followed in 1853.

Water ices go on sale for the first time at Paris under the direction of Sicilian limonadier Francesco Procopio dei Coltelli from Palermo. Fruit-flavored ices were originated by the Chinese, who taught the art to the Persians and Arabs.
1662: Vermeer's Age, 30
VERMEER'S LIFE & ART


The Music Lesson

Johannes Vemeer

c. 1662–166

Young Woman with a Water Pitcher

Johannes Vermeer

c. 1662–1665

Vermeer's income in the 1660s is probably higher than in the 1670s. In the1660s, sales of paintings and especially his mother-in-law's substantial financial contributions together, probably ranged from 850 to 1,500 guilders a year. A mason earned about 500 guilders.

Vermeer is elected for the first time headsman of the Guild of Saint Luke in Delft at the age of 30 for a two year term. However, by this time many artists resident in Delft had left for the more prosperous Amsterdam and so his election may have had less significance than once believed. He was the youngest artist to become headmaster since the guild was organized in 1611.

Many of the luxury items seen in Vermeer's interiors such as the virginal seen in The Music Lesson were economically out of reach of the artist. They may have been lent to him by affluent men of culture or clients such as Diego Duarte, a rich Antwerp banker, in whose important art collection was cited "a young lady playing a clavecin, with accesso The Music Lesson was built by Johannes Ruckers. These rare instruments were sold at about 300 guilders, about half the cost of s psinting by Gerrit Dou or Frans van Mieris. An averge Dutch house might cost 1,000 guilders. In Delft, hese instruments were owned by the official town musician Scholl. (See the music section on Kees Kaldenbach's excellent Vermeer website http://www.johannesvermeer.info/verm/house/h-a-mp3-scholl2-ENG.htm).

DUTCH PAINTING

Man Writing a Letter

Gabriel Metsu

1662–1665

Pieter Saendredam dies in Haarlem.

Despite its decline Delft remained and important city of passage for artists passing from Haarlem, Utrecht and Amsterdam. It contained a number of fine art collections. Ferries parted many times a day to the nearby The Hague and Amsterdam was less than a days away on an inexpensive horse-towed barge.

EUROPEAN PAINTING &
ARCHITECTURE

André Le Nôtre designs park and gardens of Versailles Louis XIV begins to build palace of Versailles; he makes Charles Lebrun his chief artistic adviser.

MUSIC

Composer Henry Lawes dies at London October 21 at age 66.

LITERATURE

SCIENCE & PHILOSOPHY

Mathematician-physicist-philosopher-theologian Blaise Pascal dies at the Jansenist Port-Royal monastery in Paris August 19 at age 39.

Publication of a world atlas in eleven parts by Joan Blaeu in Amsterdam.

HISTORY

New Amsterdam colonist John Bowne is arrested for permitting Quakers to hold meetings in his Flushing house, completed last year at what will become 37-01 Bowne Street, Queens. Bowne is convicted of having violated Governor Peter Stuyvesant's ban on Quaker assemblies. He is jailed and banished, but when he reaches Holland and appeals to the Dutch West India Company, it acquits him of all charges, frees him, and rebukes Governor Stuyvesant, thereby establishing the right to free practice of religious worship.

Founding of the Academia Leopoldina in Vienna

The Royal Society receives charter from Charles II.

Holland and France form an alliance against possible attack by England.
1663: Vermeer's Age, 31
VERMEER'S LIFE & ART

Woman in Blue Reading a Letter

Johannes Vermeer

c. 1662–1665

Woman with a Pearl Necklace

Johannes Vermeer

c. 1662–1665

In the early and mid-1660s Vermeer paints a series of extraordinary pictures of single women in the corner of a room absorbed in their activity. Even their most striking passages of observation are always subordinated to the impression made by the whole composition.

A French diplomat and art connoisseur Balthasar de Monconys visits Vermeer in Delft, in his diary he notes that he was unable to see any paintings there and had to visit the house of a baker where he saw a painting with a single figure during the summer of 1663.

Balthasar de Monconys comes initially as a tourist, evidently unaware of Vermeer's presence. A few weeks later, "he went to pay his respects in The Hague to Constantijn Huygens, an important art connoisseur and theorist of Dutch culture. De Monconys admired his art collection and described it in detail. However, one can only imagine "how amazed Huygens must have been to hear that the Frenchman had been in Delft, without visiting Vermeer." It seems a reasonable assumption that Huygens urged de Monconys to meet with the Delft painter, given the Frenchman's predilection for fine art. Not long afterward, Monconys did indeed visit with Vermeer at his house, and wrote the following account in his diary journal, which was published in 1665, the year of his death: "In Delft I saw the painter Verme(e)r who did not have any of his works: but we did see one at a baker's, for which six hundred livres had been paid, although it contained but a single figure, for which six pistoles would have been too high a price." Simply put, de Monconys thought the painting he saw was worth less than a tenth of the price mentioned.

c. 1663 a son named Johannes, named after himself, is born to Vermeer.

DUTCH PAINTING

Woman Reading a Letter


Gabriel Metsu

1662–1665

Woman Peeling Apples

Pieter de Hooch

c. 1663

Rembrandt depicts himself as a bit player in his painting The Raising of the Cross.

Jan Steen paints The Drawing Lesson.

Pieter de Hooch paints At the Linen Closet.

Adriaen van de Velde paints Cattle near a Building.

Pieter de Hooch, who had moved away from Delft to Amsterdam to seek more patronage, comes back to Delft at least once in this year.

EUROPEAN PAINTING &
ARCHITECTURE

Bernini: Scala Regia, Vatican, Rome

Building of Castle Nymphenburg, near Munich.

Nicolas Poussin paints The Four Seasons.

France's minister of finance Jean-Baptiste Colbert appoints painter Charles Le Brun director of the Gobelins, which will grow under Le Brun's direction from a small tapestry manufactory into a vast enterprise that supplies all of the royal houses. The Academy of Painting and Sculpture is reorganized, with Le Brun as its director.

MUSIC

Mar. 7, Tomaso Antonio Vitali, composer, is born.

Pascal: L'Equilibre des liqueurs (post.).

LITERATURE

SCIENCE & PHILOSOPHY

Isaac Newton (1622–1678) discovers the binomial theorem.

Physicist Otto von Guericke invents the first electric generator. It produces static electricity by applying friction against a revolving ball of sulfur, and Guericke will show in 1672 that the electricity can cause the surface of the sulfur ball to glow.

HISTORY

Dutch forces hold the best pepper ports of India's Malabar Coast, giving them a virtual stranglehold on the spice trade once controlled by Portugal.

A Third Navigation Act adopted by Parliament July 27 forbids English colonists to trade with other European countries. European goods bound for America must be unloaded at English ports and reshipped, even though English export duties and profits to middlemen may make prices prohibitive in America.
1664: Vermeer's Age, 32
VERMEER'S LIFE & ART

Woman with a Lute

Johannes Vermeer

c. 1662–1665

Woman Holding a Balance

Johannes Vermeer

c. 1662–1665

In a death inventory of the English sculptor Jean Larson who lived in the Hague is listed "a head by Vermeer." Some critics believe it may have been the Girl with a Pearl Earring although the price would be very low.

In the early to mid-1660s Vermeer refines all the qualities of his mature style. In his orderly designs, he gives new life to familiar patterns of contemporary genre painting by closely studying the subtleties of appearance.

DUTCH PAINTING

Regentesses of the Old Men's Almshouse

Frans Hals

1664

The Goldweigher

Pieter de Hooch

c. 1664

Pieter de Hooch paints Young Woman Weighing Gold.

Jan Steen: paints The Christening Feast.

Frans Hals, one of the most fashionable portraitists of his time and now in his late sixties, paints two of his most significant group portraits, the Regents and Regentesses of the Old Men's Alshouse at Haarlem. Owing to his dire poverty he was given a small allowance by the town of Haarlem.

EUROPEAN PAINTING &
ARCHITECTURE

Nicola Poussin paints "Apollo and Daphne."

John Vanbrugh (d. 1726), Eng. architect and dramatist, is born.

Christopher Wren: Sheldonian Theatre, Oxford (- 1669).

Francisco de Zurbaran, Spanish painter, dies.

MUSIC

The French horn becomes an orchestral instrument.

Oratorio: Christmas Oratorio by Heinrich Schütz at Dresden.

LITERATURE

René Descartes - Traité de l'homme et de la formation du foetus.

Molière, Tartuffe

SCIENCE & PHILOSOPHY

Robert Hooke discovers the Great Red Spot (an extremely persistent storm) on Jupiter and uses it to determine the period of Jupiter's rotation, which is astonishingly less than ten hours despite Jupiter's great size.

Giovanni Alfonso Borelli, born January 28 in Rome, calculates the orbit of a comet and finds that it is a parabola (not a circle, ellipse, or line as expected in various earlier theories).

Descartes' Traité de l'homme et de la formation de foetus ("treatise on man and the formation of the fetus"), printed posthumously, describes animals as purely mechanical beings; that is, there is no "vital force" that makes animals different from other material objects.

Christiaan Huygens proposes that the length of a pendulum with a period of one second should be the standard unit for length.

HISTORY

Aug. 29, Adriaen Pieck/Gerrit de Ferry patents a wooden firespout in Amsterdam.

New Amsterdam is handed over by Peter Stuyvesant to the English, who rename the city New York.

Amsterdam passes a regulation banning the sale of "rotten, spoiled, or defective spinach, cucumbers and carrots, ears of corn, radishes, or other fruits [vegetables] because pride could not be taken in or from such things.

Slavery is introduced into the Caribbean island of Montserrat and will not be abolished until 1834.

The Black Death kills 24,000 in old Amsterdam while the English are taking Nieuw Amsterdam. The plague spreads to Brussels and throughout much of Flanders, and in December it kills two Frenchmen in London's Drury Lane (see 1663; 1665). Men who put the dead into the deadcarts keep their pipes lit in the belief, now widespread, that tobacco smokers will somehow be spared.

Samuel Pepys buys forks for his household, but most Englishmen continue to eat with their fingers and will continue to do so until early in the next century lest they be considered effete or, in the opinion of some clergymen, even sacrilegious. A man going out to dinner has for centuries brought his own spoon and knife, the spoon being folded into the pocket and the knife carried in a scabbard attached to the belt; more men now carry folding forks as well.

The Kronenbourg Brewery is founded in Alsace will continue into the 21st century to produce beer.
1665: Vermeer's Age, 33
VERMEER'S LIFE & ART

Woman Writing

Johannes Vermeer

c. 1662–1667

Girl with a Red Hat

Johannes Vermeer

c. 1665–1667

Girl with a Flute

Johannes Vermeer

c. 1665–1670

Pieter van Ruijven and his wife Maria Knuijt leave 500 guilders, a considerable, to Vermeer in their last will and testament. This kind of a bequest is very unusual and testifies a close relationship between Vermeer and Van Ruijven that went beyond the usual patron / painter one. It would seem that in his life-time the rich Delft burger had bought a sizable share of Vermeer's artistic output, most likely, fore than half.

DUTCH PAINTING

Rembrandt paints The Jewish Bride.

Adriaen van Ostade paints The Physician in His Study.

c. 1665 Gerrit Dou painted Woman at the Clavichord and a Self-Portrait.

EUROPEAN PAINTING &
ARCHITECTURE

Bernini finishes high altar, Saint Peter's, Rome (begun 1656).

Murillo: Rest on the Flight into Egypt.

Nicolas Poussin, French painter, dies. Known as the founder of French Classicism, he spent most of his career in Rome which he reached at age 30 in 1624. His Greco-Romanism work includes The Death of Chione (1622–1623) and The Abduction of the Sabine Women.

Compagnie Saint-Gobain is founded by royal decree to make mirrors for France's Louis XIV. It will become Europe's largest glass-maker.

Francesco Borromini completes Rome's Church of San Andrea delle Fratte.

MUSIC

Sept. 22, Moliere's L'amour Medecin, premiered in Paris.

LITERATURE

SCIENCE & PHILOSOPHY

Giovanni Cassini determines rotations of Jupiter, Mars and Venus.

Peter Chamberlen, court physician to Charles II, invents midwifery forceps.

Pierre de Fermat, French mathematician, dies. His equation xn + yn = zn is called Fermat's Last Theorem and remained unproven for many years. The history of its resolution and final proof by Andrew Wiles is told by Amir D. Aczel in his 1996 book Fermat's Last Theorem. Fermat's Enigma: The Epic Quest to Solve the World's Greatest Mathematical Problem by Simon Singh was published in 1997. In 1905 Paul Wolfskehl, a German mathematician, bequeathed a reward of 100,000 marks to whoever could find a proof to Fermat's "last theorem." It stumped mathematicians until 1993, when Andrew John Wiles made a breakthrough.

Francis Grimaldi: Physicomathesis de lumine (posth.) explains the diffraction of light.

Isaac Newton experiments on gravitation; invents differential calculus.

Robert Hooke's Micrographia, with illustrations of objects viewed through a microscope, appears. The book greatly influences both scientists and educated laypeople. In it, Hooke describes cells (viewed in sections of cork) for the first time. Fundamentally, it is the first book dealing with observations through a microscope, comparing light to waves in water.

Mathematician Pierre de Fermat dies at Castres January 12 at age 63, having (with the late Blaise Pascal) founded the probability theory (his remains will be reburied in the family vault at Toulouse).

HISTORY

English naval forces defeat a Dutch fleet off Lowestoft June 3 as a Second Anglo-Dutch war begins, 11 years after the end of the first such war. General George Monck, first duke of Albemarle, commands the English fleet, Charles II bestows a knighthood on Irish-born pirate Robert Holmes, 42, and promotes him to acting rear admiral, giving him command of the new third rate battleship Defiance, but the Dutch block the entrance to the Thames in October.

Feb. 6, Anne Stuart, queen of England (1702–1714), is born.

At least 68,000 Londoners died of the plague in this year.

University of Kiel founded.

The second war between England and the United Provinces breaks out. It will last til 1667.

Mar. 11, A new legal code was approved for the Dutch and English towns, guaranteeing religious observances unhindered.

Nov. 7, The London Gazette, the oldest surviving journal, was first published.

Ceylon becomes important trade centre for the VOC
1666: Vermeer's Age, 34
VERMEER'S LIFE & ART


The Concert

Johannes Vermeer

c. 1663–1666


Girl with a Pearl Earring

Johannes Vermeer

c. 1665–1667

The Concert presents a very similar deep spatial recession similar to the earlier The Music Lesson. Vermeer's interest in the accurate portrayal of three dimensional perspective to create such an effect was shared by other interior genre painters of the time, however, only Vermeer seems to have fully and consciously understood the expressive function of perspective. The two paintings' underlying theme of music between male and female company is also analogous although few critics believe they were conceived as a pendant.

In the paintings of the 1660s the painted surfaces are smoother and less tactile, the lighting schemes tend to be less bold. These pictures convey and impalpable air of reticence and introspection, unique among genre painters with the possible exception of Gerrit ter Borch.

DUTCH PAINTING

Frans Hals, eminent Dutch portrait painter, dies. It was formerly believed that he died in the Oudemannenhuis almshouse in Haarlem which was later became the Frans Halsmuseum.

EUROPEAN PAINTING &
ARCHITECTURE

François Mansart (b.1598), French, architect, dies.

Apr. 9, first public art exhibition held at the Palais Royale, Paris.

MUSIC

Dec. 5, Francesco Antonio Nicola Scarlatti, composer, is born.

LITERATURE

Le Misanthrope by Molière is played at the Palais-Royal, Paris: "my mind is no more shocked at seeing a man a rogue unjust, or selfish, than at seeing vultures eager for prey, mischievous apes, or fury-lashed wolves" (I, i); "twenty, as everyone well knows, is not an age to play the prude." It condemned the falseness and intrigue of French aristocratic society.

SCIENCE & PHILOSOPHY

Laws of gravity established by Cambridge University mathematics professor Isaac Newton, 23, state that the attraction exerted by gravity between any two bodies is directly proportional to their masses and inversely proportional to the square of the distance between them. Newton has returned to his native Woolsthorpe because the plague at Cambridge has closed Trinity College, where he is a fellow; he has observed the fall of an apple in an orchard at Woolsthorpe and calculates that at a distance of one foot the attraction between two objects is 100 times stronger than at 10 feet (see Galileo, 1592). Although he does not fully comprehend the nature of gravity, he concludes that the force exerted on the apple is the same as that exerted on Earth by the moon.

Calculus is invented by Isaac Newton will prove to be one of the most effective tool for scientific investigation ever produced by mathematics.

Nov. 14, Samuel Pepys reported the on first blood transfusion, which was between dogs.

The plague decimated London and Isaac Newton moved to the country. He had already discovered the binomial theorem at Cambridge and was offered the post of professor of mathematics. Newton formulated his law of universal gravitation.

A French Academy of Sciences (Académie Royale des Sciences) founded by Louis XIV at Paris seeks to rival London's 4-year-old Royal Society. Jean Baptiste Colbert has persuaded the king to begin subsidizing scientists. Christiaan Huygens, along with 19 other scientists, is elected as a founding member. After the French Revolution, the Royale is dropped and the character of the academy changes. It later becomes the Institut de France.

HISTORY

Sept. 2, The Great Fire of London, having started at Pudding Lane, began to demolish about four-fifths of London. It started at the house of King Charles II's baker, Thomas Farrinor, after he forgot to extinguish his oven. The flames raged uncontrollably for the next few days, helped along by the wind, as well as by warehouses full of oil and other flammable substances. Approximately 13,200 houses, 90 churches and 50 livery company halls burned down or exploded. But the fire claimed only 16 lives, and it actually helped impede the spread of the deadly Black Plague, as most of the disease-carrying rats were killed in the fire.

Because almost all European paper is made from recycled cloth rags, which are becoming increasingly scarce as more and more books and other materials are printed, the English Parliament bans burial in cotton or linen cloth so as to preserve the cloth for paper manufacture.
1667: Vermeer's Age, 35
VERMEER'S LIFE & ART

Study of a Young Woman

Johannes Vermeer

c. 1665–1674


The Art of Painting

Johannes Vermeer

c. 1662–1668

Vermeer's name is mentioned in a poem by Arnold Bon. The most significant and direct is reference to Vermeer's art to be found in Dirck van Bleyswijck's Beschryvinge der Stadt Delft (Description of the City of Delft) published in 1667. The poem written by Arnold Bon, Bleyswyck's publisher, was composed in the honor of Carel Fabritius who had died in the famous ammunitions explosion. Vermeer's name is lauded in the poem's last stanza.

Thus did this Phoenix, to our loss, expire,
In the midst and at the height of his powers,
But happily there arose out of the fire
Vermeer, who masterfully trod in his path.

Maria Thins empowers Vermeer to collect various debts owed to her and to reinvest the money according to his will and discretion. Vermeer's mother-on-law evidently maintained her moral and financial support of Vermeer and his family.

Another of Vermeer's children is buried in the Nieuwe Kerk in Delft.

DUTCH PAINTING

Gabriel Metsu, Dutch painter, dies.

EUROPEAN PAINTING &
ARCHITECTURE

Francesco Borromini, Italian sculptor and architect, dies. Borromini designed the Sant' Ivo della Sapienza church in Rome.

Alonso Cano, Spanish painter and architect, dies.

MUSIC

German composer-organist-harpsichordist Johann Jakob Froberger dies at Héricourt, France, May 7 at age 50. His keyboard suites will be published in 1693, arranged in the order that will become standard: allemande, courante, sarabande and gigue.

LITERATURE

Paradise Lost is written by John Milton, who has been blind since 1652 but has dictated to his daughters the 10-volume work on the fall of man ("Better to reign in Hell than serve in Heaven." Milton's Adam questions the angel Raphael about celestial mechanics, Raphael replies with some vague hints and then says that "the rest from Man or Angel the great Architect did wisely conceal and not divulge His secrets to be scann'd by them who ought rather admire." The work enjoys sales of 1,300 copies in 18 months and will be enlarged to 12 volumes in 1684, the year of Milton's death; Annus Mirabilis by John Dryden is about the Dutch War and last year's Great Fire.

Nov. 7, Jean Racine's "Andromaque," premiered in Paris.

SCIENCE & PHILOSOPHY

National Observatory, Paris, founded

HISTORY

Pope Alexander VII dies. Giulio Rospigliosi becomes Pope Clement IX.

c. 1667 In France, during the reign of King Louis XIV, the fork begins to achieve popularity as an eating implement. Formerly, only knives and spoons had been used.

Jun. 18, The Dutch fleet sails up the Thames and threatens London. They burn 3 ships and captured the English flagship.

Jun. 21, The Peace of Breda ends the Second Anglo-Dutch War (1664–1667) and sees the Dutch cede New Amsterdam (on Manhattan Island) to the English in exchange for the island os Surinam.

De Verstandige Kok (The Sensible Cook) is published for the first time. Geared towards middle- and upper middle-class families, the book advises a regular and balanced diet, including fresh meat at least once a week, frequent servings of bread and cheese, stew, fresh vegetables and salads. While simple dishes, such as porridge, pancakes and soup with bread are eaten by all classes, studies reveal that only the affluent have regular access to fresh vegetables during the period; the less wealthy depend on dried peas and beans.