A Timeline of Vermeer's Life - 1653–1660
Marriage and Early Career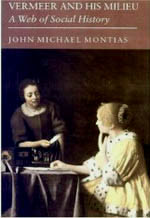 Vermeer and His Milieu: A Web of Social History
John Michael Montias
1989
Modern art enthusiasts should always keep in mind the twentieth-century art world has little in common with that of Johannes Vermeer. There existed no private art galleries, no queuing up to major international exhibits, no critical reviews in newspapers and painfully little art writing at all. Dutch painters wrote next to nothing about themselves or their work since most considered themselves little more than skilled artisans. The Dutch population at large was hardly aware of the "Golden Age of Dutch Painting" in the way we are today and art lovers spoke in different terms about the paintings we so treasure today.
The material evidence for seventeenth-century Dutch artists, including Johannes Vermeer, consists chiefly of depositions, business transactional and other documents drawn up by notaries and municipal clerks that force us to consider a person's life from a particular angle closer to his adversarial than to his amicable relations with his fellow men. Notorial depositions such as these give us a partial view of individual personalities not only because they emphasize the controversial side of their activities but because they are by and large woefully one-sided and incomplete. Only major events of Vermeer's life, baptism, marriage and burial-were recorded in the vellum-bound registers of the Old or the New Church which are preserved now in the Delft archives.
After Vermeer's baptism in 1632, little or nothing is known of the artist himself until he marries Catharina Bolnes in 1653. However, surviving archival from the following years documents provide an interesting picture and while little can be deduced about the artist's personality, his family background and immediate social milieu is fairly well defined.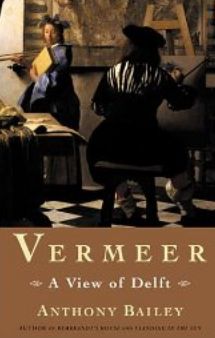 Vermeer: A
View of Delft
Anthony Bailey
2001
John Michael Montias' invaluable Vermeer and His Milieu: A Web of Social History
was used for the great part of the information contained in this timeline which concerns the artist Vermeer. Montias' book currently constitutes the basis on which all other research regarding Vermeer's life and immediate social milieu is founded and should be read by anyone interested in Vermeer of the artistic milieu of that period. During the course of his research, Montias was surprised to learn that the scholarship on one of his favorite artists, Vermeer, was far from exhausted. He began a quest to uncover the life of the artist, considered one of the most enigmatic and mysterious. In this book, Montias traced the artist's life through notary records, discovering that Vermeer's grandfather was a convicted counterfeiter; that his grandmother ran illegal lotteries; and that the artist himself fathered 13 children and died at the age of 43, completely destitute.
Another colorful book which fleshes out in a highly readable fashion is Vermeer: A View of Delft
by Anthony Bailey. Bailey effectively retells much that is known about many of Vermeer's contemporaries, such as the scientist Anton Van Leeuwenhoek, and speculates on his apparent Catholic faith in the Protestant Netherlands. Organized around individual paintings, Bailey's essay begins with the great gunpowder explosion of 1654 and ends with the reverberations of Vermeer's art in the writings of Marcel Proust and the forgeries of Han van Meegeren. Highly recommended for general collections and also for art history collections for its broad view and effective style.
In order to insure reasonable loading time, this timeline has been divided into five sections.
1653: Vermeer's Age, 21
VERMEER'S LIFE & ART

April 5, Johannes Vermeer registers his intentions to marry Catharina Bolnes, the youngest daughter of Maria Thins (c.1593–1680) and Reynier Bolnes. The night before, the well known Delft painter Leonaert Bramer, friend of Vermeer's family, and Captain Melling state that Maria Thins had refused to give her consent in writing but "she would suffer the (marriage) banns be published and would tolerate it." Catharina is one year younger than Johannes. The young couple most likely goes to live with Vermeer's family in the large inn bought by Vermeer's father called "Mechelen." Since Maria Thin's own marriage to Reynier Bones (when he was a prosperous brick maker) had been very troubled, she considers very closely the marriage of her daughter.

April 20, Johannes Vermeer and Catharina Bolnes get married in Schipluiden, a small village south of Delft about an hour's walk away. The village is something of a Catholic enclave and the Jesuits are closely connected to it.

Maria Thins' house on the Oude Langendijk is a couple of doors away from a Jesuit "hidden church." It appears that Thins had already been involved with the order in her native Gouda. She divorces from Reynier Bolnes and comes into possession of a considerable wealth.

April 22, Vermeer and the elder painter Gerrit ter Borch sign a document in Delft. This document, uncovered by John Michael Montias, is the only known document that links Vermeer with the esteemd painter from Deventer.

December 29, Vermeer is registered as a member of the Guild of Saint Luke. He is required like all other artist's to undergo a six year apprenticeship. He is unable to pay in full the entrance fee of six guilders.

DUTCH PAINTING


Aristotle with a Bust of Homer

Rembrandt

1653

Still Life with Drinking-Horn

Willem Kalf

c. 1653

Pieter de Hooch, the master of intimate interiors and courtyards scenes whose work is frequently associated with Vermeer's, arrives in Delft from Haarlem.

Gaspar van Wittel (d. 1736) is born in Amersfoort. In the late 1670s he moves to Italy where he becomes famous for his finely detailed views of Rome. There he is known as "Gaspare Vanvitelli."

Willem Kalf produces sumptuously rich still lifes. He is one of the most celebrated of all sill-life painters in the Netherlands. In 1642–1646 he works in Paris. On his return to the Netherlands he lives in Hoorn and then in 1653 settles in Amsterdam. His early works are modest kitchen and courtyard scenes, but he soon becomes the outstanding exponent of a type of still life in which fruit and precious objects—porcelain, oriental rugs, Venetian glass - are arranged in grand Baroque displays. His pictures are sometimes compared with those of Vermeer because of his masterly handling of texture and his ability to manipulate warm and cool colors (he frequently contrasts the reddish browns in a carpet with the yellow of a peeled lemon and the blue and white of porcelain).

Jacob van Ruisdael paints Schloss Bentheim.

Gerrit ter Borch paints The Dispatch.

Jan van Goyen paints View of the Rhine.

Simon de Vlieger, dies. Vlieger, principally a painter of marine subjects, is active in his native Rotterdam, Delft and Amsterdam. One of the outstanding marine painters of his period, he moves from stormy subjects in the manner of Porcellis to serene and majestic images that influenced van de Capelle and Willem van de Velde the Younger. De Vlieger also paints a few landscapes and genre pictures.

EUROPEAN PAINTING &
ARCHITECTURE

S. Agnese in Agone

(Rome)

Francesco Borromini

begun 1652

Francesco Borromini: S. Agnese in Agone, Rome. Initially Borromini works as a stone mason under Carlo Maderno, the official architect to Saint Peter's. By 1620 he is drafting and designing. When Maderno dies in 1629, Borromini joins the workshop of Bernini. Under Bernini he gains more experience as a draftsman and designer. In 1634 he begins work as an independent architect with his reconstruction of the monastery and church of Saint Carlo Borromeo. Borromini's architecture springs from the contrast between convention and freedom. Borromini uses tradition as a basis for design but did not view it as an ultimate, unalterable law.

MUSIC

Sept. 1, Johann Pachelbel (d.1706), German organist and composer, is born. Pachelbel writes both free works (toccatas, fantasies, fugues, etc.) and chorale settings. His development of the "cantus firmus" chorale is perhaps his greatest contribution. It consists of the chorale melody in long notes, one phrase at a time, each phrase preceded by fore-imitation in the accompanying voices. This compositional pattern influences many other composers and eventually becomes a standard form.

Nov. 26, Andreas Anton Schmelzer, composer, is born.

Arcangelo Corelli

Arcangelo Corelli, Italian composer, is born. Corelli exercises a wide influence on his contemporaries and on the succeeding generation of composers. It was his skill on the new instrument known as the violin and his extensive and very popular concert tours throughout Europe which does most to give that instrument its prominent place in music. It is probably correct to say that Corelli's popularity as a violinist was as great in his time as is Paganini's during the nineteenth century.

LITERATURE

SCIENCE & PHILOSOPHY

HISTORY

Feb. 2, New Amsterdam, now New York City, is incorporated.

Apr. 20, Cromwell routs the English parliament.

May 18, Carel Reyniersz (48), Governor-General of Netherlands and East Indies, dies.

Peter Stuyvesant, governor of New Netherlands, orders a wall built to protect the Dutch settlers from the Indians. The wall gives New York's Wall Street its name.

Admiral Tromp, Dutch hero, dies in a naval battle.
1654: Vermeer's Age, 22
VERMEER'S LIFE & ART

Diana and Her
Companions

Johannes Vermeer

c. 1653–1656

January 10, Vermeer witnesses legal act in which he signs as "Johannis Vermeer master painter" together with a certain captain Lambertus Morleth. Two years earlier Vermeer's name had appeared with two captains as well as with his own uncle, Lieutenant Balthens. It is presumed that Vermeer has military acquaintances.

At the end of April Vermeer again signs as a witness for a debt acknowledgement by a carpenter to a food merchant.

Vermeer does not witness the baptism of Gertruy's (his sister) child in May. This is most likely due to Vermeer's conversion to Catholicism upon his marriage. Even though he is condemned to a second-class citizenship in the Protestant-dominated Delft, there are signs of public esteem and he is almost certainly not actively persecuted for his religious beliefs.

Delft, with a population of 25,000 to 30,000 attains the peak of its artistic vitality.

A lost work (cited in a distinguished art collection) entitled Jupiter, Venus and Mercury is ascribed to Vermeer. The young and ambitious artist probably paints this mythological scene and his first extant work, Diana and her Companions, in order to appeal to the classical tastes in vogue at the rich aristocratic court in nearby The Hague.

This exceptional artistic environment in Delft soon disintegrates as many painters of the town left in search of more attractive prospects in larger, richer cities, such as Amsterdam. By the mid 1670s Vermeer is one of the few artists who remains. Had it not been for strong personal reasons, Vermeer too may have moved to Amsterdam as Potter, De Witte, Van Aelst and De Hooch.

DUTCH PAINTING

Hendrickje Bathing
in a River

Rembrandt

1654

Paternal Admonition

Gerrit ter Borch

1654–1655

Jacob Vrel (d.1662) is born. Vrel's seemingly naïve style and his pictures' rarity even have prompted speculation that he is an amateur. Scholars most often link Vrel's manner to Delft artists such as Johannes Vermeer and Pieter de Hooch, but elements in his street scenes seem to indicate connections to Haarlem, Friesland, Flanders, or the lower Rhineland.

Oct. 12, Rembrandt's most talented pupil Carel Fabritius, dies in October from wounds suffered in the explosion of the municipal powder magazine, which lays waste the northeastern side of Delft. Fabritius is at his easel painting. The gunpowder magazine, which contained about 80,000 pounds of powder, blows up "with such a horrible rush and force that the arches of heaven seemed to crack and burst."

Rembrandt paints a portrait of poet-businessman Jan Six and A Woman Bathing in a Stream.

After studying with Rembrandt, Nicholaes Maes returns to Dordrecht and specializes in intimate household scenes.

Jacob van Loo paints An Allegory of Venus and Cupid as Lady World and Homo Bulla.

Carel Fabritius paints The Goldfinch.

EUROPEAN PAINTING &
ARCHITECTURE

MUSIC

Johann Amos Comenius publishes in Nuremberg first picture book for children, "Orbis sensualium pictus.

LITERATURE

SCIENCE & PHILOSOPHY

Nov. 23, Blaise Pascal (1623–1662), scientist and philosopher, undergoes a mystical experience. He abandons his scientific work and devotes himself to philosophy and theology. His two most famous works date from this period: the Lettres provinciales and the Pensées. He enters a hermitage at Port-Royal des Champs and never again publishes in his own name. He comes up with the idea that believing in God is safer than not believing because it might gain one eternal life. He is a Jansenist, and thereby rejects free will in favor of predestination.

De Circuli Magnitudine Inventa, by Dutch mathematician-astronomer-physicist Christiaan Huygens, 25, attracts widespread attention.

HISTORY

January 10, Russia's Czar Alexander announces a war against Lithuania and Poland. It lasts until 1667.

Apr. 12, England, Ireland and Scotland are united.

Jun. 7, Louis XIV is crowned King of France in Rheims.

Shah Jahan completes the Taj Mahal. Master builders, masons, calligraphers, etc. along with more than 20,000 laborers, work for 22 years under orders of Mughal Emperor Shah Jahan to complete the great mausoleum for the shah's beloved wife.
1655: Vermeer's Age, 23
VERMEER'S LIFE & ART

Christ in the House of Martha and Mary

Johannes Vermeer

c. 1654–1656

Dec. 14, "Sr. Johannes Reijnijersz. Vermeer master painter," and his wife "Juffr. Catharina Bolnes" appear before notary Rota to guarantee a debt of 250 guilders that the artist's father had contracted. Both Vermeer and his wife sign the document. The appearance of "Sr." on the document is a secure sign of the artist's rise in social status.

Vermeer's first known paintings, Christ in the House of Martha and Mary, Diana and Her Companions, and two lost works (The Visit to the Tomb and Jupiter, Venus and Mercury) belong to what was considered by art theorists of the time to be the most elevated type of subject matter, "histories." This fact testifies the young artist's artistic ambitions. Other Dutch painters, such as Pieter de Hooch, Nicolas Maes and Gerrit ter Borch had already pioneered sophisticated upper-middle class interior genre scenes that would later be revisited and revised by Vermeer.

DUTCH PAINTING

The Idle Servant

Nicolas Maes

1655

Woman Writing a Letter

Gerrit ter Borch

c. 1655

c. 1656 Jacob van Ruisdael moves to Amsterdam

Rembrandt paints Woman Bathing in a Stream and Polish Rider.

Pieter de Hooch, who directly influences Vermeer joins the guild of Saint Luke in Delft, two years after his arrival from Haarlem. He will remain in Delft painting his finest works until 1660.

c. 1658 Miendert Hobbema becomes an apprentice in Jacob van Ruisdael's Amsterdam studio. In the exercise of his craft Hobbema was patient beyond all conception. It is doubtful whether any one ever so completely mastered as he did the still life of woods and hedges, or mills and pools. Nor can we believe that he obtained this mastery otherwise than by constantly dwelling in the same neighborhood, most likely in Guelders or on the Dutch Westphalian border, where day after day he could study the branching and foliage of trees and underwood embowering cottages and mills, under every variety of light, in every shade of transparency, in all changes produced by the seasons.

EUROPEAN PAINTING &
ARCHITECTURE

Luca Giordano develops a rich baroque vein of painting deriving in particular from Rubens. He is nicknamed "Luca Fa Presto" (Luke work quickly) because of his prodigious speed of execution and huge output. He begins to work in the circle of Ribera, but his style becomes much more colorful under the influence of such great decorative painters as Veronese, whose works he sees on his extensive travels. He absorbs a host of influences and is said to be able to imitate other artists' styles with ease. His work is also varied in subject-matter, although he is primarily a religious and mythological painter. Soon after the death of Charles in 1700, Giordano, now wealthy, returns to Naples. He spends large sums in acts of munificence, and is particularly liberal to his poorer brother artists. One of his maxims is that the good painter is the one whom the public likes, and that the public is attracted more by colour than by design. Giordano has been criticized as being a prolific painter of all styles, and master of none. He is now viewed as a proto-Tiepolo, reanimating that grand manner of Cortona in a style that would brighten with Tiepolo.

c. 1655 Murillo paints genre scenes in Seville, where, from 1658 to 1660, he involved in the founding of the Academy of Art, sharing its direction, in 1660, with the architect, Francisco Herrera el Mozo. This is Murillo's period of greatest activity, and he receives numerous important commissions, among them the altar piece for the Augustinian monastery, the paintings for Santa María la Blanca (completed in 1665), and others.

MUSIC

Aug. 13, Johann Christoph Denner, inventor of the clarinet, is born.

LITERATURE

SCIENCE & PHILOSOPHY

Blaise Pascal: Lettres provinciales, against Jesuits

Portrait of Christiaan Huygens

Caspar Netscher 1671

Mar. 25, Christiaan Huygens discoverers Titan, Saturn's largest satellite. Huygens is a great figure in the fields of research into mathematical physics, astronomy and optics, and among the founders of mechanics and optical physics. He makes astronomical observations about the planets, of the nebula of Orion and of the Moon, all reported in Systema Saturnium.

Hooke publishes the Micrographia.

HISTORY

Pope Innocent X dies; Fabio Chigi becomes Pope Alexander VII.
Spinoza excommunicated

Apr. 26, Dutch West Indies Co. denies Peter Stuyvesant's desire to exclude Jews from New Amsterdam.

Sept. 26, Peter Stuyvesant recaptures Dutch Ft. Casimir from Swedish in Delaware.

The first slave auction is held in New Amsterdam (later NYC).

French society uses a clean plate for each new dish but Englishmen continue to dine off trenchers—wooden platters that give hearty eaters the name "trenchermen."

Rum from Jamaica is introduced into the Royal Navy to supplement beer, which goes sour after a few weeks at sea.
1656: Vermeer's Age, 24
VERMEER'S LIFE & ART

In Dec. Vermeer pays the remaining sum (1.5 guilders) of the master's fee in the Guild of Saint Luke that he was unable to pay in 1653.

The Procuress

Johannes Vermeer

1656

Vermeer signs one of his first known paintings, The Procuress. The young artist seems to still be dependent on well established pictorial models and does not yet advert the influence of the newer interior genre scenes of his contemporaries. Until 1668, Vermeer does not date any other painting. Thef Caravaggesque scene of The Procuress can be found in the collections of local connoisseurs. He may even be directly inspired by The Procuress by Dirck an Baburen which in part of his mother-in-law's art collection. Van Baburen's work will show up on the back wall of two of Vermeer's later interiors, The Concert and Lady Seated at a Virginal. The young man holding a cittern and a glass of wine in Vermeer's Procuress is considered to be a self-portrait.

In The Procuress, a Chinese bowl appears on the extreme right -had side of the table. Between 1602 and 1657 the Dutch import millions of pieces of porcelain. Native Delft artisans begin feverishly producing everything from elaborate imitations of Chinese porcelain to the humble floor tiles seen in some of Vermeer's interiors.

By 1656 Maria Thin, Vermeer's mother-in-law has already advanced 300 guilders, a considerable sum, to Catharina and Johannes.

DUTCH PAINTING

Portrait of a Woman

Frans Hals

1655–1660

Vase of Flowers with Watch

Willem van Aelst

1656

Rembrandt van Rijn declares bankruptcy; his possessions is put up for sale.

Jan van Goyen, an immensely prolific landscape painter, dies.

Gerrit van Honthorst, another successful painter, dies.

EUROPEAN PAINTING &
ARCHITECTURE

Las Meninas

Velázquez

1656

Academy of Painting in Rome founded.

Bernini: Piazza of Saint Peter's, Rome

Diego Velázquez paints Las Meninas, portraying the family of Philip IV

MUSIC

Opening of first London opera house.

LITERATURE

SCIENCE & PHILOSOPHY

Oct. 29, Edmund Halley, astronomer (Halley's Comet), is born.

Dutch mathematician Johan van Waveren Hudde, 28, anticipates the power-series for ln (1 + x) and next year will do pioneering work on the use of space coordinates. Hudde promotes Cartesian geometry and philosophy in Holland; his discoveries (they will be called "Hudde's rules") will presage the use of algorithms to solve problems of calculus (see Newton, 1666).

HISTORY

Jan. 8, Oldest surviving commercial newspaper is founded in Haarlem, Netherlands.

Dutch forces take the Singhalese port of Colombo from the Portuguese.

Dutch East India Company shares plummet on the Amsterdam Exchange and many investors are ruined. Among them is painter Rembrandt van Rijn, now 50, who is declared bankrupt and whose possessions are put up for sale.

The Dutch in Ceylon make cinnamon a state monopoly but will not have complete control of the island's cinnamon until 1658. When prices fall too low, the Dutch burn great quantities of the bark, and destroy groves of clove and nutmeg trees in the Moluccas, creating artificial scarcities that will force prices up, enriching the Dutch East India Company.
1657: Vermeer's Age, 25
VERMEER'S LIFE & ART

The Maid Asleep

Johannes Vermeer

c. 1656–1657

About this year Vermeer paints his first true genre piece, A Maid Asleep. This work is only one or two steps removed from The Procuress, a low-life brothel scene of the kind which is very popular among Dutch burgers. The artists' palette in A Maid Asleep is warm fairly somber. A rich oriental carpet delimits the foreground and creates a flat space of both paintings. However, the horizontal and vertical organization of the later painting's planimetric surface, which would become a hallmark of the artist's oeuvre, appears for the first time. In respects to his contemporaries, Vermeer tends to minimize narrative and overt didactic messages.

Maria Thins, in the first draft of her testament, leaves to Vermeer's daughters jewels (wrings bracelets and gilded chains) and the significant sum of three hundred guilders to Vermeer and Catharina, Vermeer's wife.

In the same testament Maria Thins wills to Vermeer's first child, Maria, two hundred guilders. The child's name is an almost certain sign of good will that existed between Vermeer and his mother-in-law.

In Nov. 30 Vermeer and his wife are lent the sum of two hundred guilders from Pieter Claesz. van Ruijven, a wealthy Delft citizen and art collector who will have likely purchases in the coming years more than twenty of Vermeer's works. This money may be a kind of advance payment on the purchase of future works. Van Ruijven is now considered Vermeer's only patron although he occasionally sold works to others. Van Ruijven is almost seven years older than Vermeer and seems to have a personal relation with Vermeer that goes beyond the usual client/artist relationship.

Feb. The framemaker Anthony van der Wiel, who had married Vermeer's sister Gertruy, registers at the St Luke guild as an art dealer.

DUTCH PAINTING

Self-Portrait

Rembrandt

1658

Young Herdsman with Cows

Aelbert Cuyp

1655–1660

Frans Snyders, dies.

Both Pieter de Hooch and Vermeer begin to paint the genre interiors refining a regional south Holland type, lending it a more realistic qualities of space, light and atmosphere.

The Dordrecht landscape artist Aelbert Cuyp borrows warm light and hilly scenery from Italian landscape painters.

EUROPEAN PAINTING &
ARCHITECTURE

The Flagellation of Christ

Guercino

1644

Diego Velázquez paints Las Hilanderas ("The Spinners")

The Corsini pays Guercino 300 ducats for the Flagellation of Christ painted in 1657. Guercino is remarkable for the extreme rapidity of his execution. He completes no fewer than 106 large altar-pieces for churches, and his other paintings amount to about 144. In 1626 he begins his frescoes in the Duomo of Piacenza. Guercino continues to paint and teach until to the time of his death in 1666, amassing a notable fortune.

MUSIC

LITERATURE

Le Sieur Saunier writes Encyclopdie des beaux esprits, believed to be first reference book with the word "encyclopédie" in its title.

SCIENCE & PHILOSOPHY

A pendulum clock is designed by Christiaan Huygens and built by Solomon Coster.

Universal Mathematics (Mathesis Universalis) by John Wallis amplifies the English mathematician's system of notation, applying it to algebra, arithmetic and geometry. Wallis will be credited with inventing and introducing the symbol for infinity; he demonstrates the utility of exponents, notably negative and fractional exponents.

HISTORY

Mar. 23, France and England form an alliance against Spain.

Jun. 1, first Quakers arrive in New Amsterdam, now New York City.

A 4-year Dutch-Portuguese war begins over conflicting interests in Brazil, but Johan de Witt will end the hostilities with a peace advantageous to the Dutch.

Coffee advertisements at London claim that the beverage is a panacea for scurvy, gout and other ills.

Public sale of tea begins at London as the East India Company undercuts Dutch prices.

The Flushing Remonstrance is written to Nieuw Amsterdam's governor Peter Stuyvesant December 27 which is probably the first declaration of religious tolerance by any group of ordinary citizens in America.

The first London chocolate shop opens to sell a drink known until now only to the nobility.
1658: Vermeer's Age, 26
VERMEER'S LIFE & ART

Girl Reading a Letter
at an Open Window

Johannes Vermeer

c. 1657–1659

The Little Street

Johannes Vermeer

c. 1657–1661

About this year, Vermeer's paints one his first known interiors, Girl Reading a Letter at an Open Window. Although this kind of subject is first experimented by Pieter de Hooch and other predecessors, Vermeer purges the scene of its anecdotal character, concentrating on formal compositional values and rendering of light. From the beginning of his career, Vermeer demonstrates himself not so much as an inventor but one who is able to elaborate current pictorial conventions in the light of his unique personal experience. He is unique among Dutch artists in his ability to incorporate the fundamental, moral seriousness of history painting into his representations of domestic life.

In this period, the Guild of Saint Luke is probably the center of Vermeer's public life.

In these years, Vermeer probably begins to distance himself from his family of origin. This fact is seen in his failure to name any of his children after his mother or father as was common practice of the time. His first two daughters, born before 1658, were named Maria and Elizabeth after his mother-in-law and her sister.

DUTCH PAINTING

The Courtyard of a House in Delft

Pieter de Hooch

1658

Pieter de Hooch: paints Courtyard of a House in Delft, one of his finest works. De Hooch's courtyards likely inspire Vermeer's Little Street.

Frans van Mieris paints The Duet.

Adriaen van de Velde paints Farm with a Dead Tree.

EUROPEAN PAINTING &
ARCHITECTURE

Bernini: church at Castel Gandolfo (1661). Bernini does not build many churches from scratch, preferring instead to concentrate on the embellishment of pre-existing structures. He fulfills three commissions in the field; his stature allows him the freedom to design the structure and decorate the interiors in coherent designs.

MUSIC

Apr. 22, Giuseppe Torelli, composer (Concert Grossi op 8), is born in Italy.

LITERATURE

Molière is anointed with the patronage of King Louis XIV and leaves behind a body of work which not only changed the face of French classical comedy, but will go on to influence the work of other dramatists the world over. The greatest of his plays include The School for Husbands (1661), The School for Wives (1662), The Misanthrope (1666), The Doctor in Spite of Himself (1666), Tartuffe (1664, 1667, 1669), The Miser (1668), and The Imaginary Invalid (1673).

SCIENCE & PHILOSOPHY

Amsterdam naturalist Jan Swammerdam, 21, gives the first description of red blood cells. He will complete his medical studies in 1667 but devote himself to studying insects (see science, 1669), tadpoles, frogs and mammals rather than practicing medicine.

HISTORY

Sept. 3, Oliver Cromwell, Lord Protector of the New Commonwealth, i.e. ruler over England's Puritan parliament (1653–1658), dies at age 59. Richard Cromwell succeeds his father as English Lord Protector.
1659: Vermeer's Age, 27
VERMEER'S LIFE & ART

Officer and
Laughing Girl

Johannes Vermeer

c. 1657–1660

The Milkmaid

Johannes Vermeer

c. 1657–1661

Around 1659 or 1660, Vermeer's irascible brother-in-law Willem Bolnes leaves his father's house in Gouda to live on one of the family's properties in Schoonhoven. He incurs in debts and borrows money from his mother, Maria Thins, since his father becomes too impoverished to help. Willem apparently has no work of any kind. He later becomes a problem for Vermeer and his wife.

In the late 1650s Vermeer, paints two exceptionally luminous interiors, inspired by genre models of the time. In both Officer and Laughing Girl and The Milkmaid Vermeer uses his famous "pointillist" technique (thick points of light colored paint in the most intensely lit areas of the composition called pointillés). This technical artifice conveys a sense of brilliancy rarely seen in any other of his works. Vermeer never again paints a member of the lower working class.

DUTCH PAINTING

Man and Woman Sitting
at the Virginal

Gabriel Metsu

1658–1660

Jan van der Weff (d. 1772) is born. Johan Willem, Elector Palatine, whom he had met in 1696, appoints him Court Painter in 1697 at a salary of 4,000 guilders on condition he work for him six months of the year. In 1703 this term is increased to nine months, and he is made a knight. He remains in Rotterdam, making trips to Düsseldorf to deliver pictures and paint portraits.

Jan Janz de Heem (d. 1695) is born. Son of the celebrated still life painter Jan Davidsz de Heem he is baptized on 2 July I650 in Antwerp. From 1667 to 1672 he works in Utrecht with his father who sometimes retouches the son's work. There has been much confusion between the work of father and son. Jan Jansz is last recorded in a document of 1695.

EUROPEAN PAINTING &
ARCHITECTURE

1659–1661 Michael Sweerts, Flemish painter, created his rosy "Portrait of a Youth."

MUSIC

Portrait of Purcell

Mar. 7, Henry Purcell, English organist, composer (Dido & Aeneas), is born. Purcell is one of the greatest composers of the Baroque period and one of the greatest of all English composers. He writes fantasias for viols, masterpieces of contrapuntal writing in the old style, and some at least of the more modern sonatas for violins, which reveal his acquaintance with Italian models. In time, Purcell becomes increasingly in demand as a composer, and his theatre music in particular makes his name familiar to many who know nothing of his church music or the odes.

LITERATURE

Oedipus is written by Pierre Corneille at the Hôtel de Bourgogne, Paris

SCIENCE & PHILOSOPHY

Christiaan Huygens of Holland uses a 2-inch telescope lens and discovers that the Martian day is nearly the same as an Earth day. He also discovers the rings of Saturn and is able to construct a chronometer for use at sea; however, it is influenced by the motion of the ship and does not keep correct time.

English physician Thomas Willis, 38, gives the first description of typhoid fever.

Elementa curvarum, written by Jan De Witt (b. Holland, January 1625, d. 1672) gives an algebraic treatment of conic sections using the newly developed analytic geometry. It appears as part of an edition of Schooten's Geometria a Renato Des Cartes.

HISTORY

The Spanish infanta Marie Thérèse introduces the French court to cocoa, which will be endorsed by the Paris faculty of medicine and received with enthusiasm until it becomes surrounded with suspicion as an aphrodisiac in some circles and as a mysterious potion in others.
1660: Vermeer's Age, 28
VERMEER'S LIFE & ART

The Glass of Wine

Johannes Vermeer

c. 1658–1661

The Girl with a
Glass of Wine

Johannes Vermeer

c. 1659–1662

Vermeer turns to a new and more complex type of composition in the late 1650s or early 1660s in which he explore the amorous relation between educated men and women. The box-like, three-dimensional effect of these pictures is fruit of the artist's interest in perspective as an expressive means. The study and practice of perspective is held in high esteem throughout Europe.

Vermeer is appointed one of the headman of the Guild of Saint Luke to a term of two years. This fact has been interpreted as a testimony of the high esteem in which the artist was at the time held. However, by the time Vermeer is elected headmaster, many of the painters resident in Delft had left for the more prosperous Amsterdam and so his election may have less significance than usually thought.

Vermeer and his wife bury a child in the Old Church. The same document states that at the same time, Vermeer and his wife are living in the house of Maria Thins on the Oude Langendijk in Delft. At the time, the household includes Vermeer, his wife, his mother-in-law, and three children, not counting an infant who had died and at least one female servant. The house has a basement, a lower hall with a vestibule, a great hall, a small room adjoining the hall, an interior kitchen, a little back kitchen, a cooking kitchen, a washing kitchen, a corridor, and an upper floor with two rooms, one of which is taken up by Vermeer's studio. Please see Kees Kaldenbach's excellent site for a thorough investigation of the Thins/Vermeer house: http://www.xs4all.nl/~kalden/

Vermeer's family situation is unusual. Very few married men in the Netherlands live with a parent or parent-in-law for an extended period of time. Vermeer's marriage too, must be considered exceptional in as much as he marries outside his own family's religion and social class. He moves from the lower, artisanal class of his Reformed parents who lived on the Delft Square to the higher social stratum of the Catholic in-laws who instead live in the so-called "Papist Corner," the Catholic quarter of the city.

The burial record of his child is the earliest known notice of the artist's residence in Maria Thin's house.

DUTCH PAINTING

Jan van Mieris (d.1690) is born. Son of the famous Frans van Mieris, Jan paints principally history subjects, but his earliest works were apparently genre scenes in his father's manner.

The Jewish Cemetery

Jacob van Ruisdael

1660

Jacob van Ruisdael paints Jewish Cemetery. The painting's ruinous scene exemplifies the trend toward turbulence in Dutch landscape at mid-seventeenth century.

Adriean Coorte (d. 1707) is born. Coorte devotes himself to the rendering of simple objects in small paintings. His paintings often have strong illumination that gives the composition an enchanting stillness, which contributes to Coorte's appeal.

EUROPEAN PAINTING &
ARCHITECTURE

Diego Velázquez, Spanish painter, dies.

MUSIC

Alessandro Scarlatti (d. 1725), Italian musician and composer, father of Domenico, is born.

LITERATURE

Molière writes Don Juan.
SCIENCE & PHILOSOPHY

Marcello Malpighi discovers that the lungs consist of many small air pockets and a complex system of blood vessels. By observing capillaries through a microscope he completes the work of Harvey in describing the circulation of the blood.

Robert Boyle announces in New Experiments Physico-Mechanical Touching the Spring of Air that removing the air in a vacuum chamber extinguishes a flame and kills small animals, indicating that combustion and respiration are similar processes.

HISTORY

May 28, George I, king of England (1714–1727), is born.

May 29, Charles II, who had fled to France, is restored to the English throne after the Puritan Commonwealth. Charles made a deal with George Monck, a general of the New Model Army, and with the old parliamentary foes of his father. The British experiment with republicanism comes to an end with the restoration of Charles II.

Dec. 24, Mary I Henriette Stuart (29), queen of England, dies.

The Dutch crafted an early version of a boat they called a "yacht."

In the 1660s, the British began to dominate the trade in port wine from Portugal after a political spat with the French who deny them their wines from Bordeaux. Brandy is added to the Portuguese wines to fortify them for the Atlantic voyage.