A Timeline of Vermeer's Life - 1641–1652
Childhood and Adolescence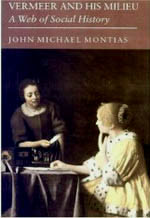 Vermeer and His Milieu: A Web of Social History
John Michael Montias
1989
Modern art enthusiasts should always keep in mind the twentieth-century art world has little in common with that of Johannes Vermeer. There existed no private art galleries, no queuing up to major international exhibits, no critical reviews in newspapers and painfully little art writing at all. Dutch painters wrote next to nothing about themselves or their work since most considered themselves little more than skilled artisans. The Dutch population at large was hardly aware of the "Golden Age of Dutch Painting" in the way we are today and art lovers spoke in different terms about the paintings we so treasure today.
The material evidence for seventeenth-century Dutch artists, including Johannes Vermeer, consists chiefly of depositions, business transactional and other documents drawn up by notaries and municipal clerks that force us to consider a person's life from a particular angle closer to his adversarial than to his amicable relations with his fellow men. Notorial depositions such as these give us a partial view of individual personalities not only because they emphasize the controversial side of their activities but because they are by and large woefully one-sided and incomplete. Only major events of Vermeer's life, baptism, marriage and burial-were recorded in the vellum-bound registers of the Old or the New Church which are preserved now in the Delft archives.
After Vermeer's baptism in 1632, little or nothing is known of the artist himself until he marries Catharina Bolnes in 1653. However, surviving archival from the following years documents provide an interesting picture and while little can be deduced about the artist's personality, his family background and immediate social milieu is fairly well defined.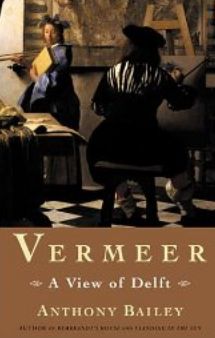 Vermeer: A
View of Delft
Anthony Bailey
2001
John Michael Montias' invaluable Vermeer and His Milieu: A Web of Social History
was used for the great part of the information contained in this timeline which concerns the artist Vermeer. Montias' book currently constitutes the basis on which all other research regarding Vermeer's life and immediate social milieu is founded and should be read by anyone interested in Vermeer of the artistic milieu of that period. During the course of his research, Montias was surprised to learn that the scholarship on one of his favorite artists, Vermeer, was far from exhausted. He began a quest to uncover the life of the artist, considered one of the most enigmatic and mysterious. In this book, Montias traced the artist's life through notary records, discovering that Vermeer's grandfather was a convicted counterfeiter; that his grandmother ran illegal lotteries; and that the artist himself fathered 13 children and died at the age of 43, completely destitute.
Another colorful book which fleshes out in a highly readable fashion is Vermeer: A View of Delft
by Anthony Bailey. Bailey effectively retells much that is known about many of Vermeer's contemporaries, such as the scientist Anton Van Leeuwenhoek, and speculates on his apparent Catholic faith in the Protestant Netherlands. Organized around individual paintings, Bailey's essay begins with the great gunpowder explosion of 1654 and ends with the reverberations of Vermeer's art in the writings of Marcel Proust and the forgeries of Han van Meegeren. Highly recommended for general collections and also for art history collections for its broad view and effective style.
In order to insure reasonable loading time, this timeline has been divided into five sections.
1641: Vermeer's Age, 9
VERMEER'S LIFE & ART

Reynier Janz Vos, Vermeer's father, buys the house and inn called "Mechelen" on the Grote Markt, in center of Delft. The former Vos, who now calls himself Vermeer, buys the building with 200 guilders in cash and two mortgages, one from a Haarlem brewer for 2,100 guilders and another for 400 guilders. The considerable sum of 2,500 guilders testifies that Reynier is a hard-working and trustworthy man.

DUTCH PAINTING

Agatha Bas

Rembrandt van Rijn

Working in Amsterdam, Rembrandt van RIjn becomes internationally know as a portrait painter.

Frans Hals paints The Governors of Saint Elizabeth Hospital. Hals is the greatest seventeenth-century portraitist of the Dutch bourgeoisie working in Haarlem, where he spends practically all his life. Hals develops a technique that was close to impressionism in its looseness, and he paints with increasing freedom as he grows older.

EUROPEAN PAINTING &
ARCHITECTURE

Harbor with Ruins

Salvator Rosa

1640–1643

Dec. 9, Anthony "Antoon" van Dyck, dies. Van Dyck's extraordinary talent is recognized immediately by Rubens where he serves his brief apprenticeship. Although he paints religious scenes, he was and still is justly appreciated for his extremely refined portraits.

Nicolas Poussin, returning to Rome after two years in Paris, works mainly for a group of middle-class patrons.

The Italian painter Domenichino dies in Naples.

MUSIC

Monteverdi composes Il Ritono d Ulisse in patria, opera.

LITERATURE

John Evelyn writes his Diary. Evelyn is at the center of the intellectual, social, political and ecclesiastical world of his day and his Diary has long been recognized as the most extensive and historically informative record of one of the key periods in English history.

SCIENCE & PHILOSOPHY

HISTORY

Jun. 6, Spain looses Portugal.
1642: Vermeer's Age, 10
VERMEER'S LIFE & ART

Nothing is known of the life of Vermeer in this year.

DUTCH PAINTING

Windmill by a River

Jan van Goyen

Van Goyen's landscapes are immensely popular His style is widely imitated in his own days. He is known to have painted more than a more a thousand pictures.

Rembrandt paints The Night Watch.

Emmanuel de Witte is admitted to the Guild of Saint Luke of Delft where he will reside until 1651.

EUROPEAN PAINTING &
ARCHITECTURE

Jusepe the
Clubfooted Boy

Ribera

Le Vau, the French royal architect, builds the Hotel Lambert on the Ile of Saint Louis.

José (or Jusepe) de Ribera, Spanish painter, etcher and draughtsman, is active for all his known career in Italy where he is called Lo Spagnoletto (the Little Spaniard). Little is known of his life before he settles in Naples (at the time a Spanish possession) in 1616. Naples is then one of the principal centers of the Caravaggesque style, and Ribera is often described as one of Caravaggio's followers.

MUSIC

Sept. 23, Giovanni Maria Bononcini, composer, is born.

Monteverdi's L'Incoronazione di Poppea is given at Europe's second public opera house, Teatro di Santi Giovanni e Paolo, Venice.

Marco da Gagliano, Italian composer, dies.

LITERATURE

SCIENCE & PHILOSOPHY

Isaac Newton (d.1727), English physicist, mathematician and scientist, is born in Woolsthorpe (Grantham), Lincolnshire, England. He enunciates the laws of motion and the law of gravity.

Descartes publishes Meditationes de prima philosophia, in quibus Dei Existentia et animae humanae a corpore distinctio demonstrantur.

January 8, Astronomer Galileo Galilei dies in Arcetri, Italy.

HISTORY

January 4, King Charles I attacks the English parliament with 400 soldiers.

Feb. 25, Dutch settlers slaughter lower Hudson Valley Indians in New Netherlands, North America, who seek refuge from the Mohawk.

Aug. 22, Civil war in England begins as Charles I declares war on the Puritan Parliament at Nottingham. Charles I goes to the House of Commons in order to arrest some of its members buts is refused entry. From this point on no monarch is allowed entry.

Nov. 13, Battle at Turnham Green, London: King Charles I vs. English parliament.

Dec. 13, Dutch navigator and explorer Abel Janszoon Tasman arrives in present-day New Zealand. He flees after Maori cannibals feast on the "friendship party" he sends ashore.

Period of English civil wars.

Pope Urban VIII issues bull Universa per Orbem, reducing annual feast days to 32. At an instigation of Jesuits he also condemns Jansen's Augustinus.

John Evyln, English diarist visits the Tomb of William the Silent in the Nieuwe Kerk, one of the principal tourist attractions of Delft.
1643 Vermeer's Age, 11
VERMEER'S LIFE & ART

DUTCH PAINTING

Willem van Aelst, a pupil of his uncle Ever van Aelst, is admitted to the Guild of Saint Luke in Delft. He is an excellent draughtsman and vivid colorist. Van Aelst's still-lives are distinguishable from those of other Dutch painters in that they are frequently littered with bric-á-brac of Renaissance antiquarianism.

EUROPEAN PAINTING &
ARCHITECTURE

Holy Family Resting on the Flight to Egypt

Pietro da Cortona

c. 1643

MUSIC

Mar. 1, Girolamo Frescobaldi (59), Italian composer, organist, dies.

Nov. 29, Claudio Giovanni Monteverdi (76), Italian composer (L'Arianna), dies. His importance as a component of the new concerted music characteristic of the early Baroque Era is unquestioned, as is his pre-eminence in the development of the new form of opera that sprang from the combination of music and art in Italian monody, the solo singing/setting of a dramatically conceived melody,. His harmonic invention, freedom and richness of his orchestral accomplishments, as well as the increased manual skill, give him a place of the highest importance in the history of music, and, in particular, of opera.

LITERATURE

SCIENCE & PHILOSOPHY

HISTORY

May 14, Louis XIV becomes King of France at age 4 upon the death of his father, Louis XIII.

May 18, Queen Anne, the widow of Louis XIII, is granted sole and absolute power as regent by the Paris parliament, overriding the late king's will.

May 19, French army destroys the Spanish army at the Battle at Rocroi - Allersheim in France.
1644 Vermeer's Age, 12
VERMEER'S LIFE & ART

DUTCH PAINTING

EUROPEAN PAINTING &
ARCHITECTURE

Diego de Acedo

(El Primo)

Diego Velázquez

c. 1645

Diego Velázquez paints the portrait King Philip IV of Spain. Velázquez is considered the country's greatest baroque artist. He, together with Francisco de Goya and El Greco, form the great triumvirate of Spanish painting.

MUSIC

Oct. 1, Jean Rousseau, composer, is born.

Oct. 1, Alessandro Stradella, Italian violinist and composer, is born.

Antonio Stradivari

Antonio Stradivari (d.1737), violin maker, is born at Cremona. From 1698 to 1725 Stradivari produces his finest instruments and carries his manufacture to the highest possible finish: the instruments' outlines are designed with taste and purity, the wood is rich and carefully selected, the arching falls off in gentle and regular curves, the scroll is carved with great perfection, and the varnish is fine and supple. Stradivari fixes the exact shape and position of the sound-holes, and his model is copied by most violin makers since his time. He definitively settles on the shape and details of the bridge, which cannot be altered in the slightest degree without in some way injuring the tone of the instrument. The only essential part of the violin which has had to be changed since Stradivari's time is the bass-bar.

Heinrich Ignaz Franz von Biber, German composer, is born.

LITERATURE

Cesare Ripa's Iconologia is published in Dutch translation. Vermeer likely consults it for the choice of subject matter in The Art of Painting and the Allegory of Faith.

SCIENCE & PHILOSOPHY

Principia Philosophiae by Rene Descartes is published in Amsterdam.

John Milton writes Areopagitica, in defense of the freedom of the press.

Roger Williams writes Queries of Highest Consideration, separation of Church and State.

HISTORY

July 2, Lord Cromwell crushes the Royalists at the Battle of Marston Moor near York, England. Cromwell came from minor gentry in Huntingdon and had served in Parliament before the wars, during which he commands the Ironsides, a cavalry regiment famous for its discipline and tenacity. Although he had no previous military experience, he shows courage and tactical brilliance, particularly at the Battle of Marston Moor.

Pope Innocent X is elected Pope. He is from the noble Roman Pamphili family.
1645 Vermeer's Age, 13
VERMEER'S LIFE & ART

DUTCH PAINTING

Self-Portrait

Carel Fabritius

c. 1645

Vase of Flowers

Jan Davidsz. de Heem

c. 1645

Carel Fabritius (1622–1654) paints a self portrait (see left). Fabritius is Rembrandt's most talented pupil, and once thought to have been Vermeer's master while he lived in Delft.

Competition among flower painters like De Heem is so fierce that they rarely paint other subjects. In 1636 De Heem moves to Antwerp, becomes a citizen of that city in 1637, and spends most of his highly productive life there. The paintings he executes in Flanders are those for which he is most renowned. They are very different in spirit from his earlier works. He paints splendid flower pieces and large compositions of exquisitely laid tables which breathe all the opulent exuberance of Flemish Baroque painting. His work forms a link between the Dutch and Flemish still life traditions and he is claimed by both schools.

The Dordrecht landscape artist Aelbert Cuyp borrows warm light and hilly scenery from Italy. Cuyp is one of the foremost landscape painters of the Dutch golden age and is particularly known for evocative representations of the Dutch countryside drenched in an atmospheric golden light. He also paints a number of biblical and mythological pictures as well as an occasional portrait. An exceptional draftsman, he made a number of sensitive drawings of the countryside, many of which serve as models for his paintings. Quiet in atmosphere and grand in breath, Cuyp's paintings and drawings are enormously appealing to the English aristocracy of the eighteenth century.

EUROPEAN PAINTING &
ARCHITECTURE

The Young Beggar

Francisco Murillo

c. 1645

Murillo receives commissions from religious institutions in Sevillle. Murillo's many religious paintings emphasize the peaceful, joyous aspects of spiritual life. He is the first Spanish painter to achieve renown throughout Europe, particularly in England. Here his influence can be seen in the paintings of Sir Joshua Reynolds and John Constable, who paint during the eighteenth and nineteenth centuries.

French painter Georges de La Tour paints The Lamentation over Saint Sebastian. Like most of his works, the scene is illuminated by candlelight, which gives clarity of line and volume.

Salvator Rosa brings to Italian painting a new element of dark romanticism.

MUSIC

Lully is appointed violinist at French court.

Cardinal Mazarin calls a Venetian opera company to Paris.

LITERATURE

SCIENCE & PHILOSOPHY

HISTORY

Hugo Grotius

Michiel Jansz van Mierevelt

1631

Aug. 28, Hugo Grotius, Dutch jurist and politician, dies. One of the pioneering natural rights theorists of the late sixteenth and early seventeenth centuries, Grotius defines natural law as a perceptive judgment in which things are good or bad by their own nature. This is a break from Calvinist ideals, in that God is no longer the only source of ethical qualities. Those things that are by themselves good are associated with the nature of man.
1646 Vermeer's Age, 14
VERMEER'S LIFE & ART

DUTCH PAINTING

Peasant Family with Animals

Paulus Potter

1646

Paulus Potter enters the Guild of Saint Luke in Delft.

When Potter dies of tuberculosis. Before he is thirty years old, he has already profoundly influenced the way animals are depicted in European art. Potter creates "portraits" of animals, making them the prime focal point of his compositions, not just a backdrop for human action. The precocious son of a painter, his first dated work is from 1640. Afterwards, he enters the Delft's Guild of Saint Luke in 1646 and later moves to The Hague. He is said to have wandered the Dutch countryside, sketchbook in hand, equally sensitive to how farm animals behave at different times of day and to light's vicissitudes from morning to dusk.

EUROPEAN PAINTING &
ARCHITECTURE

Jules Hardouin Mansart, French architect, is born. He becomes the chief architectural director for Louis XIV.

MUSIC

Johann Stobaeus, German composer, dies.

Johann Theile, German singer and composer, is born.

LITERATURE

SCIENCE & PHILOSOPHY

Jul. 1, Gottfried Von Leibniz, German philosopher and mathematician, is born.

HISTORY
1647 Vermeer's Age, 15
VERMEER'S LIFE & ART

Vermeer must have began his required six year apprenticeship, which usually lasts from 4 to 6 years, in the late 1640s with a painting master since he is accepted in the Delft guild in 1653. It is not know, however, either with whom or where he studies. In this period there are no records of any kind which testify his whereabouts. Various masters and cities have been conjectured. Since his earliest works show remarkable affinities to paintings of two painters who work in Amsterdam, Van Loo and Quellinus, it may be that he studies with one of them. Carel Fabritius, Rembrandt's finest student, is present in Delft but at that time Vermeer would have begun to study, Fabritius had not been registered the required two years before accepting apprentices. Leonaert Bramer, a family friend of Vermeer, has been cited by art historians but the elder painter's lively Italianate style is at odds with Vermeer's somber debuts.

DUTCH PAINTING

EUROPEAN PAINTING &
ARCHITECTURE

The Ecstasy of Saint Therese

Gian Lorenzo Bernini

1647–1652

Diego Velázquez begins his painting Toilet of Venus.

MUSIC

L'Orfeo is produced in France. It was composed by Luigi Rossi who summoned to France by Cardinal Mazarin in order to cultivate the Italian operatic tradition in France and mate it with the court orchestra, Les Vingt-Quatre Vuiolons du Roi.

Pelham Humfrey, English composer, is born

LITERATURE

SCIENCE & PHILOSOPHY

Nov. 8, Pierre Bayle, French-Dutch theologian, philosopher and writer, is born. He authors the Historical and Critical Dictionary. "If a historian were to relate truthfully all the crimes, weaknesses and disorders of mankind, his readers would take his work for satire rather than for history."

HISTORY

January 30, King Charles I is handed over to the English parliament.

Mar. 14, 1647, the Treaty of Ulm is signed between the French and the Bavarians during the Thirty Years' War. In negotiations with the French, Maximilian I of Bavaria abandons his alliance with the Holy Roman emperor Ferdinand III through the Treaty of Ulm. In 1648 Bavaria returns to the side of the emperor.

May 11, Peter Stuyvesant arrives in New Amsterdam to become governor. The one-legged professional soldier is sent from the Netherlands to head the Dutch trading colony at the southern end of Manhattan Island.

Nov. 10, all Dutch-held area of New York is returned to English control by the treaty of Westminster.

William II succeeds his father as stadtholder, which he dreams of transforming into a monarchy. In 1648 he is forced to sign peace with Spain.
1648 Vermeer' Ages, 16
VERMEER'S LIFE & ART

Vermeer continues his six year apprenticeship with an unknown master in an unknown city.

Constantijn Huygens orders a virginal from Jean Couchet, a nephew of Johannes Ruckers, one of the most refined constructors of virginals at the time. This virginal most likely is similar to the one seen in Vermeer's painting of the 1660s, The Music Lesson.

DUTCH PAINTING

Jan Steen and Gabriel Metsu are founder members of the painter's guild in Leiden which breaks with the St Luke Guild dominated by artisans.

Jacob van Ruisdael, perhaps the finest Dutch landscape painter, enters the painter's guild of Haarlem. He is known for his masterful compositions, meticulous draftsmanship, and thick impasto which lend a profound tranquility to his carefully chosen scenes. Though earlier Dutch artists used trees as decorative compositional devices, Ruisdael imbued them with forceful personalities. Similarly, the vast, clouded skies looming over low, distant horizons inject tension into his panoramic landscapes. In addition to making seven hundred paintings and one hundred drawings, Ruisdael receives a medical degree in 1676 and probably pursues a successful second career as a surgeon.

EUROPEAN PAINTING &
ARCHITECTURE

Holy Family on the Steps

Nicolas Poussin

1648

Antoine Le Nain dies. The works of the three Le Nain brothers, Louis, Antoine and Mathieu, are today considered under the surname of Le Nain. One of the themes for which the Le Nain brothers are famous is a genre scene without a specific narrative content representing a street musician surrounded by urchins.

Louis Le Nain dies.

Laurent la Hayre is one of the twelve founding professors of the French academy of painting and sculpture.

Landscape painter Claude Lorrain paints his The Embarkation of the Queen of Sheba, notable for its use of light. Lorrain's idealized landscapes have a profound affect on art, garden design, and aesthetics of the time and for generations afterwards.

MUSIC

Apr. 11, Matthaus Apelles von Lowenstern, composer, dies.

Aria and recitative become two distinct entities in opera

John Blow, English musician, is born

Heinrich Schutz composes Musicalia ad chorum sacrum.

LITERATURE

SCIENCE & PHILOSOPHY

HISTORY

Oct. 24, The Peace of Westphalia ends the German Thirty Years War and effectively destroys the Holy Roman Empire. The Peace of Westphalia divides Pomerania, a historic region that once stretched from Stralsund to the Vistula along the Baltic Sea in north-central Europe, into two parts known as Hither Pomerania and Farther Pomerania. Hither Pomerania, the area west of the Oder River, is granted to Sweden.

On the evening of June 5, fireworks and bonfires in all towns of the United Provinces celebrate victory for the Dutch in their war against Spain for independence. The ceremony is planned with a dramatic sense of timing. On another June 5 at 10 o'clock in the morning precisely 80 years earlier, the war had begun with the execution of two of Holland's first revolutionaries, Count of Egmont and Hoorn.

Nov. 26, Pope Innocent X condemns the Peace of Westphalia.

Jun. 4, The English army seizes King Charles I as a hostage.
1649 Vermeer's Age, 17
VERMEER'S LIFE & ART

Vermeer continues his six year apprenticeship with an unknown master in an unknown city.

Vermeer's future mother in law Maria Thins, after considerable legal maneuvering, finally collects all the assets she had been awarded under the terms of the separation from her husband Willem Bolnes. Their value is assessed at 15,606 guider, a considerable sum. Thanks to Maria Thin's economic support, Vermeer, his wife Catharina and their numerous children are able to live comfortably until the art market crumbles in the early 1670s due to the war with France in the late years of the artist's career. Thanks to Maria Thin's support, Vermeer is able to paint for his own satisfaction rather than for a highly competitive market.

DUTCH PAINTING

René Descartes

Frans Hals

c. 1649

Gerrit ter Borch paints Philip IV of Spain..

Paulus Potter, known for his exquisite rendering of animals, moves to The Hague, where in the following year he marries Adriana, the daughter of the architect Claes van Balkeneynde.

Jacob van Loo paints Diana and the Nymphs which may influence Vermeer's early paintings, Diana and Her Companions.

EUROPEAN PAINTING &
ARCHITECTURE

Pope Innocent X

Diego Velázquez

c. 1650

David Teniers the Elder (b. 1582), Dutch painter, dies.

Diego Velázquez paints Pope Innocent X portrait while in Rome. The painting is immediately praised as a masterpiece. The Pope is said to comment, "it is too real!"

Salvator Rosa returns to Rome, where he spends the rest of his life.

Nicola Poussin creates his painting Moses Striking the Rock.

MUSIC

LITERATURE

SCIENCE & PHILOSOPHY

Sept. 1, Descartes departs Amsterdam to go to Sweden on the invitation of Queen Kristina.

HISTORY

January 30, King Charles I of England, who ruled from 1625–1649, is beheaded for treason at Banqueting House, Whitehall, by the hangman Richard Brandon. He looses his capital trial by one vote, 68–67. "For the people, and I truly desire their liberty and freedom as much as anybody whomsoever, but I must tell you that their liberty and their freedom consists in having of government those laws by which their life and their goods may be most their own. It is not for having a share in government, sirs; that is nothing pertaining to them. A subject and a sovereign are clean different things."

Dutch physician Isbrand de Diernerbrock publishes his study of the plague, De peste.

René Descartes writes Les Passions de I'Ame.

In Great Britain, English becomes the language of all legal documents in place of Latin.
1650 Vermeer's Age, 18
VERMEER'S LIFE & ART

Vermeer continues his six year apprenticeship with an unknown master in an unknown city.

DUTCH PAINTING

Isabella Coymans

Frans Hals

1650–1652

Carel Fabritius, one of Rembrandt van Rijn's most promising pupils, arrives in Delft. He joins the Guild of Saint Luke two years later.

Gerrit ter Borch begins to specialize in his exquisite interior genre scenes that will later influence Vermeer.

EUROPEAN PAINTING &
ARCHITECTURE

Murillo paints The Holy Family with the Little Bird.

Diego Velazquez paints the portrait, Juan de Pareja.

Fontana dei Quattro Fiumi (fountain of Four Rivers) in Rome's Piazza Navona is designed by baroque master Bernini.

MUSIC

Beginning of modern harmony; development of modulation.

The overture as musical form emerges in two forms, Italian and French.

LITERATURE

Corneille writes Andromède, tragedy

SCIENCE & PHILOSOPHY

Feb. 1, René Descartes, philosopher, dies. Descartes is one of the most important Western philosophers of the past few centuries. During his lifetime, Descartes is equally famous as an original physicist, physiologist and mathematician. But it is as a highly original philosopher that he is most frequently read today. He attempts to orient philosophy in a fresh direction. His philosophy refuses to accept the Aristotelian and Scholastic traditions that dominate philosophical thought throughout the Medieval period and likewise attempts to fully integrate philosophy with the "new" sciences. Thus, Descartes changes the relationship between philosophy and theology making him a revolutionary figure.

HISTORY

Nov. 4, William III, Prince of Orange and King of England, is born.

C. 1650 The mass production of glass bottles and the development of cork stoppers begins to make possible the controlled aging of wine.

January 1, Charles II (Stuart) is crowned king of Scotland.

In the 1650s the fork is introduced to the wealthy Dutch of New York. It becomes customary for these more affluent members of society to carry a personal knife and fork while traveling or dining at houses other than their own. Among the masses, however, the spoon remains the primary eating implement well into the eighteenth century.
1651 Vermeer's Age, 19
VERMEER'S LIFE & ART

Vermeer continues his six year apprenticeship with an unknown master in an unknown city.

1650–1651 Quillinus paints an Erasmus for the Amsterdam New Town Hall which is strongly reminiscent of Vermeer's later painting Christ in the House of Martha and Mary.

Jacob Van Loo, also living in Amsterdam, paints a Diana and Her Companions, whose composition may influence a large-scale composition of the same theme by the young Vermeer. Although there exist no direct records of Vermeer's presence in Amsterdam, both of these facts would seem to indicate that Vermeer studies there.

DUTCH PAINTING

Paulus Potter paints Landscape with Cows.

EUROPEAN PAINTING &
ARCHITECTURE

MUSIC

Heinrich Albert, German composer, dies.

The young King Louis XIV of France appears as a dancer in a court ballet.

LITERATURE

SCIENCE & PHILOSOPHY

HISTORY

Dutch settle at Cape of Good Hope.

Sept. 3, Battle at Worcester. Oliver Cromwell destroys English royalists. Charles II leads the Scots Covenanters to a disastrous defeat at the battle of Worcester.
1652 Vermeer's Age, 20
VERMEER'S LIFE & ART

Vermeer continues his six year apprenticeship with an unknown master in an unknown city.

On October 12, Reynier Janz Vos, Vermeer's father, is buried in Delft.

Although Vermeer is mentioned four times between April 5-23, he is not referred to as a "schilder" (painter).

DUTCH PAINTING

The View of Delft

Carel Fabritius

1652

Carel Fabritius is registered in the Guild of Saint Luke in Delft. He is Vermeer's elder by 10 years.

Frans van Mieris, three years older than Vermeer, paints his Charlatan which may inspire Vermeer's Procuress.

EUROPEAN PAINTING &
ARCHITECTURE

MUSIC

Gregorio Allegri, Italian tenor and composer, dies.

The minuet comes into fashion at French court.

First opera house is built in Vienna.

LITERATURE

Corneille writes Nicoméde, tragedy

SCIENCE & PHILOSOPHY

Imperial German Academy of Naturalists is founded at Schweinfurt (moves to Halle in 1878)

HISTORY

War breaks out between England and the United Provinces.

May 29, English Admiral Robert Blake drives out the Dutch fleet under Lieutenant-Admiral Tromp.