"Dissius" Auction of 1696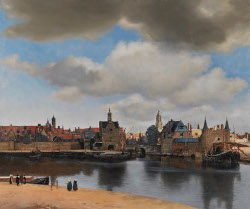 View of Delft
Johannes Vermeer
c. 1660–1663
Oil on canvas, 98.5 x 117.5 cm.
Mauritshuis
,
The Hague
No. 31 "The Town of Delft in perspective, to be seen from the south, by J. van der Meer of Delft" 200-0
Art historians agree that painting no. 31 of the Dissius auction catalogue fits Vermeer's monumental View of Delft. Although View of Delft fetched the highest price (200 guilders) of the Dissius auction, it was also by far the largest canvas. It is surprising to note that Woman Holding a Balance (catalogue no. 1, at 155 guilders) and The Milkmaid (catalogue no. 2, at 175 guilders) were both paid almost as much even though they are far smaller.