Websites of Museums with Vermeer Paintings in their Collections
(part two)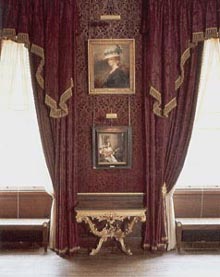 Vermeer's
Guitar Player
in the in the refurbished Dining-Room
of the Kenwood House.
By now, almost any self-respecting art institution has digitized some part of its collection. However, the design of the typical "virtual museum" frequently fails to rise above the level of a database intended more for administrative purposes than for the public. The artworks are often shown at low resolution if not in thumbnail format, precluding any meaningful experience on the part of internet navigators. Some museums have are attempting to reach a wider audience by including custom-made content via some innovative presentation form.1 Others have assumed a wait-and-see attitude.
What is certain is that digitalization, which can no longer be postponed, raises existential questions for art institutions. How will the elevated costs of digitalization be recovered? Why go to a museum if you can enjoy the same artworks at your leisure on the nearest computer monitor? By overexposing works of art, will their "aura" be diminished, as Walter Benjamin predicted? Will paintings become "marketing instruments" in the hands of powerful museums? Furthermore, some institutions feel that the loss of the economic control over their intellectual property assets will erode their unquestioned authority as the custodians of the cultural value of the objects they possess and as gatekeepers of authenticity.
The most recent development in digital strategy of artworks of the past is the so-called "open content" policy pioneered by the Rijksmuseum, the Getty and the Washington National Gallery of Art. These forward-looking institutions provide not only free access to high-quality images of the objects in their collections of a level unthinkable only a few years ago, but have lifted any copyright restrictions whatsoever in the hopes of encouraging engagement of the general public with art and stimulating contemporary artistic production.
In regards to the Open Content Project recently launched by the Getty CEO Jim Cuno stated "The Getty was founded on the conviction that understanding art makes the world a better place, and sharing our digital resources is the natural extension of that belief," Thus, the move to offer high-quality images of their artworks free of copyright and fee is "an educational imperative. Artists, students, teachers, writers and countless others rely on artwork images to learn, tell stories, exchange ideas, and feed their own creativity." In any case, there is little doubt that technological innovation is reshaping the role and mission
of museums as producers and distributors digital images exposing them contemporarily to threats and opportunities which are only now coming in to view.
Almost all of the institutions which house one or more Vermeer paintings have a website in which their Vermeer works are represented in some way. Some have allotted low quality images and minimum information while other, such as the Rijksmuseum, the Metropolitan of New York and the National Gallery of Washington provide navigators with in-depth information and spectacular high-resolution digital images. Furthermore, a few museum website few provide innovative tools for exploring art history such as timelines and essays on special topics. These sites have been signaled with four or five stars.
It is now possible to download, free of charge digital images of an increasing number of Vermeer paintings.
| | |
| --- | --- |
| part 1 | |
| Rijksmuseum | Amsterdam, Netherlands |
| New York Metropolitan Museum of Art | New York, U.S.A. |
| National Gallery of Art | Washington D.C., U.S.A. |
| National Gallery | London, England |
| part 2 | |
| Mauritshuis | The Hague |
| Frick Collection | New York, U.S.A. |
| Musée du Louvre | Paris, France |
| Staatliche Museen Preußischer Kulturbesitz, Gemäldegalerie | Berlin, Germany |
| Staatliche Kunstsammlungen, Gemäldegalerie | Dresden, Germany |
| Städelsches Kunstinstitut | Frankfurt am Main, Germany |
| part 3 | |
| Herzog Anton Ulrich-Museum | Brunswick, Germany |
| Kunsthistorisches Museum | Vienna, Austria |
| National Gallery of Ireland | Dublin, Ireland |
| Isabella Stewart Gardner Museum (n.g.) | Boston, U.S.A. |
| Kenwood House | London, England |
| The Royal Collection, Buckingham Palace | London, England |
| National Gallery of Scotland | Edinburgh, Scotland |
| The Leiden Collection | New York, U.S.A. |