"Dissius" Auction of 1696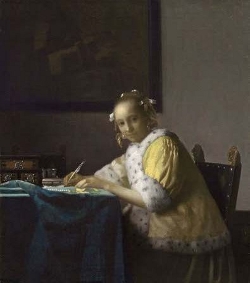 A Lady Writing
Johannes Vermeer
c. 1662–1667
Oil on canvas, 45 x 39.9 cm.
National Gallery of Art
, Washington D.C.
No. 35 "A writing young lady, very good, by the same" 63-0
The description painting no. 35 of the Dissius auction catalogue is usually considered to refer to A Lady Writing, in the National Gallery in Washington.