"Dissius" Auction of 1696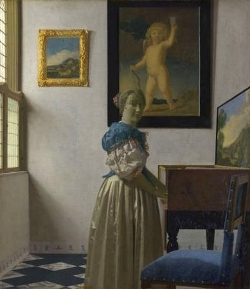 A Lady Standing at a Virginal
Johannes Vermeer
c. 1670–1674
Oil on canvas, 51.7 x 45.2 cm.
National Gallery
, London
No. 37 "A lady playing the clavicen, by ditto."
The description of painting no. 37 of the Dissius auction catalogue matches various pictures by Vermeer, Including A Lady Standing at a Virginal, A Lady Seated at a Virginal and the recently reattributed A Young Woman Seated at the Virginals, in a private New York collection.
However, given the relatively high price achieved by the work in question the latter painting should be discarded considering of its evident inferior quality and smaller dimensions.