Vermeer's Life and Art
(part one)
Even though few archival records which regard Vermeer directly have survived, historians have deduced a relatively clear picture of both the artist's life and artistic stature in his own time. In 1952, the Dutch art historian P.T.A. Swillen provided the first outline an adequate picture of Vermeer's life (Johannes Vermeer Painter of Delft: 1632–1675). However, an important part of what we now know is owed to John Michael Montias, the late American economist turned Vermeer biographer. For over ten years Montias patiently transcribed, translated and pieced together over 454 legal depositions, wills, deeds, warrants, inventories and promissory notes to form an acceptable portrait of one of the greatest painters of the seventeenth century and his extended family. Curiously, Montias came to Vermeer sideways. He discovered that research on Vermeer's life had not been exhaustive. The result of Montias'study is the eminently readable Vermeer and His Milieu: A Web of Social History (1989).
Click here to read an Essential Vermeer Interview with the late Prof. Montias.
Grandparents
When Vermeer was born in Delft the city was already more than 350 years old. In those times Delft was a prosperous, if conservative, Dutch town located in the south of the United Provinces, in the province of Holland. Delft had survived devastating fires and various bouts with the plague. "Its wealth was based on its thriving faience factories, tapestry weaving ateliers and breweries. It was also a city with a long and distinguished past. Its strong fortifications, city walls and medieval gates protected the city for more than three centuries and had provided refuge for William the Silent, Prince of Orange during the Dutch revolt against Spanish Habsburg control. Although the court and seat of government moved to The Hague at the end of the sixteenth century, Delft continued to enjoy special status."1 The city was not only the home of the famous School of Delft of painting, it was a thriving center for the decorative arts: tapestry, silver and faience, or Delft Blue.
Many of Delft's richest citizens, who lived in sumptuous houses along the city's main canal, the Oude Delft, had made their fortunes investing in the East and West India trade. More than 300 Delft households were worth more than 20,000 guilders. A carpenter or a mason, instead, might earn 500 guilders a year if his health was good. The city, which is articulated within a network of perpendicular canals, draws its name from the Dutch word delven (digging). Although Delft did not have a harbor at the mouth of a river like Bruges, Antwerp or Amsterdam, it was nonetheless connected to the sea by the inland harbor, Delfshaven a few miles away.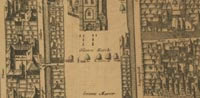 This detail of Dirck Van Bleyswyck's
Kaart Figuratief
shows the area
around the
Groote Markt

(Market Square).
Click on the
Kaart
to view the
locations of four points
of interest concerning Vermeer's
life and art.
Johannes Vermeer was the second child and only son of Reynier Jansz. (c. 1591–1652) and his wife Dignum Balthazars, or Digna Baltens (c. 1595–1670). Reynier's parents were the tailor Jan Reyersz. (d. 1597), who lived on the Beestenmarkt in a house called Nassau, a block south of the Nieuwe Kerk, and Cornelia (Neeltge) Goris (c. 1567–1627).
Neeltge lived on Voldersgracht, Fullers' Canal, in the house called In de Bruynvisch (In the porpoise). She was active as "uijtdraegster," or second-hand goods dealer, liquidating estates of deceased people. As paintings were frequently part of estates, Neeltge's dealings may have propitiated Reynier's future interest in second-hand paintings.2 Jan and Neeltge lived in the Beestenmarkt, the Cattle Market. From 1595 to 1972, Beestenmarkt was the site of the noisy livestock market held weekly in Delft. Like most of the people who lived there, both were illiterate.
After Jan died in 1597, Neeltge married Claes Corstiaensz van der Minne (c. 1548–1618) in the same year. Claes was a tavern keeper and professional musician who lived in De Drie Hamers in Beestenmarkt.3 Claes owned a lute, a trombone, a shawm, two violins and a "cornet." Jan's death left Neeltge with three young children. Claes had also been previously married and had a teenage son. His father was a barber and a singer/musician who arrived in Delft sometime before 1553.
Balthasar Gerrits (c. 1573–c. 1630), the father of Vermeer's mother, lived in Antwerp and was an expert in metalwork and coin-making. When Spanish troops occupied his hometown, he moved to Amsterdam. In 1620, his son Balthens was arrested for a counterfeiting scam in The Hague, where he and his father had cut dies in order to forge counterfeit coins. Both were imprisoned but granted some leeway in the trial because they may have been asked to counterfeit coins in order to create cash for a newly founded Calvinist ally in German territory near the Netherlands.
Members of the Balthasar's family testified as witnesses for both father and son, but Balthasar was found guilty and imprisoned in Antwerp during these hearings. His son Balthens was also arrested and put in jail. Two of their accomplices were convicted and beheaded. After Balthasar gave authorities a full confession and the names of the remaining members of the counterfeit gang he was freed. In a document of 1627 Balthasar was described "an artful master of clockmaking and other wonderful inventions." In 1631, he went to Delft where he was active in metalwork and clockwork.
Parents
Reynier Jansz., Vermeer's father and one of Neeltge's three children born before her first husband's death, was born in his father's house.
In 1611, Reynier, who was then about twenty years old, went to Amsterdam to train as a "caffawercker" (silkworker). Caffa was a kind of fine satin woven with patterns or pictorial motifs widely used for clothes, curtains and furniture-covering. Some scholars have speculated that Vermeer's predilections for this material may have been related to a childhood remembrance, although luxurious satin garments were one of the principal selling points of the elite interior and portrait markets. At the end of his apprenticeship, in 1615, Reynier married Digna, native of Antwerp, in Amsterdam. The ceremony was officiated by the famous Calvinist preacher, Jacobus Triglandius on July 19. When Digna signed the marriage register to the effect that the couple was free of blood ties she signed with an "X." She later learned to sign her name. Shortly after their marriage the couple settled in Delft. Vermeer's sister, Gertruy, was born in March of 1620, 12 years earlier than Johannes.
In 1623, Reyniers' and Digna's movable goods were appraised and valued at 693 guilders. Their paintings, which included four princely portraits, a few pictures of the Old Testament, a brothel scene (bordeeltje) and a painting of "an Italian piper," were worth 53 guilders. Vermeer's uncle Anthony had already adopted the surname "Vermeer" by 1625 while the artist's father is mentioned as Reynier Jansz Vermeer in 1640. Vermeer's family background would be described today as lower middle-class.
Between 1629 and 1631, Reynier was described in various documents as an innkeeper. Perhaps encouraged by his association with the art-collecting notary Willem de Langue (1599–1656), Reynier registered with the Delft Guild of Saint Luke as an art dealer on October 13, 1631. The paintings in which Reynier dealt may have sparked his son an interest in painting. In any case, Reynier probably knew most of Delft's artists and sold some of their works in his inn. Documents link his name with local painters Pieter Groenewegen (1590/1600–1658), Balthasar van der Ast (1593/94–7 March, 1657) and Leonaert Bramer (24 December, 1596–buried 10 February, 1674), the city's chief artists as well as a friend of Vermeer's family. In any case, inn-keeping and paintings went together, since outside their studios and annual fairs, painters had few opportunities to display their works.

Looking towards the tower of the Nieuwe Kerk from the doorway of Voldersgracht no. 26, presumed location of the Flying Fox
Birth and Living in Delft
Vermeer was baptized on October 31, 1632 in the Reformed Church (Nieuwe Kerk) and was raised a Protestant. His Christian name "Johannes" (or Joannis or Johannis) was favored over the prosaic "Jan" by Catholics and upper-class Protestants. Vermeer never used the name Jan even though a few 20th-century books use this name in their titles. At that time Reynier established himself in De Vliegende Vos (The Flying Fox) in Voldersgracht, a street which bordered on one of Delft's many canals, a minute's walk from the massive Nieuwe Kerk on Markt (Market Square) (see image left). The name of the locale may have come from the surname "Vos" that Reynier had adopted in the mid-1620s, although the other way around is also possible. In the seventeenth century, the Market Square was an important commercial center where fine silks and velvets as well as common linens and wools were traded.
The area around the Voldersgracht was much more distinguished than the Beestenmarkt. Near the Flying Fox lived the respected Pastor Taurinus, Cornelis van Schagen, a well-to-do cloth merchant, and the painter Cornelis Daemen Rietwijck (c. 1590–1660), who held a drawing academy and taught mathematics and other subjects. From what can be deduced from Renyier's economic rise and legal depositions, he was a hardworking and trustworthy man.
Montias believed that the Flying Fox was located "two houses east of the Old Men's Home," which would correspond to the present-day civic number 23, Voldersgracht. From 1620–1640 changes had been made just in the row of houses at 2–27. Some buildings were probably joined and then split into still other lots. Consensus has it that the most probable location of the Flying Fox is at 25 or 26. The scholar Kees Kaldenbach pinpoints at 26.
Vermeer spent his childhood in a large house located on the Market Square in the very heart of Delft which then counted about 25,000 inhabitants. Market Square is bounded by the Renaissance Stadhuis (City Hall) on one side and on the other, the massive Nieuwe Kerk (the tower of the Nieuwe Kerk is prominently featured in Vermeer's View of Delft). Reynier bought the building with 200 guilders in cash and two mortgages, one for 2,100 guilders and another for 400 guilders. Such a sizable sum indicates that Reynier was considered able to meet his debts. Reynier and his family moved in to their new living quarters in the spring of 1641.
The ground floor of the new house was an inn, called Mechelen. The back side of the building dropped straight down into the waters of the Voldersgracht. The façade of the Guild of Saint Luke could be seen from a back window just across the canal. Along the right-hand side of Mechelen ran a narrow alley, which no longer exits, leading from Market Place to a small bridge and up to the front door of the Guild. An effigy of the Mechelen's front side is preserved in an etching by Leonard Schenkmade, after a drawing by Abraham Rademaker (see image right above). A drawing by Gerrit Lambert, instead, shows the alley which leads to the façade of the Guild (see image right below).
Judging from the etching, Mechelen must have been quite large, large enough to accommodate an inn, Reynier's caffa production and living quarters for his family of four. Mechelen was demolished in 1885 to make way for fire-prevention equipment, resulting in the present vacant lot next to Market Square number 52. Therefore, the plaque that commemorates Vermeer's birthplace is incorrect.
When Reynier died in October 1652, the family gave no money (as was the custom) to the Camer
van Charitate (Chamber of Charity). Fourteen months later, Johannes would become a member of the Delft Guild of Saint Luke. The young painter probably helped his mother and older sister run the inn, which, however, may not have been a very prosperous business. Digna was still paying off the mortgages when she attempted in vain to auction it off in 1669.
On 12 October, 1654, about 30 tons of gunpowder, which had been stored in barrels in a former Clarissen convent in the Doelenkwartier district, exploded. The explosion, known as the Delft Thunderclap, killed over a hundred people and maimed thousands. Carel Fabritius (1622–1654), Rembrandt's most gifted pupil, died while he was at his easel painting a portrait . Years later, Egbert van der Poel (1621–1664) painted several pictures of Delft showing the devastation. Except, perhaps, for the iron braces cemented to red brick façade of the medieval building portrayed in Vermeer's Little Street, there is not notice of the traumatic event in Vermeer's paintings.
Nothing is known of Vermeer's childhood, but he must have served his apprenticeship beginning somewhere in the 1640s when he was still an adolescent.
While the first epidemics of plague were probably not as catastrophic in the Netherlands as they were in many other parts of Europe, Delft was stricken various times just before and during the artist's lifetime. In the plagues of 1624 and 1625, about one-fifth of Delft's population perished. In 1635 and 1636, the dreaded disease claimed the lives of 2,000 inhabitants. In the mid-1650s and mid-1660s when Vermeer was active as an artist, hundreds more died of the same cause.
The Guild of Saint Luke and Apprenticeship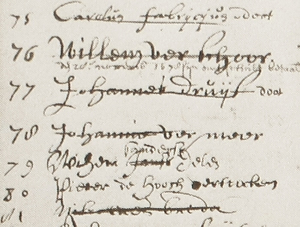 A detail of the Guild of Saint Luke register with
Vermeer's name at number 78 and Pieter
de Hooch's name at 80 and Carel Fabritius at 75.
Click here
for a larger image.
Nothing is known about Vermeer's decision to become and artist. Likewise, we have no idea about what he thought about art. Not a single document links Vermeer with any other painter than Gerrit ter Borch, with whom he witnessed a legal act in Delft two days before Vermeer's marriage on April 20, 1653. It was once thought that Vermeer traveled to Italy like a number of Dutch painters who sought inspiration from the divine works of the Italian masters. However, it was discovered that it was not Vermeer, but his namesake Johannes van der Meer of Utrecht who was there in Italy in the early 1650s.
As all Dutch painters, Vermeer was required to undergo a fixed period of training with a master painter who belonged to the Guild of Saint Luke, the powerful trade organization which regulated the commerce of painters and artisans. During his tenure, the apprentice, usually adolescent, was thoroughly instructed in the art and craft of painting and upon his admission to the guild, was permitted to sign and sell his own paintings as well as those of other painters. Membership also enabled him to take on apprentices of his own, an important source of income in the highly competitive Dutch art market.
In December 1653, Vermeer was admitted to the guild, presumably after having presented a so-called masterwork to prove his skills, and was expected to pay an entrance fee of six guilders. Normally, new admittees whose father had been members—as was the case with Vermeer—were required to pay only three guilders, provided that they had trained for two years with a recognized master of the Guild. The most plausible explanation for the higher admission fee is that Vermeer trained outside of Delft.
The guild was located on Voldersgracht 21, face to face with Mechelen and a few doors away from the Flying Fox. The guild's principal goal was to enforce quality standards and inhibit influx of low quality works from other cities, undercutting the earnings of local artists. The guild headquarters was remodeled and inaugurated in 1667. It continued to function for well over a hundred years up to the Napoleonic time when new laws were introduced and all guilds were forced to close. The building itself was demolished in the 1880s.
In any case, the guild account ledger reveals that upon his entrance on 29 December, 1653, Vermeer paid only 1 guilder, 10 stuivers. The balance of 4 guilders, 90 stuivers was paid three years later, on July 24, 1665. Art historians generally hold that the artist took time to pay in full owing to his modest economic circumstances. Vermeer's name can be seen on the Guild ledger among the names of other painters such as Carel Fabritius and Pieter de Hooch.
Who was Vermeer's Master?
Many names have been brought forth as Vermeer's master, including Pieter van Groenewegen (1590/1600–1658), Willem van Aelst (1627–c. 1683), Abraham Bloemaert (1566–1651), Carel Fabritius (1622–1654), Leonaert Bramer and Jacob van Loo (1614–1670).
It is known that Vermeer's father dealt in paintings by Groenewegen and that Vermeer likely used one of his landscapes as a model for the gilt framed picture and the open lid of the virginal in his late A Lady Standing at the Virginal, but nothing else ties the Delft landscape painter to Vermeer. The Delft-born Van Aelst also had dealings with Vermeer's father but again, there is no stylistic or thematic link between this artist's tight still lifes and the broad manner of Vermeer's early history works.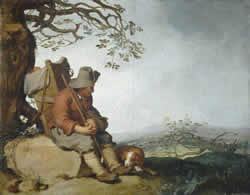 A Man with a Dog in a Landscape
Abraham Bloemaert
c. 1630
Oil on canvas, 50.2 x 64.6 cm.
Manchester City Galleries
Since there are no records of Vermeer's apprenticeship in Delft, Montias suggested that the young artist might have trained in Utrecht or Amsterdam, where his father had trained. Montias cautiously advanced the name of the elderly Bloemaert of Utrecht who was known to have taken on numerous apprentices. Furthermore, the elderly painter was also an in-law of Maria Thins' cousin Jan Geensz Thins. Bloemaert, who, however, died three years before Vermeer became a master himself.
On the basis of stylistic affinities, Carel Fabritius, one of Rembrandt's most gifted and celebrated pupil, was once one of the prime candidates for Vermeer's master because a contemporary poem by the Delft printer Arnold Bon describes Vermeer as "following in the footsteps" or "emulating" Fabritius. However, both terms are vague enough to discourage reading in a master/apprentice relationship. Moreover, Fabritius seems to have joined the Delft Guild of Saint Luke more than a year before Vermeer, although he may have been working in Delft before he enrolled in the guild. Importantly, there is little trace of Fabritius' style in Vermeer paintings until a few years after Fabritius had died in the infamous Gunpowder explosion of Delft while he was painting a portrait.
Leonaert Bramer, the most esteemed painter of Delft, had been traditionally considered Vermeer's teacher, comforted by the fact that he was a friend of the Vermeer family and had even testified in favor of the young painter on occasion of his marriage to the Catholic Catharina Bolnes (see below). However, the fact that there is no trace of the master/apprentice relationship in the guild records and that Bramer's idiosyncratic Italianate style has little to do with Vermeer's work constitute convincing evidence that he trained with someone else.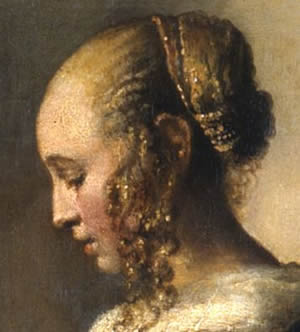 Girl Reading a Letter at an Open Window
(detail)
Johannes Vermeer
c. 1657–1659
Oil on canvas, 83 x 64.5 cm.
Gemäldegalerie Alte Meister
, Dresden
While one of Vermeer's earliest known work, Diana and her Companions, can securely be related to two works of the same theme by the accomplished Van Loo, there is no evidence that Vermeer had been in those years in Amsterdam, where Van Loo lived.
In any case, it should be remembered that not all painters in those times showed influence of their masters. As Walter Liedtke pointed out, the discovery of Vermeer's master would probably not be very helpful in clarifying the artist's development—his talents may have simply been nurtured "by beginning not as a painter's apprentice but as an art dealer's son."4
It seems safe to say that whoever instructed Vermeer had far less impact on the artist's professional course than his upward marriage to a young girl who lived on the other side of the Delft Market Square, a stone's throw away from Mechelen, and who, very likely, posed for Girl Reading a Letter at an Open Window and various other masterpieces by the artist.
Vermeer's Painting Materials
Painters bought their raw materials from myriad sources, including quacks, traveling sailors and apothecaries. Painters traditionally ground their own paint and stretched their own canvases. However, in Vermeer's time ready made pigments and primed canvases in stock dimensions could already be purchased at specialized art dealers. One such dealer in Delft was Leendert Volmarijn . It is not known where of from whom Vermeer acquired his materials. A bill dated 1664 indicates that the artist owed 6 guilders 13 stuivers for medicine to the apothecary Dirck de Cocq. De Cocq is known to have sold lead-tin yellow, the pigment Vermeer used to depict the characteristic yellow garments worn by the female protagonists of his interior scenes. However, the exacting nature of his paintings technique is confirmed fact that he used only the highest high grades of natural ultramarine pigment, the most costly pigment available to painters, imported from Afghanistan, via Venice.
Marriage

The signatures of Johannes Vermeer and his wife Catharina Bolnes on a legal document of 1655
Vermeer married Catharina Bolnes, who one and a half years older than he, on April 1653. Shortly after, both of their signatures appear on a document together (see image left). A cursory examination of the couple's calligraphy reveals an evident difference in personality, if one is willing to admit the influence of character upon handwriting. While Vermeer's signature is relatively undemonstrative and controlled, the sensual swirls of the "B" in "Bolnes" and plunging loop of the "h" in "Catharina" denote an uninhibited hand which belongs, perhaps, to a young girl unafraid to show her emotions. It is by and large assumed that their marriage, blessed with eleven children, was a happy one, at least until the financial collapse of the Vermeer family in the final years of the artist's life.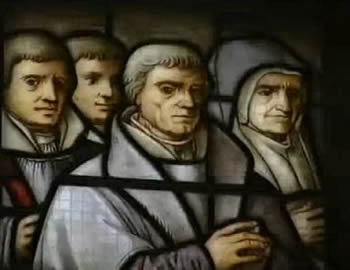 The only surviving image of a member of Vermeer's extended family is the above project for a stained glass window in Saint-Janskerk, Gouda which represents the grand parents of Vermeer's wife, Catharina Bolnes.
Catharina came from a well-to-do family in Gouda. Her mother, Maria Thins (c. 1593–1680), was from a distinguished, landed, old and stronghold Catholic family from Gouda. Catharina's father was Reynier Bolnes (1591–1674), a prosperous brickmaker from Gouda as well. Three of their children survived infancy, a boy, Willem and two girls, Maria and Cornelia. Catharina was born in 1631, when her mother was 38. Catharina was raised Catholic. Vermeer instead, had been raised as a Protestant. Today a number of scholars maintain that upon marriage Vermeer converted to Catholicism or, at least, he took an active part in bringing up his children in his wife's religion.
In all, Catharina and Vermeer had 15 children: Maria, Elisabeth, Cornelia, Aleydis Beatrix, Elizabeth Catherina, Johannes, Gertruyd, Franciscus, Catherina, Ignatius and an unnamed child born between July and September 1674. Three other children were buried in 1667, 1669, 1673. One other child born 1672 died in or after 1713. The one born 1674 died in 1678. At the artist's death, eleven children were recorded as being alive.
Maria must have closely considered her daughter's marriage with Vermeer, since her own marriage had been miserable.5 "Catharina's childhood memories were full of violence, fits of temper and tears. Her father, after 13 years of marriage, had become an ogre. Maria's relatives and neighbors were to testify that they saw him insulting his wife, kicking her, pulling her naked from her bed by her hair when she was sick, attacking her with a stick when she was pregnant, and chasing her out of the house. She was forced to eat her meals by herself. On one occasion, Catharina, aged nine, ran to her neighbors in fright, yelling that her father was about to kill her sister Cornelia. Maria received the support of her sister and brother, who was himself stabbed in a fight with one of Reynier's brother while Reynier was bolstered by his son Willem."6
Years later after the unhappy couple had been legally separated, Catharina and her mother moved into the quite Catholic enclave, called the papenhoek, "Papists Corner," in Delft, perhaps, seeking solace from their traumatic life in Gouda. Willem, Catharina's brother, who had sided with his father, later moved in with them when Vermeer was living—and probably painting—there as well.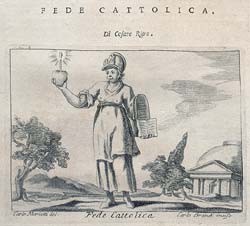 Fede Cattolica
(Catholic Faith)
from Cesare Ripa's iconographical guide which Vermeer himself used to compose his
Art of Painting
and
Allegory of Faith
"Vermeer's marriage, outside the family's religion and social class, was exceptional. It entailed a move from the lower, artisan class of his Reformed parents to the higher social stratum of the Catholic in-laws, and from Delft's Market Square to its "Papists' Corner," the Catholic quarter of the city." 6 However, there is considerable disagreement among scholars concerning Vermeer's zeal for his adopted faith. Arthur K. Wheelock Jr. (Johannes Vermeer
,1995) has argued that Vermeer's artistic development had been deeply influenced by his conversion citing as proof three religious pictures painted by Vermeer, Saint Praxedis (Wheelock is virtually alone in supporting its authenticity), Christ in the House of Martha and Mary and the late Allegory of Faith.
Following his marriage, Vermeer seemed to have distanced himself from his own family, a fact which can be seen in his apparent failure to name any of his children after his mother or father, a common practice at the time both in Protestant and Catholic families. The couple named their first daughter Maria, in honor of Maria Thins, and their first son Ignatius, after the patron saint of the Jesuit Order. For more information on Vermeer's Catholic marriage and the implications it had on Vermeer's life and work, click here. Except for his ties with the painters of Delft's guild, evidence suggests that Vermeer's social relationships did not extend far from the Papist's Corner, an inevitable consequence of a Catholic marriage and probable conversion to Catholicism. Although Catholics were comprised about 20% of the Delft's population and were by and large tolerated, conversion to Catholicism was not taken lightly in some quarters of the town.
Early Works
At the outset of his career, Vermeer surveyed the styles of various seventeenth-century artists. The first two surviving works reveal the ambitious young painter at grips with the problems of what art theorists considered the noblest form of painting: istoria, or history painting. History painting was intended to offer uplifting or cautionary narratives to encourage contemplation of the meaning of life. The most suitable scenes to be represented were drawn from classical literature, ancient mythology and the Bible.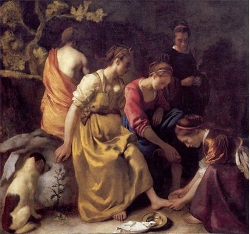 Diana and her Companions
Johannes Vermeer
c. 1653–1656
Oil on canvas, 98.5 x 105 cm.
Mauritshuis
, The Hague
Although Vermeer's two surviving history paintings are quite large and broadly painted, they betray serious problems in composition, perspective, anatomy and handling of light. Some Vermeer scholars believe that the first of the two works, Diana and her Companions, was a bid to gain entrance to the moneyed Hague court where the classical Diana theme was much in vogue. If that was the case, it is not too difficult to understand why the artist's appeal was left unanswered. Although extraordinarily interesting from an art historical point of view, the juvenile work was, at least by contemporary standards, hardly a masterpiece. The heads of the foreground figures are positioned in such a way that their faces are cast in a deep shadow making it impossible to divine their emotions or characters. The poses—four out five of the figures bend their heads downwards in a frieze-like procession—reiterate the melancholy mood of this picture for which the artist provides no psychological escape except for an unfriendly dark sky. The disorderly distribution of lights and darks runs counter to period recommendation to group lights and darks together in order to avoid producing a "checkerboard" effect. The brass basin seems to slip off the bottom of the painting and the large rock in the foreground, in one art historian's opinion, looks like "a sack of potatoes." The back of the left-hand background figure is executed so approximately that had the viewer not been familiar with the painting's narrative, it could be taken either as a male or female.
However, the young painter made rapid progress. The second history painting, the Christ in the House of Martha and Mary, is artfully composed and fluently painted. The foreshortening of the seated figure's head and clutched hand demonstrate a technical confidence unseen in the earlier Diana and rivals in its exceptional economy of tone, the works by the Utrecht painter Hendrick ter Brugghen, whose religious pictures may have inspired this work by Vermeer. The colors are lush, the atmosphere resonates with light and shadow and brushwork is reassured, although somewhat complacent in the definition of Christ's robe. However, the artist owed as much to window shopping as to his own compositional prowess. The figure of the Christ and the kneeling Mary can be traced to a painting of the same subject by Erasmus Quellinus II while the poses and positions of all three figures shares much in common with an engraving by Georg van de Velde after Otto van Veen. Borrowing of this sort—termed aemulatio—was not looked down upon per se but, on the contrary, considered a fundamental part of the learning process. What was important was to make the borrowing one's own.
Other than the Diana and her Companions and Christ in the House of Martha and Mary period source inform that Vermeer painted at least two more history paintings: "En graft besoeck - ende van der Meer 200 guilden," a Visitors to a Tomb, probably a representation of the Three Marys at the Sepulcher, a story from the New Testament, and a mythological Jupiter Venus and Mercury, perhaps a misunderstanding of Jupiter, Mercury and Psyche (or Virtue), the more common motif of the two. On June 27, 1657 the former work was in the collection of Johannes Renialme, a young "gentleman dealer" who came from a distinguished family with members in Antwerp and Venice. Although the young painter must have been justifiably pleased to have his work in a solid art collection, it was valued at 20 guilders while a "perspectieff," a paintings whose most salient feature is its perspective, by the modest Hendrick van Vliet was valued at 190 guilders. Although Vermeer would soon veer to an entirely new genre for which he is known, the late Allegory of Faith shows that he had not completely abandoned religious subject matter.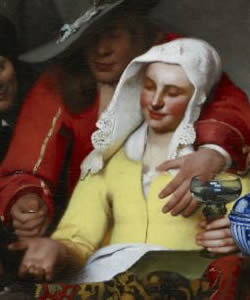 The Procuress
(detail)
Johannes Vermeer
1656
Oil on canvas, 143 x 130 cm.
Gemäldegalerie Alte Meister
, Dresden
The young artist's next step was another large scale work, The Procuress, a bordeeltje, or bordello scene, in the manner of the Utrecht Caravaggists. Why Vermeer turned so suddenly from high-brow to low-brow subject matter is not known. Perhaps he was piqued by his mother-in-law's personal art collection which contained the striking Procuress by Dirck van Baburen or by other works of competent painters of the Utrecht School. Vermeer would later incorporate Baburen's work in the background of two of his own compositions. On the other hand, the young Vermeer may have simply wished to try his hand as something more stimulating than brooding saints and meditative goddesses. Although the artist's treatment of the bordello motif is indeed unconventional—instead of flaunting bare breasts, a racy silk dress and a plumed hat which were key selling points of the bordello genre Vermeer's young prostitute wears tasteful lace and a simple yellow garment closed up to the neck—the bordello genre had already reached full maturity and was no longer "cutting edge" subject matter.
To those familiar only with Vermeer's chaste interiors, the subject matter of The Procuress may surprise. It should be kept in mind, however, that Vermeer was born and raised in an inn. Dutch inns were synonymous with various collateral activities ranging from relaxed conversation, to financial transactions, art dealing and undisguised sex peddling. If Vermeer's father's inn was not a disreputable place, as evidence seems to indicate, the boy artist would have not been blind to what was a daily occurrence in urban life. In a country where prostitution, procuring and adultery were criminal offenses, where the word hoererij (whoredom) denoted any kind of non marital sexual intercourse, and where religious piety was deeply felt not only by Calvinists but by people of other denominations, a market still existed for pictures of half-nude, lascivious women whose charms were obviously for sale.7 Suffice it to say that even the artist's fervent Catholic mother-in-law owned a few pictures that probably would not be hung on any wall of many an American household.
VERMEER BIOGRAPHIES
John Michael Montias, Vermeer and His Milieu: A Web of Social History, Princeton, NJ: Princeton, 1989.
Arthur K. Wheelock Jr. "Vermeer of Delft: His Life and his Artistry," in Johannes Vermeer, (with contributions by Albert Blankert, Ben Broos, and Jørgen Wadum), New Haven and London, 1995, 15–29.
Anthony Bailey, Vermeer: A View of Delft, New York: Holt Paperbacks, 2001.
Walter Liedtke, "Johannes Vermeer 1632–1675: in Vermeer: The Complete Catalogue, New York, 2008.
"Johannes Vermeer," The National Gallery of art website. http://www.nga.gov/exhibitions/verm_1.shtm
Kees Kaldenbach, "Vermeer Biography." http://kalden.home.xs4all.nl/dart/d-a-vermeer1.htm
Houses began to be given civic numbers only in 1806 when Napoleon's brother Louis Bonaparte became king of the short-lived Kingdom of Holland. This often makes an exact location of a particular building difficult to ascertain, if not impossible.
Walter Liedtke, ed., exh. cat. Vermeer and the Delft School, New York: Metropolitan Museum of Art, 2001, 20.
Walter Liedtke, ed., exh. cat. Vermeer and the Delft School, New York: Metropolitan Museum of Art, 2001, 147.
Anthony Bailey, Vermeer: A View of Delft, New York: Holt Paperbacks, 2001, 203–204.
Lisa Vergara, "Perspectives on Woman in the Art of Vermeer," in The Cambridge Companion to Vermeer (Cambridge Companions to the History of Art), ed. Wayne Franits, Cambridge: Cambridge University Press, 2001.
Lotte C. van de Pol, "The Whore, the Bawd, and the Artist: The Reality and Imagery of Seventeenth-Century Dutch Prostitution," JHNA 2:1–2 (2010). http://www.jhna.org/index.php/past-issues/volume-2-issue-1–2/116-the-whore-the-bawd-and-the-artist