Vermeer's Life
Although only a scant few archival records have survived which directly regard Vermeer, in recent years historians have nonetheless deduced a relatively clear picture of both his life and artistic stature utilizing those archival documents in conjunction with knowledge of 17th-century Dutch social and artistic history and Vermeer's remaining thirty-six paintings. Credit must be given to P.T.A. Swillens for having, in 1952, outlined the first adequate picture of Vermeer's life in Johannes Vermeer Painter of Delft: 1632-1675.
However, great part of the progress made in recent years is owed to John M. Montias, who has patiently pieced together into a coherent whole, legal depositions, wills, deeds, warrants, inventories, promissory notes, and other official documents. Their paper trail extends back two generations to Vermeer's maternal grandfather and continues in the 17th century beyond Vermeer's death. Montias' Vermeer and His Milieu: A Web of Social History
now forms a basis on which further study can be elaborated. It makes excellent reading and is highly recommended for those who wish to deepen their knowledge of Vermeer or of Dutch 17th-century painting.
An exclusive Essential Vermeer Interview with the late Prof. Montias in which he discusses the workings behind his research and the possibility of future findings can be accessed by clicking here.
Youth
Vermeer was born in 1632 in Delft which was then an active and prosperous Dutch town. The artist seemed to have left his native city only rarely. Its wealth was based on its thriving Delftware factories, tapestry weaving ateliers, and breweries. It was also a venerable city with a long and distinguished past. Its strong fortifications, city walls and medieval gates that had protected the city for more than three centuries, had provided refuge for William the Silent, Prince of Orange, from 1572 until 1584 during the Dutch revolt against Spanish Habsburg control. Although the court and seat of government moved to The Hague at the end of the sixteenth century, Delft continued to enjoy special status within the province of Holland.
This detail of Dirck Van Bleyswyck's Kaart Figuratief shows the area around the Groote Markt (Market Place).
Click on the Kaart to view four points of interest concerning Vermeer's life and art.
Johannes Vermeer was the second child and only son of Reynier and his wife Digna Baltens. His sister, Gertruy, was born in March of 1620, 12 years earlier than Vermeer. Vermeer's family background would be described today as lower middle-class. His grandparents were illiterate and so was his mother. Vermeer was baptized on 31 October, 1632 in the Reformed Church (in the Nieuwe Kerk) and was raised a Protestant. His father, Reynier Janz.—in the later part of his life his surname was changed to Vos and then Vermeer although we do not know why— was an innkeeper and member of the Saint Luke's Guild. Guild membership allowed Reynier to sell paintings as well. Even so, neither of these trades were Reynier's real profession. Sometime after his wedding, he described himself as a "caffawercker" (silkworker). Caffa was a kind fine satin widely used for clothes, curtains and furniture-covering. Some scholars have speculated that Vermeer's predilections for this material, often depicted in his paintings, was a kind of childhood remembrance. The paintings in which his father dealt may have sparked in young Vermeer his interest in painting.
Vermeer spent his childhood in a house, located on the Markt in the center of the town, which his father bought after having improved his economic situation. Reynier was evidently a hardworking man who lived and invested conservatively. The ground floor of the house was the inn, called Mechelen. Judging from contemporary etchings it must have been quite large, large enough to also accommodate an ample space for Reynier's caffa production and living quarters for the family.
Saint Luke Membership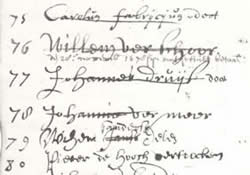 register of the Guild of Saint Luke
with Vermeer' name at number 78, Carel Fabritius at 75 and Pieter de Hooch at 80
click here for a large image
As with every other Dutch painter, Vermeer was required to undergo a six-year apprenticeship with a master painter who belonged to the Saint Luke's Guild, the powerful trade organization which regulated the commerce of painters and artisans. The young apprentice was thoroughly instructed in the art and craft of painting and, upon his admission to the guild, was permitted to sign and sell his own paintings as well as those of his fellow painters. Vermeer was required to pay an entrance fee of six guilders to the Guild of Saint Luke in 1653 (December). Normally, new admittees whose father had been members—as was the case with Vermeer—were required to pay three guilders, provided that they had trained for two years with a master of the guild. According to Van de Veen the only plausible explanation for the higher admission fee is that Vermeer's training had occurred outside of Delft.
An entrance on the account-book of the guild states that the young Vermeer had paid towards his entrance fee 1 guilder, 10 stivers, balance 4 guilders, 10 stivers, and on July 24, 1665 he had paid in full. Vermeer, initially, had not been able to pay the entire sum and this was most likely due to his modest economic circumstances. His name, which was entered on the register of the guild, can be seen among the names of other painters such as Carel Fabritius and Pieter de Hooch.
For many years it was believed that Vermeer's master was Leonaert Bramer of Delft. Bramer's curious Italianate style was so different from both early and subsequent works of Vermeer that it would seem the elderly painter had little or no artistic influence on Vermeer. In any case, surviving documents indicate that Bramer had a friendly relationship with the Vermeer family.
Marriage
Vermeer married Catharina Bolnes in April 1653. She was one and a half years older than he. Shortly after, both Vermeer's and his wife's signature appear on a document (below) together. A cursory comparison of the two signatures reveals an evident difference of personality.

the signatures of Johannes Vermeer and his wife catharina Bolnes a legal document of 1655
Catharina came from a well-known, respectable and well-to-do family in Gouda. She was also Catholic. Today a number of scholars maintain that upon marriage Vermeer converted to Catholicism or, at least, he took an active part in bringing up his children in his wife's religion.
In any case, we can assume that their marriage, blessed with fifteen children, of which four died in their infancy, was a happy one at least until their financial collapse in Vermeer's final years.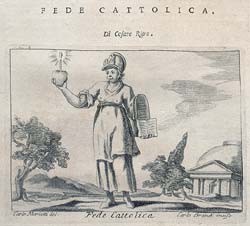 Fede Cattolica (Catholic Faith)
from Cesare Ripa's iconographical guide which Vermeer himself used to compose his Art of Painting and Allegory of Faith
Vermeer's marriage, aside the family's religion and social class, was exceptional. It entailed a move from the lower, artisan class of his Reformed parents to the higher social stratum of the Catholic in-laws, and from Delft's Market Square to its "Papists' Corner," the Catholic quarter of the city." However, there is considerable disagreement among scholars concerning Vermeer's zeal for his adopted faith.
Following his marriage Vermeer seemed to have distanced himself from his family's past, a fact which can be seen in his apparent failure to name any of his children after his mother or father, as was common practice at the time both in Protestant and Catholic families. They named their first daughter Maria, in honor of his mother-in-law Maria Thins, and a son Ignatius, after the patron saint of the Jesuit Order.
Early Works
Vermeer's early works demonstrate the young painter at grips with the problems of religious, mythological and genre painting of the school of Utrecht, a school which primarily drew from Caravaggism. Maria Thins, owned a modest collection of Utrecht paintings and she surely put them at her young son-in-law's disposition. Moreover, she had a distant relationship with the noted Utrecht painter Abraham Bloemart. In any case, Maria Thins, throughout Vermeer's life seems to have contributed, at least indirectly, to Vermeer's artistic development.
Although very little is known about relationships with other painters who might have influenced the thematic and stylistic direction of his art, Vermeer apparently knew Gerrit ter Borch, with whom he co-signed a document in 1653.
After the first historical and genre paintings, Vermeer's pictorial evolution took a rapid and decisive turn. He adapted to his own expressive needs scenes of upper middle-class daily life which painters such as Ter Borch, Nicolas Maes, and Pieter de Hooch had already begun to develop successfully.

Vermeer's Children
The Vermeers had at least 11 children during their 22 years of marriage: Maria, Elisabeth, Cornelia, Aleydis, Beatrix, Johannes, Gertruyd, Franciscus, Catharina, Ignatius, one other, and possibly more who died in infancy. From what we know of their later lives, none of them seem to have inherited Vermeer's artistic skills or pursued distinguished careers. Vermeer's wife, Catharina, who must have been pregnant far much of the time, also had the burden of looking after her mother. Although Maria (Catharina Bolnes' mother) lived to be 87, surviving Vermeer, she was already nearly 70 when the family moved in and was presumably getting frail. Caring for 11 children, an aging mother, and an artist must have taken most of Catharina's time, even with the help of a maid. After Vermeer's death, she claimed to have known little about his business affairs since she had never concerned herself further or otherwise than with her housekeeping and her children'.
from:
Martin Bailey, Vermeer: A View of Delft
London, 1995, p. 9
Maturity
The moment in which Vermeer began to paint coincided with the explosion of the Dutch economy after the cessation of hostilities with Spain in 1648.
Whether Vermeer's initial impulse to be a history painter was stimulated by his artistic training, his conversion to Catholicism or the hope that he would realize prestigious princely or civic commissions, he abruptly and dramatically changed his subject matter and style of painting a few years after becoming a master in the guild. Although the reason for which he began to focus on scenes such as A Woman Asleep, Girl Reading a Letter by an Open Window, or The Little Street are not known, it may have been that the patronage he expected as a history painter was not forthcoming. Although the path Vermeer took in defining his artistic personality is understood in only the broadest of terms, the types of scenes he represented in the late 1650s indicate that he was aware of his contemporaries work, and was adept at emulating and improving upon their images.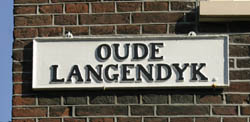 A contemporary street sign near Vermeer's studio
The years of his pictorial maturity correspond to years of relative financial security. His mother-in-law contributed substantially to the economic well-being of her daughter's family and in the meanwhile Vermeer had secured the patronage an important Delft citizen, Pieter van Ruijven, who acquired perhaps half of the artist's entire output. The financial independence Vermeer enjoyed, partial and precarious as it was, gave him a greater opportunity to follow his own artistic inclination than most of his fellow members of the guild, who had to adapt their art to suit market demand. He could paint fewer pictures than he might have had to had he been forced to support his family exclusively from his art.
At one point, Vermeer moved out of Mechelen presumably to reside and work in his mother-in-law's house on Oude Langendijk, a stone's through away on the other side of the Markt. There is little evidence to show that Vermeer entertained close contacts beyond the relatively segregated Papist's Corner, where he lived. There is not document that links Vermeer his patron Pieter Claesz. van Ruijven even though he was close enough to the Van Ruijven family to be given a conditional bequest of five hundred guilders in the will of Maria de Knuijt, Pieter Claesz.'s wife, in 1665.
Fame
Other than the thirty-seven (?) surviving paintings, we have very little documentation of Vermeer's art. When French traveler and diarist Balthasar de Monconys visited Vermeer studio, Vermeer was not able, or willing, to show him even a single work. When the Frenchman went to the house of the baker Hendrick van Buyten (a prominent Delft citizen and collector of Vermeer's painting) he saw one "with a single figure" which he esteemed far too costly. If the price (600 guilders) quoted by the baker is to be believed, Vermeer's paintings were, in fact, rather expensive in respects to those of his contemporaries. Even so, Vermeer's fame did not spread far outside Delft. The most probable explanation is that his paintings were in the hands of only a few select collectors. Ironically, the extraordinary patronage of Pieter van Ruijven was a mixed blessing for the artist. His reputation might have spread in wider circles and his name might have been better remembered after his death had there been more collectors eager to trumpet his fame.
Pieter van Beckhout, a wealthy young connoisseur, visited Vermeer two times in 1669 and on the second occasion saw "some examples of his art, the most curious aspect consists in perspective."
Vermeer was elected hoofdman (headman) of the Saint Luke's Guild for the second time in 1671-1672 and in this period he was called to The Hague in order to judge the authenticity of various paintings which had been sold as works of important Italian masters. Vermeer, along with other headsmen, judged them not only fakes but practically worthless. His position as an esteemed artist would fall victim, like other painters in Delft, to the grave economic crisis following the French invasion in 1672.
In any case, Vermeer's fame was consolidated in his home town
Frenzy and Death
Shortly after 1672 he borrowed 1000 guilders from his mother-in-law. His income must have dwindled to nothing and he had eleven children to support. At the same time, the French invasion had reached Delft and its citizens were called upon to dig a high earth rampart around their town for defensive purposes.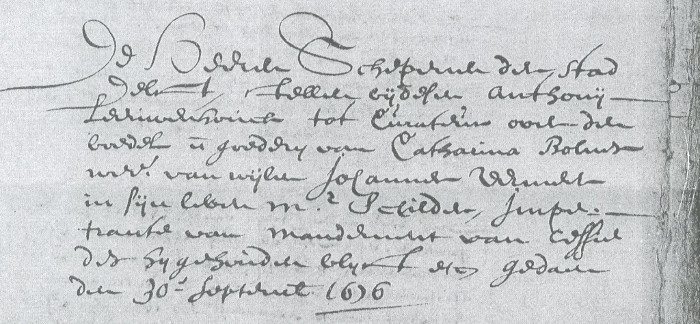 The Delft Archives conserves this document, dated 30 September, 1676, which nominates the naturalist Antonie Leeuwenhoek as the executor of
Vermeer's last estate.
Vermeer probably painted very little in his last years. His death, three years later, at the age of forty-three, was described by his wife, "as a result and owing to the great burden of his children, having no means of his own, he had lapsed into such decay and decadence, which he had so taken to heart that, as if he had fallen into a frenzy, in a day or day and a half had gone from being healthy to being dead." The burial registers of the Oude Kerk mention on December 15, 1675 state: "Jan Vermeer, artist of the Oude Langendijk, in the Oude Kerk." Catharina was left with had a small army of children to care for and an enormous debt. Catharina went to great lengths to save her husband's paintings, which creditors had claimed to pay debts accumulated in the final years of the artist's life..
Catharina petitioned for bankruptcy the following year. Antonie van Leeuwenhoek, the famed Delft microscopist, who was a neighbor and apparently a friend of Vermeer, was named trustee for the estate.
Catharina was able to survive only through the loving help of her mother Maria Thins. A plea to her creditors some time after her husband's premature death strikes a final sad note in Vermeer's brief life: "during the ruinous war he not only was unable to sell any of his art but also, to his great detriment, was left sitting with the paintings of other masters that he was dealing in."

Lisa Vergara, "Perspectives on Woman in the Art of Vermeer," in The Cambridge Companion to Vermeer (Cambridge Companions to the History of Art), edited by Wayne Franits, 2000
ibid.
John Michael Montias, Vermeer and His Milieu: A Web of Social History, Princeton, 1989
Walter Liedtke, "Thematic Essay: Johannes Vermeer (1632–1675),"
<http://www.metmuseum.org/TOAH/hd/verm/hd_verm.htm>
Arthur K. Wheelock Jr., Vermeer: The Complete Works, New York, 1997
Wayne Franits, The Cambridge Companion to Vermeer (Cambridge Companions to the History of Art), Cambridge, 2001, p. 2
Wheelock, ibid.
Montias, ibid., p. 172
Montias, ibid.