Music in the Time of Vermeer: Muziek in de Gouden Eeuw (Music in the Golden Age)
The Eighty Years' War, which lasted a large part of the seventeenth century, was fought principally for religious and economical motives. Its outcome was complete independence from Spanish dominion for the reformist northern provinces. During the war, the Dutch Republic rose briefly as a world power and experienced a period of unprecedented growth.
This sudden and dramatic flourishing of maritime commerce gave birth to a large, wealthy merchant class and an economic prosperity which fostered enthusiasm and lucrative sponsorship for the visual arts, literature and science. But while the art of painting blossomed into a true Golden Age, Dutch music did not. Music had largely ceased to play an important role as it did in the fifteenth and sixteenth centuries with the famous Franco-Flemish musicians and composers Guillaume (Willemet) Du Fay (1397–1474), Johannes Ockhegem (c. 1425–c. 1497) or Orlandus (Roland) Lassus (1530/32–1594). After the abdication of Charles V, who had always supported the Netherlandish musicians, the cultivation of music in the courts of the Habsburg Stadtholders was no longer deemed as vital as it had been before.
The principal explanation for the lack of inspiration in Dutch music during the Golden Age of painting has been attributed to diverse circumstances, among them, the dampening role of the dominant Calvinist religion who frowned on all music during church services except for unaccompanied communal singing. Thus, without significant church and aristocratic patronage, there was "little incentive for major artistic innovations."1
"As we see it today, the strength of Dutch art lies not so much in its history pieces as in still-lives, landscapes marines, portraits and genre painting and suchlike. Similarly the strength of Dutch music lies not in the intricate polyphonic or Baroque compositions, but in that simplest of all genres—the song, that enjoyed an incomparable bloom here. This musical strength lay in the sheer delight in singing found among people of all classes, in an appetite for music that was fed and stilled not so much by composers as by poets. And it was the same people who were consumed by a desire for paintings and who bought them for their homes."2
It may be said that only one Netherlandish musician made a significant contribution to European musical history—so let us have a closer view to the life and work of Jan Pieterszoon Sweelinck.
Jan Pieterszoon Sweelinck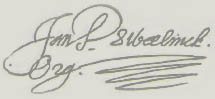 born: Deventer, May 1562
died: Amsterdam, 16 October, 1621
Jans Pieterszoon Sweelinck was born into a family of musicians, as the elder son of Peter Swybbertszoon an Elske Sweeling. Swybbertszoon. His grandfather Swibbert and his uncle Gerrit Swybbertszoon had both been organists at the Cathedral of Deventer. Soon after Jan's birth his family came to Amsterdam where his father became the organist at the Oude Kerk and remained there until his death 1573. The position was kept vacant for his son until 1580.
click to hear mp3
Jan Pieterszoon Sweelinck
mp3 files by marco schuffelen
As was usual in those times, Sweelinck received his first musical instruction from his father. After his father's death, he completed his studies with Jan Willemszon Lossy, a countertenor and shawm player at Haarlem. Lossy was not an organist but just the same he may have taught Sweelinck composition. It is assumed that he listened to the famous organists at Saint Bavo in Haarlem, Claas Albrechtszoon van Wieringen and Floris van Adrichem.
Cornelis Boskoop, who briefly succeeded his father at the Oude Kerk in 1573, may have been among Sweelink's organ teachers. Within the age of about 18, he took the position of organist at Oude Kerk, Amsterdam. 1585, after the death of his mother, Sweelink had to take care of his younger brother and sister. Sweelinck had adopted his mother's family name for as unknown reasons (first using it on the title-page of his Chansons of 1594). In 1590 he married Claesgen Dircksdochter Puyner and had five children.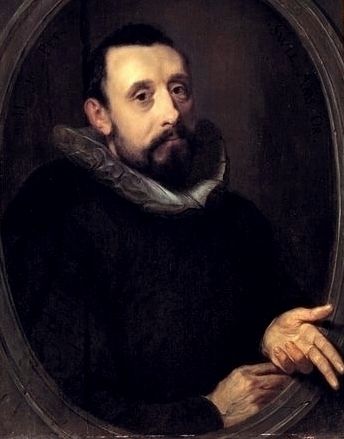 Portrait of Jans Pieterszoon Sweelinck
Attributed to Gerrit Pietersz Sweelink (the musician's brother)
1606
Oil on panel, 67 × 52 cm.
Gemeentemuseum Den Haag, The Hague
Contrary to tradition, he was not engaged as organist or carillonneur. Nor did his duties include supplying music for regular ceremonial and social occasions of the city magistrate, as was the practice in many other cities. Since Calvinists viewed the organ as a worldly instrument and forbade its use during services, Sweelinck was actually a civil servant employed by the city of Amsterdam (which in any case owned the organs). It is generally assumed that his duty was to provide music twice a day in the church—once hour in the morning and once in the evening.
Sweelinck was well known for his organ and harpsichord improvisations: more than once proud city authorities brought important visitors to the church to hear the "Orpheus of Amsterdam." A large organ with three manuals and pedal (originally by Hendrik Niehoff in 1539–45), and a small one with two manuals and pedal (1544–45 by Niehoff and Jasper Johanszoon) were at his disposal in the Oude Kerk.
Sweelinck was not only a high talented organist but a gifted teacher as well. His teaching made him famous throughout northern Europe and founders of the so-called north German organ school of the seventeenth century (culminating in Bach) were among his pupils. His Dutch pupils included talented dilettantes and young professional musicians. The most important were Anthoni and Sybrandus van Noordt, Cornelis Janszoon Helmbreecker and his own son Dirck or Willem Janszoon Lossy (son of his Haarlem teacher). One of his amateur pupils was Christina van Erp, wife of the famous Dutch poet Pieter Cornelisz. Hooft.
After the turn of the century, Sweelinck's reputation attracted pupils from Germany such as Andreas Düben, Samuel and Gottfried Scheidt, as well as Jacob and Johannes Praetorius and Heinrich Scheidemann. The pupils of "Master Jan Pieterszoon of Amsterdam" were musicians against whom other organists were measured. For this reason promising young men were sent to study with him financed by their city councils. The costs, which included instruction, room and board at Sweelink's house (as it was customary in those days), may have totaled 200 florins a year per student, a conspicuous sum for the time. An average house was could be bought at approximately 500 florins a year while a year of study with Rembrandt van Rijn cost 100 guilders.
Sweelinck was the last important composer of his age in the Netherlands. His keyboard music is now understood to be less the work of an innovator than of one who perfected forms derived from, among others, the English virginalists (notably Bull and Philip) and transmitted them through his pupils. His immediate influence can be seen in the music of Samuel Scheidt and Anthoni van Noordt.
Apart from several pieces for the lute which are preserved in the famous Luitboek van Thysius and the Luitboek van Edward Herbert, Sweelinck's instrumental music was composed entirely for keyboard instrument. It reveals a thorough knowledge of every major keyboard tradition of his time, especially the English (for instance the Engelsche Fortuyn or Onder de linde groene / All in a Garden Green) and the Venetian. Although Sweelink's instrumental music was never printed, it nonetheless enjoyed wide circulation through the copies made by his pupils.
Sweelinck's polyphonic setting of the Psalter (first vol. 1604) has been justifiably called a monument of Netherlandish music, unequalled in the sphere of sacred polyphony. The texts are drawn from the French metrical Psalter of Marot and Bèze, not the Dutch version of Datheen (1566) used in most Dutch churches until 1773. This was probably because the psalms were not intended for use in public Calvinist services but rather within a circle of well-to-do musical amateurs among whom French was the preferred language.
Sweelinck's other important vocal collection, the Cantiones sacrae (1619), is the musical and religious antithesis of the psalms. It comprises 37 motets on texts from the Catholic liturgy. This fact raises the question as to whether Sweelinck remained a Catholic in the service of the ruling Calvinist minority.
Sweelinck's surviving output amounts to 254 vocal works, including 33 chansons, 19 madrigals, 39 motets and 153 psalms, as well as about 70 keyboard works, principally in the form of fantasias, echo fantasias, toccatas and variations.
Sweelinck led an uneventful, harmonious life. His few documented absences from Amsterdam were entirely related to his professional activities. He inspected new organs at Haarlem (1594), Middelburg (1603), Nijmegen (1605), Rotterdam (1610, where he had to act as an adviser for the improvements of the organ in the Laurenskerk), Dordrecht (1614) and the restored or repaired organs at Harderwijk (1608), Delft (1610), Dordrecht (1614) and Deventer (1616) – his birthplace, which he had also visited in 1595, perhaps to give advice about the forthcoming restoration of the organ. His longest journey was in 1604 to Antwerp, where he purchased a harpsichord (possibly by Ruckers) for the city of Amsterdam.
Sweelinck was buried in the Oude Kerk. He was survived by his wife and five children, of whom only the eldest, Dirck Janszoon Sweelinck, was a musician.