The All Vermeers in Europe Travel Guide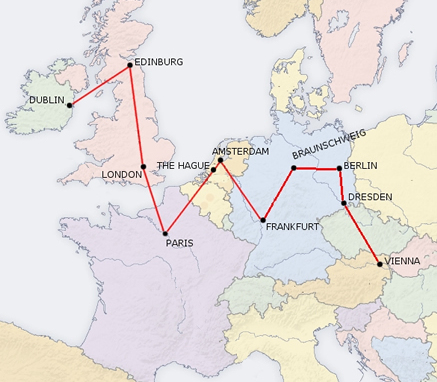 All the Vermeers in Europe (22 works)
In Europe, all twenty-two Vermeer paintings are genrally accessible to the public except for the Queen's The Music Lesson which is visible only during the summer months or special exhibitions. The remaining works are housed in public or private art collections normally open five days a week throughout the year except for holidays. It should be kept in mind that Vermeer paintings can be on special exhibitions far from their permanent collections or in restoration. Temporary exhibitions, however, are usually announced months in advance so it is imperative to begin planning in time to avoid pointless travel.
Traveling Philosophy. There as many ways to travel as there are individuals and their financial possibilities. The present travel guide is formulated around a limited budget in order to afford the maximum number of people the occasion to realistically calculate costs. Obviously, in order to arrive at the European starting point each traveler must make his own travel arrangements from his home wherever that might be.
Plan 1. Seeing al 22 Vermeers in Europe . If one wishes to attempt the rather ambitious plan of seeing all 22 Vermeer paintings in Europe, ten intercity trips will be necessay. One may then plan as many days for exploring the city's Vermeer museum and city sites as one finds suitable. The map above proposes a possilbe travel route.
Plan 2. The second plan involves seeing 14 Vermeers dsitributed in four cities (Amsterdam, The Hague, Paris and London) all within very close viciniy.
Plan 3. The third plans offers the possibilityto keep traveling time at a bare minimum while allowing one to seeing 11, or perhaps 12 paintings.
Intercity Transportation. One of the best ways to assure a more gratifying trip and economize at the same time is to utilize Europe's excellent railway system. The chief railway stations are located in the heart of European cities and hence, often near the major art collections and a wide choice travel accommodations. Moreover, rail travel is generally more congenial to socializing with each country's inhabitants and moreover, has the indubitable advantage of allowing one the opportunity to comfortably view scenery.
InterRail Global Passes http://www.interrail.net/english/index.php
For European residents. The total duration of the ten-city travel and stay would be trip would last 21 days. This number which would keep us in the limits of a 22-day InterRail Global Pass which cost Euro 479.00 and Euro [4239,00 439,00] for senior citizens (over 60s).
Eurail Global Pass http://www.eurail.com/eurail-passes/eurail-global-pass
For non-European residents. There is a large variety of different of passes regarding specific areas in Europe to choose or the number of travelling days within a month etc. For example: a pass with the validity of 15 travelling days within 2 months costs $739.00 (2nd class) while a stay of 21 days costs $ 619,00 (2nd class). A Benelux (i.e. Belgium/Netherlands and Luxembourg)-Germany Pass costs $395.00 with 10 travelling days within 2 months. Attention: A Eurail Pass has to be ordered 6 months before the issuing date.
accommodations. In keeping with the limited budget proposed by this guide, afforable hotels and bed & breakfasts ($150 or less) are preferred. accommodations located near the muesum, rather than the railway station, have been preferred so that one can easily return from the museum to the hotel duing the day to rest up.
All the Vermeers in Europe, City by City. Due to the wealth of information, this project desplays each city on a separate webpage which can be accessed from the menu located to the upper right of this page.
Approximate Rail Travel Times
Vienna-Dresden - 7:13
Dresden-Berlin - 2:56
Berlin-Braunschwieg - 1:25
Brunswick-Frankfurt - 2:46
Franrkfurt-Amsterdam - 3:56
Amsterdam-The Hague - 50
The Hague-Paris - 4:36
Paris-London - 5:06
London-Edinburg - 5:35
Edinburg-Dublin - 10: 20
Museum Closures
Vienna - Monday
Dresden - Monday
Berlin - Monday
Brunswick - Monday
Frankfurt - Monday
Amsterdam -open 7 days a week
The Hague - Monday
Paris - Tuesday
London (National Gallery) - always open
London (Kenwood House) - open 7 days a week
Edinburg - open 7 days a week
Dublin - open 7 days a week
The Vermeers in Europe at a Glance
CITY
PAINTING
TITLE
MUSEUM
EMAIL
Amsterdam
The Milkmaid
Rijksmuseum
info@rijksmuseum

The Little Street
Rijksmuseum
info@rijksmuseum
The Love Letter
Rijksmuseum
info@rijksmuseum
Woman in Blue Reading a Letter
Rijksmuseum
info@rijksmuseum
Berlin
The Glass of Wine
Staatliche Museen Preußischer Kulturbesitz,
Gemäldegalerie
gg@smb.spk-berlin.de

Woman with a Pearl Necklace
Staatliche Museen Preußischer Kulturbesitz,
Gemäldegalerie
gg@smb.spk-berlin.de
Brunswick
The Girl with a Wine Glass
Herzog Anton Ulrich-Museum
info@museum-braunschweig.de
Dresden
The Procuress
Gemäldegalerie Alte Meister
(Old Masters Picture Gallery)
info@skd.smwk.sachsen.de
Girl Reading a Letter at an Open Window
Gemäldegalerie Alte Meister
(Old Masters Picture Gallery)
info@skd.smwk.sachsen.de
Dublin
Lady Writing a Letter with her Maid
National Gallery of Ireland
info@ngi.ie
Edinburg
Christ in the House of Martha and Mary
National Gallery of Scotland
enquiries@nationalgalleries.org
Franfurt
The Geographer
Städelsches Kunstinstitut
info@staedelmuseum.de
The Hague
Diana and her Companions
Mauritshuis
communicatie@mauritshuis.nl
View of Delft
Mauritshuis
communicatie@mauritshuis.nl
Girl with a Pearl Earring
Mauritshuis
communicatie@mauritshuis.nl
London
A Lady Standing at a Virginal
National Gallery
information@ng-london.org.uk
A Lady Seated at a Virginal
National Gallery
information@ng-london.org.uk
The Guitar Player
The Kenwood House
customers@english-heritage.org.uk
The Music Lesson
The Royal Collecion, The Windsor Castle
information@ng-london.org.uk
Paris
The Atronomer
Musée du Louvre
info@louvre.fr
The Lacemaker
Musée du Louvre
info@louvre.fr
Vienna
The Art of Painting
Kunsthistorisches Museum
info@khm.at