Essential Vermeer Newsletter no. 32
March 2013
Dear Reader,

Vermeer rarely makes news outside the art world; this Tuesday he did. In a stunning development, the FBI said it believes it knows who was behind one of the most significant art heists in the United States—the Isabella Stewart Gardner 1990 theft of 13 precious works which includes Vermeer's mid-career interior, The Concert. The federal agency did not, however, reveal the suspects' names, but it is certain that they "are members of a criminal organization with a base in the mid-Atlantic states and New England." Can we hope this will lead to the finding of the paintings? Fingers crossed and read details below.

To be honest, I usually don't connect with art thefts or art forgeries—I am disconcerted that the Van Meegeren page on my website receives more visits than the catalogue entry of the Concert—but the Boston theft story did draw me in. The Concert was the first Vermeer I ever saw from life.

As a fledging art student, outlandishly decked out with a leather motorcycle jacket, tight pants and worn-out, purple Beatle-boots, I did not understand much the first time I stood in front of it. The standing singer seemed disjointed from the composition (I found out later the pigment used for her dress had degraded) and, to be honest, I am still not on good terms with the gentleman's turned back and sprawling, spaghetti hair. Too, the area under his chair is fairly cluttered, at least when sized up against the miraculous compositional economy of The Music Lesson. But, I had never dreamed that a flat wall could be so amazingly flat (the walls I had painted always looked like filthy white paint clumsily spread out on canvas to dry) nor that a satin dress could be depicted with such amazing force but at the same time, with such amazing delicacy.

For all its technical imperfections, the je ne sais quoi of this painting is still with me and the day I will see it again, if ever that day ever comes, will be more joyful than when I set eyes on it for the first time as a bewildered but resurrected art student.

Best of all,
Jonathan Janson
click here to access this newsletter as a WORD Document.
Exhibitions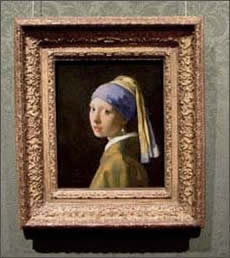 LA RAGAZZA CON L'ORRECHINO DI PERLA: IL MITO DELLA GOLDEN AGES. DA VERMEER A REMBRANDT CAPOLAVORI DAL MUARITSHUIS
8 February–25 May, 2014
Bologna, Palazzo Fava
After a 2013 trek to the Japan and United States, Vermeer's iconic Girl with a Pearl Earring will visit Bologna from 8 February to 25 May, 2014. The painting will be displayed at the Palazzo Fava in Bologna, one of Italy's most historical cities.
Vermeer's early Diana and her Nymphs will also be part of the exhibition along with a selection of forty Dutch paintings which include four masterworks by Rembrandt, various works by Frans Hals, Gerrit ter Borch, Jan van Goyen, Hobbema, Jacob van Ruisdael and Jan Steen, practically an entire century the finest works of the Golden Age of Dutch painting.
see the exhibition information page of Linea d' Ombra, the organizer of the exhibition (in Italian):
http://www.lineadombra.it/ragazza-con-orecchino/la-mostra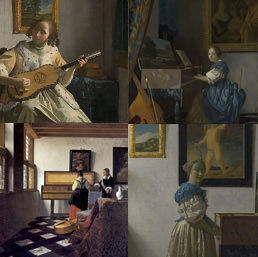 VERMEER AND MUSIC: LOVE AND LEISURE IN THE GOLDEN AGE
26 June – 8 September, 2013
National Gallery of Art, London, Sainsbury Wing Exhibition
Other than the already announced Kenwood House Guitar Player and the two London music makers (A Lady Standing at a Virginal and Lady Seated at the Virginals), exhibition visitors will also be treated to the Queens' Music Lesson on occasion of the Vermeer and Music: Love and Leisure in the Dutch Golden Age exhibition. The four Vermeers will be displayed along with works by his contemporaries and juxtaposed with musical instruments and songbooks from the same period.
For devotees, the exhibition presents a rare occasion to view the superb Guitar Player in better conditions than those normally encountered (very dark) at the Kenwood House where the painting is permanently housed.
for more information see the National Gallery pages:
http://www.nationalgallery.org.uk/whats-on/exhibitions/vermeer-and-music
RECAP OF TRAVELLING VERMEER'S
For those who have missed the last Vermeer Newsletter, here is a recap of the marathon itinerary of Vermeer's Woman in Blue Reading a Letter and the iconic Girl with a Pearl Earring.
Woman in Blue Reading a Letter
J. PAUL GETTY MUSEUM - Los Angeles
February 16–March 31, 2013
special museum webpage:
If you are up this kind of thing, the Getty Museum's Anne Martens writer solicits navigators on the Getty's museum webpage to imagine the first line of the letter being ready by Vermeer's Woman in Blue with a Letter, which temporarily exhibited at the Getty. http://blogs.getty.edu/iris/write-the-opening-line-to-vermeers-lady-in-blue/
here's a video of selected responses:
http://youtu.be/TIatwLULV6M
otherwise, here is the museum's special exhibition webpage:
http://www.getty.edu/art/exhibitions/vermeer/index.html
Girl with a Pearl Earring
DE YOUNG–San Francisco Museum of Fine Arts, San Francisco
Jan 26–June 2, 2013
special exhibition museum webpages:
http://girl.famsf.org/
special events page:
http://girl.famsf.org/exhibition/events/2946
HIGH MUSEUM OF ART, Atlanta
June 22–September 29, 2013
press release:
http://www.high.org/~/media/Sites/HMA/Res/PDF/Press/Mauritshuis_PressRelease_FINAL.ashx

FRICK COLLECTION, New York
October 22, 2013–January 12, 2014
museum exhibition webpage:
http://www.frick.org/exhibitions/mauritshuis
press release:
http://www.frick.org/sites/default/files/pdf/press/Frick_%20Mauritshuis.pdf
Publications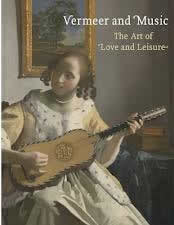 LOVE AND LEISURE
(release date, June 30, 2013.)
Marjorie E. Wieseman
paperback, 60 color illustrations
Yale University Press < http://yalebooks.co.uk/display.asp?K=9781857095678
Of Vermeer's thirty-six surviving paintings, twelve depict musical themes or a musical instrument. These include the magnificent Young Woman Standing at a Virginal, Young Woman Seated at a Virginal, The Music Lesson, and The Guitar Player, all part of the upcoming London Vermeer exhibition and featured in this book. The book also includes paintings by Vermeer's contemporaries, such as Gerrit ter Borch, Gabriel Metsu, and Jan Steen.
Vermeer and Music provides new insight into the cultural significance of these images as well as a historical overview of musical instruments and entertainment in the Dutch Republic.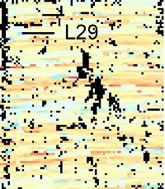 "CANVAS MATCHES IN VERMEER: A CASE STUDY IN THE FABRIC ANALYSIS OF CANVAS SUPPORTS"
Metropolitan Museum Journal, vol. 47, 2012, pp. 99–106
by Walter Liedtke, C. Richard Johnson Jr. and Don H. Johnson
the article is downloadable at:
http://people.ece.cornell.edu/johnson/LiedtkeMMJ.pdf
For the past several years, two American scientists, C. Richard Johnson Jr. and Don H. Johnson, have developed computer algorithms that allow an analysis of canvas weaves that is significantly more precise than traditional methods. They have digitally mapped canvases used by European artists ranging in date from the 1450s to Vincent van Gogh's pictures of 1888 – 90. The results so far have been variously revealing for those artists and for Velázquez, Vermeer, Monet, Renoir, Gauguin and Matisse.
In the case of Johannes Vermeer, twenty nine canvases have been digitally mapped to date, out of the thirty-six paintings by him (two of which are on wood) that are generally accepted by scholars. The two scientists discovered that "three canvas weave matches were found, with three different implications: a question of authenticity; another concerning chronology; and the hypothesis that two pictures were intended by the artist as a pair. The results of the analysis suggest that the canvas of The Lacemaker originated from the same bolt of canvas as that of the recently reattributed Young Woman Seated at a Virginal (not to be confused with the London work of Vermeer by a similar title). Another weave match found in Vermeer's oeuvre is between two genre paintings of identical size, Young Woman Standing at a Virginal and Young Woman Seated at a Virginal, both in the National Gallery, London.
Walter Liedtke, the curator of the Metropolitan Museum of Art and Vermeer expert, furnishes an art historical reading of the investigation.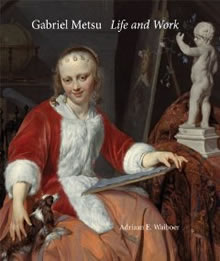 GABRIEL METSU: CATALOGUE RAISONNE
by Adriaan E. Waiboer
320 pages: 285 x 245 x 30mm
190 black-&-white illustrations + 58 colors images
http://yalebooks.co.uk/display.asp?K=9780300170481
Anyone even vaguely interested in Vermeer or Dutch painting won't want to miss the luxurious catalogue raisonné of Gabriel Metsu (one of the most refined painters of the Golden Age) written by the artist's foremost expert, Adriaan E. Waiboer.
Despite his untimely death in 1667 at the age of thirty-seven, Metsu left a substantial oeuvre of history paintings, portraits, still lifes, and a large number of exquisite genre scenes. These charming depictions of kitchen maids, elegant young ladies, hunters, drinkers and amorous couples have gained Metsu a place among the most celebrated painters of seventeenth-century Holland. But his personal life has remained enigmatic. This absorbing book presents the information for Metsu's life and his network of connections, and details the complete range of his work. It will become the standard work on the artist.
Adriaan E. Waiboer is Curator of Northern European Art at the National Gallery of Ireland, Dublin, where he curated the Gabriel Metsu exhibition in 2010.
Essential Vermeer Website Additions
VIEWING VERMEER ON THE WWW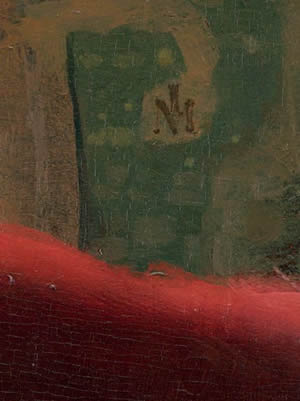 http://www.essentialvermeer.com/viewing_vermeer_on_the_web.html
In one format or another, high-resolution digital images of 25 paintings by Vermeer are currently accessible to the WWW navigator. Some of these can be freely downloaded onto the user's hard disk. The remaining must be viewed online via an interactive viewing interface which allows zooming and panning (these features allow the navigator to view only limited areas of the picture's total surface at maximum resolution at a given moment).
This new Essential Vermeer web pages provides web links to all the best high-resolution images of Vermeer's paintings that are currently available to the public and investigates developments of digital strategies of the major art museums and art related enterprises.
ESSENTIAL VERMEER TIME
http://flyingfox.jonathanjanson.com/
Essential Vermeer Time provides an open door onto the whirling wheels, spinning cogs, flaming keyboard, ideas, inspirations, doubts and dreams that make the Essential Vermeer website run full steam ahead.
Every day you'll tips, opinions and information about what's currently under development and way down the pipeline, an occasional opinion as well as bits and pieces of what I come across skimming the web that may not wind up anywhere in the Essential Vermeer but seem worth noting.
And, obviously, you'll find all the latest Vermeer-related news, practically in real time.
Come, visit and send me feedback. jonathanjanson@essentialvermeer.com
In the News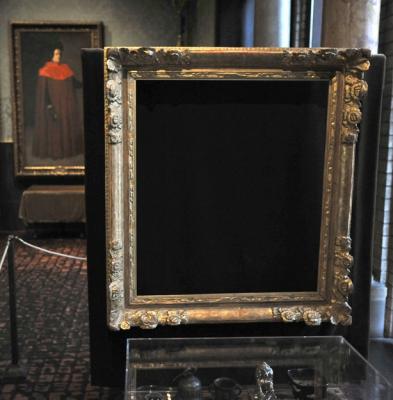 ONE STEP CLOSER TO RECOVERING VERMEER'S STOLEN CONCERT?
drawn from the CNN website:
In a stunning development, the FBI said Monday it believes it knows who was behind one of the most significant art heists in the United States—the 1990 theft of 13 precious works, once valued at $500 million, from Boston's Isabella Stewart Gardner Museum. They did not reveal the suspects' names, but know that they "are members of a criminal organization with a base in the mid-Atlantic states and New England."
The bureau also said it believes that Vermeer's Concert—including paintings by Rembrandt—was taken to Connecticut and the Philadelphia area and that the thieves unsuccessfully tried to sell some of the artwork in Philadelphia about 10 years ago. The announcement comes on the 23rd anniversary of the theft, which the FBI says is one of the largest property crimes in U.S. history.
see full coverage and updates on the case at the FBI website:
http://www.fbi.gov/news/stories/2013/march/reward-offered-for-return-of-stolen-gardner-museum-artwork/reward-offered-for-return-of-stolen-gardner-museum-artwork
see full story:
http://edition.cnn.com/2013/03/18/justice/massachusetts-fbi-art-theft/index.html?hpt=hp_t2