Essential Vermeer Newsletter no. 37
February 2017
click here to access this newsletter as a simple text document..
Please remember the Essential Vermeer when you change your email address!
1.
Essential Vermeer website addition
Vermeer-Related Artworks
http://www.essentialvermeer.com/related_vermeerpaintings/related-vermeer_painting.html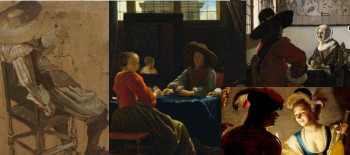 Vermeer-Related Artworks is a fully illustrated web study that tracks the evolution of the themes and compositions which can be associated with the paintings of Vermeer, before and after they were depicted. However, not only paintings traditionally linked to Vermeer's oeuvre are featured, but a panorama of artworks from the classical times to the twentieth century. Some of the themes, like the "lute" and "lute music" unravel like a film, displaying relatively few compositional inventions but a wide range symbolic implications. Other themes, such as the "geographer," flourish briefly the Baroque only to disappear soon after the end of the 1600s. Images of women absorbed in reading and writing form and unbroken chain from Woman with Wax Tablets and Stylus (so-called "Sappho") painted in the first century A. D. to Pablo Picasso's Woman Reading at a Table in the Metropolitan, dated 1934.
Hopefully, this panoramic approach will provide a useful resource a not only for seasoned art historians, art students and Vermeer enthusiasts but for a readership whose interests is more variegated, and, perhaps, furnish a few hitherto overlooked ties as well.
How to use Vermeer-Related Artworks.
Via the link below, access the index of Vermeer's complete paintings, which features a thumbnail and basic information of each work. Then click on the thumbnail or title of the work of interest to access the page of related artworks, displayed in chronological order. The thumbnails can be then enlarged.
http://www.essentialvermeer.com/related_vermeer_paintings/related-vermeer_painting.html
2.
Metropolitan Museum of Art inaugurates open access image policy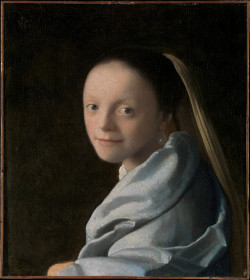 Study of a Young Woman
Johannes Vermeer
c. 1665–1674
Oil on canvas, 44.5 x 40 cm.
Metropolitan Museum of Art
, New York
Following other forward-looking art institutions, the images of public-domain artworks in the Metropolitan Museum of Art are now available under Creative Commons Zero). This means that artists, designers, educators, students, professionals or hobbyists may now study, download and remix many of the collection's 375,000 plus images of artworks—without any sort of restriction. This policy change signals an exciting milestone in The Metropolitan's digital evolution, and a strong statement about increasing access to the collection and how to best fulfill the Museum's mission in a digital age.
The artworks that are in Public Domain on the Met's website are signaled by the icon below.

Other art institutions that have already implemented the Open Access policy are: The Getty Collection (U.S.): Rijksmuseum (The Netherlands); The National Gallery of Art (U.S.); The Walters Art Museum (U.S.); Cooper-Hewitt, Smithsonian Design Museum (U.S.) and the Museum of Modern Art (U.S.)
The artworks that are subject to Public Domain on the Met's website are identifiable by this icon.
For more information on this project, click here.
Use this link to search the collection.
http://www.metmuseum.org/art/collection
By the way, the Met has recently updated their older, warmish image of Vermeer's Study of a Young Woman, which you can access and download here.
3.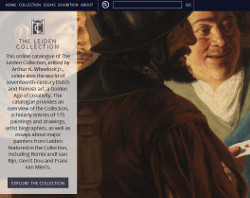 The Leiden Gallery inaugurates extensive website
http://www.theleidencollection.com/
This online catalogue of The Leiden Collection, edited by Arthur K. Wheelock Jr., provides an overview of the world of seventeenth-century Dutch and Flemish art, a Golden Age of creativity. Featured are artist biographies, scholarly entries for 175 paintings and drawings, as well as essays about major painters featured in the collection, including Rembrandt van Rijn, Gerrit Dou and Frans van Mieris. A number of fijnschilder paintings are represented is unmatched in any other private or public collection in the world, and allows for an extraordinary opportunity to study the qualities of these artists and their impact on broader Dutch traditions of the seventeenth century.
The collection was assembled by Thomas S. Kaplan, an American entrepreneur and investor, environmentalist and art collector, and his wife, Daphne Recanati Kaplan, who began to collect the art of the Dutch Golden Age in 2003. Within a few years they established The Leiden Collection, named in honor of Rembrandt's birthplace.
4.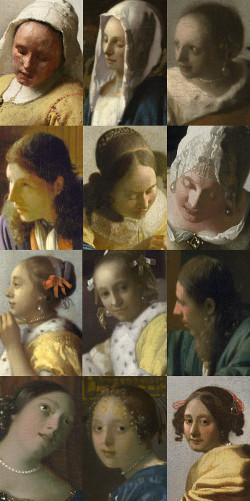 Twelve paintings by Vermeer soon on display at major exhibition at the Louvre
Vermeer and the Masters of Genre Painting: Inspiration and Rivalry
22 February–22 May, 2017
Musée du Louvre, Paris
The Musée du Louvre, Paris, the National Gallery of Ireland, Dublin and the National Gallery of Art, Washington, are staging a landmark exhibition, Vermeer and the Masters of Genre Painting: Inspiration and Rivalry, that explores the network of relationships among Dutch genre painters of the period 1650–1670.
Among the works exhibited in Paris, the first venue, 12 among Vermeer's most beautiful works will be exhibited.
The Milkmaid (Rijksmuseum)
Woman with a Balance (National Gallery)
A Lady Writing (National Gallery)
Woman with a Lute (Metropolitan Museum of Art)
Woman with a Pearl Necklace
The Astronomer (Louvre)
The Geographer (Frankfurt Städelsches Kunstinstitut)
The Lacemaker (Louvre)
Woman Writing a Letter with Her Maid (National Gallery of Ireland)
Allegory of Faith (National Gallery)
A Lady Seated at a Virginal (National Gallery of Art)
A Young Woman Seated at the Virginals (Private collection, New York)
5.
Selection of Dutch paintings from the Leiden Collection on display at the Louvre
Masterpieces from the Leiden Collection: The Age of Rembrandt
February 22–May 22, 2017
Louvre, Paris
http://www.louvre.fr/en/expositions/masterpieces-leiden-collection-age-rembrandt
from the Leiden Gallery website:
The works of art from the New York Leiden Collection will be shown in the temporary exhibition galleries of the paintings department in the Sully Wing, including over 30 pieces, most of which have never before been exhibited in France. Curated by the Louvre, the selection encompasses portraits, history, paintings and genre scenes, and brings to life the historic burst of creativity of the Dutch Golden Age. It includes all 11 of the collection's works by Rembrandt himself, the most comprehensive grouping of its kind outside of a national museum, and range from the iconic masterpieces Minerva and Young Girl in a Gold-Trimmed Cloak to the dramatic recent discovery of Unconscious Patient (Allegory of Smell), the earliest of the master's signed works.
6.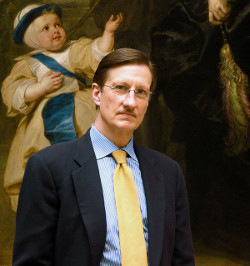 photo from the Metropolitan Museum of Art
website
Special online edition of the Journal of Historians of Netherlandish Art in honor of the late Walter Liedtke
http://www.jhna.org/index.php/vol-9-1-2017/371-introduction-to-the-special-issue-for-walter-liedtke2
This special issue of JHNA is a tribute to Walter Liedtke, Curator of European Paintings at the Metropolitan Museum of Art in New York from 1980 until his untimely death in 2015. Each study gives attention a specific work or a painter represented in the European collection of the Metropolitan Museum of Art, the focus of Walter's curatorial work for thirty-five years. The results highlight some of Walter's core interests, such as the art of Rembrandt and Vermeer. Of particular interest to Vermeer scholars and enthusiasts are three articles directly related to the master's work.
Index of articles:
http://www.jhna.org/index.php/vol-9-1-2017
Vermeer-related articles (text from the JHNA website):
a.
"'A counterfeit of what has to decay': Vermeer and the Mapping of Absence in A Woman with a Lute"
by Aneta Georgievska-Shine
http://www.jhna.org/index.php/vol-9-1-2017/360-aneta-georgievska-shine
This essay explores Vermeer's painting known as A Woman with a Lute from the Metropolitan Museum of Art as a visual poem on amorous and artistic longing. A closer look at its key elements—from the musical instrument being tuned by the lady to the map on the wall behind her—shows that this seemingly unmediated view into a private world is as engaged with ideas as Vermeer's more overtly allegorical compositions. Most notable among these ideas are the relationship between the microcosm and the macrocosm, the notion that every record of the present is a form of "history," and that the art of painting is no less eloquent in its silence than its sister arts of music or poetry. Ultimately, as in many other images of solitary females, with Woman with a Lute the artist pulls us into a circle of desire, effectively turning us from beholders to coparticipants in a "composition," whereby the absent comes back into presence.
b.
"View beyond Delft: Johannes Vermeer's Woman with a Lute and Its Relationship to Frans van Mieris"
by Adriaan E. Waiboer
http://www.jhna.org/index.php/vol-9-1-2017/363-adriaan-e-waiboer
This article provides a critical overview of Johannes Vermeer's responses to Frans van Mieris's work before focusing on a case of direct influence involving the former's Woman with a Lute from the Metropolitan Museum of Art, New York, and the latter's Woman Playing a Theorbo-Lute from the National Gallery of Scotland, Edinburgh, which seems to have been overlooked in the literature on Vermeer. The Delft artist's admiration for the work of his Leiden contemporary is also visible in the former's Guitar Player (London, Kenwood House). In contrast to Vermeer's paintings, Van Mieris's music scene made a strong impact on contemporary artists.
c.
"Canvas Weave Match Supports Designation of Vermeer's Geographer and Astronomer as a Pendant Pair"
by C. Richard Johnson Jr. and W.A. Sethares
http://www.jhna.org/index.php/vol-9-1-2017/348-johnson-sethares
Two pairs of paintings by Johannes Vermeer are designated as pendants by Walter Liedtke in his catalogue of Vermeer's paintings. The canvases of one of these pairs have previously been shown to be cut from the same bolt, which is frequently an attribute of a pendant pair in seventeenth-century Dutch paintings. This paper provides evidence, in the form of a new weave match, that the second pendant (The Geographer and The Astronomer) identified by Walter Liedtke also exhibits this bolt-matestatus.