Essential Vermeer Newsletter no. 35
December 2015
click here to access this newsletter as a WORD Document.
Please remember the Essential Vermeer when you change your email address!
1.
Frans Grijzenhout proposes a new location for Vermeer's Little Street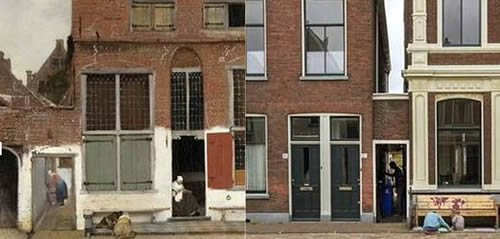 drawn from:
Janene Pieters, "Mystery of world-famous Vermeer setting finally solved"
November 19, 2015/NLTIMES.NL
Dr. Frans Grijzenhout, professor of Art History at the University of Amsterdam, has announced that the setting for the world-famous Little Street is on Vlamingstraat in Delft, where houses 40–42 now stand. Grijzenhout searched seventeenth-century records in the Delft archives and found in the file of the deep waters within the city of Delft from 1667, also called the Register of the quayside fee. This register kept record of how much tax everyone who owned a house on a canal in Delft had to pay for the deepening of the canal and for maintenance of the wharf in front of his door. It contains detailed, accurate up to 15 cm., information on the breath of all the houses and ports on the Delft canals in Vermeer's time.
According to Grijzenhout, no other houses from Vermeer's time correspond so exactly.
Grijzenhout research also revealed that Vermeer's aunt—the widow Ariaentgen Claes van der Minne, Vermeer's father's half-sister—lived in the house on the right side of the painting. Vermeer's mother and sister lived on the same canal, diagonally across the street. According to the Rijksmuseum, it is therefore likely that Vermeer knew the house well and had personal memories linked to it.
A special exhibition about the newly found location of Vermeer's Little Street will be held in two venues:
Rijksmuseum, Amsterdam
20 November, 2014–13 March, 2016
Stedelijk Museum Het Prinsenhof, Delft
25 March-17 July, 2016
see also:
Rijksmuseum presentation:
https://www.rijksmuseum.nl/en/vermeers-the-little-street-discovered:
Rijksmuseum Press Release (high i-resolution images of Vermeer's Little Street and Vlamingstraat, Delft)
https://www.rijksmuseum.nl/en/press/press-releases/the-address-of-vermeers-the-little-street-discovered/download-all
Martin Bailey, "Exact location of Vermeer's Little Street discovered"
The Art Newspaper, November 20, 2015
http://theartnewspaper.com/news/exact-location-of-vermeer-s-little-street-discovered/
Brian Boucher, "Has the Site of Johannes Vermeer's 'Little Street' Been Identified?"
Art News, Monday, November 23, 2015
https://news.artnet.com/art-world/vermeer-little-street-identified-370025
Google Art Project presentation:
https://www.google.com/culturalinstitute/exhibit/sgLy5pT_lFc9IQ?projectId=art-project&position=0%3A0
2.
Philip Steadman argues there is a better fit for the location of Vermeer's Little Street than Grijzenhout's recent proposal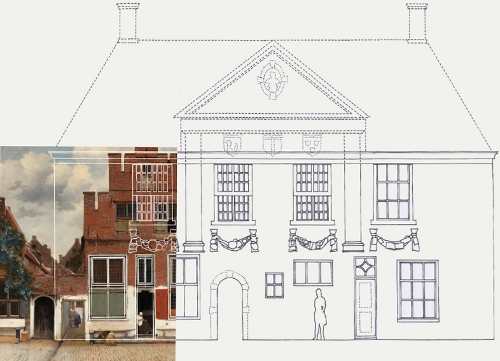 "Vermeer's The Little Street: A More Credible Detective Story"
Philip Steadman
Frans Grijzenhout has recently proposed that Vermeer's The Little Street shows houses at 40 and 42 Vlamingstraat in Delft. His theory is the subject of a current exhibition at the Rijksmuseum in Amsterdam. Philip Steadman, author of Vermeer's Camera: The Truth behind the Masterpieces, argues the case for an alternative location on the Voldersgracht. Steadman's case is supported with contemporary maps, drawings and a century-century photograph.
http://www.essentialvermeer.com/delft/little-street-steadman/little-street-steadman.html
3.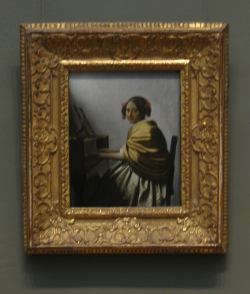 Young Woman Seated at a Virginal travels to Dallas
Vermeer Suite: Music in 17th-Century Dutch Painting
January 17– August 21, 2016
https://www.dma.org/press-release/johannes-vermeer-s-young-woman-seated-virginal-go-view-new-dallas-museum-art
from the museum website:
The Dallas Museum of Art presents Vermeer Suite: Music in 17th-Century Dutch Painting, an exhibition organized by the DMA showcasing paintings from the prestigious Leiden Collection of New York, including a work by Johannes Vermeer. The great seventeenth-century Dutch painter created fewer than forty paintings during his lifetime, and Young Woman Seated at a Virginal from 1670–72 is believed to be one of Vermeer's last. This masterpiece is the inspiration for the DMA exhibition Vermeer Suite: Music in 17th-Century Dutch Painting, which includes seven additional loans from The Leiden Collection of works by Vermeer's contemporaries—artists Jan Steen, Gerrit ter Borch, Jacob Adriaensz Ochtervelt, Eglon van der Neer, Gerard Dou, and Frans van Mieris—whose paintings also portray musicians performing period instruments such as the lute, violin and violincello and demonstrate key aspects of seventeenth-century musical culture.
entrance free of charge
4.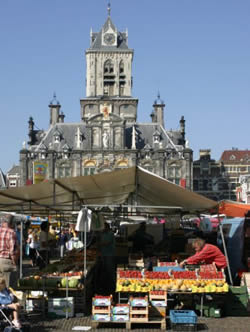 Vermeer's Little Street returns to Delft for special exhibition
Stedelijk Museum Het Prinsenhof, Delft
March 25–July 17, 2016
After 320 years Vermeer's iconic Little Street will be back to Delft. thanks a special collaboration between Delft Prinsenhof Museum and Rijksmuseum.
Patrick van Mil, Director of Museum Prinsenhof Delft, said the arrival of Vermeer in Delft is a dream come true: "It is wonderful that, thanks to the Rijksmuseum Vermeer is reunited with his hometown and 'The Little Street' returns to where it is created. Vermeer is one of the most famous painters in the world. The Little Street is a fine example of the renewal of the Delft painting in the middle of the seventeenth century. In combination with other Delft masterpieces in our collection, we can Prinsenhof Museum in Delft show beautifully."
The exhibition in Museum Prinsenhof Delft is scheduled for spring 2016 in full tourist season. In cooperation with the Oude Kerk, the Vermeer Centre, TU Delft, Delft Marketing and business a series of initiatives will bring back to life in Delft including new Vermeer routes through the city, a special virtual reality App and Vermeer packages.
5.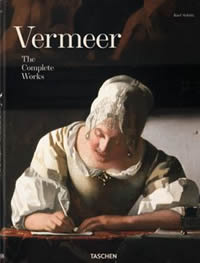 New Vermeer monograph, by Karl Schütz
Vermeer: the Complete Works
Karl Schütz
December, 2015
from the publishers website:
This opulent extra-large edition brings together the complete catalog of Vermeer's work, presenting the calm yet compelling scenes so treasured in galleries across Europe and the United States into one monograph of utmost reproduction quality.
With brand new photography of many works, Vermeer's restrained but richly evocative repertoire of domestic actions—ranging from letter writing to music making to preparations in the kitchen—unfolds in a generous format, including three fold-out spreads. Numerous details emphasize the artist's remarkable ability not only to bear witness to the trends and trimmings of the Dutch Golden Age but also to encapsulate an entire story in just one transient gesture, expression, or look.
After completing his studies of Art History and Archaeology at the University of Vienna, Karl Schütz joined the staff of the Gemäldegalerie of the city's Kunsthistorisches Museum, serving from 1972 as a curator and from 1990 to 2011 as its Director. His particular scholarly interests include Netherlandish and Flemish painting, early-sixteenth-century German painting, courtly portraiture and the history of the Gemäldegalerie collection.
purchase at amazon.com
6.
Exhibition catalogue of Rijksmuseum presentation of the new location of Vermeer's Little Street
Vermeer's The Little Street. A View of the Penspoort in Delft
Frans Grijzenhout
Rijksmuseum
To commemorate the discovery of the location of Vermeer's Little Street, The Rijksmuseum has published an illustrated book written by Frans Grijzenhout, professor of Art History at the University of Amsterdam.
7.
Roundup of 2015 Vermeer-related publications
The following is a roundup of the most significant Vermeer-related publications of 2015 (with links to Amazon.com (except for Vermeer's The Little Street. A View of the Penspoort in Delft). By purchasing the books through the Amazon.com links you will be helping the Essential Vermeer website grow.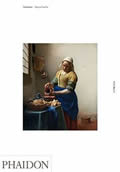 Vermeer (Ideas and Art)
by Wayne Franits
March, 2015
(monograph)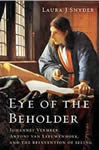 Eye of the Beholder: Johannes vermeer, Antoni Leeuwenhoek, and the Reinvention of Seeing
March, 2015
by Laura J. Snyder
(Vermeer-related)

Class Distinctions: Dutch Painting in the Age of Rembrandt and Vermeer
Ronni Baer, with essays by Henk van Nierop, Herman Roodenburg, Eric Jan Sluijter, Marieke de Winkel, and Sanny de Zoete
October, 2015
(exhibition catalogue)

exhibition catalogue:
Masters of the Everyday: Dutch Artists in the Age of Vermeer
Desmond Shawe-Taylor and Quentin Buvelot
December, 2015
(exhibition catalogue)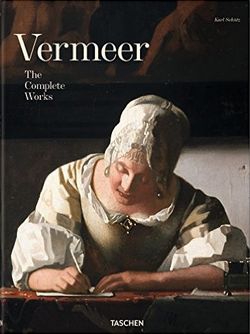 monograph:
Vermeer: The Complete Works
Karl Schütz
(monograph)
exhibition catalogue:
Vermeer's The Little Street. A View of the Penspoort in Delft
Frans Grijzenhout
Rijksmuseum
(exhibition catalogue)