Constantijn Huygens: Lord of Zuilichem (1596–1687)
(part three)
Artistic Pursuits
Huygens' artistic interests laid not only in painting but in classical architecture, numismatics and horticulture, but in sculpture as well. In 1641, the sculptor François Dieussart (c. 1600–1661)1 arrived at The Hague from England with a letter of recommendation from the court painter of King Charles I, Gerrit van Honthorst, addressed to Constantijn Huygens. This introduction not only served to secure Dieussart a good reception at the Hague court, but initiated a relationship of mutual interest and respect between Huygens and Dieussart. The timing of Dieussart's arrival was particularly favorable. After the death of Hendrik de Keyser in 1621 (the sculptor of the famous tomb for William of Orange in the Nieuwe Kerk in Delft), no sculptor had emerged to satisfy the increasing demands both of the court and the culturally sensitive élite of the nobility or wealthy burghers.
Dieussart's arrival was especially welcomed by Huygens who had been charged to promote the architectural projects of the House of Orange maintaining close contact with the artists and architects involved. At the same time he entertained a keen interest in the tenets of classical architecture (particularly those of Vitruv), and he was the first in Holland to put these rules into practice (see his house at "Het Plein" and later his country estate "Hofwijck"). Thus, Huygens had for the first time an opportunity to commission a piece of sculpture which answered his classical ideal.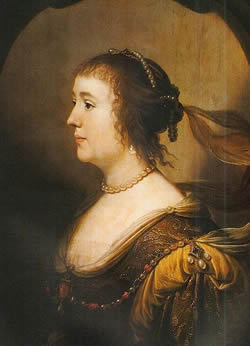 Portrait of
Amalia van Solms
Gerrit van Honthorst
1630s
73.4 × 60 cm.
Historical Collections of the House of Orange Nassau, The Hague
On the other hand, Huygens played a fundamenta rolel in obtaining stadtholder commissions for Dieussart. Huygens introduced Dieussart to Frederik Hendrik and his wife Amalia van Solms, and the first fruit of their collaboration was a bust of Frederik Hendrik (1641). Larger and smaller commissions followed, e.g. four life-sized, full-length portraits of the stadtholders, intended for the Oranjezaal (Orange Hall) of the Palace Huis ten Bosch. But Dieussart refused to depend exclusively on the court, and joined the Guild of Saint Luke in The Hague, which allowed him to place his work on the open market and to have pupils, a significant source of income for artists in those times. During this period, Dieussart received a commission for a marble wall monument to the nobleman Arent van Dorp (1528–1600) and his daughter Josina (d. 1646), for the Klosterkerk in The Hague, which was presumably made soon after Josina's death. It is still to be seen at the Klosterkerk.
As we learn from Huygens' autobiography, he had not only a theoretical interest in sculpture but an active one as well, particularly in making medals and commemorative coins. He wrote:
In one way or another I became interested in bronze and lead coins, of which I made casts. When, in the end, I had enough of busying myself with the work of others I went on to making originals myself. It is with some pride that I allowed myself to be guided in this by the example, amongst others, of my fellow townsman Janus Secundus of The Hague. ... Here too the injustice of fate thwarted my ardent enthusiasm. Out of consideration for my sensitive eyes I had to drop this enjoyment at the stage of breast-feeding, as it were. ... So there are but very few medals from my hand which have survived, but for what remains, the maker does not have to feel ashamed in front of connoisseurs.2
A number of exceptionally interesting notes have survived in Huygens' papers, including detailed recipes for making modeling wax and casting plaster, as well as for the casting of medals in tin, lead, bronze and silver. These notes attest to his interest in medals and their manufacture, but unfortunately Huygens' poor eyesight prevented him from pursuing and mastering the art of the medallist.
Shortly before Dieussart's departure from The Hague in 1651, he presented Huygens a precious oval portrait medallion in marble showing Huygens in profile. At that time it was still unusual for sculptured portraits to be executed in profile, but Huygens himself may have suggested this form. This unique gift testifies the special relationship between Dieussart and Huygens, although nothing is known of Huygens' reaction to the medallion although it can be safely assumed that he felt especially honored by it.