Constantijn Huygens: Lord of Zuilichem (1596–1687)
(part two)
The Death of Suzanna and Life in The Hague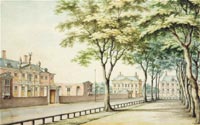 Het Plein in Den Haag
Jans van Call
c. 1690
Watercolor
Den Haag, Gemeentearchier
On the left-side is Huygens' house, in the middle the Mauritshuis. The three large figures on the front façade of Huygens' house represent Venustas (Beauty), Firmitas (Steadfastness) and Utilitas (Utility) – relating to the thoughts by Vitruvius concerning classical architecture.
After October 1627, Huygens and his family lived in a house at Lange Voorhout. In March 1634, Frederik Hendrik gave Huygens a building lot at the "Plein" (see left), close to the government's buildings in the "Binnenhof" and near to the "Mauritshuis" (designed 1638 by Johann van Campen and Pieter Post for Count Johan Maurits van Nassau-Siegen, nephew of Frederik Hendrik and Maurits, called "de Braziliaan"). Huygens threw himself immediately into the plans for a stately home, guided by Post and Jacob van Campen, who had painted of Huygens' double portrait and one of Holland's leading architects in that time. Van Campen was also the architect of the impressive city hall of Amsterdam). Due to Constantijn's frequent absences from home Suzanna had to manage the building and financing of the new house. However, by February 1637 the building had advanced enough to permit the family to move into the new home which they had looked forward to. But the tragic death of Suzanna brought Constantijn's dream to an end. Huygens was hardly able to write some short Latin notes in his diary, reading:
10. May: She returned her spirit to God 30 minutes after the fifth evening hour. Alas, mydelight! Alas, my soul!

16. May: Her body has been committed to earth attended by a huge crowd.

17. May: Moved to the new house, alas! without my dove.1
Eventually the shattered Huygens composed, inspired by Petrarch, the sonnet Op de dood van Sterre (On the death of Sterre). He added the poem to his Dagh-werck, which he left unfinished: the day he has described has not ended yet, but his "Sterre" is already dead.
So one day after Suzanna's burial, Huygens, now a widower, moved with his five children into the new house.2 The children became the center of his private life and just as his own father had done, Huygens took the greatest care in every facet of their education spending as much time with them as he could afford. He wrote many poems for them, played music with them or accompanied them to celebrations and parades. His relationship, unique even in the Netherlands where children had a special standing amongst all European countries, could be seen as an early kind of modern fatherhood.
Travels and Knighthood
Despite the pain for the death of his wife, Huygens made his first steps in his career. In 1630, aside his profession as the secretary of Frederik Hendrik, he was appointed by the Council of the Domains as the "reekenmeester," a financial administrator to the House of Orange. This job provided him with a handsome income of about 1,000 florins a year. To demonstrate his enhanced social status he purchased the manor and title of Zuilichem, in the province of Gelderland. His title, "Lord of Zuilichem," may had been benefited him nicely during his visit to Paris c. 1630 where he became personally acquainted with the French philosopher René Descartes, with whom he maintained a lively correspondence, for 122 letters between Descartes and Huygens are still extant.
Descartes used his relationship with Huygens in order to appeal to this influential virtuoso to act as a mediator to print several of his works. Huygens' mediation was crucially important for the publication of Descartes's most famous publication, Discours de la Méthode (1637). Huygens acquired a coat of arms from his appointment as knight by James VI (see left).
In 1632, Louis XIII knighted Huygens to the order of Saint Michael and was later (1643) allowed a golden lily on a blue ground to be added to his coat of arms. This was perhaps the only conceit which Huygens indulged himself in.
Huygens and the Arts: Rembrandt van Rijn and jan Lievens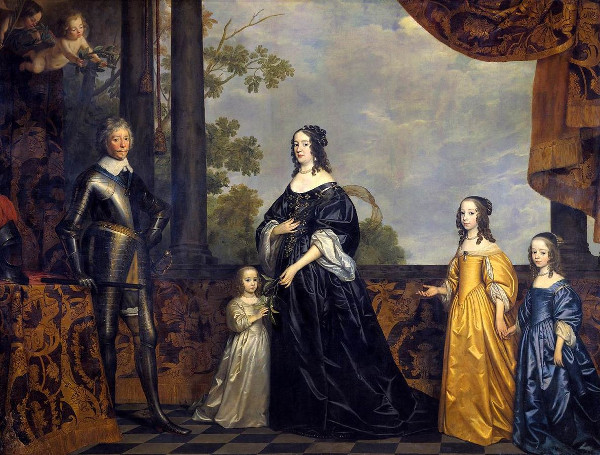 Prince Frederik Hendrik with His Wife
Amalia
van Solms and Their Three Youngest Daughters
Gerrit van Honthorst
1647
Oil on canvas, 264 x 348 cm.
Rijksmuseum Amsterdam
With the return of the stadtholders' residence to The Hague—William of Orange had temporarily settled his residence to Delft which had a better fortification in those times—the city became more and more the political center of the Republic, a fact which required increased tasks in representation. Although the interests of the stadtholder Maurits had been primarily focused on military matters, it was now up to Frederik Hendrik to develop court life and culture. An important part in this enterprise was the creation of an art gallery. Frederik Hendrik couldn't have had a more accomplished candidate for this task than his secretary Constantijn Huygens.