Vermeer's Delft Today: The House of Pieter de Hooch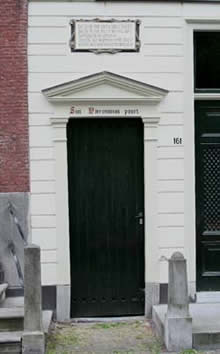 Oude Delft 161
Although a number of seventeenth-century Delft facades have been handed down to us, we must remember that in Vermeer's time houses had no numbers. Houses were usually distinguished by names inscribed on signs hung outside a house or business or a given activity that went on inside and was common knowledge to Delft's citizens (i.e the Three Hammers at the house at Beestenmarkt where Vermeer's father Reynier grew up).
Houses began to be given civic numbers in 1806 when Napoleon's brother Louis Bonaparte became king of the short-lived Kingdom of Holland. This often makes an exact location of a particular building difficult to ascertain, if not impossible. However, enough historical documentation have survived (the Delft Municipal Archive houses historical maps, books and protocols) which allow us make reasonable comparisons in many cases.1 Furthermore, thanks to Delft's location between Oude Delft canal and the river Schie divided by a number of smaller canals (grachten), Delft's city plan has not very much changed in the course of the centuries. It is still possible to walk through Delft guiding ourselves with a seventeenth-century city map. And a surprising number of the street names have remained the same.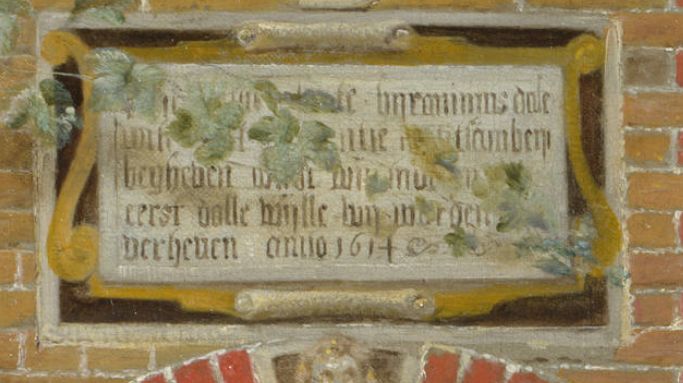 Courtyard of a House in Delft (detail)
Pieter de Hooch
1658
Oil on canvas, 73.5 x 60 cm.
National Gallery, London
In addition, numerous modern archaeological investigations have uncovered sections of old foundation walls, cellars, graveyards or filled-up canals which make to correctly locate or sometimes a sketch a rough reconstruction of the floor plan of some former convent or public house. Luckily, small details (a commemorative plaque or stone, a historic inscription, sculpture or sign at a house) have survived providing us with further clues.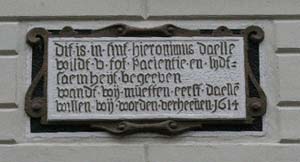 An inscribed replica inserted over the entrance
to Oude Delft 161
One such instance is an inscribed tablet which is represented in Pieter de Hooch's Courtyard of a House in Delft (see image above). De Hooch lived and worked in Delft from c. 1652 to 1660. At first he lived in the household of his patron Justus de la Grange, at the present Oude Delft 161 and later he lived next to the former Saint Hieronymus convent, once situated between Oude Delft and Westvest (area of present Oude Delft 147–161). At the time, De Hooch was employed by La Grange as a painter and a servant (dienaar). The term servant may simply mean that Pieter paid his room and board with paintings. In an inventory of la Grange's home (1655) there were 66 paintings, of which 4 by Jan Lievens (1607–1674) and 11 by De Hooch.
In any case, "the original stone with the inscription over the passageway in De Hooch's picture closely resembles one commemorating the long-destroyed Augustinian Monastery of Saint Hieronymous in Delft (fire, I536), affixed in De Hooch's day, to a garden wall in the fashionable neighborhood erected over the complex's remains."2 This tablet still exists and is housed in the Delft Gemeente Musea, Museum Het Prinsenhof and a replica is inserted over the entrance to Oude Delft 161 (see image above).
"Foliage partially obscures the tablet in the painting but several scholars have made the following translation based on the original inscription:
This is Saint Jeronme's vale, if you wish to repair to patience and meekness. For we must first descend if we wished to be raise.

The reader is thus advised to be humble in life if he or she wants to rise in spirits and standing."3