Vermeer and the Camera Obscura: Resources
Publications & Websites
Publications
PENNELL, Joseph, "Photography as a hindrance and a help to art." British Journal of Photography, no. 1618, vol. XXXVIII, 1891, pp. 294-296
WATERHOUSE, J., "Notes on the early history of the camera obscura." The Photographic Journal, vol. XXXV, 9, 31 May, 1901, pp. 270-290
HYATT, A. Mayor, "The Photographic Eye." Bulletin of the Metropolitan Museum of Art, new series vol. 1, 1946
GOWING, Lawrence, Vermeer
, London, 1952
(Other than being on of the most powerful interpretations of Vermeer's art, Gowing also provides some stimulating insights into Vermeer's the rationale of the camera obscura.)
SCHWARTS, Heinrick, "Vermeer and the Camera Obscura." Pantheon 24, 1966
LINDBERG, D. C., "The theory of pinhole images from antiquity to the thirteenth century." Archive for History of the Exact Sciences 5, pp. 154-157, 1968-1969
FINK, Daniel A., "Vermeer's Use of the Camera Obscura - A Comparative Study." The Art Bulletin 53, 1971
WHEELCOK, Arthur, "Perspective, Optics and Delft Artists Around 1650" (reprint of dissertation submitted to Harvard University 1973), Garland, New York, 1977
HAMMOND, John H., The Camera Obscura: a Chronicle, Bristol, 1981
HAMMOND, John H. and AUSTIN, Jill, The Camera Lucida in Art and Science, Bristol, 1987
KEMP, Martin, The Science of Art: Optical Themes in Western Art from Brunelleschi to Seurat, New Haven, 1990
WADUM, Jørgen, "Vermeer in Perspective." in Johannes Vermeer
edited by Arthur Wheelock, New Haven, 1995, pp. 67-79
VAN HELDEN, Anne, "Camera Obscura." in The Scholarly World of Vermeer, Zwolle, 1996
DELSAUTE, Jean-Luc, "The Camera Obscura and the Painting in the Sixteenth and Seventeenth Centuries." in Vermeer Studies edited by Ivan Gaskell and M. Jonker, New Haven, 1998
(An excellent study of the camera obscura's role in 16th- and 17th-c. painting)
MILLS, A. A., "Vermeer and the camera obscura: some practical considerations." Leonardo vol. 31, no. 3, 1998, pp. 213-218
STEADMAN, Phillip, Vermeer's Camera: Uncovering the Truth behind the Masterpieces
, 2001 (One of the most exhaustive investigations, and also the most disputed of Vermeer's use of the camera obscura. It is required reading for anyone interested not only in Vermeer's working methods, but in the artist himself)
HOCKNEY, David, Secret Knowledge: Rediscovering the Lost Techniques of the Old
Masters, New York, 2001
Websites
STEADMAN, Philip, Vermeer's Camera is an excellent website with fascinating material.
STEADMAN, Philip, Vermeer and the Camera Obscura: a very informative website dealing with the principal theories of Philip Steadman.
Inside the Camera Obscura – Optics and Art under the Spell of the Projected Image, Max Planck Institute for the History of Science, reprint 333, 2007
The Magic Mirror of Life: A Search for Camera Obscura Room (An excellent web site that deals with both camera obscura room, which Vermeer may have been familiar with, and the mobile type that Vermeer most probably used.)
Art and Optics (A conference in New York involving David Hockney's recent book).
The Sky in a Room (An interesting site which explains how you might turn a room of your house into a camera obscura.)
Tom O'Neill, Rooms With a View ( Photographer Abelardo Morell's camera obscura turns darkened rooms into magical landscapes. Photograph by Abelardo Morell.)
recommended reading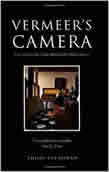 Vermeer's Camera: Uncovering the Truth behind the Masterpieces
by Philip Steadman
2001